From the mass tort work our lawyers do, we form opinions about the value of various class action type lawsuits, most involving pharmaceutical drugs or medical devices.
Our law firm makes virtually the same effort in all these cases.  We tell lawyers and victims what we know about the litigation on our blogs and websites.  That is the only "marketing" that we do.
But, clearly, different cases have different potential values.  How do we compare the expected trial or settlement value of different mass torts?
Unsolicited Email I Received Today
This unsolicited email gives us a clue.  This guy is marketing leads in mass tort cases.  Presumably, the free market is determining the prices for each lead and each cost.
Ron,

Managing $1M+ in monthly ad spend, we aren't seeing anyone consistently beat our [company name] mass tort numbers.

I'm updating costs as markets fluctuate so, if you would, please help point me towards your mass tort managing attorney or unsubscribe below if this data is of no interest.

All numbers are across the board averages from varying criteria so I'll need your specific case criteria for a more tailored quote.

Who is [Company Name]? – We founded and sold [name of a company known for aggressive marketing], who now serves 10,000+ legal clients.  At [company name], we're working with 150+ plaintiff firms and are happy to provide as many references as you like.
Interesting, right?  Whatever my opinions are, you have to appreciate that there are a lot of smart lawyers making judgments that are leading to supply and demand to intersect at these prices.  The free market economy does not always lead to the correct price, as anyone playing the stock market knows.  But I trust the free market over the intuition of a single lawyer, myself included.
Below are some of my random thoughts about this list.
Where Is Roundup?
I still believe that there will be more Roundup cancer lawsuits.  These cases are settling for an average of over $100,000, with the best cases settling for much more.  These cancers have a long latency period.  Bayer is leaving this stuff on the market.  That has to increase the future value of the cases, right?  You pay $11 billion to victims and you keep selling the stuff?   I think the free market economy misfires. You are seeing that with low interest in Roundup cases.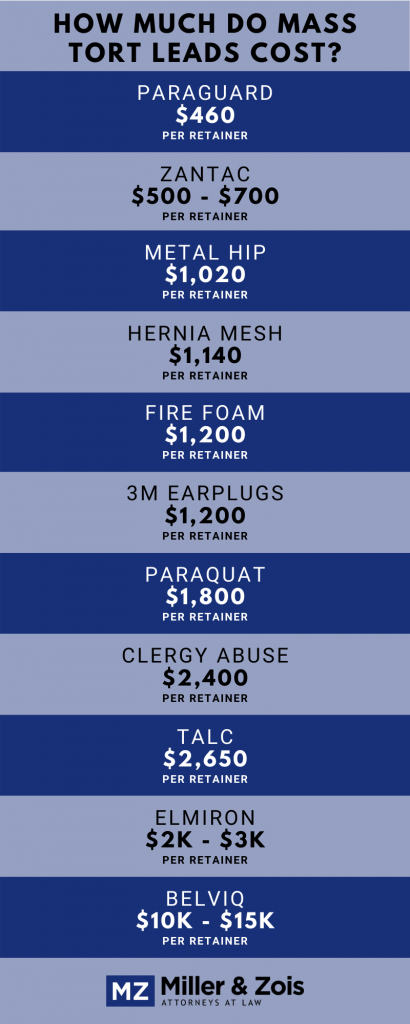 Karma is not Bayer's friend in all of this.  How cynical is Bayer to pay 11 billion American dollars and keep the product on the market?    It seems to me you either pay the settlements and take the product off the shelves or you fight the cases to the bitter end.
Does anyone at Bayer ever ask, what will people think?   (Bayer did ask that question in this case either.)  There is no coddling or public relations with Bayer, right?  You would admire their steely pragmatism if, you know, people were not dying as a result.
As a side note, I know many people were upset by the final amounts of the Roundup lawsuits. If you settle for $100,000 and you have attorneys' fees and such, it does not seem like enough money to compensate a victim who suffered from cancer.  The reality is mass tort cases historically settle.  The aggregation of claims puts pressure on the defendant to resolve the claims or risk bankruptcy (this is exactly what happened with Bayer).   But there are other economic and political structures in MDL mass torts that push towards settlement. The result is success. But not on the fairest terms.
3M Earplug Lawsuits Are Being Taken Seriously
There was disbelief about the 3M earplug litigation.  There were so many cases and 3M was just so confident they would get out on summary judgment before trial.  It was almost like Well, that did not happen and we have trial dates starting in April.  These are good injuries, the greatest imaginable plaintiffs, and there are more than 200,000 victims who have filed a claim.  This is the biggest mass tort lawsuit in human history.
So, at first, there was not much value in the cases.  Now it is $120 a lead and $1,200 for each retainer.  Those are not big numbers in relative terms.  But these lawsuits are now being taken seriously.  Hopefully, the first MDL trial leads to a big verdict.
Belviq Cases Are Big Deal… But Where Are They?
Belviq is a diet drug.  Drug companies labor under the mistaken belief that they can find the elixir to obesity (or non-smoking hot thinness).  Maybe somebody will one day. But is there one out there that doctors recommend in 2021?  No.  But, in the meantime, these drugs have caused countless injuries to desperate people looking to catch lightning in a bottle.  In this case, people with obesity were putting themselves at increased risk of cancer.
Our attorneys are going after Belviq cases but we do not have a ton of signed cases.  Why?  I don't think there are that many out there.  The drug was approved for obesity and doctors know the history of diet drugs.  So it was not widely prescribed.
Zantac at $140 Surprises Me
I'm bullish on the Zantac litigation and $140 a lead/$500-700 a retainer seems like a pretty good price.  We have some key ingredients of a successful mass tort case here:
catastrophic injuries
a drug that has been pulled from the market by the FDA
a growing body of medical literature underscoring the causal connection between the drug and the alleged injury
the defendant is the 5th largest drug company in the world
the volume of cases encourages settlement (from both sides)
There will be a lot of plaintiffs to be sure and, yes, many of them did not get cancer from Zantac.  But to have all five of these crucial elements in one case… I think these claims could ultimately be more valuable than Roundup cases that settled for $11 billion.
Paragard IUD Price Seems High
Let me start out by saying we are bullish on the Paragard IUD cases and our lawyers are eagerly seeking those cases.  There will be rare cases where the injuries are beyond awful.  But just like we look to the Roundup litigation for tea leaves for Zantac, it is hard not to look at Mirena for the Paragard cases.  Those cases were not, to say the least, wildly successful.
More importantly, they fall behind Zantac in all the elements I listed that make sense in that case.  So, again, I think the Paragard case will end with jury verdicts and a good global settlement.  It is just hard to believe their claims are worth nearly as much as a Zantac cancer claim, right?