The Zantac cancer lawsuits are heating up.  Discovery is moving forward surprisingly quickly given the pandemic and it may not be long before trials are being scheduled.
Plaintiffs' lawyers are pushing like crazy for Zantac victims, including our law firm.  Our lawyers are moving quickly and we have already signed up scores of plaintiffs for Zantac cancer lawsuits. If you have cancer and were taking Zantac, don't delay.  We are at the point where there are statute of limitations concerns.  Call us today at 800-553-8082 or get a free online claim evaluation.
On April 1, 2020, in the middle of a pandemic, the U.S. Food and Drug Administration (FDA) requested the removal of all Zantac and generic ranitidine products from the market, after discovering that levels of NDMA in the drug could increase with time and exposure to high temperatures.
My response?  It is about time.  Geez.  Long ago, drug stores stopped selling this heartburn medication, along with other generic versions, after concerns were raised over possible cancer risks.
What kind of cancer does NDMA cause?
We do not know the answer.  But the list seems to grow every day.  This is our current belief which types of cancer Zantac might cause:
breast (new)
stomach
bladder
colon
lung
liver
kidney
liver
pancreatic
colon
testicular
What are the risks of Zantac?
All drugs carry risks. There are virtually no medications that affect human physiology that do not travel with possible risk.  Adverse reactions ranitidine are generally thought to be rare.  Most neurologic side effects are seen in elderly patients or patients with kidney or hepatic impairment.  These side effects are usually resolved by simply stopping the use of ranitidine.  You also see rare cases of hepatic toxicity with ranitidine.
So no one is saying drugs have to be perfectly safe.  The question is whether there is an unacceptable cancer risk with ranitidine.
Ranitidine is classified as an antacid and is the main ingredient in many heartburn medications, including Zantac. Inside these ranitidine products, the FDA has determined through lab tests that they contain low levels of an impurity called N-nitrosodimethylamine, or NDMA.
The FDA has been investigating NDMA in blood pressure and heart failure medications since last year, and WHO has recently labeled the impurity as a "probable human carcinogen".
This isn't the first time NDMA has been detected in over-the-counter medications, either. The FDA has recalled several other medications that contain the ingredient valsartan. Valsartan products have also been found to contain "unacceptable levels" of NDMA impurities linked to cancer.
Should patients stop taking Zantac?
(We wrote this question when Zantac was still on the market.  Obviously, it is a moot point now.)
One table of Zantac may contain 3,000 to 26,000 times the FDA's daily limit for NDMA consumption.  So the first thing you want to do is talk to our doctor.  I'm a lawyer, not a doctor.
But there is a reason that product has been pulled off the shelves.  There are other products out there to treat this condition.   If you are taking this drug over the counter, I would try another medication.   You think the whole thing might be overblown.  I don't think so. But I'll allow for the possibility.  But I don't think the risk is worth it.
The FDA said that patients who are taking prescription-strength heartburn products containing ranitidine should contact their healthcare provider to discuss alternative treatments.
What's next?
The future of these products will depend on what kind of further research is released by the FDA. In a study published by the medical journal BMJ last year, researchers found no "markedly increased short term overall risk of cancer" among users of valsartan drugs that were made with NDMA. The study did mention, however, that there is a need for more research on the long-term risk of cancer.
It's expected that more companies and countries will ban the sale of Zantac and its generic counterparts until the safety of these drugs has been fully established. As of right now, the United States, Canada, France, and Bangladesh have all issued a temporary removal of ranitidine products from store shelves.
A dozen Zantac cancer lawsuits have been filed in federal court.  In November, plaintiffs' lawyers filed a motion to the MDL judicial who decides whether the Zantac claims should be made into a class action (really an MDL but it is class action as most people understand the term).  As of January 2020, the court has not yet ruled on this motion. We expect the court to grant the motion.
If you are bringing a Zantac claim, this is great news for you.  This means it is very unlikely much will be asked of you in the litigation for quite some time.  You file a lawsuit, fill out some paperwork, and hope these cases produce a settlement offer.
Why file a Zantac cancer lawsuit?
Money will not change what you have gone through. But a settlement can help you get through it. Settlement proceeds can pay for medical treatment, the time you lost from work, and, most importantly, compensate you for your pain and suffering.
Will the Zantac lawsuits lead to large settlements?
This is the question you have to ask: how much money can Zantac victims expect in a settlement.   The real answer is no one knows.  But our lawyers expect the Zantac lawsuits to lead to favorable settlements.  Why?   This chemical has been commercially available for nearly 40 years.  No one saw a connection to cancer in all of that time?  My guess is that the makers of ranitidine probably saw data showing a connection, wrote about it, and the research and efforts to test a connection went nowhere.
My guess is lawsuits get filed and we get a better idea of who knows what.  Of course, this presupposes causation between Zantac and cancer, and the FDA recently put out some data to muddy that picture.  But that data seems flawed.
What is the potential settlement value of the Zantac cases?  It is so early to project the settlement value of these cases.  Could it be bigger than Roundup which is projected to be about $500,000 a case?   I think that is a fair comp for a mass tort settlement.  But we will have to see how these cases play out.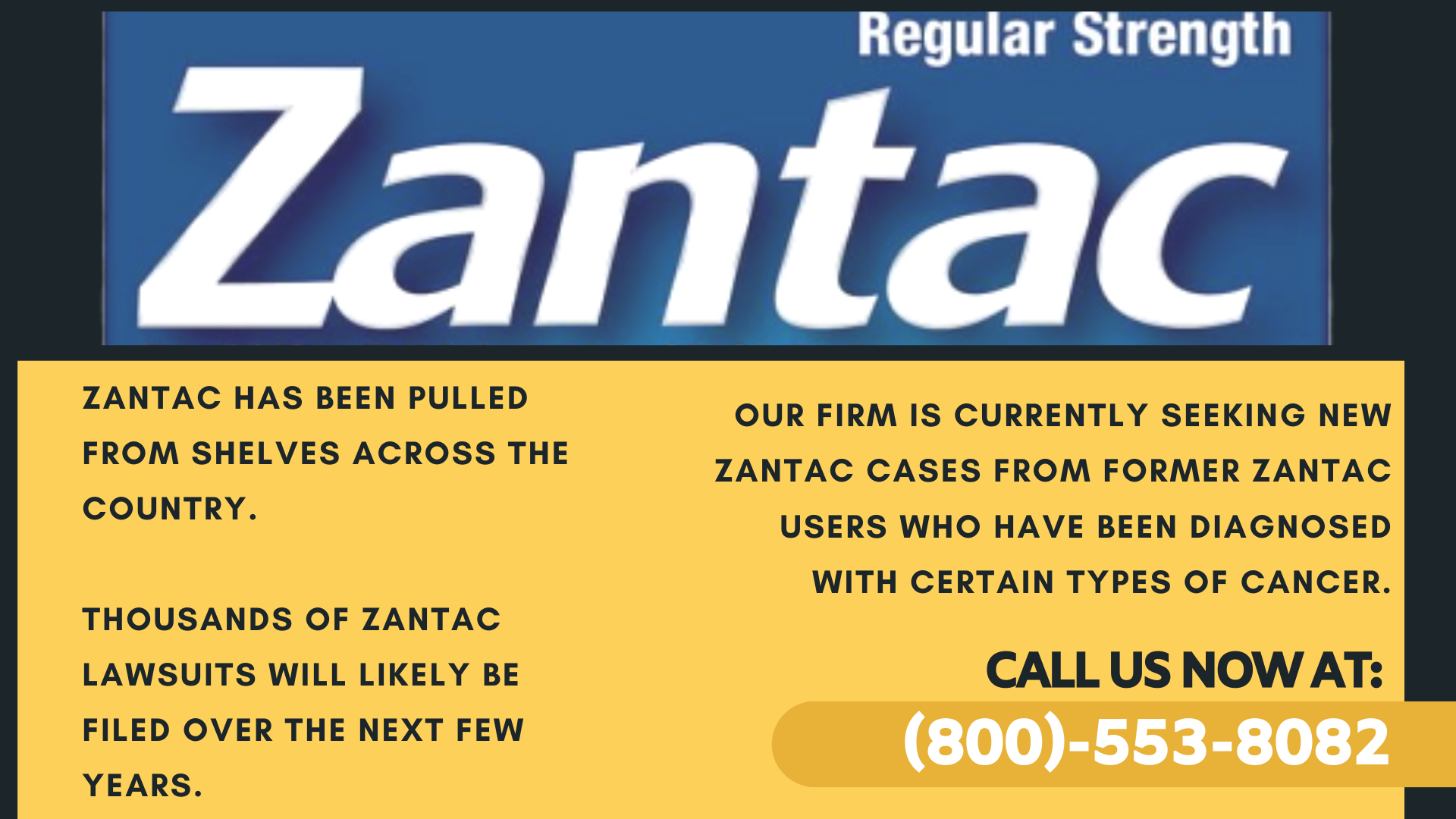 What about generic Zantac lawsuits?
Claims against generic manufacturers are always a challenge for plaintiffs' lawyers. Why?  Because the FDA has a "sameness" requirement for generic drugs.  This means that a generic manufacturer must have the same label as the brand-name equivalent. So if the label is the same, federal preemption bars state court antacid medication lawsuits against generic manufacturers and distributors.
Innovator Liability Claims Involving Antacid Medications
Innovator liability is, frankly, an end-run around federal preemption protection enjoyed by generic manufacturers.  Under this claim,  an "innovator" may be responsible for harm caused by the generic drug.  So victims who were injured by the generic drug product can sue the brand-name drug manufacturer liable for failing to warn of a defect in the product.
At the end of last year, the MDL judge dismissed many of the plaintiffs' generic ranitidine lawsuits that were based on innovator liability claims.  While both California and Massachusetts law allows for these claims, but the judge dismissed these claims under the theory that MDL plaintiff must assert specific jurisdiction that alleges the defendant's action or inaction in the court's home state led to the harm alleged.  So all of the MDL plaintiffs can't make state law claims without a nexus.  But plaintiffs' lawyer refiled their lawsuits changing how they articulated the claim.
Ford v. Montana Eighth
In the meantime, a new Supreme Court opinion gave the Zantac plaintiffs new legs on which to stand.  This new case, Ford Motor Co v. Montana Eighth Judicial District, ruled that held that state courts in Montana and Minnesota could assert jurisdiction over product liability claims in spite of the fact that the defendant did not directly sell the allegedly defective product.  This gives a new angle for the innovator liability claims under California and Maine law.  So we will see where that goes.
When will the Zantac lawsuits be settled?
Our lawyers cannot tell you when the Zantac lawsuits will settle and which cancers would be a part of a class action settlement.
Our lawyers' feeling has always been victims will win these Zantac lawsuits if they go to trial.  Trials will likely start at the end of the year.  The defendants would be wise to settle the cases if the judge allows them to go to a jury. Will the Zantac cases settle this year?  We will find out.
It is also worth letting you know that even if the stars line up and the Zantac lawsuits settle this year, you likely would not expect to see settlement compensation payouts until next year.
Mass tort cases like this litigation, unfortunately for victims who have already suffered so much, do take time.
Are lawyers interested in Zantac claims?
Ah, I think so.  This is the email I got today:
We are generating Zantac Cancer leads at $20 per lead and depending on the criteria we are seeing retained cases at $65-$125 per case. We are very transparent when it comes to our lead generation program and want to earn your business. We work on a 15% of ad spend management fee that includes managing your campaigns, ads, creating landing pages, and integrating with your CRM or lead management systems. Don't miss out on the opportunity to get Zantac cancer cases while they are cheap – we are already seeing a lot of firms jumping on board! Give us a call or send us an email for more information.
This post was originally written a year ago.  Now, look at the cost of a Zantac lead.
What Is the Biggest Challenge in the Zantac Lawsuits for Victims' Lawyers?
The biggest challenged for victims' attorneys in the Zantac lawsuits is proving that NDMA caused the cancer the victim has or had.  We see the same problem in the new BPAP litigation.  Showing the companies screwed up should not be that difficult.
But before a judge ever lets you get in front of a jury, you have to prove to that judge that the science supports the premise that the victim's cancer could have been caused by the NDMA in Zantac.  For bladder cancer and a few others, this may not be difficult.  But for some types of cancer, this may be harder to prove.
Get a Zantac Lawyer
Again, we are lawyers  INVESTIGATING THESE CLAIMS.  If you have a potential Zantac cancer claim, call us at 800-553-8082.