Our lawyers can help you bring a Valsartan cancer lawsuit in all 50 states.
Valsartan is a popular blood-pressure drug used by millions of people in the U.S. and sold under the brand names Diofan and Exforge. But Valsartan was recalled after it was discovered that the drug was contaminated with dangerously high levels of a carcinogenic chemical called NDMA.
This has prompted thousands of Valsartan lawsuits by individuals who developed certain types of cancer after prolonged use of Valsartan.
Our law firm is handling Valsartan cancer lawsuits in all 50 states. If you used valsartan for an extended period it may have significantly increased your chance of developing certain types of cancer.  Get a free online consultation to see if you have a potential claim for settlement compensation or a jury payout.
---
Valsartan Update: Augst 2023:
With the opening round of bellwether trials only 7 months away, the Valsartan class action lawsuit continues to grow at a snail pace. Last month, just 5 new plaintiffs were added to the MDL, bringing the current total up to 1,216.
Valsartan Update: June 2023
This litigation continues to move along. There are now 1,211 plaintiffs. So there is more case subtraction at this point than addition.  The next Case Management Conference will occur Wednesday, June 7, 2023. 
Valsartan Update: December 2022
In the wake of the recent ruling which dismissed all of the Zantac lawsuits, defendants in the Valsartan class action MDL filed a motion asking the MDL to reconsider his earlier ruling on the validity of the plaintiffs' causation evidence. The defendants were hoping that the Zantac ruling would lead to a similar result in their cases.
However, the Valsartan MDL Judge rejected this request. In an Order issued last week, Judge Kugler explained that the scientific issues in the Zantac lawsuits were significantly different and, therefore, the ruling in that litigation had no application to the Valsartan cases. Judge Kugler's ruling now leaves the path clear for the Valsartan cases to go to trial.
This is good news.  The shadow of the December dismissal of the Zantac NDMA claims hovered over this litigation. Yes, different judge, different science, different many things.  But you cannot seriously pretend that the dismissal of the Zantac class action lawsuit did not send shockwaves through the Valsartan litigation. Still, it is all systems go toward the first Valsartan trial. 
Valsartan Update: November 2022
We will not see many more new Valsartan lawsuits.  Only 15 new cases were added to the Valsartan class action MDL over the last month. Since the start of the year, only 116 new Valsartan cancer lawsuits have been added to the MDL class action. Most of those were filed before April. The monthly totals have been steadily decreasing since then, which could indicate that the field of prospective plaintiffs may be close to fully exhausted.
Valsartan Update: October 2022
There are now 1,155 plaintiffs with pending cases in the Valsartan MDL alleging that NDMA in the popular drug caused them to develop cancer. This means that the Valsartan MDL has only added 120 new cases over the last six months.
One of the primary reasons that the Valsartan class action has remained so small compared to its class action "cousin" Zantac is that the NDMA contamination in Valsartan was a limited event that occurred in only certain batches of the drug. It is also a reflection of the more limited size of Valsartan users compared to Zantac.  
---
Valsartan Settlement Update: August 2022
There has not been much to update in the Valsartan class action lawsuit in the last few months.  Forty new Valsartan NDMA cancer cases have been transferred into the MDL since April.
During that same time, around half a dozen cases have been voluntarily dismissed.  So the current number of Valsartan lawsuits in the class action is 1,110 as of June 15.
Our lawyers' general expectation is that the Valsartan cases will eventually be resolved in a global settlement. But it has been a slow – very sloooowww – grind.
This reality is underscored by the minutes of the last status conference with the MDL judge on June 29, 2022.  Instead of hammering away to find common ground on Valsartan lawsuit settlement amounts that would get these cases resolved, the parties are still discussing the same preliminary discovery matters that were at issue five months ago.  It is like Groundhog Day. 
No bellwether trials have been scheduled and we don't even have a selection process for bellwether cases.   Hopefully, things heat up soon.  There is a good judge in these cases and Valsartan lawyers on both sides are good, competent lawyers.
One more thing to keep in mind if you are reading these updates but you are sitting on the sidelines with a potential claim.  Once there is an agreement on settlement compensation amounts, it may become hard to find a lawyer.  Our law firm, for example, will likely stop taking new cases after a Valsartan settlement.  So if you have a claim call us or another Valsartan lawyer today.   
---
Valsartan Settlement Update: April 2022
As settlement efforts continue, the Valsartan class action lawsuit balloons to 1,072 plaintiffs.  Judge Kugler will hold the monthly status conference in the Valsartan MDL today (April 13, 2022). The main agenda item for the conference today is boring but important: a lingering discovery dispute regarding document requests from the plaintiffs' lawyers.

---
Valsartan Settlement Update: March 2022
A pair of former judges have been appointed as settlement counsel in the Valsartan MDL. Their job will be to help facilitate some type of global settlement that will resolve over 1,000 cases currently pending. If a settlement cannot be brokered, the opening round of bellwether trials will move forward.
---
Valsartan Recall
In 2018, the FDA announced a major recall of prescription blood pressure and heart drugs which contain the active ingredient valsartan.  Valsartan is an active ingredient that is widely used in several brand-name and generic drugs (Diofan, Exforge, etc.) used to treat hypertension and heart failure.  It was recently discovered that when valsartan is manufactured in a certain way, it can contain a dangerous impurity called N-nitrosodimethylamine (NMDA).
NMDA is a known human carcinogen.  The valsartan medications containing the dangerous NMDA impurity have been linked to a specific pharmaceutical ingredient distributed by a Chinese company — Zhejiang Huahai Pharmaceuticals.  Zhejiang Huahai was manufacturing the contaminated valsartan component and selling it to several U.S. pharmaceutical companies, including Teva Pharmaceuticals Ltd. and Solco Healthcare.  Zhejiang Huahai discovered NMDA impurities in its product which eventually led to the FDA recall.
All valsartan products manufactured with ingredients from the Zhejiang Huahai company were immediately recalled for safety reasons.  According to the FDA, the NDMA impurities in the drugs were "totally unexpected" and believed to be caused by changes in the way certain ingredients were manufactured by the company in China.
The FDA followed up with a full investigation into the recalled products and the NDMA contamination. This investigation revealed that the NDMA contamination was more widespread than initially believed. At least one company in India that manufactures pharmaceutical ingredients was identified as a potential source of NDMA contamination.
List of Recalled Valsartan Drugs
Not all drugs containing Valsartan have been recalled.  Only those drugs made with ingredients from Zhejiang Huahai.  The list of all recalled drugs is below:
Drug Name                                                     Manufacturer
Valsartan                                                         Major Pharmaceuticals
Valsartan                                                         Solco Healthcare
Valsartan                                                         Teva Pharmaceuticals Industries Ltd.
Valsartan/Hydrochlorothiazide (HCTZ)  Solco Healthcare
Valsartan/Hydrochlorothiazide (HCTZ)   Teva Pharmaceuticals Industries Ltd.
What is NDMA?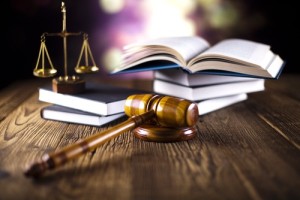 NDMA is a type of chemical compound that is often created as a byproduct of chemical processes that are used to manufacture various products. NDMA is created in the manufacture of rubber tires, chemical pesticides, and the processing of fish for market sale.
A small trace amount of NDMA is often found in certain processed foods (again as the byproduct of the way the food is produced).
NDMA is classified as a human carcinogen (meaning it is believed to cause cancer in humans). Numerous animal studies have established that NDMA can cause cancer in the liver, gastrointestinal system, and kidneys.
Potential Injuries from the Valsartan Products
It is very unclear how long the recalled Valsartan products may have been on the market while containing the dangerous NDMA impurities.
However, all of the recalled valsartan drugs are long-term "maintenance" medications that patients usually take every day for years.  Therefore, it is very possible that many individuals could have been ingesting drugs contaminated with NDMA daily for many years.  This sort of long-term exposure to a known carcinogen creates a very serious health risk.  NDMA exposure is strongly linked to certain types of cancer, including:
Bladder Cancer
Stomach Cancer
Liver Cancer
Gastric Cancer
Colorectal Cancer
Kidney Cancer
Pancreatic Cancer
Valsartan Class Action Lawsuit
The discovery of NDMA in Valsartan prompted a wave of product liability lawsuits. Since the 2018 recall, around 1,100 Valsartan lawsuits have been filed. Most of the Valsartan lawsuits ended up in federal courts and were eventually consolidated into a class-action MDL in the District of New Jersey (Valsartan MDL). There are currently over 1,000 active cases pending in the Valsartan MDL.
The plaintiffs in these Valsartan lawsuits are individuals who used prescription drugs containing valsartan to treat high blood pressure for extended periods and were subsequently diagnosed with one of the cancer types linked to NDMA. Plaintiffs in the valsartan lawsuits are claiming that their cancer was directly caused by the NDMA in the Valsartan medication they were using. There is significant and reliable scientific evidence linking NDMA consumption to various cancers.
Settlement Value of Valsartan Lawsuits
None of the Valsartan cancer lawsuits have settled or gone to trial yet, so we don't know exactly how much these cases could be worth. We can, however, offer a reasonable estimate of their likely settlement value by looking at payouts in prior cases. For purposes of valuing the valsartan cases, we can look at average settlement values in other tort cases involving similar cancers and also prior mass tort settlements.
Based on these points of comparison, we think a reasonable estimate for the potential settlement value of valsartan cancer cases in the top settlement tier will be around $150,000 to $200,000. The valsartan cases in the highest settlement tier will be those involving the worst types of cancer with the lowest survival rates (e.g., pancreatic cancer, stomach cancer, etc.) Valsartan cases involving somewhat more survivable types of cancer (kidney, colon, etc.) could end up in a second settlement tier with a possible value of around $90,000 to $125,000.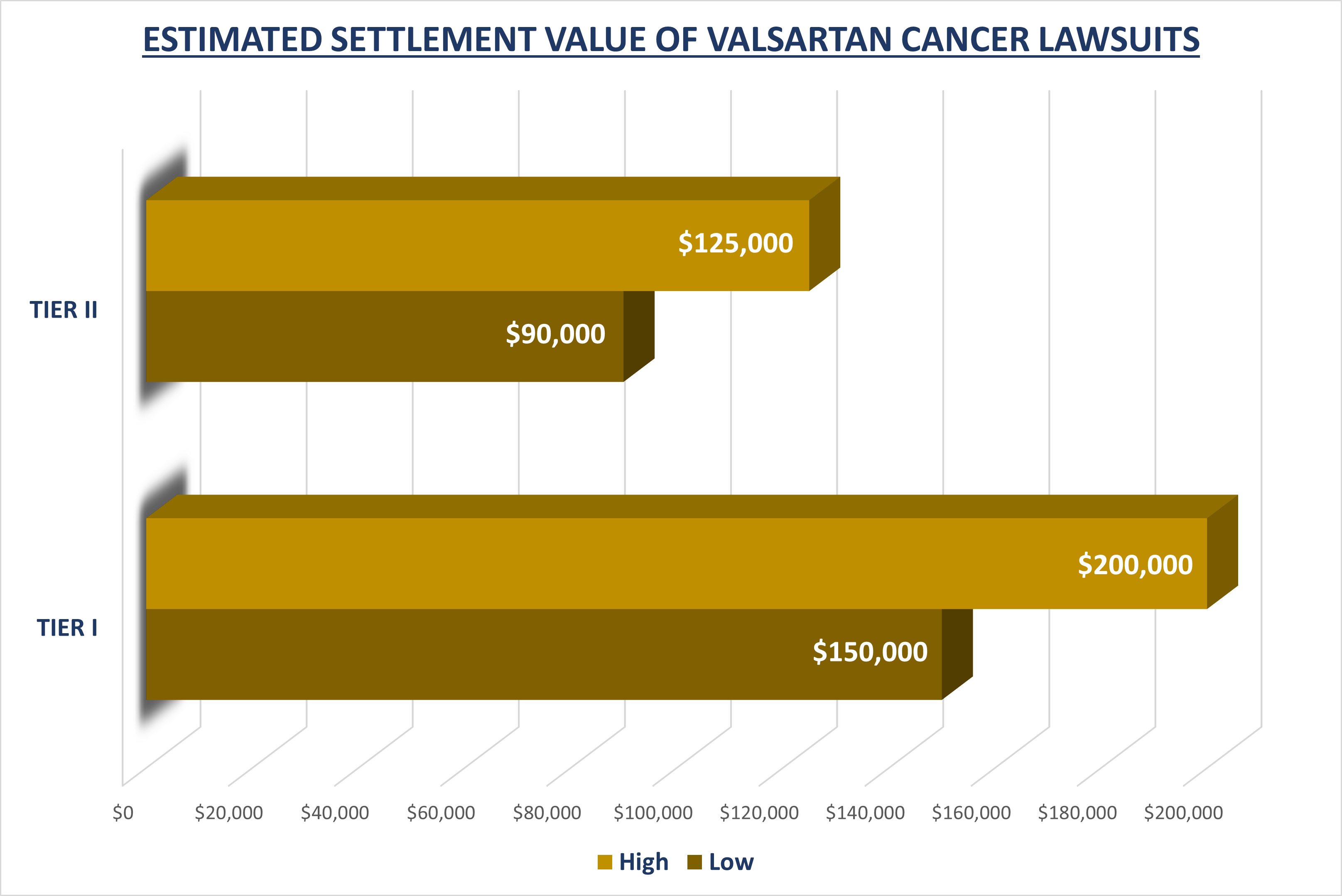 Contact a Lawyer If You Have Been Taking Valsartan
If you have been taking one of the recalled valsartan drugs manufactured by Teva or Solco Healthcare, you should contact Miller & Zois to discuss whether you have a potential claim.
There is a class action lawsuit that we discussed above that may lead to financial settlements for valsartan victims.   The possible settlement payouts — given the injuries — could be very large.  Even if you don't have cancer or any symptoms right now, you might become sick down the road. Get a free online consultation.