This page predicts Zantac lawsuit settlement amounts.  Our attorneys also provide the latest updates from the Zantac class action lawsuit as of October 2, 2022.
Projecting Zantac Settlement Amounts
It is impossible to know what the average compensation payout might be in the Zantac litigation at this stage. But projecting settlement amounts from this acid reflux drug is what stock analysts and shareholders for Sanofi-Aventis, Boehringer Ingelheim, Pfizer, and GlaxoSmithKline are doing –  and baking those future projected settlements and verdicts into the defendants' stock prices.
Plaintiffs' Zantac lawyers should do this because victims want to understand what the settlement compensation payouts in the Zantac claims might be.
So this post will look at the settlement amounts a Zantac lawsuit might fetch based on comparisons to other mass tort settlements involving cancer.
Call a Zantac Lawyer Before It Is Too Late
If you have a potential Zantac cancer lawsuit, reach out to a lawyer – any Zantac lawyer – today.  The deadline to sue may be approaching for many.  The statute of limitations can be a harsh and unfair deadline.  Don't lose your right to compensation.  You can contact us at 800-553-8082.
You can find more Zantac updates on our main Zantac update page on our website. This page was last updated on November 2, 2022.

Zantac Class Action Updates
November 2022 Zantac Lawsuit Update
Last Friday, Judge Rosenberg issued an Order requiring both sides to file supplemental briefs on the admissibility of new expert witnesses. Judge Rosenberg recently allowed the plaintiffs to introduce these new experts to present the results of a new epidemiological study on the link between Zantac and cancer.  Now both sides will get to weigh in on how the new study should impact the overall debate.
This comes after Judge Rosenberg expressed major concerns about the admissibility of the plaintiffs' causation experts during last month's Daubert motion hearings.  It is hard to imagine the judge dismissing these claims and I think a dismissal would be vulnerable on appeal. But you can never predict what a single judge will do.  That is scary.
October 2022 Zantac Lawsuit Update
All eyes are on the MDL in Florida as we await the court's Daubert rulings. But two state court Zantac lawsuits are moving forward.  There is a trial in California is set for February 2023 and there is another Zantac trial that same month in Madison County, Illinois in February 2023.
Meanwhile, another study has come out to show the relationship between ranitidine and cancer in the International Journal of Environmental Research and Public Health titled "Pharmacoepidemiological research on N-nitrosodimethylamine-contaminated ranitidine use and long-term cancer risk: A population-based longitudinal cohort study."
Plaintiffs in the Zantac cancer lawsuits are asking the MDL judge to sanction defendant Sanofi-Aventis for deleting thousands of potentially relevant internal emails. The plaintiffs claim that this amounted to spoilation of evidence and are asking the Court to grant an adverse inference against Sanofi as an appropriate sanction. A hearing on the motion could happen before the end of the year.
This study done in Taiwan found that patients treated with ranitidine showed a statistically significant increased risk of many types of cancer, including gastric cancer,  liver cancer, pancreatic cancer, esophageal cancer, and bladder cancer.
September 2022 Zantac Lawsuit Update
The Zantac Daubert hearings began today, September 21, 2022. Over the next three days, the Zantac MDL class action judge will hold Daubert hearings which could determine the future of the Zantac class action lawsuits.
Daubert hearings are a pretrial procedure to determine whether expert evidence should be allowed to be presented in a case. This is the mechanism for the court to serve its "gatekeeping function" which ensures that only reliable and scientifically sound expert testimony can be presented to a jury.
In the Zantac litigation, the plaintiffs need expert testimony to prove their claims that they developed cancer from NDMA in Zantac. If the MDL Judge finds that their expert opinions are not sufficiently reliable, the Zantac cancer lawsuits could potentially be dismissed.
How Many Zantac Lawsuits Are There in September 2022?
There are over 2,000 plaintiffs with pending cases in the Zantac class action MDL. There are thousands of additional Zantac victims – probably around 52,000 or so – who have opted to file claims on the official MDL claim Registry. The Zantac claim Registry has enabled prospective plaintiffs to file claims for relief and avoid filing an actual lawsuit, but still be included in any global settlement. Earlier this month, the Zantac MDL Judge issued an Order announcing that the claim Registry will be closed as of September 14, 2022.
August 2022 Zantac Update
Two pieces of Zantac lawsuit news so far this month.
August 24, 2022 – Zantac Settlement Marker Is Set
This page is about expected Zantac settlement amounts and we have our first canary in the coal mine. Three generic Zantac makers paid $500,000 to settle a generic Zantac case a week before it was set to go to trial in Illinois state court. The plaintiff claimed that ranitidine use caused his esophageal cancer.
The settlement avoids a trial set to start next week. It would have been the first Zantac cancer case to go to trial. The fact that the defendants paid out $500,000 to settle the case and avoid going to trial next week is a very positive indication and could be a sign of things to come as the bellwether trials in the Zantac MDL get closer.
August 10, 2022 – Zantac Related Stocks Taking a Hit
The start of the bellwether trials in the Zantac MDL is right around the corner and shares of big pharmaceutical companies named as defendants in the litigation have been down sharply this week.
These stocks are taking a hit because investors are becoming increasingly concerned about the cost of Zantac litigation charges that these companies will eventually absorb.
The Zantac class action lawsuit Zantac MDL has fewer than 3,000 pending cases, but there are as many as 50,000 claimants who have registered claims that have been administratively filed to protect against the running of the statute of limitations.
The strength of the case against the defendants in the Zantac lawsuit and the sheer number of claims has the stock market worried that the settlement amounts in the Zantac class action will surpass the $11 billion that has already been paid in the Roundup litigation.
July 2022 Zantac Update
Two big Zantac lawsuit developments this month.
Zantac Trials in State Court in California
Zantac lawsuits in federal court are our attorneys' primary focus because those lawsuits will have the most impact on settlement amounts in these cases. But there are also a large number of Zantac lawsuits set for trial in state court in California. These Zantac suits are pending in Alameda County (Oakland) in 2023 with the first case set for trial in February.
This is helpful to push a Zantac settlement because settlement is usually the result of pressure from trial dates.  The evidence in any Zantac lawsuit that goes to trial is likely to be strong for the plaintiff.  A blowout verdict will push settlement amounts higher and that may be a risk the defendants in these cases choose not to take.
Cancers Other Than the Five Pursed in Zantac Class Action
This month, the Zantac MDL class action judge issued an Order clarifying that no "cancer-specific claims" have ever formally been dismissed from the MDL.
The Order was prompted by a motion filed pro se (without an attorney) last week by a plaintiff with a Zantac breast cancer claim who was recently advised that claims involving breast cancer (and other types of cancer) are not being pursued by the Plaintiff Leadership Committee (PSC) because of weak causation evidence. In denying the motion, Judge Rosenberg clarified that the final disposition of "non-designated cancer" (such as breast cancer) will be determined later.
June 2022 Zantac Update
Zantac Lawsuit Discovery Battles
To win a class action lawsuit, the lawyers have to fight hard on the ground in pre-trial discovery.  What happens to prepare for trial is often more important than the trial itself.
The Zantac MDL plaintiffs recently filed a motion asking the court to compel the defendants (Sanofi and Chattem) to allow them to participate in the deposition of a Sanofi IT employee being held this week in the Zantac case in Illinois state court.
Since the start of the Zantac lawsuit, the plaintiffs have been accusing Sanofi of intentionally deleting relevant internal emails in violation of court orders.  Sanofi vigorously denies these allegations. A Sanofi IT employee is being deposed in the state court case and has direct knowledge of whether these emails were deleted. So Zantac lawyers in the class action want to talk to him.  On Tuesday, the Magistrate Judge in the Zantac MDL issued an order granting the request and allowing the MDL plaintiffs one hour in the deposition of the IT employee.
Daubert Fight Gets Rolling in June 2022
Last week, the defendants in the Zantac cancer lawsuits filed a motion challenging the admissibility of the plaintiffs' expert witnesses on causation. These types of motions seeking to disqualify a plaintiff's expert witnesses are referred to as Daubert challenges.
Daubert motions are a very common tactic employed by defendants in all product liability lawsuits, but they are usually not successful because the bar for disqualifying experts is very high.
The Zantac plaintiffs will have an opportunity to file a response to the motion and the MDL has already scheduled a hearing on the Daubert challenges for September.
The Pace of Zantac Class Action Lawsuit
With the bellwether test trials still on track to begin in October, the pace of new Zantac cancer lawsuits has slowed dramatically. Only 10 new Zantac cases were transferred into the MDL last month and only 8 new cases were added in the previous month. Those new cases are offset by the dismissal of five pending cases, leaving the total number of plaintiffs in the Zantac MDL at 2,106 as of June 15, 2022.
Less Filed Zantac Lawsuits in June 2022
Why has the pace of new Zantac claims slowed down?  When the Zantac lawsuit was filed, the statute of limitations had not passed for many older claims because there is an exception to the statute of limitations when the victim could not know that their injury was caused by Zantac.
With Zantac, many victims died of cancer long before there was information in the public domain that connected the drug to NDMA and cancer.  So our Zantac lawyers were seeing viable Zantac lawsuits where the death or cancer diagnosis was some time ago.
Now, the statute of limitations has passed for many of the older Zantac claims.  The new viable Zantac lawsuits are mostly claims where there is a new cancer diagnosis or death – within the last two or three years in most states.  This is a smaller number of cases which is why fewer claims are being added to the Zantac class action lawsuit.
May 2022 Zantac Update
From Day 1, our Zantac attorneys have been saying the Zantac lawsuit will be won or lost in the battle of the experts.  So lawyers on both sides will fight hard over every last detail.
The parties are fighting right about whether plaintiffs' lawyers can use a rebuttal expert, Dr. Mira M. Hidajat, to defend her study that quite clearly demonstrates that NDMA can cause cancer. This peer-reviewed study has been relied upon by plaintiffs' experts and criticized by defense experts.
The judge held a hearing on Friday on the issue but has yet to rule. We expect more of these discovery skirmishes as lawyers prepare for trial in five months.
Pretrial Order with Zantac Lawsuit Deadlines
In other Zantac class action lawsuit news in May 2022, Zantac MDL Judge Robin Rosenberg issued Pretrial Order #77 which lays out the briefing deadlines and hearing schedule for pretrial dispositive motions from either side.
The deadline for defense motions will be June 13 with hearings set for September 20. The plaintiffs' motion deadline will be July 6, with hearings on those motions scheduled for September 28. These deadlines suggest that we are still on track for the first Zantac bellwether lawsuit to go to trial in October.
April 2022 Zantac Update
There are four Zantac lawsuit updates this month you should know about:
At the start of April, the Zantac MDL Judge issued Pretrial Order # 75 to amend the duties and responsibilities of the Special Master (Hon. Bruce E. Reinhart) assigned to the MDL. This order underscores that we are not far from the first Zantac lawsuit to trial in October 2022.  The Court explained that the focus of the Zantac litigation has moved from general causation discovery to expert witness discovery and trial preparation. The new duties of the Special Master will reflect this gear shift into litigation mode.
The Magistrate Judge in the Zantac MDL granted a motion by the defendants requesting approval of additional time to complete the depositions of five key expert witnesses for the plaintiffs.  These are all causation witnesses.  These are the witnesses that provide a connection between Zantac and the five types of cancer being pursued in the Zantac class action lawsuit.  Our Zantac lawyers believe victims will win these lawsuits at trial if the science connects NDMA and their specific cancer.  In a paperless order entered on March 18, Judge Reinhardt granted five additional hours for the deposition of Dr. Anne McTiernan and three additional hours each for the depositions of four other expert witnesses for the plaintiffs.
March 2022 Zantac Update
At the suggestion of Co-Lead Counsel, the judge in the Zantac MDL issued an Order on March 8, 2022, announcing membership changes and new appointments for the Zantac lawyers' leadership structure in the MDL class action. The Plaintiffs' Leadership Steering Committee (PSC) was expanded with the addition of 9 new members, including all 5 members of the original Leadership Development Committee (LDC) who were elevated to the PSC. A new LDC was formed with a slate of 12 younger lawyers with less MDL experience who were suggested by the Plaintiffs' Co-Lead Counsel.
No MDL has used a class action registry process more extensively than the Zantac MDL. Plaintiffs were allowed to preserve their Zantac claim without the traditional court papers for a lawsuit. This cut down on filing fees, and pretrial discovery obligations, and generally made a Zantac lawsuit easy to bring.
The Zantac MDL judge believed strongly the registry system was the best way to organize the Zantac Litigation. But now Judge Rosenberg believes that we have reached a point in the Zantac class action that it is time to put a bow on this mechanism and finalize the registry information for all plaintiffs.
This is a good development that underscores that we may be in the final innings of this lawsuit before the defendants offer settlement amounts to victims to resolve this litigation.
February 2022 Zantac Update
The Zantac MDL steering committee now only intends to pursue five types of cancer in MDL-2924:
All five of these types of cancer should survive a Daubert motion to dismiss.  The least likely Zantac lawsuit to be dismissed?  Claims that alleged NDMA in Zantac caused their bladder cancer.  The science is particularly strong on these Zantac cancer claims.  But the evidence for the other four types of cancer are also quite strong.
The selection of the initial pool of Zantac plaintiffs, who will be candidates for the opening bellwether trials is underway. Lawyers for the plaintiffs recently filed a motion asking the MDL judge to protect the privacy right of these potential bellwether plaintiffs when they are required to produce their medical records in the discovery process. The motion asks the court to order the redaction of information relating to mental health, sexual abuse, and substance abuse from the medical records.
January 2022 Zantac Update
The Zantac class action lawsuit now involves eight types of cancer diagnoses:  bladder, colorectal/intestinal, esophageal, gastric, liver, lung, pancreatic, and prostate.  The most notable exclusions from this are breast cancer and kidney cancer.  These claims are no longer being litigated in the federal MDL Zantac lawsuit.
Our Zantac cancer lawyers are now handling only five types of cancer listed above (our Zantac lawyers saw where it was going, which is why we reduced to those five diagnosed cancers before it was announced in the MDL).
December 2021 Zantac Update
Last week on Thursday and Friday, the MDL Judge in the Zantac lawsuit MDL in the Southern District of Florida held a pair of science days.
A science day is when attorneys for plaintiffs and defendants educate the court about the medical and scientific evidence underlying their positions.
In the Zantac lawsuits, each party brought two medical experts to educate the judge on its view on science in these cases.  Ultimately, the MDL judge absorbs all this information with an eye toward whether credible science supports these Zantac cancer claims.
So for the lawyers, it is also a sneak preview of the science the judge will rule on as the lawsuit progress.  How the judge views the science in these cases is the single most important issue to the ultimate settlement amounts for victims than anything else in the Zantac lawsuits.  The stakes are that high.
The science day presentations try (unsuccessfully) to be non-adversarial.  This science day focused on terms and concepts related to the scientific debate about the link between NDMA in Zantac and certain types of cancer.  The defense position is that while NDMA might cause cancer, there was not enough in Zantac to cause cancer in individual people and there is no scientific proof that but/for Zantac, the plaintiffs would not have gotten cancer without Zantac.  The plaintiffs' Zantac lawyers see this issue differently.
---
November 2021 Zantac Trials (Sort of) Set
In November 2021, the MDL judge finalized the process of selecting cases for initial Zantac bellwether trials has been initiated. An initial pool of 200 cases will be established from Zantac cases pending in Florida. The Florida Zantac cases have been categorized into 8 groups based on the type of cancer alleged by the plaintiff. Twenty-five cases will be randomly selected by a computer from each of the eight different cancer type groups.
The resulting pool of 200 cases will go through a fact discovery and vetting process to eliminate cases that do not meet certain criteria. This process will be completed by August 1, 2022, at which point bellwether trial cases will be selected from the remaining pool.
Zantac Cancer Lawsuit
Zantac (ranitidine) is an antacid that has been around since the 1980s and was available in both prescription and over-the-counter forms. GlaxoSmithKline originally developed and released Zantac but it was widely available in generic versions manufactured by various companies.
Zantac was used to treat gastroesophageal reflux disease and peptic ulcer disease. The drug was popular because it worked. But Zantac contained a hidden carcinogenic chemical. This has led to thousands of Zantac lawsuits by people who regularly used the drug and were subsequently diagnosed with cancer.  There are more than 2100 Zantac lawsuits in federal court as of June 2022.  But there are probably 30,000 more Zantac cancer claims where the patient has not filed a lawsuit but has used a procedural mechanism that allows Zantac patients to "file suit" without actually filing a Zantac lawsuit officially.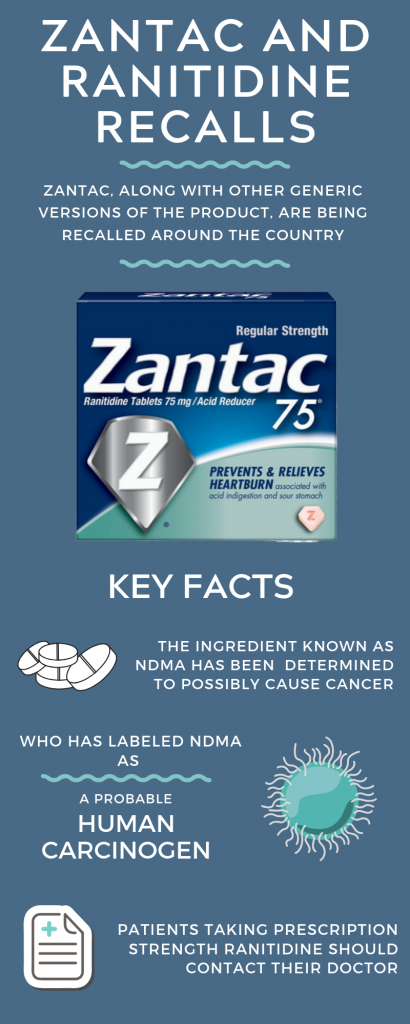 In 2017, Zantac was used regularly by 15 million people in the U.S. Many of these Zantac users took the drug every day for long periods under the assumption that it was perfectly safe.
In 2018, random quality testing found that the popular drug contained very high levels of a chemical called NDMA (N-Nitrosodimethylamine). NDMA is highly toxic to the human body and is a known carcinogen. The levels of NDMA in Zantac were so high that the FDA issued a public safety warning and Zantac was promptly pulled off retail shelves across the country.
This quickly led to a wave of Zantac lawsuits by individuals claiming that their exposure to NDMA in Zantac caused them to develop cancer. Zantac lawsuits have been filed and consolidated into a Zantac MDL in the District of New Jersey.
The Core Zantac Claims
These Zantac suits claim the defendants could have tested Zantac for NDMA, warned the FDA, doctors, and Zantac patients of the concerns they should have had, shortened expiration dates, packaged this drug differently, and stored and transported Zantac at reasonable heat and humidity levels.
The defendants should have known of the risk of NDMA in Zantac.  The molecular structure of the drug would have put a reasonable drug manufacturer on notice of the drug's propensity to degrade into NDMA. N-Nitrosodimethylamine (NDMA) is formed from N-nitroso (N) and Dimethylamine (DMA). Zantac has both. So without any other compounds, it can degrade to produce NDMA.
There were also studies available to alert the defendants that heat and humidity could further compound the problem.  The degrading with moisture or high temperatures can occur both externally and inside a Zantac patient's stomach.  Moreover, Zantac in combination with high nitrate foods can cause further degradation, producing cancer-causing NDMA.
So the core of these claims is that Zantac breaks down into NDMA and the defendants should have warned about the problem and issued a Zantac recall much sooner.  Zantac turns into NDMA after it is produced.  It breaks down in the Zantac patient's stomach. It breaks down in combination with certain foods.  It breaks down in the presence of heat and moisture.  It even breaks down with the mere passage of time.  So there is a cumulative effect of how NDMA degrades to cause cancer.
So let's break that down for an individual Zantac patient.  Zantac is typically taken one to two tablets of Ranitidine a day for years. One tablet of Zantac can contain more than 3,000 times the FDA-acceptable daily limit of NDMA.  So Zantac users were too staggering doses of NDMA over an extended period. Is anyone surprised that over 70,000 brought a Zantac claim alleging the drug caused their cancer?
Zantac Lawsuits Should Be Resolved in a Global Settlement
At this stage, our attorneys don't know exactly how much Zantac lawsuit individual settlement compensation payouts might be. But we can be fairly certain that they will eventually be resolved in a global settlement. This is how all consolidated mass torts eventually get resolved (if they are not dismissed – that is not an unimportant caveat).
Since the formation of the Zantac MDL in 2019, the MDL judge has presided over a consolidated civil discovery process while more Zantac cases have continued to be filed. The discovery phase has focused on the development of scientific causation evidence on both sides.
The discovery phase of the Zantac litigation will conclude next year and then the litigation will move into the bellwether trial phase. This is where jury trials are held in a handful of sample Zantac cases.
The results of these test trials are used to facilitate settlement negotiations in which the defendants agree to pay a sum of money to resolve most of the Zantac lawsuits (except for the opt-outs). In mass torts, this is called a "global settlement."
Example Zantac Lawsuit
For some context, let's look at a newly filed Zantac lawsuit for an example of the type of facts you will see in one of these claims.
New York resident Bennett Cohen became one of the newest plaintiffs in the Zantac litigation.  Cohen filed a Complaint against a group of 13 defendants including both brand-names Zantac manufacturers and generic ranitidine manufacturers. The Complaint was filed directly in the Zantac MDL in the Southern District of Florida.
Cohen's Complaint alleges that he regularly used brand-name Zantac and generic ranitidine in both prescription and over-the-counter forms from 1995 to 2012. Cohen alleges that his regular use of Zantac and ranitidine over these 17 years directly led to his being diagnosed with prostate cancer in 2011.  That is exceptionally long-term use which means this man's cumulative exposure to ranitidine hydrochloride over time was likely very high.
Cohen now joins a group of 2,100 plaintiffs with pending cases in the Zantac MDL. There are over 80,000 additional prospective plaintiffs who have registered Zantac claims but have not yet filed their lawsuits (although many of those have now been dismissed). Bennett's case was filed because the statute of limitations on his claims would have expired.
What Will Zantac  Settlement Amounts Look Like?
Here is a simplified summary of how global settlements work out in most mass torts like the Zantac litigation. Let's say Acme Pharmaceutical is defending 20,000 lawsuits in an MDL by plaintiffs claiming that Acme's new drug caused them to develop cancer. After 2 years of consolidated discovery, 10 of the 20,000 cases are selected for "bellwether trials." The plaintiffs pick 5 cases and Acme picks 5 cases.
The first 3 of these bellwether cases go to trial. The first trial resulted in a $20 million verdict for the plaintiff. The second trial resulted in a defense verdict. The third trial ended with a $5 million verdict. Following the 3rd trial, Acme announces that it is ready to negotiate a settlement, with the remaining trials put on hold. 6 months later the MDL judge approves a global settlement under which Acme agrees to pay a total sum of $5 billion to settle all 20,000 pending cases.
If the $5 billion were divided evenly it would result in a gross payout of $250,000 to each plaintiff. But the settlement arrangement includes a complicated tiered points system in which each plaintiff is ranked based on the severity of their injuries. For the Zantac lawsuits, it would be the length of Zantac usage, the age of the plaintiff, and other factors. Plaintiffs ranked in the highest tiers get larger payouts and those in the lower settlement tiers get smaller settlement payouts.
This is an overly simplified example of what the global settlement in the Zantac litigation should eventually look like. The only thing we don't know at this point is how much the defendants will have to pay out for the settlement.
The size of any individual Zantac settlement payout will depend on
how many Zantac lawsuits are pending at the time (how many cancers survive pretrial motions),
how strong the causation evidence is, and
the results of the first bellwether ranitidine trials.
Estimated Zantac Lawsuit Settlement Amounts
No one can predict per person Zantac settlement amounts with accuracy.  But our predictions are getting tighter. So our lawyers will give you our predictions based on settlement payouts in prior mass torts involving similar injuries (i.e., cancer from product exposure) and our belief in the strength of the case holding the defendants responsible for causing the five remaining types of cancer.
Based on prior settlements, our attorneys think Zantac cases in the highest settlement tiers (plaintiffs with the most types of cancer and longest use history) may see individual Zantac settlement amounts in the $300,000-$400,000 range.
Second-tier cases could see Zantac lawsuit settlement amounts in the $100,000-$175,000 range.
Cases in the third settlement tier would get less than $40,000-80,000 per person. There could potentially be even lower settlement tiers with payments under $40,000.
Settlement Tier                                             Estimated Settlement
Tier I                                                               $300,000 – $400,000
Tier II                                                              $80,000 – $120,000
Tier III                                                             $20,000 – $60,000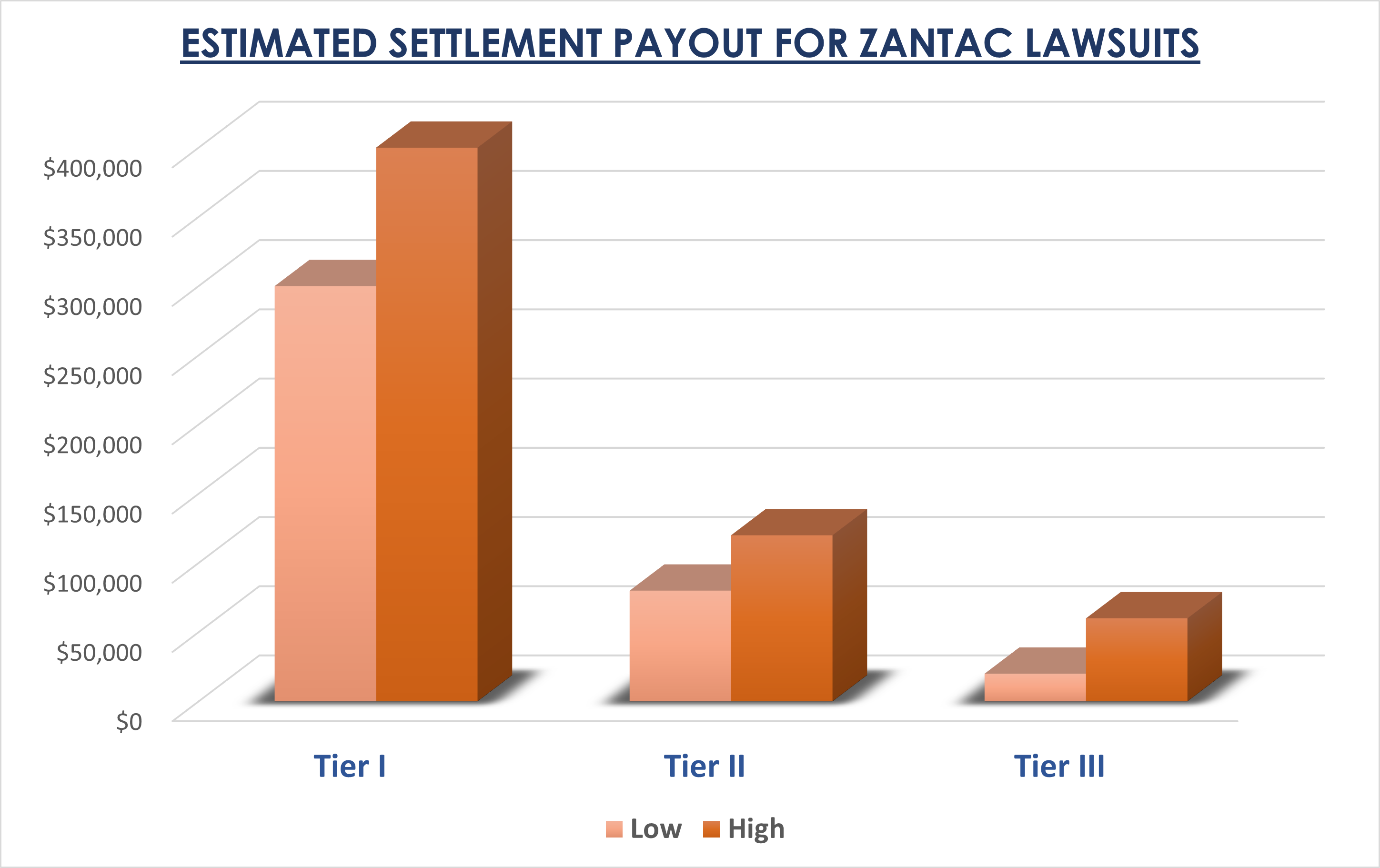 Settlement Amounts in Similar Mass Torts
Our estimated settlement payouts in the Zantac cases are based primarily on the global settlement that is currently unfolding in the Roundup mass tort litigation.
Roundup Settlement Analogy
The Roundup lawsuits are very comparable to the Zantac lawsuits because they both involve a consumer product that caused cancer when used over longer periods. The average per person Roundup settlement amount was between $120,000 and $160,000.
This is not a bad marker for the settlement compensation payouts in the Zantac lawsuit.  Yes, there are some between Zantac and Roundup. For instance, Roundup was linked to a specific type of cancer (non-Hodgkin lymphoma) and the Zantac class action involved five different cancers. But mostly, these consolidated mass torts are very similar and the Roundup settlement compensation payouts make an effective point of comparison for Zantac.
CNBC Average Settlement Amounts Perspective
CNBC recently published an article looking at pressure the Zantac class action lawsuit is putting on the stock prices for GlaxoSmithKline, Sanofi, and Haleon, as shareholders fear billions of dollars in litigation exposure.  The money quote was that previous "drug settlements have ranged from $30,000 to $270,000 per claimant based on evidence of wrongdoing."
The evidence of wrongdoing in the Zantac lawsuit is extremely strong.  So you can form your own conclusions as to where the average Zantac settlement compensation payouts should end up.
Zantac Bladder Cancer Lawsuit Settlement Amounts
For Zantac bladder cancer cases, the Actos litigation with the same injury is instructive.  The average settlement in that class action bladder cancer lawsuit was about $300,000.
This does not mean the average Zantac bladder cancer lawsuit will be $300,000.  Each litigation is different.  But it is hard to ignore the similarities between the two MDL class action lawsuits.
Settlement Amounts for Generic Zantac Lawsuits
Let me be honest.  I have little hope for generic ranitidine lawsuits.  The MDL judge dismissed those claims. I'm not optimistic about their revival on appeal. I think the expected settlement amounts for those generic ranitidine lawsuits approach zero. Zantac lawyers gave it their best shot. And certainly, the generic Zantac plaintiffs deserve a settlement check as much as any plaintiff.  But the hill was too steep to climb.
Caveats to Zantac Settlement Amount Projections
I have already made this point. but I will make it again.  These projected Zantac settlement amounts are just that – projected.  So much can happen in this litigation.  If the MDL accepts the plaintiffs' science of the connection between Zantac and cancer generally, and jurors punish these defendants like I think they would, these predicted Zantac settlement amounts could be rather low.  The MDL judge/California state court judge could dismiss all the Zantac lawsuits.  Either scenario is possible.
Why Is There a Large Gap Between the Number of Claimants and the Number of Zantac Lawsuits Filed in the Class Action?
What confuses people is that there are just over 2,000 cases filed in the MDL as of March 2022, yet there are a reported 50,000 plaintiffs in the MDL.
How do you reconcile the two? The MDL judge sent up a voluntary census registry for unfiled claims (that our lawyers talk about above).  This gives the court the ability to see how many prospective plaintiffs are out there and what those claims may look like. Practically, what it means is the major law firms in the Zantac litigation report the number of potential claims to the judge.   [/sc_fs_faq]
The benefit of such a system for Zantac lawyers is that it stops the running of the statutes of limitations and provides cost-sharing that makes it cheaper to collect medical records to see if there is a viable claim. (Even the cost of filing thousands of Zantac lawsuits adds up.)  Many attorneys who were not as high on Zantac lawsuits as our lawyers are continued to collect these claims because they figured why not given the low barriers to collecting potential plaintiffs.
What Are the Most Common Zantac Lawsuits Lawyers Are Seeing?
The most common Zantac cancer lawsuit clients coming to have law firm have bladder cancer. I think this is also the best case for plaintiffs in terms of the scientific support linking the cancer to NDMA.
Did the Defendants Know That Zantac Could Cause Cancer?
When Zantac came to market, there was already medical literature that Zantac, which has dimethylamine ("DMA"), could form NDMA, when combined with other substances.
Specifically, nitrate that is found in our bodies could supply the "N" to turn DMA into NDMA.  Bacteria and enzymes in the body reduce the nitrates found in food into nitrites and many foods and preservatives contain nitrates.
So the defendant knew or should have known from the beginning that the DMA in Zantac could develop into NDMA.
How Awful Is NDMA for You?
NDMA is pure poison.  This organic chemical forms in both industrial and natural processes. It is an N-nitrosamines, a family of potent carcinogens.  The risk of NDMA has been long understood.  More than 40 years ago we learned that NDMA causes cancer in nearly every laboratory animal that was exposed to the chemical.
Is NDMA in Zantac from a Manufacturing Error?
The high levels of NDMA from Zantac are not caused by a manufacturing defect.  NDMA is a natural consequence of ingesting ranitidine, the active ingredient in Zantac. The Ranitidine molecule contains NDMA and nitrate is also in Zantac and is also produced by the body. So every dosage of Zantac exposed the user to NDMA.
What Types of Cancer Is Your Law Firm Handling?
Our law firm is only accepting stomach, bladder, pancreatic, liver, and esophageal (for non-smokers) cancers.
Get a Zantac Lawyer
If you have developed one of these five types of cancer and suspect Zantac, contact our attorneys at Miller & Zois today. Our Zantac lawyers can investigate your case and evaluate whether you have a viable claim. Call 800-553-8082 or reach out for free online.