The talcum powder lawsuits against Johnson & Johnson have been going on for years. The lawsuits allege that prolonged use of talcum powder (or "talc"), which is the active ingredient in products such as Baby Powder and Shower to Shower, can cause ovarian cancer in some women. This page provides a J&J talc power litigation update.  Our lawyers last updated this page on May 20, 2021.
Latest Talcum Powder Lawsuit Update
Since the first studies linking talcum powder to cancer were made public, thousands of product liability lawsuits have been filed against J&J. The talcum powder lawsuits in federal courts have been consolidated into a class action MDL.
The latest big news is the announcement that J&J was paying $100 million to settle a large group of over 1,000 talcum powder cases in the MDL. This announcement marked a dramatic shift in J&J's position on talcum powder claims. J&J had steadfastly refused to admit that there was anything wrong with talcum powder and the company had aggressively defended all claims.
So what prompted this change of heart? One of the primary motivating factors for J&J was a $2 billion dollar verdict awarded over the summer to 22 women in a Missouri talcum powder lawsuit. That is the kind of thing that wakes up a Fortune 500 giant like Johnson & Johnson.
The Missouri Talcum Powder Case
Inghan, et al. v. Johnson & Johnson, et al., was one of the earliest talcum powder lawsuits. It was filed in the Circuit Court for the City of St. Louis (a very plaintiff-friendly venue) by a group of 22 women who alleged that they developed ovarian cancer from prolonged use of J& talcum powder products. The 2 specific J&J talcum powder products named in the suit were Johnson's Baby Powder and Shower to Shower.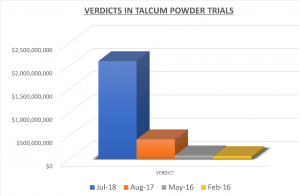 The allegations against J&J in Inghan were similar to the claims that would eventually be repeated in the thousands of talcum powder lawsuits that would soon follow. The plaintiffs alleged that J&J knew for decades that its talc products contained "asbestos fibers and other dangerous carcinogens" but persisted in producing and marketing them despite the health hazards they posed.
The Inghan Complaint accused J&J of making a deliberate effort to conceal these health hazards from government regulators and public health officials, the scientific community, and the public.
The Inghan plaintiffs claimed that J&J (which is headquartered in New Jersey) was subject to jurisdiction in Missouri based on long-term contractual relationships with a Missouri company called Pharma Tech Industries. Pursuant to this contract, J&J talc products were manufactured, packaged, and supplied at Pharma Tech plants in St. Louis.
J&J challenged this jurisdictional claim in an unsuccessful motion to dismiss. J&J also attempted to "sever" the joined claims of the 22 plaintiffs on the grounds that they were not all sufficiently related. This motion was also denied.
Trial Results in $4 Billion Dollar Verdict Against Johnson & Johnson
After J&J lost all of its preliminary motions, the case went through 18 months of pre-trial discovery in which thousands of pages of documents were produced. Eventually, in May 2018, the case went to trial in St. Louis. After hearing testimony from over 30 witnesses over 6 weeks, the jury returned a verdict finding J&J liable on all claims. The jury awarded $550 million in compensatory damages ($25 million for each plaintiff) and an eye-popping $4.14 billion in punitive damages.
The size of the verdict was stunning. Prior to this case, there had been a handful of other talcum powder lawsuits that went to trial. The verdicts in these earlier cases were dwarfed by the $4.6 billion awarded in Ingham.
Missouri Court of Appeals Reduces the Verdict to $2 Billion
J&J immediately appealed the 2018 trial verdict claiming that it was the result of a "fundamentally flawed trial." J&J argued 16 separate points of law in its appeal, ranging from lack of personal jurisdiction to insufficiency of expert testimony. Almost all of these arguments were rejected in a June 2020 appellate court decision. However, the Missouri Court of Appeals did agree that J&J was not subject to personal jurisdiction in Missouri with respect to 17 of the 22 plaintiffs in the case.
Based on its finding that the trial court lacked jurisdiction with respect to ¾ of the plaintiffs' claims, the appellate court proportionally reduced the amount of the punitive damages award against. The punitive damages were reduced from $4.14 billion to $1.6 billion.
The compensatory damages were reduced from $550 million to $500 million. The total amount of the verdict from the 2018 trial was therefore reduced from $4 billion to $2.1 billion.
After the opinion in this appeal was issued, J&J remained defiant and immediately appealed to the Missouri Supreme Court. Missouri's high court declined to even hear the appeal.
We will keep you informed in this space of any further updates.
Loss in Missouri Leads to First Global Settlement
It was not very long after the Missouri Court of Appeals rejected J&J's various arguments and affirmed $2 billion of the jury award, that J&J announced the first major global settlement in the talcum powder lawsuits. Last month, J&J announced that it agreed to pay a total of $100 million to settle a group of roughly 1,000 claims pending in the talcum powder MDL.
This marked the first time that J&J gave any indication that was willing to consider mass settlement of the talcum powder cases. Before this announcement, J&J and its lawyers had been very defiant in their posture. It seems very obvious that the crushing $2 billion loss in Missouri was the final blow that may have broken the company's resolve in this litigation.
Even after the 1,000 cases that are part of the recent settlement, there are still almost 2,000 currently pending federal court cases in the MDL and hundreds more in state courts. At this point, everyone is expecting another mass global settlement announcement in the talcum powder litigation.
One Piece of Bad News in J&J Tal Powder Lawsuits
The one disappointing update in April 2021, was a New Jersey reversed a $117 million verdict against J&J in 2018.  The issue was the plaintiff's expert witnesses.  The court ruled that the trial judge shouldn't have allowed some of an expert's testimony.  But J&J does not win the lawsuit, it gets a new trial.  But the New Jersey Supreme Court could also agree to hear the case and reinstate the verdict.  So this case is far from over. Still, it is always tough to lose a $117 million verdict.
Contact Miller & Zois to File a Talcum Powder Lawsuit
It is NOT too late to file your own talcum powder lawsuit. If you used a talcum powder product for a long period and were subsequently diagnosed with ovarian cancer, call our talcum powder lawsuit attorneys at 800-553-8082 or contact us online.