Our lawyers are handling baby powder lawsuits in all 50 states.  The talcum powder lawsuits against Johnson & Johnson have been going on for years. The lawsuits allege that prolonged use of talcum powder (or "talc"), which is the active ingredient in products such as Baby Powder and Shower to Shower, can cause ovarian cancer in some women.
This page provides a J&J talc power litigation update and discusses how the upcoming bankruptcy ruling impacts the ultimate settlement amounts in these ovarian cancer lawsuits.
October 2022 Talcum Powder Lawsuit Update
October 1, 2022 Update
This New Yorker article on J&J is a great read.
September 2022 Talcum Powder Lawsuit Update
September 27, 2022 Update
Also, the mediator hoping to facilitate a resolution to get settlement payouts to victims was told to report back to the judge before "the weather gets cold."
I was cold today.
September 20, 2022 Update: Judges Skeptical Litigation Advantage Is Not Motivating J&J
Yesterday, a 3-judge panel at the Third Circuit Court of Appeals in Philadelphia heard oral arguments in the appeal challenging the validity of J&J's controversial effort to spin off its talcum powder liabilities into bankruptcy. J&J created a new corporate entity called LTL Management, transferred all the talc liabilities to it, and then LTL prompted filed bankruptcy.
The issue on appeal is whether this was permissible, or whether the bankruptcy spin-off was filed in bad faith and should be dismissed. The panel of judges hit J&J's attorney with many tough questions.
One of those questions was whether the bankruptcy was for an advantage in the litigation.  How could J&J lawyers pretend that was not the impetus for the bankruptcy filing?  Somehow, they did, arguing that the advantage is just a byproduct of a more overarching goal.
The judges seemed skeptical and raised the concern many mass tort lawyers have that allowing this bankruptcy would spark a wave of similar bankruptcy filings (like the 3M earplug claims) by financially solvent companies looking for a way to shed litigation liabilities.
We will get a decision on the appeal before the end of the year. Either party could opt to pursue another appeal to the U.S. Supreme Court, which could mean another year before the issue is finally resolved. 3M recently launched a similar strategy that failed miserably to handle the earplugs litigation bankruptcy, which gives the outcome of this appeal more significance.
The results of this ruling will have a real impact on talcum powder settlement amounts.  If the bankruptcy holds, victims will still get settlement compensation payouts. But they are likely to be lower if the risk of huge jury awards is not hanging over J&J's head and they can resolve these claims in bankruptcy court.
Our baby powder lawyers are hoping the 3rd Circuit gets this right.  The purpose of our bankruptcy laws for a company seeking insolvency – is to protect creditors. Instead, J&J is trying to use the Bankruptcy Code as a litigation management device for a company that is worth nearly $500 billion.  That cannot be the purpose of bankruptcy.
August 2022 Talcum Powder Lawsuit Update
Two big updates this month:
August Update #1: Talcum Powder Settlement on the Horizon?
The judge presiding over J&J's controversial talc claims bankruptcy proceeding appointed an independent expert to provide a valuation of the pending talcum powder claim to help further facilitate the settlement discussions.
Renowned mediator Kenneth Feinberg was asked to give the judge a settlement compensation payout evaluation before "the weather gets cold."
Do I think the talcum powder class action lawsuit settlement is imminent?  No.  But hope is a powerful thing and victims who have waited so long should have hope that they will be offered a settlement in the not-so-distant future.
August Update #2: Pulling Talcum Powder Off the Market
J&J announced this week that it will stop using talcum powder in any products beginning next year. Why next year?  I guess they want to sell off their inventory.
J&J had already discontinued a number of its talcum-based products in Canada and the U.S. But now the company says that any remaining products will transition from talc to cornstarch by the end of the year.
July 2022 Talcum Powder Lawsuit Update
Plaintiffs in the talcum powder lawsuits are filing an appeal challenging J&J's current effort to manage its talc powder liability with a highly controversial bankruptcy process. Our talcum powder lawyers flush out the details of that effort below.  But the summary of it is that J&J is using bankruptcy laws to try to pay less in the talc baby powder lawsuits.
Plaintiffs' attorneys are appealing J&J's permission to avail itself of bankruptcy.   The 3rd Circuit already granted a request for appeal.  Lawyers for the talc plaintiffs filed their initial appeal brief. J&J will file its response within 30 days. Oral arguments could potentially be scheduled for the fall. Hopefully given how much is at stake – 38,000 plaintiffs have filed lawsuits as of July 15, 2022 –  the court will hopefully rule quickly.
June 2022 Talcum Powder Lawsuit Update
Judge Michael Kaplan, the federal bankruptcy judge in North Carolina, is getting a clear look at how Johnson & Johnson overplays its hand in litigation.  Judge Kaplan is the judge overseeing J&J's effort to deal with the 38,000 pending talcum powder lawsuits against it in a controversial bankruptcy proceeding that has been criticized by many, including our talcum powder lawyers.  His ruling has created an automatic stay to continue protecting J&J from baby powder lawsuits since February.
The reason for keeping the stay intact during this time was to help facilitate ongoing negotiations between J&J and the plaintiffs on a global settlement within the bankruptcy process.
But J&J is trying to ram the bankruptcy down plaintiffs' lawyers' throats by refusing to offer victims fair settlement amounts.  Now that these negotiations have stalled, however, Judge Kaplan said that he may partially lift the stay to allow for talcum powder bellwether trials to be held. The hope is that the bellwether trials (or the possibility of them) will get the settlement process back on track.
May 2022 Update:
Juries have found that J&J should not be selling talc products because they cause cancer.  Not every jury.  But J&J the baby powder litigation has cost J&J almost a billion dollars in legal fees and billions more in payouts via settlements and verdicts in baby powder lawsuits (some still on appeal).  So maybe it is time to stop selling this stuff elsewhere in the world to preserve future profits and save lives?
J&J shareholders say no.  When put to a vote, J&J shareholders say they want to keep selling talc powder around the world.  J&J admits that claims that it "aggressively market[s] to Black and Brown women after its talc supplier included the WHO's 'possibly carcinogenic' label on shipments are troubling." But that is secondary to profits with J&J shareholders.
April 2022 Update:
As we wait to see how this talc powder lawsuit evolves in light of the bankruptcy ruling discussed below, the litigation continues.  If you have a baby powder lawsuit, should you still bring it considering the bankruptcy ruling?
I think one marker for this is talcum powder lawsuit commercials.  Are they continuing? They sure are. Our lawyers predict that next month the MDL class action panel will report that this litigation has grown to 17,000 lawsuits.  Claims are still being filed.  If you have a new ovarian cancer lawsuit, reach out to our lawyers today.
March 2022 Update: 
U.S. Bankruptcy Judge Michael B. Kaplan denied motions to dismiss J&J's bankruptcy gambit,  throwing a subsidiary into Chapter 11 bankruptcy to avoid liability.
I have to think an appeals court or even Congress – Senator Dick Durbin says he is drafting a bill to combat this – will stop J&J's bankruptcy scam.  Am I being naive?  I hope not. Even Johnson & Johnson agrees this move is an "extraordinary step derided by plaintiffs, advocates, and government officials."
February 2022 Update:
J&J is currently trying to resolve the remaining 38,000 talcum powder cancer claims against it by utilizing a controversial bankruptcy process. J&J transferred all of its talcum powder liabilities into a newly formed spin-off entity (LTL Management) and then that entity promptly filed bankruptcy imposing a stay on talcum litigation.
If J&J succeeds with this plan, a $2 billion trust fund would be established to resolve all present and future talcum powder cancer cases and J&J would have no future liability for these claims. Lawyers for the talcum powder plaintiffs have challenged this effort and asked the bankruptcy court to dismiss the proceeding. A ruling on whether J&J will be allowed to move forward with this is expected by the end of February.
In other talcum powder lawsuit news this month,  a consumer activist group is pushing for J&J to recall its talcum powder products across the globe. The company already pulled all products containing talcum powder off retail shelves in the U.S. and Canada.  If it is not good enough for us, it should not be good enough for anyone, even if it is a country that has shaky accountability for defendants who harm the users of their products.
December 2021 Update:
The U.S. Supreme Court rejected J&J's effort to dismiss a talc powder lawsuit filed by the state of Mississippi.
November 2021 Update:
In the spring of 2021, another massive jury verdict in a talcum powder case prompted J&J to pay out $100 million to settle a group of 1,000 pending talc cases (the details of this are the subject of the post below). Following this development, it seemed like a global settlement of all the talcum powder cases was on the horizon. But things have taken a turn in another direction recently.
In August, a jury in California awarded $26.5 million to a talc plaintiff, but that victory was suddenly followed by a series of 3 additional talcum powder trials that all ended in defense verdicts in favor of J&J. This was quickly followed by the shocking news that instead of seeking a global settlement of the remaining cases, J&J is attempting to avoid liability for thousands of remaining talc cases by pursuing a controversial bankruptcy spin-off known as a "texas-two-step."
First, J&J formed a subsidiary corporation called "LTL" in Texas. Next, all talcum powder-related assets and rights were transferred to the new company. Finally, the newly created subsidiary filed for bankruptcy in North Carolina. The goal of this legal maneuvering is to dismiss all of the pending talcum cases in bankruptcy with limited liability to J&J. it is an effort that has drawn harsh criticism from many, including the U.S. Senate Judiciary Committee.
Fortunately, the bankruptcy court does not seem inclined to allow J&J to accomplish its goal of spinning off the talc liabilities. J&J was only awarded a 60-day bankruptcy stay, which means the talcum powder lawsuits will continue moving forward at the start of 2021.
Assuming the bankruptcy scheme ultimately fails, another interesting backstory here is that J&J is now dividing into two companies.  So who is taking the liability that comes with the 40,000 pending lawsuits?
Status of Talcum Powder Lawsuit Update
Since the first studies linking talcum powder to cancer were made public, thousands of product liability lawsuits have been filed against J&J. The talcum powder lawsuits in federal courts have been consolidated into a class action MDL. This continues even with this bankruptcy talk.
The latest big news is the announcement that J&J was paying $100 million to settle a large group of over 1,000 talcum powder cases in the MDL. This announcement marked a dramatic shift in J&J's position on talcum powder claims. J&J had steadfastly refused to admit that there was anything wrong with talcum powder and the company had aggressively defended all claims.
So what prompted this change of heart? One of the primary motivating factors for J&J was a $2 billion verdict awarded to 22 women in a Missouri talcum powder lawsuit. That is the kind of thing that wakes up a Fortune 500 giant like Johnson & Johnson.
The Missouri Talcum Powder Case
Inghan, et al. v. Johnson & Johnson, et al., was one of the earliest talcum powder lawsuits. It was filed in the Circuit Court for the City of St. Louis (a very plaintiff-friendly venue) by a group of 22 women who alleged that they developed ovarian cancer from prolonged use of J& talcum powder products. The 2 specific J&J talcum powder products named in the suit were Johnson's Baby Powder and Shower to Shower.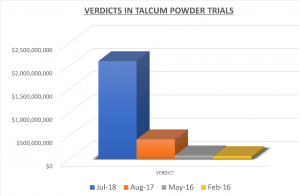 The allegations against J&J in Inghan were similar to the claims that would eventually be repeated in the thousands of talcum powder lawsuits that would soon follow. The plaintiffs alleged that J&J knew for decades that its talc products contained "asbestos fibers and other dangerous carcinogens" but persisted in producing and marketing them despite the health hazards they posed.
The Inghan Complaint accused J&J of making a deliberate effort to conceal these health hazards from government regulators and public health officials, the scientific community, and the public.
The Inghan plaintiffs claimed that J&J (which is headquartered in New Jersey) was subject to jurisdiction in Missouri based on long-term contractual relationships with a Missouri company called Pharma Tech Industries. Under this contract, J&J talc products were manufactured, packaged, and supplied at Pharma Tech plants in St. Louis.
J&J challenged this jurisdictional claim in an unsuccessful motion to dismiss. J&J also attempted to "sever" the joined claims of the 22 plaintiffs because they were not all sufficiently related. This motion was also denied.
Trial Results in $4 Billion Verdict Against Johnson & Johnson
After J&J lost all of its preliminary motions, the case went through 18 months of pre-trial discovery in which thousands of pages of documents were produced. Eventually, in May 2018, the case went to trial in St. Louis. After hearing testimony from over 30 witnesses over 6 weeks, the jury returned a verdict finding J&J liable on all claims. The jury awarded $550 million in compensatory damages ($25 million for each plaintiff) and an eye-popping $4.14 billion in punitive damages.
The size of the verdict was stunning. Before this case, there had been a handful of other talcum powder lawsuits that went to trial. The verdicts in these earlier cases were dwarfed by the $4.6 billion awarded in Ingham.
When will J&J Settle the Remaining Talcum Powder Lawsuits?
J&J is on a surprising winning streak in the talc baby powder lawsuit as our talc lawyers discuss above. But after a few more plaintiff's victories, these lawsuits should be ready to settle. J&J does not want to try many more of these claims.
Missouri Court of Appeals Reduces the Verdict to $2 Billion
J&J immediately appealed the 2018 trial verdict claiming that it was the result of a "fundamentally flawed trial." J&J argued 16 separate points of law in its appeal, ranging from lack of personal jurisdiction to insufficiency of expert testimony. Almost all of these arguments were rejected in a June 2020 appellate court decision. However, the Missouri Court of Appeals did agree that J&J was not subject to personal jurisdiction in Missouri concerning 17 of the 22 plaintiffs in the case.
Based on its finding that the trial court lacked jurisdiction concerning ¾ of the plaintiffs' claims, the appellate court proportionally reduced the amount of the punitive damages award. The punitive damages were reduced from $4.14 billion to $1.6 billion.
The compensatory damages were reduced from $550 million to $500 million. The total amount of the verdict from the 2018 trial was therefore reduced from $4 billion to $2.1 billion.
After the opinion in this appeal was issued, J&J remained defiant and immediately appealed to the Missouri Supreme Court. Missouri's high court declined to even hear the appeal.
Our lawyers will keep you informed in this space of any further updates.
Loss in Missouri Leads to First Global Settlement
It was not very long after the Missouri Court of Appeals rejected J&J's various arguments and affirmed $2 billion of the jury award, that J&J announced the first major global settlement in the talcum powder lawsuits. Last month, J&J announced that it agreed to pay a total of $100 million to settle a group of roughly 1,000 claims pending in the talcum powder MDL.
This marked the first time that J&J gave any indication that was willing to consider the mass settlement of the talcum powder cases. Before this announcement, J&J and its lawyers had been very defiant in their posture. It seems very obvious that the crushing $2 billion loss in Missouri was the final blow that may have broken the company's resolve in this litigation.
Even after the 1,000 cases that are part of the recent settlement, there are still almost 2,000 currently pending federal court cases in the MDL and hundreds more in state courts. At this point, everyone is expecting another mass global settlement announcement in the talcum powder litigation.
One Piece of Bad News in J&J Tal Powder Lawsuits
The one disappointing update in April 2021, was a New Jersey reversed a $117 million verdict against J&J in 2018.  The issue was the plaintiff's expert witnesses.  The court ruled that the trial judge shouldn't have allowed some of an expert's testimony.
But J&J does not win the lawsuit, it gets a new trial.  But the New Jersey Supreme Court could also agree to hear the case and reinstate the verdict.  So this case is far from over. Still, it is always tough to lose a $117 million verdict.
We took a few other losses last year in 2021.  But our lawyers still believe the settlement amounts for a talcum powder lawsuit will still be high.
Contact Miller & Zois to File a Talcum Powder Lawsuit
It is NOT too late to file your talcum powder lawsuit. If you used a talcum powder product for a long period and were subsequently diagnosed with ovarian cancer, call our talcum powder lawsuit attorneys at 800-553-8082 or contact us online.