Our lawyers are handling baby powder lawsuits in all 50 states.  The talcum powder lawsuits against Johnson & Johnson have been ongoing for years. The lawsuits allege that prolonged use of talcum powder (or "talc"), the active ingredient in products such as Baby Powder and Shower to Shower, can cause ovarian cancer in some women.
This page provides a J&J talc power litigation update and discusses how the upcoming bankruptcy ruling impacts the ultimate settlement amounts in these ovarian cancer lawsuits.
Has the deadline passed for you to file a talcum powder lawsuit?  Many who assume the statute of limitations has passed to sue Johnson & Johnson are wrong.  Call us today at 800-553-8082 or get a free and quick case review online.
Johnson and Johnson Talcum Powder Lawsuit Update 2023
September 21, 2023 Update: New MDL judge means another Science Day.  What is a Science Day?
The primary purpose of a Science Day is to provide the judge with a comprehensive understanding of the scientific, medical, and technical issues that are central to the litigation. This is especially important in cases like the talc lawsuits where the underlying facts and scientific evidence are complex and may have a significant impact on the outcome of the cases.
Both parties, plaintiffs, and defendants, are usually given the opportunity to make presentations. These presentations may include expert witnesses, scientific studies, research findings, and other evidence related to the case. The presentations aim to clarify complex scientific concepts and provide the judge with a balanced view of the scientific evidence.
Science Days are supposed to be non-adversarial in nature.  The goal is to educate the judge rather than argue the case.  Of course, lawyers are always trying to advance the interests of their clients.  So it is subtle adversarial. This event is anticipated to take place in either November or December
September 18, 2023 Update: As of this week, there are now 47,346 pending cases in the talcum powder class action MDL. Just 3 months ago there were only 37,542 pending talcum powder cases. The sudden spike in cases is likely attributable to the fact that automatic bankruptcy stay was finally lifted earlier this summer.
September 12, 2023 Update: As mentioned in our July 10, 2023 litigation update, J&J has initiated a ridiculous lawsuit against plaintiffs' expert Dr. Jacqueline Moline due to her article associating talc with mesothelioma.
A recognized expert in Occupational Medicine who has presented her insights to Congress, Dr. Moline has been a key figure in asbestos litigation. Last week, her lawyers filed a motion to have the trade libel lawsuit against her dismissed. She makes a compelling case that the First Amendment, as per New Jersey law, safeguards her academic paper's approach and outcomes. Dr. Moline further points out that differences in academic opinions shouldn't be the basis of a trade libel accusation.
September 9, 2023 Update: LTL Management LLC, a subsidiary of J&J, is appealing the dismissal of its Chapter 11 bankruptcy case, raising questions about the necessity of demonstrating financial distress to file for bankruptcy in good faith.
The court ruled that LTL was not in sufficient financial distress when it filed for bankruptcy due to backing from its parent company.  The 3rd Circuit clearly does not agree with J&J. So this is a huge waste of time for everyone except the people who get paid by the hour to write appellate briefs.
September 1, 2023 Update: J&J has delay tactics down to an art form.  The latest?  J&J wants to reargue expert witness challenges that were already decided by the previous MDL judge who has since retired.  It is a silly argument and likely to go nowhere. But it costs everyone time.
August 23, 2023 Update: After the denial of Johnson & Johnson's second talc-related bankruptcy claim, plaintiff attorneys are gearing up to push for nationwide trials.
So lawyers in the talc multidistrict litigation are proposing a new trial strategy that involves consolidating multiple plaintiffs' cases. Johnson & Johnson opposes this, citing a past $4.7 billion verdict – reduced to $2.1 billion on appeal – as evidence of the potential risks of such an approach.  J&J does not understand that the fact that they could lose big is not really the court's concern.
August 16, 2023 Update: There are now 37,700 talc powder lawsuits in MDL 2738, the second-largest MDL in the country.
August 14, 2023 Update: On Friday, U.S. Bankruptcy Judge Michael Kaplan in Trenton, New Jersey, officially dismissed Johnson & Johnson's talc subsidiary's second bankruptcy case.
But as our August 3rd update below foreshadowed, the judge did not accede to the request of plaintiffs' talc powder lawyers for a six-month prohibition on future bankruptcy filings by the company.
So presumably J&J can file for bankruptcy a third time which is completely insane. But J&J may not even try at this point.
August 15, 2023 Update: U.S. Bankruptcy Judge Michael Kaplan ruled this week that J&J and its talcum powder subsidiary, LTL Management, will not be barred from attempting a third bankruptcy filing. After the second LTL bankruptcy filing was rejected earlier this month, lawyers for the talcum plaintiffs asked the Judge to issue an order preventing J&J and LTL from filing any more bankruptcies for the next 6-months. That request was denied. J&J has not commented on whether it intends to file again.
August 4, 2023 Update: The New Jersey bankruptcy judge overseeing Johnson & Johnson's Chapter 11 efforts to resolve talc claims dismissed a motion by a law firm to bar attorney Randi S. Ellis from acting as the representative for future mesothelioma claims, sharply stating that the request "lacks any legal or factual basis."
August 3, 2023 Update: Could J&J really file a third bankruptcy? How about a fourth?  How many times can they try?  Baby powder claimants are seeking an order that J&J cannot file another bankruptcy for six months. Seems reasonable, right? Yet the judge that just dismissed the last case seemed reluctant to impose any restriction on future filings.
August 1, 2023 Update: After its second bankruptcy application was dismissed, J&J is starting to realize bankruptcy is not a path and is assessing other legal options to address the thousands of cancer claims linked to its talc-based products.  So what is the plan? Possible courses of action include settling individual claims, negotiating with law firms representing plaintiffs, or pursuing a global settlement.  A global settlement would really be hard to pull off and J&J knows there are likely law firms out there who are willing to take smaller settlement amounts to get this done now.   Our lawyers think the most likely scenario is that J&J looks to settle cases with individual law firms.  Cutting back on the number of claims would be a relief for J&J stockholders.
July 29, 2023 Update: Big news yesterday. Johnson & Johnson's talc unit's second attempt to address thousands of talc injury claims through Chapter 11 bankruptcy was dismissed by a New Jersey bankruptcy judge.
The judge ruled that the company did not meet the standards for financial distress required for the bankruptcy case to proceed. The first Chapter 11 filing of J&J's subsidiary debtor, LTL Management LLC, was also dismissed on the same financial distress grounds in a January ruling by the Second Circuit.
This gives the plaintiffs more leverage in settlement negotiations.  J&J just needs to put up more billions.  It is as simple as that.
July 21, 2023 Update:  J&J recently proposed a global settlement of the talcum powder lawsuits for a total payout of $8.9 billion. That proposal currently has the support of a large segment of talc plaintiffs and their lawyers pushing other plaintiffs to sign off also.
The $18.8 million awarded in the California talc trial earlier this week could undermine the push to win approval of the $8.9 settlement deal.  Why?  Because victims are more likely to seek just compensation – which our lawyers do not think this deal does – when they see a significant verdict.  The verdict marks yet another big win for a talc plaintiff at trial, and it will likely reinforce the view held by many plaintiffs that $8.9 billion is a lowball offer for the resolution of nearly 38,000 claims.
July 19, 2023 Update: Earlier this week, a jury in California awarded $18.8 in damages to a 24-year-old man who claimed that his long-time use of Johnson & Johnson's Baby Powder caused him to develop a deadly mesothelioma cancer. This marks the verdict in a talcum powder case since J&J tried to spin its talc liabilities off into bankruptcy.
July 16, 2023 Update: A law firm representing mesothelioma patients has requested the disqualification of attorney Randi S. Ellis from representing future claimants in the bankruptcy case of Johnson & Johnson's talc liability unit.  Ms. Ellis makes $1,015 an hour representing the interests of potential victims who have not yet brought a claim.
The request is based on allegations that Ellis was photographed having a meal – a stake dinner, apparently – with J&J's chief negotiator and two ad hoc committee members supporting the bankruptcy plan. The law firm argues this raises concerns about impropriety and Ellis' ability to fulfill her fiduciary duties.
July 11, 2023 Update: Closing statements are completed in California's baby powder asbestos lawsuit.  Plaintiff's attorney argues that J&J ignored medical data as early as 1998, when the plaintiff was born, showing a potential threat of asbestos in its talc products. They argue that J&J's failure to act at that point led to Hernandez's exposure and eventual illness. The plaintiff is seeking between $40 million and $50 million in compensatory damages plus another $450 million in punitive damages.  Outlandish damages in many cases.  Not this one.
July 10, 2023 Update: LTL Management LLC, a bankrupt talc unit of Johnson & Johnson, has lodged a lawsuit against three doctors – plaintiff's experts in talc lawsuits – claiming they hurt its business by publishing articles asserting a connection between talc use and mesothelioma, using what LTL refers to as "junk science."
This follows a similar pattern of lawsuits by LTL in its initial bankruptcy proceedings, all dismissed following the dismissal of the bankruptcy itself. LTL was established to manage the influx of claims against J&J's talc products, believed to contain asbestos and linked to diseases such as ovarian cancer and mesothelioma.
J&J is sending a message to plaintiffs' experts everywhere it will sue if it does not like your scientific conclusions.  The unfortunate thing is these doctors have to mount a legal defense which means they lose even when they ultimately win.  But the bigger problem is the chilling effect J&J seems to be looking for that tells doctors to tread lightly when taking positions big companies will not like. We all have an interest in as much science as possible coming to the marketplace of ideas.
July 1, 2023 Update: The bankruptcy trial in New Jersey is over.  Soon, U.S. Bankruptcy Judge Michael Kaplan will decide whether to reject the bankruptcy filed by LTL Management. This subsidiary was established to resolve all talc powder lawsuits against J&J to keep these cases away from jurors who had already awarded billions of dollars.
June 29, 2023 Update: The mesothelioma trial concerning Johnson & Johnson's baby powder continues in Oakland, California.  The plaintiff has rested, and J&J lawyers are putting on their defense.  Among those called to testify was Dr. Ed Kuffner, the company's chief medical officer for consumer products, who shared insights regarding the recall of a sizable batch of powder allegedly contaminated with chrysotile asbestos. However, no tests were conducted on the 38,000 bottles involved in the recall.  So Johnson & Johnson apparently feels free to cast doubt on the FDA's initial findings.  It seems pretty transparent. We should find out soon if the jury agrees.
June 28, 2023 Update:  Johnson & Johnson's bankrupt talc unit recently went to trial on motions to dismiss its Chapter 11 case. During the trial, executives of the unit testified about the financial support provided by J&J.
The unit signed a new funding agreement with J&J because the first agreement was no longer enforceable. The new funding agreement provides financial support for an $8.9 billion settlement proposal. This is a little like asking the barber how often you should get a haircut.  If we continue with jury trials, the real liability risk is more than double that settlement offer.
The trial is ongoing, and it is unclear whether the court will dismiss the case. It should. The 3rd Circuit was clear this is not a proper use of bankruptcy, no matter how J&J keeps repackaging it.
June 27, 2023 Update: In the ongoing Alameda County, California J&J baby powder mesothelioma trial, the plaintiff provided poignant testimony about the horrific consequences of his cancer diagnosis, which he attributes to his lifelong use of Johnson & Johnson's (JNJ.N) baby powder. The 24-year-old emotionally conveyed to the jury of the unimaginable horror of being diagnosed with mesothelioma at such a young age.  Regardless of where you stand on the case's merits, what this man has endured is genuinely awful.  His critical point is that if he had known the risks of using talc powder, he would not have used it.
Plaintiffs have established strong scientific evidence of the link between mesothelioma and talc powder.  J&J will now have its chance to put on its case. This is a tough case for J&J and such a crucial juncture in this litigation.  It is hard to understand why they have not made a reasonable settlement offer in this case given the implications on its $8.9 billion settlement offer.
June 14, 2023 Update:  A New Jersey bankruptcy judge postponed key decisions in Johnson & Johnson's bankrupt talc subsidiary, LTL Management LLC's Chapter 11 case. The judge awaits an upcoming trial before ruling on ending LTL's exclusive right to propose a Chapter 11 plan. After their first case was dismissed, LTL refiled for Chapter 11, proposing an $8.9 billion settlement fund for cancer and mesothelioma claimants alleging asbestos exposure from talc products that we think is unlikely to get approval from enough victims. The hope is that Judge Kaplan follows the spirit of the 3rd Circuit's opinion and dismisses the bankruptcy which is exactly what just happened in the 3M MDL when 3M tried the same stunt.
June 2, 2023 Update: During the asbestos talc trial in California yesterday, some technical glitches interrupted the opening statement by the defense attorneys. The jurors, attending from home on Zoom, did hear Johnson & Johnson's lawyer expressing skepticism about the 70s science asserting the presence of asbestos in their product before the opening was abruptly ended.
Meanwhile, the plaintiff was able to present their first witness, Arthur Langer. Langer explained that the occurrence of other minerals alongside talc is inevitable. He testified that his team informed J&J in 1971 about the presence of chrysotile asbestos in the company's talc, albeit at less than 0.1 percent. He also discovered more asbestos in 1976.
June 1, 2023 Update: The first trial since J&J decided to spin off its talc division and declare bankruptcy marks a pivotal moment in the ongoing talc litigation saga.  Trial began yesterday in the poignant case of a young 24-year-old plaintiff, diagnosed with a rare and aggressive form of mesothelioma last year, a diagnosis lawyers on both sides agree is a grave tragedy.
Opening statements laid bare stark differences in each side's narrative. The plaintiff's attorney took aim at Johnson & Johnson, alleging the use of deceptive tactics in research practices and throughout the litigation process. According to the attorney, the company tried to manipulate the definition of asbestos, despite internal documents from 1978 and 1994 showing that fibers discovered in the plaintiff's tissue are included.
Johnson & Johnson's precarious $8.9 billion settlement offer hangs in the balance with the progression of this trial. Despite the unique nature of this mesothelioma case and its distinct issues compared to most talcum powder lawsuits, a verdict favoring the plaintiff could inflict a serious setback to J&J's hopes for broad acceptance of their proposed settlement among plaintiffs.
May 31, 2023 Update: Johnson & Johnson's bankrupt talc unit vigorously defended its second Chapter 11 filing in the face of challenges from talc injury claimants. In an objection submitted to the New Jersey bankruptcy court, the subsidiary argued that the case was fundamentally different from the previous filing. It emphasized the unprecedented commitment of $8.9 billion from J&J, the largest settlement ever in a mass tort bankruptcy case. Not mentioned: how the size of the settlement means it is a fair settlement. J&J also claimed support from numerous plaintiffs' law firms representing over 60,000 claimants. This is hard to verify but likely incorrect.
May 24, 2023 Update: Since Johnson & Johnson's 2021 bankruptcy filing, the first trial concerning its cosmetic talc products allegedly containing asbestos is set to start jury selection on Monday in California in Alameda County Superior Court, a historically good jurisdiction for plaintiffs. The plaintiff claims that his mesothelioma was caused by asbestos exposure from J&J's products, an allegation the company denies. The trial also involves six retailers accused of selling talc-containing products.
May 22, 2023 Update:  Lawyers in the 2nd J&J talc bankruptcy are now battling over who should be appointed to the position of future claims representative, a role that is critically important to resolving the talc claims. Randi Ellis, a lawyer who frequently appears in MDLs across the country, was appointed as the claims representative in the first bankruptcy. J&J's defense team wants Ellis to be appointed to that role again, but lawyers for the talc plaintiffs are objecting on the grounds that Ellis has a conflict of interest that should prevent her from assuming that position again. The conflict stems from the fact that Ellis was apparently involved in drafting the hotly contested second bankruptcy, which raises concerns about her ability to be neutral.  The reality is this bankruptcy is likely to get dismissed anyway.
May 17, 2023 Update: The pretend company that J&J made up for the talc litigation bankruptcy told a New Jersey bankruptcy court that they have designated $400 million to settle the claims made by states accusing the company of deceptive advertising for its talc products.  So that makes it an $8.5 billion settlement for cancer victims.  It is hard to imagine a scenario where J&J can push these baby powder settlements through at these numbers. While J&J's proposed $8.5 billion offer sounds like a lot of money at first, it does not look great when you do the math.  This settlement proposal – by our rough calculations – would not pay victims much more than an average settlement $100,000 per case.  That is not enough.
May 15, 2023 Update:  J&J is potentially facing a lawsuit from an advocacy group representing cancer victims. The group contends that J&J intentionally withdrew a $61.5 billion funding agreement with its subsidiary, LTL Management LLC, to simulate financial distress and validate the unit's Chapter 11 bankruptcy filing. The group asserts this action is equivalent to a fraudulent transfer of the victims' compensation rights. They plan to explore J&J's actions in the wake of the dismissal of LTL's first bankruptcy case.
May 10, 2023 Update: Next week, the U.S. Bankruptcy Court in New Jersey will hear oral arguments on a motion to dismiss the second bankruptcy filing by J&J subsidiary LTL Management. In the meantime, however, the bankruptcy has issued an Order requiring both sides to take part in a new settlement mediation in the hope that a global settlement deal can brokered.
May 5, 2023 Update: Talc supplier Whittaker, Clark & Daniels filed for Chapter 11 bankruptcy due to numerous lawsuits alleging its talc products caused cancer from asbestos exposure. Over 2,700 individuals have sued the company, and it was spending $1 million a month on legal defense. The company's recent $29 million verdict in South Carolina forced it to seek bankruptcy protection, arguing for equitable distribution of assets among talc claimants instead of being seized by the receiver. Other talc suppliers have also filed for bankruptcy due to litigation.
May 4, 2023 Update: U.S. Bankruptcy Judge Michael Kaplan has directed Johnson & Johnson to restart settlement discussions with lawyers who turned down the company's proposed $8.9 billion settlement offer. In Trenton, New Jersey yesterday, the parties appeared in court to discuss the next steps for the second bankruptcy case and Judge Kaplan pushed more settlement talks.
This is the answer to resolve these claims for J&J. A baby powder settlement can get done.  But it will require more money – more billions of dollars – from Johnson & Johnson.
Lawyers are split on whether to accept the proposal and not every client sees the issue the same way their attorney does.  The second bankruptcy case is bound to go nowhere and Judge Kaplan has scheduled a hearing in June to determine whether to dismiss the bankruptcy for the second time.
May 3, 2023 Update:  A group of cancer victims suing Johnson & Johnson (J&J) requested that the Third Circuit halt the bankruptcy filed by J&J subsidiary LTL Management, claiming it is an attempt to derail litigation over talc products. The committee representing talc claimants filed a motion on Tuesday, asking the Third Circuit to consider their case and send it back to a lower court with instructions to dismiss the bankruptcy. They also requested that the halted tort litigation against J&J be allowed to proceed.
LTL filed for Chapter 11 protection once again after its first bankruptcy filing was rejected by the Third Circuit earlier this year, offering an $8.9 billion settlement. The committee argues that the recent ruling allowing LTL's second Chapter 11 to continue, while also halting trials against J&J, warrants immediate Third Circuit review. The US Trustee also requested that the New Jersey bankruptcy court dismiss the LTL bankruptcy case. J&J's worldwide vice president of litigation, Erik Haas, was quoted by Bloomberg saying that J&J plans to file a response in the appeals court, characterizing the filing as a "desperate and legally deficient attempt" by a small number of law firms with conflicting financial interests.
May 1, 2023 Update: One question people keep asking is how could plaintiffs and their lawyers turn down $8.9 billion.  Of course, that is a lot of money.  But there are a lot of victims.  And these are really good case for plaintiffs.  We were reminded of this recently with two talc trials resulted in big verdicts for the plaintiffs. In February, a talcum powder mesothelioma trial in Oregon resulted in a verdict of $18.1 million. A month later, another talc mesothelioma case went to trial in South Carolina and resulted in a verdict of $29 million for the plaintiff. The defendant in both cases was Whittaker, Clark & Daniels Inc., one of the leading suppliers of talc in the U.S.
April 30, 2023 Update:  When J&J initially attempted to pull the talcum powder litigation into bankruptcy, it came with an offer to set aside $2 billion for settlements. The amount was absurdly low. None of the talc plaintiffs supported it. This time around, however, J&J has increased the offer to $8.9 if the talc plaintiffs will allow a bankruptcy settlement and they also have the support of a large segment of the talc plaintiffs and their lawyers. But 75% of the talc plaintiffs, which is required for bankruptcy plan approval, it a tough road with so many lawyers with large inventories of baby powder lawsuits opposed to the settlement.
What could solve the impasse?  More billions.
April 25, 2023 Update: Talc cancer claimants have asked a judge to dismiss the Chapter 11 case filed by LTL Management LLC, a ridiculously made-up Johnson & Johnson subsidiary, saying the company is not financially distressed. LTL filed for Chapter 11 to settle tens of thousands of claims that J&J's baby powders caused cancer. The 3rd Circuit dismissed its first Chapter 11 case in January, saying the company was not eligible for bankruptcy relief as it failed to show financial distress.
The claimants argue that LTL's second Chapter 11 case is an abuse of the bankruptcy system and that it is being pursued in bad faith.  J&J claims the bankruptcy settlement has "significant support" from firms representing an estimated 60,000 claimants. It is fair to say plaintiffs' lawyers and victims are divided over the $8.9 billion settlement offer.
April 21, 2023 Update: A bankruptcy judge ruled that Johnson & Johnson must face new lawsuits alleging that the company sold tainted baby powder causing cancer. Although trials for talc lawsuits are paused for at least 60 days, new lawsuits can be filed, and lawyers can begin preparing their cases.  The judge expressed skepticism over J&J's ridiculous effort to revive its strategy with a second bankruptcy case.
April 13, 2023 Update: The big news is the $8.9 billion over 25 years settlement offer.  Lawyers representing cancer victims in the MDL class action have vowed to fight the settlement with talc claimants. Why? They think it is not enough money for 70,000 victims who have cancer.  These lawyers argue that J&J should negotiate a larger settlement or litigate individual claims if the latest bankruptcy is dismissed.
But there is another group of lawyers outside of the leadership in the class action.  These lawyers have collectively amassed tens of thousands of cases.  This group wants to settle now for what many argue is less than these victims deserve.  Their argument seems to be twofold.  First, they argue the settlement – about an average of $100,000 per plaintiff – is fair.
That is a hard argument to make.  But their second argument has more teeth: victims can no longer wait and want their money now.
April 12, 2023 Update: People are asking how J&J can file for bankruptcy again.  The answer is complex and convoluted.  But let's try to explain it simply.
Johnson & Johnson asserts that bankruptcy is the only means to address both present and future talc lawsuits conclusively.  In other words, it thinks it will pay less if there is a bankruptcy component that applies pressure for a settlement.  Driving past 400 years of American history, the company argues that bankruptcy benefits all parties by distributing settlement payments more equitably and efficiently than trial courts, where some litigants receive significant awards while others receive nothing.
The gist of the 3rd Circuit decision was this is not a case – a profitable company making a subsidiary to take the legal liability and declare bankruptcy – Congress contemplated when drafting the Bankruptcy Code.  But it also said that the subsidiary was not in financial distress because J&J promised unlimited funding.
So J&J jumped on the unlimited funding part of the holding and did not promise to provide unlimited funding for litigation.  The company claims that its revised financing arrangements with its subsidiary address the appeals court's concerns while still supplying funds for claim payments.  As if offering victims less money would solve the overarching problem.
Attorneys representing cancer victims who oppose the agreement counter this with what you conclude is countering legal nonsense with legal nonsense: J&J fraudulently transferred $50 billion in assets away from LTL Management to circumvent the appeals court's previous ruling. Hyperbole was not spared: victims' lawyers call it the largest "fraudulent transfer in United States history."
Notwithstanding the legal mumbo jumbo, J&J does not really think this bankruptcy will survive. But it is a way of trying to push this $8.9 billion settlement and keep pressure on plaintiffs.
April 10, 2023 Update: Bloomberg has an interesting article on a new law in New Jersey that is shedding new light on litigation funding in the baby powder class action lawsuit.  Litigation funders Virage Capital Management and TRGP Capital invested in hundreds of claims against Johnson & Johnson (J&J) over talc products in exchange for a portion of any winnings. J&J is now offering to pay $8.9 billion to settle all lawsuits.
The funders' involvement is public information due to a New Jersey court rule requiring the disclosure of certain information about outside funding backers. The rule aims to address the growing calls for regulation of litigation funders. J&J faces over 60,000 claims when you add up state and federal baby powder lawsuits.  Third-party funding in mass tort claims has pros and cons. But there is no question that we are seeing how third-party funding can level the playing field between individuals and large corporations in court.
April 4, 2023 Update: It is enjoyable to see the worm turn in this litigation.  J&J took another hit this week when the Third Circuit denied J&J's request to continue the automatic stay while J&J appeals a bankruptcy ruling to the U.S. Supreme Court. The automatic stay has frozen thousands of talcum powder cases and prevented new lawsuits from getting filed ever since J&J initiated the controversial effort to spin the talc liabilities off into a bankrupt subsidiary over a year ago. When the 3rd Circuit ruled that this bankruptcy was not valid a few months ago, the stay was removed. J&J was hoping to have it continued pending the SCOTUS appeal. But the answer was no.
April 1, 2023 Update: Johnson & Johnson announced it will appeal its 3rd Circuit bankruptcy loss to the U.S. Supreme Court last week. The chance the Supreme Court is willing even to hear the appeal?  Low.
March 16, 2023 Update: with the bankruptcy stay now officially lifted, the first new cases have been filed and transferred into the talcum powder class action MDL in over one year.  Seven new talc lawsuits were added to the MDL over the last month, bringing the total number of pending cases up to 37,522.
February 25, 2023 Update: A Congressmen from Tennessee is now demanding that the U.S. Government Accountability Office (GAO) launch an investigation into how much J&J talc products have cost the government over the years.
In a recent letter to the GAO, Rep. Steven Cohen (D-Ten.) accused J&J of ignoring the dangers of its talc products for years while tax dollars were spent treating those injured by exposure to the products. The demand comes just weeks after J&J's significant loss in the 3rd Circuit Court of Appeals.
J&J needs to start making reasonable settlement offers to victims to begin to put all of this behind it.  It is a stain on one of the world's greatest companies.
February 14, 2023 Update:  At a hearing today in New Jersey, U.S. Bankruptcy Judge Michael Kaplan announced his intention in light of the 3rd U.S. Circuit Court of Appeals ruling to dismiss the bankruptcy case.
February 8, 2023 Update: In the latest MDL 2738 update,  we report a new beginning in the talc powder litigation: a new judge.  Following the retirement of Judge Freda L. Wolfson, who had presided over the baby powder litigation,  the JPML Panel appointed U.S. District Judge Michael Shipp to preside over the second act of this litigation.  It seems fitting to have a new judge as we restart the baby powder class action lawsuit.  Judger Wolfson controlled the talc MDL for seven years.
January 31, 2023 Update: Our post on the 3rd Circuit baby powder bankruptcy ruling.
January 30, 2023 Update: The Third Circuit rejected J&J's attempt to dump off its mounting talcum powder liability into bankruptcy.  In an opinion issued today, the court dismissed the Chapter 11 bankruptcy filed by a subsidiary of J&J created to offload its growing talc liabilities. J&J's stock dropped 3% on the news, the most significant single-day dip in over two years. J&J has already vowed to appeal the ruling to the U.S. Supreme Court.
January 2, 2023 Update: Less of an update than a prediction.  The 3rd Circuit will reject J&J's bankruptcy gambit in February.  J&J will appeal to the Supreme Court but settle these lawsuits in massive numbers before the claims are resolved.  (Arguably, this is more of a hope than a prediction.  But we are excited about the possibility of progress in 2023 in this litigation after years of quicksand.)
December 25, 2022 Update: Rewatching the 3rd Circuit oral arguments today. It is worth a watch.  It is well-argued on both sides, and this is a strong panel of judges.  You don't get the impression that this panel of judges will allow this "bankruptcy to avoid bankruptcy" to stand.  But that could be my bias talking.
December 22, 2022 Update:  Hair relaxer lawsuits are being filed around the country by women who claim injuries from chemical hair straighteners.  One injury that interests women in the talcum powder litigation is relaxer-induced ovarian cancer. There is good science to support these claims.
December 15, 2022 Update: Talc powder settlement talks are likely to move forward until the Third Circuit makes a ruling on whether J&J can use bankruptcy to avoid litigation.
October 1, 2022 Update
This New Yorker article on J&J is a great read.
September 27, 2022 Update
Also, the mediator hoping to facilitate a resolution to get settlement payouts to victims was told to report to the judge before "the weather gets cold."
I was cold today.
September 20, 2022 Update: Judges' Skeptical Litigation Advantage Is Not Motivating J&J
Yesterday, a 3-judge panel at the Third Circuit Court of Appeals in Philadelphia heard oral arguments in the appeal challenging the validity of J&J's controversial effort to spin off its talcum powder liabilities into bankruptcy. J&J created a new corporate entity called LTL Management, transferred all the talc liabilities to it, and then LTL prompted filed bankruptcy.
The issue on appeal is whether this was permissible or whether the bankruptcy spin-off was filed in bad faith and should be dismissed. The panel of judges hit J&J's attorney with many challenging questions.
One of those questions was whether the bankruptcy was for an advantage in the litigation.  How could J&J lawyers pretend that was not the impetus for the bankruptcy filing?  Somehow, they did, arguing that the advantage is a byproduct of a more overarching goal.
The judges seemed skeptical and raised many mass tort lawyers' concerns that allowing this bankruptcy would spark a wave of similar bankruptcy filings (like the 3M earplug claims) by financially solvent companies looking to shed litigation liabilities.
The results of this ruling will have a tangible impact on talcum powder settlement amounts.  If the bankruptcy holds, victims will still get settlement compensation payouts. But they are likely to be lower if the risk of colossal jury awards is not hanging over J&J's head and they can resolve these claims in bankruptcy court.
Our baby powder lawyers are hoping the 3rd Circuit gets this right.  The purpose of our bankruptcy laws for a company seeking insolvency – is to protect creditors. Instead, J&J is trying to use the Bankruptcy Code as a litigation management device for a company worth nearly $500 billion.  That cannot be the purpose of bankruptcy.
August 2022 Talcum Powder Lawsuit Update
Two significant updates this month:
August Update #1: Talcum Powder Settlement on the Horizon?
The judge presiding over J&J's controversial talc claims bankruptcy proceeding appointed an independent expert to provide a valuation of the pending talcum powder claim to help further facilitate the settlement discussions.
Renowned mediator Kenneth Feinberg was asked to give the judge a settlement compensation payout evaluation before "the weather gets cold."
Is the talcum powder class action lawsuit settlement imminent?  No.  But hope is a powerful thing, and victims who have waited so long should have hope that they will be offered a settlement in the not-so-distant future.
August Update #2: Pulling Talcum Powder Off the Market
J&J announced this week that it will stop using talcum powder in products beginning next year. Why next year?  I guess they want to sell off their inventory.
J&J had already discontinued a number of its talcum-based products in Canada and the U.S. But now the company says that any remaining products will transition from talc to cornstarch by the end of the year.
July 2022 Talcum Powder Lawsuit Update
Plaintiffs in the talcum powder lawsuits are filing an appeal challenging J&J's current effort to manage its talc powder liability with a highly controversial bankruptcy process. Our talcum powder lawyers flush out the details of that effort below.  But the summary is that J&J is using bankruptcy laws to pay less in the talc baby powder lawsuits.
Plaintiffs' attorneys are appealing J&J's permission to avail itself of bankruptcy.   The 3rd Circuit already granted a request for appeal.  Lawyers for the talc plaintiffs filed their initial appeal brief, and J&J will file its response within 30 days. Oral arguments could potentially be scheduled for the fall. Given how much is at stake – 38,000 plaintiffs have filed lawsuits as of July 15, 2022 –  the court will hopefully rule quickly.
June 2022 Talcum Powder Lawsuit Update
Judge Michael Kaplan, the federal bankruptcy judge in North Carolina, is getting a clear look at how Johnson & Johnson overplays its hand in litigation.  Judge Kaplan oversees J&J's effort to deal with the 38,000 pending talcum powder lawsuits against it in a controversial bankruptcy proceeding that has been criticized by many, including our talcum powder lawyers.  Since February, his ruling has created an automatic stay to protect J&J from baby powder lawsuits.
The reason for keeping the stay intact during this time was to help facilitate ongoing negotiations between J&J and the plaintiffs on a global settlement within the bankruptcy process.
But J&J is trying to ram the bankruptcy down plaintiffs' lawyers' throats by refusing to offer victims fair settlement amounts.
May 2022 Update:
Juries have found that J&J should not sell talc products because they cause cancer.  Not every jury.  But J&J, the baby powder litigation has cost J&J almost a billion dollars in legal fees and billions more in payouts via settlements and verdicts in baby powder lawsuits (some still on appeal).  So maybe it is time to stop selling this stuff elsewhere to preserve future profits and save lives?
J&J shareholders say no.  When put to the vote, J&J shareholders say they want to keep selling talc powder worldwide.  J&J admits that claims that it "aggressively market[s] to Black and Brown women after its talc supplier included the WHO's 'possibly carcinogenic' label on shipments are troubling." But that is secondary to profits with J&J shareholders.
April 2022 Update:
The litigation continues as we wait to see how this talc powder lawsuit evolves in light of the bankruptcy ruling discussed below.  If you have a baby powder lawsuit, should you still bring it, considering the bankruptcy ruling?
One marker for this is talcum powder lawsuit commercials.  Are they continuing? They sure are. Our lawyers predict that next month the MDL class action panel will report that this litigation has grown to 17,000 lawsuits.  Claims are still being filed.  If you have a new ovarian cancer lawsuit, reach out to our lawyers today.
March 2022 Update: 
U.S. Bankruptcy Judge Michael B. Kaplan denied motions to dismiss J&J's bankruptcy gambit,  throwing a subsidiary into Chapter 11 bankruptcy to avoid liability.
I have to think an appeals court or even Congress – Senator Dick Durbin says he is drafting a bill to combat this – will stop J&J's bankruptcy scam.  Am I being naive?  I hope not. Even Johnson & Johnson agrees this move is an "extraordinary step derided by plaintiffs, advocates, and government officials."
February 2022 Update:
J&J is currently trying to resolve the remaining 38,000 talcum powder cancer claims against it by utilizing a controversial bankruptcy process. J&J transferred all of its talcum powder liabilities into a newly formed spin-off entity (LTL Management), and then that entity promptly filed bankruptcy, imposing a stay on talcum litigation.
If J&J succeeds with this plan, a $2 billion trust fund would be established to resolve all present and future talcum powder cancer cases, and J&J would have no future liability for these claims. Lawyers for the talcum powder plaintiffs have challenged this effort and asked the bankruptcy court to dismiss the proceeding. A ruling on whether J&J will be allowed to move forward with this is expected by the end of February.
December 2021 Update:
The U.S. Supreme Court rejected J&J's effort to dismiss a talc powder lawsuit filed by the state of Mississippi.
November 2021 Update:
In the spring of 2021, another massive jury verdict in a talcum powder case prompted J&J to pay out $100 million to settle a group of 1,000 pending talc cases (the details of this are the subject of the post below). Following this development, it seemed like a global settlement of all the talcum powder cases was on the horizon. But things have taken a turn in another direction recently.
In August, a jury in California awarded $26.5 million to a talc plaintiff. Still, that victory was suddenly followed by a series of 3 additional talcum powder trials that all ended in defense verdicts in favor of J&J. This was quickly followed by the shocking news that instead of seeking a global settlement of the remaining cases, J&J is attempting to avoid liability for thousands of remaining talc cases by pursuing a controversial bankruptcy spin-off known as a "Texas-two-step."
First, J&J formed a subsidiary corporation called "LTL" in Texas. Next, all talcum powder-related assets and rights were transferred to the new company. Finally, the newly created subsidiary filed for bankruptcy in North Carolina. The goal of this legal maneuvering is to dismiss all of the pending talcum cases in bankruptcy with limited liability to J&J. it is an effort that has drawn harsh criticism from many, including the U.S. Senate Judiciary Committee.
Fortunately, the bankruptcy court does not seem inclined to allow J&J to accomplish its goal of spinning off the talc liabilities. J&J was only awarded a 60-day bankruptcy stay, which means the talcum powder lawsuits will continue moving forward at the start of 2021.
Assuming the bankruptcy scheme ultimately fails, another interesting backstory is that J&J is now dividing into two companies.  So who is taking the liability that comes with the 40,000 pending lawsuits?
Status of Talcum Powder Lawsuit Update
Since the first studies linking talcum powder to cancer were made public, thousands of product liability lawsuits have been filed against J&J. The talcum powder lawsuits in federal courts have been consolidated into a class action MDL. This continues even with this bankruptcy talk.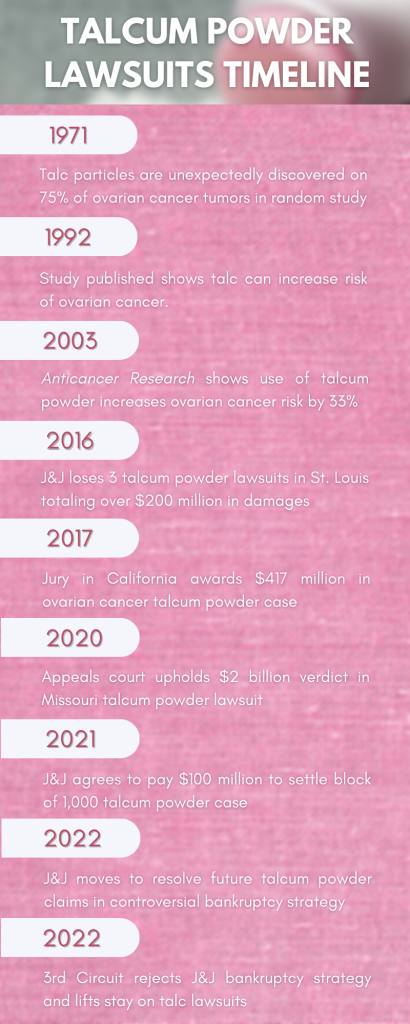 The latest big news is that J&J was paying $100 million to settle over 1,000 talcum powder cases in the MDL. This announcement marked a dramatic shift in J&J's position on talcum powder claims. J&J had steadfastly refused to admit that there was anything wrong with talcum powder, and the company had aggressively defended all claims.
So what prompted this change of heart? One of the primary motivating factors for J&J was a $2 billion verdict awarded to 22 women in a Missouri talcum powder lawsuit. That kind of thing wakes up a Fortune 500 giant like Johnson & Johnson.
The Missouri Talcum Powder Case
Inghan, et al. v. Johnson & Johnson, et al., was one of the earliest talcum powder lawsuits. It was filed in the Circuit Court for the City of St. Louis (a very plaintiff-friendly venue) by 22 women who alleged that they developed ovarian cancer from prolonged use of J& talcum powder products. The two specific J&J talcum powder products named in the suit were Johnson's Baby Powder and Shower to Shower.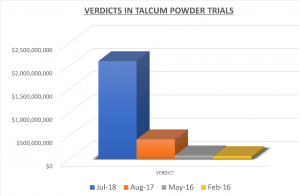 The allegations against J&J in Inghan were similar to the claims that would eventually be repeated in the thousands of talcum powder lawsuits that would soon follow. The plaintiffs alleged that J&J knew for decades that its talc products contained "asbestos fibers and other dangerous carcinogens" but persisted in producing and marketing them despite their health hazards.
The Inghan Complaint accused J&J of deliberately concealing these health hazards from government regulators and public health officials, the scientific community, and the public.
The Inghan plaintiffs claimed that J&J (headquartered in New Jersey) was subject to jurisdiction in Missouri based on long-term contractual relationships with a Missouri company called Pharma Tech Industries. Under this contract, J&J talc products were manufactured, packaged, and supplied at Pharma Tech plants in St. Louis.
J&J challenged this jurisdictional claim in an unsuccessful motion to dismiss. J&J also attempted to "sever" the joined claims of the 22 plaintiffs because they were not sufficiently related. This motion was also denied.
Trial Results in $4 Billion Verdict Against Johnson & Johnson
After J&J lost all of its preliminary motions, the case went through 18 months of pre-trial discovery in which thousands of pages of documents were produced. Eventually, in May 2018, the case went to trial in St. Louis. After hearing testimony from over 30 witnesses over six weeks, the jury returned a verdict finding J&J liable on all claims. The jury awarded $550 million in compensatory damages ($25 million for each plaintiff) and an eye-popping $4.14 billion in punitive damages.
The size of the verdict was stunning. Before this case, there had been a handful of other talcum powder lawsuits that went to trial. The verdicts in these earlier cases were dwarfed by the $4.6 billion awarded in Ingham.
When will J&J Settle the Remaining Talcum Powder Lawsuits?
J&J is on a surprising winning streak in the talc baby powder lawsuit as our talc lawyers discuss above. But these lawsuits should be ready to settle after a few more plaintiff's victories. J&J does not want to try many more of these claims.
Missouri Court of Appeals Reduces the Verdict to $2 Billion
J&J immediately appealed the 2018 trial verdict claiming that it resulted from a "fundamentally flawed trial." J&J argued 16 separate points of law in its appeal, ranging from lack of personal jurisdiction to insufficient expert testimony. A June 2020 appellate court decision rejected almost all of these argumentsJune 2020 appellate court decision. However, the Missouri Court of Appeals did agree that J&J was not subject to personal jurisdiction in Missouri concerning 17 of the 22 plaintiffs in the case.
Based on its finding that the trial court lacked jurisdiction concerning ¾ of the plaintiffs' claims, the appellate court proportionally reduced the amount of the punitive damages award. The punitive damages were reduced from $4.14 billion to $1.6 billion.
The compensatory damages were reduced from $550 million to $500 million. The total verdict from the 2018 trial was reduced from $4 billion to $2.1 billion.
After the opinion in this appeal was issued, J&J remained defiant and immediately appealed to the Missouri Supreme Court, and Missouri's high court declined even to hear the appeal.
Our lawyers will keep you informed in this space of any further updates.
Loss in Missouri Leads to First Global Settlement
Not very long after the Missouri Court of Appeals rejected J&J's various arguments and affirmed $2 billion of the jury award, J&J announced the first major global settlement in the talcum powder lawsuits. Last month, J&J announced that it agreed to pay a total of $100 million to settle a group of roughly 1,000 claims pending in the talcum powder MDL.
This marked the first time that J&J indicated that it was willing to consider the mass settlement of the talcum powder cases. Before this announcement, J&J and its lawyers had been very defiant in their posture. It seems evident that the crushing $2 billion loss in Missouri was the final blow that may have broken the company's resolve in this litigation.
Even after the 1,000 cases that are part of the recent settlement, there are still almost 2,000 pending federal court cases in the MDL and hundreds more in state courts. At this point, everyone hopes for another mass global settlement announcement in the talcum powder litigation now that the bankruptcy nonsense is in the rear view mirror.
Contact Miller & Zois to File a Talcum Powder Lawsuit
It is NOT too late to file your talcum powder lawsuit. If you used a talcum powder product for an extended period and were subsequently diagnosed with ovarian cancer, call our talcum powder lawsuit attorneys at 800-553-8082 or contact us online.