People who have developed Parkinson's from Paraquat want to better understand the range of settlement amounts they can expect in their Paraquat lawsuit.
It is early in the Paraquat litigation so settlement compensation payouts are speculative.  But we can look at other similar injuries to try to get a settlement range if plaintiffs' lawyers are successful, as expected, in this litigation.  The expected Paraquat settlement amounts will fluctuate as the litigation progress. So our lawyers will continue to update this page.  The last update was on December 18, 2021.
January 2022 Paraquat Update
There have been developments in the Paraquat lawsuits in January 2022
Paraquat Lawsuits Picked for Trial
This month, the Paraquat MDL judge confirmed a group of 16 cases for the opening round of bellwether test trials set to begin in November. Half of the 16 cases were hand picked by the defense and the other half were selected by the plaintiffs from a larger pool of bellwether discovery cases that had been randomly selected by a computer and pushed through a short fact discovery process. The bellwether jury trials will be held in the Southern District of Illinois.
Paraquat Class Action is Growing
After a new group of cases were transferred in earlier this month, the number of cases pending in the Paraquat MDL is now up to 736.
Motion to Dismiss
In November, the defendants filed a motion seeking to dismiss a large block of cases on the grounds that they were time-barred under the applicable statute of limitations. Plaintiffs opposed this motion and the MDL judge recently set a January 10, 2022 deadline for defendants to reply in support.
The Plan to Push Paraquat Lawsuits to Trial
The judge in the Paraquate Parkinson's disease class action lawsuit issued a case management order (CMO No. 12) that sets the game plan to select the lawsuits that will be the first to go to trial in this litigation.  The plan is to pick out sixteen Paraquat lawsuits.  Each side gets to pick half of the cases, subject to eligibility requirements set by the MDL judge.
Then, the lawyers start working up these lawsuits for trial.  That involves the discovery process, the fact-finding mission attorneys go to before trial.
This all pushes towards a trial date in March 2023.  Does this feel like a long time from now?  If you have Parkinson's disease and you believe Paraquat caused your Parkinson's, it seems a long way from justice.  This is the nature of the beast in mass tort lawsuits and there is no other path.
Future Paraquat Settlements
But the hope is that the defendants in these lawsuits realize that Paraquat lawsuits will be hard for them to win.  If they realize this – and who knows if they do – you might see settlement compensation offered to victims before these lawsuits get to trial.
That is the hope.  Our lawyers – and many other Paraquat attorneys –  believe these are strong cases for plaintiffs that will yield large verdicts if they go to trial. But we will see how it plays out.
Paraquat Lawsuits
Hundreds of farmworkers have filed lawsuits alleging that occupational exposure to the industrial herbicide paraquat (grameoxone) caused them to develop early Parkinson's disease. Thousand of additional paraquat lawsuits are expected and a class action MDL has already been established to accommodate them. In this post, we will look at how much these paraquat lawsuits might end up being worth by comparing them to settlements in prior mass product cases involving similar claims and in prior tort cases in which the plaintiff developed Parkinson's.
About the Paraquat Lawsuits
Paraquat is an industrial-strength herbicide that has been around since the 1960s. Paraquat is a highly toxic chemical that can be fatal if ingested and this has led most European countries to ban it outright. In the United States, however, paraquat is not banned and is widely utilized by large commercial farmers.
Evidence has recently emerged indicating that prolonged exposure to paraquat can lead to early-onset Parkinson's disease. Studies have found that agriculture workers who are exposed to paraquat over long periods have a significantly higher rate of early Parkinson's. People who live near farms where paraquat is applied also showed increased rates of Parkinson's disease.
Paraquat is manufactured by Syngenta, a Swiss agrochemical company. There is evidence indicating that Syngenta was aware of the causal link between paraquat and Parkinson's for years but deliberately concealed it. Now farm workers exposed to paraquat and subsequently diagnosed with Parkinson's are filing product liability lawsuits against Syngenta and its U.S. distributors.
Hundreds of paraquat Parkinson's lawsuits have been filed and a new paraquat MDL (Paraquat Prod. Liab. Lit., MDL 3004) has been created in the Southern District of Illinois for consolidated handling of the paraquat claims. The paraquat litigation is still in its early stages and is expected to grow rapidly as hundreds and thousands of additional cases get filed.
Paraquat Litigation Should Result in a "Global Settlement"
At this early phase of the paraquat litigation, it is impossible to know how much paraquat lawsuit settlements might be worth. Since an MDL has already been created for the paraquat cases, we can expect this litigation to follow a familiar course. Over the next 18-24 months the judge in the Paraquat MDL will oversee a consolidated fact discovery process. This will focus on the scientific evidence for both sides. During this phase, newly filed paraquat cases will be added to the MDL.
At the end of the consolidated civil discovery phase, the MDL judge will work with lawyers for both sides to select a handful of representative cases for jury trials.
These are known as "bellwether trials" and the results of these trials are generally used to facilitate global settlement negotiations with the defendants.
If the bellwether trials result in major victories for the plaintiffs, Syngenta may be forced to agree to pay a large amount of money to settle the remaining paraquat claims. In consolidated mass torts, this is called a "global settlement."
What Will a Global Settlement in the Paraquat Litigation Look Like?
Here is a basic summary of how global settlements usually work in mass torts like the paraquat litigation. Let's say Acme Co. is defending 5,000 lawsuits in an MDL by plaintiffs alleging that Acme's widget product caused them to develop cancer.
After 18 months of discovery, four Acme widget bellwether trials are held. Acme gets a defense verdict in 1 of the bellwether trials but the other three trials result in big verdicts for the plaintiffs (an average of $2.5 million).
After losing in the 4th bellwether trial, Acme announces that it is ready to settle all of the remaining widget lawsuits.  Lawyers for Acme and the plaintiffs spend the next four months negotiating the terms of a settlement.
Under the global settlement, Acme agrees to pay $500 million to settle the remaining 5,000 widget lawsuits. If this were divided evenly it would result in a gross payout of $100,000 to each plaintiff. But the settlement agreement includes a tiered system in which each plaintiff is ranked according to the severity of their injuries (and other factors). Plaintiffs in the top tier get higher payouts while plaintiffs in the lower tiers get less.
This is an overly simplified example of what a global settlement in the Paraquat litigation should eventually look like.
Key Variables for a Paraquat Lawsuit Settlement
The one major variable is how much Syngenta (and co-defendants) will end up having to payout in the settlement.
The settlement amount will depend on several things, including:
how many paraquat claims get filed and consolidated into the MDL,
how strong the scientific causation evidence is for the plaintiffs, and
the results of the initial bellwether trials.
Estimated Settlement Payout Value for Paraquat Claims
Despite all these variables that will impact the eventual payout value on paraquat cases, we can come up with a reasonable value estimate by looking at settlement payouts in prior mass torts and looking at the settlement value of Parkinson's disease in tort cases generally. Based on these points of comparison, we think that the likely settlement payout on paraquat claims will be as follows:
Settlement Tier                                             Estimated Settlement
Tier I                                                               $175,000 – $250,000
Tier II                                                              $80,000 – $120,000
Tier III                                                             $20,000 – $60,000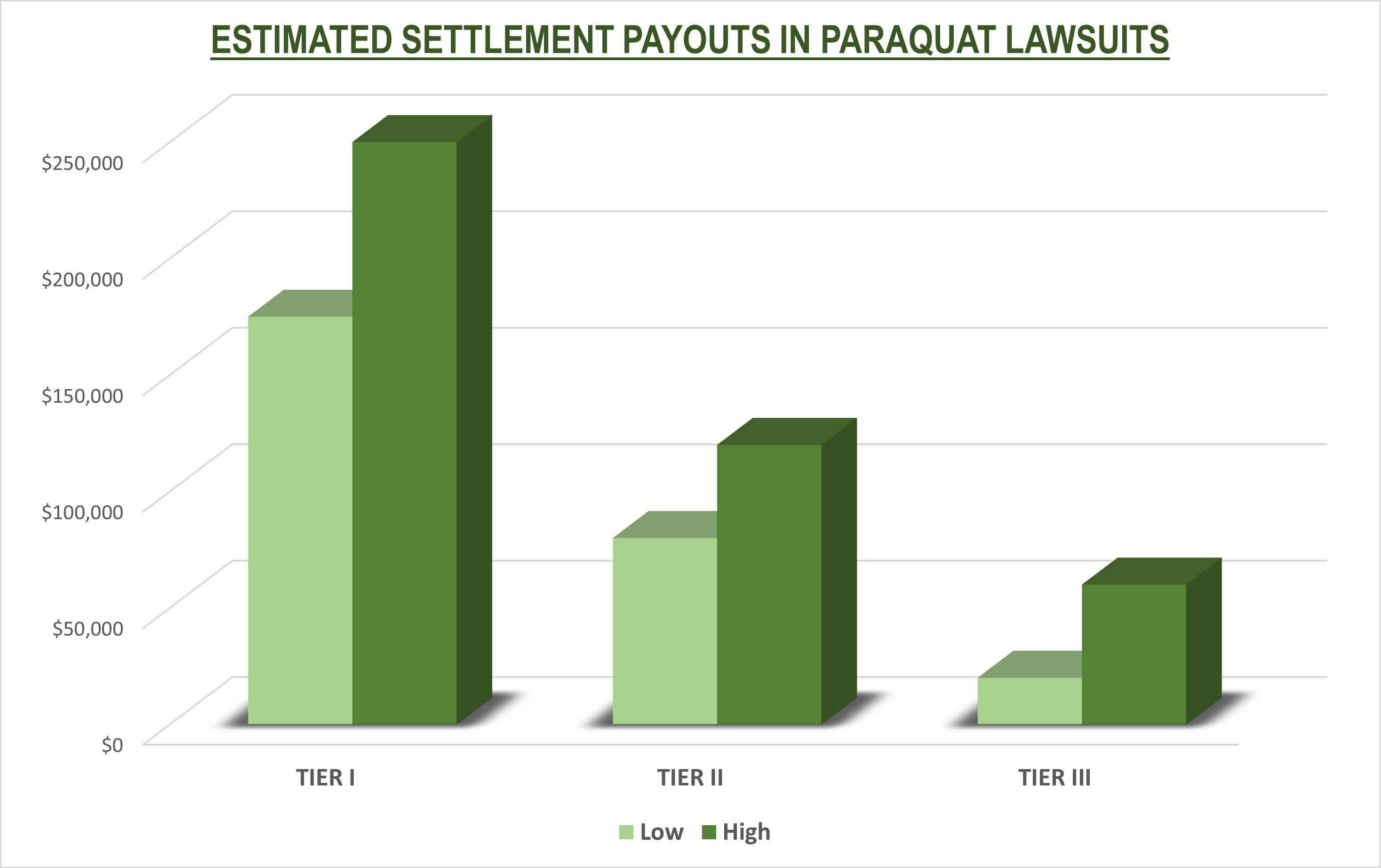 Settlements in Similar Mass Torts
Our first point of comparison for the estimated settlement values above is the settlement payouts in prior consolidated mass torts that have similarities to the paraquat litigation. Our most recent example to draw from is the Roundup settlement.
In the Roundup litigation, Bayer is paying around $10 billion to settle about 100,000 cases and setting aside another $6 billion for future Roundup claims. Individual Roundup plaintiffs are getting payouts around $100,000 to $150,000, but some in the highest Tier are getting more.
The Roundup litigation has some obvious similarities with paraquat to the extend that both involve herbicide products. The alleged injuries are different because Roundup involves cancer claims whereas paraquat plaintiffs are alleging Parkinson's.
Between the two, cancer is probably a somewhat higher value injury. Despite this difference, Roundup is probably the best comp for the paraquat litigation, although the scale of paraquat will be infinitely smaller.
Settlement Value of Tort Cases Involving Parkinson's
Our other comparative point for valuing the paraquat cases is the settlement value of other tort cases in which Parkinson's disease was the plaintiff's primary injury.
Parkinson's is difficult to value because it is not a common injury in personal injury claims. Because Parkinson's is such an uncommon injury in tort cases, we will also look at settlements in verdicts for tardive dyskinesia, a condition that is similar to Parkinson's.
Tamaraz v Lincoln Electric (Ohio 2007) $20,500,000 Verdict: this was a welding rod product liability case in which the plaintiff alleged that he developed Parkinson's disease from exposure to manganese in welding rods. A jury awarded $17.5 million to him and another $3 million to his wife. This was the only welding rod case that ended in a verdict for the plaintiff.
Axe v Spring Meadows (Pennsylvania 2018) $215,000 Settlement: Plaintiff was 73 and alleged that he developed tardive dyskinesia from medications given to him by a nursing home. The settlement value of this case was low because the plaintiff was older.
Plaintiff v Defendant (New York 2017) $1,400,000 Settlement: Plaintiff (mid-30s) develops tardive dyskinesia from antipsychotic medication used to treat her bipolar and sues the doctor who prescribed it.
Soref v Agresti (Florida 2017) $569,000 Verdict: female in her mid-20s with a history of drug abuse claims bi-polar drugs cause her to develop tardive dyskinesia.
These cases (particularly the welding rod case) are suggestive of the type of verdict we might expect to see in some of the paraquat bellwether trials. They further support the valuation estimates above.
FAQs: Paraquat Lawsuit Payouts
What are the expected settlement amounts for Paraquat lawsuits?
Paraquat lawsuits in the highest settlement tier could have a settlement payout value between $175,000 and $250,000. Cases lower settlement tiers will have lower values.
Keep in mind speculation about settlement compensation payout or when these Paraquat lawsuits might settle is purely speculative.
When will the Paraquat lawsuits settle?
A global settlement in the paraquat litigation is not expected until late 2022 or early 2023 at the earliest.   
Getting a Paraquat Lawyer
If you have a potential Paraquat Parkinson's disease lawsuit, let's talk about your claim and your options.  Call our toxic exposure lawyers at 800-553-8082 or get a free online consultation.