Our lawyers are handling Paraquat lawsuits in all 50 states.  This page is about projected Paraquat settlement payouts for a viable Paraquat lawsuit.
People who have developed Parkinson's disease from Paraquat want to better understand the range of settlement amounts they can expect in their Paraquat lawsuit.
It is early in the Paraquat litigation. Settlement compensation payouts are still speculative. But we can look at other similar injuries to get a settlement range if plaintiffs' lawyers are successful, as expected, in this litigation.
The expected Paraquat settlement amounts will fluctuate as the litigation progresses. Our lawyers will continue to update this page with revised payout projections.  The last update was on Sunday, March 5, 2023 at 1:18 p.m.
2023 Paraquat Lawsuit Update
Here are the developments in the still-growing Paraquat lawsuit in 2023:
March 27, 2023: As the date for the first bellwether test trial approaches, Syngenta's defense team continues to take aim at the team of expert witnesses assembled by the plaintiffs. No surprise, this is what defense lawyers do. Most recently, Syngenta file a motion to exclude the testimony of Martin Wells, an expert statistician for the plaintiffs. Wells would testify that the results of his metanalysis (examining prior epidemiological studies) supports the conclusion that there is a link between Paraquat exposure and Parkinson's disease. Syngenta's motion to exclude argues that that Wells deliberately cherry picked studies with favorable results to include in his analysis and, therefore, his results are not reliable.  This is a tough road for Syngenta because the science in this litigation is so strong for plaintiffs.
March 16, 2023: 277 new plaintiffs joined the Paraquat class action MDL in the last month. That brings the total number of pending cases up to 2,998 and it marks the second month in a row that the Paraquat MDL has posted an above average volume of new case filings.
March 5, 2023: The evidence continues to show that Paraquat causes Parkinson's disease and the defendants knew it.  Syngenta recently produced documents in the Paraquat litigation that show that the company may have known about the potential health risks of exposure to Paraquat back in the 1970s. The documents further indicate that by 2001, Syngenta was very much aware of the potential link between Paraquat and Parkinson's disease and even created an internal task team to monitor the potential liability of this link.
March 1, 2023: With the first bellwether test trial coming up this summer, both sides are starting to battle over what evidence will be permitted at trial. In the most recent dispute, the defense team has moved to strike a supplemental expert witness report submitted by plaintiff expert David Mortensen. Mortensen is a Plant Ecology Professor at Penn State and a key expert for the plaintiffs. After Mortensen's deposition (and several months after the deadline for expert reports) the plaintiffs submitted a supplemental expert report from Mortensen which sought to clarify certain issues raised during his deposition. The defense lawyers immediately moved to strike the supplemental report and they appear to have a valid argument. The Court will likely rule on the motion in the next week or so.
February 17, 2023: Last year, the Paraquat class action litigation was consistently averaging 150 and sometimes over 200 new cases each month. So when we only saw 69 new cases added to the MDL last month, it seemed to indicate that 2023 might be the year that this litigation slowed down. This month, however, 300 new Paraquat Parkinson's disease lawsuits were added to the MDL. That marks the highest monthly total since the MDL began and it suggests that the high volume of new Paraquat lawsuits is probably going to continue as we head toward trial in October 2023.
February 4, 2023: The Paraquat MDL plaintiffs are currently fighting to obtain key documents from Exponent Inc., a third-party scientific consulting company that did work for Syngenta on the potential safety hazards of Paraquat. Exponent has refused to produce documents in response to a subpoena from the plaintiffs and last month the plaintiffs filed a motion to compel. Now both Syngenta and Exponent have filed separate response briefs in opposition to the motion to compel. The amount of pushback on the production of these documents is a clear indication that they contain key evidence that could be very harmful to the defense's position.
January 17, 2023: According to the most recent report from the JPML that came out today, there are a total of 2,352 cases pending in the Paraquat class action lawsuit.  That is only an increase of 69 cases from last month. This is somewhat misleading, however, because the MDL docket shows that well over 200 new member cases have been opened over the last month and these were presumably not included in the most recent total.
January 6, 2023:  New claims continue and are transferred into the Paraquat class action lawsuit in Illinois.  The latest Paraquat lawsuit that has been filed is a wrongful death action brought by the surviving spouse and two sons of a Louisiana man who died after battling Parkinson's disease.  The suit in Scafidel et al v. Syngenta Crop Protection LLC alleges that Chevron and Syngenta are responsible for a man developing Parkinson's disease after repeated exposure to Paraquat.
January 5, 2023: Does anyone believe that Paraquat, a poison, only causes Parkinson's disease?  With Paraquat now in focus on this litigation, interest in the harm this pesticide can cause is on the rise.  A new study published in December 2022 tells us that victims who experience Paraquat poisoning can develop organ damage that includes acute kidney injury (AKI). The study also finds that chronic Paraquat exposure takes a toll on renal function and can lead to chronic renal disease.
January 2, 2023: The Paraquat class action lawsuit grew a great deal in 2023. The litigation averaged over 200 new cases per month and growing by almost 400% since the start of the year. So will this trend continue in 2023, or will the Paraquat class action see an inevitable slowdown?  Our prediction is the litigation continues to grow as awareness of the connection between Paraquat and Parkinson's disease grows.  But 2023 is unlikely to match the pace of Paraquat suits we saw in 2022.
December 19, 2022: The first bellwether test trial in the Paraquat MDL has been postponed again. In an Order issued at the end of last week, Judge Rosentengel ruled that the opening trial will now be set for October 2023.
November 7, 2022: Over the last two weeks nearly 100 new Paraquat Parkinson's disease lawsuits have been transferred into the MDL. This is a continuation of the flood of new Paraquat lawsuits that we have seen over the last six months. In the meantime, both sides have filed responses to the recently issued report and recommendation of the Special Master regarding certain discovery disputes. The final briefing on that is due this week.
September 30, 2022: After the EPA granted interim approval status to Paraquat back in August 2021, allowing the herbicide to remain available pending a further safety review, a non-profit group in California took the agency to court to challenge the validity of that decision. This week, the EPA responded by requesting the Court to grant a voluntary remand to permit the EPA to reconsider the risk-benefit analysis that led to the prior approval decision. If granted, this request could eventually result in a decision by the EPA not to grant interim approval to Paraquat because it is unreasonably hazardous.  Does this have huge Paraquat lawsuit implications?  Of course it does.
September 15, 2022: Since the start of 2022, Paraquat has been the fastest-growing mass tort MDL. Over the last monthly period (8/15/22 to 9/15/22) the number of pending Paraquat lawsuits in the Paraquat MDL went from 1,702 to 1,925. That's an increase of 222 cases, but around 15 cases were either remanded back to state court or dismissed so the actual number of newly filed Paraquat Parkinson's disease cases is even higher. Under the rules of the Paraquat MDL, new cases can be filed directly in the MDL in the Southern District of Illinois using the master pleading forms. This makes it hard to track where the new cases are coming from geographically. But the biggest numbers appear to be from California. The explosive growth of the Paraquat litigation recently forced the MDL class action judge to push back the bellwether trial dates and expand the discovery pool.
September 5, 2022: The Paraquat MDL Judge has selected a group of 20 additional cases from the MDL for limited fact discovery.   The list was randomly generated out of more than 1,700 currently pending cases.  This is a good development because it will help the defendants' attorneys better understand how strong these claims are. This will be helpful when the lawyers sit down to negotiate settlement compensation payouts.  The judge's order requires that depositions of the plaintiffs in each of these cases must be concluded within 60 days and a report summarizing the plaintiff's testimony must be provided to the Court. Meanwhile, the recent flood of new incoming Paraquat cases continues. Over the last 2 weeks, around 200 new Paraquat plaintiffs have been added to the MDL. The rising number of cases was cited by the MDL Judge as one of the reasons for the order requiring additional plaintiff depositions.
August 25, 2022:  Unfortunately, we lost our trial date this year.  The opening bellwether test trial in the Paraquat MDL had been set for November 2022.   The second Paraquat trial was set for March 2023. The good thing about having trial dates is it places pressure on the defendants to settle or face a jury.  The hope was these trial dates would force the defendants to offer reasonable settlement compensation to victims. Yesterday, MDL Judge Nancy Rosenstengel issued an Order pushing the first trial date back nine months to July 2023.  Judge Rosenstengel made this decision after reviewing the status of discovery in the MDL and consulting with the Special Master.
August 16, 2022:  Over the last month 255 new Paraquat cases were added to the MDL class action. So the Paraquat class action lawsuit is still growing.   There are now 1,703 Paraquat lawsuits pending in the MDL.
July 20, 2022:   The Paraquat MDL now has 1,148 plaintiffs as of July 15, 2022.
July 4th, 2022: The Paraquat class action lawsuit has been adding about 130 new plaintiffs each month to the MDL for the last year. During the last 30 days, 142 new Paraquat lawsuits were transferred into the federal class action. This brings the total number of pending cases up to 1,292.   The question continues to be whether Syngenta and Chevron intend to offer fair Paraquat settlement amounts or whether they want to roll the dice and let a jury decide whether a compensation payout is appropriate.  The bet here is they will look to settle most Paraquat lawsuits before taking a verdict. We will see.
June 9, 2022:  The push to the first Paraquat lawsuit trial moves forward.  The Paraquat MDL judge issued a Second Amended Discovery Schedule that provides a short, limited extension of the original discovery deadlines established for the six bellwether trial cases. Under the discovery order, the parties will have until July 25, 2022, to complete fact discovery and medical examinations. This extension of the original deadline became necessary after the number of fact witnesses made the completion of discovery more challenging.  The short length of the extension, however, should ensure that we remain on schedule for the opening bellwether trials.
May 16, 2022: The first half of May shows record numbers of new Paraquat lawsuits being filed and added to the Paraquat MDL class action. Fifty-seven new Paraquat Parkinson's disease cases were filed and transferred into the MDL during the first week of May. This is the highest weekly total to date. The second week of May saw another 35 new Paraquat lawsuits added to the MDL, making it the second-highest volume week.  Overall, there are over 1,150 Paraquat plaintiffs in the Paraquat class action lawsuit.  These Parkinson's disease lawsuits have been consolidated from around the country before one federal judge in Illinois.
May 11, 2022: Maybe the best thing to happen in the Paraquat class action lawsuit occurred in another piece of mass tort litigation. Bayer has been pursuing an appeal to the U.S. Supreme Court arguing that the Roundup lawsuits are preempted by the Federal Insecticide, Fungicide, and Rodenticide Act ("FIFRA").  The premise of the appeal is that if the EPA is allowing these pesticides to remain on the market, the federal law preempts any state law injury or wrongful death claims.  The Supreme Court sought the Biden administration's position on whether it should hear the appeal.  The Biden administration filed a brief in the case arguing that FIFRA should not be interpreted to preempt Roundup product liability claims under state law. The appeal was always a long shot for Bayer. But Bayer had been using preemption as a sword in settlement negotiations and you can bet the Paraquat defendants would do the same.  If the Supreme Court rejects Bayer's FIFRA preemption argument as is now expected (why would they ask if the answer was not of consequence?), it will effectively prevent Syngenta and Chevron from making the same preemption argument in the Paraquat lawsuit.
May 4, 2022:  The Paraquat MDL judge recently identified a group of six cases for the initial Paraquat Parkinson's disease bellwether trials.  So these cases are moving quickly toward the first trial in November 2022.  The game plan is to take 16 sample Paraquat lawsuits out of the nearly 1000 Parkinson's disease lawsuits that have been filed. After some limited fact discovery in these cases, Paraquat attorneys on both sides gave the MDL judge a preference list, ranking the 16 in terms of which case they most wanted to try first. Plaintiffs' lawyers want the best facts for victims and defense attorneys want the worst.  Based on these rankings, the judge winnowed the list down to six Paraquat lawsuits. We still don't know which lawsuit will go first. But full discovery will now be conducted in these six potential "first Paraquat lawsuit" cases.
April 19, 2022:  There are now 982 Paraquat lawsuits in the MDL class action.  All allege Parkinson's disease was caused by their Paraquat exposure.
April 12, 2022: The judge in the Paraquat MDL, Hon. Nancy Rosenstengel held the Paraquat class action lawsuit regular monthly status conference on April 1, 2022.  Since then, Paraquat lawyers have filed 44 more Paraquat lawsuits in just 12 days.  I don't remember this many Paraquat lawsuits being filed in such a short span. It could just be lawyers holding back lawsuits and filing them all at once. This can lead to peaks and valleys of suits.  But there is no question that lawsuits are continuing to be filed.
April 1, 2022:  The status conference is today. Always of interest is the current size of the litigation and how many new cases were added to the Paraquat MDL class action lawsuit over the last month. Judge Rosenstengel may also dig deeper into the details regarding the upcoming bellwether trial selection process.
April 8, 2022: Paraquat has been banned in Fuji.
More Paraquat News Updates
March 17, 2022: 16 initial bellwether cases have been identified. Eight of the cases were selected by the plaintiffs, and the other 8 were picked by the defendants. Fact discovery in these 16 cases will conclude at the end of the month and the MDL Judge has given the parties a deadline of April 8 for submitting their "rankings" in order of preference of which cases should be scheduled for trial.
As of March 1, 2022, there are 688 Paraquat Parkinson's disease lawsuits filed in the MDL class action.  An estimated 75 Paraquat suits are pending in state court.
On February 16, 2022, the Paraquat class action judge ruled on several motions to dismiss certain claims asserted by the plaintiffs in the Paraquat lawsuit. Judge Rosenstengel granted the motion to dismiss the plaintiffs' claims for public nuisance and violations of Minnesota consumer protection statutes.   Plaintiff's Paraquat attorneys do not want any claims dismissed.  Still, these were not significant counts in the lawsuits.  But I am burying the lede. The ruling leaves the remainder of the claims in the Paraquat litigation fully intact.  That clears a major obstacle for Parkinson's disease victims, which sets the stage for Paraquat MDL to move forward into the bellwether trials in November 2022. Our lawyers hope that reasonable settlement payouts for victims will come before that first Paraquat lawsuit goes to trial.
On February 8, 2022, the good guys got a win in the Paraquat class action in a discovery battle yesterday. The defense lawyers were asserting the attorney-client privilege to block the discovery of certain deposition transcripts of Syngenta corporate witnesses taken in a prior paraquat lawsuit in Illinois state court.  How that would be attorney-client privilege is truly anyone's guess.  The MDL judge rejected this argument and ordered the defendants to produce the transcripts.
On February 1, 2022, a dozen new Paraquat lawsuits were filed in federal court in Illinois. The plaintiffs in these lawsuits come from all over the country and allege that their exposure to Paraquat (mostly from working on commercial farms) caused them to develop Parkinson's disease. Most of the chronic Paraquat exposure alleged by the plaintiffs occurred decades ago. The lawsuits name both Syngenta and Chevron as defendants and assert similar causes of action based primarily on failure to warn.
Paraquat Lawsuits Picked for Trial
This month, the Paraquat MDL judge confirmed a group of 16 cases for the opening round of bellwether test trials set to begin in November. Half of the 16 cases were handpicked by the defense and the other half were selected by the plaintiffs from a larger pool of bellwether discovery cases that had been randomly selected by a computer and pushed through a short fact discovery process. Bellwether jury trials will be held in the Southern District of Illinois.
Paraquat Class Action is Growing
After a new group of cases were transferred earlier this month, the number of cases pending in the Paraquat MDL-3004 is now up to 982 (as of March 16, 2022).
Motion to Dismiss
In November, the defendants filed a motion seeking to dismiss a large block of cases because they were time-barred under the applicable statute of limitations. Plaintiffs opposed this motion and the MDL judge recently set a January 10, 2022 deadline for the defendants to reply in support. (Update: our lawyers reported above that plaintiffs won on the key issues. This clears a huge hurdle in getting a Paraquat lawsuit to trial in MDL 3004.)
The Plan to Push Paraquat Lawsuits to Trial
The judge in the Paraquat Parkinson's disease class action lawsuit issued a case management order (CMO No. 12) that sets the game plan to select the lawsuits that will be the first to go to trial in this litigation.  The plan is to pick out sixteen Paraquat lawsuits.  Each side gets to pick half of the cases, subject to eligibility requirements set by the MDL judge.
Then, the lawyers start working up these lawsuits for trial.  That involves the discovery process, the fact-finding mission attorneys go to before trial.
This all pushes towards a trial date in July 2023.  Does this feel like a long time from now?  If you have Parkinson's disease and you believe Paraquat caused your Parkinson's, it seems a long way from a settlement and the justice you deserve.  It is not fair.  Our system moves slowly.
Future Paraquat Settlements
But the hope is that the defendants in these lawsuits realize that a Paraquat lawsuit will be hard for them to win.  If they realize this – and who knows if they do – you might see settlement compensation offered to victims before these lawsuits get to trial.
That is the hope.  Our lawyers – and many other Paraquat attorneys –  believe these are strong cases for plaintiffs that will yield large verdicts if they go to trial. But we will see how it plays out.
Paraquat Lawsuit
Hundreds of farmworkers and people who worked near oil tanks and railroads have filed lawsuits alleging that occupational exposure to the industrial herbicide paraquat (grameoxone) caused or contributed to cause Plaintiff's development of Parkinson's disease.
There are now over 1,700 Paraquat lawsuits. A Parkinson's disease class action MDL has already been established to accommodate them. In this post, we will look at how much a Paraquat lawsuit might end up being worth by comparing them to settlements in prior mass product cases involving similar claims and in prior tort lawsuits in which the plaintiff developed Parkinson's.
About the Paraquat Lawsuits
Paraquat is an industrial-strength herbicide that has been around since the 1960s. It is used to control weeds and grasses in agricultural areas. It is also used as a defoliant, removing leaves from trees and plants.  Some farmers will use Paraquat as a desiccant, too, to keep the crops dry and stable.  Chevron started selling Paraquat in the U.S. in 1964.
This chemical is highly toxic.  A teaspoon will kill you. This has led most European countries to ban it outright. In the United States, however, Paraquat is not banned and is widely utilized by large commercial farmers.
Evidence has emerged that prolonged Paraquat exposure can lead to early-onset Parkinson's disease. Studies have found that agricultural workers who are exposed to Paraquat over long periods have a significantly higher rate of developing Parkinson's disease. People who live near farms where Paraquat is applied also showed increased rates of Parkinson's disease.
Paraquat is manufactured by Syngenta, a Swiss agrochemical company. There is evidence indicating that Syngenta was aware of the causal link between paraquat and Parkinson's for years but deliberately concealed it. Now farm workers exposed to Paraquat and subsequently diagnosed with Parkinson's are filing product liability lawsuits against Syngenta and its U.S. distributors.
Hundreds of paraquat Parkinson's lawsuits have been filed and a new paraquat MDL (Paraquat Prod. Liab. Lit., MDL 3004) has been created in the Southern District of Illinois for consolidated handling of the paraquat claims. The Paraquat lawsuit is still in its early stages and is expected to grow rapidly as hundreds and thousands of additional cases get filed.
New calls to ban Paraquat in the UK over Parkinson's disease risk
Paraquat Litigation Should Result in a "Global Settlement"
At this early phase of the Paraquat Parkinson's disease litigation, it is impossible to know how much Paraquat lawsuit settlements might be worth. Because an MDL has already been created for the Paraquat claims, our Paraquat lawyers expect this litigation to follow a familiar course in other class action lawsuits we have seen.
The Parkinson's Disease Paraquat exposure MDL oversees a consolidated fact discovery process. This will focus on the scientific evidence for both sides. During this phase, newly filed paraquat cases will be added to the MDL.
At the end of the consolidated civil discovery phase, the MDL judge will work with lawyers for both sides to select a handful of representative cases for jury trials. In May 2022, we have narrowed that down to six potential Paraquat lawsuits.
These are known as "bellwether trials" and the results of these trials are generally used to facilitate global settlement negotiations with the defendants.
If the bellwether trials result in major victories for the plaintiffs, Syngenta may be forced to agree to pay large settlement amounts for the remaining Paraquat claims. In consolidated mass torts, this is called a "global settlement."
What Will a Global Settlement in the Paraquat Litigation Look Like?
Here is a basic summary of how global settlements usually work in mass torts like the paraquat litigation. Let's say Acme Co. is defending 5,000 lawsuits in an MDL by plaintiffs alleging that Acme's widget product caused them to develop cancer.
After 18 months of discovery, four Acme widget bellwether trials are held. Acme gets a defense verdict in 1 of the bellwether trials but the other three trials result in big verdicts for the plaintiffs (an average of $2.5 million).
After losing in the 4th bellwether trial, Acme announces that it is ready to settle all the remaining widget lawsuits.  Lawyers for Acme and the plaintiffs negotiate the terms of a settlement over a few months.
Under the global settlement, Acme agrees to pay $500 million to settle the remaining 5,000 widget lawsuits. If these settlement amounts were divided evenly, it would be a gross payout of $100,000 to each plaintiff. But the settlement agreement includes a tiered system in which each plaintiff gets a settlement compensation payout according to the severity of their injuries (and other factors). Plaintiffs in the top tier get higher payouts while plaintiffs in the lower tiers get less.
This is an overly simplified example of what a global settlement in this litigation should eventually look like and how Paraquat lawsuit settlement amounts would be calculated.
Key Variables for a Paraquat Lawsuit Settlement
The battlefield in the Paraquat Parkinson's disease lawsuits is over how much the settlement compensation payouts should be.  Syngenta, Chevron, and other co-defendants are fighting to pay the smallest settlement amounts possible.
The individual Paraquat settlement amounts will depend on several things, including:
how many Paraquat claims get filed and consolidated into the MDL,
how strong the scientific causation evidence is for the plaintiffs between Paraquat exposure and Parkinson's disease, and
the results of the initial bellwether trials.
What Average Settlement Payout Do You Expect for a Paraquat Parkinson's Disease Lawsuit?
We believe settlement amounts will be offered for victims in the Paraquat class action lawsuit in 2023 before the first lawsuit goes to trial.  Our lawyers predict – and it is just a prediction –  an average Paraquat settlement payout of $500,000 with some Paraquat settlements in the millions.  
Digging Deeper into Our Estimated Paraquat Lawsuit Settlement Payout Amount
Despite all these variables that will impact the eventual payout value on Paraquat cases, our lawyers estimate reasonable individual Parkinson's disease settlement payouts. Our lawyers do this by looking at settlement payouts in prior mass torts and an assessment of the likelihood a jury would find the Paraquat defendants responsible.  Our attorneys also look at the settlement compensation for Parkinson's disease in tort cases generally.
Based on these points of comparison, our Paraquat lawyers think that the likely settlement payout on Paraquat claims will be as follows:
Settlement Tier                                             Estimated Settlement
Tier I                                                               $$400,000- $1,000,000+
Tier II                                                              $150,000 – $300,000
Tier III                                                             $20,000 – $150,000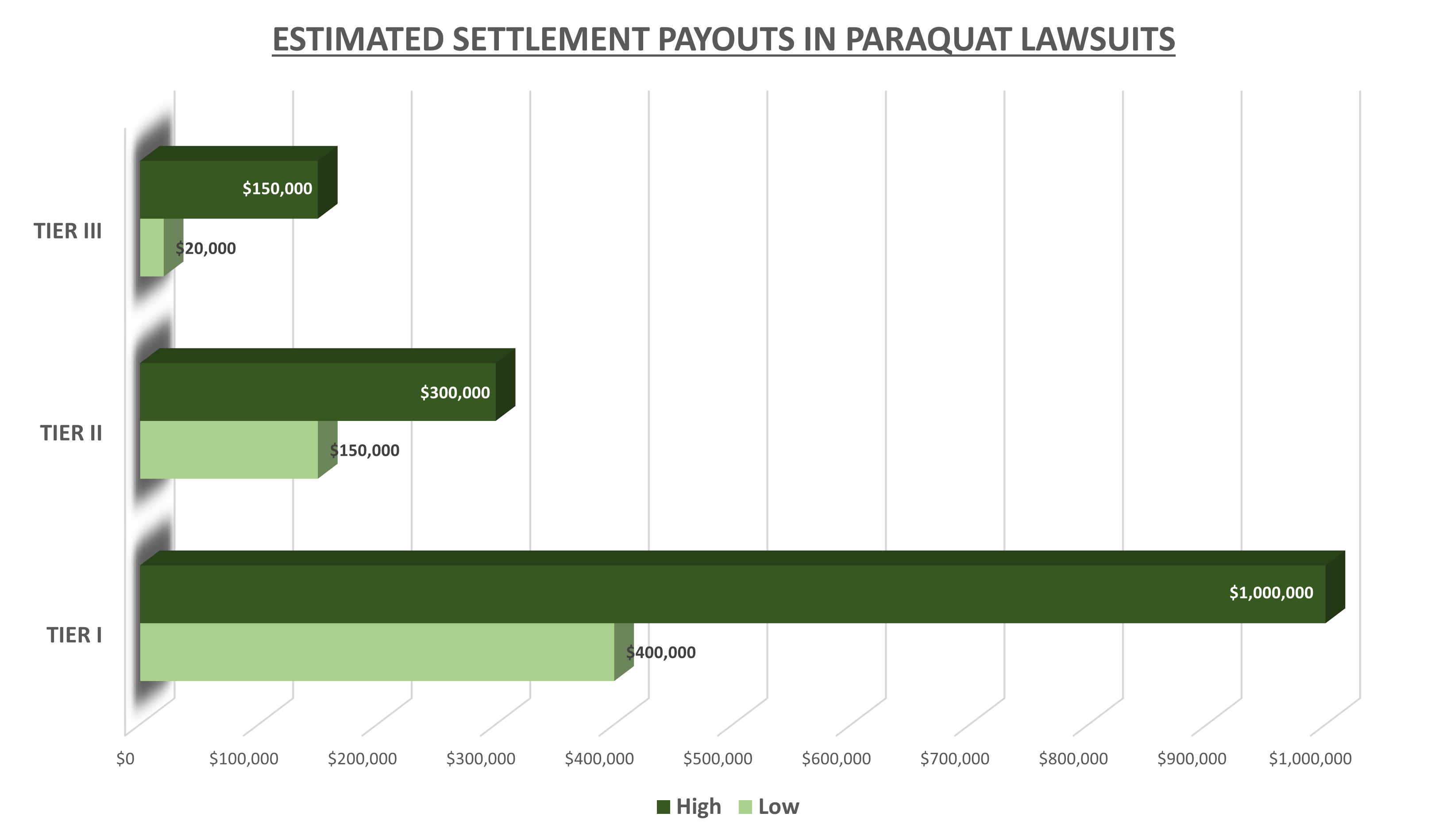 Remember, we are talking about expected Paraquat settlement amounts, not trial value.  The average successful verdict in an individual Paraquat lawsuit would likely be more than $10 million with the possibility of much more in punitive damages.   Does that sound too high?  Remember, the average successful verdict in the Roundup lawsuits was well over $500 million.  In the 3M earplug lawsuit where the claim is a hearing-related injury, the average individual jury payout is well over $10 million.   Parkinson's disease is a far more serious injury.  So an average jury compensation payout estimate of $10 million might be on the low side.
Settlement Amounts in Mass Torts Similar to Paraquat
Our first point of comparison for the estimated settlement values above is the settlement payouts in prior consolidated mass torts that have similarities to the Paraquat litigation. Our most recent example to draw from is the Roundup settlement.
In the Roundup litigation, Bayer is paying around $10 billion to settle about 100,000 cases and setting aside another $6 billion for future Roundup claims. Individual Roundup plaintiffs are getting payouts of around $100,000 to $150,000. But lawsuits in the highest tier are getting much larger settlement amounts than the average.
The Roundup litigation has some obvious similarities with Paraquat to the extent that both involve herbicide products. The alleged injuries are different because Roundup involves cancer claims whereas Paraquat plaintiffs are alleging Parkinson's.
Between the two, cancer is probably a somewhat higher-value injury. Despite this difference, Roundup is probably the best comp for the Paraquat litigation, although our lawyers predict higher settlement amounts for Paraquat because we believe the merits of the case are even stronger in the Paraquat class action. (And, frankly, the smaller number of plaintiffs and multiple defendants grease the wheels of a larger settlement.)
---
RELATED POSTS:
---
Settlement Amounts in Lawsuits Involving Parkinson's Disease
Our other comparative point for valuing the paraquat cases is the settlement value of other tort cases in which Parkinson's disease was the plaintiff's primary injury.
Parkinson's is difficult to value because it is not a common injury in personal injury claims.  Camp Lejeune Parkinson's disease lawsuits are now also being filed But there are no settlement amounts yet n that litigation.
So the next question is there a stand-in injury for Parkinson's disease because it is an uncommon injury in tort cases that we can use as a settlement marker?  I think there is: tardive dyskinesia is similar enough that settlement amounts in those lawsuits might give us a lens to Parkinson's disease settlement amounts.  Our lawyers have had some experience in those cases.  So let's look at settlement amounts and jury payouts for tardive dyskinesia because it is a similar injury to Parkinson's disease.
Tamaraz v Lincoln Electric (Ohio 2007) $20,500,000 Verdict: This is a rare jury payout involving a Parkinson's disease case. Plaintiff filed a welding rod product liability lawsuit alleging he developed Parkinson's disease from exposure to manganese in welding rods. A jury awarded $17.5 million to him and another $3 million to his wife.  This verdict underscores the high potential compensation payouts a jury might give in Parkinson's disease case.
Axe v Spring Meadows (Pennsylvania 2018) $215,000 Settlement: Plaintiff was 73 years old and alleged that he developed tardive dyskinesia from medications given to him by a nursing home. Why was the settlement payout so low? I don't know.
Plaintiff v Defendant (New York 2017) $1,400,000 Settlement: Plaintiff (mid-30s) develops tardive dyskinesia from antipsychotic medication used to treat her bipolar and sues the doctor who prescribed it.
Soref v Agresti (Florida 2017) $569,000 Verdict: female in her mid-20s with a history of drug abuse claims bipolar drugs cause her to develop tardive dyskinesia.
These cases (particularly the welding rod case) are suggestive of the type of verdict we might expect to see in Paraquat bellwether trials. These compensation awards support the settlement payout valuation estimates above.
Paraquat Lawsuits Can be Filed Decades After the Plaintiff's Exposure
If you were recently diagnosed with Parkinson's disease that may be related to paraquat,  you can still file a paraquat lawsuit today, even if your exposure to Paraquat occurs years or even decades ago. All states have a statute of limitations that imposes a deadline for filing a civil tort action for things such as product liability. The applicable statute of limitations period for a tort claim ranges from 1 to 7 years depending on the state.
The applicable SOL period does not begin to run, however, until the plaintiff either knew or had reason to know that they had a claim. For a paraquat lawsuit, this means that the SOL period would not begin to run until the plaintiff knew or "should have known" that they had Parkinson's disease and that it might have been caused by exposure to paraquat.
The connection between paraquat exposure and Parkinson's disease is something that a reasonable person would not be expected to know. This is particularly true because the companies that made and sold paraquat deliberately failed to warn about the link between paraquat and Parkinson's. Most of the plaintiffs in the Paraquat and Parkinson's disease litigation are bringing their claims based on exposure that occurred a very long time ago.
Link Between Paraquat and Parkinson's Disease
Parkinson's disease is a progressive neurodegenerative disorder of the brain that affects primarily the motor system, the part of the central nervous system that controls movement.
The characteristic symptoms of Parkinson's disease are its "primary" motor symptoms: resting tremor; bradykinesia (slowness in voluntary movement and reflexes); rigidity; and postural instability. There is currently no cure for Parkinson's disease. Existing treatments do not slow or stop their progression; such treatments are capable only of temporarily and partially relieving motor symptoms. These treatments also have unwelcome side effects the longer they are used.
Paraquat is a toxic chemical that is a highly effective plant killer. Unfortunately, the same properties that make paraquat toxic to plant cells also make it highly damaging to human nerve cells and create a substantial risk to anyone who uses it.
Oxidative stress is a major factor in—if not the precipitating cause of—the degermation and death of dopaminergic neurons which is the primary pathophysiological cause of Parkinson's disease. Paraquat is designed to injure and kill plants by creating oxidative stress, which causes or contributes to causing the degeneration and death of plant cells. Similarly, Paraquat injures and kills animals by creating oxidative stress, which causes the degeneration and death of animal cells.
The causal link between Paraquat and Parkinson's disease is well established.  Hundreds of animal studies involving various routes of exposure have found that paraquat creates oxidative stress that results in pathophysiology consistent with that seen in human Parkinson's disease.
Many epidemiological studies have also found an association between Paraquat exposure and Parkinson's disease, including multiple studies finding a two- to five-fold or greater increase in the risk of Parkinson's disease in populations with occupational exposure to paraquat compared to populations without such exposure.
You do not have to work on a farm to have a viable Paraquat lawsuit. Researchers in an article in the American Journal of Epidemiology found that exposure to Paraquat or Maneb within 1600 feet of your home causes a 75% increase in the risk of getting Parkinson's disease.
Here are the key articles on Paraquat exposure and Parkinson's disease with a summary of the findings:
Paraquat and Kidney Damage
In addition to causing Parkinson's disease, new evidence has also shown that chronic exposure to Paraquat can also cause permanent damage to the kidneys. The kidney is the main organ responsible for Paraquat excretion and Paraquat is known to be highly nephrotoxic.
Dermal exposure to Paraquat has revealed inflammatory cell infiltration, tubular necrosis, and diffuse interstitial fibrosis.  Paraquat exposure causes toxic chemical reactions to occur in the kidneys, and long-term effects, including kidney failure, are possible.
Paraquat lawyers have not focused on these cases because there are so many more Parkinson's disease lawsuits.  But these injuries are very real to victims.
Paraquat Defense Lawyers Lost Arrow in Quiver
Paraquat exposure to Parkinson's disease lawsuits is considered by mass tort lawyers to be a strong case.  Victims' attorneys believe proving the defendant's responsibility will be as easy as any major class action lawsuit in 2022.  That is why Paraquat lawyers are spending a fortune online even in 2023 when most victims have already found an attorney trying to market for Paraquat lawsuits.
The last time a Paraquat lawsuit was set for trial, the defendants quickly settled those lawsuits.  The speculation is the settlement compensation payouts in those claims were very high. (The Parquat settlement amounts in those cases really were placed in a vault.  The defendants really wanted those number kept confidental and I have not heard anyone leak what those payouts were.)  That fueled many Paraquat lawyers to jump into this Parkinson's disease pesticide exposure cases.  So I expect that any solid Paraquat lawsuit heading towards trial will be settled by the defendants.
The defendants' only hope in my mind of getting out of this litigation without paying huge jury payouts of settlement compensation is by these lawsuits never seeing a jury.  The path to that outcome was for Bayer to win its appeal in the Roundup litigation.
Bayer argued Roundup lawsuits should be preempted by the Federal Insecticide, Fungicide, and Rodenticide Act.  Bayer lost.  This verdict makes the Paraquat class action lawsuit that much stronger.
FAQs: Paraquat Lawsuit Payouts
What are the expected settlement amounts for Paraquat lawsuits?
Paraquat lawsuits in the highest settlement tier could have a settlement payout value between $400,000 and $1,000,000. Cases with lower settlement tiers will have lower values.  Our lawyers have high expectations for the settlement value of Parkinson's Paraquat lawsuits.
Keep in mind speculation about settlement compensation payouts or when these Paraquat lawsuits might settle is purely speculative.  You might also be disheartened by how fluid our settlement projections are.   Our projections rise and fall day to day. But there is one thread that runs through all our Paraquat lawsuit settlement amount projections: our lawyers think these are great cases and will ultimately resolve for good settlements.
When will the Paraquat lawsuits settle?
A global settlement in the paraquat litigation is not expected until early 2023 at the earliest.   
What is the deadline for filing a Paraquat Parkinson's disease lawsuit?
Most Paraquat lawsuits are filed years or decades after the plaintiff was actually exposed to Paraquat.
So how do Paraquat plaintiffs get around the statute of limitations?  Here is how it works.
Every Paraquat lawsuit alleges that this weed killer was manufactured and distributed by the defendants and did not provide a warning label so people using it knew of the risk of latent neurological damage, most notably, Parkinson's disease.
So when Plaintiffs were diagnosed with Parkinson's, they could not connect the dots between Paraquat and Parkinson's disease.  Courts often apply the discovery rule in these cases. So the clock on the deadline to sue cannot start until the plaintiff knows or has reason to know of the connection between their exposure to Paraquat and his or her neurological disease.
So what is your deadline to file a Paraquat lawsuit?  Calculating the exact deadline for filing your claim can be complicated and you should consult with a lawyer.
Defendants in the Paraquat Class Action Lawsuit
The main defendants in any Paraquat lawsuit are:
Syngenta AG: This Swiss company owns Syngenta Corp. and Syngenta Crop Protection LLC.
Chevron Phillips Chemical Co:  Chevron Phillips makes and sells Gramoxone in the U.S.
Getting a Paraquat Lawyer
If you have a potential Paraquat Parkinson's disease lawsuit, let's talk about your claim and your options.  Call our toxic exposure lawyers at 800-553-8082 or get a free online consultation.