Our lawyers are handling Similac and Enfamil infant formula lawsuits for families whose premature babies suffered or died from necrotizing enterocolitis (NEC) after taking one of these formulas.  Our law firm is reviewing NEC lawsuits in all 50 states.
Medical research links cow milk-based infant formulas such as Similac and Enfamil to a dangerous neonatal medical condition known as necrotizing enterocolitis.  These newborn NEC formula lawsuits make a lot of allegations.  But at the core, they allege saying the makers of these formulas knew of the risk of NEC and did nothing to warn families and give them a choice.
If your premature baby was diagnosed with NEC after being given Similac or Enfamil formula, you may be able to participate in a class action lawsuit against the formula companies and receive financial compensation for the harm that was done to your child.
Our law firm is currently seeking new preemie baby formula lawsuits to represent families who have suffered as a result of this infant formula.  Our NEC formula lawyers are bringing lawsuits against baby formula manufacturers.
You can call our baby formula lawyers today in all 50 states at 800-553-8082.  Time may be limited to bring an NEC lawsuit.  Do not let these companies avoid justice by hiding behind the statute of limitations.  Call our attorneys right now.
---
NEC Class Action Lawsuit Status Updates
I know many of you are already following the NEC baby formula lawsuit closely.  So before we get into the substance of these lawsuits, let me give you a quick update on the latest in the litigation. 
May 31, 2023 NEC Update
The U.S. Federal Trade Commission (FTC) is investigating potential collusion amongst baby formula manufacturers, including Abbott Laboratories, over bidding on state contracts. The investigation, initiated in 2022, focuses on bids to supply the Department of Agriculture's Women, Infants and Children (WIC) program, which offers free formula to low-income families. Winning such contracts reportedly increases commercial sales. The FTC is also inquiring about the company's formula sales beyond the WIC program. This investigation comes amidst an ongoing dispute between the FTC and Abbott over information disclosure, following a nationwide shortage of formula after Abbott closed a plant in Sturgis, Michigan in February 2022.
May 23, 2023 NEC Update
U.S. District Judge Matthew Kennelly dismissed the economic loss claims made by parents who purchased Similac infant formula, citing a lack of evidence that the specific product they bought was contaminated. These parents are part of a consolidated case against Abbott Laboratories, claiming their product led to deadly illnesses in premature babies. Despite the dismissal of economic loss claims, the judge allowed personal injury claims to proceed and also kept intact claims about heavy metals in the formula. He did, however, limit allegations about the unsanitary conditions at the manufacturing plant. This has no impact on the NEC claims our law firm is handling.
May 15, 2023 NEC Update
When the infant formula NEC class action MDL was initially created, it involved 89 cases from federal districts across the country. In the 12 months since then, only 77 additional cases have been transferred into the MDL, leaving the current total at 166. This class action was never going to involve thousands of plaintiffs, but the limited growth is still somewhat surprising.
May 1, 2023 NEC Update
Plaintiffs are fighting to get discovery of foreign regulatory materials.  Why are these important?  Plaintiffs' lawyers need to know whether there is anything relevant to show what the Mead and Abbott knew the risk its product posed to premature babies.  Mead is making this discovery – an all electronic discovery – difficult which has lead to a motion to compel.
April 25, 2022 NEC Update
The final case-specific discovery plan has been approved for the pool of 12 bellwether cases in the NEC formula class action MDL. The discovery protocols permit each side to conduct depositions of case-specific factual witnesses and treating doctors in each of the 12 cases. Once this process is completed, 4 out of the 12 cases will be selected for the opening round of bellwether trials. A final pre-trial conference is currently set for March 11, 2024, at which time the initial trial date will be finalized.
April 19, 2022 NEC Update
There are now 122 NEC lawsuits pending in the class action in Illinois.
April 1, 2023 NEC Update
A depressing but not surprising new study from Emory University suggests that African-American infants born prematurely are more likely to suffer from necrotizing enterocolitis (NEC) and die from it than white infants.  Our clients in the NEC litigation are are disproportionately minorities so the study confirms what we see on the ground.
This study underscores healthcare disparities and a lack of access to human donor milk in certain communities, which may increase the incidence of black preemie infants developing the disease from infant formula.
March 16, 2023 NEC Update
There are now a total of 122 plaintiffs with active cases in the infant formula NEC class action MDL. A total of 17 new plaintiffs were added over the last monthly period, marking one of the highest monthly volumes since the MDL was created.
February 24, 2023 NEC Update
There are now 97 cases pending in the baby formula NEC class action litigation in the Northern District of Illinois after 5 new cases were transferred into the MDL over the last month. This happens to be the same number of cases that were pending in the MDL 6 months ago. So why has this litigation remained so small? A lot of these NEC cases have either stayed in state court or been remanded back to state court which means that they don't get included in the MDL. But this will not be huge litigation – there are not that many plaintiffs.  This will make it easier to settle these claims in the future.
January 17, 2023 NEC Update
Nine new infant formula NEC lawsuits were filed and transferred into the NEC class action MDL over the last month. There are now a total of 97 NEC formula lawsuits pending in the MDL. This number represents the total plaintiff population (other than those in state court) because there is no claim registry in this MDL.
Is this even close to the total number of NEC baby formula lawsuits we can expect?  No.  Our firm has more than 97 NEC clients.  But this litigation will be small.  This may help plaintiffs get reasonable NEC lawsuit settlements. Why?  Smaller litigation is less burdensome for the defendants, who can make reasonable settlement payouts without destroying thcompany'ses profitability.  These defendants are making a fortune selling baby formula.  There is plenty of money left over to pay fair settlement amounts to children who have suffered these awful injuries from NEC.
January 6, 2023 NEC Update
Judge Pallmeyer is planning to hold a "science day" in the NEC infant formula class action lawsuit. Science days are common in complex mass torts. They give lawyers for both sides in the litigation the chance to make presentations aimed at educating the MDL judge on the scientific evidence and issues involved in the cases. Judge Pallmeyer is requiring the parties to provide potential dates for the NEC science day at the upcoming January status conference.
November 11, 2022 NEC Update
In the infant formula NEC class action MDL, 8 cases have already been identified for participation in the bellwether program. The defendants will pick 4 more cases to be included in this group by the end of the month. The MDL Judge recently issued an Order formally approving the fact sheet form that each of the plaintiffs in these 12 bellwether cases will be required to complete and submit. The fact sheet will be the first step in the bellwether discovery process. Depositions of witnesses and experts will follow.
November 7, 2022 NEC Update
The judge in the NEC pre-term infant formula MDL granted a motion to remand 29 pending cases back down to state courts in Pennsylvania. The motion was granted because these claims involved claims against not just the formula manufacturers, but also the local hospitals that fed to the formula to the infants. The presence of these local hospitals as defendants in the cases meant that the requirements for diversity jurisdiction in federal court were not met and, therefore, the cases were subject to remand. Following the removal of these 29 cases, there are now 106 pending cases in the NEC formula MDL.
October 8, 2022 NEC Update
The MDL Judge in the Formula NEC class action MDL was provided the list of 66 candidate NEC cases that she will use to randomly pick four cases for the bellwether candidate pool. The bellwether candidate pool will include 12 cases. Both sides picked four, plus the four random lawsuits picked by the court from this group of 66. These 12 cases will then be subject to fact discovery, Then each side will pick two cases for bellwether test trials.
September 15, 2022 NEC Update
Last week, the Judge in the infant formula NEC class action MDL issued her first significant case management order. Amended CMO No.7 sets the rules and time frame for selecting bellwether test cases for discovery and trials. The first step will involve the selection of a pool of 12 "bellwether discovery" cases to serve as potential candidates for test trials.  Why is this a big deal?  You never get close to a settlement in litigation like this without the pressure of a trial date.
The plaintiffs, defendants, and the court each select 4 cases to comprise this initial pool of 12 and this process will be completed by November 23, 2022.  So it is just months away. Once finalized, the 12 cases will then go through a brief fact discovery process so both sides can learn more about the cases. Once fact discovery wraps up, four cases will be selected from the pool of 12 and these 4 cases will be the initial bellwether trial cases. The bellwether trials will be scheduled 12 weeks apart and will alternate between defense pick and plaintiff pick.
August 20, 2022 NEC Update
Attorneys in the NEC baby formula MDL submitted a proposed plan for the selection of a pool of bellwether candidate cases.  The plan to choose which cases go to trial first is similar to what mass tort lawyers typically see in other class action lawsuits
Under the draft order, the parties will provide the court with a list of 12 NEC lawsuits for the bellwether discovery pool, with even numbers of cases involving both Abbott and Mead Johnson.
Once the pool of 12 lawsuits is selected, they will go through pre-trial fact discovery. Once discovery is completed, both sides will get to select two initial bellwether trial cases for a total of four test trials.
You can guess how this works.  Plaintiffs' lawyers will pick the NEC lawsuits that have the best facts and are the most likely to win at trial and defense attorneys will pick the weakest cases that are most likely to lead to a defense verdict.
August 10, 2022 NEC Update – NEC Lawsuit Pretrial Procedures Being Developed
The NEC baby formula class action lawsuit in the Northern District of Illinois continues to come into focus as the Plaintiffs' MDL Leadership Committee is in the final stages of working out an agreement with the defendants as to discovery protocol and other procedures. In the meantime, about a dozen plaintiffs have succeeded in having their cases remanded back to state court based on a lack of diversity jurisdiction.
July 27, 2022 NEC Update – New Study Underscores Plaintiffs' Claim for a Warning
NEC remains one of the leading causes of death among premature infants according to a new medical study recently published in the journal JAMA Pediatrics. The study concluded that premature babies diagnosed with NEC increased their chances of dying by a factor of 7. Even for those infants who survive NEC, however, the study found that a majority face permanent disabilities and prolonged medical care.
July 22, 2022 NEC Update – NEC Class Action Lawsuit Gaining Steam
Nine new NEC formula lawsuits were filed and transferred into the Preterm Infant Nutrition MDL over the last 30-day period (June 15, 2022, to July 15, 2022). The number of pending baby formula cases in the federal NEC class action lawsuit is 97. Our lawyers predict that the pace of new NEC formula cases will increase over the next few months and then it will eventually slow down.  Our NEC lawyers are seeing fewer new prospective baby formula lawsuits in recent weeks. But more of our NEC lawsuits will be filed in the federal court NEC class action and in state court over the next few months.
July 19, 2022 NEC Update  – AAP
As concerns and lawsuits continue to grow around the link between NEC and bovine infant formula, the American Academy of Pediatrics (AAP) has issued new guidelines that recommend that parents avoid infant formula entirely for new babies. The new guidance urges hospitals to stop allowing the promotion of infant formula products and focus on emphasizing breastfeeding instead.
July 1, 2022 NEC Update
Plaintiffs in class action lawsuits typically directly file their claim in the MDL as opposed to filing in their home state and waiting for the lawsuit to be transferred. Plaintiffs who want to bring NEC lawsuits against formula manufacturers Abbott and Mead Johnson in the baby formula class action lawsuit will soon be able to file their cases directly in the MDL. The judge in the NEC Formula MDL, Hon. Rebecca Pallmeyer, issued a proposed order this week allowing for direct filings in the MDL. The order was discussed at the monthly status conference yesterday and will probably be entered today or next week.
June 17, 2022 NEC Update
As of June 15, there were 89 plaintiffs in the new formula NEC MDL (Abbott Laboratories Preterm Infant Nutrition Prod. Liab. Lit. – MDL No. 3026) in the Northern District of Illinois in federal court. This means that 37 new NEC formula lawsuits were transferred into the NEC class action lawsuit during the first month. Our baby formula lawyers expect this trend to continue with 20-40 new cases filed or transferred each month through the end of the year, after which the rate of new lawsuits will probably slow down.
June 6, 2022 NEC Update
The judge in the new infant formula NEC class action lawsuit, Hon. Rebecca Pallmeyer,  issued CMO #2 last week.  This order named her final appointments of NEC attorneys to serve as Plaintiffs' Lead Counsel, Liaison Counsel, and Steering Committee. These NEC attorneys work for all the plaintiffs and make decisions – at least some pretrial decisions –  on behalf of all the plaintiffs in the NEC class action.  (These attorneys get paid not directly by victims but out of the attorneys' fees you pay your own NEC lawyer.)  In the meantime, the NEC class action in federal court continues to grow. New cases are transferred in from around the country. Twenty-six new NEC lawsuits have been transferred into the MDL class action since May 16th, bringing the total up to 78 lawsuits.
May 23, 2022 NEC Update
The Formula NEC MDL (In re: Abbott Laboratories, et al., Preterm Infant Nutrition Prod. Liab. Lit.– MDL No. 3026) is formally underway in the Northern District of Illinois. Judge Rebecca Pallmeyer held her first status conference on May 19 and will make selections for the plaintiffs' Lead Counsel, Liaison Counsel, and leadership committee this week. As of May 16, a total of 52 active cases have been consolidated into the MDL. That number will likely triple over the next month.
May 4, 2022 NEC Update
These lawsuits are moving forward.  Our NEC baby formula lawyers are surprised by the number of parents we hear from every day interested in filing an NEC formula lawsuit.  Our attorneys are finding that the most viable lawsuits are the ones where the child is born after 2011.  The biggest problem our law firm is seeing with older claims is that finding the medical records can be a challenge.  The more recent cases are also better because the warning argument that parents and doctors should have been told of the risks gets stronger every year after 1990.  Still, our lawyers are reviewing necrotizing enterocolitis lawsuits as far back as 2001.  
April 8, 2022 NEC Update 
The MDL Panel has certified a new MDL NEC baby formula class action lawsuit.  This means any NEC lawsuit filed in federal court will be transferred to Judge Rebecca Pallmeyer, a U.S. District Court Judge in Illinois. This development will help push these lawsuits out of second gear, pushing us towards a trial date that may push Abbott and Mead to offer reasonable settlement amounts for an NEC formula lawsuit.

April 6, 2022 NEC Update
The Supreme Court of Illinois previously granted a request to consolidate a group of about 20 NEC formula cases pending in Illinois state courts before a single judge (Dennis Ruth) in the Circuit Court for Madison County. This effectively created a mini-MDL at the state court level. Now, however, Abbott is seeking to have the consolidated cases transferred from Madison County to either Cook County (Chicago) or Lake County, under the doctrine of forum nonconveniens (inconvenient forum).  The reason the Illinois lawsuits matter is because lawsuits filed in Michigan, Ohio, Florida, or any other state might well find their way to Illinois state court.  So if you hire an NEC lawyer far away from Illinois, your baby formula lawsuit may end up in front of Judge Ruth in Madison County, Illinois.
March 31, 2022 NEC Update
A new study shows that 95% of the U.S. Dietary Guidelines Advisory Committee had conflicting interests with the food and pharmaceutical industries.  Seven companies were singled out.  Were Abbott and Mead Johnson on the list?  Of course they were. This helps answer the question of how the baby formula manufacturers were able to get away with sweeping NEC under the rug for a long. 
March 6, 2022 NEC Update
After the Similac recall debacle, Americans are getting a closer look at how baby formula manufacturers put profits ahead of people – and how the FDA is not built to keep these companies in check.  This helps the NEC lawsuits because it shines a disturbing spotlight on how the sausage gets made and how federal regulators mind the store.  
February 14, 2022 NEC Update
Last week, the manufacturer of Enfamil (Mead Johnson) joined Abbott in support of the request for an NEC baby formula class action lawsuit for all NEC claims in federal court.  This is a good development for plaintiffs who are hoping to avoid active litigation on their infant formula lawsuit. The big point of contention is which court will handle the MDL class action.  The defendants want U.S. District Court in Connecticut. Why?  Their motions did a poor job of explaining that.  Baby formula lawyers for victims prefer the Northern District of Illinois for obvious reasons: both Mead and Abbott are headquartered near Chicago.
February 3, 2022 NEC Update
Our NEC lawyers are still waiting to see if there will also be a state court class-action lawsuit in Illinois. The Illinois Supreme Court has yet to rule. There may be two baby formula class actions pending in Illinois at one time: one in state court and the other in federal court. The formula defendants will likely consent to this class action just like they did the federal MDL. 
January 27, 2022 NEC Update
The medical literature continues to support the contentions made by plaintiffs' lawyers in the toxic infant formula NEC lawsuits.   This new article underscores the risk associated with NEC and cow milk.
January 18, 2022 NEC Update
Abbott filed a petition with the JPML requesting that all NEC infant formula lawsuits be consolidated into a new MDL. Abbott requested that the MDL be created in the District of Connecticut and assigned to Hon. Stefan Underwood.
---
Baby Formulas Are Linked to NEC in Premature Babies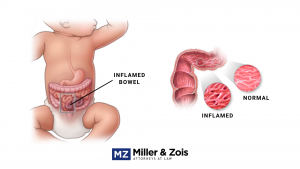 Babies born prematurely require extra nutrition to boost their development and growth.
Many premature infants, however, are not able to breastfeed feed. So they are generally given baby formula instead. Similac and Enfamil are the two leading brands of infant formula.
Cow Milk Problem
Most baby formulas, such as Similac and Enfamil, are made from cow milk with various nutrients and ingredients added to mimic human breast milk. Recent (and not so recent) scientific research has shown that cow-milk-based formulas such as Similac and Enfamil can make infants more likely to develop a dangerous neonatal digestive disease called necrotizing enterocolitis (NEC).
While making tons of money, the manufacturers of these infant formulas have conveniently ignored the science over the last 30 years.  That science shows that demonstrates cow milk formulas cause bacterial septic overload in the stomach of premature babies that can cut holes in their bowels and cause bleeding and infection.
What is NEC in Newborns?
NEC is a very serious bacterial infection that can develop in the gastrointestinal system of newborn infants. It primarily occurs in premature or underweight infants.
NEC can be extremely dangerous for newborns. When NEC occurs it causes inflammation of the intestinal tissue and rapid tissue decay. A perforation (hole) may form in the baby's intestines causing bacteria to leak out into the abdomen.
NEC Treatment
NEC can be mild in some infants and extremely serious in others. The first step in the treatment of NEC is to stop all oral feedings and begin the baby on an aggressive course of antibiotics.
Nutrients will then be administered intravenously. If the infection is not stopped quickly enough, it may leave dead tissue in the baby's intestines. If this occurs, surgery may be necessary to remove the dead intestinal tissue and repair any perforations.
NEC Is Life-Threatening
Even a mild case of NEC can be very dangerous and potentially life-threatening for a premature baby. Between 15-40% of premature infants with NEC die.  The main reason for this is that NEC can lead to a fatal blood infection called sepsis.
When NEC destroys the baby's intestinal tissue, it allows bacteria to leak out of the intestine into the abdominal cavity.
This type of infection is called peritonitis and if not immediately and effectively treated, it will eventually allow the infection to enter the baby's bloodstream and become sepsis.
Video on NEC lawsuit settlement amounts
NEC Consequences
Even when NEC is not fatal, it can cause other long-term or permanent complications and adverse health consequences. One of every 3 babies with NEC will develop intestinal strictures.
This is a narrowing of the intestine. Intestinal strictures can make it difficult for food to pass through and may require surgery to correct. If NEC results in surgical removal of intestinal tissue, it can cause short bowel syndrome and impact the baby's development and growth.
NEC in Premature Infants Caused by Enfamil or Similac 
NEC only occurs in 1 out of every 2,000 full-term live births in the U.S. In premature births, however, the condition is much more common. NEC occurs in about 10% of all premature babies (born 37 weeks or earlier).
The exact cause of NEC is not fully understood, but there are many scientific and clinical studies definitively proving that cow-milk-based infant formulas, such as Similac and Enfamil, significantly increase the risk of a premature infant developing NEC.
But the risk of Ninth premature babies has long been clear.  For years, the American Academy of Pediatrics told us that human breast milk is the best path for preemies because of the risk of NEC from baby formula. Any newborn NEC baby formula lawsuit will focus on this medical literature and ask why Abbott and Mead did not give a warning.
Lancet Study
The first study suggesting a possible link between bovine baby formulas and NEC was first published in Lancet back in 1990 and found that formula-fed babies were 20 times more likely to develop NEC.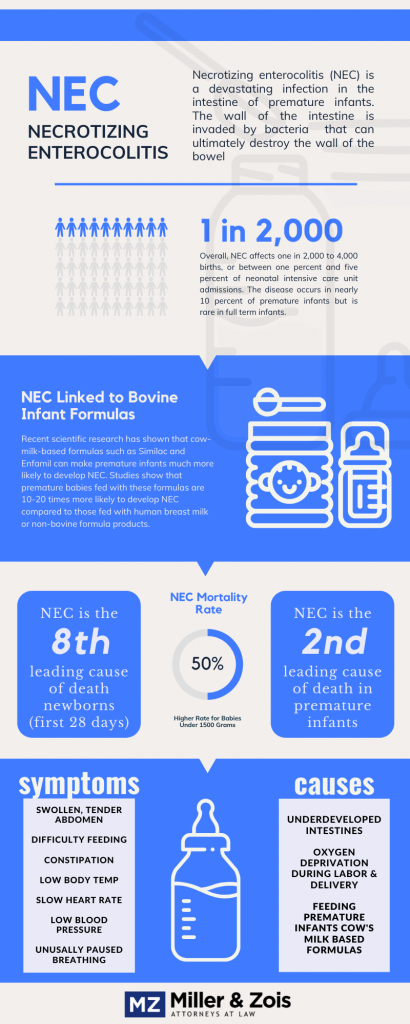 Journal of Pediatrics Study
Ten years later, a study in the Journal of Pediatrics reached similar conclusions and found that infants fed with breast milk or human milk fortifiers were 90% less likely to develop NEC compared to those fed with traditional formula. 2 additional studies were published in 2013 which reached even more conclusive results about the link between NEC and bovine formulas.
New NEC British Medicine Study
A new study published on October 14, 2021, in the British Medical Journal will add new fuel to any necrotizing enterocolitis formula lawsuit.  The study suggests that the makers of infant formulas such as Similac and Enfamil have funded biased and unreliable clinical product trials. The researchers found that the infant formula trials showed a "universal lack of transparency" and may have downplayed the risks of NEC associated with their cow-milk formula products.
More NEC Formula Studies
Evidence-Based Feeding Strategies Before and After the Development of Necrotizing Enterocolitis (Expert Rev. Clin. Immunol. July 2014). Here is the key quote: "Necrotizing enterocolitis (N.E.C.) is a devastating disease of premature infants with significant morbidity and mortality. It is well established that the risk is increased by the administration of infant formula."  This will be a key study in any NEC baby formula lawsuit.
Another round of clinical study results was published in 2016 (Beyond Necrotizing Enterocolitis Prevention – Breastfeeding Medicine ) and 2017 (Human milk is the feeding strategy to prevent necrotizing enterocolitis – Semin Perinatol.). This language here is pretty unambiguous:   "Extremely premature infants who received an exclusive HUM [Human Milk] diet had a significantly lower incidence of NEC and mortality. The HUM group also had a reduction in late-onset sepsis, BPD, and ROP. This multicenter study further emphasizes the many benefits of an exclusive HUM diet, and demonstrates multiple improved outcomes after implementation of such a feeding protocol."
In 2019, Cochrane (an independent health care research group) released the results of the most comprehensive study to date comparing health results for premature babies fed with bovine formula versus human milk. The results of the Cochrane study put to rest any lingering debate about the existence of a causal relationship between cow-milk-based formulas and NEC in premature infants. This study underscores the risk to babies with NEC.
Makers of Similac and Enfamil Failed to Warn About the NEC Risks
Similac is manufactured and sold by Abbott Laboratories Inc., a large medical device and health care product company based in Illinois. You have likely heard of them.  You are less likely to have heard of  Mead Johnson Nutrition Company, the company that makes Enfamil. But it is a 16 billion-dollar company.
Abbott and Mead were well aware of the scientific evidence that their cow-milk-based formulas caused a significantly increased risk of NEC in premature infants. Despite being well aware of the link between their formulas and the risk of NEC, Abbott and Mead deliberately chose not to include a warning label about the NEC risk on their product labeling.
Changing the warning for a baby formula under the United States Federal Food, Drug, and Cosmetic Act is not difficult. (It is a lot easier to change a warning under the FDCA than it is to change, for example, a warning on a drug.)
So why not add a warning? Well, let's start by saying our lawyers do not know yet. These toxic baby formula NEC lawsuits are just beginning.  But, it is easy to make a prediction based on the facts already on the ground: follow the money.  A warning will lead to fewer sales.  Fewer sales lead to fewer profits and few yachts.  We all know the story, right?
Faced with growing scientific proof that their formulas presented an increased risk for premature infants to develop NEC, Mead and Abbott continue to market their products as safe and failed to warn consumers about this risk.
NEC Lawsuits Against Baby Formula Makers
A growing number of parents and preemies who were fed with Similac and Enfamil formula and subsequently developed NEC are filing product liability lawsuits against the formula manufacturers (Abbott and Mead) for negligent failure to warn.
The lawsuits allege that Abbott and Mead had a duty to warn about the risks of NEC and their baby formula products but deliberately failed to include any such warning while continuing to market their products as safe.
What Are Expected NEC Baby Formula Lawsuits Settlement Compensation Amounts?
These NEC baby formula product liability lawsuits are new. But families have been filing medical malpractice lawsuits in necrotizing enterocolitis lawsuits for years. So the settlement compensation in these lawsuits, if successful, has a history that can guide us in determining possible settlement amounts in these lawsuits.
The average verdict in a successful NEC preemie lawsuit is in the millions of dollars. Our baby formula lawyers anticipate similar compensation payouts if plaintiffs win these trials.
But our lawyers do not expect to see Similac lawsuits or Enfamil lawsuits going to trial.  We could be wrong.  But our attorneys think the makers of these baby formulas will seek an out-of-court global settlement of as many NEC lawsuits as they can.
But settlement amounts and trial amounts are not the same things.  So even if the makers of Similac and Enfamil predicted an average jury verdict compensation payout of $2 million per individual case, it would not mean the average settlement amount would be $2 million.  Why?  A settlement is a compromise.
Are Necrotizing Enterocolitis (NEC) Baby Formula Lawsuit a Class Action Lawsuit?
Yes, there is a class action NEC lawsuit pending in Illinois. This means that if you file in federal court in New York, Texas, California, or any other state, your NEC baby formula lawsuit be transferred to federal court in Illinois. 
But the infant formula claims may become a class action, albeit one that does not have thousands of plaintiffs. And while the size of the lawsuits could be smaller, the settlement amounts could be huge. Because the injuries are so extreme in many NEC cases, the average individual settlement compensation payout in the baby formula lawsuits could be extraordinary.
Example NEC Baby Formula Lawsuit
Just to give you some context, let's look at an example NEC lawsuit.
Late last year,  Abigail Grosshuesch filed an NEC infant formula lawsuit in the County Circuit Court for Madison County, Illinois against Mead Johnson & Company LLC and Mead Nutrition Company, alleging negligence and other claims.
The complaint in this NEC lawsuit alleges that the plaintiff's baby was born prematurely in 2013. Initially, the baby was "doing well" on her mother's breast milk and was progressing normally. Two weeks after birth, the baby was fed Enfamil cow-milk-based formula for several days. The lawsuit claims that the formula caused the baby to develop NEC which required "aggressive medical intervention."
Sadly, the baby died a week later from complications related to the NEC. The complaint alleges failure to warn what we have been talking about. The lawsuit alleges Mead Johnson knew about the dangers of its bovine-based formula and failed to provide adequate warnings about the risk of NEC associated with the formula.
Why is this NEC baby formula lawsuit not barred by the statute of limitations given the child was born in 2013?  I talk about this below.
Mini MDL NEC Class Action Lawsuit Sought in Illinois
Since February 2021, 33 NEC baby formula lawsuits have filed been in Illinois state courts. Why is Illinois has become a hot spot for the emerging NEC formula litigation?  The manufacturers of Enfamil and Similac are both headquartered in the Chicago area. So there is no federal court jurisdiction when Mead Johnson or Abbott are sued in Illinois.
In December 2021, NEC lawyers for the plaintiffs filed a motion with the Illinois Supreme Court asking that the separate cases be consolidated before a single judge. This procedure is the state court equivalent of an MDL class action.
On January 3, 2022, Abbott and Mead Johnson were granted extensions of time to respond to this request. Both companies will probably be in favor of consolidation since defending a single action will be more efficient than defending 30 separate cases at once.
Illinois May Be NEC Baby Formula Lawsuit Epicenter
The creation of a state court MDL for NEC baby formula lawsuits in Illinois would indicate the rapidly growing momentum behind these cases. As more NEC infant formula lawsuits get filed in 2022, our attorneys expect a new infant formula MDL class action in federal court.
But maybe not.  Illinois law is more advantageous to victims than most states.  Illinois liberally allows lawyers from other jurisdictions to be admitted to work on lawsuits in that state.  Mead and Abbott are both based in Illinois. So they cannot object to answering an NEC lawsuit in that jurisdiction. It may be that a large number of NEC baby formula lawsuits are filed in Illinois even if they originated in Florida,
Texas or any other state.
If this (mini) NEC baby formula class action lawsuit takes off, it is an important development because it pushes these lawsuits involving these milk fortifiers forward. This may force these companies to offer fair settlement amounts to resolve NEC-related injuries and deaths.
What Is the Statute of Limitations for an NEC Baby Formula Lawsuit?
The statute of limitations to file an NEC lawsuit is a complicated question. The deadline to sue depends on the state where the harm occurred. There are often different statutes of limitations for the child – who might have a 21-year deadline to file – and the parents, who usually have a shorter deadline to file suit.
An NEC Lawsuit May Have Discovery Rule Statute of Limitations Extension
There is also arguably a discovery rule issue in the NEC lawsuits that could extend the statute of limitations even further.  NEC lawsuits have alleged that because of misleading marketing and lack of adequate warnings of the risk of cow milk, parents did not know and could not have known of the link between NEC and baby formula from cow milk until just recently.
But there could be a short window to file a claim. So if you think you might want to bring a baby formula lawsuit, call an NEC formula lawyer today to fully understand your rights even if you do not have a present intention of filing an NEC lawsuit.
Similac vs. Enfamil: Is One Worse Than the Other?
Similac and Enfamil are the two leading brands of infant formula. When it comes to causing necrotizing enterocolitis (NEC) in premature babies, it appears both Enfamil and Similac are equally bad. (The recent Similac recall is not specific to NEC.)
New studies may prove otherwise but, the science is unclear.  What our lawyers do believe is that both products are derived from cow's milk and that is the underlying cause of NEC in preemies who take infant formula.
How Will Mead's and Abbott's Lawyers Defend NEC Lawsuits?
First, the defense attorneys will argue preemption.  The gist of this argument is that premature infant formula claims under state law are not permitted by the Infant Formula Act ("IFA") 20 U.S.C. § 350a.  This is not a winning argument and it has never been successfully made.
In a medical malpractice case involving NEC in 2021, one defense expert made this argument which I think you can expect to see from Mead and Abbott:
Plaintiffs' claim that any provider 'caused' NEC is not supported by the literature. The cause of NEC is not understood at this time. Because there is no medically accepted single factor that causes NEC, no one can state within a reasonable degree of medical certainty what causes NEC.
In particular, it is impossible to know what caused the infant plaintiff to develop NEC. Even among exclusively human mild-feeding preterm infants, NEC can occur. The fact is NEC can neither be predicted nor prevented.
The main defense against developing NEC is avoiding preterm delivery; however, in this case, the pregnancy could not be extended because [the baby's mother] experienced a premature preterm rupture of membranes before she arrived at [the hospital.]
Further, the claim that the specific cause of NEC can be identified is rank speculation. Although NEC occurs most frequently in preterm infants, it occurs in term infants
This argument flies in the face of mountains of medical literature.  I think the defense attorneys' arguments are so flawed in these cases I suspect the defendants will offer reasonable settlement amounts before any NEC lawsuit makes it to trial.
How Does NEC Cause Damage to the Intestine?
The ductus arteriosus is a blood vessel connecting the pulmonary artery and the aorta so the fetus can get air through the mother's blood. When the child is born, the ductus arteriosus should close.
Patent Ductus Arteriosus
A problem, called patent ductus arteriosus (PDA), can arise when the ductus arteriosus does not shut. What happens is oxygenated blood bypasses organs like the intestines and returns to the lungs.
The blood vessels in the lungs become overloaded which is called pulmonary edema.  As a result, the intestine may not receive enough oxygenated blood.
This problem worsens with low birth weight and premature babies because of their immature intestines.   So the decrease in oxygen to the intestines eats at the lining of the intestinal wall.  The medical literature seems clear that cow milk formula rapidly speeds up the deterioration of the bowel wall.  This causes necrotizing enterocolitis
The damage to the inner surface of the intestine accelerates quickly at this point.  Bacteria from the intestine can cause an infection that can rupture or kill the intestine.
This perforation of the intestine can cause spillage of stool into the infant's abdomen.  This can cause sepsis which can kill the child.  If the child survives, (becomes necrotic) with or without perforation and death.  For newborn preemie babies with NEC that do survive, they can suffer short gut syndrome and neurological and nutritional complications.
Call Our Lawyers About Your NEC Baby Formula Lawsuit
Our law firm is currently investigating potential NEC toxic baby formula lawsuits. We are particularly interested in hearing from parents of preemies who took Similac or Enfamil formula and subsequently developed NEC.
If you believe your child developed NEC as a result of a cow-milk-based formula, call our NEC baby formula lawyers today for a free consultation at 800-553-8082 or reach out to us online for a free case evaluation.