Currently, thousands of hernia mesh lawsuits are pending in courts across the country. Our hernia mesh lawyers are handling these cases in all 50 states. This page
Discusses this litigation
Provides the most recent September 2023 updates and the latest hernia mesh MDL-2846 news, and
Offers projected average settlement amounts for a hernia mesh lawsuit.
The plaintiffs in these lawsuits are individuals with defective hernia mesh implanted during surgery, causing them to suffer severe post-surgical complications and injuries.
The hernia mesh lawsuits involve multiple hernia mesh products made by four medical device companies who are now defendants in the litigation: Ethicon (a Johnson & Johnson subsidiary that has just reached a settlement in most of its lawsuits), C.R. Bard (now part of Beckton Dickinson), Covidien, and Atrium Medical Corp. The alleged defects and the product liability claims asserted against all these defendants are similar enough to talk about them collectively.
New

– Hernia mesh lawsuit update for the verdict in Milanesi and Stinson and information on Ethicon hernia mesh settlement in September 2023
September 23, 2023 – Coviden MDL Has Trial Dates… in 2025
The federal judge overseeing Covidien hernia mesh lawsuits in federal courts nationwide has given approval to a proposal for preparing six bellwether cases and selecting two of them for trial in early 2025. While progress has been somewhat slow in this litigation and 2025 seems like light years away, getting a trial date gets the clock moving on pushing Coviden to make meaningful settlement offers for the over 600 plaintiffs in this litigation.
While the facts are different, this litigation is tied in the Bard MDL psychologically.  A big verdict in Stinson next month would not only help the Bard plaintiffs but the other hernia mesh class actions as well.
September 18, 2023 – MDL Surpasses 20,000 Cases
Around 700 new cases were added to the Bard hernia mesh MDL over the last 3 months, bringing the total number of pending cases in the MDL up to 20,405. This is actually a sharp downturn in the monthly new case volume for this litigation. Earlier this year we were regularly seeing 500 new cases per month.
September 1, 2023 – Bellwether Trials Around the Corner
In just 6 weeks we should finally see the next bellwether test trial in the hernia mesh class action against C.R. Bard. Yesterday, Judge Sargus confirmed that the case of Stinson v. Davol, Inc., et al. (18-cv-1022) will finally go to trial on October 16, 2023. Judge Sargus also indicated that a fourth bellwether trial would be set for early 2024 in the case of Bryan v. C.R. Bard Inc., et al. (18-cv-1440).
August 16, 2023 – 20,126 Bard Hernia Mesh Lawsuits
The injuries from defective hernia mesh do not always immediately apparent and new lawsuits continue to be filed. The MDL added nearly 200 new lawsuits last month, bringing the total number of lawsuits in the Bard MDL class action to 20,216.
August 2, 2023 – Bellwether Trial Set for October
On October 16, 2023, the critical third bellwether trial is scheduled to begin in the Bard hernia mesh MDL. A recent case-specific scheduling order issued in that case (Stinson v. C.R. Bard, et al. (2:18-cv-01022)) gives the parties time for some last-minute discovery related to an additional medical procedure that the plaintiff underwent just last month. The order requires all additional discovery to be completed by September 27, 2023, a timetable that clearly indicates that the judge has no intention of postponing the October trial date.
July 27, 2023 – Endless Litigation
There was a notice of the death of a plaintiff filed in the MDL this month.  This serves as a stark reminder of how this class action has been going on – almost five years now.
July 18, 2023 – Over 200 New Cases Added to MDL
With the long-awaited 3rd bellwether trial just around the corner, the high volume of new hernia mesh lawsuits is showing now sign of slowing down. 228 more cases were transferred into the hernia mesh class action MDL against C.R. Bard. Over 1,500 new hernia mesh cases have now been added to the MDL since the start of the year.
July 15, 2023 – FDA Offers Guidance
The FDA has released a new guide to warn consumers about the risks associated with hernia surgery mesh and help them make informed treatment decisions. Published on July 13, the guide outlines both the benefits and risks of using surgical mesh for hernia repair surgery. The aim is to address widespread reports of painful complications from these implants.
July 1, 2023 – Post-Trial Conversations with Jurors
In the first bellwether trial, the Johns case that is discussed below in the older updates, resulted in a defense verdict.  One lessons the plaintiffs got from that verdict is that Mr. Johns' failure to seek additional medical treatment did not help his cause.
A lawyer in the MDL leadership said this to someone who put it on their website.  Bard, being petty, thought that the attorney must have talked to a juror.  Ohio has a local rule that you cannot talk to jurors after the trial without the court's permission (which is a little bit of an unusual rule).
So, already fearful that the next two cases going to trial are not "representative" because the victims have severe injuries, they filed a motion complaining about his breach of ethics and saying the cases that went to trial after Johns were not representative of the other cases in the MDL.  But the plaintiffs' attorneys were able to explain  that the 'feedback' mentioned was based on a jury question during deliberations and the Court's comments in a meeting with the PSC.
This satisfied Judge Argus. So Bard just wasted everyone's time chasing windmills instead of working on offer reasonable settlement amount to resolve the 20,000 lawsuits against it.
June 23, 2023 – MDL Trials Stay on Track
As we continue to await the 3rd bellwether trial in the Bard hernia mesh class action, the MDL judge denied the request by the defense we told you about earlier this month to replace two of the hernia mesh lawsuits cases picked for future test trials. The defense claimed that circumstances in the cases made them no longer appropriate for bellwether trials  – i.e. the cases are too strong – but Judge Sargus brushed off the argument and denied the motion.
June 16, 2023 – MDL Continues to Grow
With the next bellwether trial around the corner and no significant progress on a global settlement, the hernia mesh class action MDL against C.R. Bard continues to grow at a rapid pace. Over the last month, another 231 new plaintiffs were added to the MDL, bringing the total up to 19,707.
June 13, 2023 – Judge Excludes Evidence
Judge Edmund Sargus stated in a written order that the mesh used in plaintiff Aaron Stinson's surgery did not originate from the Puerto Rican factory and was manufactured four years later. He determined that Stinson could not present evidence unrelated to his injury to establish a general pattern of unsafe conduct, citing federal rules of evidence.
Stinson claims that the PerFix Plug mesh, used to treat his hernia in 2015, caused significant scarring, leading to a subsequent surgery in 2017 to remove it. He alleges ongoing chronic pain and other complications.
The judge wrote that Stinson cannot use evidence from a 2011 line fire to demonstrate deficiencies in the defendants' quality management systems at the time of the fire and, therefore, imply deficiencies in the manufacturing of Stinson's device.
This will have little impact on the Stinson case because this is not an important piece of evidence.  We are telling you about this because it is news… and there is not a lot of news in the hernia mesh litigation right now outside of the preperation of Stinson for trial in October.
June 8, 2023 – Covidien Science Day
The MDL judge in the Covidien hernia mesh MDL, Judge, Patti B. Saris, will hold will host a "Science Day" next week on June 14, 2023.  The purpose of Science Day is to give the parties and opportunity to educate the judge on complex topics related to the litigation.
The Bard class action sometimes swallows up the room of hernia mesh lawsuits.  But now over 440 suits are in the Covidien class action claiming severe complications from the use of these hernia mesh products and these are strong claims.
June 1, 2023 – Hernia Mesh Settlements in Georgia
Johnson & Johnson and its subsidiary Ethicon Inc. have reached a settlement with plaintiffs in 161 cases related to a defective hernia mesh product. The parties filed a joint motion to dismiss the cases and stated that the settlement would cover all claims, counterclaims, and cross-claims.
April 22, 2023 New Bellwether Date in October
The judge in the Bard hernia mesh class action MDL has reset the date for the third bellwether trial to October 16, 2023. The trial was originally scheduled for May 15, 2023, but earlier this month Judge Sargus unexpectedly agreed to postpone the date at the request of Bard's defense team. The results from the first 2 bellwether trials were mixed (1 win and 1 loss for the plaintiffs), but in August 2022 a jury in a Rhode Island state court hernia mesh trial awarded $4.8 million.
March 20, 2023 Bellwether Trials Update
The critical 3rd bellwether test trial in the C.R. Bard hernia mesh class action was supposed to start on May 15, 2023. Last week, however, the MDL Judge granted a request by Bard to formally postpone that trial. A new trial date has not yet been established but will likely be later this year.
We will know more soon but the assumption is this case will settle.  Last week, the plaintiff cleared summary judgment which is likely what Bard needed before making a reasonable settlement offer.
February 9, 2023 Bellwether Trials Update
The Bard MDL issued the detailed schedule for the bellwether test trial in the Stinson case. The trial will commence on May 15, 2023. Final witness lists are due this month. Judge Sargus is also requiring the parties to submit proposed dates for a 4th bellwether trial later this year.
January 26, 2023 Bard MDL Update
This is not really an update but we wrote a status of the hernia mesh lawsuits page today that breaks down where we are and the hopes for a settlement.
January 18, 2023 Bard MDL Update
The hernia mesh class action lawsuit against C.R. Bard added another 176 new cases over the last month. This marks the most significant percentage increase of any product liability MDL during that period. The total pending case count in the MDL is now 18,403. The next bellwether trial is still set for May 2023.  There is hope of a settlement before that case goes to trial.
January 3, 2022 Coviden MDL Update
While victims wait for the big domino to fall into a settlement –  C.R. Bard – the Covidien hernia mesh MDL in the District of Massachusetts is just getting started. A mandatory plaintiff fact sheet was recently approved in the Covidien MDL, which only has 136 pending cases. There are several thousand Covidien hernia mesh cases consolidated in state courts in Massachusetts, and an effort is being made to coordinate discovery between the state and federal actions.
The hope is that a Bard hernia mesh settlement triggers settlement in the smaller MDLs like Covidien.
November 17, 2022 C.R. Bard Update
After adding another 166 new hernia mesh injury cases over the last month, the C.R. Bard class action MDL has almost 18,000 pending cases. There were about 15,000 pending cases in the MDL at the start of 2022. The continued growth of the MDL should increase the pressure on Bard's parent company, Beckton Dickson, to work out a global settlement deal. The next bellwether trial is set for February and a good result could help push us past the finish line to reasonable settlement payouts for victims who have waited far too long. Or… Bard comes to its sense and makes a fair settlement offer to avoid another verdict.
October 28, 2022 Covidien Mesh Lawsuit Update
At a recent status conference in the Covidien hernia mesh class action MDL, the parties advised Judge Patti Saris (D. Mass.) that 170 Covidien hernia mesh cases are currently pending in federal courts, 5,700 lawsuits pending against Covidien in Massachusetts state courts (Covidien's home state). The central issue at the status conference was the proposed discovery plan submitted by Covidien. The plaintiffs' committee is vehemently opposed to the proposal because it would give them under one year to complete corporate discovery.
October 1, 2022 Hernia Mesh Trial Update
Trial in the Bard Hernia Mesh MDL has been confirmed for February 21, 2023, in the case of Stinson v. C.R. Bard et al. Dispositive motions and expert challenges are due next week on October 7, 2022.  Bard knows their motions will fail and this trial will go forward if it does not offer reasonable settlement amounts. The first bellwether trial ended in a defense verdict, the 2nd trial resulted in a mediocre verdict, and the third trial was a $4.8 million verdict.
September 16, 2022 Atrium Mesh Update
Bard is not the only class action lawsuit in the mesh litigation, as many people are apt to forget.  There are now 3,308 cases pending in the Atrium hernia mesh MDL in New Hampshire (the baby of the hernia mesh class action MDLs). This is an increase of 17 new lawsuits over the last 30 days.  So that class action is slowly growing.
August 29, 2022 Hernia Mesh Verdict Update
A Rhode Island jury awarded $4.8 million in damages in the Trevino. The jury found that Bard's  Ventralex hernia mesh was defectively designed and the company filed to warn of the risks.
August 28, 2022 New Hernia Mesh MDL Update
Yes, there are more hernia mesh class action lawsuits that do not involve Bard. The judge presiding over the new Covidien hernia mesh MDL in Massachusetts – Hon. Patti B. Saris –  held the first status conference with lawyers for both sides this week. Just two months after the Covidien hernia mesh cases were consolidated into a class action, there are now 90 cases pending in the MDL.
Judge Saris will be making appointments to the plaintiff leadership committee in the coming weeks, after which a plan for discovery and the selection of initial bellwether cases will be the next items on the MDL agenda.
August 27, 2022 Hernia Mesh State Court Lawsuit Update
The jury is out in Trevino v. Bard, a state court case in Rhode Island Superior Court (August 28, 2022 Update – no news.)
August 26, 2022 – Hernia Mesh Class Action Update
Is a hernia mesh settlement finally on the horizon?  It may be.  A settlement mediator was appointed by the Bard mesh class action judge last week.
Notably, the settlement mediator was appointed with the joint agreement of lawyers on both sides to facilitate negotiations on the global settlement of the C.R. Bard hernia mesh lawsuits.  If the Bard domino falls, other hernia mesh class actions might also fall into place.
This is a significant step forward that could result in a negotiated settlement before the end of 2022. The MDL judge also scheduled two more bellwether trials for February – the long-awaited Stinson case Bard wants to avoid – and another in May 2023.  So that gives Bard an extra incentive to offer reasonable settlement payouts for victims before that case goes to trial.
August 24, 2022 Covidien Class Action Update
Judge Patti B. Saris held the first status conference this week in the new Covidien hernia mesh MDL in Massachusetts. The Covidien hernia mesh MDL was established in June and has 90 pending cases. The first order of business for Judge Saris will be to appoint attorneys to serve on the plaintiffs' leadership committee. Once that is done, the next task will be establishing a discovery plan and protocol for selecting initial bellwether test cases.
August 4, 2022 – Hernia Mesh Class Action Update
A hernia mesh trial against C.R. Bard in Providence, Rhode Island, recently revealed that Bard allegedly used a plastic resin in its mesh products even after the plastic supplier told them it was unsafe.
C.R. Bard used a plastic made by LyondellBasell called Pro-fax 6523 in all of its hernia mesh products because it was the cheapest available material that met specifications.
Bard did this, although LyondellBasell deemed Pro-fax 6523 unfit for permanent implantation inside the body and expressly prohibited buyers from using it in hernia mesh products. That C.R. Bard knowingly ignored this is a new revelation that could swing the momentum in the C.R. Bard class action MDL if these allegations are true.
July 29, 2022 – Hernia Mesh Class Action Update
There are now four separate hernia mesh class-action MDLS. Each of the MDLs involves claims against hernia mesh products made by different manufacturers. The most recent of the four hernia mesh MDLs involves claims against Covidien over its Parietex hernia patch implant.
The Covidien MDL was formed a few months ago. As of July 15, 2022, it had 85 plaintiffs with pending cases. Many of these plaintiffs claim that the absorbable barrier and the polyester fibers of the Parietex hernia patch were defective, causing the patch to migrate out of position or fail at an abnormally high rate.
July 22, 2022 – Hernia Mesh Class Action Update
The last month saw another high volume of new hernia mesh lawsuits added to the C.R. Bard hernia mesh MDL. Between June 15 and July 15, 216 new hernia mesh lawsuits were transferred into the Bard MDL, bringing the total case count up to 17,195.
The recent increase in new filings could be in reaction to the rumors that a global settlement agreement may soon be in the works, and lawyers are getting cases filed in advance of those negotiations.
July 15, 2022 – Hernia Mesh Class Action Update
Back in April, the second bellwether trial in the C.R. Bard Hernia Mesh MDL resulted in a verdict of $225,000 for the plaintiffs. None of the participants were delighted with the result – Bard did not like the plaintiff's verdict and the plaintiff did not like the verdict.  Both sides promptly filed motions seeking to overturn the verdict.
The defense motion argued that there was not sufficient evidence of causation. The plaintiffs claimed that the jury was not adequately instructed on calculating damages. The MDL judge issued a pair of orders denying both motions and ensuring that the bellwether verdict will stand unless vacated on appeal.
July 7, 2022 – Hernia Mesh Class Action Update
Good news out of the MDL class action lawsuit.  Judge Edmund A. Sargus, Jr. ruled that Bard's lawyers' request for a "Lone Pine" order that would have put a significant burden on victims and their lawyers would be denied.
Bard wanted to make plaintiffs' attorneys produce more case-specific evidence than you usually would expect in class action litigation at this phase.
The judge said such an order would be unnecessary because there was already bountiful evidence of the core of each plaintiff's claim.  Plaintiffs have already answered fact sheets that provide medical records and other evidence of their injuries.
June 20, 2022 – Hernia Mesh Class Action Update
C.R. Bard wants to reduce the number of hernia mesh lawsuits filed against it before settlement negotiations begin in earnest.  So it asked the court for a docket control order hoping to get some cases dismissed.
The plaintiffs strongly opposed the docket control order being sought by the defendants in the C.R. Bard hernia mesh MDL. The opposition blasts the defense for seeking "de facto summary judgment" and claims that the relief requested is unjustified, overly burdensome, and unprecedented. On Friday, the defense submitted a reply suggesting that the benefits in managing the MDL would justify the burden on plaintiffs.
May 28, 2o22 -Hernia Mesh Lawsuit Update
The judge in the Strattice hernia mesh lawsuits (currently consolidated in a New Jersey state court version of an MDL) recently issued an order establishing detailed rules and protocol for the preservation and testing of physical evidence. The order explicitly addresses the preservation of explanted mesh implants and tissue samples from plaintiffs who undergo corrective surgery. The rules were jointly proposed by the parties and aim to avoid issues arising in previous hernia mesh MDLs.
May 24, 2022  – Milanesi Appeal
Hernia mesh lawyers were glad to win Milanesi but unhappy with the verdict.  Bard was disappointed with the verdict.  So neither side was entirely happy with the $250,000 verdict awarded to Plaintiffs Antonio and Alicia Milanesi in the 2nd bellwether trial against C.R. Bard.
Soon after the verdict was issued, both the plaintiffs and the defendants filed motions challenging the verdict. The plaintiffs filed a Motion for a New Trial on Damages (FRCP 59) because the trial judge failed to correctly instruct the jury that the defense had the burden of proof on the issue of mitigation of damages.
Bard's defense team filed a Motion for Judgement as a Matter of Law (FRCP 50(b)), claiming that the plaintiffs failed to prove that the hernia mesh was defective under Florida's risk-utility standard. Bard's motion also argues that the plaintiffs did not establish causation under Florida law.
Responses to both motions are due tomorrow.
Milanesi Verdict of $255,000
In 2021, we lost one mesh trial, the Johns case. We won Milanesi v. C.R. Bard in April 2022, with a $255,000 verdict in a Bard Ventralex case that was tried in the Southern District of Ohio.
This post speculates on how much these hernia mesh lawsuits are worth. Did Milanesi change these numbers?  No.  Many were disappointed with the size of the verdict. But that case had some unique defenses you will not see in most cases.
This post will offer a reasonable estimate of how much individual hernia mesh claims might be worth in the final settlement.
Where Do Settlement Talks Go After the Milanesi Verdict?
Settlement talks in the hernia mesh lawsuit have yet to produce a global settlement.  I am perplexed as to why Bard has not offered reasonable settlement amounts. Some of the Bard claims have been settled in Rhode Island state court. So obviously, Bard is not allergic to the idea of settlement. Bard might be the domino that would also get the Covidien lawsuits settled.  But nothing has happened so that we may have a third bellwether hernia mesh trial.
When Is the Next Hernia Mesh Trial?
Unfortunately, there is no trial date set for the next hernia mesh trial after the Johns and Milanesi verdicts. Our lawyers expect there could be a trial date in October 2022.  
The next trial in the Bard hernia mesh class lawsuit will likely be a PerFix Plug defect claim.
February 2022 Hernia Mesh Lawsuits
Covidien Hernia Mesh Lawsuit Update: The Covidien class action lawsuit was rejected by the MDL Panel for not having enough plaintiffs.  That will change soon enough, so you can expect a new motion to be filed as more cases get filed.  Covidien mesh lawyers argued before the MDL Panel that more Covidien lawsuits were coming.  The MDL Panel said that "coming soon" was not enough.
In another MDL class action lawsuit effort for Atrium Prolite and Proloop, the defendants are arguing against creating a hernia mesh class action against them.
Summary of the Hernia Mesh Lawsuits
A hernia mesh is a small piece of surgical mesh or screen used to reinforce and strengthen tissue walls in hernia surgeries. The hernia mesh products at issue in the lawsuits suffered from a host of similar defects in their design which caused them to fail.
Some of the mesh products were made out of materials that were not "biologically inert," which caused the patient's immune system to reject the mesh as a foreign object. Other mesh products had a design flaw that caused them to attach and fuse into the adjacent tissue abnormally.
The defects in these hernia mesh implants caused them to fail after being implanted. The results were severe post-surgical complications which eventually required the patients to undergo corrective surgery to remove the defective mesh. Many patients were left with permanent injuries.
As these hernia mesh injuries started accumulating, a steady stream of product liability lawsuits were filed in response. Within a year, the number of hernia mesh lawsuits in federal courts around the country was enough to trigger the Judicial Panel on Multidistrict Litigation to create three new class action MDLs for consolidated handling of the cases:
The Bard Hernia Mesh MDL (In re: Davol, Inc./C.R. Bard, Inc., Polypropylene Hernia Mesh Products Liability Lit. – MDL-2846)
The Ethicon Hernia Mesh MDL (In re: Ethicon Physiomesh Flexible Composite Hernia Mesh Products Liability Lit. – MDL-2782) (which has recently settled, but new cases will continue to be filed)
Atrium C-Qur Hernia Mesh MDL (In re: Atrium Medical Corp. C-Qur Mesh Products Liability Litigation – MDL-2753)
The ProLite, Strattice, and ProLoop (manufactured by Atrium Medical Corp.) are the latest polypropylene hernia mesh products to be the subject of a growing wave of product liability lawsuits.
The lawsuits allege that the polypropylene material these products are made from is defective because it is not biologically inert and degrades inside the body leading to infections and chronic pain. Atrium is accused of ignoring scientific studies showing the various problems with polypropylene mesh implants.
Lawyers for some of the plaintiffs in the ProLite hernia mesh lawsuits filed a motion asking the Judicial Panel on Multidistrict Litigation to consolidate all pending ProLite and ProLoop lawsuits into a new MDL.  But this effort was rejected and these cases will proceed as individual claims.
What Is the Nutshell of the Allegations in the Bard Hernia Mesh Class Action?
In the Bard hernia mesh lawsuits, the plaintiffs argue that they have suffered harm as a result of being implanted with hernia mesh manufactured by Bard (and Beckton Dickinson).
The plaintiffs claim that the mesh was defectively designed and manufactured, causing a number of complications such as pain, infection, mesh migration, mesh shrinkage, perforation of organs, and recurrent hernias. The plaintiffs further argue that Bard failed to adequately warn of these risks and did not provide adequate instructions for safe use.
As a result, the plaintiffs seek compensation for their physical and emotional injuries, as well as for any financial losses they incurred as a result of their complications.
Settlements in Prior Surgical Mesh Cases
Estimating the potential settlement amounts of product liability claims in a mass tort is hardly an exact science. There are too many variables and unknowns that can have a drastic impact on settlement compensation.
In the hernia mesh litigation, in addition to the bellwether trials, we do have some prior verdicts in earlier hernia mesh or surgical mesh defect lawsuits. These results give us some basis to come up with a reasonable value estimate for the present cases. The prior mesh litigation involved C.R. Bard and its Kugel Hernia Mesh product.
What Is the Expected Settlement Amount for the Average Hernia Mesh Lawsuit?
Based on the awards in the Kugel hernia mesh litigation and results in similar medical device cases, our lawyers believe that claims in the current hernia mesh litigation will end up with a settlement value between $50,000 and $1,000,000.
The reason this range is so broad is that the value of each individual claim will vary significantly based on the level of injury involved. What do we think the average hernia mesh settlement be?  Our guess – and we are getting closer to the end of this thing is – the average hernia mesh payout will be between $70,000 and $90,000.  If you think you cases is more serious than the average and deserves a higher settlement, you may choose to opt-out of any global settlement and keep going forward with your claim.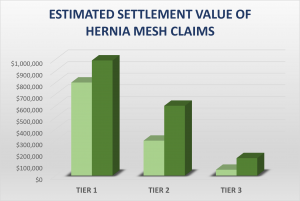 Prior Mesh Settlement Amounts
The Kugel was an earlier type of hernia mesh. Unfortunately, it had a serious design flaw which caused a plastic ring on the mesh to break off inside the patient after being implanted. This caused painful bowel obstruction and required corrective surgery – very similar to the injuries involved in the current hernia mesh cases.
After a $1.5 million verdict in the first Kugel bellwether case, Bard agreed to a $184 million global settlement which amounted to $70,000 per claim. Not all claimants received the same amount, however, with some getting more and some less than $70,000 per person.
The settlement in the Kugel hernia mesh litigation resulted in a very similar value range for individual cases. The total Kugel hernia mesh lawsuit settlement payment of $184,000,000 resolved just over 2,000 individual claims, which equals about $70k per claim.
But each plaintiff in the Kugel litigation did not simply get a $70k check. Instead, the plaintiffs were grouped into settlement tiers with a points system based on the level of injury they suffered. Plaintiffs in Tier 1 had the most severe injuries and reportedly received around $900,000. Tier 2 plaintiffs reportedly received less than half of this amount and the bottom tier plaintiffs got much less than the $70k per claim average.
Vaginal Mesh Also Gives Us Settlement Value Clues
We saw similar mesh lawsuit settlement numbers in another mass tort case involving Endo International's vaginal mesh implants. In that litigation (which had many similarities to the hernia mess litigation), Endo paid $900 million to settle about 20,000 individual claims. This worked out to an average individual settlement amount of $45,000 per claim. But the settlement proceeds were distributed based on a tiered settlement system. The cases in the lowest settlement tier received very little, while plaintiffs in the top tier received over $500,000.
Of course, some plaintiffs opted out of the Kugel hernia mesh settlements.  Bard veterans will remember a jury awarded a plaintiff $3.6 million in a mesh lawsuit in 2016. In 2018, another jury awarded a plaintiff $18.5 million in a mesh lawsuit (Boston Scientific was the defendant).  So Bard understands that juries will award large verdicts in mesh cases where the injuries are severe.
What If I Don't Know Who Made My Hernia Mesh?
You will not need to know who made your hernia mesh to start your claim. The hernia mesh lawyers will get your medical records and verify that you have a defective hernia mesh. Sadly, most of the products are targeted by a hernia mesh lawsuit.
Do I Qualify for a Hernia Mesh Lawsuit?
You may qualify for a hernia mesh lawsuit if you underwent hernia repair surgery in which a mesh was used and you subsequently suffered serious post-surgery complications such as adhesion or infection that were potentially related to defects in the hernia mesh.
(In this sense, "qualify" is defined as our hernia mesh lawyers being willing to take your case.)
Contact Us About Your Hernia Mesh Case
It is not too late to file your hernia mesh lawsuit. If you were injured by a defective hernia mesh implant, call our hernia mesh lawyers today at 800-553-5053.