Right now, there are thousands of lawsuits pending in courts across the country related to defective hernia mesh implants. The plaintiffs in these lawsuits are individuals who had a defective hernia mesh implanted during surgery causing them to suffer serious post-surgical complications and injuries.
The hernia mesh lawsuits involve multiple hernia mesh products made by 3 medical device companies who are now defendants in the litigation: Ethicon (a Johnson & Johnson subsidiary), C.R. Bard (now part of Beckton Dickinson), and Atrium Medical Corp. The alleged defects and the product liability claims being asserted against all these defendants are similar enough to talk about them collectively.
As of Spring 2021, we have yet to see a trial or jury verdict in any of these hernia mesh cases. Bellwether trials are coming up this summer which should give us our first taste of how these cases might play out. In the meantime, however, we can certainly speculate on how much these cases could be worth. This post will offer a reasonable estimate of how much hernia mesh individual hernia mesh claims might be worth in the final settlement.
Summary of the Hernia Mesh Lawsuits
A hernia mesh is a small piece of surgical mesh or screen that is used to reinforce and strengthen tissue walls in hernia surgeries. The hernia mesh products at issue in the lawsuits suffered from a host of similar defects in their design which caused them to fail. Some of the mesh products were made out of materials that were not "biologically inert," which caused the patient's immune system to reject the mesh as a foreign object. Other mesh products had a design flaw that caused them to abnormally attach and fuse into the adjacent tissue.
The defects in these hernia mesh implants caused them to fail after being implanting. The results were serious post-surgical complications which eventually required the patients to undergo corrective surgery to remove the defective mesh. Many patients were left with permanent injuries.
As these hernia mesh injuries started accumulating a steady stream of product liability lawsuits were being filed in response. Within a year the number of hernia mesh lawsuits in federal courts around the country was enough to trigger the Judicial Panel on Multidistrict Litigation to create 3 new class action MDLs for consolidated handling of the cases:
The Bard Hernia Mesh MDL (In re: Davol, Inc./C.R. Bard, Inc., Polypropylene Hernia Mesh Products Liability Lit. – MDL-2846)
The Ethicon Hernia Mesh MDL (In re: Ethicon Physiomesh Flexible Composite Hernia Mesh Products Liability Lit. – MDL-2782)
Atrium C-Qur Hernia Mesh MDL (In re: Atrium Medical Corp. C-Qur Mesh Products Liability Litigation – MDL-2753)
The first bellwether trials in 2 of these MDLs are scheduled to start this summer.
Settlements in Prior Surgical Mesh Cases
Estimating the potential value of product liability claims in a mass tort is hardly an exact science. There are way too many variables and unknowns that can have a drastic impact on settlement compensation. This is particularly true in this situation where we have yet to even see the first verdict in a bellwether trial.
In the hernia mesh litigation, we do have some prior verdicts in earlier hernia mesh or surgical mesh defect lawsuits. These results give us some basis to come up with a reasonable value estimate for the present cases. The prior mesh litigation involved C.R. Bard and its Kugel Hernia Mesh product.
The Kugel was an earlier type of hernia mesh. Unfortunately, it had a serious design flaw which caused a plastic ring on the mesh to break off inside the patient after being implanted. This caused painful bowel obstruction and required corrective surgery – very similar to the injuries involved in the current hernia mesh cases. After a $1.5 million verdict in the first Kugel bellwether case, Bard agreed to a $184 million global settlement which amounted to $70,000 per claim. Not all claimants received the same amount, however, with some getting more and some less than $70k.
The settlement in the Kugel hernia mesh litigation resulted in a very similar value range for individual cases. The total Kugel settlement payment of $184,000,000 resolved just over 2,000 individual claims, which equals about $70k per claim. But each plaintiff in the Kugel litigation did not simply get a $70k check. Instead, the plaintiffs were grouped into settlement "tiers" based on the level of injury they suffered. Plaintiffs in Tier 1 had the most severe injuries and reportedly received around $900,000. Tier 2 plaintiffs reportedly received less than half this amount and the bottom tier plaintiffs got much less than the $70k per claim average.
We saw similar settlement numbers in another mass tort case involving Endo International's vaginal mesh implants. In that litigation (which had many similarities to the hernia mess litigation), Endo paid $900 million to settle about 20,000 individual claims. This worked out to $45,000 per claim, but the settlement proceeds were distributed based on a tiered settlement system. The cases in the lowest settlement tier received very little, while plaintiffs in the top tier received over $500,000.
Estimated Settlement Value of Hernia Mesh Claims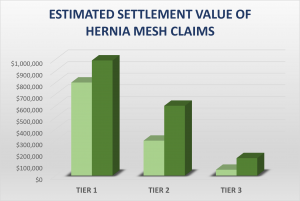 Based on the awards in the Kugel hernia mesh litigation and results in similar medical device cases, our lawyers believe that claims in the current hernia mesh litigation could end up with a settlement value between $50,000 and $1,000,000. The reason this range is so broad is that the value of each individual claim will vary significantly based on the level of injury involved.
Contact Us About Your Hernia Mesh Case
It is not too late to file your own hernia mesh lawsuit. If you were injured by a defective hernia mesh implant, call our hernia mesh lawyers today at 800-553-5053.