Right now, there are thousands of hernia mesh lawsuits pending in courts across the country. Our hernia mesh lawyers are handling these cases in all 50 states. This page
Discusses this litigation
Provides the most recent May 2022 updates and the latest MDL-2846 news, and
Offers projected average settlement amounts for a hernia mesh lawsuit.
The plaintiffs in these lawsuits are individuals who had a defective hernia mesh implanted during surgery causing them to suffer serious post-surgical complications and injuries.
The hernia mesh lawsuits involve multiple hernia mesh products made by four medical device companies who are now defendants in the litigation: Ethicon (a Johnson & Johnson subsidiary that has just reached a settlement in most of its lawsuits), C.R. Bard (now part of Beckton Dickinson), Covidien, and Atrium Medical Corp. The alleged defects and the product liability claims being asserted against all these defendants are similar enough to talk about them collectively.
May 24, 2022 Hernia Mesh Update – Milanesi Appeal
Hernia mesh lawyers were glad to win Milanesi but unhappy with the verdict.  Bard was unhappy with the verdict.  So neither side was entirely happy with the $250,000 verdict awarded to Plaintiffs Antonio and Alicia Milanesi in the 2nd bellwether trial against C.R. Bard.
Soon after the verdict was issued, both the plaintiffs and the defendants filed motions challenging the verdict. The plaintiffs filed a Motion for a New Trial on Damages (FRCP 59), on the grounds that the trial judge failed to correctly instruct the jury that the defense had the burden of proof on the issue of mitigation of damages.
Bard's defense team filed a Motion for Judgement as a Matter of Law (FRCP 50(b)) in which they claim that the plaintiffs failed to prove that the hernia mesh was defective under Florida's risk-utility standard. Bard's motion also argues that the plaintiffs did not establish causation under Florida law.
Responses to both motions are due tomorrow.
Milanesi Verdict of $255,000
In 2021, we lost one mesh trial, the Johns case. Now we have won Milanesi v. C.R. Bard in April 2022, with a $255,000 verdict in a Bard Ventralex case that was tried in the Southern District of Ohio.
This post speculates on how much these hernia mesh lawsuits are worth. Did Milanesi change these numbers?  No.  Many were disappointed with the size of the verdict. But that case had some unique defenses you will not see in most cases.
This post will offer a reasonable estimate of how much individual hernia mesh claims might be worth in the final settlement.
Where Do Settlement Talks Go After the Milanesi Verdict?
Settlement talks in the hernia mesh lawsuit have not produced a global settlement.  I continue to be perplexed as to why Bard has not offered reasonable settlement amounts. Some of the Bard claims have been settled in Rhode Island state court. So obviously Bard is not allergic to the idea of settlement. Bard might be the domino that would also get the Coviden lawsuits settled as well.  But nothing has happened yet so we may have a third bellwether hernia mesh trial.
When Is the Next Hernia Mesh Trial?
Unfortunately, there is no trial date set for the next hernia mesh trial after the Johns and Milanesi verdicts. Our lawyers expect there could be a trial date in October 2022.  
The next trial in the Bard hernia mesh class lawsuit is likely to be a PerFix Plug defect claim.
February 2022 Hernia Mesh Lawsuits
Coviden Hernia Mesh Lawsuit Update: The Covidien class action lawsuit was rejected by the MDL Panel for not having enough plaintiffs.  That will change soon enough so you can expect a new motion to be filed as more cases get filed.  Coviden mesh lawyers argued before the MDL Panel that more Coviden lawsuit were coming.  The MDL Panel said that "coming soon" was not enough.
In another MDL class action lawsuit effort for Atruim Prolite and Proloop, the defendants are arguing against creating hernia mesh class action against them.
Summary of the Hernia Mesh Lawsuits
A hernia mesh is a small piece of surgical mesh or screen that is used to reinforce and strengthen tissue walls in hernia surgeries. The hernia mesh products at issue in the lawsuits suffered from a host of similar defects in their design which caused them to fail.
Some of the mesh products were made out of materials that were not "biologically inert," which caused the patient's immune system to reject the mesh as a foreign object. Other mesh products had a design flaw that caused them to abnormally attach and fuse into the adjacent tissue.
The defects in these hernia mesh implants caused them to fail after being implanted. The results were serious post-surgical complications which eventually required the patients to undergo corrective surgery to remove the defective mesh. Many patients were left with permanent injuries.
As these hernia mesh injuries started accumulating, a steady stream of product liability lawsuits were being filed in response. Within a year, the number of hernia mesh lawsuits in federal courts around the country was enough to trigger the Judicial Panel on Multidistrict Litigation to create 3 new class action MDLs for consolidated handling of the cases:
The Bard Hernia Mesh MDL (In re: Davol, Inc./C.R. Bard, Inc., Polypropylene Hernia Mesh Products Liability Lit. – MDL-2846)
The Ethicon Hernia Mesh MDL (In re: Ethicon Physiomesh Flexible Composite Hernia Mesh Products Liability Lit. – MDL-2782) (which has recently settled but new cases will continue to be filed)
Atrium C-Qur Hernia Mesh MDL (In re: Atrium Medical Corp. C-Qur Mesh Products Liability Litigation – MDL-2753)
The ProLite, Strattice, and ProLoop (manufactured by Atrium Medical Corp.) are the latest polypropylene hernia mesh products to be the subject of a growing wave of product liability lawsuits.
The lawsuits allege that the polypropylene material these products are made from is defective because it is not biologically inert and degrades inside the body leading to infections and chronic pain. Atrium is accused of ignoring scientific studies showing the various problems with polypropylene mesh implants.
On December 13, 2021, lawyers for some of the plaintiffs in the ProLite hernia mesh lawsuits filed a motion asking the Judicial Panel on Multidistrict Litigation to consolidate all pending ProLite and ProLoop lawsuits into a new MDL. This effort is being opposed by defendants and there will be a hearing at the end of March to decide whether there will be a Prolite and ProLoop class action lawsuit.
If the JPML grants this motion, the new MDL will be the 4th hernia mesh MDL currently pending. It will also be the second hernia mesh MDL involving Atrium as the Atrium C-Qur hernia mesh MDL is currently pending in New Hampshire.
Settlements in Prior Surgical Mesh Cases
Estimating the potential value of product liability claims in a mass tort is hardly an exact science. There are way too many variables and unknowns that can have a drastic impact on settlement compensation. This is particularly true in this situation where we have yet to even see the first verdict in a bellwether trial.
In the hernia mesh litigation, we do have some prior verdicts in earlier hernia mesh or surgical mesh defect lawsuits. These results give us some basis to come up with a reasonable value estimate for the present cases. The prior mesh litigation involved C.R. Bard and its Kugel Hernia Mesh product.
What Is the Expected Settlement Amount for the Average Hernia Mesh Lawsuit?
Based on the awards in the Kugel hernia mesh litigation and results in similar medical device cases, our lawyers believe that claims in the current hernia mesh litigation could end up with a settlement value between $50,000 and $1,000,000.
The reason this range is so broad is that the value of each individual claim will vary significantly based on the level of injury involved.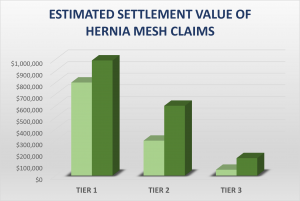 Prior Mesh Settlement Amounts
The Kugel was an earlier type of hernia mesh. Unfortunately, it had a serious design flaw which caused a plastic ring on the mesh to break off inside the patient after being implanted. This caused painful bowel obstruction and required corrective surgery – very similar to the injuries involved in the current hernia mesh cases.
After a $1.5 million verdict in the first Kugel bellwether case, Bard agreed to a $184 million global settlement which amounted to $70,000 per claim. Not all claimants received the same amount, however, with some getting more and some less than $70,000 per person.
The settlement in the Kugel hernia mesh litigation resulted in a very similar value range for individual cases. The total Kugel hernia mesh lawsuit settlement payment of $184,000,000 resolved just over 2,000 individual claims, which equals about $70k per claim.
But each plaintiff in the Kugel litigation did not simply get a $70k check. Instead, the plaintiffs were grouped into settlement tiers with a points system based on the level of injury they suffered. Plaintiffs in Tier 1 had the most severe injuries and reportedly received around $900,000. Tier 2 plaintiffs reportedly received less than half of this amount and the bottom tier plaintiffs got much less than the $70k per claim average.
We saw similar mesh lawsuit settlement numbers in another mass tort case involving Endo International's vaginal mesh implants. In that litigation (which had many similarities to the hernia mess litigation), Endo paid $900 million to settle about 20,000 individual claims. This worked out to an average individual settlement amount of $45,000 per claim. But the settlement proceeds were distributed based on a tiered settlement system. The cases in the lowest settlement tier received very little, while plaintiffs in the top tier received over $500,000.
What If I Don't Know Who Made My Hernia Mesh?
You will not need to know who made your hernia mesh to start your claim. The hernia mesh lawyers will get your medical records and verify that you have a defective hernia mesh. Sadly, most of the products are targeted by a hernia mesh lawsuit.
Do I Qualify for a Hernia Mesh Lawsuit?
You may qualify for a hernia mesh lawsuit if you underwent hernia repair surgery in which a mesh was used and you subsequently suffered serious post-surgery complications such as adhesion or infection that were potentially related to defects in the hernia mesh.
(In this sense, "qualify" is defined as our hernia mesh lawyers being willing to take your case.)
Contact Us About Your Hernia Mesh Case
It is not too late to file your own hernia mesh lawsuit. If you were injured by a defective hernia mesh implant, call our hernia mesh lawyers today at 800-553-5053.