Our lawyers represent victims looking to bring a Camp Lejeune lawsuit in all 50 states. We believe this page provides more comprehensive and updated information on Camp Lejeune claims than you will find anywhere.
This page provides the following:
the latest  news and updates on the Camp Lejeune lawsuit
who is eligible for compensation
projected Camp Lejeune settlement amounts based on the type of claim
how we can help you bring a suit to receive the compensation you deserve
Our lawyers provide a new update almost daily to give you the latest news on the litigation. Our last Camp Lejeune lawsuit update was on Monday, March 20, 2023, at 03:23 p.m.
If you have a potential Camp Lejeune lawsuit for an injury or death of a loved one, call our lawyers today at 800-553-8082 or get a free online consultation. There is no fee or cost unless you get financial compensation for the harm that was done to you.
Latest News on Camp Lejeune Water Contamination Lawsuit
Before we get into the gist of the Camp Lejeune lawsuits and our lawyers take on expected settlement amounts, let's look at the latest news in the Camp Lejeune toxic water lawsuits:
March 28, 2023 – Pace of Lawsuits Is Accelerating
Administrative claims filed with JAG by Camp Lejeune victims after the CLJA was passed last year became eligible to convert to civil lawsuits after six months. It has been nearly eight months since the law was passed last August and last week brought a giant spike in new CLJA civil lawsuits. Over the first month after the JAG claim deadline passed, we saw around 200 Camp Lejeune civil lawsuits filed. 179 Camp Lejeune cases were filed in the Eastern District of North Carolina just in the last week, nearly doubling the number of pending CLJA civil cases.
March 27, 2023 – JAG Spokesman on Camp Lejeune Settlement
Nearly 20,000 claims have been filed with JAG by Camp Lejeune victims, but so far JAG has taken no action on those claims and has not even been accepting supporting documentation for them.
Last week, JAG responded to a media inquiry about this by insisting that they are reviewing the CLJA claims and that they "may offer a settlement" if the "evidence substantiates the claim." Although this is very encouraging to hear, it feels like an empty promise, at least in the short term.  The JAG is not in a position so review cases for settlement – it is still not accepting supporting documentation from CLJA claims. So there is no way for JAG to determine if the "evidence substantiates the claim."  The question is when will the JAG get there?
March 20, 2023 – Lawsuit Count
260 Camp Lejeune civil lawsuits have now been filed in the Eastern District of North Carolina since the first claims brought under the CLJA became eligible to bring civil cases over one month ago. The weekly volume of new Camp Lejeune civil cases has more than doubled each week since the start of this month. There is still no indication of whether these cases will be consolidated.
March 19, 2023- Ease of Proof in Camp Lejeune Lawsuits
Victims of the Camp Lejeune water contamination are frustrated seeing how our legal system grinds forward at its own pace.  Victims wonder if they will ever receive compensation.
If you are in this spot, it is important to remember that the Camp Lejeune lawsuits are still believed to be very strong cases, even those cases that are not considered "top tier."  Strengthening these cases further is the evidentiary burden for proving causation for these cases is significantly reduced. Lejeune only need to "produce evidence" showing that "a causal relationship is at least as likely as not" – a concept known as "equipoise" causation.
If you have never heard of this, you are not the first. This will be the first time this standard is applied in a civil case, and it will make it easier for victims to establish a link between their illness and the contaminated water, even if there are other risk factors involved.
Does that mean the government will not fight liability and the amount of compensation for your claim?  No.  You still may have a battle on your hands, especially if you do not have what the government thinks is a top tier claim.  But your chances are a lot better with this new standard of proof.
March 11, 2023 – Lejeune Advertising
The incessant Camp Lejeune commercials that drove everyone crazy continue to be a topic of interest. Yes, lawyers are mostly to blame. But these marketing companies that dominate the landscape in 2023 that market and sell signed retainers to lawyers are unrelenting.
March 6, 2023 – Lawsuit Count
Since the start of this month, 22 more Camp Lejeune victims have filed civil lawsuits under the CLJA after exhausting their six-month administrative claim with JAG. There are now 179 Camp Lejeune lawsuits in the Eastern District of North Carolina. To put the volume of this water contamination litigation in context for this court, only 15 non-Camp Lejeune civil cases are pending.
March 4, 2023 – Camp Lejeune Attorneys' Fees
The latest on the legislation involving Camp Lejeune attorneys' fees.
March 1, 2023 – Sample Camp Lejeune Lung Cancer Lawsuit
Every story of Camp Lejeune water contamination told by these lawsuits is a tale of immense suffering and private tragedies. Each lawsuit stands as a testament to the devastating impact of chemical exposure on human lives.
The plaintiff in this case was born in 1932. During his military service, he resided at Camp Lejeune from approximately 1953 until the summer of 1957. During his time at the base, he was, of course, exposed to water contaminated with chemicals such as TCE, PCE, vinyl chloride, and benzene. He was diagnosed with advanced lung cancer and underwent chemotherapy and radiation treatment. Despite these efforts, he ultimately passed away in 1996.
His daughter presented an administrative claim for compensation to the United States Navy under 28 U.S.C. § 2675 on August 10, 2022, the day the legislation passed. The claim was constructively denied because the Navy did not act on this lawsuit or any other administrative claims that have been filed.
February 27, 2023 – Lawsuit Count Slow
On February 10, the earliest Camp Lejeune claimants became eligible to file civil lawsuits after the 6-month deadline on their administrative claims with JAG expired. It has been two weeks since that deadline expired, and 158 civil lawsuits have been filed under the CLJA in the Eastern District of North Carolina.
That is only a tiny percentage of the number of claimants who are now eligible to file suit, which means that the volume of CLJA case filings will probably increase dramatically next month. But there may also be some Lejeune lawyers who have a wait-and-see approach and will keep these claims on the administrative docket a while longer.
February 26, 2023 – What Have We Learned About the Camp Lejeune Lawsuit?
This "what have we learned?" has become a regular feature. It has now been nearly seven months since the Camp Lejeune Justice Act became law. What have we learned, and where is this litigation going in 2023?
The government needs a clear plan to administer Camp Lejeune claims. The JAG is getting closer. The six-month administrative period bought the DOJ time. But there needs to be a plan to evaluate Camp Lejeune claims for settlement. There were "2023 will be the kickoff" rumors. But, so far, nothing. It might be that the stalling it tactical. Defense lawyers in a normal case would be looking to push getting serious about settling claims until after the statute of limitations has passed. So all this could be a plan to push off any trial dates until August 2024 when it can Camp Lejeune settlements.
This would serve two purposes for the government. First, it can offer settlement amounts knowing how many claims there are. Second, they can rest assured that big settlement numbers will now spawn more claims.
As a starting point, we need a process so the JAG can even accept medical and service records. But that is step one. The more significant hurdle for the government is having a team in place to evaluate those records and formulate a settlement offer.
So, regrettably, the initial hope of the government offering early Camp Lejeune settlement payouts for victims and their families has faded. The JAG lawyers would love to make settlement offers to reduce the number of claims. But the staffing is not yet there to administer all these claims. We still have hope for Camp Lejeune settlements in 2023. But, honestly, our guess is more 2024 than 2023 at this point.
Over 15,000 Camp Lejeune water contamination claims had already been filed. Now that the six-month deadline has passed, we see new lawsuits being filed almost daily.
Our attorneys hear conflicting estimates of how many Camp Lejeune victims have signed retainers from other Camp Lejeune attorneys. Those estimates range from 75,000 to 110,000 Camp Lejeune victims that have already signed retainers with lawyers.
How many more Lejeune claims will we see? It is hard to predict. There is a reason why your television is no longer flooded with Lejeune commercials. We are seeing 10% of the volume of new potential Camp Lejeune lawsuits we saw in June. Yes, there are a lot of victims with solid claims that have not found a lawyer. But, internally, we assume that we already have the lion's share of clients we will represent in this litigation.
February 25, 2023 – NHL Update
We updated our non-Hodgkin's lymphoma Camp Lejeune page today with revised settlement estimates.
February 22, 2023 – VA Claims
The VA Office of the General Counsel is making a public relations push to remind Camp Lejeune victims that they can still get VA disability benefits even if they file a civil lawsuit under the CLJA. There has been some unfortunately reporting in the media suggesting that you cannot bring both claims.
So this recent statement from the VA have sought to assure potential claimants that filing a claim or lawsuit under the new CLJA will not negatively impact their ability to get disability benefits for injuries related to the Camp Lejeune water. Over the last ten years, the VA has received 102,265 disability claims involving exposure to the toxic water at Camp Lejeune.
February 16, 2023 – More Suits Filed
Yesterday we saw nine more CLJA civil lawsuits get filed in the Eastern District of North Carolina. Since the administrative claim deadline for the earliest JAG claims expired last week, a total of 112 Camp Lejeune lawsuits have been filed so far. Just a few days ago, JAG announced that the number of administrative claims it has received under the CLJA is now over 20,000.
February 14, 2023 – Claims and Lawsuits
The JAG reports that 20,000 administrative Camp Lejeune claims have been filed. Over 100 lawsuits have been filed in North Carolina.
February 13, 2023 – It Begins
The Camp Lejeune litigation entered a new phase last Friday when the six-month deadline for JAG to take action on the Camp Lejeune administrative claims expired. As predicted, a surge of civil cases have started to get filed in the Eastern District of North Carolina. In the three days since the deadline expired, 79 new CLJA cases have been filed and the volume will probably increase this week.
February 8, 2023 – Tw0 Days from Kickoff
The CLJA became law on August 10, 2022. Thousands of Camp Lejeune victims immediately filed claims for compensation with the Navy JAG Tort Claims Unit.
Under the CLJA, the Navy had six months to accept, deny or otherwise resolve the claims before the claimants could bring a civil suit. That deadline for the first CLJA claims is set to expire this week, and we know that JAG has not resolved any of the thousands of CLJA claims it has received. That means the Eastern District of North Carolina will be flooded with new Camp Lejeune cases starting next week.
February 1, 2023 – How Many Camp Lejeune Lawsuits Will We See?
Over 15,000 claims have already been filed with JAG since the CLJA was enacted back gust. This has led many to speculate about how many total CLJA claims will get filed before the deadline expires in 2024. Bloomberg and other news outlets have recently suggested that there could be as many as 500,000 CLJA claims.
I think this is a gross overestimate. I listened to a podcast today with the author, who is very knowledgeable about the Camp Lejeune litigation. But this estimate seems out of left field. Studies of the Camp Lejeune water contamination by the ATSDR have estimated that around one million people were exposed to the toxic water between 1953 and 1987. Approximately 200,000 may have developed cancer or other diseases. My guess is half of these people file claims which would put us at 100,000 lawsuits unless lawyers start bringing "I was at Camp Lejeune and that is it" lawsuits.
January 30, 2023 – Advertising for Lejeune
Bloomberg News reports that a total of over $145 million has been spent on advertising for Camp Lejeune water contamination cases by lawyers and lead generation companies. Most of that total ($112 million) has gone into television ads, which is more than double the amount spent on legal advertising for any other mass tort during the same period.
The article also talks about how private equity money is invading class action lawsuits. (Lejeune is not a class action lawsuit but has most of the characteristics of one.) Often in 2023, you are calling marketers who are advertising and then selling cases, not lawyers.
January 29, 2023 – Kidney Cancer Lawsuits
We updated our Camp Lejeune kidney cancer average settlement projections this weekend.
January 24, 2023 – Pace of Lejeune Litigation
For a while, our law firm was writing daily Camp Lejeune updates. That is hard to do now. Things are moving more slowly than we could have imagined six months ago.
Thousands of Camp Lejeune victims have filed claims with the Navy JAG. So far, however, JAG has not done anything with these claims. JAG is still not even accepting supporting documentation for CLJA claims.
Meanwhile, the DOJ has expended quite a lot of effort to get a group of Camp Lejeune legacy cases dismissed for failing to re-submit admin claims to JAG (even though JAG is not doing anything with the CLJA claims). The point of this effort is lost on us.
This has led to backlash from veterans and lawmakers who are now publicly blasting JAG and DOJ. In a statement issued last week, Congressmen Matt Cartwright criticized JAG and DOJ for prolonging the suffering of Lejeune victims and calling on them to follow through with the intent of the CLJA.
There is no malice from the JAG or the DOJ who want to do the right thing. But this must accelerate to satisfy the congressional intent for victims to receive fair settlement compensation without unnecessary delay.
January 20, 2023 – Will the Budget Battle in Congress Impact Camp Lejeune
The debt ceiling battle could have a short-term Camp Lejeune effect.
January 11, 2023 – Legacy Claims
A group of four additional Camp Lejeune legacy cases were dismissed for failing to file a post-CLJA administrative claim with JAG. Judge Louise Flanagan followed the lead of her fellow judge in rejecting the legacy cases assigned to her, finding that their prior administrative claims could be used to satisfy the CLJA requirements. Half a dozen legacy cases are still pending with another judge, and these will probably be dismissed on the same basis very soon.
This has no impact on your case unless you are one of the plaintiffs who now have to get back in line with everyone else.
January 9, 2023 – 14,000 Cases
A spokesperson for the Navy JAG Tort Claims Unit recently issued a statement confirming that over 14,000 Camp Lejeune water contamination injury claims have been filed since the CLJA was passed in August. Over the upcoming months, this total claim figure may double, and we could be reporting 30,000 CLJA claims before the spring.
Lawyers were very focused on trying to get as many cases as possible in 2022. In 2023, the focus will shift to maximizing the settlement compensation for these claims. There is a lot of hard work ahead.
January 8, 2023 – Our Law Firm's Water Contamination Clients (Updated)
What are the most common Camp Lejeune water contamination lawsuits?
This is the updated list of our law firm's Camp Lejeune lawsuits ranked by how many claims we have for each injury or sickness:
Neurobehavioral
Hodgkin's Disease
Cardiac Defects
January 6, 2023 – Parkinson's Disease
We updated our Parkinson's disease settlement projections for Camp Lejeune for a second time this year. Our law firm has more Parkinson's disease cases than any other injury. We also think these cases may have the highest settlement payouts in the litigation when all is said and done.
January 1, 2023 – Camp Lejeune Settlement "Budget"
Bloomberg reports that the Congressional Budget Office estimates that the Camp Lejeune settlement payouts will cost about $6.1 billion. We think this is incorrect.
Early in the process, the $6.1 billion figure was tossed around. This is not enough money to settle the Camp Lejeune lawsuits. The $6.1 billion estimate comes from a prior CBO cost estimate, a revised report significantly increased the potential estimated payout.
According to the CBO, these payments will cost another $15 billion after 2031:
"CBO expects that [Camp Lejeune] awards would be paid from the Judgment Fund, a permanent, indefinite appropriation that is available to pay monetary awards against the United States that are judicially or administratively ordered. Payments from that fund are classified as direct spending. CBO also estimates that, in addition to the amounts shown in this table, payments under the section would increase direct spending by about $15 billion after 2031. "
So if you add in the $6.1 billion, that would leave around $21 billion for Camp Lejeune jury payouts and settlement compensation. But this is not a set-aside fund for Camp Lejeune. It is just an estimated settlement amount from the government's perspective.
We have been on Camp Lejeune claims from the very beginning. Get more Lejeune news from 2022.
How Camp Lejeune Lawsuits Work

The CLJA gives individuals (or their survivors) who lived or worked at Camp Lejeune for at least 30 days the right to file civil lawsuits in the Eastern District of North Carolina to seek damages for injuries allegedly caused by the contaminated water. Before filing their lawsuit, however, § (h) of the CLJA requires all claimants to go through a 6-month administrative claim process:
(h) Disposition By Federal Agency Required.- An individual may not bring an action under this section before complying with section 2675 of title 28, United States Code.
Before filing a Camp Lejeune toxic water lawsuit, a prospective plaintiff must submit their claim to the "appropriate federal agency." Once a claim is submitted, the federal agency has a strict 6-month deadline to either accept or deny the claim. Claimants must wait until their claim is rejected or the 6-month deadline expires before filing their lawsuit in federal court.
This administrative claim process is a formality in most regular lawsuits against the Navy. Administrative claims are almost always denied, and the claimants move on to file suit. For Camp Lejeune claims under the CLJA, however, the process could be much different.
Under the CLJA, we believe that at the administrative claims process may be more like a pre-filing settlement mediation in which claimants who pass an initial screening process receive very reasonable settlement offers. We expect many claimants will accept settlement offers during the administrative claim process and never end up filing civil lawsuits.
There are two reasons why our lawyers are expecting the CLJA administrative claim process to play out this way. First, Congress passed the CLJA to ensure that victims of Lejeune water contamination could get financial compensation for valid injuries. Second, the Biden administration will ultimately be responsible for how this plays out. President Biden has made it clear that he strongly supports compensating deserving veterans.
Who Will the "Appropriate Federal Agency" Be for CLJA Claims?
Under the FTCA, administrative claims must be submitted to the "appropriate federal agency." Camp Lejeune is not a Federal Tort Claims Act or Military Claims Act lawsuit, but there are similarities.
For Camp Lejeune water contamination claims under the CLJA, the appropriate federal agency will be the Department of the Navy (Navy). The Navy was the agency responsible for the USMC base at Camp Lejeune.
Although the Navy will be the federal agency named in the claim, they will most likely defer to the Department of Justice (DOJ) on handling these suits. The DOJ will take its direction on how to approach the CLJA claims from the Biden Administration.
New Law to Allow Camp Lejeune Lawsuit
From 1953 to 1987, the public water supply at Camp Lejeune Marine Corps Base in North Carolina was contaminated with toxic chemicals. So for 30 years, more than a million Marines and their families drank and bathed in contaminated water.
Thousands of Marines and their families have suffered severe illnesses and have died. There is strong scientific evidence that chronic exposure to toxic chemicals in Camp Lejeune's water has caused increased rates of cancer and has caused injuries to children in utero.
Camp Lejeune Compensation Claims Originally Rejected
The provision follows the Supreme Court's 7-2 decision in 2014 holding that North Carolina's 10-year "statute of repose" overrides the federal Superfund law, effectively barring exposed individuals from suing once the statute expires, even if they didn't become aware of pollution until a later date.
A new federal law – the Camp Lejeune Justice Act of 2022 – was enacted for victims of Camp Lejeune water contamination to seek legal compensation. The Act permits people who lived or worked or were harmed as unborn children at Camp Lejeune between 1953 and 1987 to file a toxic water lawsuit in U.S. District Court in Eastern North Carolina. There will likely be a two-year deadline to sue from the date of the enactment.
The Camp Lejeune lawyers at Miller & Zois are actively seeking new Camp Lejeune water contamination lawsuits.
Thanks to a new pending law, victims may now be able to file a claim and get a Camp Lejeune settlement payout or jury award for the harm that has been done to them if they lived or worked near Camp Lejeune between 1953 and the late 1980s and were diagnosed with cancer or neurologic disorders.
This new Camp Lejeune lawsuit will almost certainly be a class action lawsuit filed in North Carolina. The new law would require all cases to be housed in North Carolina, even if the victims now live in California, Texas, New York, or any other state.
If you want compensation for the harm done at Camp Lejeune, contact our lawyers and tell us about your claim today.
Water Contamination at Camp Lejeune
Camp Lejeune is a massive Marine Corps base and military training facility that covers nearly 250 square miles in Onslow County, North Carolina. Camp Lejeune was first opened in 1942. It is used as a base of operations for the Marine Corps and a military operations and training facility used by various branches of the armed forces.
Since its founding in 1942, Camp Lejeune has been a temporary or permanent home for thousands of military service members and their families.
It has also been a home or place of work for thousands more civilian employees and contractors. Camp Lejeune had its own public water system to supply these Marines and civilians with potable water.
In the 1980s, environmental testing at Camp Lejeune discovered that the water supply going to Camp Lejeune residents and employees was dangerously contaminated.
Toxic Chemicals in Water
Specifically, the Marine Corps determined that from approximately 1953 through 1987, the water supply to Camp Lejeune had been heavily contaminated with volatile organic compounds and carcinogenic chemicals. The most troubling chemicals found were trichloroethylene (TCE) and tetrachloroethylene (PCE).
These chemicals are in a class of chemicals called "volatile organic compounds" (VOCs). These chemicals are used for dry cleaning, and much of the water contamination was attributed to an off-base dry cleaner that existed before the Marine base was opened. So the water wells were likely contaminated before Camp Lejeune opened.
But there were multiple sources for this toxic water. These same chemicals are also used to clean machinery and weapons. So the contamination came from on and off the Marine base.
The Navy Did Not Act
The government was slow to respond to this development. It is not that the Navy did not understand the risk of water contamination with these chemicals. As early as the 1940s, wells were sometimes found with TCE, PCE, and other toxic substances. When this happened, the water was deemed unpotable, and the wells were shut down or restricted to non-drinking and non-culinary use.
So it is hard to pretend the Navy did not understand the risk of water with these toxins. But if the Navy did not know, it should have. This will be a critical point of contention in a Camp Lejeune lawsuit if the government's lawyers point to the lack of established clear drinking water standards.
In previous Camp Lejeune water contamination lawsuits 15 years ago, the government's lawyers found an expert who contended that environmental scientists and engineers did not address TCE, PCE, and other chlorinated solvents as potential soil and groundwater contaminants until the early 1980s. This same expert also contended – incorrectly our Camp Lejeune lawyers would argue – that there was a "prevailing belief" that chlorinated solvents would evaporate or be assimilated into the soil and not contaminate the water.
How will this play out practically? The government's attorneys will defend Camp Lejeune lawsuits because that is how our system works. But these same government lawyers know that the same government defending the Camp Lejeune water contamination lawsuits is the same government that specifically crafted a law to allow victims to bring compensation claims. My point is that the overwhelming likelihood is that the government offers a reasonable Camp Lejeune settlement amount long before these lawsuits go to trial.
Core Issue in Every Camp Lejeune Lawsuit
Every Camp Lejeune water contamination lawsuit will allege that the water supply at Camp Lejeune was contaminated between the 1960s and 1980s. The lawsuit will also claim that the United States negligently caused injury or death by allowing contaminants into the Camp Lejeune water supply and not warning people when they should know these water issues could cause awful side effects that included death.
Camp Lejeune Lawsuit Timeline
Let's walk through the chronology of events that led to the Camp Lejeune Justice Act and the expected Camp Lejeune class action lawsuit.
1941: Camp Lejeune becomes a Marine Corps military base.
1951: Camp Lejeune builds the Tarawa Terrace well field for water.
1953: One Hour Dry Cleaner begins operation across the street from the well field. Investigations later show that this dry cleaner allowed tons of toxic chemicals – notably PCE – to contaminate the water at Camp Lejeune. Much of the contamination from this dry cleaner came from the Tarawa Terrace drinking water system.
1979: A reported 20,000 to 30,000 gallons of oil leaks in the ground from the Hadnot Point Fuel Farm.
1984: An outside contractor finds TCE, PCE, and benzene at the Hadnot Point Water Well.
1985: All contaminated Hadnot Point well that had not already been closed are shut down
1989: The EPA identifies Camp Lejeune and ABC One Hour Cleaners as Superfund sites.
1990: The CDC declares PCP is the most significant cause of injury, death, and congenital disabilities from Camp Lejeune.
2008: President Bush signed a bill requiring the Navy to investigate injuries and deaths from contaminated drinking water at Camp Lejeune.
12-12-2016: Over 800 Camp Lejeune water contamination lawsuits filed under the Federal Tort Claims Act and consolidated into an MDL are dismissed based on North Carolina's 10-year statute of repose.
9-20-2018: Appeals of the dismissal of the Camp Lejeune water contamination lawsuits are exhausted, leaving thousands of victims without legal recourse.
3-22-2021: The Camp Lejeune Justice Act of 2021 is introduced as a bill in the U.S. House of Representatives. The bill is eventually sent to the committee and goes nowhere.
1-25-2022: A new bill called the Camp Lejeune Justice Act of 2022 (CLJA) is introduced in the House by Congressmen Matt Cartwright (D. North Carolina) along with 16 co-sponsors. The co-sponsors include 10 Democrats and 6 Republicans from 8 different states.
2-28-2022: The CLJA is combined into a larger bill called the Honoring Our Pact Act of 2021, which addresses health care benefits, and other resources for veterans exposed to toxic substances during military service.
3-3-2022: House passes the CLJA (as part of the Honoring Our Pact Act) by a vote of 256 to 174, and the bill is submitted to the Senate.
5-17-2022: Prominent Republican Senator Marco Rubio of Florida issues a press release publicly announcing his strong support for the CLJA and urging his fellow Senators to vote on passing the CLJA as part of the Honoring Our Pact Act.
6-16-2002: Senate passes an amended version of the CLJA as part of the PACT Act by a vote of 84-14. The amendments to the bill require approval by the House.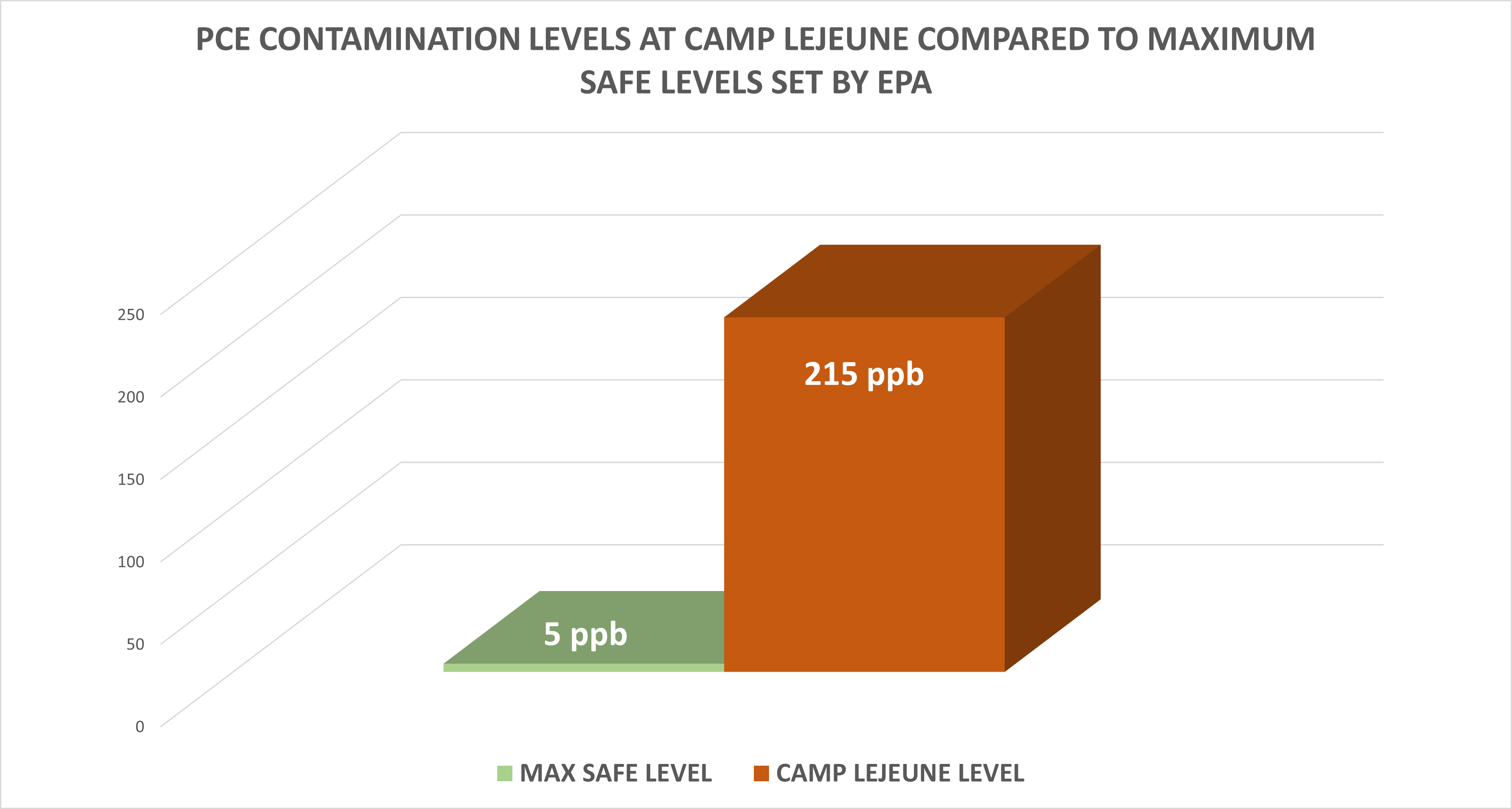 What Toxic Chemicals Were in the Camp Lejeune Water Supply?
Two specific chemical compounds were contaminating the water supply at Camp Lejeune from 1953 to 1987, and they were coming from two specific water treatment facilities servicing the base: Perchloroethylene (PCE) and Trichloroethylene (TCE).
PCE Caused the Greatest Harm
PCE was the most significant cause of the water contamination and the injuries and deaths that followed at Camp Lejeune. PCE is a clear liquid chemical used in dry cleaning to clean fabrics.
PCE is absorbed following oral, inhalation, and dermal exposures. It travels through the bloodstream to the lungs. PCE targets the central nervous system, liver, and kidneys and accumulates in fat cells. Tetrachloroethylene also crosses the placenta and distributes it to the fetus, which is why there were so many birth defects at Camp Lejeune.
PCE Related Injuries
The evidence is strong that PCE can cause various disorders, including liver and kidney injuries, kidney cancer, bladder cancer, multiple myeloma, and non-Hodgkin's lymphoma. Learn more about Camp Lejeune diseases.
PCE Levels at Tarawa Terrance Water Treatment Were Off the Charts
For 346 months, the Tarawa Terrance water treatment and supply facility at Camp Lejeune was contaminated with dangerously high levels of PCE. The source of the contamination was identified as a nearby dry cleaning company. The EPA's maximum safe level for PCE in drinking water is five ug/L. The peak level of TCE contamination in 1985 in the Camp Lejeune water supply was 215 ug/L.
Digest that number. That is 43 times – 43 times! – the safe level for TCE. It is a wonder there were not more Camp Lejeune water contamination deaths and injuries than have been reported.
Trichloroethylene (TCE) at Hadnot Point Water Treatment Facility
TCE is an industrial chemical that is used in the manufacturing of refrigerants and other hydrofluorocarbons. It is a harmful chemical that has long been known to be unfit for human consumption. TCE has been used as a solvent and as a fumigant to kill insects.
The body absorbs trichloroethylene most from inhalation and through oral and dermal exposure. The bloodstream pushes this chemical to major organs that receive blood and deposit it in fat cells. The body metabolizes TCE mainly in the liver, kidneys, and lungs.   Humans extensively metabolize inhaled doses of trichloroethylene. Metabolites may play a role in the adverse health effects described in studies.
TCE was also commonly used as a solvent and degreaser on metal military equipment. The Hadnot Point water treatment facility servicing Camp Lejeune was found to be highly contaminated with TCE. The contamination is believed to have come from numerous sources. EPA's maximum safe level for TCE in potable water is five ppb. The Camp Lejeune water supply was contaminated with TCE as high as 1,400 ppb.
Heart Defects at Birth from TCE
With newborn children, congenital heart defects are common in mothers who drank and bathed in the contaminated water at Camp Lejeune. Studies strongly suggest a link between a mother's exposure to TCE during pregnancy and congenital heart defects.
Other Toxic Chemicals in the Camp's Well Water
Mercury
In 2012, the Hadnot Point water facility was also found to be contaminated with mercury. Mercury may have come from water pressure meters at the facility that was removed in the 1980s.
Vinyl Chloride and Benzene
These were not the only toxic chemicals found on the base. Vinyl chloride and ne, both poisonous chemicals that can cause many of these same injuries alone, were also found on the base. The fact that these toxic chemicals in the water supply are treated as a footnote underscores the remarkable stew of tragic mistakes that caused harm to so many Marines and their families. This is why Congress is stepping in with the Camp Lejeune Justice Act (our attorneys discuss this further below).
Everyone Agrees the Water at Camp Lejeune Was Contaminated
These facts are unlikely to be disputed by the government in a Camp Lejeune lawsuit. In 1989, the EPA placed Camp Lejeune on the Comprehensive Environmental Response, Compensation, and Liability Act of 1980 ("CERCLA") National Priorities List for environmental cleanup activities. You may have also heard it is called a "Superfund" site.   A Superfund is a euphemism for toxic mess. The U.S. Navy agreed to work with the EPA in environmental remediation efforts that continue to this day.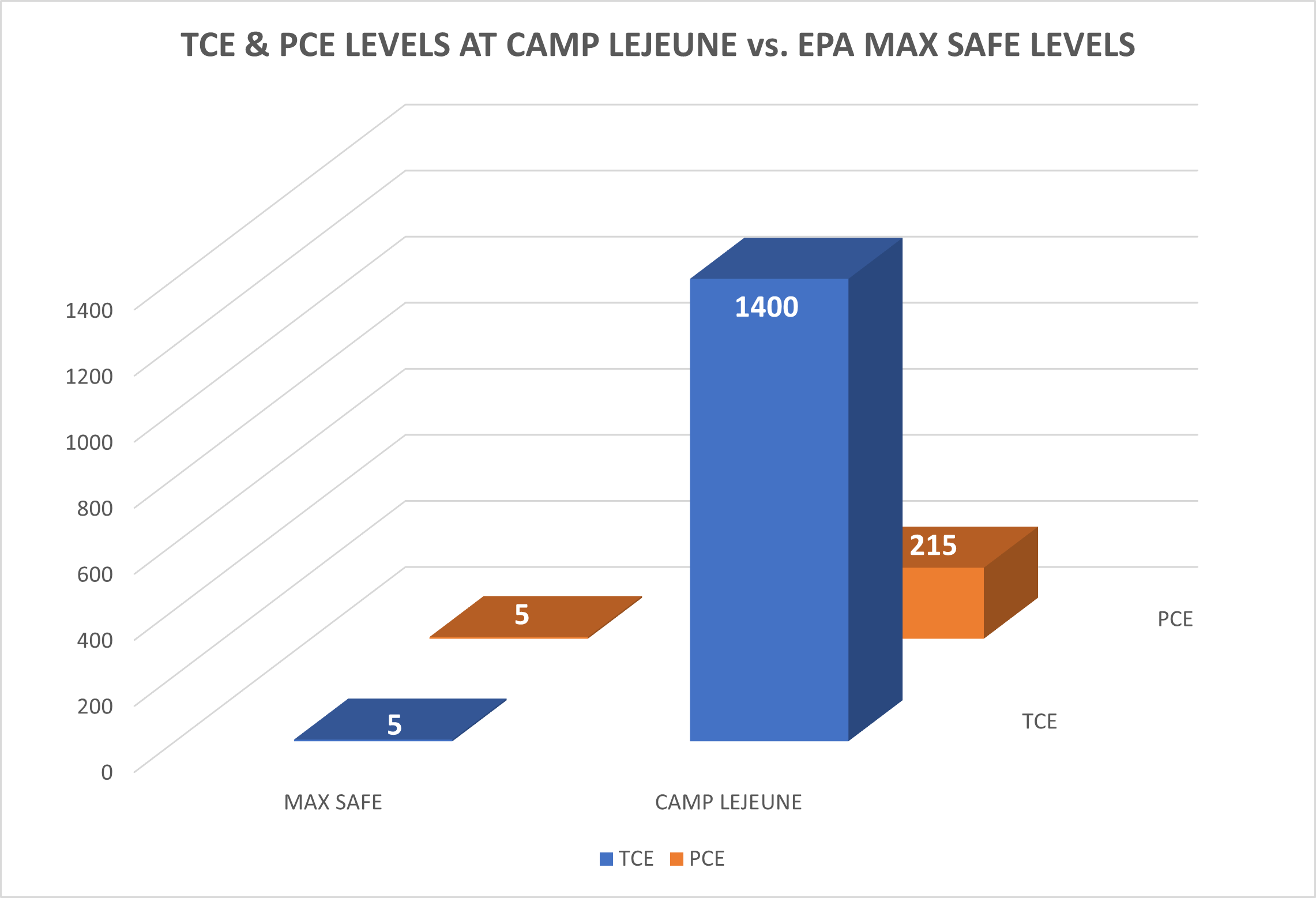 Chemicals in Camp Lejeune Water-Linked to Cancer
The industrial chemicals that were contaminating the Camp Lejeune water supply are known to be very toxic to the human body and have been linked to cancer, birth defects, and neurologic disorders. Scientific and medical evidence has shown that chronic exposure to the chemicals TCE and PCE can cause increased rates of certain types of cancer.
The types of cancer that have been scientifically linked to the consumption of harmful chemicals contaminating the water at Camp Lejeune include:
Exposure to these chemicals has also been linked to other health conditions, including aplastic anemia (and other myelodysplastic syndromes) and neurologic disorders such as Parkinson's disease.
Non-Cancer Camp Lejeune Injuries
The science and medical evidence continues to build linking other injuries besides cancer. They include:
Birth Injuries
Brain Injuries
Cardiac Defects
Fatty Liver Disease
Neurobehavioral Effects
Plastic anemia and other bone marrow conditions
Renal Toxicity
Hepatic Steatosis
Contaminated Water at Camp Lejeune Caused Birth Defects
Birth defects are one of the big tragedies of Camp Lejeune. Over the years, thousands of pregnant women were exposed to toxic water at Camp Lejeune. In 2013, the CDC released a study that confirmed that children born to mothers who lived on Camp Lejeune or drank the water supply had four times the rate of birth defects such as spina bifida.
The CDC also indicated that children exposed to the contaminated Camp Lejeune water during fetal gestation had an increased risk of developing childhood cancers like leukemia. These same children may also have a higher risk of adult cancer.
What Caused the Water Contamination at Camp Lejeune?
Again, PCE is the contaminant that caused the most harm at the Marine Corps base in Camp Lejeune. We later found out that the chemical was used by a nearby dry cleaner as early as 1953. Tragically, this was compounded by on-base sources that further contaminated the water supply.
Camp Lejeune Victims May Soon Be Able to Get Compensation
The water contamination at Camp Lejeune has negatively impacted the lives of hundreds of thousands of people who lived or worked at the base over the years. Many people have developed cancer, died, and suffered other diseases.
So far, most of the Camp Lejeune water contamination victims have never been able to get justice or compensation. North Carolina (where the base is located) has a law known as a "statute of repose," which puts a maximum year limit on how long someone can wait before filing a civil lawsuit, even if they could never have known that the water issues caused injuries until after the deadline to sue had already passed.
Victims Could Not Bring a Camp Lejeune Lawsuit Under the Old Law
Under North Carolina's statute of repose, no civil tort lawsuit can be filed after more than ten years. This law has effectively blocked Camp Lejeune victims from bringing lawsuits seeking financial compensation. In 2016, multi-district litigation involving 850 former Camp Lejeune residents (Straw v. the United States) was dismissed based on the North Carolina repose statute.
In 2012, the Janey Ensminger Act was passed, which authorized the U.S. government to pay for medical care costs to family members harmed by the contaminated water at Camp Lejeune.
The Ensminger Act had limitations. It was basically disability benefits. Worse, Marines' families were excluded.
Many in Congress think Marines and their families should not be limited to VA benefits. That thinking led to the Camp Lejeune Justice Act of 2022.
New Legislation Allows Camp Lejeune Lawsuits
Many Lejeune victims are on disability. But everyone knows that disability compensation does not take the place of a reasonable settlement amount. Providing health care benefits to Marines is not enough. Everyone also knows we must stand behind the United States Marine Corps, which has stood by us.
Congress passed a new federal law called the Camp Lejeune Justice Act ("CLJA") of 2022. The CLJA circumvents the North Carolina response statute and give Camp Lejeune victims the right to bring a contaminated water lawsuit in federal court for cancer or other disorders caused by contaminated water.
Under the new law, anyone exposed to Camp Lejeune water for 30 days between 1953 and 1987 can file suit and fight for a Camp Lejeune payout in the Eastern District of North Carolina. This is not a class action lawsuit. Each case stands alone.
Who Is Being Sued in Camp Lejeune Lawsuit?
The defendant being sued in the Camp Lejeune lawsuit is the United States federal government.
Camp Lejeune Settlement Amounts
It is too soon to project Camp Lejeune settlement amounts. But the settlement compensation for Camp Lejeune injuries will be based on the extent of the victims' injuries and your drinking water contamination lawyer's ability to tie the injuries or death to the toxic water. There are so many types of injuries from this toxic drinking water. You can expect Camp Lejeune settlement amounts to be tailored to the injury victims suffered.
So many of these Camp Lejeune water contamination lawsuits involve cancer. The average settlement amounts our lawyers see in other class action lawsuits involving cancer typically range from $150,000 to $750,000.  
Cancer and Parkinson's Disease Settlement Amounts
You can expect the largest Camp Lejeune settlement amounts to go to cancer victims, their families, and Parkinson's disease lawsuits. The average individual settlement for Parkinson's disease cases could reach between $1 million and $1.5 million.
So we won't have a situation where everyone gets the same settlement compensation payout. Instead, there is likely to be complex points award system per person that compensates victims based on a laundry list of facts that should provide more excellent settlement amounts to victims who have suffered the most.
Our Lawyers Will Narrow Settlement Compensation Projections
Granted, this is a broad range of settlement amounts, and there will likely be Camp Lejeune settlement payouts that are higher and lower than this range. But it is still early in the litigation. Our Camp Lejeune attorneys will know more as the litigation progresses. Our lawyers will update and narrow our Camp Lejeune settlement amount as we go.
$22 Billion Allotted to Camp Lejeune Settlements
Unlike most class action lawsuits, the decision as to the settlement amounts to compensate victims will involve politics and policy instead of projected jury compensation payouts. One looking glass to the ultimate settlement: the government has allocated $22 billion to pay Camp Lejeune settlement amounts and jury payouts. This final settlement number could go up or down. But it is a strong anchor for the Justice Department when it starts offering settlement amounts to Camp Lejeune victims.
So you can do some back-of-the-napkin math to calculate average settlement compensation payouts. But the critical question is how many Lejeune class action claims will be filed? For example, if there are 110,000 claims accepted, that would be an average per-person Camp Lejeune settlement amount of $200,000.
The total settlement compensation and jury payout for Camp Lejeune lawsuits could more than triple that $6.7 billion. But either way, a payout of any Camp Lejeune lawsuit payout will hinge in some part on the total number of filed claims.
Political Pressure to Raise Camp Lejeune Lawsuit Payouts
The low range of the average Camp Lejeune lawsuit payout our attorneys projected above was $150,000. The question: is this what Congress intends? The politics of compensating veterans for the harm done to them probably does not jive with an average Camp Lejeune lawsuit settlement amount $150,000. This is why the likely average per person Lejeune claim will probably be more than double that amount of money.
Settlement Amount Projections By Type of Camp Lejeune Claim
Our lawyers have made Camp Lejeune compensation payout projections for specific types of Camp Lejeune claims:
How Do Attorneys' Fees Work in a Camp Lejeune Lawsuit?
Our Camp Lejeune lawyers will not receive a fee until after you receive a settlement. So with our law firm (and nearly every law firm in this litigation), you will not put up any money or risk losing money.
Who Will be Eligible to Bring a Camp Lejeune Lawsuit?
When Congress eventually passes the Camp Lejeune Justice Act (CLJA), it will give thousands of former Lejeune residents, employees, and soldiers a legal right to bring a civil lawsuit against the federal government for injuries caused by the Camp Lejeune water contamination. So exactly who will be eligible to file a Camp Lejeune lawsuit under the CLJA?
Broad Language in Camp Lejeune Justice Act
The eligibility requirements are set forth in § 804(b) of the CLJA:
An individual, including a veteran, . . . or the legal representative of such an individual, who resided, worked, or was otherwise exposed (including in utero 22 exposure) for not less than 30 days during the period beginning on August 1, 1953, and ending on December 31, 1987, to water at Camp Lejeune, North Carolina.
This language says that anyone who can prove that they were exposed to the water at Camp Lejeune for at least one month during the period of contamination (i.e., 1953 to 1987) will be eligible to file a claim under the CLJA. Below is a breakdown of each part of the eligibility requirements under the CLJA.
Subsection (A):  Individual, Veteran, or Legal Representative
CLJA § 804(b) states those eligible to bring a case under the CLJA will include "[a]n individual, including a veteran, … or the legal representative of such an individual[.]" This language is intended to include anyone and everyone who lived worked, or was stationed at Camp Lejeune during the relevant period
This group of eligible plaintiffs under the CLJA includes:
⦁ Marines (or other military personnel) who were stationed at Lejeune
⦁ Family members of Marines who lived in on-base housing at Camp Lejeune
⦁ Marines who worked or were assigned to Camp Lejeune
⦁ Civilian employees who worked at or near Camp Lejeune
⦁ Anyone else who was exposed to the Lejeune water
If the person who lived or worked at Camp Lejeune has passed away, their surviving family members or "legal representative" will be eligible to bring a wrongful death claim.
Subsection (B):  Resided, Worked, or Otherwise Exposed (Including In Utero)
The language § 804(b) of the CLJA says that eligibility extends to anyone who can prove that they lived or worked at Camp Lejeune. Individuals who lived at Camp Lejeune would mostly be limited to Marines stationed at the base and their families who lived in the on-base housing. Employees at Camp Lejeune could include both can employees, government contractors, and military personnel who worked at the base but did not live there.
The language "including in utero" is intended to extend eligibility to individuals who suffered prenatal exposure to the water at Camp Lejeune while still developing fetuses inside their mother's womb. Public health studies have estimated that 20,000 to 30,000 pregnant women lived at Camp Lejeune for at least one month during the contamination period. These studies have also shown that prenatal exposure to Lejeune toxic water caused higher birth defect rates. Individuals with congenital disabilities after in utero exposure to the Lejeune water will be eligible to file claims under the CLJA.
The phrase "or was otherwise exposed" in subsection (b) is intended to be a catch-all term to include anyone who may not have lived or worked at Lejeune but can show that they were exposed to the contaminated water.
Subsection (C): For Not Less Than 30 Days
The final eligibility requirement under CLJA is that the individual's connection to Camp Lejeune (either as a resident, employee, or otherwise) lasted for 30 days. In addition, that 30-day period of living or working at Camp Lejeune had to have occurred during the recognized "contamination period": August 1, 1953, to December 31, 1987.
Proving Eligibility for a Camp Lejeune Lawsuit
To get a Camp Lejeune settlement payout under the CLJA, prospective plaintiffs will need to be able to produce some documentary evidence to prove that they lived or worked at Camp Lejeune for 30 days during the relevant period.
Marines and other military personnel will need to provide their military service records to prove they were at Camp Lejeune. Family members of Marines stationed at Camp Lejeune can use the same military service records to establish their residence on the base. Civilians seeking compensation can prove that they worked at Camp Lejeune by producing social security employment history records or other types of employment verification.
Prospective plaintiffs who cannot present some documentation to verify their connection to Camp Lejeune can still pursue a claim. Still, they will have a hard time establishing their eligibility without support documents. But your Camp Lejeune lawyer will work to track down these records for you.
Can You Bring a Claim for Someone at Camp Lejeune Who Died Many Years Ago?
Yes, you can are eligible to bring a Camp Lejeune wrongful death claim for someone who died many years ago. Many people are confused by this. But it is precisely how a wrongful death lawsuit works. This unique Camp Lejeune law just increases eligibility for claims that the statute of limitations would usually bar.
How Do You File a Camp Lejeune Toxic Water Lawsuit Under the Federal Tort Claims Act?
Camp Lejeune lawyers will first file an administrative claim with the Department of the Navy as federal law requires. See 28 U.S.C. sec. 2675.
The government has six months to accept or reject the claim (or ignore it). Procedurally, the government would deny the claim. Your Camp Lejeune lawyer may then file suit in federal court in North Carolina.
Details of the New Federal Law Allowing Camp Lejeune Victims Right to Sue
A new federal law passed by Congress will give the Camp Lejeune water contamination victims the legal right to bring civil lawsuits and seek financial compensation for their injuries. The new law is the Camp Lejeune Justice Act (CLJA), which was incorporated into a larger bill known as the Honoring Our Pact Act.
Our lawyers have carefully reviewed the language of the CLJA, and in this section, we will provide a summary of the CLJA. We will also explain the details and procedures for how the CLJA will work, such as (a) who will be eligible to file suit, (b) what the deadline will be, (c) what victims can sue for, and (d) what are the qualifying criteria for getting a settlement payout.
Who Can File a Camp Lejeune Lawsuit?
The opening section of the CLJA defines the group of people that will now be entitled to seek a settlement payout or compensation from a jury via a Camp Lejeune civil lawsuit. This group includes:
(a) Anyone (including veterans and their families) who lived at Camp Lejeune for a minimum of 1 month between August 1, 1953, and December 31, 1987.
(b) Anyone who worked at Camp Lejeune (including civilian contractors) for a minimum of 1 month anytime August 1, 1953, and December 31, 1987.
(c) Anyone who was "otherwise exposed" to the drinking water at Camp Lejeune for at least 30 days between August 1, 1953, and December 31, 1987.
Anyone who meets these basic criteria will be covered by the CLJA provisions which give them the right to file a civil lawsuit. Keep in mind that you will need to be able to prove that you meet these "residency" criteria with some evidence, preferably documentary evidence.
Veterans and their families should be able to produce military service records to prove that they were stationed at Lejeune for the required period. Civilian contractors and non-military personnel use other documents to demonstrate that they meet these criteria, such as social security employment records.
What Can Camp Lejeune Victims Sue For?
Individuals who can prove that they lived or worked at Camp Lejeune for at least 30 days between 1953 and 1987 will meet the initial eligibility criteria under the CLJA. These individuals will then have the right to file a tort lawsuit seeking a verdict or settlement payout against the United States government, alleging that they suffered physical harm or injuries that were caused or associated with exposure to the water at Camp Lejeune. Lawsuits not related to alleged exposure to the toxic water at Lejeune or not involving physical injuries will not be permitted.
What Will Lejeune Victims Have to Prove to Get a Settlement Payout or Verdict?
Individuals who meet the qualifying criteria under the CLJA (i.e., lived or worked at Lejeune for 30 days during the applicable period) will NOT automatically qualify for settlement compensation.
Rather, these individuals will have the right to file a lawsuit for their alleged injuries. To get financial compensation, plaintiffs who file lawsuits under the CLJA will still need to prove that the contaminated water caused their injuries at Lejeune.
The CLJA establishes a lower burden of proof, making it easier for plaintiffs who bring Camp Lejeune water lawsuits under the CLJA to prove their case. Specifically, section (b)(2) of the CLJA provides that Lejeune plaintiffs can satisfy their burden of proof with a scientific study concluding that their alleged injury (i.e., kidney cancer, etc.) could be linked to exposure to the water at Camp Lejeune:
Use of Studies – A study conducted on humans or animals, or from an epidemiological study which ruled out chance and bias with reasonable confidence and which concluded, with sufficient evidence, that exposure to the water described in subsection (a) is one possible cause of the harm, shall be sufficient to satisfy the burden of proof described under paragraph (1).
This provision suggests that plaintiffs under CLJA will be allowed to prove their claims if they can cite a single study suggesting a link between their type of cancer (or other injuries) and the Lejeune water. This would eliminate the requirement of expert witness testimony, although it is not entirely clear who to interpret this provision.
How to File A Camp Lejeune Lawsuit
Potential plaintiffs who meet the qualifying criteria under the CLJA can file their civil lawsuit by contacting an attorney. Our law office provides legal assistance to to victims file a Camp Lejeune water contamination lawsuit. Our Camp Lejeune lawyers offer a free consultation, and we answer the question for free. We want to help.
CLJA claimants will be required to file civil lawsuits in the U.S. District Court for the Eastern District of North Carolina. This is the only available venue because the CLJA gives the Eastern District of North Carolina exclusive jurisdiction over the Lejeune water lawsuits.
Camp Lejeune Claim Must First Be Filed Before Lawsuit
Section (g) of the CLJA clarifies that before any eligible plaintiff can file a civil lawsuit, they must comply with 28 U.S.C. § 2675. This means that plaintiffs will nmustfirst to filem" for the alleged injuries with the "appropriate federal agency" and have that claim denied before they can bring a civil suit. When toxic water claims are submitted, federal agencies must approve or reject them within 6 months.
The appropriate federal agency for a Camp Lejeune water contamination lawsuit will be the Department of Defense. In most situations, filing this sort of claim with a federal agency is just a formality that plaintiffs go through before filing their lawsuit.
For Camp Lejeune lawsuits, however, the DOD may offer settlement amounts to resolve what appear to be legitimate claims. That would make sense, considering Congress in passing this law because they want deserving victims to get a settlement payout. Otherwise, what is the point of all of this? This would offer a much faster route for victims to get financial compensation.
Deadlines for Filing a Claim Under CLJA
Section (j) of the CLJA creates a special statute of limitations deadline for Camp Lejeune victims who want to bring claims under the CLJA. Under § (j)(1), the general statute of limitations to file suit for claims by Lejeune victims was initially two years after the date on which "the harm occurred or was discovered." The final version President Biden signed had a hard two-year deadline from August 10, 2022, to bring a claim.
So victims who have developed cancer, suffered birth defects, or been diagnosed with another condition possibly related to the Lejeune water, they will need to file their claims within two year deadline.
How Camp Lejeune Wrongful Death Claims Work?
The newly enacted CLJA allows tort claims to be brought on behalf of former Camp Lejeune residents or employees that are now deceased because of injuries related to the water contamination.
Exposure to the contaminated water at Camp Lejeune occurred in North Carolina so that these cases would involve wrongful death and survival claims under North Carolina law. In this section, our Camp Lejeune attorneys provide a brief overview of death claims in North Carolina.
North Carolina Wrongful Death Claims
North Carolina law allows two types of tort claims that can be filed on behalf of someone after their death: (1) wrongful death claims; and (2) a survival action. Both causes of action are created by statute.
North Carolina Gen. Stat. § 28A-18-2 allows the estate of a deceased person to bring a wrongful death claim against any person who negligently or intentionally caused the decedent's death.
Only Personal Representative Can Bring Camp Lejeune Wrongful Death Lawsuit
Unlike other states which allow wrongful death claims to be brought by any close family member of the decedent, North Carolina only permits the personal representative of the decedent's estate to bring suit If the wrongful death claim is successful, the settlement proceeds or damages are distributed to the decedent's heirs (not just the personal representative).
Camp Lejeune Wrongful Death Damages
In a North Carolina wrongful death claim, damages can be awarded for:
medical expenses
pain & suffering of the decedent
loss of the decedent's income, personal services and companionship, and
funeral expenses
Camp Lejeune Punitive Damages
Punitive damages are only allowed if the death was the result of "malice or willful, wanton conduct."
In addition to a wrongful death claim, the personal representative of a decedent's estate can also bring a separate survivorship claim under North Carolina Gen. Stat. § 28A-18-1.
Camp Lejeune Survival Actions
The survival claim can recover for pre-death injuries that are separate and distinct from the wrongful death claim. Just like wrongful death cases, North Carolina law only allows the personal representative of the decedent's estate to bring survival claims.
Rules of Camp Lejeune Wrongful Death Claims
Under the newly passed CLJA, wrongful death claims can be brought by the estate of any former residents or employees of Camp Lejeune who died because of injuries related to their exposure to the contaminated water.
Personal representatives could also bring survival claims under the CLJA, although they would have to show that this claim seeks pre-death damages based on separate and distinct actions.
Contact Our Camp Lejeune Water Contamination Lawyers
Our lawyers believe that this new law was passed because Congress wants Camp Lejeune water contamination victims to receive fair settlement amounts for the harm done while they or a family member was serving our country.
Our Camp Lejeune lawyers are offering legal assistance to individuals who were harmed by exposure to Camp Lejeune water using the following criteria:
You served, lived, or worked at the Camp Lejeune Marine Corps base in North Carolina for at least 30 days between the years 1953 and 1987.
You were subsequently diagnosed with leukemia, bladder cancer, kidney cancer, liver cancer, multiple myeloma, non-Hodgkin's lymphoma, or any other conditions our lawyers laid out above.
Contact our Camp Lejeune attorneys today for a free consultation at 800-553-8082 or get a free no-obligation online consultation. Our attorneys only get paid if you do.