Our lawyers are representing victims looking to bring a Camp Lejeune lawsuit for injuries and deaths from toxic chemicals and water contamination on this military base.  Our attorneys believe that after so many years of suffering and death, reasonable settlement amounts may finally be offered in an expected settlement.
If you have a potential Camp Lejeune lawsuit for an injury or death of a loved one, call our lawyers at 800-553-8082 or get a free online consultation. You can absolutely reach out during the 4th of July weekend.
There is no fee or cost unless you get financial compensation for the harm that was done to you.
Legislative Update: Camp Lejeune Water Contamination Lawsuit
Before we get into the gist of the Camp Lejeune lawsuits, let's take an updated look at where we are legislatively on passing the law that would allow these water contamination lawsuits in the first place. (You can also skip the updates if you want to get right to the issues in the Camp Lejeune lawsuit.)
July 2, 2022
The legislative process for this bill has been a real civics lesson for Camp Lejeune lawyers.  The final passage of the PACT Act that would permit a Camp Lejeune water contamination lawsuit has been stalled by the assertion of a "blue slip" objection from the House on the grounds that the Senate version of the bill includes a tax provision that only the House has the authority to originate.
Our attorneys assumed blue slip objections by the House were common. They are not. The last time the House blue-slipped a bill back to the Senate over a tax provision was in June 2015 and there have only been four in the last 20 years (including the PACT Act).
July 1, 2022
When Congress evaluates a new law, the Congressional Budget Office is tasked with reviewing the details of the legislation and generating a detailed estimate of how much the bill will cost the government over the next 10 years.  The CBO issued a Cost Estimate for the PACT Act which calculated the 10-year overall cost of the bill at $667 billion.
This is a stunning amount and it really is Congress standing up for veterans.  But how much of that money is allocated to paying Camp Lejeune settlement amounts for water contamination lawsuits?  The CBO estimated that Camp Lejeune's settlement payouts and legal expenses will account for $6.7 billion. Sure, this is a relatively large settlement fund. But it is only 1% of the total price tag for the PACT Act.
Is that enough to pay fair settlement amounts to veterans filing Camp Lejeune lawsuits?  It is hard to say.  Projections as to the number of tainted water lawsuits that will be filed vary widely. It is unclear what estimates the CBO was making when projecting $6.7 billion in Camp Lejeune settlement payouts and other legal costs.
June 30, 2022
Monday, July 11 is when Congress is back in session and the PACT Act should be a high priority when they return. At issue is a minor provision (that has nothing to do with Camp Lejeune) awarding tax credits if VA healthcare providers move to high-need locations. Simply eliminating this provision would resolve the current impasse and that seems very possible considering it was not a significant part of the bill.
June 29, 2022
Congress is in recess.  While progress can get made in committee during a recess, there has been no progress on Camp Lejeune so far this week.  Many congressional committees are still working during the recess this week, like the January 6th committee you saw yesterday.  But I don't think much will happen on Camp Lejeune during the recess.
The Camp Lejeune legislation will get passed this month. But it certainly is aggravating to get an up-close look at how hard it is to pass a law that everyone wants to get passed. It will be another 2 weeks before lawmakers on Capitol Hill can get back to working out the technical roadblock that has delayed the final passage of the PACT Act.
A group of Senators rejected a last-ditch effort to resolve the issue on the Veteran's Affairs Committee led by Pat Toomey (R-Pa.). Now Congress will not be back in session until July 11.  Still, it looks like the final passage of the bill will happen before the end of July.
Chairman of the House Veteran's Affairs Committee, Mark Takano (D-Ca.) said in a statement that "House and Senate leadership is not shying away from passing the PACT Act" and referred to the current situation as a "speed bump."
June 28, 2022
On June 16, the Senate voted 84-14 in favor of passing the revised version of the PACT Act. The vote was a clear indication that the law has very strong support from both parties. The leader of the very small opposition faction has been Senator Pat Toomey (R-Pa.). Toomey and a handful of other lawmakers are concerned about the excessive cost of the PACT Act.  Toomey led the effort to block the last-minute fix proposed by the Senate Veteran's Affairs Committee last week.
June 24, 2022
For now, the final passage of the PACT Act remains tied up in a legislative impasse after House members raised a blue-slip objection over a constitutional technicality. Around mid-day yesterday, a misinformed tweet from Congressmen Mike Doyle (D-Pa.) suggested that Congress had passed the bill. Unfortunately, Rep. Doyle was wrong. The amended version of the PACT Act is in the process of being sent back to the Senate with the request that a minor provision involving tax credits for VA doctors be removed. From everything we have read recently, this appears to be just a "technical delay."The Senate will most likely remove the tax credit provision (which is very insignificant anyway) and the House will approve the bill.
June 23, 2022
The House was originally planning to take a final vote on passage of the PACT Act by Wednesday of this week so that it could be signed into law by President Biden before the July 4th recess.
Now, however, a technical constitutional objection to the bill has derailed that timeline. The PACT Act contains a "tax provision" that was added by the Senate. Under the Constitution, all tax and revenue bills are supposed to originate from the House. A small group of lawmakers in the House have cited this as grounds for a "blue slip" objection that could send the bill back to the Senate for correction.
The provision at issue is a tax exemption that the VA can offer to doctors if they agree to work in rural facilities. House Majority Leader Steny Hoyer (D-Md.) has suggested that one way to resolve the impasse would be to send the bill back to the Senate and have them strike this provision.
So what does this mean? The bill is still going to pass. There is way too much bipartisan support for the law for something minor like this to kill it completely. The net result of this will probably be a delay of another month or so before the bill gets signed into law.
June 22, 2022
The House Rules Committee was supposed to consider and vote yesterday on whether to advance the Senate amendment to the Honoring Our Pact (H.R. 3967), but they ran out of time. Consideration of the PACT act amendment was "postponed subject to the call of the Chair." This does not mean that the House is not going to eventually vote to approve the Senate amendments and pass the bill. It looks like the Committee simply got side-tracked on other agenda items and simply pushed back the vote on whether to advance the PACT act. There is currently no set schedule for when the PACT act will get back on the Committee agenda, but it will probably happen today.
June 21, 2022
We are in the home stretch to get the legislation passed that will allow Camp Lejeune cancer lawsuits and other claims involving the contaminated water at this Marine Corps base. The House Committee on Rules is set to vote today (afternoon update: sounds like tomorrow) on whether to advance Honoring Our Pact Act (as amended by the Senate) forward to a full and final consideration and vote by the House. The bill has more than enough votes to pass and the vote appears to be a formality at this point. Assuming it passes, it could be signed into law by President Biden before the week is over.
Our lawyers and other Camp Lejeune lawyers are proceeding as if this bill has already been signed.  If you have a potential case, there will be a two-year statute of limitations.  Call our lawyers today if you believe you may want to bring a Camp Lejeune lawsuit.
June 20, 2022
A slightly revised version of the Honoring Our Pact Act that was passed by the Senate last week now needs to be approved by the House.
The House passed almost the same bill back in March by a wide margin. None of the changes adopted by the Senate are significant.  Support is bipartisan.  Speaker of the House Nancy Pelosi (D-Ca.) said on Twitter she endorses the Senate version of the bill.
June 18, 2022
Our Camp Lejeune lawyers do not expect any updates on the final push to get this bill passed, hopefully next week.  We will have a new update for you on Monday.
June 17, 2022
Shortly after the Senate passed the Honoring Our Pact Act yesterday, the White House released a formal statement commending lawmakers for their "overwhelming" support of the law. In the statement, President Biden specifically mentions the fact that the new Camp Lejeune law will give legal remedies to the victims of water contamination at Camp Lejeune. The bill passed by the Senate will be sent back to the House today for reapproval. This will hopefully be a quick and easy process. The changes made by the Senate are not controversial.
June 16, 2022
At around 11:30 today the Senate voted 84-13 to pass the Honoring Our Pact Act. The bill will now go back down to the House for approval.
The Senate voted 84-15 yesterday to approve the final amendments to the Honoring Our Pact Act. The final revision of the bill still includes the Camp Lejeune Justice Act provisions that will permit lawsuits by water contamination victims at Camp Lejeune. The Senate also voted 76-23 to advance the bill to a final vote on passage. That final vote will be today at 11:15 a.m. All indications are that it will pass by a very wide margin.
Remember, the Senate is passing a different bill from the House so there will need to be a reconciliation for a joint bill.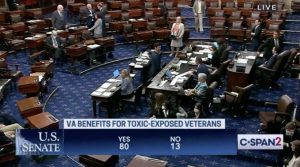 June 15, 2022
Yesterday, the revised version of the Honoring Our Pact Act (which still includes the full Camp Lejeune Justice Act) was up for formal consideration on the Senate floor. This means that the bill could be put up for a final vote today or later this week. Assuming the Senate passes it, the amended version of the bill would need to be reapproved by the House.
June 14, 2022
This week, the U.S. Senate is scheduled to take a final vote on whether to pass the Honoring Our Pact Act (HOPA). The bill is fully expected to pass when the vote is taken.
Unfortunately, politics makes everything more complicated than is necessary. The version of HOPA that the Senate is poised to pass this week is slightly different than the version passed by the House of Representatives. This means that if the Senate passes the bill this week, the two houses will have to work together to find a bill that can pass both houses.
This process could take time. But the House should have no problem voting to pass the amended version of HOPA.  President Biden intends to sign the bill into law immediately.
June 13, 2022 Update
On Tuesday, the Senate voted to pass the cloture motion on the Camp Lejeune Justice Act of 2022. This will limit debate and fast-track the final approval process for the Act, which is now part of the larger Honoring Our Pact Act (HOPA).
Is this a guarantee that the Camp Lejeune Justice act will become law? No. But it is a very positive step in the right direction. Senator Patty Murray spoke for a few minutes on the Senate floor last week about the importance of finally bringing justice for Camp Lejeune victims. Her comments in favor of passing the HOPA echo those made by Republican Senator Marco Rubio. So we have senators on both sides of the aisle stepping up for veterans.
June 10, 2022 Update 
There has been some hand wringing that President Biden has signed in many signature pieces of "Honoring Our PACT Act" that did not include the Camp Lejeune Justice Act of 2022 that would permit victims to file a Camp Lejeune water contamination lawsuit for injuries that even the government agrees came from toxic drinking water at the Marine Corps base. This is frustrating for Camp Lejeune tainted water victims. But I still believe the bill will pass. The Senate moves through a byzantine process that invariably comes with inexplicable delays.  The bill's bipartisan support should ultimately carry the day.
June 9, 2022 Update
While many victims of the Camp Lejeune water contamination await the passage of new federal law that will give them the ability to sue, other former Lejeune residents are pursuing alternative claims.
Last month, a former Marine and Camp Lejeune resident, James Hart, filed a PFAS water contamination lawsuit against manufacturers of AFFF (firefighting foam). Hart was stationed at Lejeune in the 1970s and his lawsuit claims that the use of firefighting foam on the base caused PFAS contamination in the water at more than 2,400 times the maximum safe limit. Hart claims he developed kidney cancer in 2017 because of his exposure to PFAS.
June 8, 2022 Update
Passage of the Camp Lejeune Justice Act (CLJA), the new federal law that will give Camp Lejeune water contamination victims the right to sue, has stalled in the Senate.
Back in early March, the CLJA was passed (as part of a larger law) by a solid majority in the House of Representatives. The law was introduced in the Senate last month and it initially appeared to be on the fast track to passage, with vocal support from both sides of the aisle. The recent school shooting in Uvalde, Texas, has derailed that progress as the Senate has shifted its focus almost entirely on enacting new gun control laws.
The CLJA and other laws on the table have been put aside for the time being.  Our Camp Lejeune lawyers believe this delay is temporary and the Senate will pass this bill this summer.
New Law to Allow Camp Lejeune Lawsuit
From 1953 to 1987 the public water supply at Camp Lejeune Marine Corps Base in North Carolina was contaminated with toxic chemicals. So for 30 years, more than a million soldiers and their families drank and bathed in contaminated water.
Thousands of Marines and their families have suffered severe illnesses and have died.  There is strong scientific evidence that chronic exposure to toxic chemicals in Camp Lejeune's water has caused increased rates of cancer and has caused injuries to children in utero.
Camp Lejeune Compensation Claims Originally Rejected
The provision follows the Supreme Court's 7-2 decision in 2014 holding that North Carolina's 10-year "statute of repose" overrides the federal Superfund law, effectively barring exposed individuals from suing once the statute expires, even if they didn't become aware of pollution until a later date.
A new federal law – the Camp Lejeune Justice Act of 2022 – is close to being enacted that will permit victims of Camp Lejeune water contamination to seek legal compensation.  The Act would permit people who lived or worked or were harmed as unborn children at Camp Lejeune between 1953 and 1987 to file a toxic water lawsuit in U.S. District Court in Eastern North Carolina. There will likely be a two-year deadline to sue from the date of the enactment.
The Camp Lejeune lawyers at Miller & Zois are now actively seeking new Camp Lejeune water contamination lawsuits.
Thanks to a new pending law, victims may now be able to file a claim and get a Camp Lejeune settlement payout or jury award for the harm that has been done to them if they lived or worked near Camp Lejeune between 1953 and the late 1980s and were diagnosed with cancer or neurologic disorders.
This new Camp Lejune lawsuit will almost certainly be a class action lawsuit filed in North Carolina. The new law would require all cases to be housed in North Carolina even if the victims now live in California, Texas, New York, or any other state in the country.
If you want compensation for the harm you believe was done at Camp Lejeune, contact our lawyers and tell us about your claim today.
Water Contamination at Camp Lejeune
Camp Lejeune is a massive Marine Corps base and military training facility that covers nearly 250 square miles in Onslow County, North Carolina. Camp Lejeune was first opened in 1942. It has been used as both a base of operations for the Marine Corps and a military operations and training facility used by various branches of the armed forces.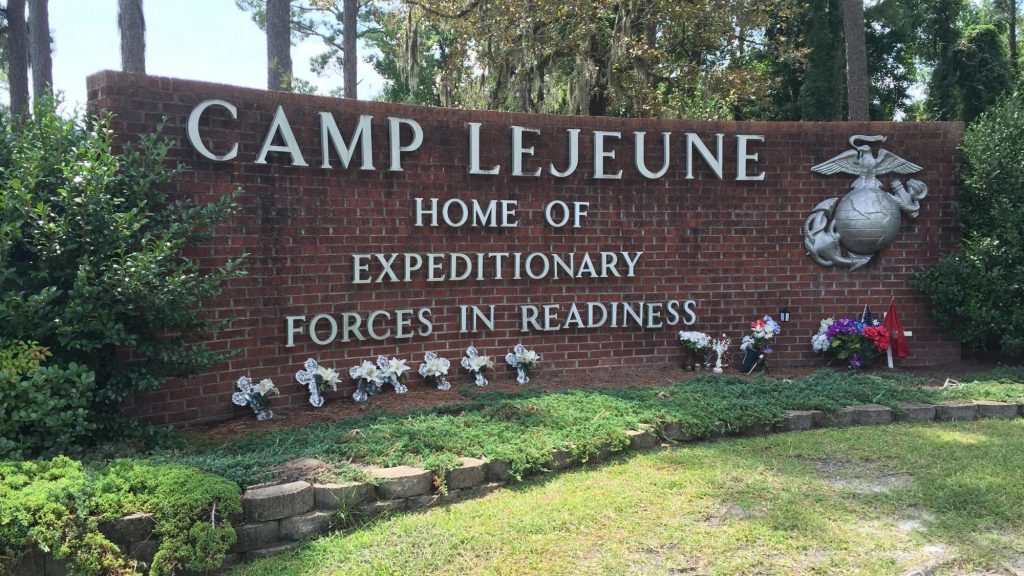 Since its founding in 1942, Camp Lejeune has been a temporary or permanent home for thousands of military service members and their families.
It has also been a home or place of work for thousands more civilian employees and contractors. Camp Lejeune had its own public water system to supply these soldiers and civilians with potable water.
In the 1980s, environmental testing at Camp Lejeune discovered that the water supply going to Camp Lejeune residents and employees was dangerously contaminated.
Toxic Chemicals in Water
Specifically, the Marine Corps determined that from approximately 1953 through 1987, the water supply to Camp Lejeune had been heavily contaminated with volatile organic compounds and carcinogenic chemicals. The most troubling chemicals found were trichloroethylene (TCE) and tetrachloroethylene (PCE).
These chemicals are in a class of chemicals called "volatile organic compounds" (VOCs).  These chemicals are used for dry cleaning and much of the water contamination was attributed to an off-base dry cleaner that existed before the Marine base was opened. So the water wells were likely contaminated before Camp Lejeune opened.
But there were multiple sources for this toxic water.  These same chemicals are also used to clean machinery and weapons. So the contamination came from on and off the Marine base.
The Navy Did Not Act
The government was slow to respond to this development.  It is not that the Navy did not understand the risk of water contamination with these chemicals.  As early as the 1940s, wells would sometimes be found with TCE, PCE, and other toxic chemicals.  When this happened, the water was deemed unpotable and the wells were shut down or restricted to non-drinking and non-culinary use.
So it is hard to pretend the Navy did not understand the risk of water with these toxins. But if the Navy did not know, it should have.  This will be a critical point of contention in a Camp Lejeune lawsuit if the government's lawyers point to the lack of established clear drinking water standards.
In previous Camp Lejeune water contamination lawsuits 15 years ago, the government's lawyers found an expert who contended that environmental scientists and engineers did not address TCE, PCE, and other chlorinated solvents as potential soil and groundwater contaminants until the early 1980s.  This same expert also contended – incorrectly our Camp Lejeune lawyers would argue – that there was a "prevailing belief" that chlorinated solvents would evaporate or be assimilated into the soil and not contaminate the water.
How will this play out practically?  The government's attorneys will defend Camp Lejeune lawsuits because that is how our system works.  But these same government lawyers know that the very same government that is defending the Camp Lejeune water contamination lawsuits is the same government that specifically crafted a law to allow victims to bring compensation claims.  My point is that the overwhelming likelihood is that the government offers a reasonable Camp Lejeune settlement amount long before these lawsuits go to trial.
Core Issue in Every Camp Lejeune Lawsuit
Every Camp Lejeune water contamination lawsuit will allege that the water supply at Camp Lejeune was contaminated between the 1960s and 1980s.  The lawsuit will also claim that the United States negligently caused injury or death by allowing contaminants into the Camp Lejeune water supply and not warning people when they should know these water issues could cause awful side effects that included death.
Camp Lejeune Lawsuit Timeline
Let's walk through the chronology of events that led to the Camp Lejeune Justice Act and the expected Camp Lejeune class action lawsuit.
1941: Camp Lejeune becomes a Marine Corps military base.
1951: Camp Lejeune builds the Tarawa Terrace well field for water.
1953: One Hour Dry Cleaner begins operation across the street from the well field.  Investigations later show that this dry cleaner allowed tons of toxic chemicals – notably PCE – to contaminate the water at Camp Lejeune. Much of the contamination from this dry cleaner came from the Tarawa Terrace drinking water system.
1979: A reported 20,000 to 30,000 gallons of oil leaks in the ground from the Hadnot Point Fuel Farm.
1984: An outside contractor finds TCE, PCE, and benzene at the Hadnot Point Water Well.
1985: All contaminated Hadnot Point well that had not already been closed are shut down
1989: The EPA identifies Camp Lejeune and ABC One Hour Cleaners as Superfund sites.
1990: The CDC declares PCP is the greatest cause of injury, death, and birth defects from Camp Lejeune.
2008: President Bush signs a bill that requires the Navy to further investigate injuries and deaths from contaminated drinking water at Camp Lejeune.
12-12-2016: Over 800 Camp Lejeune water contamination lawsuits filed under the Federal Tort Claims Act and consolidated into an MDL are dismissed based on North Carolina's 10-year statute of repose.
9-20-2018: Appeals of the dismissal of the Camp Lejeune water contamination lawsuits are exhausted, leaving thousands of victims without legal recourse.
3-22-2021: The Camp Lejeune Justice Act of 2021 is introduced as a bill in the U.S. House of Representatives. The bill is eventually sent to the committee and goes nowhere.
1-25-2022: A new bill called the Camp Lejeune Justice Act of 2022 (CLJA) is introduced in the House by Congressmen Matt Cartwright (D. North Carolina) along with 16 co-sponsors. The co-sponsors include 10 Democrats and 6 Republicans from 8 different states.
2-28-2022: The CLJA is combined into a larger bill called the Honoring Our Pact Act of 2021 which addresses health care benefits, and other resources for veterans exposed to toxic substances during military service.
3-3-2022: House passes the CLJA (as part of the Honoring Our Pact Act) by a vote of 256 to 174 and the bill is submitted to the Senate.
5-17-2022: Prominent Republican Senator Marco Rubio of Florida issues a press release publicly announcing his strong support for the CLJA and urging his fellow Senators to vote of passing the CLJA as part of the Honoring Our Pact Act.
6-16-2002: Senate passes an amended version of the CLJA as part of the PACT Act by a vote of 84-14. The amendments to the bill require approval by the House.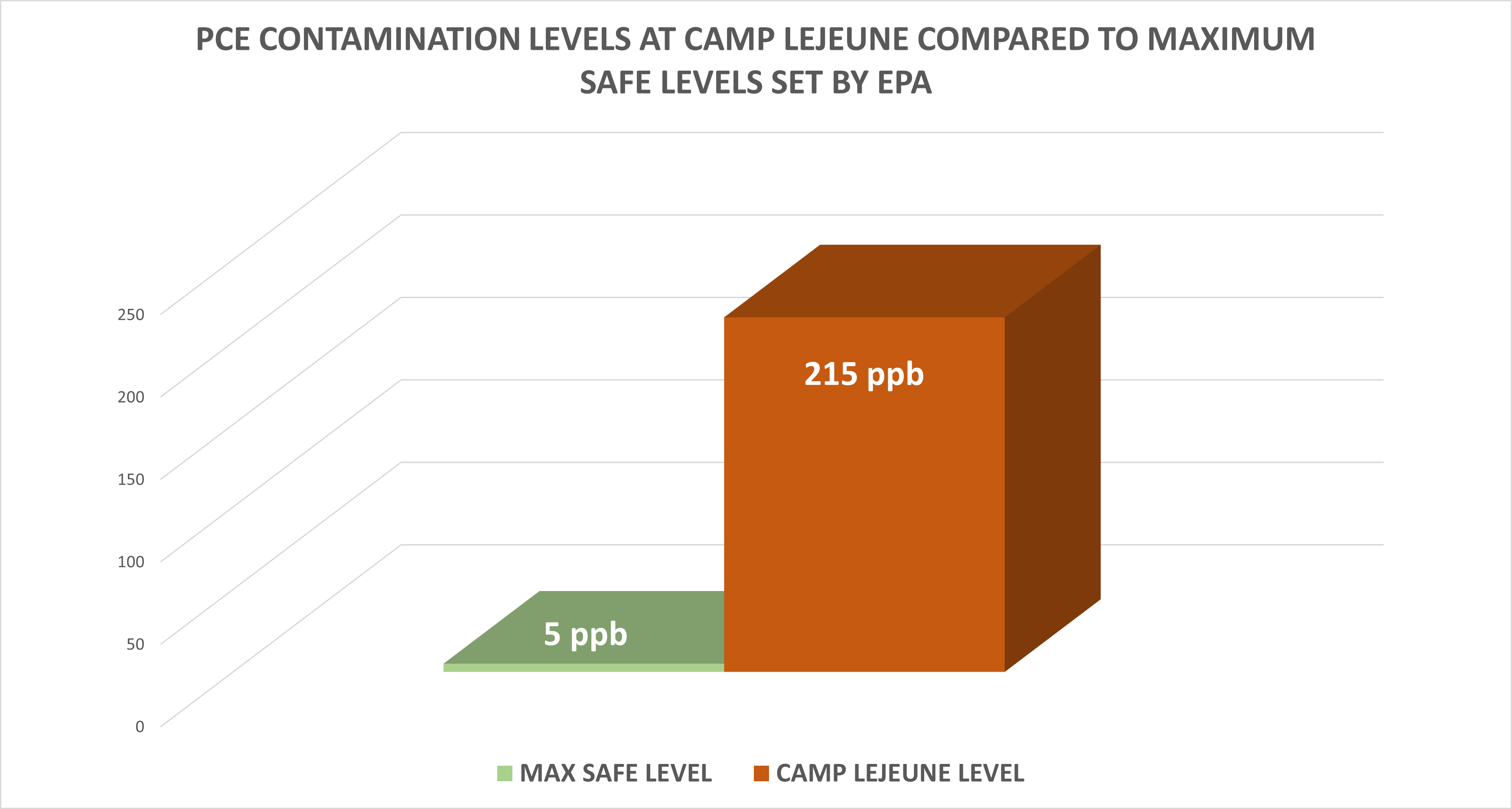 What Toxic Chemicals Were in the Camp Lejeune Water Supply?
Two specific chemical compounds were contaminating the water supply at Camp Lejeune from 1953 to 1987 and they were coming from two specific water treatment facilities servicing the base: Perchloroethylene (PCE) and Trichloroethylene (TCE).
PCE Caused the Greatest Harm
PCE was the greatest cause of the water contamination and the injuries and deaths that followed at Camp Lejeune.  PCE is a clear liquid chemical that is widely used in the drying cleaning industry to clean fabrics.
PCE is absorbed following oral, inhalation, and dermal exposures. It travels through the bloodstream to the lungs. PCE targets the central nervous system, liver, and kidneys and accumulates in fat cells. Tetrachloroethylene also crosses the placenta and distributes to the fetus, which is why there were so many birth defects at Camp Lejeune.
PCE Related Injuries
The evidence is strong that PCE can cause a variety of maladies, including kidney cancer, liver and kidney injuries and bladder cancer, multiple myeloma, and non-Hodgkin's lymphoma. Learn more about Camp Lejeune diseases.
PCE Levels at Tarawa Terrance Water Treatment Were Off the Charts
For 346 months, the Tarawa Terrance water treatment and supply facility at Camp Lejeune was contaminated with dangerously high levels of PCE. The source of the contamination was identified as a nearby dry cleaning company. The EPA's maximum safe level for PCE in drinking water is 5 ug/L.  The peak level of TCE contamination in 1985 in the Camp Lejeune water supply was 215 ug/L.
Digest that number.  That is 43 times – 43 times! – the safe level for TCE.  It is a wonder there were not more Camp Lejeune water contamination deaths and injuries than have been reported.
Trichloroethylene (TCE) at Hadnot Point Water Treatment Facility
TCE is an industrial chemical that is used in the manufacturing of refrigerants and other hydrofluorocarbons.  It is a bad chemical that has long been known to be unfit for human consumption.  TCE has been used as a solvent and also to kill insects as a fumigant.
The body absorbs trichloroethylene most from inhalation but also through oral and dermal exposure.  The bloodstream pushes this chemical to major organs that receive blood and deposit in fat cells. The body metabolizes TCE mostly in the liver and, secondarily, the kidneys and lungs.   Humans extensively metabolize inhaled doses of trichloroethylene. Metabolites may play a role in the adverse health effects described in studies.
TCE was also commonly used as solvent and degreaser on metal military equipment. The Hadnot Point water treatment facility servicing Camp Lejeune was found to be highly contaminated with TCE. The contamination is believed to have come from numerous sources. EPA's maximum safe level for TCE in potable water is 5 ppb. The Camp Lejeune water supply was contaminated with TCE as high as 1,400 ppb.
Heart Defects at Birth from TCE
With newborn children, congenital heart defects are common from mothers who drank and bathed in the contaminated water at Camp Lejeune.  There are human and animal studies that strongly suggest a link between a mother's exposure to TCE during pregnancy and congenital heart defects.
Other Toxic Chemicals in the Camp's Well Water
Mercury
In 2012, the Hadnot Point water facility was also found to be contaminated with mercury. It is believed that the mercury may have come from water pressure meters at the facility that was removed in the 1980s.
Vinyl Chloride and Benzene
These were not the only toxic chemicals found on the base.  Vinyl chloride and benzene, both toxic chemicals that can cause many of these same injuries alone, were also found on the base.  The fact that these toxic chemicals in the water supply are treated as a footnote underscores the remarkable stew of tragic mistakes that caused harm to so many Marines and their families.  This is why Congress is stepping in with the Camp Lejeune Justice Act (our attorneys discuss this further below).
Everyone Agrees the Water at Camp Lejune Was Contaminated
These facts are unlikely to be disputed by the government in a Camp Lejeune lawsuit.  In 1989, the EPA placed Camp Lejeune on the Comprehensive Environmental Response, Compensation, and Liability Act of 1980 ("CERCLA") National Priorities List for environmental cleanup activities. You may have also heard it called a "Superfund" site.   A Superfund is a euphemism for toxic mess.  The U.S. Navy agreed to work with the EPA in environmental remediation efforts that continue to this day.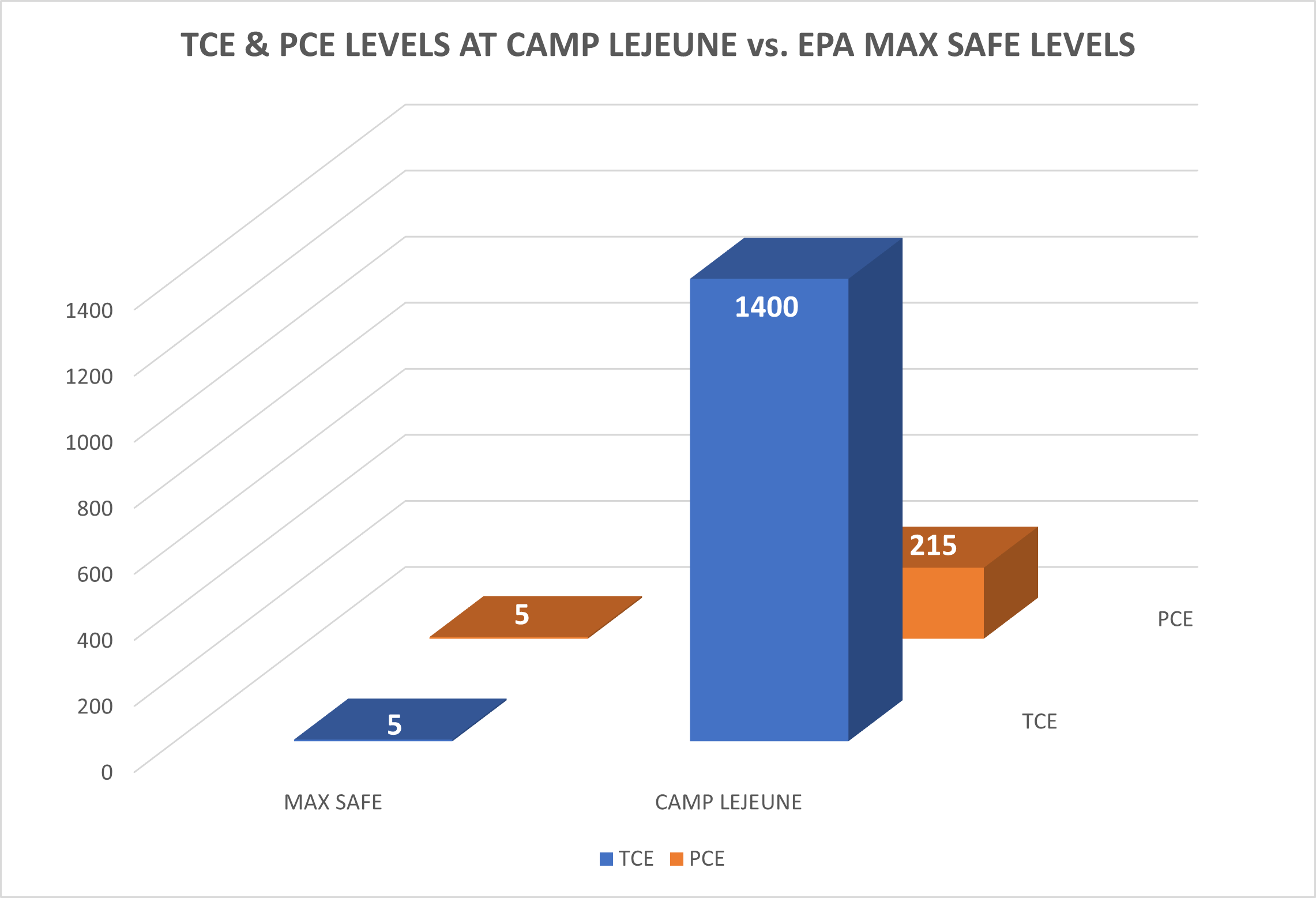 Chemicals in Camp Lejeune Water-Linked to Cancer
The industrial chemicals that were contaminating the Camp Lejeune water supply are known to be very toxic to the human body and have been linked to cancer, birth defects, and neurologic disorders. Scientific and medical evidence has shown that chronic exposure to the chemicals TCE and PCE can cause increased rates of certain types of cancer.
The types of cancer that have been scientifically linked to the consumption of harmful chemicals contaminating the water at Camp Lejeune include:
Leukemia
Bladder cancer
Breast cancer
Esophageal cancer
Liver Cancer
Lung Cancer
Multiple myeloma
Myelodysplastic syndrome
Non-Hodgkin's Lymphoma
Exposure to these chemicals has also been linked to other health conditions including aplastic anemia (and other myelodysplastic syndromes) and neurologic disorders such as Parkinson's disease.
Non-Cancer Camp Lejeune Injuries
The science and medical evidence continues to build linking other injuries besides cancer.  They include:
Infertility
Birth Injuries
Brain Injuries
Cardiac Defect
Fatty Liver Disease
Miscarriage
Neurobehavioral Effects
Plastic anemia and other bone marrow conditions
Renal Toxicity
Scleroderma
Hepatic Steatosis
ALS (Lou Gerhig's Disease)
Contaminated Water at Camp Lejeune Caused Birth Defects
Birth defects are one of the big tragedies of Camp Lejeune. Over the years, thousands of pregnant women were exposed to toxic water at Camp Lejeune. In 2013, the CDC released the results of a study that confirmed that children who were born to mothers that lived on Camp Lejeune or drank the water supply had four times the rate of birth defects such as spina bifida.
The CDC also indicated that children who were exposed to the contaminated Camp Lejeune water during fetal gestation had an increased risk of developing childhood cancers like leukemia. These same children may also end up having a higher risk of adult cancer.
What Caused the Water Contamination at Camp Lejeune?
Again, PCE is the contaminant that caused the most harm at the Marine Corps base in Camp Lejeune.  We later found out that the chemical was used by a nearby dry cleaner as early as 1953. Tragically, this was compounded by on-base sources that further contaminated the water supply.
Camp Lejeune Victims May Soon Be Able to Get Compensation
The water contamination at Camp Lejeune has negatively impacted the lives of hundreds of thousands of people who lived or worked at the base over the years. Many of these people have developed cancer, died, and suffered other very serious consequences.
So far, however, most of the victims of the Camp Lejeune water contamination have never been able to get justice or compensation. North Carolina (where the base is located) has a law known as a "statute of repose" which puts a maximum year limit on how long someone can wait before filing a civil lawsuit even if they never could have known that the water issues caused injuries until after the deadline to sue had already passed.
Victims Could Not Bring a Camp Lejeune Lawsuit Under the Old Law
Under North Carolina's statute of repose, no civil tort lawsuit can be filed after more than 10 years. This law has effectively blocked Camp Lejeune victims from bringing lawsuits seeking financial compensation. In 2016, multi-district litigation involving 850 former Camp Lejeune residents (Straw v. the United States) was dismissed based on the North Carolina repose statute.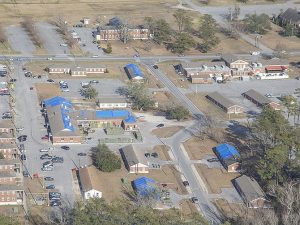 In 2012, the Janey Ensminger Act was passed, which authorized the U.S government to pay for the costs of medical care to family members who were harmed by the contaminated water at Camp Lejeune.
The Ensminger Act had limitations. It was basically disability benefits.  Worse, soldiers' families were excluded.
Many in Congress think Marines and their families should not be limited to VA benefits. That thinking led to the Camp Lejeune Justice Act of 2022.
New Legislation Will Allow Camp Lejeune Lawsuits
Many Lejeune victims are on disability. But everyone knows that disability compensation does not take the place of a reasonable settlement amount.  Providing health care benefits to Marines is not enough. Everyone also knows we must stand behind the United States Marine Corps that has stood by all of us.
Congress, at the pace we have grown to expect from them, has finally proposed a new federal law called the Camp Lejeune Justice Act ("CLJA") of 2022. If passed into law as expected, given bipartisan support, the CLJA will circumvent the North Carolina response statute and give Camp Lejeune victims the right to bring a contaminated water lawsuit in federal court for cancer or other disorders caused by contaminated water.
Under the new law, anyone with exposure to Camp Lejeune water for 30 days between 1953 and 1987 will be eligible to file suit and fight for a Camp Lejeune payout under the Camp Lejeune Justice Act in the Eastern District of North Carolina.  This venue will almost certainly house a class action lawsuit against the government.
 Camp Lejeune Justice Act Passes the House and Senate
The U.S. House of Representatives recently passed the CLJA with a vote of 256-174. The CLJA was approved by the Senate in a slightly different form. President Biden will sign a reconciled law. This bill may become law by the end of June.
Is There a Camp Lejeune Class Action Lawsuit?
There was a Camp Lejeune class action lawsuit filed in 2011 and their will be another in 2022. An MDL class action lawsuit was filed against the government under the Federal Tort Claims Act (28 U.S.C. §§ 2671-2680). The Camp Lejeune lawsuit alleged alleging personal injury and or wrongful death for the toxic exposures and water contamination and the government's failure to warn about toxic exposure.
This Camp Lejune water contamination lawsuit was dismissed.  But not because the claims had no merit.  The Camp Lejeune water lawsuit was dismissed because the North Carolina statute of repose (N.C.G.S. § 1-52(16)) precluded victims from bringing a lawsuit.  Now that the reason for the dismissal will likely be eliminated by the new legislation, a new Camp Lejune class action lawsuit will allow victims to file a claim and seek justice.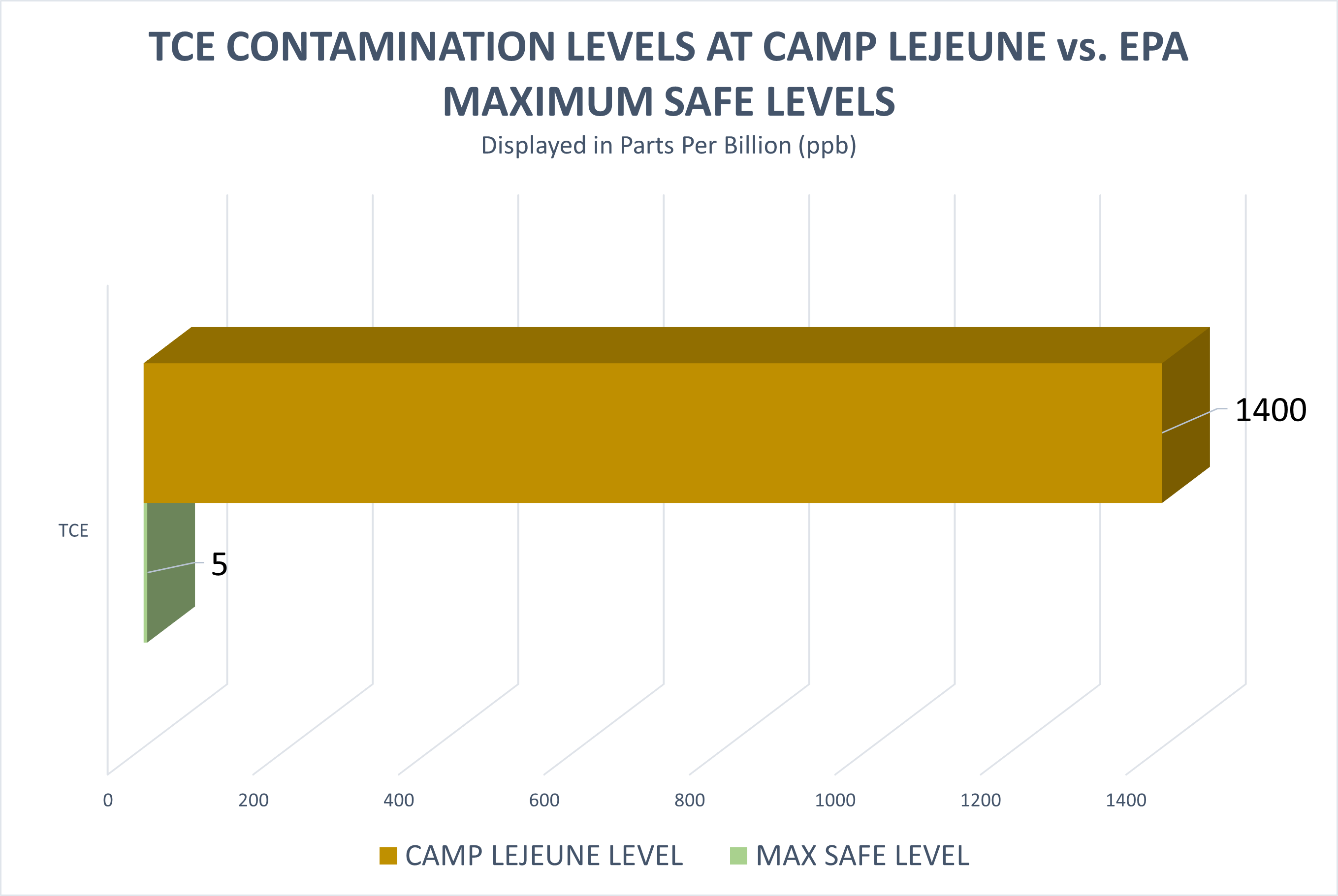 Who Is Being Sued in Camp Lejeune Lawsuit?
The defendant being sued in the Camp Lejeune lawsuit is the United States federal government.
Camp Lejeune Settlement Amounts
It is too soon to project Camp Lejeune settlement amounts.  But the settlement compensation for Camp Lejeune injuries will be based on the extent of the victims' injuries and your drinking water contamination lawyer's ability to tie the injuries or death to the toxic water. There are so many types of injuries from this toxic drinking water. You can expect Camp Lejeune settlement amounts to be tailored to the type of injury the victims suffered.
So many of these Camp Lejeune water contamination lawsuits involve cancer.  The average settlement amounts our lawyers see in other class action lawsuits involving cancer typically range from $150,000 to $750,00o.  Granted, this is a broad range of settlement amounts and there will likely be Camp Lejeune settlement payouts that are both higher and lower than this range.  But it is still early in the litigation.  Our Camp Lejeune attorneys will know more as the litigation progresses.  We will update and narrow our settlement compensation projections as we go.
Unlike most class action lawsuits, the decision as to the settlement amounts to compensate victims will involve politics and policy instead of projected jury compensation payouts.
How Do Attorneys' Fees Work in a Camp Lejeune Lawsuit?
First, almost every Camp Lejeune lawyer will not receive a fee until after you receive a settlement. So with our law firm and almost any law firm in this litigation, you will not put up any money or risk losing money.
This is not because our Camp Lejeune lawyers are reducing their attorneys' fees. The Federal Tort Claim Act limits the amount of the contingency fee a lawyer can receive. This cap is 25%.  Either way, victims may pay a lot less than they otherwise would if this were not a claim against the U.S. government.
This is predicated on the assumption that the final version of the Act includes the FTCA attorneys' fee provisions.  If it does, your fee will be reduced to the FTCA attorneys' fees cap at 25% even if the fee agreement provides a higher amount. So even if your fee agreement with your Camp Lejeune lawyer says 40% – which is what most attorneys charge in these types of cases – that could get reduced by statute.
How Do You File a Camp Lejeune Toxic Water Lawsuit Under the Federal Tort Claims Act?
Our attorneys will not know the exact rules for filing a Camp Lejeune toxic water lawsuit to seek compensation under the Federal Tort Claim Act until we see the final legislation.  Unless the Camp Lejeune Justice Act of 2022 makes filing a lawsuit easier, Camp Lejeune lawyers will first file a Federal Tort Claims Act with the Department of the Navy as required by federal law.  See 28 U.S.C. sec. 2675.
The government has six months to accept or reject the claim (or ignore it).  Procedurally, the government would deny the claim.  Your Camp Lejeune lawyer may then file suit in federal court in North Carolina.
Details of the New Federal Law Allowing Camp Lejeune Victims Right to Sue
By the end of this year, there will be a new federal law passed by Congress that will give the victims of the Camp Lejeune water contamination the legal right to bring civil lawsuits and seek financial compensation for their injuries. The new law is the Camp Lejeune Justice Act (CLJA), which was incorporated into a larger bill known as the Honoring Our Pact Act.
Our lawyers have carefully reviewed the language of the CLJA and in this section, we will provide a summary of the CLJA. We will also explain the details and procedures for how the CLJA will work, such as (a) who will be eligible to file suit, (b) what will the deadline be, (c) what can victims sue for, and (d) what are the qualifying criteria for getting a settlement payout.
Who Can File a Camp Lejeune Lawsuit?
The opening section of the CLJA defines the group of people that will now be entitled to seek a settlement payout or compensation from a jury via a Camp Lejuene civil lawsuit. This group includes:
(a) Anyone (including veterans and their families) who lived at Camp Lejeune for a minimum of 1 month anytime between August 1, 1953, and December 31, 1987.
(b) Anyone who worked at Camp Lejeune (including civilian contractors) for a minimum of 1 month anytime between August 1, 1953, and December 31, 1987.
(c) Anyone who was "otherwise exposed" to the drinking water at Camp Lejeune for at least 30 days between August 1, 1953, and December 31, 1987.
Anyone who meets these basic criteria will be covered by the CLJA provisions which give them the right to file a civil lawsuit. Keep in mind that you will need to be able to prove that you meet these "residency" criteria with some type of evidence, preferably documentary evidence.
Veterans and their families should be able to produce military service records to prove that they were stationed at Lejeune for the required period. Civilian contractors and other non-military personnel use other documents to prove that they meet these criteria, such as social security employment records.
What Can Camp Lejeune Victims Sue For?
Individuals who can prove that they lived or worked at Camp Lejeune for at least 30 days between 1953 and 1987 will meet the initial eligibility criteria under the CLJA. These individuals will then have the right to file a tort lawsuit seeking a verdict or settlement payout against the United States government alleging that they suffered physical harm or injuries that were caused or associated with exposure to the water at Camp Lejeune. Lawsuits not related to alleged exposure to the water at Lejeune or not involving physical injuries will not be permitted.
What Will Lejeune Victims Have to Prove to Get a Settlement Payout or Verdict?
Individuals who meet the qualifying criteria under the CLJA (i.e., lived or worked at Lejeune for 30 days during the applicable period) will NOT automatically qualify for settlement compensation. Rather, these individuals will simply have the right to file a lawsuit for their alleged injuries. To get financial compensation, plaintiffs who file lawsuits under the CLJA will still need to prove that their injuries were caused by the contaminated water at Lejeune.
The CLJA does establish a lower burden of proof which will make it easier for plaintiffs who bring Camp Lejeune water lawsuits under the CLJA to prove their case. Specifically, section (b)(2) of the CLJA provides that Lejeune plaintiffs can satisfy their burden of proof with a scientific study concluding that their alleged injury (i.e., kidney cancer, etc.) could be linked to exposure to the water at Camp Lejeune:
Use of Studies – A study conducted on humans or animals, or from an epidemiological study, which ruled out chance and bias with reasonable confidence and which concluded, with sufficient evidence, that exposure to the water described in subsection (a) is one possible cause of the harm, shall be sufficient to satisfy the burden of proof described under paragraph (1).
This provision appears to suggest that plaintiffs under CLJA will be allowed to prove their claims if they can simply cite a single study suggesting a link between their type of cancer (or other injuries) and the Lejeune water. This would appear to eliminate the requirement of expert witness testimony, although it is not entirely clear who to interpret this provision.
How to File A Camp Lejeune Lawsuit
Potential plaintiffs who meet the qualifying criteria under the CLJA can file their civil lawsuit by contacting an attorney. Our law office provides legal assistance to to victims to file a Camp Lejeune water contamination lawsuit. Our Camp Lejeune lawyers offer a free consultation and we answer question for free.  We want to help.
CLJA claimants will be required to file their civil lawsuits in the U.S. District Court for the Eastern District of North Carolina. This is the only available venue because the CLJA gives the Eastern District of North Carolina exclusive jurisdiction over the Lejeune water lawsuits.
Camp Lejeune Claim Must First Be Filed
Section (g) of the CLJA clarifies that before any eligible plaintiff can file a civil lawsuit, they first must comply with 28 U.S.C. § 2675. This means that plaintiffs will need to first file a "claim" for the alleged injuries with the "appropriate federal agency" and have that claim denied before they can bring a civil suit. When claims are submitted, federal agencies must approve or deny them within 6 months.
For a Camp Lejeune water contamination lawsuit, the appropriate federal agency will be the Department of Defense. In most situations, filing this sort of claim with a federal agency is just a formality that plaintiffs go through before filing their lawsuit. For Camp Lejeune lawsuits, however, the DOD may offer settlement amounts to resolve what appear to be legitimate claims. That would make sense considering Congress in passing this law because they want deserving victims to get a settlement payout.  Otherwise, what is the point of all of this?  This would offer a much faster route for victims to get financial compensation.
Deadlines for Filing a Claim Under CLJA
Section (j) of the CLJA creates a special statute of limitations deadline for Camp Lejeune victims who want to bring claims under the CLJA. Under § (j)(1), the general statute of limitations to file suit for claims by Lejeune victims will be 2 years after the date on which "the harm occurred or was discovered."
This deadline will apply to people who lived or worked at Lejeune during the relevant period but have not yet developed cancer (or other health issues) from their exposure to the water at Lejeune. When these individuals are diagnosed at some point in the future, their 2-year deadline will start to run from the date of their diagnosis to file a Camp Lejeune suit.
For those victims who have already developed cancer, suffered birth defects, or been diagnosed with another condition possibly related to the Lejeune water, they will need to file their claims within 2-years from the date that the CLJA is signed into law by President Biden.
Contact Our Camp Lejeune Water Contamination Lawyers
Our lawyers believe that this new law will be passed because Congress wants Camp Lejeune water contamination victims to receive fair settlement amounts for the harm that has been done while they or a family member was serving our country.
Our Camp Lejeune lawyers are offering legal assistance to individuals who were harmed by exposure to Camp Lejeune contaminated water and meet the following criteria:
You served, lived, or worked at the Camp Lejeune Marine Corps base in North Carolina for at least 30 days between the years 1953 and 1987.
You were subsequently diagnosed with leukemia, bladder cancer, kidney cancer, liver cancer, multiple myeloma, non-Hodgkin's lymphoma, or any other the other conditions our lawyers laid out above.
Contact our Camp Lejeune attorneys today for a free consultation at 800-553-8082 or get a free no-obligation online consultation. Our attorneys only get paid if you do.