Our law firm is taking new hernia mesh lawsuits.  This page is about Atrium Proloop and ProLite hernia mesh lawsuits.
The Atrium ProLite and ProLoop are the latest hernia mesh implants to become the subject of a large number of product liability lawsuits.
With the number of hernia mesh lawsuits involving the ProLite and ProLoop devices growing rapidly, a motion has been filed with the Judicial Panel on Multidistrict Litigation requesting that the cases be consolidated into a new MDL.
Atrium Hernia Mesh Settlement 2022 Update
Atrium Medical Corp. will pay $66 million in settlement compensation to settle C-Qur hernia mesh lawsuits against it.  The MDL has been stayed pending the finalization of that settlement.
THIS SETTLEMENT DOES NOT INCLUDE THE PROLITE OR PROLOOP HERNIA MESH DEVICES.  
About Hernia Mesh Lawsuits
Over the last decade, thousands of product liability lawsuits have been filed over defective hernia mesh implants. The lawsuits have involved various hernia mesh products made by several manufacturers. These hernia mesh lawsuits have been consolidated into 3 separate MDLs (one for each different manufacturer and mesh type). The 3 hernia mesh MDLs currently pending are:
Hernia mesh implants are very small pieces of netting or mesh that are implanted inside the body during hernia repair and other surgeries. The mesh helps to reinforce the surgically repaired muscle and tissue walls. Hernia mesh implants must be made out of special materials so that they will not be rejected by the body's immune system and not attach to nearby tissue or organs.

The new generation of hernia mesh implants has been plagued by design defects and complications. Many of the mesh products have caused immune system rejection inside the body resulting in dangerous internal infections.
Others have had design flaws causing them to form abnormal attachments with nearby tissue or organs. These various problems have prompted a continuing stream of product liability lawsuits resulting in the 3 separate hernia mesh MDLs we have today.
The Atrium ProLite and ProLoop Hernia Mesh
Atrium is a medical device company based in New Hampshire that makes a line of surgical mesh implants. Atrium is already defending thousands of hernia mesh lawsuits involving the C-Qur line of surgical mesh implants. Now Atrium is facing a growing tide of similar lawsuits involving the ProLite and ProLoop product line.
The Atrium ProLite and ProLoop surgical mesh products are polypropylene monofilament mesh implants used primarily in hernia repair surgeries. The ProLite and ProLoop line of hernia mesh products has been plagued by various defects and safety problems. These issues have led to lawsuits by individuals who had a ProLite or ProLoop mesh implanted and later experienced complications with it.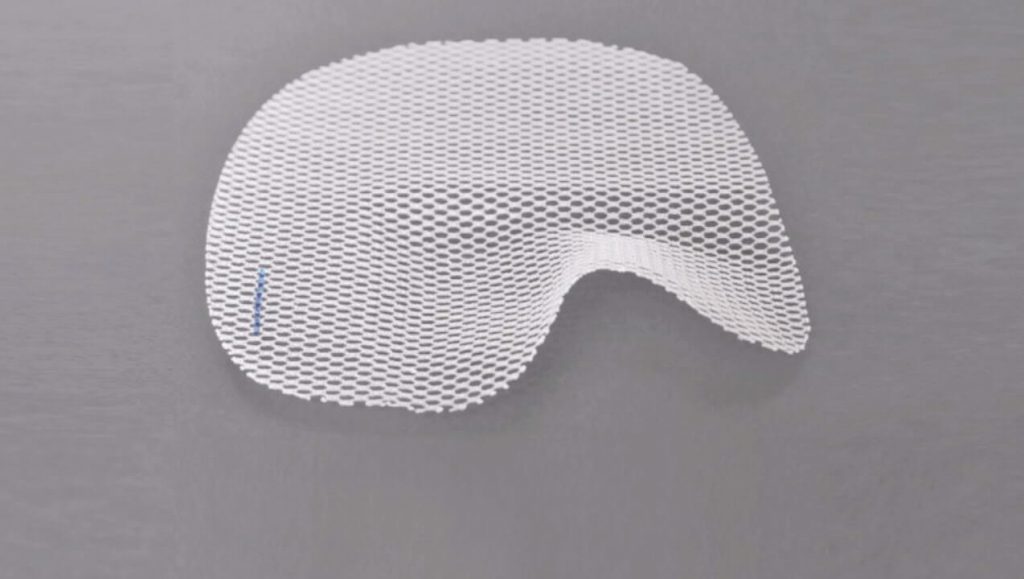 The lawsuits allege that the design of the ProLite and ProLoop mesh implants is defective and that Atrium failed to adequately test the implants resulting in a high failure rate and frequent post-surgical complications. Specifically, these lawsuits allege that the polypropylene material that the ProLite and ProLoop are made out of is not biologically inert inside the human body. This design flaw causes the body to identify the mesh as a foreign object triggering an immune system response with serious health consequences.
According to the lawsuits against Atrium, as the ProLite and ProLoop mesh implants degrade inside the body, they release small flakes of polypropylene. This causes inflammation and pain as the body attempts to eliminate the foreign material.
The other problem with the ProLite and ProLoop hernia mesh implants is that the polypropylene contracts and expands inside the body allowing cracks to form. Studies have found that this occurs in 35-50% of cases within 4 weeks after surgery. When the mesh cracks, nerve and tissue fibers can get trapped in the crack causing severe pain.
Several scientific and medical studies have been published in recent years which highlight the problems with polypropylene surgical mesh implants like the ProLite and ProLoop. The lawsuits allege that Atrium has deliberately ignored this evidence and continued aggressively marketing its mesh products.
Motion for New Atrium ProLite Mesh MDL
Over the last 2 years, a steadily increasing number of lawsuits have been filed against Atrium involving defects in the ProLite or ProLoop mesh implants. These lawsuits are expected to continue over the coming years as more patients experience complications related to their mesh implants.
On December 10, 2021, lawyers for some of the ProLite mesh plaintiffs filed a motion asking the Judicial Panel on Multidistrict Ligation to consolidate all pending cases involving the Atrium ProLite and ProLoop products into a new MDL. The motion requested the Central District of California as the venue for the new MDL.
If this request is granted, this will be the second hernia mesh MDL involving Atrium. Atrium is already defending thousands of similar lawsuits involving its C-Qur line of hernia mesh patch products. The C-Qur cases were consolidated into an MDL in the District of New Hampshire and a global settlement is currently being administered in those cases.
Contact a Hernia Mesh Lawyer to File Your Lawsuit
If you or a family member had post-surgical complications resulting from an Atrium ProLite or ProLoop hernia mesh implant, you may be able to file a lawsuit and get financial compensation. Contact us today at 800-553-8082 or get free consultation online.