Our lawyers are handling Camp Lejeune bladder cancer lawsuits in all 50 states.
This page is about bladder cancer injury and wrongful death claims. Our law firm discusses the legislation that will allow a Camp Lejeune water contamination lawsuit and how the new September 2023 settlement offer applies to bladder cancer claims.
Camp Lejuene bladder cancer cases will be strong claims with a high likelihood of good settlement payouts. Our lawyers have been saying this from day 1. Why? No reasonable person can argue that PCEs do not cause bladder cancer. The science is clear and PCEs were ubiquitous at Camp Lejeune. As this litigation has progressed, our lawyers have had increasing confidence about the compensation Lejeune bladder cancer victims will see.
Our lawyers also speculate on the possible settlement amounts of people living with bladder cancer and wrongful death survivors who might recover in these lawsuits.
---
UPDATES:
September 2023 – Lejeune Bladder Cancer Update
The new September 6, 2023, Camp Lejeune settlement offer has bladder cancer listed as a Tier 1 injury.  So it is Track 1  for litigation (see paragraph below) and Tier 1 for settlement.  Why? The bladder cancer case are very strong.  So much so they are unlikely to be an attractive option for a bladder cancer injury or wrongful death case.
In other news this month related specifically to Lejeune bladder cancer lawsuits, the plaintiffs in the consolidated Camp Lejeune litigation submitted a case management proposal that seeks to group the pending Lejeune cases into trial groups or "tracks" based on the primary disease alleged by the plaintiff. Under the plaintiffs' plan, all bladder cancer plaintiffs would be grouped into Track 1. Test trials in the Track 1 group could start in the first half of next year, which means that plaintiffs in this group could get settlements in the next 12 months. The government has submitted a competing proposal that would leave bladder cancer claims out of the Track 1 group.
---
Camp Lejeune Class Action Lawsuit
From the early 1950s to the late 1980s,  the drinking water supply at U.S. Marine Corps Base Camp Lejeune was severely contaminated with carcinogenic chemicals. Public health studies on the impact of this contamination have concluded that exposure to Camp Lejeune water caused increased rates of specific types of cancer. One of the cancer types with the strongest link to the Lejeune water supply is bladder cancer.
Thousands of former residents and employees of Camp Lejeune have developed bladder cancer due to the chemicals in the water supply. These victims have previously been barred from pursuing personal injury claims.
Today, however, the 117th Congress is very close to enacting a new law that will give Camp Lejeune water contamination victims a special right to bring negligence claims against the government and get compensation.
---
RELATED POSTS:
Camp Lejeune and Kidney Cancer
Camp Lejeune and Birth Defects
Camp Lejeune Wrongful Death Claims
Camp Lejeune Parkinson's Disease
---
Short Review of Camp Lejeune Water Pollution
Since the early 1940s, Camp Lejeune has been one of the biggest and most active Marine Corps bases in the United States. Encompassing over 150,000 acres and 11 miles of shoreline on the south coast of North Carolina, Camp Lejeune is the biggest USMC base on the east coast and ranks behind Camp Pendleton in San Diego as the largest USMC base in the U.S.
Like most Marine Corps bases, Camp Lejeune is a mid-sized town with around 50,000. This population includes Marines and their families living in on-base housing units and serviced by schools, hospitals, and other facilities. Since the base opened, Camp Lejeune has operated its water supply system using a series of massive groundwater wells.
In the late 1980s, it was discovered that the water supply at Camp Lejeune was critically contaminated with industrial chemicals. The primary toxins in the Lejeune water were two industrial solvents, perchloroethylene (PCE) and trichloroethylene (TCE).
Later research revealed that the Camp Lejeune water supply had been contaminated with these chemicals from August 1953 to December 1987. The extent and level of contamination were unprecedented, with TCE and PCE being found at several thousand times the maximum safe limits.
Bladder Cancer
Bladder cancer is the fifth most common human malignancy and the second most frequently diagnosed genitourinary tumor after prostate cancer. It is the fourth most common cancer in men but less common in women. The American Cancer Society estimates that in the United States, there will be 81,180 new cases of bladder cancer diagnosed in 2022 (about 61,700 men and 1480 in women) and about 17,100 deaths from bladder cancer (about 12,120 in men and 4,980 in women). Approximately 90% of all forms of bladder cancer are urothelial (transitional cell) carcinoma.
Bladder cancer can have various causes, including exposure to certain chemicals or substances. Exposure to contaminated water has been linked to an increased risk of developing bladder cancer. Specifically, exposure to certain chemicals commonly found in water sources, such as benzene and trichloroethylene (TCE), has been associated with an increased risk of bladder cancer.
When these chemicals are ingested or come into contact with the body, they can be absorbed into the bloodstream and reach the bladder. Over time, this exposure can damage the DNA in the bladder cells and lead to the development of cancer.
It's worth noting that not everyone who is exposed to contaminated water will develop bladder cancer, and other factors such as genetics and lifestyle choices may also play a role in its development. However, exposure to these chemicals is a known risk factor for the disease, and steps should be taken to minimize exposure to contaminated water sources whenever possible.
Bladder cancer disproportionately occurs in men. Of the roughly 81,000 bladder cancer cases diagnosed annually, 62,000 occur in men compared to 19,000 in women. This means men are 3-4 times more likely to get bladder cancer than women.
Bladder cancer is often diagnosed relatively early. Around 50% of all bladder cancer cases are diagnosed in the early stages, and only 4% are diagnosed after Stage III. The overall 5-year survival rate for bladder cancer (all stages) is 77%
Severity of Bladder Cancer
The severity of bladder cancer is described in the same progressive categories you see with other types of cancer:
State 0: abnormal cells on the inner lining of the bladder
Stage I: disease spreads to the tissue layer adjacent to the inner lining of the bladder
Stage II: cancer invades muscle tissue
Stage III: spreads to the fatty tissue around the bladder and/or reproductive organs
Stage IV:  bladder cancer has reached the abdominal wall, the pelvis, or the lymph nodes.
There are many contributing factors to bladder cancer. But we have long known that contaminated well water can cause bladder cancer. Bladder cancer risk factors include genetic predispositions, schistosomal infection,  smoking, and exposure to certain chemicals. One of those chemicals that increase the risk of bladder cancer is PCE.
Is Bladder Cancer Linked to Camp Lejeune Water Contamination?
Yes. Bladder cancer is one of the cancer types that has the strongest link to the contaminated Camp Lejeune toxic water. About a dozen other types of cancer have also been linked, including kidney and lung cancer.
Evidence Linking Bladder Cancer to Camp Lejeune Water
The water contamination at Camp Lejeune and the USMC's mishandling prompted public anger. This motivated the federal government to fund numerous scientific studies to evaluate the impact of the contaminated water on the health of the people who lived and worked at Camp Lejeune.
ATSDR
The Agency for Toxic Substances and Disease Registry (ATSDR) is an investigative branch of the Centers for Disease Control (CDC). The ATSDR has conducted extensive research and studies on the Camp Lejeune water disaster for three decades.
In 2014, an ATSDR Morbidity Study was published which detailed the results of a large-scale study into the health impact of the contaminated water at Camp Lejeune. The ATSDR Morbidity Study examined health records for military personnel, their families, and civilian employees at Camp Lejeune when the water was polluted. These records were compared to a control group from another USMC base (Camp Pendleton) where the water was not contaminated.
The ATSDR Morbidity Study concluded that the contaminated drinking water at Camp Lejeune was linked to an increased risk of bladder cancer. The study showed that former residents and employees at Lejeune exposed to TCE and/or PCE in the water supply displayed significantly higher rates of bladder cancer. This finding makes intuitive sense given that the bladder is the organ with the most significant interaction with drinking water.
But it was not just drinking water that caused bladder cancer. TCE and PCE are absorbed through the skin from the gastrointestinal tract and by inhalation. Skin absorption will occur when washing, showering, or swimming with contaminated water. There is also inhalation exposure when water is boiled.
EPA Study
In 2012, the Environmental Protection Agency (EPA) published toxicologic reviews on TCE and PCE, which found that both chemicals were carcinogenic to humans. A similar conclusion was reached by the International Agency for Research on Cancer (IARC) the following year. These conclusions were based mainly on specific epidemiologic studies showing a clear association between PCE and bladder cancer.
More Bladder Cancer Studies
This article in the American Journal of Epidemiology reported a high incidence of bladder cancer in an area of Winnebago County in Illinois. One of four drinking wells had been closed in that area due to contamination with TCE and other solvents.
A case-control study in Germany using a job-exposure matrix reveals a dose-response increase in bladder risk to PCE exposure.
Meta-analyses demonstrate an increased risk of bladder cancer following PERC exposure, even after adjusting for smoking.
Camp Lejeune Bladder Cancer Lawsuits Under New Federal Law
Victims of the Camp Lejeune water contamination have never been able to get the justice they deserve. A strict law has effectively blocked all previous civil lawsuits in North Carolina. Now, however, Congress is about to fix this with the passage of new federal law permitting Lejeune victims to bring civil claims.
CLJA Is Unique Legislation
The Camp Lejeune Justice Act provides a unique carve-out that allows the military to file a Camp Lejeune Lawsuit against the government. This new law protecting veterans' rights is an uncommon departure from the long-standing ban on personal injury and wrongful death lawsuits against the U.S. government by service members related to military matters. This law creates an exception to this law that the United States Supreme Court created in Feres v United States, 340 U.S. 135 (1950).
Legislation Will Allow for Camp Lejeune Bladder Cancer Lawsuits
Camp Lejeune water victims now have the right to bring civil negligence claims against the federal government for injuries caused by the contaminated water. Claimants under the CLJA will still have the burden of proving their claims, but the CLJA has created a new, lowered standard of proof for establishing causation.
Under the CLJA, claimants can establish causation based on a valid scientific study linking their alleged injuries to Camp Lejeune's water. In the case of bladder cancer, several accepted studies (including the ATSDR study) have verified the link between bladder cancer and the Camp Lejeune water.
Camp Lejeune Bladder Cancer Settlement Amounts
It would be very premature right now to claim with any certainty the settlement value of Camp Lejeune bladder cancer claims. So, while we make Camp Lejeune bladder cancer settlement amount estimates here, you must take them with many grains of salt.
Still, Camp Lejeune victims want an estimate of the potential settlement amount of their lawsuit. Because a civil lawsuit is about money in either a settlement or jury payout.   So we do this based on verdicts and reported settlements in prior cases involving bladder cancer (mostly failure to diagnose malpractice cases).
Based on these prior data points and the expected settlement amounts for Camp Lejeune lawsuits generally, our attorneys estimate that Camp Lejeune claims involving bladder cancer will have an average per-person settlement payout range of $145,000 to $220,000.
The factors that would impact the settlement value of individual claims include the victim's age, stage of cancer, the extent of exposure to Camp Lejeune water, and treatment outcomes.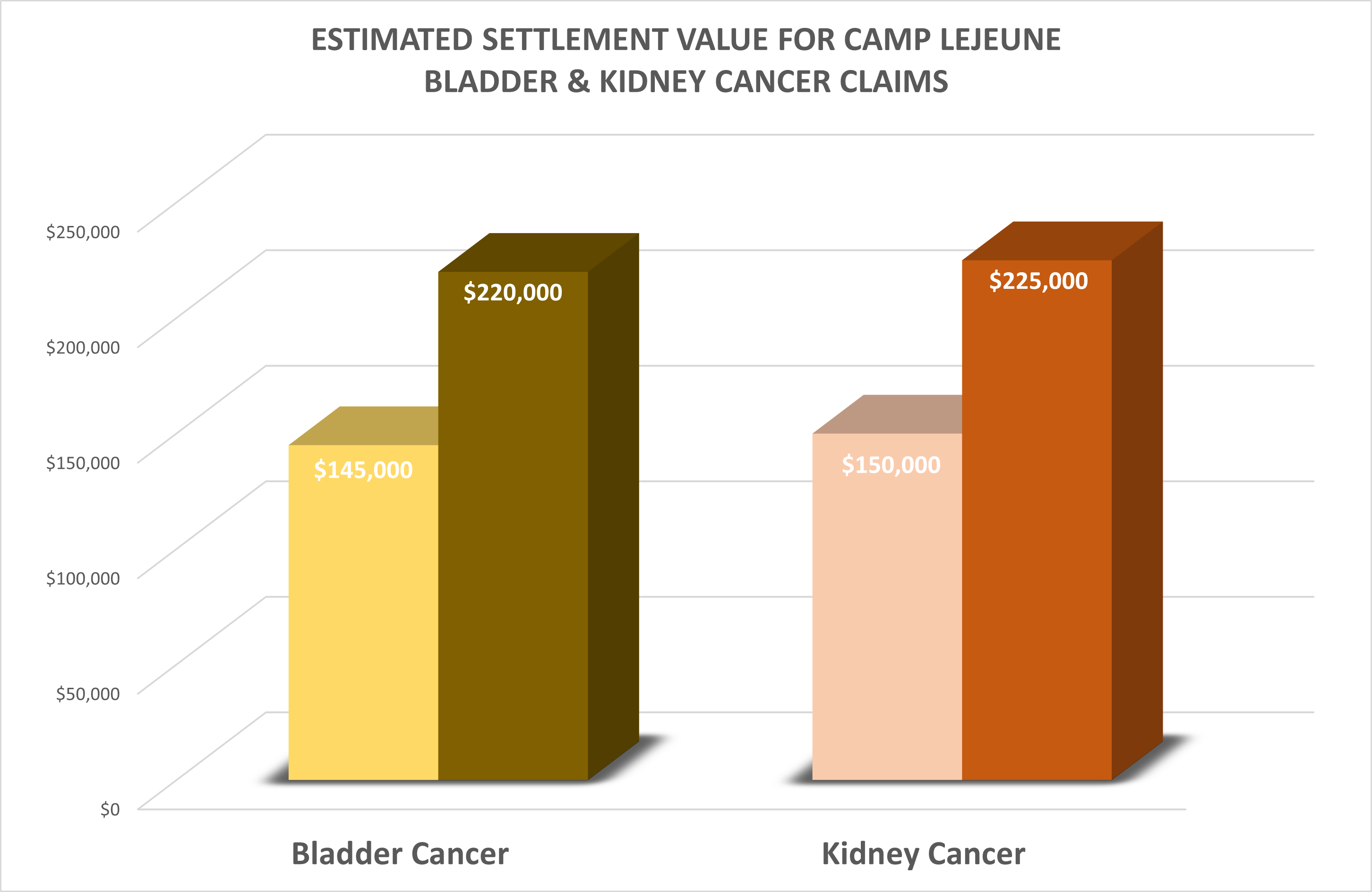 Our Bladder Cancer Settlement Amount Projections Might Be Low
We assume the government will offer a settlement amount less than the going rate for bladder cancer Camp Lejeune lawsuits. Because the average settlement value of a bladder cancer case is north of $300,00. I base that settlement amount projection on the Actos litigation, a piece of litigation eight years ago where bladder cancer lawsuits settled for an average of about $300,000.
The true settlement amount for Camp Lejeune bladder cancer lawsuits should be higher for two reasons.
First, the defendant in the Actos lawsuits vigorously disputed liability. Here, the government presumptively assumes your bladder cancer is from Camp Lejeune.
There is also inflation. That same per-person settlement of $300,000 is likely worth at least $350,000 per victim in 2022.
Example Camp Lejeune Bladder Cancer Lawsuit
An example of a recently filed Camp Lejeune bladder cancer lawsuit is Benson, et al. v. United States (7:22-cv-140). The Benson case presents a group of 5 individuals who lived or worked at Camp Lejeune between 1953 and 1987 and were subsequently diagnosed with bladder cancer. Two plaintiffs are estate administrators bringing wrongful death claims on behalf of their loved one who lived or worked at Camp Lejeune. The other three plaintiffs are bringing the case in their own right.
The Complaint in the Benson case adopts the bare-bones pleading strategy, which simply states the bare minimum to plead a cause of action under the CLJA. As a result, we don't get specific factual information about how long each plaintiff (or their decedent) lived at Lejeune or whether they lived on base or worked there.
For each plaintiff, the Complaint simply alleges that the plaintiff (or their decedent) "resided, worked or was otherwise exposed for not less than thirty (30) days between August 1, 1953, and December 31, 1987, to water at Camp Lejeune, North Carolina[.]" The Complaint then alleges that each individual was "subsequently" diagnosed with bladder cancer "on a date before the enactment of the [CLJA]." One of the plaintiffs' decedents (Gary Jessup) was diagnosed with bladder, kidney, and liver cancer.
This bladder cancer lawsuit asserts a cause of action for each plaintiff under the CLJA and alleges that: "[a] causal relationship exists between each Plaintiff's (or decedent's) illnesses, including their bladder cancer and the contaminants each Plaintiff (or decedent) was exposed to in the Camp Lejeune water supply. The causal relationship is at least as likely as not."
A More Recently Filed Bladder Cancer Suit
The plaintiff in Phillips, a Marion County, Florida resident, filed a bladder cancer lawsuit on March 3, 2023. Phillips resided on base at Camp Lejeune for at least 30 days between April 1, 1976, and August 31, 1976. He was regularly exposed to contaminated water. As a result of this exposure, the plaintiff developed severe illnesses, including bladder cancer, and has suffered related injuries. The plaintiff filed an administrative claim with the Navy demanding compensation for these injuries, but the claim was denied or constructively denied. The plaintiff alleges that the defendant's supply of contaminated water was the direct and proximate cause of their illnesses and related injuries.
Phillips filed an administrative claim with the Navy demanding compensation for their injuries, but the claim was constructively denied because the Navy failed to make a final disposition of the claim within six months after its filing.  This has been the case for every Camp Lejeune administrative filing. The plaintiff alleges that this denial satisfies the administrative exhaustion requirement of Section 804(h) of the Act.
Verdicts and Settlements Involving Bladder Cancer
One way to project settlement amounts in Camp Lejeune bladder cancer lawsuits is to look at settlement amounts and jury payouts in lawsuits where the injury was bladder cancer. So these settlements and jury payouts give you a flavor of compensation amounts you might expect in these cases. Arguably, you might see even higher payouts with a less sympathetic defendant like the government – most of these cases are malpractice lawsuits.
2020, Pennsylvania: $325,000 Settlement. An 80-year-old man died from advanced bladder cancer. He was treated for hypertension for three years. During this period, a urinalysis revealed hematuria. However, the man was never informed of these results. He also underwent no additional cancer screenings or treatments. The man only received his bladder cancer diagnosis shortly before his death. His family alleged negligence against the physician. They claimed he failed to rule out cancer, appreciate his urinalysis, and provide appropriate care. This case settled for $325,000.
2019, Pennsylvania: $8,000,000 Verdict. A 40-something man developed advanced bladder cancer. He underwent bladder and prostate removals. The man now required reconstructive procedures, chemotherapy, and radiation. Before his bladder cancer diagnosis, he was initially diagnosed with kidney stones and a suspicious bladder mass. The man received no additional treatments. He alleged that the treating D.O.'s failure to follow up on the bladder mass caused his cancer to advance. The jury awarded $8,000,000.
2017, Pennsylvania: $300,000 Verdict. A 53-year-old man died from severe bladder cancer. Before his diagnosis, he came under a urologist's care for urinary problems. The man's tests revealed suspicious results, including a slightly erythematous bladder and atypical cells that suggested cancer. He was diagnosed three years later. The man died four additional years later. His family alleged that the physician's failure to follow up on suspicious tests caused cancer to advance. This case settled for $300,000.
2015, Pennsylvania: $3,652,636 Verdict. A man was prescribed Actos. Six years later, he received a bladder cancer diagnosis. The man underwent bladder and tumor removals. He alleged failure to warn and defective design against Actos' manufacturer, Takeda Pharmaceuticals. The jury awarded $3,652,636.
2015, West Virginia: $155,000 Verdict. A man took Actos for 18 months. He developed bladder cancer. The man alleged negligence against Actos' manufacturer, Takeda Pharmaceuticals. He claimed it failed to warn the public, designed an unsafe drug, and failed to test it. The jury awarded $155,000.
2014, Pennsylvania: $2,050,000 Verdict. A woman was diagnosed with bladder cancer five years after taking Actos. She had several tumors surgically removed. The woman alleged breached warranties, defective design, and failure to warn against Takeda Pharmaceuticals. She received a $2,050,000.
Contact Us About a Camp Lejeune Bladder Cancer Lawsuit
If you (or a deceased family member) lived or worked at Camp Lejeune between 1953 and 1987 and subsequently developed bladder cancer, call us today at 800-553-8082 to see if you have a compensation claim. You can also get a free, no-obligation case review online.