The latest scientific research has shown that high doses of Tylenol or generic acetaminophen during pregnancy can impact fetal brain development and increase the risk of having a baby born with ADHD or ADD. In response to this new evidence showing that Tylenol during pregnancy is linked to ADHD, many parents are now pursuing product liability lawsuits against the companies that manufacture and sell acetaminophen.
Last year, the Tylenol ADHD lawsuits across the country were consolidated into a new class action MDL that could eventually lead to a global settlement in which victims are paid financial compensation. Our national product liability attorneys are accepting Tylenol ADD or ADHD cases from parents of children living with ADHD after the mother used a significant amount of acetaminophen during pregnancy.
Tylenol ADHD Litigation Updates:
September 13, 2023: The Tylenol autism / ADHD lawsuits are currently in the discovery phase leading up to a highly anticipated Daubert challenge over the admissibility of the scientific evidence linking acetaminophen to both autism and ADHD. As part of this discovery process, defense lawyers have taken depositions of many leading medical and scientific experts on this issue. The incoming reviews and reactions to these expert depositions have been that the causation evidence linking prenatal acetaminophen exposure to ADHD is very strong, even stronger than most people thought going into this. This is a very positive development for the plaintiffs in this litigation. You usually don't hear talk about how good the causation evidence is in these types of mass tort cases. The fact that we are hearing that in this case (and hearing it very frequently) suggests that the strength of the expert opinions is drawing attention.
About Acetaminophen
Acetaminophen has been one of the most widely used pain-relief drugs for decades. First developed by Johnson & Johnson and sold under the iconic brand name Tylenol, acetaminophen can be found in almost every household in the U.S. Over 20% of the U.S. adult population uses Tylenol or generic acetaminophen every week.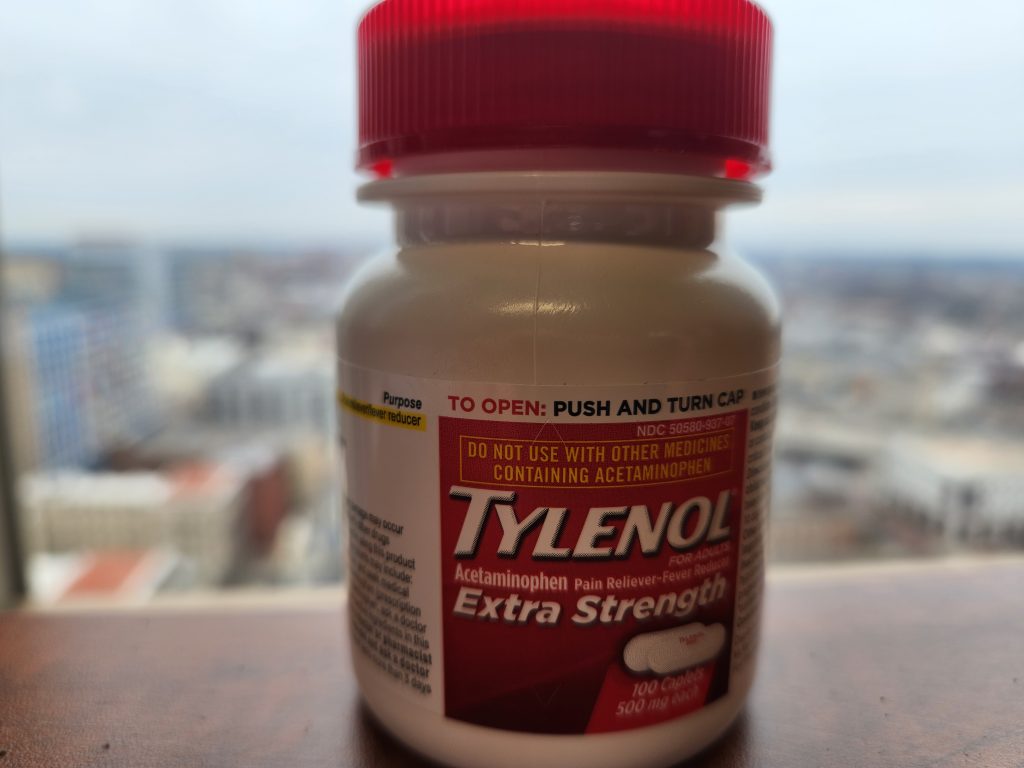 The general public perception of Tylenol is that it is a well-known drug that is essentially harmless and presents no health risks. This belief in the safety of Tylenol has played a significant role in the drug's popularity and commercial success. What most people don't realize, however, is that acetaminophen is one of the least understood drugs. Scientists have never unlocked the mystery of exactly how acetaminophen works at the chemical and biological levels.
The widespread perception of Tylenol as a harmless drug has also led to its immense popularity among pregnant women. For decades, Tylenol has been the drug of choice for pregnant women in the U.S. A recent study found that 66% of mothers reported that they used Tylenol at some point during pregnancy. Manufacturers of acetaminophen have reinforced the drug's popularity among pregnant women by marketing it as the only safe pain reliever during pregnancy.
New Research Shows Tylenol During Pregnancy Can Cause ADHD
The belief in the safety of Tylenol during pregnancy has rapidly changed over the last several years. A developing tide of scientific research and testing dating back over a decade has begun to show that fetal brain development can be disrupted by using acetaminophen during pregnancy.
Despite these studies, however, the public and a large segment of the medical community continue to adhere to the belief that Tylenol was safe during pregnancy. In 2021, however, 91 doctors and scientists joined to publish a Consensus Statement in a leading medical journal. The Consensus Statement aimed to warn about the risks of using acetaminophen during pregnancy.
The authors of the Consensus Statement sought to convince the medical community by summarizing numerous scientific studies over the years that have consistently found a connection between the use of Tylenol during pregnancy and an increased risk of neurodevelopmental conditions such as autism and ADHD. The collection of research outlined in the article included 29 separate studies, collectively including over 220,000 mother-child pairs.
These studies consistently found that high levels of acetaminophen during pregnancy significantly increased the risk of having a baby diagnosed with ADHD or ADD. They also showed a clear correlation between ADHD risk levels and the extent of acetaminophen use.
Acetaminophen ADHD Class Action Lawsuit
Publication of the 2021 Consensus Statement is the event that sparked a growing wave of acetaminophen ADHD lawsuits against sellers and manufacturers of the drug. The plaintiffs in these lawsuits were parents who allege that their child developed ADHD or ADD due to Tylenol use during pregnancy. The lawsuits claim that the drug companies were negligent because they failed to warn consumers or doctors about the risks of using Tylenol during pregnancy.
The earliest handful of acetaminophen ADHD lawsuits was filed around the end of 2021. These were followed by a larger wave of lawsuits filed in federal courts nationwide (and in California state courts) in 2022. By October 2022, there were enough pending cases for the JPML to consolidate into a new class action MDL ( In Re: Acetaminophen – ASD/ADHD MDL No. 3043 –).
The new class action was assigned to Judge Denise Cote in the Southern District of New York. Judge Cote is a highly regarded jurist who has spent several decades handling cases in the leading federal district in the country. This will be Judge Cote's 9th class action MDL and the last before her expected retirement sometime in the next few years. She does not let moss grow under her feet and will push this litigation forward quickly.
The creation of the Tylenol class action means that all future acetaminophen ADHD lawsuits filed in federal courts nationwide will now be transferred into the MDL. Judge Cote will progress the cases through consolidated discovery, after which a few cases will be sent for test trials (known as bellwether trials). Settlement negotiations often follow bellwether trials.
Who is Eligible to File a Tylenol ADHD Lawsuit?
Individuals who are eligible to file a Tylenol ADHD lawsuit include anyone who used large amounts of Tylenol or acetaminophen (large doses, frequent doses, etc.) while they were pregnant and the child from that pregnancy was later clinically diagnosed with attention deficit disorder (ADD) or attention deficit hyperactivity disorder (ADHD). Individuals who meet these criteria could be eligible for a settlement and compensation.
What plaintiffs will have the best cases? Plaintiffs who can present documented proof that they used high quantities of acetaminophen during pregnancy will have more substantial claims than those who cannot document their use. The best type of documentation would be medical records showing how much Tylenol was used. The strongest claims will also have an absence of a family history of ADHD, complications during the pregnancy, or other potential risk factors for ADHD and neurological conditions.
Estimated Settlement Payouts for Acetaminophen ADHD Lawsuits
Nobody can say for certain at this stage what these cases could potentially be worth in a settlement scenario. There are just too many variables. Moreover, we don't even know if these cases will make it to trial because the scientific causation evidence is new and untested. There is a possibility that the causation evidence supporting these cases could be deemed inadmissible in court, in which case the cases would be dismissed for lack of evidence.
That being said, our lawyers can reasonably estimate the possible settlement value of these cases based on the assumption that the causation evidence survives legal challenges. The settlement value of ADHD cases would be based on the estimated cost of living with ADHD, which includes the cost of treatment and the loss of earnings over an individual's lifetime.
A recent study at Florida International University has estimated that individuals with ADHD will earn $1.25 million less over their working career than those without ADHD. Other studies have similarly found that ADHD will reduce lifetime earnings and net worth by anywhere from 25% to 17% compared to the average person. The treatment costs of ADHD are often estimated to be around $15,000 to $17,000 per year.
Based on these factors, we believe that a successful Tylenol ADHD lawsuit could have a settlement value of $275,000 to $475,000. This is somewhat lower than our settlement value estimate for Tylenol autism cases but still significant. The trial value of a successful ADHD Tylenol lawsuit would likely be in the millions.
Example Tylenol ADHD Lawsuit
Woolbright v. Johnson & Johnson Consumer Inc. (1:23-cv-02417), filed on March 22, 2023, is an example of a Tylenol autism/ADHD lawsuit recently filed in the MDL using the newly adopted Short Form Complaint (SFC).
At 25 pages, the SFC is one of the most extended short complaint forms used in an MDL. It contains a lengthy check-the-box list of claims against the various defendants (both J&J and retailers) with fill-in-the-blank areas to identify the specific acetaminophen product used and the dates.
The Woollbright Complaint only asserts claims against J&J and not against any of the various retail defendants. According to the Complaint, the plaintiff took Tylenol Extra Strength during her pregnancy from June 2014 to March 2015. Her child was born in 2015, and the alleged injury selected is "Attention-Deficit/Hyperactivity Disorder."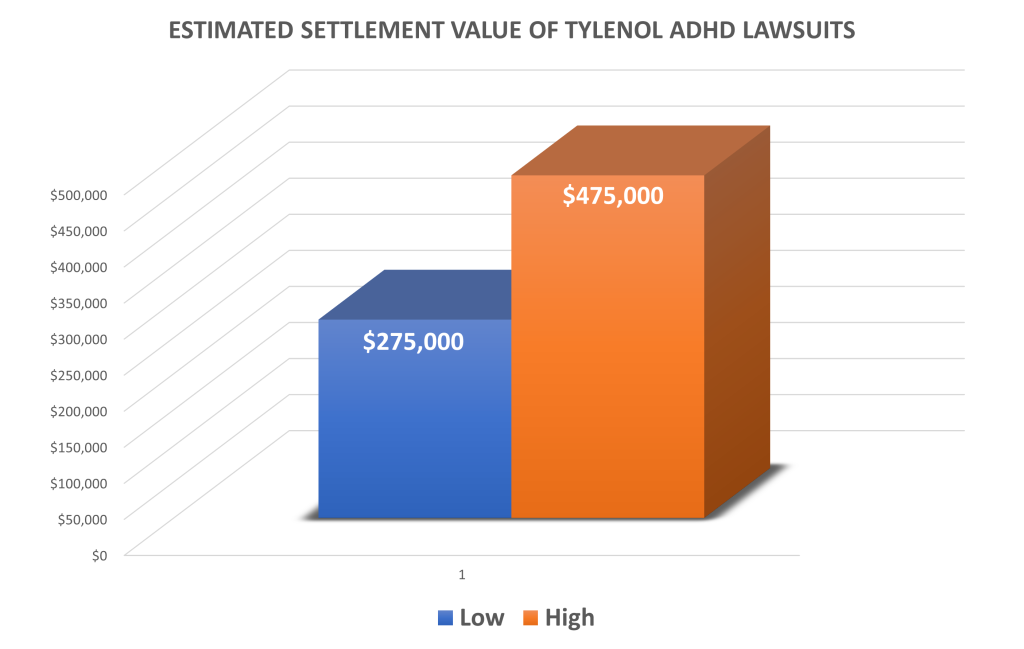 Contact Our Lawyers About Your Tylenol ADHD Lawsuit
The national product liability lawyers at Miller & Zois are reviewing Tylenol ADHD or ADD lawsuits for parents and guardians of children diagnosed with ADD or ADHD after significant prenatal exposure to Tylenol or generic acetaminophen.
Contact our Tylenol autism lawyers today at 800-553-8082 or get a no-obligation, free online consultation.