Our law firm is handling baby food autism lawsuits in all 50 states.
Several brands of very popular baby foods contain high levels of heavy metals such as mercury, arsenic, lead, and cadmium. These heavy metals are well-known neurotoxins. Consuming these toxic metals in baby foods may have caused thousands of children to develop autism and other neurodevelopmental disorders.
Many parents are filing a toxic baby food lawsuit to protect their children, alleging claims against the manufacturers of these contaminated baby foods. These baby food autism lawsuits allege the manufacturers knew about heavy metals in their products children developed autism from consuming them.
If your child has suffered autism and you believe these metals in baby food are the cause, you may be eligible for compensation in a baby food autism lawsuit. Call our lawyers today at 800-553-8082.
Growing concern that Tylenol during pregnancy may cause autism has led to a class action lawsuit for those autism lawsuits as well
Baby Food Autism Lawsuit Updates
Before we dive into the substance of the baby food autism lawsuit, let's look at where we are in the litigation:
December 3, 2022
Over 100 lawsuits are now pending against baby food companies seeking to hold them liable for the high levels of toxic heavy metals contained in their products.
Beech-Nut and other defendants have recently filed motions to dismiss many of these cases. Based on the legal arguments made in these motions, it is very clear what the overall defense strategy is going to be in these cases.
First and foremost, the defendants are going to aggressively argue that there is no reliable scientific evidence to show that their baby food products (even with the heavy metals) can cause autism and other conditions.
Second, the defendants are going to present a federal preemption defense and argue that the tort claims are preempted by the federal authorities' ability to regulate the presence of heavy metals in baby food products.
November 14, 2022
We get a lot of calls from people who want to bring a baby food ADHD lawsuit.
Has ADHD been linked to toxic metals in baby food?  It has.  But our firm is not yet taking ADHD baby food lawsuits.  We think the science needs to be stronger before taking on ADHD claims.
Here are firms that seem to be taking ADHD baby food cases. They are not linked to our firm in any way:
Miller Injury Firm (really, not us)
But there are lots of others taking ADHD cases, too.  We just pulled these out for you, pretty much at random.
November 6, 2022
A baby food lawsuit will go to trial on May 2, 2023, in Los Angeles, California.  That case still has most of the major defendants:
*Beech-Nut
*Gerber
*Parent's Choice (Walmart)
*Hain/Earth's Best
*Sprout
*Nurture
*Plum
August 30, 2022
The earliest baby food autism lawsuits were filed in March 2021 after the release of a Congressional report about the levels of heavy metals in baby foods.
There have been about 60 similar product liability lawsuits have been filed against baby food manufacturers in federal and state courts since then.
Our lawyers went back and looked at the status of many of the earliest cases. A large percentage of them have been voluntarily dismissed by the plaintiffs.
There is a case in state court heading to trial this summer.  It is hard to imagine a scenario where the manufacturers allow that case to go to trial.  It is reasonable to expect they will offer a reasonable settlement amount to give them a chance to figure out how they are will approach these baby food lawsuits.
For those cases still pending, our attorneys have not seen any trial dates scheduled in federal court. But based on normal time frames for federal court cases that could be happening soon. We could end up seeing our first autism baby food case go to trial before the end of 2022.
June 23, 2022
Our lawyers have been closely tracking incoming toxic baby food autism lawsuits as they continue to get filed in the federal court system. Over the last six months, there have been at least 14 new product liability lawsuits alleging that heavy metals in baby foods led to the development of autism or other neurologic disorders.

The most frequently named defendant in these cases has been Nurture, Inc., which makes HappyBaby Organics brand food. Nurture has been named as a defendant in seven of the new toxic baby food cases. Gerber ranks second with 4four cases filed against it, followed by Hain Celestial and Sprout Foods with three lawsuits each.
May 26, 2022
The baby food autism lawsuits are getting new steam.
California Clears Path for Baby Food Autism Trial in August 2022
First, and this is big news, a California court ruled this week that the plaintiffs – a boy and his family –  had presented sufficient science in a baby food autism lawsuit to move forward to trial in August.
This is a major development in the baby food toxic metals litigation.  California law requires expert witnesses to have a reasonable foundation for their opinions before testifying at trial.  In finding for the plaintiffs, the court is finding that the evidence that links autism and baby foods has an adequate foundation to be presented to a jury. What I have been saying all along was getting past this hurdle was the key to plaintiffs winning jury payouts and getting reasonable settlement amounts.
Baby Food Class Action Lawsuit in Federal Court
In another development in baby food claims, a judge in the U.S. District Court for the Northern District of California ruled that plaintiffs could proceed with a proposed baby food autism class action lawsuit.  This lawsuit in federal court alleges that Walmart knowingly sold its "Parent's Choice" baby food with toxic metals in it.
Independent laboratory testing confirmed last year that Walmart-branded baby food contained levels of heavy metals that were significantly higher than the maximum safe levels set by the FDA.
May 2, 2022
There have been a number of baby food lawsuits filed by consumers who looking for a refund for the baby food they bought because the food maker did not disclose the risk of toxic metals in their baby food products.  Our baby food lawyers are focused on autism diagnosis lawsuits, not consumer cases.  But many of them are being pursued.  A federal court judge in New Jersey dismissed a baby food class action lawsuit against Sprout Foods because the plaintiffs did not connect the dots between heavy metals in baby food and the harm to children and it did not demonstrate there are cheaper and safer products available.  (Thankfully, a California judge concludes just a month later that plaintiff did connect the dots between toxic metals in baby food and autism sufficient to send the case to trial this summer.)
Discovery of Toxic Heavy Metals in Certain Baby Food Brands
In October 2019, a non-profit organization called Happy Babies Bright Futures ("HBBF"), published a report with the results of extensive testing performed on 168 different baby foods sold on the U.S. market. The HBBF report found that over 90% of the tested products were contaminated with arsenic, lead, cadmium, and mercury. All but nine of 168 baby foods contained at least one of these metals and most contained more than one.
Specifically, the HBBF report identified "puffs and other snacks made with rice flour", "teething biscuits and rice rusks", "infant rice cereal", "an apple, pear, grape, and other fruit juices", and "carrots and sweet potatoes" manufactured by baby food companies as particularly high in the toxic metals.
This report kicked off concerns about heavy metals and baby food that ultimately led to the baby food autism lawsuits.
Congressional Report Confirms Findings of Toxic Heavy Metals in Baby Food
On February 4, 2021, the U.S. House of Representatives Subcommittee on Economic and Consumer Policy issued a detailed investigative report entitled Baby Foods are Tainted with Dangerous Levels of Arsenic, Lead, Cadmium, and Mercury (the "Congressional Report"). The Congressional Report confirmed the HBBF findings that many major baby food brands contain toxic heavy metals such as lead, arsenic, and mercury.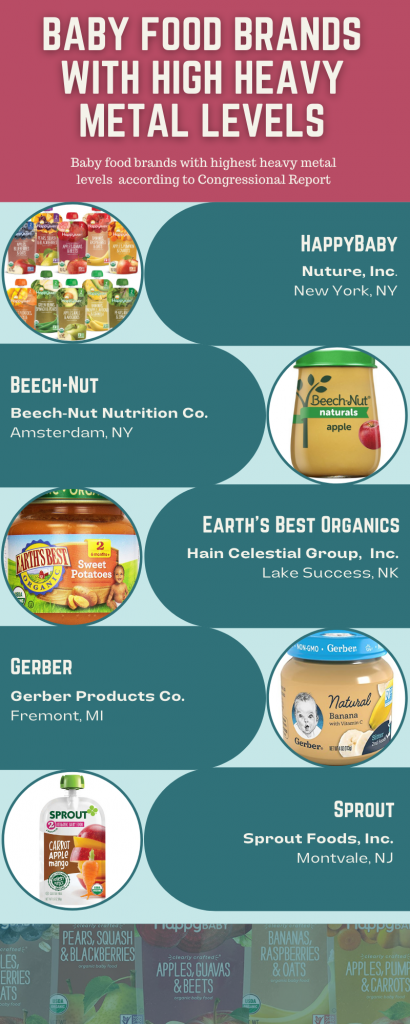 The levels of these metals found in baby food were many times higher than the levels allowed for other products like bottled water. For example, the FDA's maximum safe level for lead in bottled water is 5 ppb. The Congressional Report found that Beech-Nut brand baby foods tested as high as 886 ppb for lead and Hain Celestial (Nature's Best) brands contained 641 ppb.  Other major brands, including Gerber, Campbell Plum, and Walmart had lead levels between 25-40 ppb, which was still 5-10 times higher than the safe limit.
The most shocking finding contained in the Congressional Report, however, was that the food manufacturers were well aware that their products contained these high levels of toxic metals.
Internal testing at many manufacturers confirmed that the foods contained dangerously high levels of lead and other metals, but the products were sold anyway. Hain Celestial held a meeting with the FDA at which it acknowledged the heavy metal contamination in its baby food products.
The FDA under Trump did nothing in response to this Congressional Report.  Under Biden?  Nothing but baby steps.  Very frustrating. For any victims, all they can do is file a baby food autism lawsuit to be heard and make a difference for their child.
Link Between Autism and Heavy Metals
Autism spectrum disorder ("autism") is a neurologic disorder that impairs the individual's ability to engage in normal social interactions, learning, and interpersonal communications. Autism comes in different levels of severity and a variety of related symptoms. Autism is not something that can be cured.
The exact causes of autism are not fully understood. There is evidence that the consumption of toxic heavy metals (such as in baby foods) can cause autism. Many studies released over the last decade have consistently found a positive association between exposure to toxic heavy metals (particularly during infancy and early childhood) and the development of autism.
Korean Study Linking Mercury and Autism
One of the first studies was published in 2014. This study found that environmental exposure to mercury during early infancy caused a twofold increase in the risk of developing autism. A 2017 cohort study of children in Korea found a similar link between mercury exposure and autism.
Buffalo Study Linking Arsenic and Autism
In 2019, researchers at the University of Buffalo published the results of an extensive study on the association between children's exposure to arsenic and autism. The analysis concluded that there is consistent evidence supporting a positive association between early-life inorganic arsenic exposure and autism diagnosis.
New York Studying Linking Cadmium and Mercury to Autism
Similar results were observed in another systematic review and meta-analysis published in 2020 by researchers at the State University of New York. This study found a similar connection between autism and exposure to cadmium and mercury.
Lawsuits Alleging Heavy Metals in Baby Food Cause Autism
The Congressional Report about heavy metals in baby food has prompted many product liability lawsuits against baby food manufacturers by parents who allege that these products caused their children to develop autism.
The baby food autism lawsuits are based in part on findings in the Congressional Report. The report confirmed what baby food lawyers have been saying long before these autism lawsuits were being taken seriously.  Baby food manufacturers were aware their food contained unsafe levels of heavy metals. Some baby food companies have ignored their internal testing procedures for detecting heavy metals in their products.
The foundation of every heavy metal food autism lawsuit is the complaint that these companies simply ignored test results finding dangerously high metal levels.  Many of these companies violated their internal company standards in doing so. It is not too dramatic to say that is putting profits over babies.
Other manufacturers, such as Hain Celestial, simply don't bother to test their products for heavy metal contamination levels. Some companies, such as Plum Organics and Sprout Foods, Inc., refused to cooperate with the congressional investigation, so we don't know what testing they may have done on their products. All these baby food companies either knew or should have known about the scientific research linking exposure to heavy metals in baby food causes autism.
Universal Agreement on Lead in Baby Food
Lead is a heavy metal that is a known neurotoxin and carcinogen. Lead is readily absorbed into body tissue and it is hard to expel. This makes lead harmful for longer.
This is not just the musing of a lawyer looking to file a baby food autism lawsuit. There is widespread agreement on the perils of children consuming lead.
The Centers for Disease Control (CDC): "No safe blood lead level has been identified."
The Food and Drug Administration (FDA): There is no known identified safe blood lead level."
The World Health Organization (WHO): The neurological and behavioral effects of lead are believed to be irreversible. There is no known 'safe' blood lead concentration…"
The American Medical Association (AMA): "We know that there is no safe level of lead."
American Academy of Pediatrics (AAP): "There is no safe level of lead exposure in children, with lasting decreases in cognition documented in children with blood levels as low as 5 micrograms per deciliter of lead in blood."
The House Report on baby food found up to 177 times – 177 times! – more than the levels of lead deemed acceptable for adults. So why do we continue to allow lead in baby food?  This recent study provides one answer.  We are not getting decisions and recommendations from neutral third parties with our children's best interests in mind. We are getting it from people in the industry who profit from not properly monitoring the lead levels in the food that we are giving our children.
Example of Baby Food Autism Lawsuit
Not long after the Congressional Report detailing the extent of heavy metal contamination in various major baby food brands was made public, a group of baby food autism lawsuits was filed across the country. These autism lawsuits asserted that the baby food companies knew that their products contained unsafe levels of toxic heavy metals and that the plaintiffs developed autism as a proximate result of consuming the metals in these foods.
One of these contaminated baby food autism lawsuits was the case of Lawrence v. Hain Celestial Group, et al., 1:21-cv-01287 (E.D. NY), which was filed in federal court in New York in March 2021.
The 50-page complaint in Lawrence sets forth the full story behind the discovery of toxic levels of heavy metals in baby foods, starting with the HBBF call to action to the subsequent congressional investigation. The complaint lays out a detailed statement of the scientific causation evidence regarding the link between autism and exposure to lead, arsenic, mercury, and other heavy metals during early childhood development.
In the "Plaintiff-Specific Allegations" section, the baby food causes autism lawsuit states that the baby was regularly fed Earth's Best Organic and other baby food brands manufactured by the defendants. The complaint relies on the congressional report for its assertion that these foods were contaminated with various heavy metals and claims, based on "prevailing scientific evidence," that consuming these metals in baby food causes autism.
The complaint sets forth seven separate product liability causes of action. The causes of action included strict liability claims for failure to warn, design defect, and manufacturing defect. The four negligence claims were based on the same three3 theories, plus an additional claim for negligent misrepresentation.
February 2022 Baby Food Class Action Lawsuit
Baby food manufacturers Gerber, Beech-Nut, Nuture Inc., Plum Inc., Sprout Foods, and Walmart, were named as defendants in a new consumer toxic baby food class action lawsuit filed last week in Los Angeles County Superior Court. This baby food lawsuit alleges that the defendants violated numerous consumer protection laws by falsely marketing their products as safe when they contained dangerously high levels of toxic heavy metals such as lead, mercury, and arsenic.
The plaintiffs seeking to represent the class are 13 individuals who allegedly purchased and used baby food products manufactured by the defendants.  None of the plaintiffs (or their children) have suffered any physical injuries and the lawsuit only seeks economic and statutory damages.
The factual allegations in this baby food lawsuit are drawn almost entirely from the data reported last year in a U.S. Congressional subcommittee report about toxic metal contamination in baby foods.
The bigger question is whether there will be a baby food autism class action lawsuit.  There are not enough cases yet.  But this litigation is gaining steam. So we see if a class action is on the horizon in these heavy metal baby food lawsuits.
Who Are the Defendants in Baby Food autism Lawsuits?
Possible defendants in your baby food autism lawsuit include:
Beech-Nut
Hain Celestial Group (Earth's Best Organic)
Nurture (Happy Family Organics and HappyBABY Plum)
Organics Sprout Foods (Sprout Organic Food)
Walmart (Parent's Choice)
Where Are the Baby Food Autism Lawsuits Going?
There is no federal MDL class action baby food autism lawsuit. There are cases filed individually around the country in state and federal courts. Many toxic baby food lawsuits have been filed in California. These suits are progressive more quickly there than in other jurisdictions. If one of these lawsuits makes it to trial and gets a verdict, this litigation will explode.
What has to happen before a baby food lawsuit makes it to trial?  The big thing is getting the trial judge to agree that the science shows there is a link between baby food and autism. There are good studies that link heavy metal and autism. But baby food autism lawyers need to show that this link extends to the metals in baby food.
In federal court cases, courts use a process called Daubert to determine if the science is strong enough to proceed to trial.  In California, the process is called Sargon.  Both are named after court cases that set federal and California standards for whether the science presented by the experts is sufficient.  If toxic baby food lawyers get past this hurdle, that could compel baby food makers to work harder to get rid of toxic heavy metals in their products… and offer reasonable settlement amounts for the pending toxic baby food lawsuits.
In the California lawsuits, four heavy hitter experts testified for the plaintiffs:
Dr. Beate Ritz (epidemiologist at UCLA)
Dr. Hannah Gardener (Epidemiologist at the University of Miami)
Dr. Michael Aschner (Professor of Neuroscience at Albert Einstein)
Dr. Kevin Shapiro (Executive Director of Research and Therapeutic Technologies at Cortica)
It would seem difficult to suggest that these experts do not employ well-tested science to form their conclusions.  We will see.
Baby Food Autism Settlement Amounts
If toxic baby food lawsuits alleging autism are successful, the settlement amounts in these cases could be enormous.
Settlement Amounts Are Speculative at This Point
But let's take a step back.  Estimating the settlement payouts for any personal injury claim is inherently speculative. There are so many variables and no two cases are exactly alike in terms of the various factors that impact settlement compensation or a jury payout.
Not Many Injuries Comparable to Autism
Estimating the settlement amounts for a baby food autism lawsuit is a particular challenge.  The most reliable method of estimating settlement value is by looking at settlements in prior cases involving comparable injuries and other circumstances.
For a toxic baby food lawsuit, however, prior comps don't exist. There have never been any successful tort lawsuits in which autism was the primary injury. Previous efforts to link autism to some type of negligent action have generally failed.
Birth Injury Cases Are Lens to Settlement Amounts in Baby Food Autism Lawsuits
In the absence of prior settlements or verdicts awarding compensation for autism, our baby food lawyers look at prior cases involving injuries with similarities to autism. The best comps for this are probably birth injury malpractice cases involving permanent neurologic injuries. Neurologic birth injuries are comparable to autism because they result in:
permanent limitations in a child's mental functioning,
a lifetime of future medical care, and
a lifetime of future lost income from reduced earning capacity.
Birth injury cases involving permanent neurologic injuries have a very high settlement value. Birth injury cases involving cerebral palsy have the highest average settlement value of any type of personal injury malpractice. Cerebral palsy is not a good comparable injury to autism because CP often involves severe physical disabilities and more extensive medical care.
Successful Lawsuit Settlement Compensation Amount Predictions
The best comparable lawsuit is those involving neurologic birth injuries that result in mental but not physical impairment. Cases involving this type of permanent injury to a child have an average settlement value in the range of $1,200,000 to $5,000,000 depending on the severity level of the mental impairment.
The toxic baby food autism cases would probably have a somewhat lower settlement value because of the potential problems with establishing causation.  Realistically, there is also the question of how much these companies would be able to pay without declaring bankruptcy. This is a hard variable to bake into a settlement amount estimate.
Assuming there is enough money to pay settlements and solid causation evidence linking baby food metal to autism – this was a quantum leap assumption that is less of a leap after the court's ruling in May 2022 I talk about above – toxic baby food lawsuits alleging autism could have a settlement value of around $450,000 to $1,500,000, depending on the severity of the autism.
Some Baby Foods Are Safe 
The narrative the baby food manufacturers want to push in these toxic baby food lawsuits is that these toxins are just in the environment and they cannot make baby food without these toxic metals.  But it is not true.  Not all baby food brands are contaminated with unsafe levels of toxic heavy metals such as lead, arsenic, and mercury.
There are a number of companies making baby foods that do not contain heavy metals above the maximum safe levels set by health authorities. These companies use higher-quality ingredients with fewer heavy metals and also perform strict product quality testing on the contamination levels of their product before they leave the production line.
Below is a list of "safe" baby food brands that ensure that their products do not contain high levels of toxins and heavy metals.
Once Upon a Farm: this is a new company that makes baby foods with higher quality, organic ingredients and ensures that there are no high levels of heavy metals. The downside is that they also do not use any preservatives on their products, so everything has to be refrigerated.
Yumi: Yumi has some of the strictest product quality control testing in the industry. Not only do they test their finished products, but they also test for metals in the organic ingredients before they use them. Yumi also sources its ingredients based on an analysis of soil contamination data to determine what the safest growing locations are.
Little Spoon: this is a fresh baby food company that makes its products without preservatives and delivers them to customers directly on a subscription basis. This allows them to ensure the highest quality without heavy metals.
In addition to buying higher-quality baby foods that test for heavy metals, there are other ways to reduce the amount of heavy metals your child consumes in their diet. One of the best ways is to avoid giving them fruit juice. Juice, especially certain types like grape juice, often contains high trace levels of arsenic. Another tip is to avoid feeding your child rice-based products because rice absorbs metals in the soil and tends to have the highest trace amounts of heavy metals.
Contact Our Toxic Baby Food Lawyers to File a Baby Food Autism Lawsuit
If your child has been diagnosed with autism and you believe it may be related to the ingestion of toxic heavy metals in baby foods, you may be able to file a lawsuit and seek financial compensation. Call our baby food autism lawyers at 800-553-8082 or contact us online.