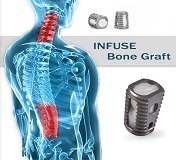 A Missouri federal district court judge has ordered a Medtronic bone graft lawsuit back to state court.
The case stems from an off-label spinal fusion procedure. Plaintiff sued Medtronic and his surgeon claiming that Infuse bone graft was used in a manner that had not been approved by the U.S. Food and Drug Administration and was therefore an unauthorized off-label use.
Originally filed in state court, Medtronic had the case transferred from state court to federal court, claiming that the surgeon, a Missouri resident, was fraudulently joined In the course of litigation.  As I wrote last week in another context, the drug and medical device companies see the joinder of any in-state defendant as fraudulent.
In this case, Plaintiff alleged fraud, medical malpractice, and failure to obtain informed consent against the surgeon.  Medtronic argued that the doctor was fraudulently joined because some of the causes of action against him contradicted accusations made against Medtronic.  The judge, in response, determined that the possibility that a state court will incorrectly resolve a state claim is not, in itself, enough to trigger jurisdiction in the federal court.
Medtronic Infuse bone graft has recently been linked to cancer, just the latest in surmounting concerns with Medtronic that include male sterility and ectopic bone growth. Among other accusations, Plaintiffs are filing suit claiming design defect, strict product liability, failure to warn, and negligence.
Lastly, this "off-label" use lawsuit is not the first of its kind.  There is a growing number of lawsuits filed against Medtronic alleging that they have repeatedly ignored the FDA's warning against the promotion of off-label uses of the product.  Evidence has been discovered that the company provided "kickbacks" and other incentives to doctors that recommend the use of Infuse Bone Graft in unapproved situations.  It is estimated that an astounding 85% of Infuse bone graft surgeries are considered off-label. According to Medtronic statistics, Infuse has been used in more than 500,000 patients.  That equates to 425,000 off-label uses.   That is huge, just plain huge.
2023 Medtronic Bone Graft Lawsuit Lookback
We go back and look at pages and update them.  Let's take a look back on what happened with the Medtronic bone graft lawsuits.
Medtronic faced a number of lawsuits over its product known as Infuse, a bone graft device. Infuse Bone Graft is a synthetic, concentrated protein that helps stimulate bone growth and was approved by the FDA in 2002 for specific types of spinal fusion surgeries.
The lawsuits stemmed from allegations that Medtronic illegally marketed the Infuse Bone Graft for off-label uses, meaning uses not approved by the FDA, and that the company did not adequately disclose the risks associated with the product. Some patients experienced complications such as difficulty breathing, swallowing or speaking, nerve damage, cancer, and male sterility.
There were a lot of lawsuits, not just injury claims, that came out of the problems with the Infuse:
Off-Label Promotion: One of the main allegations was that Medtronic promoted the Infuse Bone Graft for off-label uses. While the FDA approved the device for specific types of spinal fusion surgeries, it was alleged that Medtronic marketed the device for other types of surgeries not approved by the FDA, which is illegal.
Failure to Disclose Risks: Plaintiffs claimed that Medtronic failed to adequately disclose the potential risks and side effects of the Infuse Bone Graft. These complications included difficulty breathing, swallowing or speaking, nerve damage, cancer, and male sterility.
Misrepresentation of Safety and Efficacy: Some lawsuits alleged that Medtronic misrepresented the safety and efficacy of the Infuse Bone Graft in its marketing materials and publications. It was claimed that the company paid physicians to write favorable articles and downplay the risks.
Unfair Business Practices: Some plaintiffs accused Medtronic of unfair business practices, including the concealment of unfavorable clinical trial results and paying kickbacks to physicians to use and promote the Infuse Bone Graft.
Injuries and Damages: Many plaintiffs claimed to have suffered serious injuries and damages as a result of the use of the Infuse Bone Graft, including severe and chronic pain, additional surgeries to correct complications and other physical and emotional harm.
Medtronic had settled some of the lawsuits related to Infuse. In 2014, the company agreed to pay $22 million to settle about 950 lawsuits and set aside an additional $140 million to settle an estimated 3,800 additional claims. In 2018, Medtronic also agreed to a $43 million settlement to resolve a shareholder lawsuit related to Infuse.
We are unaware of any pending litigation involving the Infuse in 2023.
For more information on Medtronic Bone Grafts: