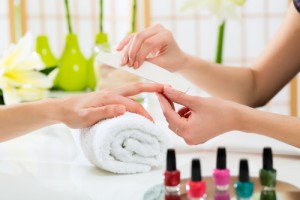 Here's an interesting case that I saw looking at settlements and verdicts last night.
A woman is in a nail salon in Baltimore to have her acrylic fingernails removed.nShe goes back to a table. Basically, to get acrylic nails off, you use acetone.  You place a bowl in a larger bowl that is filled with warm water and the acetone dissolves plastic.
Easy enough.  But acetone is extremely flammable so there better not be any smoking or, I don't know, defective wires around.   Plaintiff put her fingers in the bowl and a defective wire caused a spark and the acetone ignited. Where did this defective wire come from?  I don't know. I'm already past my pay grade of acrylic fingernails removal knowledge.
Plaintiff brought a legal action in Baltimore City alleging strict liability, negligence,  and violations of the Maryland Consumer Protection Act.   In other words, the lawsuit alleged that you really can't be using acetone unless you are sure you don't have defective wires near the stuff.
Plaintiff had some really tough injuries, second-degree burns on 40% of her body. Burn injury cases are really just awful.  She has $150,000 in past and future medical expenses and $150,000 in lost income.  The defendant – insured by State Farm of all insurance companies – put up $1 million to settle the case.   I have to assume they paid the policy limits on the case.  What I don't know from the report is how deep into the litigation this case had to go before State Farm tendered the $1 million.
We frequently get calls on nail salon injury cases.   The most common injury?  Infections.
Sometimes, they are real cases.  I saw a $2 million verdict a few months back where the nerve fibers were so damaged during a pedicure that the woman needed a spinal stimulator to walk.  Can you imagine?  From a pedicure.  But in most of these calls, while the salon was probably negligent,  the level of damages makes it difficult to get an attorney involved.