SimplyThick, LLC is facing over 20 different lawsuits from parents of children who have experienced serious injuries or death from the food thickening agent. These lawsuits claim that the infants were severely ill and/or died after experiencing necrotizing enterocolitis (NEC).
SimplyThick & NEC
SimplyThick was placed on the market in 2001 but since 2004, researchers have been warning that there is a potential link between the food thickening product, originally given to babies in their formula to prevent them from spitting up, and NEC.
NEC, a rare condition in which the tissues of the intestines become inflamed and die and must be surgically removed, has a mortality rate of 25%. Symptoms of NEC include stomach bloating, green-colored vomit, and bloody stools.   NEC is getting more attention in 2022 because of the NEC baby formula class action lawsuit alleging cow milk causes NEC is premature babies.
What happens is damage to the intestinal tissues puts a hole or holes in the child's intestines. This leads to bacteria in the intestinal tract flowing into the stomach.  The big risk of infection comes on very quickly.  The disease can progress very quickly. Infection in the intestines can overwhelm to a baby and, even with treatment, there may be serious complications.
The Warnings
After receiving at least 15 cases of NEC and a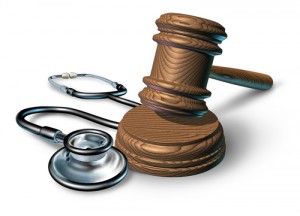 t least two deaths among infants who had been fed the product, the FDA issued a warning in May 2011 that SimplyThick should not be used with premature infants. An additional 22 new cases were reported after the initial warning and it was expanded in September 2012, indicating that the product should not be used by infants of any age due to the life-threatening side effects.
Shortly after the warning, inspectors discovered that SimplyThick, LLC did not follow the proper process that could help prevent potential bacterial contamination.
Since its removal from the shelves in 2011, allegations have been made that the primary ingredient, Xantham gum, causes infections and that the company has failed to properly test it for potential health risks.
Malpractice Cases Involving NEC
In these cases, there is also the possibility of medical negligence contributing to the injuries.
Failure to Recognize and Treat NEC
There are a number of malpractice lawsuits alleging the failure to recognize and treat symptoms of necrotizing enterocolitis in a timely manner.  Many of these children go to the ER and get sent home was being a grave risk.
In these cases, you need an expert in neonatology who can testify that the child had signs and symptoms of necrotizing enterocolitis prior to discharge or leaving the child's pediatrician and that the doctors violated the standard of care because they should have identified those symptoms.
The defenses to these claims will be the same as the defenses in the liability cases: the child would have problems anyway because they were born prematurely.  But this is, in most cases, a relatively easy defense to beat.
Giving Cow Milk to a Premature Baby
The NEC lawsuits in 2022 are focused on the formula makers failure to warn patients.  But some doctors knew of the risk and still prescribed the formula.  These lawsuits have moved off-stage with the product liability lawsuits.  But they are still potential medical malpractice claims.
Contact Us
It's common for infants, especially those born premature, to have some problems.  We all get this.  But our job is to take these babies and do everything in our power to make them safe.  A product that is supposed to help your newborn is putting them at risk?   That is just not tolerable.
Have you or a loved one suffered these adverse side effects from this food-thickening agent? If so, contact us to discuss your concerns and a possible NEC lawsuit at 1.800.553.8082 or online, here.