A growing number of product liability lawsuits are now being filed alleging that the popular baby formula, Similac, caused premature infants to develop a serious gastrointestinal infection called necrotizing enterocolitis (NEC).
Our national product liability and mass tort firm is seeking potential Similac lawsuits against the formula manufacturer, Abbott Laboratories Inc., for failure to warn about the risks of NEC associated with Similac. If you bring a successful baby formula NEC lawsuit you could receive significant financial compensation.  Our attorneys offer a free online consultation.
This page was updated with a new video on January 5, 2022.
Link Between Similac and NEC in Premature Babies
Similac, which is manufactured by Abbott Laboratories, is one of the most popular brands of infant formula in the U.S. Like many infant formulas, Similac is made from cow milk which is formulated to substitute for human breast milk.  Recent medical research studies have conclusively established that cow-milk formulas such as Similac are dangerous for premature infants because they greatly increase the risk of a dangerous bowel infection called necrotizing enterocolitis (NEC).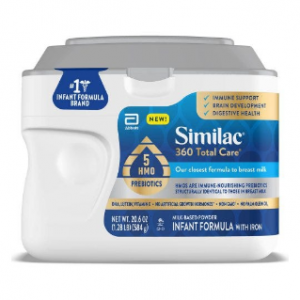 NEC is a gastrointestinal bacterial infection that can afflict newborn babies. The infection is very aggressive and causes rapid decay of tissue in the baby's intestinal walls.
The necrotizing infection caused by NEC originates in the inner lining of the intestinal wall and eventually causes tissue death through the full thickness of the intestine resulting in a perforation.
Individual NEC cases range in severity from mild to severe. Mild cases of NEC only cause moderate discomfort and are not life-threatening. NEC classified as severe are frequently fatal for the baby and can have permanent consequences even if the infant does survive.  Severe NEC causes pain from acute inflammation of the bowels. If not promptly diagnosed and treated, serious NEC infections will cause a perforation or hole to form in the wall of the intestine as the tissue decays.
This perforation of the intestinal wall is what makes NEC so deadly for newborns. The hole in the intestine enables harmful bacteria to leak out into the abdominal cavity. Once the infection takes hold outside the intestine it will rapidly develop into a widespread systemic infection and eventually cause sepsis and death.
The scientific evidence linking Similac to NEC in preemies dates back to the 1990s, but recent studies have conclusively confirmed that feeding cow-milk formulas like Similac to premature babies greatly increases the baby's risk of developing NEC.
Premature babies who are feed with Similac instead of breast milk are ten times more likely to develop NEC. This has prompted many prominent public health organizations such as the American Academy of Pediatrics to strongly caution against feeding Similac or other cow-milk formulas to premature infants.
Formula Companies Ignored the Risk of NEC
Similac infant formula is manufactured and sold by the Chicago-based medical device company Abbott Laboratories Inc. ("Abbott"). Abbott and other formula manufacturers have long been aware of the scientific evidence linking cow-milk formulas to higher rates of NEC in premature babies. However, Abbott has never included a warning on its product labeling for Similac cautioning parents or doctors about the risks of giving Similac to preemies. In fact, Abbott has marketing Similac as a safe and effective substitute for human breast milk.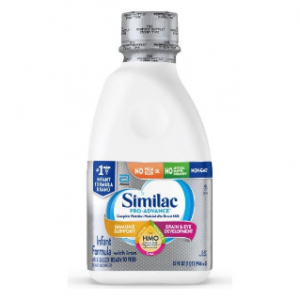 Product manufacturers such as Abbott have a legal obligation to warn consumers about known risks and dangers associated with their products. Abbott has repeatedly made a deliberate choice not to include any warnings about NEC on its product labeling for Similac over the years. This decision was presumably made to avoid any negative impact on the marketability of Similac. Abbott's failure to warn about NEC risks for preemies is the primary legal theory in the Similac NEC lawsuits being filed against the company.
Status of Similac Lawsuits
The litigation involving Similac and the increased risk of NED in premature infants is starting to pick up momentum. New NEC lawsuits are being filed against Abbott and other formula manufacturers on a regular basis in courts around the country.
These Similac lawsuits are primarily asserting product liability claims against Abbott based on negligent failure to warn and strict product liability.
As the volume of NEC infant formula lawsuits continues to grow, all pending Similac lawsuits in the federal courts will likely be consolidated into a new "class-action" MDL (multi-district litigation). MDLs in mass tort product liability litigation are similar to traditional class actions, except that the Similac baby formula lawsuits would remain separate lawsuits and are only consolidated for pretrial discovery and a few bellwether trials to help determine settlement value.
A request has already been made to consolidate 33 NEC formula cases against Abbott that are pending in Illinois state courts. This is basically the state court equivalent of an MDL and it is a clear indication of where things are probably heading with these cases.
How Much Will Similac Lawsuits Be Worth?
We are still in the very earliest stages of the Similac NEC litigation so no baby formula NEC lawsuits have been settled or gone to trial yet. This makes it very difficult to say exactly what likely the settlement value of a Similac lawsuit might be.
We can get some guidance compensation victims have received by settlement or verdict in other cases in which the primary injury was NEC involving a newborn. Our lawyers can get this information from settlements and verdicts in recent medical malpractice lawsuits involving NEC.  So we went and looked because we knew this information would be of interest of people considering bringing a Similac baby formula lawsuit.
The average compensation awarded in some of the most recent malpractice lawsuits for NEC in premature infants was around $3.5 million. The median settlement or verdict in these recent NEC cases was $1.3 million.
Similac Lawsuit Likely Would Lead to Higher Settlement Amounts
These values in malpractice cases involving NEC are probably lower than the potential settlement or verdict amounts we could see in Similac NEC lawsuits. The defendants in the NEC malpractice cases were doctors or nurses who probably made honest mistakes. These types of defendants get much more sympathy from juries than big companies (like Abbott).
Can Your Lawyers Project a Settlement Amount for a Similac NEC Lawsuit?
It is too early in the litigation to be projecting settlement compensation amounts.  Are lawyers privately doing it anyway?  Yes.  So what are we saying?  The likely settlement amount for an NEC lawsuit is likely to range between $250,000 and $600,000.
FAQS: Similac NEC Lawsuits
Has Similac Been Recalled?
No. Similac has not been recalled for causing NEC in preemies.
Does Similac Cause NEC?
When Similac is fed to premature infants their risk of developing NEC increases significantly.
Who makes Similac formula?
Similac brand infant formula is manufacturered by Abbott Laboratories, Inc., a medical product company based outside Chicago.
What is a Similac NEC lawsuit?
Similac NEC cases are product liability lawsuits against the manufacturer of Similac formula for failing to warn that feeding Similac to premature infants increases their risk of developing NEC.
Contact a Similac NEC Lawyer Today
Miller & Zois is a national mass tort firm that represents consumer victims. We are currently seeking new cases from individuals who had a premature baby that developed NEC after being fed with Similac formula. Contact us today to see if you have a case.