Product liability lawsuits are being filed alleging that the popular baby formula, Similac, caused premature infants to develop a serious gastrointestinal infection called necrotizing enterocolitis (NEC).
Our national product liability and mass tort firm is seeking potential Similac lawsuits against the formula manufacturer, Abbott Laboratories Inc., for failure to warn about the risks of NEC associated with Similac.
If you bring a successful baby formula NEC lawsuit you could receive significant financial compensation.  Our attorneys offer a free online consultation.
This page was updated with new information and a new video on March 1, 2022.
Link Between Similac and NEC in Premature Babies
Similac, which is manufactured by Abbott Laboratories, is one of the most popular brands of infant formula in the U.S. Like many infant formulas, Similac is made from cow milk which is formulated to substitute for human breast milk.
Recent medical research studies have conclusively established that cow-milk formulas such as Similac are dangerous for premature infants because they greatly increase the risk of a dangerous bowel infection called necrotizing enterocolitis (NEC).
What Is NEC?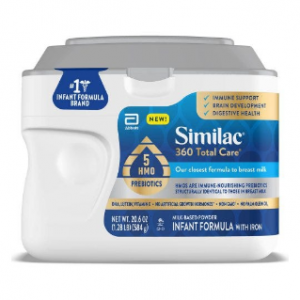 NEC is a gastrointestinal bacterial infection that can afflict newborn babies. The infection is very aggressive and causes rapid decay of tissue in the baby's intestinal walls.
The necrotizing infection caused by NEC originates in the inner lining of the intestinal wall and eventually causes tissue death through the full thickness of the intestine resulting in a perforation.
Risk of NEC
Individual NEC cases range in severity from mild to severe. Mild cases of NEC only cause moderate discomfort and are not life-threatening.
NEC classified as severe are frequently fatal for the baby and can have permanent consequences even if the infant survives.  Severe NEC causes pain from acute inflammation of the bowels. If not promptly diagnosed and treated, serious NEC infections will cause a perforation or hole to form in the intestine's wall as the tissue decays.
This perforation of the intestinal wall is what makes NEC so deadly for newborns. The hole in the intestine enables harmful bacteria to leak out into the abdominal cavity. Once the infection takes hold outside the intestine it will rapidly develop into a widespread systemic infection and eventually cause sepsis and death.
Link Between Baby Formula and NEC Is Not New
Scientific evidence linking Similac to NEC in preemies dates back to the 1990s. But the weight of the scientific evidence reached a critical mass.  It is impossible to dispute that feeding cow-milk formulas like Similac to premature babies greatly increases the baby's risk of developing NEC.
Premature babies who are fed with Similac instead of breast milk are ten times more likely to develop NEC. This has prompted many prominent public health organizations such as the American Academy of Pediatrics to strongly caution against feeding Similac or other cow-milk formulas to premature infants.
Formula Companies Ignored the Risk of NEC
Similac infant formula is manufactured and sold by the Chicago-based medical device company Abbott Laboratories Inc. ("Abbott"). Abbott and other formula manufacturers have long been aware of the scientific evidence linking cow-milk formulas to higher rates of NEC in premature babies. However, Abbott has never included a warning on its product labeling for Similac cautioning parents or doctors about the risks of giving Similac to preemies. In fact, Abbott has marketing Similac as a safe and effective substitute for human breast milk.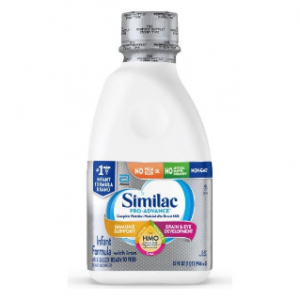 Product manufacturers such as Abbott have a legal obligation to warn consumers about known risks and dangers associated with their products. Abbott has repeatedly made a deliberate choice not to include any warnings about NEC on its product labeling for Similac over the years. They presumably made this decision to avoid any negative impact on the marketability of Similac. Abbott's failure to warn about NEC risks for preemies is the primary legal theory in the Similac NEC lawsuits being filed against the company.
Status of Similac Lawsuits
The litigation involving Similac and the increased risk of NED in premature infants is starting to pick up momentum. New NEC lawsuits are being filed against Abbott and other formula manufacturers on a regular basis in courts around the country.
These Similac lawsuits are primarily asserting product liability claims against Abbott based on negligent failure to warn and strict product liability.
As the volume of NEC infant formula lawsuits continues to grow, all pending Similac lawsuits in the federal courts will likely be consolidated into a new "class-action" MDL (multi-district litigation). MDLs in mass tort product liability litigation are similar to traditional class actions, except that the Similac baby formula lawsuits would remain separate lawsuits and are only consolidated for pretrial discovery and a few bellwether trials to help determine settlement value.
A request has already been made to consolidate 33 NEC formula cases against Abbott that are pending in Illinois state courts. This is basically the state court equivalent of an MDL and it is a clear indication of where things are probably heading with these cases.
How Much Will Similac Lawsuit Settlement Amounts Be?
Our lawyers are still in the very earliest stages of the Similac NEC litigation. No baby formula NEC lawsuits have been settled or gone to trial yet. This makes it very difficult to say exactly what likely the settlement value of a Similac lawsuit might be.
Our attorneys find guidance looking at compensation payouts by settlement or verdict in other lawsuits in which the primary injury was NEC involving a newborn. Our lawyers get this information from settlements payouts and jury compensation awards in recent medical malpractice lawsuits involving NEC.
So we went and looked because we knew this information would be of interest to people considering bringing a Similac baby formula lawsuit. The average compensation awarded in some of the most recent malpractice lawsuits for NEC in premature infants was around $3.5 million. The median settlement or verdict in these recent NEC cases was $1.3 million. (Our lawyers give more specific projections below.)
Similac Lawsuit Likely Would Lead to Higher Settlement Amounts
These values in malpractice cases involving NEC are probably lower than the potential settlement or verdict amounts we could see in Similac NEC lawsuits. The defendants in the NEC malpractice cases were doctors or nurses who probably made honest mistakes. These types of defendants get much more sympathy from juries than big companies (like Abbott).
Is Your Law Firm Handling NEC Baby Formula Recall Cases?
So in the middle of the Similac NEC baby formula lawsuits, which is very specific litigation, Abbott did a recall this week after reports of food poisoning from Cronobacter sakazakii and Salmonella Newport infections.  This impacted Similac, Alimentum, or EleCare powdered infant formulas if:
the first two digits of the code are 22 through 37
the code on the container contains K8, SH or Z2
the expiration date is 4-1-2022 (APR 2022)
So our lawyers have been getting many calls from parents reporting complications from bacterial infections.  Our Similac lawyers are now taking these cases in addition to the NEC lawsuits.
Can Your Lawyers Project Settlement Amounts for a Similac NEC Lawsuit?
It is too early in the litigation to be projecting settlement compensation amounts. Are lawyers privately doing it, anyway? Yes. So what are we saying? The likely settlement amount for an NEC lawsuit is likely to range between $250,000 and $600,000. I think the value might be even higher. The average cost of caring for an infant with moderate NEC is $500,000. So it is a tough case to settle for even $600,000, right?
FAQS: Similac NEC Lawsuits
Has Similac Been Recalled?
No. Similac has not been recalled for causing NEC in preemies.
Does Similac Cause NEC?
When Similac is fed to premature infants their risk of developing NEC increases significantly.
Who makes Similac formula?"
Similac brand infant formula is manufactured by Abbott Laboratories, Inc., a medical product company based outside Chicago.
What is a Similac NEC lawsuit?
Similac NEC cases are product liability lawsuits against the manufacturer of Similac formula for failing to warn that feeding Similac to premature infants increases their risk of developing NEC.
NEC Baby Formula Medical Literature
In the final analysis, these cases are will hinge on the scientific evidence connecting baby formula to NEC and what Mead and Abbott should have done about it.
Baby formula lawyers – and this group is growing by the day, right? – keep referring to what the medical literature says.
Look for yourself – I've linked to the articles – of what the medical literature says about NEC and baby formula.
Carr, L. E., et al. (2021). Role of human milk bioactives on infants' gut and immune health. Frontiers in Immunology, 12, 290.
This review provided an overview of human milk oligosaccharides (HMOs), immunoglobulins, microbiota, lactoferrin, and milk microRNAs. It reported on these bioactive factors' role in gut health, gut microbiota colonization, and immune system modulation.
Chandran, S., et al. (2021). Evidence‐Based Practices Reduce Necrotizing Enterocolitis and Improve Nutrition Outcomes in Very Low‐Birth‐Weight Infants. Journal of Parenteral and Enteral Nutrition, 45(7), 1408-1416.
This study looked at a hospital that implemented evidence-based strategies that addressed necrotizing enterocolitis' risk factors in very low birth weight babies. These strategies included a standardized feeding protocol, an earlier enteral feeding using human milk, increased nutrient concentrations of preterm milk feeds, and the promotion of a healthy microbiome. The researchers found that the necrotizing enterocolitis rate plummeted from seven percent in 2014 to zero percent in 2018. They also found reductions in the parenteral nutrition duration, central line use, and days to full feed rates. The researchers concluded that evidence-based practices reduced necrotizing enterocolitis rates and improved nutritional outcomes in very low birth weight babies.
Eidelman, A. I., et al. (2012). Breastfeeding and the use of human milk. Pediatrics, 129(3), e827-e841.
This article provided an overview of human milk and breastfeeding. It reported on their associations with positive health outcomes, the American Academy of Pediatrics' recommendations for breastfeeding, CDC-supported breastfeeding strategies, breastfeeding's economic benefits, and pediatricians' role in advocating for breastfeeding.
Fang, L., et al. (2021). Is preterm donor milk better than a preterm formula for very-low-birth-weight infants? Food & Nutrition Research, 65. 
 This study compared the growth parameter, feeding tolerance, and severe morbidity rates between very low birth weight babies who received preterm donor milk and those who received preterm formula. The researchers found that both groups experienced similar daily weight gain and weekly fetal head growth rates. However, the preterm donor milk group experienced lower feeding intolerance rates, shorter parenteral and hospitalization times, and lower necrotizing enterocolitis (NEC) and sepsis rates. The researchers concluded that preterm donor milk reduced feeding intolerance and could protect against NEC.
Lucas, A., et al. (1980). A human milk formula. Early human development, 4(1), 15-21.
This article provided an overview of human milk formula. It looked at how it is made and its properties. The researchers also reported that human milk formula contained antimicrobial proteins that were lost in the pasteurization process.
Masi, A. C., et al. (2021). Human milk oligosaccharide DSLNT and gut microbiome in preterm infants predicts necrotizing enterocolitis. Gut, 70(12), 2273-2282.
This study looked at human milk oligosaccharide (HMO) profiles' and infant gut microbiome development's association with necrotizing enterocolitis (NEC) in preterm babies. The researchers found that there were low concentrations of the HMO disialyllacto-N-tetraose (DSLNT) in mother's own milk that was fed to babies who suffered from NEC compared to those who did not. They also found that low DSLNT levels were associated with reduced Bifidobacterium spp levels in the gut. The researchers' forest analysis predicted NEC with 87.5 percent accuracy. They concluded that HMO and gut microbiome analysis was important to predicting NEC in preterm babies.
Savarino, G., et al. (2021). Necrotizing enterocolitis in the preterm: newborns medical and nutritional Management in a Single-Center Study. Italian journal of pediatrics, 47(1), 1-9.
This case study looked at the clinical characteristics of preterm newborns that suffered from necrotizing enterocolitis (NEC). The researchers found newborns developed NEC approximately 11 days after they first received enteral nutrition. They also found that the average fasting period following onset NEC ranged between 18 to 24 days. Over 77 percent of babies underwent surgery and resumed enteral nutrition approximately 17 days after intervention. The overall survival rate was over 55 percent.
Sullivan, S., et al. (2010). An exclusively human milk-based diet is associated with a lower rate of necrotizing enterocolitis than a diet of human milk and bovine milk-based products. The Journal of pediatrics, 156(4), 562-567.
This study looked at whether feeding infants only human milk provided more benefits than feeding them both human and cow's milk. The researchers studied three groups. All three received mothers' milk. Two of them received a human milk-based fortifier, while the other received a cows' milk-based fortifier. The researchers found that the two that consumed only human milk-based products had significantly lower necrotizing enterocolitis rates.
Terpstra, F. G., et al. (2007). Antimicrobial and antiviral effect of high-temperature short-time (HTST) pasteurization applied to human milk. Breastfeeding Medicine, 2(1), 27-33.
This study looked at high-temperature short-time (HTST) pasteurization's effects on human milk. The researchers concluded that HTST successfully eliminated bacteria and several pathogenic viruses.
U.S. Department of Health and Human Services. (2011). Executive summary the Surgeon General's call to action to support breastfeeding. Breastfeeding Medicine, 6(1), 3-5.
This article laid out the Surgeon General's breastfeeding recommendations for mothers and their families, communities, healthcare providers, employers, researchers, and public health officials. It also laid out barriers to breastfeeding, including lack of knowledge, lactation issues, poor familial support, social norms, embarrassment, and maternal employment status.
Weisman, L. E., et al. (1994). Intravenous immune globulin prophylaxis of late-onset sepsis in premature neonates. The Journal of pediatrics, 125(6), 922-930.
This study looked at whether one dose of IV-administered immune globulin (IVIG) could prevent late-onset sepsis in premature infants. The researchers examined 753 babies who received either IVIG or albumin. They found that IVIG did not impact the sepsis, death, or infection-related death rates. The researchers concluded that a single IVIG infusion was not effective in preventing late-onset sepsis in premature infants.
Contact a Similac NEC Lawyer Today
Miller & Zois is a national mass tort firm that represents consumer victims. We are currently seeking new cases from individuals who had a premature baby that developed NEC after being fed with Similac formula. Contact us today to see if you have a case.