The United States uses a federalist system of government. This allows each of the fifty states to be fairly autonomous and limits the amount of power that the federal government possesses. One of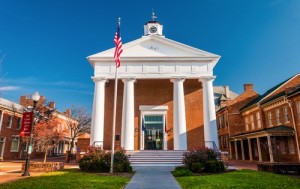 the consequences of having this type of system is that there are state entities and federal entities. Courts are a prime example. There are both federal and  state courts, so it is important to have a grasp of their respective purposes and powers.
Purpose of State Courts
Courts have to have jurisdiction in order to make rulings and decisions. The reason we have so many different state courts is because each court has a fairly limited jurisdiction. A county court in Maryland cannot have jurisdiction over something that took place in California. That is why courts are closely tied to geographical territory and why most of their power extends to people or occurrences that take place within that territory.
This being the case, state courts have the power to enforce the laws of the state where they sit. Given how my firm is centrally located in Maryland, let us use that as an example. The trial courts of Maryland have the ability to adjudicate cases involving the laws of Maryland. For example, these courts have the ability to adjudicate cases involving violations of Maryland's criminal law. Speeding tickets, assaults, robberies, and thefts are all examples of things that Maryland lawmakers have made illegal. Thus, it is up to the state courts to apply that law considering it is within their power.