The CPAP recall lawsuits against Philips have spawned a new group of related satellite lawsuits against SoClean, Inc. SoClean is a company that makes a product that is specifically used to sanitize the recalled CPAP devices.
So far around a dozen lawsuits have been filed against SoClean alleging that that company falsely marketed that their product was "safe" and "healthy" to use for sanitizing CPAP machines and other breathing devices.
According to the lawsuits, SoClean's product was not safe because it omits harmful levels of ozone gas which exceeded the maximum safe limits set by the FDA.
---
UPDATES

:
February 2022: the JPML consolidated all of the various class action lawsuits involving the SoClean CPAP cleaning device into a new SoClean MDL (MDL No. 3021). The plaintiffs were requesting that the MDL be established in the District of Kansas, but the JPML decided to assign it to the same judge that is currently handling the Philips CPAP MDL, Hon. Joy Flowers Conti of the Western District of Pennsylvania.  
January 2022: The Judicial Panel on Multidistrict Litigation is set to hear arguments later this month on whether to consolidate all pending lawsuits involving the SoClean CPAP cleaning machine into a new MDL. Right now there are 11 SoClean CPAP lawsuits pending, but each one is a class-action purporting to represent hundreds or thousands of potential plaintiffs. SoClean is not opposing consolidation and is requesting that the Eastern District of Louisiana be selected as the venue for the MDL.
---
SoClean CPAP Sanitizing Machine Lawsuits
The SoClean lawsuits have been filed in 7 states including Texas, Georgia, Mississippi, Kansas, and Louisiana. These lawsuits come after manufacturer Philips recalled millions of its CPAP (Continuous Positive Airway Pressure) breathing machines due to sound abatement foam that can degrade and release harmful chemicals. Earlier this month, a new Philips CPAP recall MDL was created in the Western District of Pennsylvania.
SoClean makes sanitizing machines that are specifically designed and marketed for use in cleaning CPAP sleep apnea devices. The company's SoClean 3 machine is a 3-gallon plastic sanitizing canister that is very similar to products used to sanitize baby bottles.
The SoClean, however, is geared specifically for cleaning the removable parts of CPAP machines. The user simply puts their CPAP device parts in the SoClean and presses a button. The SoClean then uses patented technology to sanitize the parts without the use of water. SoClean markets their sanitize machine as the safest way to clean CPAP devices.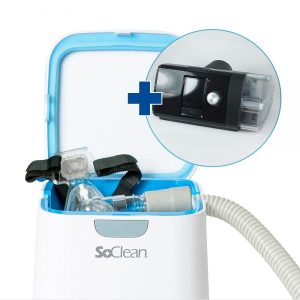 According to lawyers for the plaintiffs in the recent lawsuits against SoClean, however, the machine is anything but safe. They claim that the SoClean machine uses harmful levels of ozone gas in its cleaning process. The levels of ozone gas generated by the SoClean device exceed the maximum safe levels for ozone as set by the FDA.
Lawyers for the plaintiffs in these new lawsuits against SoClean insist that they are not "false advertising" cases.
Attorney John Deakle, who represents several plaintiffs in the SoClean cases, explained that "our suits are not false advertising lawsuits" they are "suits for causing medical problems to individuals, potential medical problems to individuals, and actually harming your existing CPAP machine.
Deakle and other attorneys who have joined him in bringing these lawsuits against SoClean are admittedly hoping that others will follow suit and bring their own claims. John Deakle expressed sincere hope that "as time goes by, other firms will look at this." In anticipation of more SoClean cases being filed, Deakle and his colleagues have already filed a petition asking the Judicial Panel on Multidistrict Litigation to consolidate the SoClean lawsuits into a new MDL in the U.S. District Court for Kansas.
For its part, SoClean has been very dismissive of these recent lawsuits. In a public statement, a spokeswoman for SoClean described the cases as "nothing more than copycat filings … from a baseless lawsuit filed in 2019." The SoClean spokeswoman asserted that these lawsuits "have no basis in fact, and are without legal merit."
SoClean is Suing Philips for Making them a Scapegoat for CPAP Recall
Just last week, SoClean filed a lawsuit against Philips seeking $200 million in damages. The lawsuit claims that Philips wrongfully pointed the finger of blame at the SoClean machine to make it a "scapegoat" for the Philips CPAP recall.
SoClean's lawsuit against Philips was filed in federal court in Massachusetts and it claims that Philips blamed ozone-based cleaners like SoClean for causing the sound abatement foam in the Philips CPAP devices to degrade.
According to SoClean, these accusations were entirely false and simply an effort by Philips to avoid taking responsibility for the defective design of their products:
This is a case about a multinational corporation deflecting attention away from inexcusable design flaws, misleading the public, creating confusion, and causing hundreds of millions of dollars of damage in the process
The Los Angeles office of national law firm Proskauer Rose is representing SoClean in this lawsuit against Philips.