Our national mass tort lawyers are pursuing cases in a number of class action lawsuits. Thousands of Alabama residents could potentially be eligible to become plaintiffs in many of these mass tort cases. In this post, we will summarize the most significant class action lawsuits that Alabama residents should be aware of. We will also explain who is eligible to become plaintiffs in the various class action lawsuits, what their potential chances of success are, and what their potential settlement value could be if successful.
---
RELATED CONTENT:
Alabama Medical Malpractice Settlements
Average Personal Injury Award in Alabama
---
Paraquat Parkinson's Disease Lawsuits in Alabama
Paraquat is an industrial-strength herbicide (weed killer) that has been widely used in commercial farming since the 1950s. Paraquat is actually outlawed in most of the world, but it is still legal and commonly used in the U.S. Recent scientific evidence has shown long term exposure to Paraquat can cause early onset Parkinson's disease.
The evidence linking Paraquat exposure to Parkinson's disease has led to thousands of Paraquat lawsuits across the country. The plaintiffs in these lawsuits are mostly farmers or agriculture workers who used or worked around Paraquat for years and were later diagnosed with Parkinson's disease.
A Paraquat class action lawsuit or MDL has been created in the Southern District of Illinois. Over the last 2 years, Paraquat has been one of the hottest mass torts in the country. There are currently over 4,000 plaintiffs in the Paraquat class action MDL and an average of 200 new cases are added every month.
Alabama is one of the states where Paraquat has been commonly used on commercial farms. If you worked on a farm in Alabama where Paraquat was used on crops and you were later diagnosed with Parkinson's disease, you may be eligible to file a Paraquat lawsuit. The Paraquat lawsuits are considered very likely to succeed because they are supported by strong scientific evidence. Our lawyers estimate that successful Paraquat cases could have a settlement value of $250,000 to $600,000.
Hair Relaxer Cancer Lawsuits in Alabama
In 2022, a research team from NIH published the results of a groundbreaking study showing that regular use of chemical hair relaxer products can cause uterine cancer, ovarian cancer, and other conditions such as endometriosis, and uterine fibroids. This new evidence quickly prompted a wave of hair relaxer cancer lawsuits that have been consolidated into a new class action MDL.
The hair relaxer class action lawsuit is only a few months old and there are already over 200 plaintiffs. This class action is expected to be very big because the size of the potential plaintiff field is large. Millions of African American women in the U.S. (and in Alabama) use hair relaxer products throughout their life. That means that almost every black woman diagnosed with uterine or ovarian cancer is a potential plaintiff.
The hair relaxer lawsuits are relatively new, but the science behind these cases appears to be comparatively strong. Assuming the scientific evidence is deemed to be admissible in court, these will be very good cases. Our lawyers estimate that the top tier hair relaxer cases (those involving ovarian or uterine cancer) could have a settlement payout of $400,000 to $750,000.
AFFF Firefighting Foam Lawsuits in Alabama
AFFF firefighting foam is a chemical foam that was widely used for decades by firefighters and the military to deal with petroleum-based fires. AFFF products contain chemicals known as PFAS (commonly referred to as "forever chemicals"). PFAS are now a known human carcinogen and exposure to PFAS in AFFF firefighting foam has been linked to various types of cancer including kidney cancer, prostate cancer, and testicular cancer.
The evidence linking PFAS in firefighting foam to cancer has prompted the military and fire departments across the country to stop using AFFF and most companies no longer manufacture it. This evidence has also prompted thousands of firefighting foam lawsuits across the country. The plaintiffs in these lawsuits are mostly former fire fighters and/or military personnel who were exposed to AFFF on the job and later developed cancer.
The AFFF firefighting foam lawsuits were consolidated into a class action MDL years ago and we may be getting very close to a global settlement in which all plaintiffs receive compensation. New cases are still getting filed and its not too late. This mass tort is significant for Alabama residents because thousands of firefighters across the state may have developed cancer from exposure to AFFF. Alabama also has several military bases where AFFF was frequently used. The potential settlement value of AFFF lawsuits in the top tier is estimated to be around $200,000 to $500,000 per plaintiff.
Hernia Mesh Lawsuits in Alabama
A hernia mesh is a very small screen or mesh that is surgically implanted during hernia repair surgery. There are numerous different hernia mesh products which all have common design flaws related to the material they are made out of. These design flaws have caused these mesh implants to malfunction resulting in post-implantation complications and injuries.
Problems with the implants has led to a continuous stream of hernia mesh lawsuits that have been consolidated into several different class action MDLs. The biggest hernia mesh MDL is that involving claims against medical device company C.R. Bard. This MDL is in the Southern District of Ohio and it has of 19,000 pending cases.
Anyone in Alabama who had a hernia mesh implanted during hernia repair surgery and subsequently suffered complications related to the mesh implant may be eligible to become a plaintiff in the hernia mesh class action lawsuit. There have already been several test trials in the hernia mesh litigation and a global settlement deal could get done within the next year. The estimated settlement value of hernia mesh claims is $110,000 to $145,000 for top tier cases, and $75,000 to $90,000 for second tier cases.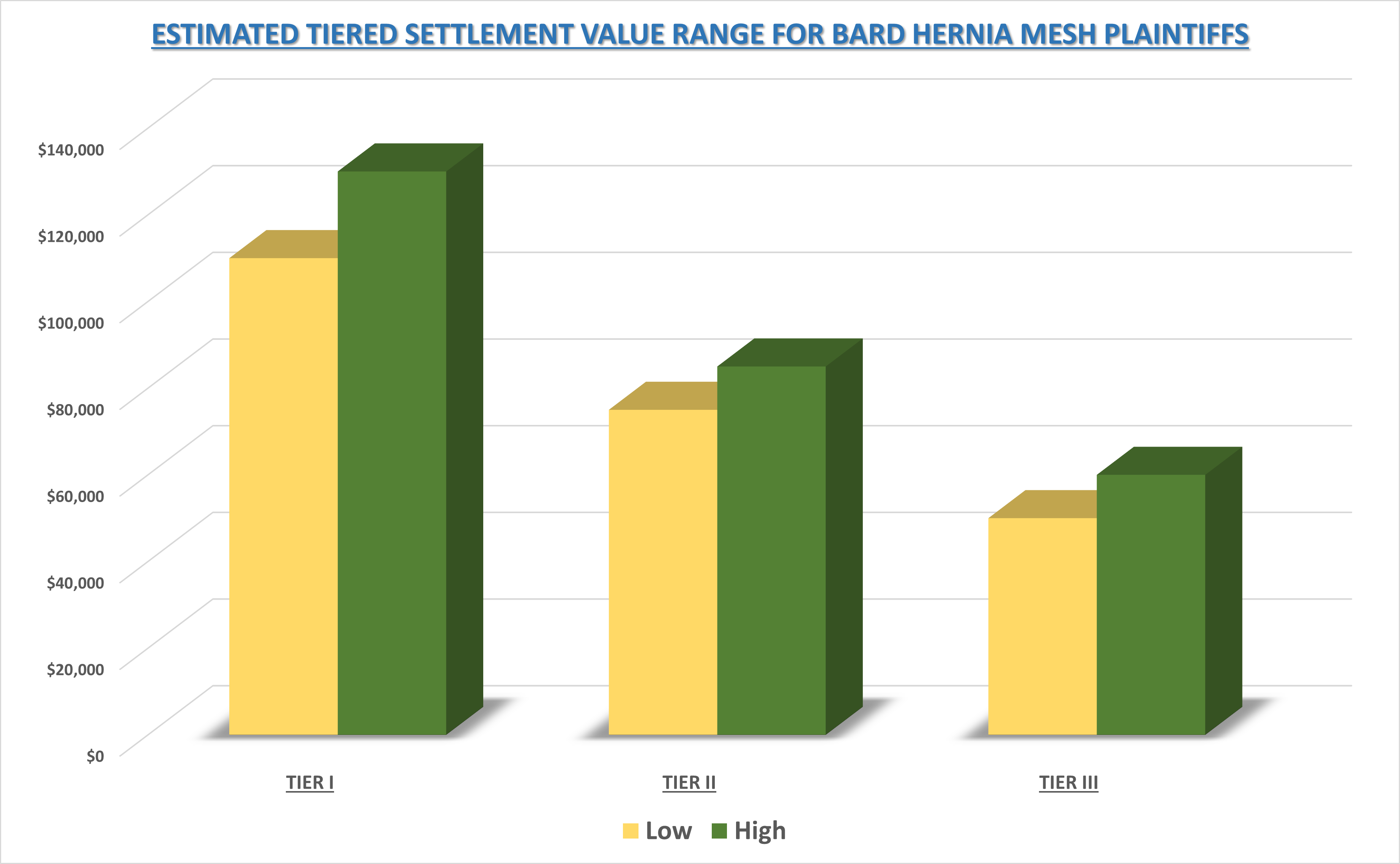 Talc Powder Cancer Lawsuits in Alabama
Talcum powder products like Baby Powder were regularly used by millions of people in the U.S. for decades and these products were widely viewed as perfectly safe. They were made from talc, a mineral mined from the earth. It was recently discovered, however, that talc actually contains asbestos particles and regular use of talcum powder products can cause cancer.
Now talcum powder products have been pulled from the market. Millions of women who regularly used talcum powder products for personal hygiene may have developed ovarian cancer as a result. These women have been filing talcum powder lawsuits for years. The talc class action MDL has almost 40,000 plaintiffs and is the second-largest mass tort in the country.
Alabama women who regularly used talcum powder products for years and were subsequently diagnosed with ovarian cancer may be eligible to file a talc lawsuit and join the class action. A number of talc cases have gone to trial and resulted in massive verdicts for the plaintiffs, so these cases have a very high potential settlement value.
Hire an Alabama Class Action Lawyer
The national mass tort lawyers at Miller & Zois represent plaintiffs in class action lawsuits in Alabama. Contact us today at 800-553-8082 or contact us online to see if you qualify for one of the mass torts described above.