According to a recent study on jury verdicts, the median compensatory damages award for personal injury trials in New York is $287,628. This median award dwarfs the nationwide median of $34,550.
Why Are New York Personal Injury Verdicts Are So High?
New York has favorable juries, particularly in its urban areas. But the reality is that the need for smaller and mid-sized car accident lawsuits distorts this number. Under New York's no-fault law, an insurance company is required to pay drivers, passengers, and pedestrians up to $50,000.00 for their legitimate economic and medical losses but does not provide for pain and suffering.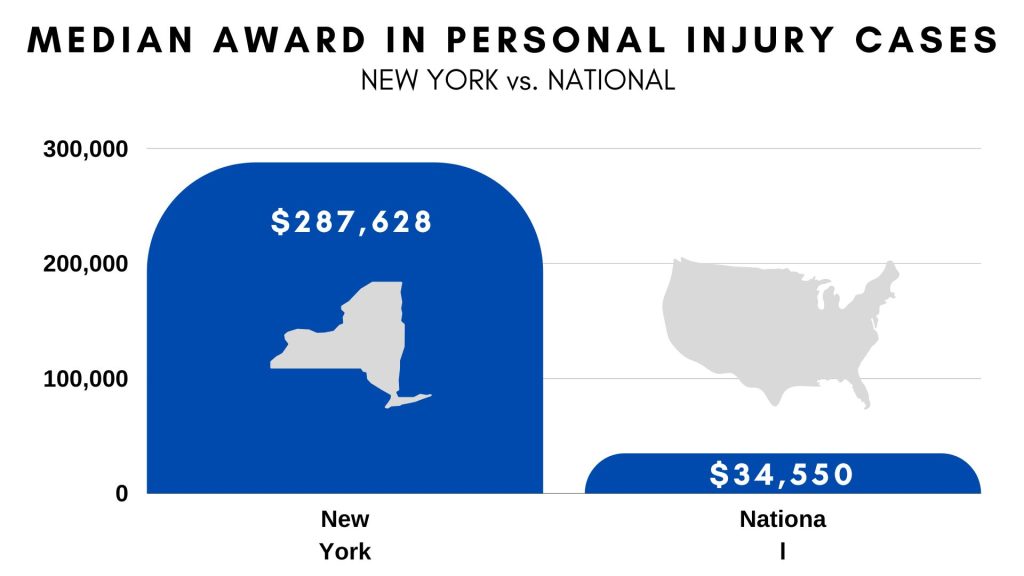 Only permanent injury cases can recover more than $50,000. This leads to fewer lawsuits in smaller cases – of which there are many – which increases the overall award in New York. Remember that the typical settlement or verdict tells you very little about your claim's expected settlement compensation payout.
New York Personal Injury Settlement and Verdicts
Below, I summarize recent reported settlements and verdicts in New York auto accident cases.  These cases should be used only for informational purposes and not as a guarantee of your settlement payout. But while they cannot calculate the settlement amount of your case, these stores are a tool to understand compensation values in personal injury cases better.
$3,000,000 Settlement (2023 – S.D.N.Y.): Birth injury lawsuit alleged that the doctor and delivery team at the federally funded hospital (Good Samaritan Hospital) were negligent in handling the labor and delivery of her baby, resulting in the child suffering brain damage from lack of oxygen. Specifically, the suit claimed that the defendant failed to timely respond with an emergency C-section when warning signs of fetal distress first appeared on electronic fetal monitoring strips.
$300,000 Verdict (2023 – Orange County): This is a nursing home lawsuit. A 65-year-old retiree was a patient at Highland Rehabilitation and Nursing Center, in Middletown. She was previously admitted to the center for rehabilitation following a liver transplant. Highland correctly assessed her to be a fall risk because of deconditioning following a six-month hospitalization and seizures due to her medication. On her first day at the facility, she was discovered on the floor of her room, next to her bed. She had sustained a left hip fracture. She argued that given her fall risk, she should have had a bed alarm.
$1,000,000 Verdict (2022 – Staten Island): A woman came under a physician's care for post-menopausal bleeding. Several months later, she was diagnosed with Stage IV fallopian tube cancer that spread to her liver, ovary, uterus, and omentum. The woman died two years later. Her family alleged negligence against the physician. They claimed she failed to timely diagnose cancer and ordered follow-up testing.
$350,000 Verdict (2022 – Suffolk County): A newborn boy suffered the flu, mastoiditis, a left cholesteatoma, and a middle ear infection. He presented to the ER. The boy was diagnosed with a right ear infection. He was prescribed Vancomycin. The boy suffered total left hearing loss. He underwent a radical mastoidectomy and an auditory canal reconstruction. The boy was left with surgical scarring, facial paralysis, speech delays, sensory and motor deficits, and Redman's syndrome. His parents alleged negligence against the hospital. They claimed its staff failed to diagnose the ear infection properly, pursue a differential diagnosis, and timely make a specialist referral.
$2,550,000 Verdict (2022 – Nassau County): A man presented to the ER with a severe headache, nausea, vomiting, and weakness. His CT scan was read as normal. The man was diagnosed with gastritis. He was subsequently discharged. The man returned to the ER two days later. He was diagnosed with a stroke and hydrocephalus. The man underwent a craniectomy, a laminectomy, a ventriculostomy, and a duroplasty. He now had limited use of his left limbs. The man also suffered from speech impairments. He required physical and occupational therapies. The man alleged negligence against the hospital. He claimed the ER physicians misinterpreted his CT scan and failed to timely diagnose and treat a stroke.
$250,000 Verdict (2022 – Queens): A man was sideswiped after making a right turn at an intersection. He suffered neurological and spinal injuries. The man sustained a limited spinal range of motion. He alleged negligence against the at-fault driver. The man claimed he made an illegal left turn and failed to yield at an intersection.
$1,455,000 Verdict (2021 – Erie County): A woman underwent a hysterectomy at Women & Children's Hospital of Buffalo. The woman suffered severe abdominal pain after the procedure. She received an over-the-counter medication. The woman's pain failed to resolve after one week. She was transferred to another hospital. The woman was diagnosed with a perforated colon. She developed ischemia, sepsis, and abscesses. The woman subsequently underwent an ileostomy and a bowel resection. She was hospitalized for over weeks. The woman wore a wound-healing vacuum and underwent an IV catheter. A year later, she underwent an ileostomy reversal. The woman experienced chronic diarrhea for several years. She took medication to control it. The woman was left with abdominal and chest scars. She alleged negligence against the gynecologist that performed the procedure. The woman claimed she negligently performed the hysterectomy and failed to timely diagnose a perforated colon. The defense denied liability. They argued that her injuries were unavoidable risks.
$925,000 Settlement (2021 – Bronx): A 40-something man fell while walking along a sidewalk. The man suffered a dislocated right ankle fracture. He underwent an open reduction internal fixation procedure. The man subsequently underwent a year of physical therapy and steroid injections. He continued to experience recurring pain and limitations. The man now used a cane for prolonged walking. He could no longer work and exercise. The man alleged negligence against the City of New York. He claimed it failed to inspect and repair a defective sidewalk.
$125,000 Verdict (2021 – Queens): A jitney bus unexpectedly and violently stopped on the Long Island Expressway. The impact caused a female passenger, who had been walking to the restroom, to fall. The woman suffered S2 and sacrum fractures. She wore a cane for four months. The woman also underwent physical therapy and painkilling, and steroid injections. She claimed residual limitations and pain. The woman alleged that the bus driver's negligence caused her injuries. She claimed he violently stopped his vehicle and used his phone while driving. The bus driver denied violently stopping his car. He also claimed to have warned passengers not to walk while the bus moved. This case is more inline with the average herniated disc injury settlement with steroid injections in New York than some of these other cases that have inflated settlement amounts and jury payouts because of other injuries in the case.
$225,000 Settlement (2021 – Queens): A 25-year-old man drove near the intersection of Steinway Street and 25th Avenue in Astoria. He was subsequently struck head-on by a sanitation truck. The man suffered left meniscus tears, a right knee sprain, and right shoulder trauma. He also developed left knee synovitis, right knee chondromalacia and tendinosis, and right shoulder trauma. The following year, the man underwent knee arthroscopy. He continued to experience recurring pain and limitations. The man alleged that the sanitation truck driver's negligence caused his injuries. He claimed he crossed the center line and negligently passed a parked vehicle.
$150,000 Verdict (2021 – Suffolk County): A 60-year-old woman proceeded through the intersection of 50th Street and North Wellwood Avenue. She was subsequently T-boned. The woman suffered a right labrum, gluteus minimus tendon, and supraspinatus tears. She underwent physical therapy and painkilling injections. The woman continued to experience residual pain. She alleged that the at-fault driver's negligence caused permanent injuries. The woman claimed she ran a red light and failed to yield the right-of-way. The defense contested the woman's injuries. They argued that the woman's injuries were pre-existing.
$25,000 Verdict (2020 – Brooklyn): While driving near the intersection of East 53rd Street and Fifth Avenue in Manhattan, the plaintiff was stopped in traffic. The defendant rear-ended the plaintiff's van. The plaintiff sustained a herniated disc and a torn shoulder. He underwent arthroscopic surgery to address the torn shoulder. The defense expert claimed that the shoulder tear was not a trauma-induced injury. The jury awarded the plaintiff only $25,000, a pittance for a shoulder surgery lawsuit, because they found that his injuries were not permanent.  The average settlement payout in a shoulder surgery in NYC is much higher than this, probably because the jury bought the argument that the injury was not from the crash.  (Get average settlements for shoulder surgery, herniated discs, and rotator cuff tears.
$2,797,683 Verdict (2020 – Nassau County): While operating a motorized scooter, the plaintiff decedent was struck by a car attempting to make a right turn onto the same side of the street he was on. The plaintiff died four days later of his injuries. His widow sued the driver and the Town of North Hempstead for creating conditions on the road that endangered her husband. The plaintiff sustained multiple fractures to his rib and clavicle. He also suffered internal bleeding. Four days later, he sustained respiratory distress and died. The jury ruled in favor of the estate, finding both defendants liable. They found the town 70 percent responsible, while the defendant was 30 percent liable.
$10,600,000 Verdict (2020 – Brooklyn): While attempting a right turn onto 60th Street in Brooklyn, a New York City transit bus struck a pedestrian. The lawsuit alleged that the traffic signal permitted her to walk across the street and that the bus driver should have yielded the right of way. The plaintiff suffered tears to her rotator cuff and meniscus. She also broke her left leg. The plaintiff also suffered multiple herniated discs. Her injuries required physical therapy, steroid-based injections, and two arthroscopic surgeries. The plaintiff continued to suffer knee, shoulder, neck, and back pain. She claimed she would need further surgery on her right knee, spine, and left shoulder. Despite the severity of the injuries, the size of the verdict seems highly abnormal.
$325,000 Settlement (2020 – Bronx): The plaintiff claimed that he was negligently struck by the defendant's vehicle while he was a pedestrian. He filed a complaint against the driver in the Supreme Court of New York, 12th Judicial District, Bronx County. The plaintiff suffered severe and permanent injuries. The parties settled this case for $325,000.
$400,000 Verdict (2020 – Bronx): While stopping at a red light at an intersection in the Bronx, the plaintiff man's vehicle was rear-ended by the defendant's vehicle. His wife was a passenger in his car. Their lawsuit alleged that the defendant was negligent.  The defendant conceded liability. The wife suffered a closed-head injury, multiple disc herniations, and bulges. Despite undergoing physical therapy, she continued to experience residual headaches and pain in her neck and back. Her husband also suffered herniated discs and bulges but a torn meniscus. He had arthroscopic surgery performed on him.
$195,000 Settlement (2020 – Queens): The plaintiff, a nurse manager, fell while walking down a subway station stairway in Queens. She alleged that the New York City Transit Authority negligently created a dangerous condition that caused her to fall. The plaintiff claimed that a step's right edge was damaged. Defense counsel contended that she failed to exercise due caution. The plaintiff suffered a broken right ankle. She had it operated on when she was brought to the hospital. The plaintiff underwent physical therapy for 13 weeks. Her pain failed to resolve completely, and she experienced difficulty working. The jury found the New York City Transit Authority 54 percent liable, while they found the plaintiff 46 percent responsible. However, before damages were awarded, the parties negotiated that the New York City Transit Authority pay $195,000.
$305,000 Verdict (2020 – Queens): A woman was a passenger in a vehicle rear-ended by a trailing car. Both the motorist and plaintiff sustained injuries and sued the defendants for negligence. The plaintiff suffered tears to her right shoulder rotator cuff and glenoid labrum. For nine months, she underwent physical therapy. Arthroscopic surgery was then performed on her right shoulder. She underwent physical therapy for ten more months. The plaintiff claimed that her injuries made it difficult for her to do basic tasks such as bathing or cleaning. The motorist's claim was resolved through a pretrial settlement. The jury ruled in favor of the plaintiff, finding that she suffered permanent shoulder limitations. They determined her damages amounted to $305,000.
$1,925,000 Verdict (2020 – E.D. New York): While working as a Long Island Rail Road Conductor, the plaintiff injured himself after he attempted to open a stuck locomotive cab door. He sought damages for future pension contributions lost, past pain and suffering, future pain and suffering, and wages lost. The plaintiff suffered an elbow injury, which his employer claimed was his fault. They claimed he was the only cause of the accident, his injuries, and damages. The U.S. District Court for the Eastern District of New York jury ruled in favor of the plaintiff. They awarded him $1,925,000 in damages.
$75,000 Verdict (2020 – Brooklyn): A taxi, stopped at an intersection in Brooklyn, was rear-ended by a minivan. The plaintiff, in this case, was the passenger, while the cab driver and tortfeasor were the defendants.  The plaintiff claimed that both drivers were negligent in operating their vehicles. The plaintiff broke his nose and suffered a deviated septum. He also suffered soft-tissue back, neck, and right shoulder injuries. The plaintiff underwent surgery to repair his nose. He underwent 20 physical therapy sessions to treat his soft-tissue injuries. He claimed that he suffered from hypogeusia and olfactory difficulties. The plaintiff also claimed that he has found it challenging to work as a consultant. The defense contended that the plaintiff had founded restaurants and traveled abroad after the accident.
$3,175,000 Settlement (2020 – Brooklyn): In this premise liability case, a laborer fell off a 25-foot ladder leaning against the supporting wall of a courtyard. The ladder was turned over while the plaintiff used a jackhammer on the courtyard's concrete surface. The plaintiff suffered multiple injuries to his wrist, skull, elbow, and leg. He sued the premises owner, claiming failure to provide a safe work environment. The plaintiff broke his orbital, his maxillary sinus, his right femur, his right wrist, and his right elbow. He was transported to the hospital, where external fixation devices were secured to his elbow, leg, and wrist. For four weeks, he was hospitalized. He underwent an estimated one week of inpatient rehabilitative care. He sought physical therapy after his discharge. The plaintiff claimed that he now has difficulty moving his leg, elbow, and arm. He now used a cane. The defense contended that the plaintiff exaggerated his residual effects and could walk without a cane. A pretrial settlement was negotiated, in which the defendant's primary insurer tendered its $1,000,000 policy. Their excess insurer would pay $2,175,000 from a $10,000,000 policy. The settlement amounted to $3,175,000.
$500,000 Settlement (2020 – Bronx): The estate alleged that the nursing home failed to recognize the decedent's condition. They also allege that the nursing home did not follow accepted procedures. The estate alleged medical malpractice because of negligence. They sought compensation for damages. The decedent sustained personal injuries, economic loss, mental anguish, and wrongful death. This was likely a case where the negligence and breach of the standard of care were pretty straightforward.  Restrictions on attorneys' fees in New York make it hard to find a lawyer to take these cases.
 $1,250,000 Settlement (2020 – Manhattan): While riding his motorcycle in Manhattan, the plaintiff initially contacted a vehicle that stopped abruptly to drop off a passenger. Upon falling onto the street, he was struck by a transit bus. The plaintiff sued the motorist, the bus operator, and the bus company for negligence. The bus company's counsel contended that they did not strike the plaintiff, who they claim had been speeding. The motorist also claimed she was driving carefully when she stopped to drop someone off. The plaintiff suffered an avulsion to his left leg, which led to compartment syndrome. He also dislocated his left shoulder. The plaintiff was hospitalized for over a month. One day after the accident, he underwent surgery on his left leg to remove damaged tissue and close his wound. The plaintiff sought physical therapy after being discharged. He suffered a disfigured leg, which needs corrective surgery. His physician also recommended surgery to reconstruct his shoulder. The motorist's defense provided a $25,000 coverage. The plaintiff's counsel settled claims against the bus operator and the New York City Transit Authority, who would pay $1,200,000. The total recovery amounted to $1,250,000.
$3,449,990 Settlement (2020 – Bronx): In this case, a police cruiser T-boned the plaintiff's vehicle while he was driving through an intersection. The plaintiff alleged that the officer ran a stop sign which caused the collision. He also claimed that the officer was not responding to a police emergency. The plaintiff suffered several disc herniations, a right shoulder rotator cuff tear, and right shoulder trauma. He underwent physical therapy and pain management for six years, including steroid-based injections. He then had multiple surgeries on his back and shoulder. The plaintiff continued to have a hard time standing up for extended periods. He has not gone back to work following the accident. The plaintiff claimed that he needed medical care for life which included spinal surgeries and further injections. Defense counsel contended that his injuries were not serious. Their expert neurologist also opined that there was no evidence of any neurological injuries and that his injuries had resolved.
$600,000 Verdict (2018 – Bronx): Plaintiff was driving through an intersection in the city when Defendant ran a red light at the cross street and violently t-boned Plaintiff's vehicle into parked cars on the opposite side of the street. Plaintiff had one witness to support his version of the accident. Plaintiff alleged that he suffered a partial tear of his left arm rotator cuff, which in the left arm required physical therapy and then arthroscopic surgery with debridement.  The plaintiff missed 26 weeks of work and claimed he suffered continuing pain and physical limitations. The defense disputed that Plaintiff tore his rotator cuff.
$375,000 Settlement (2018 – Nassau County): The plaintiff, a construction laborer, was stopped at a red light when he was rear-ended very hard by the defendant, who was driving a large delivery truck.  Responsibility was conceded and damages were the only issue. Plaintiff did not go to the hospital or request any other medical treatment immediately after the accident and first sought treatment two days later.  Plaintiff alleged that he suffered partial tears of 2 ligaments in his left knee, for which he underwent arthroscopic surgery and meniscectomy surgery. Plaintiff's expert testified that he will eventually require knee replacement surgery. Plaintiff also claimed that he suffered a herniated disc with nerve impingement.  His injuries left Plaintiff on crutches for two months and required 12 weeks of physical therapy.  Plaintiff was also out of work for six months. The defense countered that the accident did not involve enough force to cause the alleged injuries and suggested that Plaintiff's conditions were pre-existing issues.
$325,000 Settlement (2017 – Bronx): Plaintiff was making a left turn in her sedan at a busy intersection in the Bronx with double left-turn lanes.  The defendant was driving a delivery truck and also turning left in the adjacent lane.  Plaintiff alleged that Defendant strayed into her line and side-swiped her car.  Defendant contested liability and argued that Plaintiff was using her cell phone and not paying attention. Following the accident, Plaintiff was taken to a hospital and received minor treatment for pain in her back and left shoulder.  Plaintiff eventually claimed that she suffered a tear of her rotator cuff and glenoid labrum in the left shoulder.  Plaintiff also alleged disc herniations in her L3-4 and L5-S1 discs and a bulge in her L4-5 disc.  Treatment for the herniated discs involved three months of physical therapy.  The shoulder injuries allegedly required two arthroscopic surgeries and follow-up therapy.
$1,100,000 Verdict (2017 – Queens): Plaintiff was hit in the side rear while making a left turn on a green arrow.  The defendant allegedly ran a red light. Defendant disputed this version of events but gave contradictory statements. Plaintiff alleged multiple disc herniations with nerve impingement and radiculopathy, which required extensive therapy and eventually back surgery. Plaintiff alleged that he continued to experience pain which limited his physical activities.
$925,000 Settlement (2017 – Suffolk County): Plaintiff was stuck on the side at an intersection while Defendant was making a left turn and failed to yield the right of way.  The defendant was arrested and charged with DUI. Plaintiff alleged L4-5 and L5-S1 disc herniations.  He underwent two years of physical therapy and epidural steroid injections. The plaintiff eventually had to have spinal fusion surgery and spinal fusion surgery followed by another 12 months of therapy.
$2,200,000 Verdict (2017 – Suffolk County): Plaintiff was stopped at a red light when he was rear-ended by a defendant operating a taxi.  Responsibility was admitted. Plaintiff alleged C3-4 and L4-5 disc herniations and a labrum tear in his hip. Plaintiff had two separate arthroscopic surgeries on either side of his hip.  The second surgery had to be repeated due to complications.  The back injuries were treated with physical therapy, but Plaintiff contended that he will eventually require spinal fusion surgery.  The defense disputed the injuries and claimed that they were degenerative.
$300,000 Verdict (2017 Queens): Plaintiff was driving through an intersection in a parking lot when he was hit by Defendant who executed a poor turn without yielding implied right of way. This case presented somewhat unique injuries because Plaintiff alleged that the accident aggravated his pre-existing injuries.  Specifically, Plaintiff had arthroscopic surgery on his shoulder three months before the accident and spinal fusion therapy on herniated discs a year earlier.  Such a recent shoulder surgery usually decreases settlement compensation.  So this victim took the case to trial, alleging that the car accident compromised the spinal fusion and reinjured his recently repaired shoulder requiring additional surgery and therapy.
$300,000 Settlement (2017 Niagara County): Plaintiff, a stay stay-at-home mom in her late 20s, was hit on the side when Defendant ran a red light at an intersection.  Responsibility for the crash was admitted. The accident fractured a bone in Plaintiff's knee which had to be surgically repaired with rods and screws.  Plaintiff was in the hospital for ten days and underwent months of physical therapy.  Plaintiff suffered continued pain and limp in her walk.
$250,000 Verdict (2017 Oneida County): Plaintiff, a 24-year-old electrician, was a passenger in a truck that Defendant rear-ended shortly after coming to a stop at a stop sign.  Responsibility for the collision was admitted. Plaintiff did not seek treatment initially.  He eventually alleged C3-4 disc herniation and disc bulges of his C4-5 and C5-6 discs with spasms. Plaintiff's treatment was limited to just three months of physical therapy.  Plaintiff was advised not to return to work and claimed to have continued pain in his neck. The defense contested the injuries.
$2,500,000 Settlement (2016 Kings County): Defendant pulled out of his street parking spot without seeing Plaintiff, who ran into Defendant's hospital transport van.  Defendant contested fault and asserted that Plaintiff was speeding. Plaintiff claimed cervical and lumbar disc herniations.  After ten weeks of physical therapy, Plaintiff underwent spinal fusion surgery.  Plaintiff claimed to have continuing pain in his neck that limited his ability to work and would require him to retire early.  The defense contested the injuries as pre-existing and suggested that the car accident did not involve enough force to cause them.
2014 Personal Injury Jury Verdicts in New York
Here are some older verdicts we posted before we updated the page.  These stories still teach lessons on the settlement value of New York injury claims.
July 2014, New York: $100,000 Settlement: A 46-year-old social worker entered a local deli in the Foxhurst section of the Bronx. Within just a few steps inside, she tripped over a cash register and fallen ceiling tiles. The deli owner was inspecting the building's roof when the accident occurred, as the building had been burglarized the night before. She sustained multiple tears in her left knee, a left ankle strain, lacerations to her right knee, left elbow trauma, and a sprain to her right foot's big toe. She underwent arthroscopic surgery for her left knee but was informed by her orthopedist that the knee's condition will deteriorate and she will require a total knee replacement. The woman sued the deli owner, claiming the deli should have been closed and its door locked until the debris was cleared. Plaintiff claimed that Defendant's negligence created a dangerous condition. The defendant argued that a sign was posted indicating the deli was closed but acknowledged the door was unlocked. The matter continued to trial. But the parties agreed to a settlement during jury deliberation for $100,000.
May 2014, New York: $1,830,000 Verdict: A 30-year-old homemaker presented to a local hospital complaining of difficulty breathing with chest and back spasms. The physician noted the woman had undergone a lobectomy earlier that month and suspected infection and consulted with her surgeon. The surgeon ordered a psychological study, which suggested the woman was suffering from anxiety. After seeing no improvement, she returned six weeks later. A CT scan revealed an accumulation of air and fluid in her pleural cavity and a fistula that had developed between her lung and pleural cavity. Her surgeon conducted a procedure to address only the infection. Six weeks later, she underwent a procedure to address the fistula, which required an Eloesser flap – the creation of a fist-sized hole to allow access to her pleural cavity on the upper portion of her back by removing several ribs. The woman sued the surgeon for failing to diagnose her infection. Plaintiff claimed the infection should have been diagnosed during her first hospitalization when the examining doctor first suspected its presence. Plaintiff claimed that the infection would have been resolved if an antibiotic had been administered and drainage performed. Defendant denied liability, claiming he appropriately managed her first hospitalization. A  jury found Defendant negligent and awarded Plaintiff $1,830,000.
May 2014, New York: $17,000 Verdict: A man was riding as a passenger in a vehicle traveling on East 28th Street in Sheepshead Bay. While stopped at the intersection with Avenue W, the car was rear-ended. He sought treatment shortly after the collision for pain in his back, knees, neck, and shoulders. He was ultimately diagnosed with cervical and lumbar sprains, a partial tear in his right shoulder's rotator cuff, and tears to his right knee. Eventually, he underwent a total replacement of his right knee. He sued the driver for the negligent operation of his vehicle. Plaintiff claimed his injuries caused consistent pain and limitations. While Defendant did not dispute liability, he contended Plaintiff did not sustain a serious injury. Defendant argued that Plaintiff's injuries were minor and nothing more than soft tissue injuries. A Kings Supreme jury found for the Plaintiff and awarded him only $17,000, a lot less than the average shoulder injury settlement in New York.
March 2014, New York: $4,873,703 Verdict: A 40-year-old man was experiencing recurrent falls and sought the opinion of a neurologist. A series of tests were conducted, and the neurologist opined that the condition resulted from myasthenia gravis – a disorder that produces fluctuating fatigue and weakness of the muscle. He prescribed the man a medication that stimulates the nerves and advised he will probably need to have his thymus removed to prevent the disorder from worsening. Two years later, the man underwent removal of his thymus, was prescribed additional medication, and was required to undergo bi-weekly plasmapheresis sessions. Two years following his surgery he sought a second opinion. The second neurologist school-sponsored falls were a product of cataplexy. His medications were progressively altered, and he found his falls ceased when the initial treatment ceased. He sued the first neurologist for medical malpractice. Plaintiff claimed. The defendant misdiagnosed his condition, leading to years of distress and unnecessary treatment. Plaintiff claimed his plasmapheresis treatment resulted in an infection that resulted in hospitalization. Defendant contended Plaintiff's allegations and maintained he indeed suffered myasthenia gravis and claimed Plaintiff's improvement was a result of the initial treatment. A New York Supreme jury found in favor of Plaintiff for $4,873,703.08.
January 2014, New York: $225,000 Settlement: A 42-year-old man was driving on the westbound side of the Cross Bronx Expressway when he was rear-ended. He was taken by ambulance to St. Barnabas Hospital and treated for neck, back, and shoulder pain. He was later diagnosed with cervical and lumbar disc bulges and a tear of his right shoulder's rotator cuff, leading to tendonitis. His injuries required at least eight months of physical therapy, acupuncture, and epidural injections. He sued the driver and his insurer, Progressive, for negligence. Progressive did not contest liability, and the parties agreed on a $225,000 settlement.
New York Car Accident Law
New York has a "sort of" no-fault car insurance statutory scheme for handling car accident claims. This means – for minor accidents, at least – each driver's own insurance policy will pay for their medical expenses and lost wages, regardless of who was at fault for the accident.
Under New York's no-fault system, drivers must carry a minimum amount of no-fault insurance coverage. This coverage is intended to provide quick and efficient payment for medical expenses and lost wages following a car accident.  The minimal coverage is not much:
$25,000 bodily injury per person
$50,000 bodily injury per accident
$10,000 property damage
The exact minimum coverages apply to uninsured motorist claims.
No-fault insurance does not cover pain and suffering or compensation.  So small personal injury car accident lawsuits are not eligible for pain and suffering damages.
To get pain and suffering damages in a New York car accident, the injured party must prove a  "serious injury." A "serious injury" is defined as any of the following:
Death
Dismemberment
Significant disfigurement
Fracture
Loss of a fetus
Permanent loss of use of a body organ, member, function, or system
Permanent consequential limitation of use of a body organ or member
Significant limitation of use of a body function or system
A medically determined injury or impairment of a non-permanent nature that prevents the injured person from performing substantially all of the material acts which constituted such person's usual and customary daily activities for not less than 90 days during the 180 days immediately following the occurrence of the injury or impairment.
The last three are usually the battlefield in litigation.
New York Personal Injury Statute of Limitations
The statute of limitations for personal injury cases in New York is generally three years. This means that a person who has suffered a personal injury has three years from the injury to file a lawsuit in court.
After the three-year period has passed, the person may be unable to file a lawsuit to seek compensation for their injuries.  But call a lawyer. Because you cannot trust the general three-year deadline rule. The statute of limitations can vary for different types of personal injury cases and for different types of damages.
For example, if you rely on a three-year statute of limitations in a wrongful death claim, you may miss the two-year deadline for wrongful death claims because they must be filed within two years of the victim's death.
You may also get it wrong in the opposite direction as well.  For example, the statute of limitations may be tolled for minors until they turn 18, and the statute of limitations may not begin to run from the date the injury was or should have been discovered.  But there are exceptions to the exceptions… the bottom line is to call a lawyer, even if only for a free consultation.
New York Also Has a Statue of Repose
In New York, a statute of repose is a legal term that refers to a time limit on the right to bring a lawsuit. New York has diferent statutes of repose for different torts, which set an outer limit on the length of time during which an action may be brought, regardless of when the cause of action accrued.  In other words, the discovery rule cannot save the plaintiff.
In New York, the statute of repose for product liability claims, for example, is ten years from the product's sale or delivery date. After that time, a plaintiff is generally barred from bringing a claim for injury caused by the product, regardless of when the injury occurred. Are there exceptions?  As with every statute of limitations or statute of repose, you can fill an encyclopedia with the exceptions.  Whatever your case is, do your research and call a New York lawyer so they can tell you how the law applies to you.
Expert Required for New York Medical Malpractice Lawsuit
Medical malpractice cases in New York generally require an expert witness to testify that the healthcare provider breached the standard of care.  New York Civil Practice Law & Rules (CPLR) Section 3012-a requires expert witness testimony in a medical malpractice lawsuit in New York if:
The case involves a matter beyond the common knowledge of the average person, and
An expert's opinion would assist the trier of fact (judge or jury) in understanding the evidence or determining a fact in issue.
Therefore, an expert witness may be necessary in medical malpractice cases to provide testimony about the standard of care that a healthcare provider should have followed, and whether the defendant deviated from that standard, causing harm to the plaintiff.
Section 3012-a also requires an expert's affirmation. This is a sworn statement from a qualified medical expert attesting to the merit of the plaintiff's claim.  This affirmation must be filed with the medical malpractice lawsuits and the expert's qualifications must be set forth.   It must also include the following:
applicable standard of care,
the breach of that standard, and
the nexus between the deviation and the plaintiff's injuries. This requirement is designed to prevent frivolous or unsubstantiated medical malpractice claims from proceeding to trial.
High Bar for Punitive Damages in New York
Punitive damages are damages awarded in a personal injury lawsuit as a form of punishment for the defendant's conduct. Under New York law, punitive damages are "intended as punishment for gross misbehavior for the good of the public and have been referred to as "a sort of hybrid between a display of ethical indignation and the imposition of a criminal fine."
Punitive damages are a great weapon in any New York personal injury lawsuit. But the bar for punitive damages is high. The plaintiff must first establish that the defendant's conduct was malicious, fraudulent, or so reckless or outrageous that it demonstrated a conscious disregard for the rights of others (also called willful and wanton).
New York law prohibits insurers from paying punitive damages in wrongful death lawsuits.  A bill reversing this law was was proposed in Albany in 2023 but it did not pass.
When determining the amount of punitive damages to be awarded, the court considers several factors, including the
defendant's wealth
defendant's degree of fault
defendant's conduct.
plaintiff's harm,  and
potential impact of the award on the defendant.
Judges are gatekeepers on punitive damages which means they can overrule the jury.  So even when the plaintiff proves to the jury that the defendant's conduct was outrageous, the court has the  discretion to veto to jury's decision, and the law insulates the judge on appeal of the decision to nullify the jury's award.
Comparative Negligence in New York
In New York, comparative negligence determines a person's compensation in a personal injury case. This legal principle holds that if an individual is partially at fault for an accident, they may still be entitled to recover damages, but the amount they receive will be reduced by their degree of fault.
Under New York's pure comparative negligence law, an injured party can recover damages even if they are 99% at fault for the accident. However, their recovery will be reduced by their degree of fault. For example, if an individual is awarded $100,000 in damages but is found to be 50% at fault, they will only receive $50,000 in compensation.
It is important to note that in New York, the jury is responsible for determining the degree of fault for each party involved in an accident. The judge will instruct the jury to consider the actions of all parties involved and assign a percentage of fault to each person based on their level of responsibility for the accident.
Hiring a New York Personal Injury Lawyer
Our firm handles serious injury and wrongful death lawsuits in New York, working with trusted friends and colleagues in New York.  We compensate local lawyers out of our attorneys' fees.  You pay no additional contingency fees for having two law firms instead of one.  And you only owe a fee if you get settlement compensation or a jury payout for you.
If you were hurt and believe you have a potential civil tort claim, click here for a free no-obligation consultation or call us today at 800-553-8082.