Medical device company C.R. Bard Inc. is currently defending over 12,000 lawsuits alleging that its hernia mesh devices were defective and resulted in injuries and complications for thousands of hernia surgery patients.
This post will provide a brief historical overview of the hernia mesh lawsuits against C.R. Bard and look at the current status of the Bard hernia mesh class-action MDL as of October 25, 2021.
October 28, 2021 Bard Hernia Mesh Lawsuit Update
Last month, Round 1 of the bellwether trials in the C.R. Bard hernia mesh litigation resulted in a surprising victory for the defense. After a 22-day long trial for Steven Johns, a federal court jury in Dayton, OH, ruled in favor of the defendants on all claims. It was a total win for Bard and Mr. Johns' received nothing.
Plaintiffs' hernia mesh lawyers are saddened and victims are wondering what this means for the future of the lawsuits against Bard. 
Everyone needs to take a deep breath.  This victory in this first test trial, however painful,  will likely have a minimal impact on the eventual outcome of hernia mesh litigation. 
The same thing happened 10 years ago in the Kugel Mesh litigation (a predecessor to the current hernia mesh litigation). Bard also scored a surprise victory – at least to plaintiffs' attorneys – in the opening bellwether trial. But the second bellwether trial generated a $1,500,000 verdict for the plaintiff. This immediately prompted Bard to negotiate a global settlement of all the remaining cases. We could see that pattern repeat itself in this litigation.
History of the C.R. Bard Hernia Mesh  
C.R. Bard Inc. (now a subsidiary of Beckton-Dickson) is a medical device company based in New Jersey. For at least the last two decades, Bard has been the leading manufacturer of hernia mesh devices. A hernia mesh implant is a small artificial screen or mesh that is used during hernia repair surgery to help reinforce surgically repaired muscle walls.
In the early 2000s, Bard was one of the leaders in a new type of hernia mesh product that was permanent rather than absorbable. Permanent hernia mesh implants must be made so that the mesh will be accepted by the body's immune system and not form abnormal attachments to adjacent tissue or organs. Bard's new permanent hernia mesh products include the Bard® Mesh and the Ventralight ST Mesh.
These new mesh implants are made out of a special type of plastic called polypropylene and that plastic mesh is covered with a coating designed to prevent to create a barrier and prevent the mesh from attaching to nearby organ tissue. Unfortunately, the design of Bard's hernia mesh implants had flaws that caused serious complications and adverse health consequences for many patients.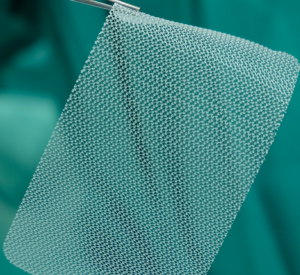 Instead of being inert biologically inert inside the body, the material and/or coating in Bard's mesh devices were incompatible with the immune system in some patients which leads to a ton of health problems.
After the mesh was implanted, many patients would have a severe immune response causing inflammation and pain. In other cases, the coating on the mesh would dissolve allowing the mesh to adhere to nearby tissue in the bowel or other organs.
Bard's hernia mesh devices can cause internal injuries and/or health complications. The most common injuries linked to defective hernia mesh products:
Internal infections and pain
Bowel obstruction
Mesh detachment and migration
Puncture of adjacent tissue/organs
Adhesion to tissue and organs
Status of the Hernia Mesh Class-Action MDL Litigation Against C.R. Bard
Over the last 5-6 years, thousands of hernia mesh product liability lawsuits have been filed against C.R. Bard. These lawsuits allege that Bard's polypropylene mesh products were not adequately tested before being released and had design flaws that made them unsafe for certain patients.
In 2017 the Judicial Panel on Multidistrict Litigation (JMPL) consolidated all of the Bard hernia mesh lawsuits in federal courts into a newly created Multi-District Litigation (MDL), which is similar to a class-action.
Ohio MDL
The Bard Hernia Mesh MDL (In re: Davol, Inc./C.R. Bard, Inc., Polypropylene Hernia Mesh Products Liability Lit. – MDL-2846) was created in the Southern District of Ohio. There are currently 3 different hernia mesh MDLs involving different medical device companies, but the Bard MDL is the largest of the 3 with over 12,000 cases.
Slow Progress in MDL
Like all the other hernia mesh MDLs, the progress of the Bard MDL has been slow compared to other mass torts. Many of the 12,000 plaintiffs in the Bard litigation have had their cases pending for 3 years or more. The timing of the COVID pandemic is the main reason for this slow pace. The shutdown of the federal court system last year happened just when the Bard MDL was reaching its final stages.
Fortunately, the Bard MDL appears to be close to passing the finish line. As of September 2021, the first bellwether test trial against Bard (Johns v. C.R. Bard Inc., et al., 2:18-cv-01509) is currently underway and is expected to be concluded within the next week. (Update: we lost.)
Estimated Settlement Payout in Bard Hernia Mesh Lawsuits
The result in the current bellwether trial will likely dictate the amount of settlement money plaintiffs in the Bard hernia mesh litigation will end up getting.
Estimating the amount of that settlement payout at this stage is obviously speculative at best.  No one knows what the average settlement value will be or how the recent defense verdict changes the trajectory of this litigation. But based on Bard's settlement of a prior mass tort involving an earlier hernia mesh implant (the Kugel hernia mesh) we can try to make an educated guess as to the average settlement payout compensation plaintiffs might get in the Bard hernia mesh lawsuits.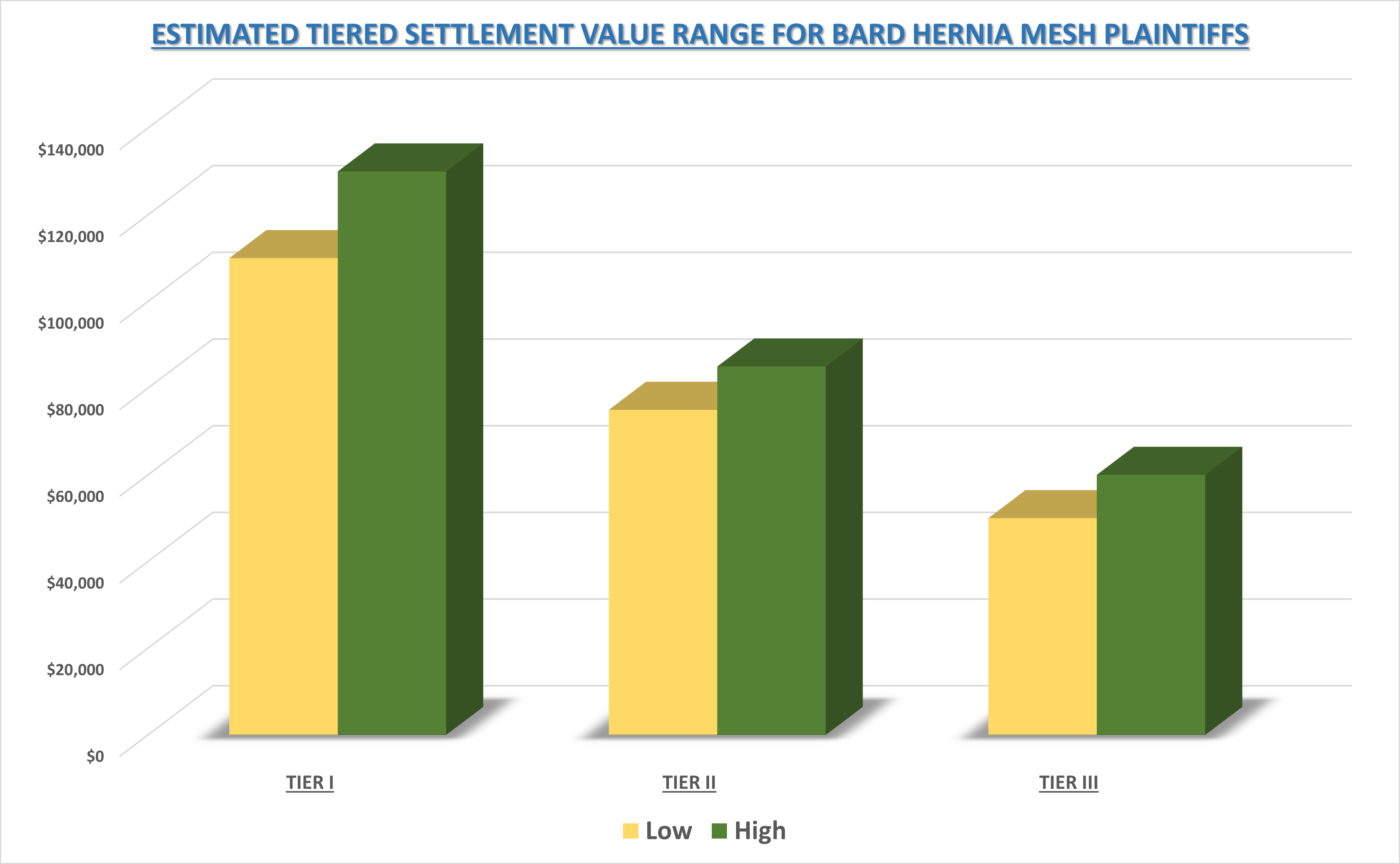 We believe that the average settlement payout for Bard hernia mesh plaintiffs will be around $80,000. The loss on September 8, 2021 loss has little impact on this projection.
Settlement amounts for individual plaintiffs will vary based on a point-based tier system which will award more compensation to those plaintiffs with greater injuries.
For example, plaintiffs with the most serious injuries would be in "TIER I" and might get $110,000-$130,000. Plaintiffs who only had minor complications and no permanent injuries would be in "TIER III" and may only get $50,000-$60,000. Plaintiffs who get categorized in TIER II might get $75,000-$85,000 under this projected scenario.
Having settled the last round of mesh cases for an average of $70,000 each, Bard is not unfamiliar with this settlement range.  Psychologically, this makes a similar number easier to swallow.