C.R. Bard is defending over 16,000 hernia mesh lawsuits alleging that its mesh devices were defective and resulted in injuries and complications for thousands of hernia surgery patients. Our hernia mesh lawyers are handling these claims in all 50 states.
This post will provide news and updates on the hernia mesh lawsuit against C.R. Bard and a look at the current status of the Bard hernia mesh class-action MDL as of September 26, 2022, after the new $4.8 million C.R. Bard verdict in Rhode Island state court.
If you have a potential claim, call a hernia mesh attorney – preferably us, but any qualified lawyer – today.  Because the statute of limitations imposes a deadline to sue that you do not want to miss.  You can reach us at 800-553-8082.
Hernia Mesh Lawsuit News and Updates
Before we get to the nuts and bolts of the various class action hernia mesh lawsuit against Bard, let's start with what most of you are coming to the website for – to get the latest news and updates in the hernia mesh litigation.
October 1, 2022 Update
Last week, the MDL  judge in the Bard Hernia Mesh litigation issued an order confirming the pre-trial and trial schedule for the upcoming 3rd bellwether test trial Stinson v. C.R. Bard, et al. The trial will commence on February 21, 2023. Each side will get 35 hours of trial time, which should give us a trial of about 3 weeks. Final Daubert motions are due by October 7, 2022.
This trial puts real pressure on the upcoming settlement talks.  Bard does not want to take another multi-million dollar verdict like it just did in Trevino.
September 5, 2022 Update
One of the issues that got flushed out during the Trevino trial is that C.R. Bard used a plastic resin in its mesh products even after the plastic supplier told them it was not safe for that use.  This was no great revelation. But the plaintiff's lawyers developed this issue well during the trial.
C.R. Bard used a plastic made by LyondellBasell called Pro-fax 6523 in all its hernia mesh products because it was the cheapest available material that met specifications. Bard did this although LyondellBasell deemed Pro-fax 6523 unfit for permanent implantation inside the body and specifically prohibited buyers from using it in hernia mesh products. That C.R Bard knowingly ignored this is a new revelation that could swing the momentum in the C.R. Bard class action lawsuit.
August 29, 2022 Update
We have a verdict from Rhode Island:  $4.8 million. Paul Trevino's lawsuit alleged that C.R. Bard's Ventralex hernia patch eroded into his bowel because they chose the materials they used based on price instead of safety.  The jury agreed, finding both that the design was defective and that Bard to failed to warn of the risk. I've been saying all along I have no idea why Bard let this case go to trial. But the settlement value of Bard hernia mesh cases just went up.
August 26, 2022 Update
We could have a Rhode Island state court verdict today in a Bard Ventralex patch case, Trevino v. Bard …. stay tuned.
August 24, 2022 Update
Do we finally have a hernia mesh settlement breakthrough?  Maybe.
The big news is Judge Sargus appointed a "settlement master" to help facilitate global settlement negotiations between Bard and the plaintiffs' attorneys.
Why is this a big deal?  In prior mass tort MDLs,  the appointment of a settlement mediator has been a precursor to a final settlement. In addition to appointing the settlement master, the class action judge kept the pressure on everyone by finalizing dates for two additional bellwether trials for February 2023 and May 2023.
July 8, 2022 Update
C.R. Bard is still pushing for a docket control order in the hernia mesh MDL. Meanwhile, the tide of incoming new hernia mesh lawsuits being filed against Bard across the country continues. Within the last week, ten new hernia mesh cases have been added to the MDL from the District of Rhode Island (4) and the District of Minnesota (6).
June 20, 2022 Update
The plaintiffs in the C.R. Bard hernia mesh MDL-2846 filed a strong response last week in opposition to the defense motion asking the MDL judge for a docket control order.
In their opposition, the plaintiffs characterize the defense motion as an inappropriate effort to get "de facto summary judgment." They claim that the relief sought by the defendants is unprecedented and would be overly burdensome to pending to future plaintiffs.
On Friday, the defendants filed a reply in support of their motion downplaying the burden that the docket control measures would have. We should get a decision on the motion within the next few weeks.
June 14, 2022 Update
Plaintiff Antonio Milanesi filed a response to C.R. Bard's post-verdict motion for JMOL. The response from Milanesi correctly points out that the arguments made in Bard's current JMOL are the same arguments that have previously been rejected by the Court on two occasions (Summary Judgment and pre-verdict JMOL).
The response also contends that the plaintiffs did satisfy the standard of proof for product defect under Florida law with competent expert testimony regarding the problems with the Ventralex mesh.
May 26, 2022 Update
The big question we are getting from hernia mesh victims is when will the Stinton case, the third bellwether mesh lawsuit, go to trial? The trial date has not been set but our hernia mesh lawyers believe the trial is likely to go in October if a new trial is not granted in Milanesi.
Stinson, a plaintiffs' pick for trial, involves the extra-large PerFix Plug device that is used to repair inguinal hernias. Mr. Stinson claims difficulty with urination, weight gain, an impaired sex life, and nerve entrapment.
Stinson Could Trigger Hernia Mesh Settlement
This could be the trial that triggers Bard to offer reasonable settlement amounts for the entire class action.  Bard knows this is a good case. It unsuccessfully filed a motion to replace Stinson as the third bellwether because it was not a "representative" case in the class.
I think Bard is smart enough to fear the bellwether effect of Stinson which is why we may see a Bard hernia mesh settlement before this lawsuit goes to trial.
May 24, 2022 Update
I was excited when Antonio Milanesi won the second bellwether hernia mesh trial.  But not entirely satisfied. The verdict of $255,000 was ridiculous in light of Mr. Milanesi's suffering.
Lawyers on both sides have filed post-verdict motions challenging the outcome of the trial. The defendants filed a Motion for Judgment as a Matter of Law claiming that the plaintiffs failed to establish the elements for causation or design defect under applicable Florida law.
Plaintiffs' Lawyers Seek New Trial on Damages Only
The plaintiffs' hernia mesh lawyer filed a Motion for a New Trial on Damages. The legal argument is that  the trial judge failed to properly explain to the jury that the defense had the burden of proof on mitigation of damages.  The likely scenario for the low jury payout is the jury blamed the surgeon who did the initial procedure.  Plaintiff's attorney is seeking the dream scenario: a new trial on damages only.
Both sides are due to file responses tomorrow.
May 23, 2022 Update
As of May 16, the C.R. Bard MDL-2846 has 18,803 active cases. The second bellwether trial resulting in a $250,000 verdict ended over a month ago. But hernia mesh lawyers still don't have a date for the next bellwether trial, and only three new cases have been added this month.
Frustratingly, there is still no date set for the third bellwether hernia mesh trial. There is hope Bard offers reasonable settlement amounts.  But there is nothing concrete.  We will update you when there is a development.
May 3, 2022 Update
Hernia mesh victims have been visiting this page for the latest hernia mesh news and updates over the last few weeks have come up empty.  Not much is happening.  We will get another trial date at some point but that has not happened.  Our lawyers expect a trial date in October 2022 for the third bellwether, but the exact date has not been set.
The Johnson & Johnson Ethicon Physiomesh hernia mesh lawsuits have settled.  This might have some impact on the Bard lawsuits.  But, on another level, the Bard hernia mesh claims are very different from the Physiomesh claims.  The biggest difference?  When a product is recalled, like the Physiomesh, it makes settlement much easier.
April 16, 2022 Hernia Mesh Trial Verdict
VERDICT: $250,000 to Mr. Milanesi; $5,000 to his wife.  Plaintiff won on his defective design count; Ms. Milanesi brought a loss of consortium claim.  A larger verdict would have been nice. But if each plaintiff in this litigation were to receive a $255,000 settlement, then Bard is paying $4 billion to resolve every hernia mesh lawsuit that has been filed in the federal class action.  And many hernia mesh lawsuits allege injuries far more grave than Mr. Milanesi's.
Was the Verdict in Milanesi Too Low?
From our conversation with victims, there is understandable disappointment in the verdict's size.  You will see the same if you wade into the comments below.  But you have to understand that the bellwether impact is more about whether you win or lose than the size of the verdict.
Unique Facts of Milanesi on Damages
Importantly, Bard blamed the original surgeon for the choice of a large Ventralight. It may well be the verdict was less because the jury believed that some of the responsibility for the plaintiff's injuries rested with that surgeon. Looking at this verdict from that lens is more encouraging because Bard will not have the "blame the doctor" defense in most cases.  So do not assume that the same jury would have awarded $255,000 in your case. (Update: the Trevino verdict in August 2022 proves this point.  Both Milanesi and Tevino has similar suffering. Yet Milanesi gets $225,000 and Trevino gets $4.8 million.)
Hernia Mesh Settlement Amounts Should Reflect Reality
But the size of the jury's payout probably tells us something we already knew. Some of these claims will be a close-call cases for juries. Plaintiffs will win and lose hernia mesh suits at trial, at least in Becton Dickinson/C.R. Bard/Davol mesh lawsuits.  The parties will eventually fashion settlement amounts around that reality.
April 14, 2022 Mesh Trial Update
This is the day hernia mesh victims have been waiting for. The defendants have rested their case in the Milanesi trial in Ohio.  The jury deliberated for two-and-a-half hours yesterday after closing statements.  The jury is set to resume deliberations in 15 minutes.  We will likely… get a verdict today in this crucial hernia mesh lawsuit.
As of 3:06 p.m., we have no verdict. The jury has posed two questions to the judge so far.

No verdict today.
April 1, 2022 Mesh Trial Update
The hernia mesh trial is moving along slowly.  Seven witnesses have testified in the first nine days  Apparently, Bard's defense lawyers missed  Trial Advocacy 101 where future attorneys learn to make their best points on cross-examination quickly and get out. Dr. Krpata could have confessed to shooting JFK by the end of his second day of testimony and no one would have noticed  The first four days of trial are over and only two witnesses have testified, one by videotape – Davol's (Bard subdivision) president.
The trial is set to last three weeks but our hernia mesh lawyers predict it will extend beyond next Friday.
March 22, 2022 Mesh Trial Update
The Milanesi trial began yesterday. Not much has happened other than the selection of the jurors who will hear this hernia mesh lawsuit.
March 9, 2022 Mesh Lawsuit Update
We are less than two weeks away from the Milanesi case that was reset for trial on March 21, 2022.  All the energy in this litigation is going into that trial from attorneys on both sides.  I don't get the feeling there will be many bellwether trials in the Bard hernia mesh lawsuit. So every trial will reverberate in the final settlement compensation payouts victims see in the Bard hernia mesh lawsuits.
January 10, 2022 Mesh Lawsuit Update
Today was supposed to be a big deal because it was to mark the beginning of the next hernia mesh lawsuit that is going to trial.  The case of Antonio Milanesi v. C.R. Bard begins today in Ohio before Judge Edmund A. Sargus. This is the biggest trial in this litigation and will be important for future mesh lawsuit settlement amounts. But the judge postponed the trial.  No new date has been set. But our attorneys expect the new hernia mesh lawsuit trial will begin this winter.
Bard Hernia Mesh Lawsuit Verdict in 2021
Last month, Round 1 of the bellwether trials in the C.R. Bard hernia mesh litigation resulted in a surprising victory for the defense. After a 22-day long trial for Steven Johns, a federal court jury in Dayton, OH, ruled in favor of the defendants on all claims. It was a total win for Bard and Mr. Johns' received nothing.
Plaintiffs' hernia mesh lawyers are saddened and victims are wondering what this means for the future of the lawsuits against Bard. 
Everyone needs to take a deep breath.  This victory in this first test trial, however painful,  will likely have a minimal impact on the eventual outcome of hernia mesh litigation. 
The same thing happened 10 years ago in the Kugel Mesh litigation (a predecessor to the current hernia mesh litigation). Bard also scored a surprise victory – at least to plaintiffs' attorneys – in the opening bellwether trial. But the second bellwether trial generated a $1,500,000 verdict for the plaintiff. This immediately prompted Bard to negotiate a global settlement of all the remaining cases. We could see that pattern repeat itself in this litigation.
History of the C.R. Bard Hernia Mesh  
C.R. Bard Inc. (now a subsidiary of Beckton-Dickson) is a medical device company based in New Jersey. For at least the last two decades, Bard has been the leading manufacturer of hernia mesh devices. A hernia mesh implant is a small artificial screen or mesh that is used during hernia repair surgery to help reinforce surgically repaired muscle walls.
In the early 2000s, Bard was one of the leaders in a new type of hernia mesh product that was permanent rather than absorbable. Permanent hernia mesh implants must be made so that the mesh will be accepted by the body's immune system and not form abnormal attachments to adjacent tissue or organs. Bard's new permanent hernia mesh products include the Bard® Mesh and the Ventralight ST Mesh.
These new mesh implants are made out of a special type of plastic called polypropylene and that plastic mesh is covered with a coating designed to create a barrier and prevent the mesh from attaching to nearby organ tissue. Unfortunately, the design of Bard's hernia mesh implants had flaws that caused serious complications and adverse health consequences for many patients.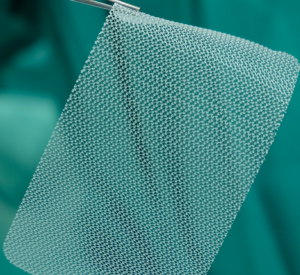 Instead of being inert biologically inert inside the body, the material and/or coating in Bard's mesh devices were incompatible with the immune system in some patients which leads to a ton of health problems.
After the mesh was implanted, many patients would have a severe immune response causing inflammation and pain. In other cases, the coating on the mesh would dissolve, allowing the mesh to adhere to nearby tissue in the bowel or other organs.
Bard's hernia mesh devices can cause internal injuries and/or health complications. The most common injuries linked to defective hernia mesh products:
Internal infections and pain
Bowel obstruction
Mesh detachment and migration
Puncture of adjacent tissue/organs
Adhesion to tissue and organs
Status of the Hernia Mesh Class-Action MDL Litigation Against C.R. Bard
Over the last 5-6 years, thousands of hernia mesh product liability lawsuits have been filed against C.R. Bard. These lawsuits allege that Bard's polypropylene mesh products were not adequately tested before being released and had design flaws that made them unsafe for certain patients.
In 2017 the Judicial Panel on Multidistrict Litigation (JMPL) consolidated all of the Bard hernia mesh lawsuits in federal courts into a newly created Multi-District Litigation (MDL), which is similar to a class-action.
Ohio MDL
The Bard Hernia Mesh MDL (In re: Davol, Inc./C.R. Bard, Inc., Polypropylene Hernia Mesh Products Liability Lit. – MDL-2846) was created in the Southern District of Ohio. There are currently 3 different hernia mesh MDLs involving different medical device companies, but the Bard MDL is the largest of the 3 with over 12,000 cases.
Progress in MDL
Like all the other hernia mesh MDLs, the progress of the Bard MDL has been slow compared to other mass torts.  But it is picking up now. Many of the 15,136 plaintiffs in the Bard litigation have had their cases pending for 5 years or more.  (If you are reading this and you are frustrated, I get it.) The timing of the COVID pandemic is the main reason for this slow pace. The shutdown of the federal court system last year happened just when the Bard MDL was reaching its final stages.
Fortunately, the Bard MDL appears to be close to passing the finish line.   The next trial against Bard in MDL-2846 (what the class action is called) is set for March 23, 2022.
Estimated Settlement Payout in Bard Hernia Mesh Lawsuits
The result in the current bellwether trial will likely dictate the amount of settlement money plaintiffs in the Bard hernia mesh litigation will end up getting.
Estimating the amount of that settlement payout at this stage is speculative at best.  No one knows what the average settlement value will be or how the recent defense verdict changes the trajectory of this litigation. And an attorney's estimate of average settlement amounts is always fluid.  But based on Bard's settlement of a prior mass tort involving an earlier hernia mesh implant (the Kugel hernia mesh) we can try to make an educated guess as to the average settlement payout compensation plaintiffs might get in the Bard hernia mesh lawsuits.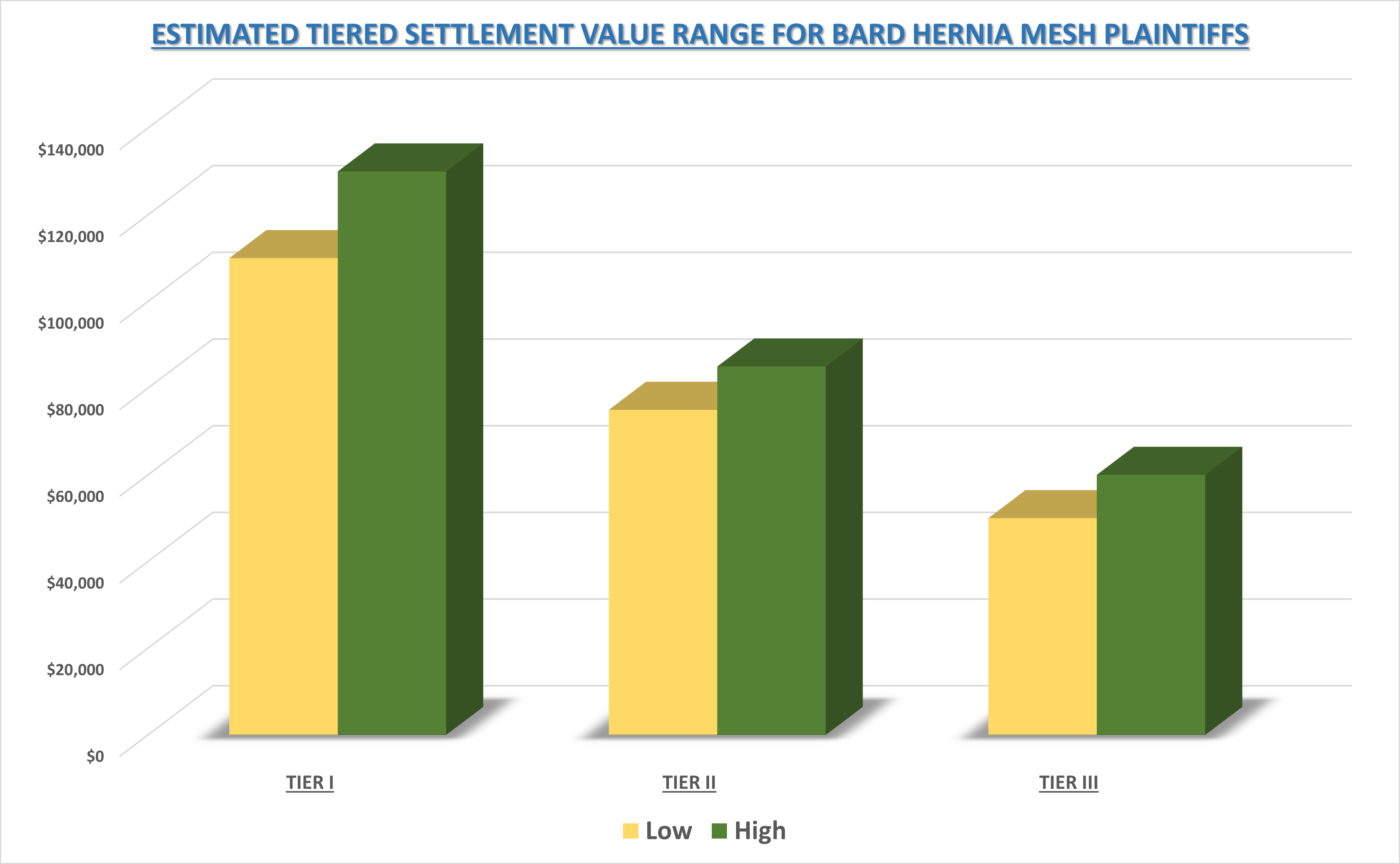 We believe that the average settlement payout for Bard hernia mesh plaintiffs will be around $80,000. The loss on September 8, 2021 loss has little impact on this projection.
Hernia mesh lawsuit settlement amounts for individual plaintiffs will vary based on a point-based tier system which will award more compensation to those plaintiffs with greater injuries.
For example, plaintiffs with the most serious injuries would be in "TIER I" and might get an average per person settlement between $110,000-$130,000. Plaintiffs who only had minor complications and no permanent injuries would be in "TIER III" and may only get $50,000-$60,000.  The Johns case is a good example of TIER III.  That was an adhesions-only claim.  Plaintiffs who get categorized in TIER II might get $75,000-$85,000 under this projected scenario.
Having settled the last round of mesh cases for average per person settlement amounts of $70,000 each, Bard is not unfamiliar with this settlement range.  Psychologically, this makes a similar number easier to swallow.  The Johns, Milanesi, and Trevino verdicts taken together in context probably slightly increase projected future settlement amounts.
How Long Does a Hernia Mesh Lawsuit Take?
If you ask a victim who got into this litigation early, they will tell you a hernia mesh lawsuit takes forever.
The hernia mesh lawsuits have been consolidated into several class action MDLs, most of which are holding bellwether test trials. After the bellwether trials, a global settlement is expected in which case most hernia mesh lawsuits will get settled and newly filed cases will be resolved fairly quickly.
The good news?  These lawsuits are expected to resolve in 2022 or early 2023.  Is that a guarantee?  Of course not.  It is a guess. 
How Do I Know If My Hernia Mesh Was Recalled (or a part of these lawsuits)
There have been major defects with many hernia mesh implants. There have not been any major recalls so it is very unlikely that your hernia mesh was recalled. I'm amazed at how many people do not know their hernia mesh manufacturer. If you do not know, you just let your hernia mesh attorneys dig up your medical records to find out.
What Are the Symptoms of Hernia Mesh Failure?
Symptoms of hernia mesh failure include abdominal pain and inflammation, post-surgical adhesion, and bowel obstruction.
Contact Us About Your Hernia Mesh Case
It is (probably) not too late to sue Bard for the problem you have had with your hernia mesh.  Call and get answers. Call our hernia mesh attorneys today at 800-553-5053 or get a free consultation online.