Thousands of hernia mesh injury lawsuits have been filed across the country alleging that design defects in various mesh products caused post-surgical complications resulting in significant injuries. The hernia mesh lawsuits have been consolidated into multiple class action MDLs against the different mesh manufacturers, and cases are still being filed.
This post will briefly examine how the hernia mesh lawsuits have unfolded and discuss the latest developments in this continuing mass tort as we get into 2023.
About the Hernia Mesh Lawsuits
A "hernia mesh" is a small patch made of a net or screen-like material. Doctors use the hernia mesh patch to help reinforce and support the surgically repaired muscle tissue after a hernia operation. It serves as a structural support frame for the tissue.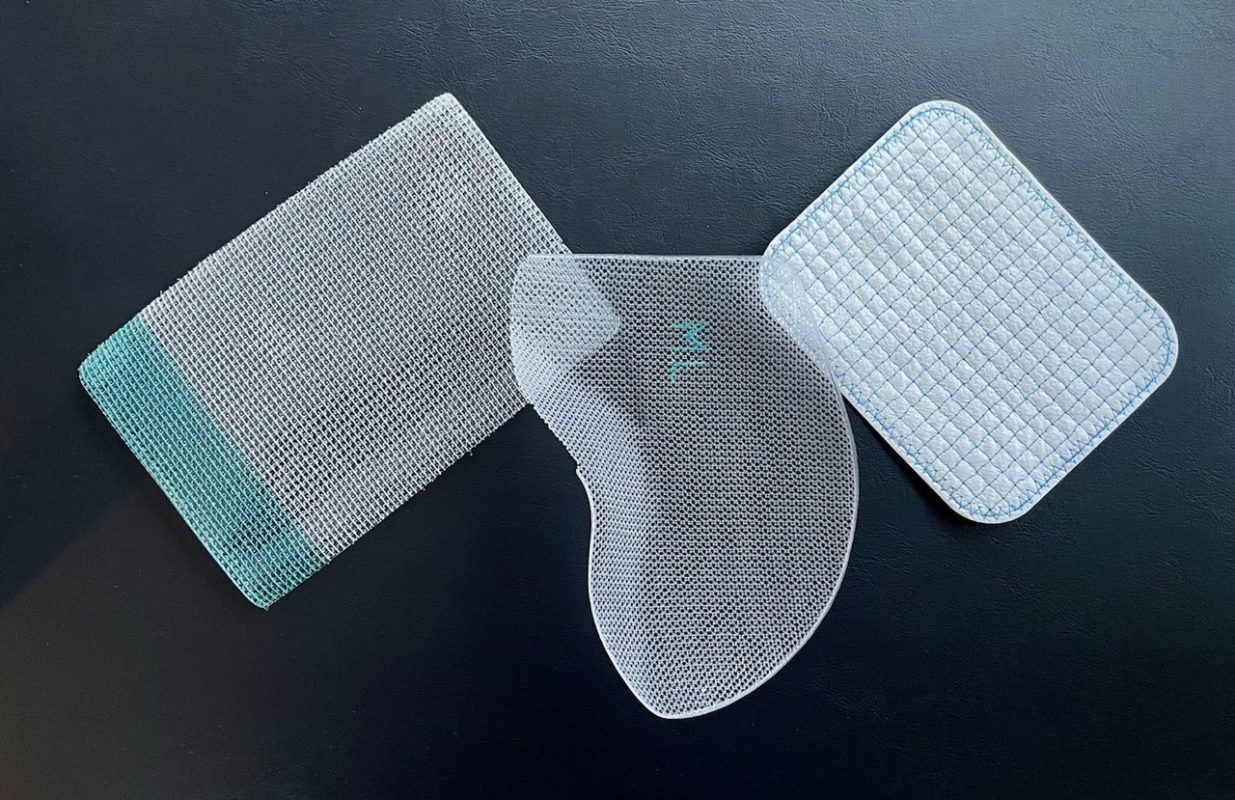 Hernia mesh patches must have three fundamental properties to function for their intended purpose. First, they must be compatible with the human body. This requires the mesh to be made out of "biologically inert" material, which means that the body's immune system will not attack it. Second, the mesh needs to be designed to not attach to the tissue of other nearby organs. Finally, the mesh needs to stay in place and not migrate after the surgery.
Since the early 2000s, a number of different permanent hernia mesh patch implants have been manufactured by various medical device companies. Many of these hernia mesh implants had one or more design flaws that resulted in major post-surgical complications and injuries.
Some of the mesh implants were not biologically inert and triggered an immune response from the body. Others tended to migrate out of position or abnormally attach to nearby organ tissue. As these failures occurred, more and more hernia mesh patients began to file product liability lawsuits.
Hernia Mesh Class Actions
As the number of hernia mesh lawsuits pending around the country grew, they were consolidated into several different class action MDLs. Each hernia mesh MDL involved claims against a particular hernia mesh manufacturer. The three main hernia mesh class action MDLs are:
The Ethicon hernia mesh class action is essentially over following a global settlement that is being implemented. The MDLs involving C.R. Bard and Atrium are still active and pending. The Bard hernia mesh MDL is much bigger, with over 18,000 pending cases.
Results of Hernia Mesh Bellwether Trials
So far, there have been three test trials in hernia mesh cases. Two of them were bellwether trials in the C.R. Bard hernia mesh MDL. The first bellwether trial in the Bard class action occurred in July 2021 in a federal court in Dayton, Ohio, in a case brought by plaintiff Steven Johns. After a 22-day trial, the jury ruled that Johns had not proven his claims and issued a defense verdict.
After several delays, the second bellwether trial in the Bard hernia mesh MDL finally concluded in April 2022. The trial involved many of the same expert witnesses as the first trial. This time, however, the jury ruled in favor of the plaintiff (Anthony Milanesi) and awarded $255,000 in damages. The verdict's size was a disappointment, but the impact of bellwether trials is more about whether the plaintiff wins or loses than the judgment's size.
A few months after the 2nd bellwether verdict in Milanesi, another hernia mesh case went to trial. This was not a bellwether in the federal court's Bard hernia mesh MDL. Instead, it was a hernia mesh case outside the MDL in Rhode Island state court (Paul Trevino v. C.R. Bard, et al.). The trial resulted in a $4.8 million verdict for the plaintiff.
The next hernia mesh trial is the 3rd bellwether test trial in the Bard MDL. It is scheduled for May 2023 and will be in federal court in Ohio again. The results of this 3rd bellwether trial could significantly impact the future of the hernia mesh cases against Bard. Another big win for the plaintiff could force a global settlement.
Lessons from the Hernia Mesh Verdicts?
So what have we learned about the settlement value of hernia mesh lawsuits from these trials?   It confirmed what we always knew – some of these cases are winnings, some are losers, and some will be close calls.  But, ultimately, what was the average hernia mesh payout the juries awarded?  That number is $1,685,000.  Plaintiffs don't have to win them to justify high settlement payouts in this litigation.
What to Expect Next in the Hernia Mesh Litigation
We are optimistically predicting that the Bard class action MDL (the largest of the hernia mesh MDLs) will be resolved in a global settlement before the end of this year. We think the upcoming 3rd bellwether trial in May will result in a solid verdict for the plaintiff. That will prompt Bard's parent company (Beckton-Dickson) to negotiate a global settlement of all claims.
The one potential complication that could derail this scenario is the ever-expanding size of the Bard hernia mesh class action. As of January 17, 2023, 18,304 cases were pending in the Bard MDL. That is massive. It's the most significant mass tort MDL besides the 3M earplugs MDL. When an MDL gets to this size, working out a global settlement can be more challenging because the price tag gets very high.
The hernia mesh class action MDL involving Atrium is probably going to continue for at least another year before we start predicting a similar settlement. The Atrium MDL is more recent, and we don't even have a bellwether trial scheduled yet. But… if settlement compensation can be agreed upon in Bard, the small MDLs could fall quickly like dominos.  (That is one theory, anyway.)
What Will the Settlement Payout Be for Bard Hernia Mesh Cases?
The average settlement payout for Bard hernia mesh plaintiffs will be around $80,000. The settlement amounts for individual plaintiffs will vary based on a point-based tier system which will award more compensation to those with more significant injuries. We think the top-tier claims will be in the range of $110,000 to $130,000, with bottom-tier claims in the $50,000 to $60,000 range.
But again, this is a settlement compensation estimate.  The trial value of these lawsuits is much higher, as we have seen from the jury payouts.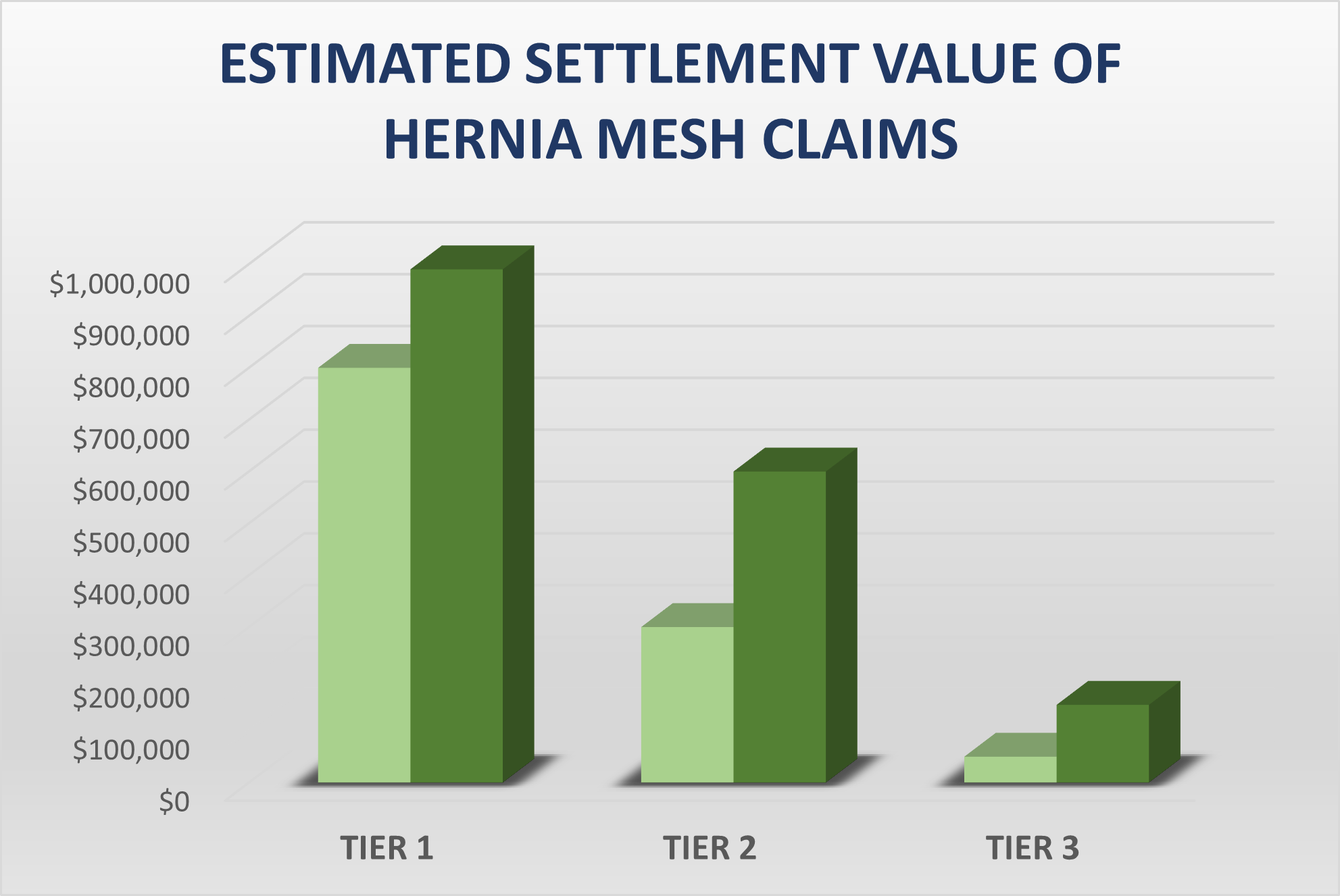 Contact Us About Your Hernia Mesh Case
It is still possible to file your own hernia mesh lawsuit. If a defective hernia mesh implant injured you, call our hernia mesh lawyers today at 800-553-5053.