Our law firm handles 3M earplug lawsuits throughout the country. This page provides the latest news and updates on the 3M class action lawsuit for victims.
There is some interesting perspective in the comments below from soldiers plaintiffs in the 3M earplug lawsuits.  Our lawyers also provide some excellent graphs and charts of how these lawsuits are going that we have updated in March 2023 to reflect the latest 3M verdict, failed effort by 3M to hide behind a bankruptcy court, and new settlement talks in 2023.
We summarize where we today in this litigation overview of the 3M litigation.  You can also find our latest thoughts on when the 3M earplug lawsuit will settle in light of recent developments.
If you have a potential 3M earplug lawsuit and have yet to contact a lawyer, you are making a mistake if you think you want to bring a claim.  Reach out to us at 800-553-8082 or connect with us online.
3M Earplug Lawsuit News
March 24, 2023: New 3M lawsuits continue to be filed. Alvarez v. 3M Co., et al. (3:23-cv-6661), is an example of a new 3M earplugs lawsuit, filed on March 23, 2023.
The plaintiff, a Florida resident, alleges that she used the Dual-Ended Combat Arms Earplug and that she suffered partial hearing loss and tinnitus in her left and right ears. The hearing loss was presumably suffered during her time in the military, although that detail is not provided in the Short Form Complaint. The suit names all of the possible defendants, including all of the Aearo subsidiaries.
March 17, 2023 Update: CNBC has an article today on the 3M litigation that is more in-depth than most.
March 10, 2023 Update: Judge Rodgers isn't buying their methods for testing whether their military earplugs caused hearing loss. She called it "problematic" in a filing today because the testing approach leaves out the two hearing frequencies that are most commonly affected by noise, but includes two frequencies that are rarely impacted.  Garbage in and garbage out.
On the other hand, she thinks the plaintiffs' lawyers are also overreaching because the plaintiffs' testing approach also does not assess an individual's current hearing loss status.
March 3, 2023 Update: Quote from plaintiffs' lawyers in Bloomberg article on the 3M's estimation motion:
"There is simply no route for 3M to resolve this litigation if it continues to take the offensive and impractical position that 90 percent of service members and veterans are liars with worthless claims."
This is a great summary of where we are in the 3M earplug litigation today.
March 2, 2023 Update: We wrote a separate post on the 3M estimation motion that announced most plaintiffs suffered no injury.
March 1, 2023 Update:  3M today said that most of the "175,000 plaintiffs" in the Combat Arms earplugs lawsuits had normal hearing, according to U.S. Department of Defense records. The data was included in an estimation motion filed by Aearo Technologies, the 3M unit that made the earplugs, in U.S. Bankruptcy Court in Indianapolis.
This is good news for 3M.  One small problem…Eleven out of 13 jury verdicts in favor of soldiers would fall into 3M's "not harmed" category.  This would seem to be a small problem for 3M.  Can you see why 3M wanted to hide from juries in bankruptcy court?
3M chooses its own definitions and its own legal standards.  It thinks it gets to define whether someone suffers from a hearing injury.  When juries disagree with the positions it takes, it thinks it should get to decide that they should not have to face the judgment of juries.
I've said over and over that I believe 3M is a good company that just refuses, for whatever reason, to take an honest look and the exposure it has in this litigation.  I thought the jury verdicts would do it.  But the litigation and appellate calendar allows 3M to put its head in the sand.  There will be a day or reckoning.  Actually, 3M lost $50 billion in market value.  So the reckoning is already here.  But no one seems to be connecting those dots.
February 23, 2023 Update: The 3M data day presentation took place this morning as scheduled. It featured opening comments from Judge Rodgers followed by a presentation by the third-party data administrator for the MDL.
The primary theme of the presentation was that both sides have adopted different ways of interpreting the data regarding the hearing loss claims asserted by the plaintiffs. These opposing interpretations yield vastly different results.
Under the metric endorsed by 3M, nearly 85% of the plaintiffs have no evidence of hearing loss and should be excluded from any settlement. The approach applied by the plaintiffs results in a much smaller percentage of plaintiffs being excluded.
According to Judge Rodgers, both sides have dug in on their opposing data interpretations and the massive gap between the two results is what has prevented any meaningful settlement progress.
February 22, 2023 Update: The judge in the 3M earplug MDL has scheduled a "Data Day" tomorrow, at which time Brown Greer, the third-party claims administrator for the MDL, will make a presentation outlining information about the thousands of hearing loss claims pending against 3M in the litigation.
What is Data Day? Data Day is when both parties in a class action lawsuit come together to exchange and review large volumes of electronic data and information that is relevant to the case.   Data day is often – as it is in this case – facilitated by a third-party vendor who can assist with managing the data and facilitating the review process.
Judge Rodgers explained that the presentation will help educate plaintiffs' lawyers not on the leadership committees about the nature and scope of the claims. We think this may be an effort by Judge Rodgers to keep the door open for further settlement negotiations as things play in the appellate courts.
February 14, 2023 Update: The hearing on the recent motion by the 3M plaintiffs to immediately dismiss the Aearo Technologies bankruptcy proceedings has been pushed back. Initially, U.S. Bankruptcy Judge Jeffrey Graham was going to hear arguments on the motion this week. Yesterday, however, Judge Graham pushed the hearing date back to April.
February 7, 2023 Update:  Plaintiffs' lawyers smell blood in the water to kill 3M bankruptcy gambit.   The Bankruptcy Court has scheduled a Status Conference to address the Motion to Dismiss recently filed by the 3M earplug MDL plaintiffs. The conference has been set for next Monday, February 13, 2023.
The Motion seeks to have the Aearo Chapter 11 bankruptcy immediately dismissed based on the grounds outlined in the recent ruling by the 3rd Circuit Court of Appeals in the talc bankruptcy initiated by J&J. That bankruptcy was admittedly different in some ways.  But none that matter.  Like the J&J case, Aearo has a "funding backstop" from its parent, which means it would not face the risk of financial distress because, ironically, a huge company was willing to pay its debts.
But more saliently, the  3M's maneuver to change the forum of litigation from civil trials to bankruptcy to avoid the wrath of juries raises "the specter of abuse which must be guarded against to protect the integrity of the bankruptcy system" the court highlighted in J&J talcum powder generated bankruptcy.
January 21, 2023 Update:  This will surprise you if you read our last update.  The mediators in bankruptcy court report that good faith negotiations are ongoing, and settlement negotiations will occur formally next month.  They disagree with Judge Rodgers' assessment that settlement talks will not be fruitful.
3M wants to resolve these cases in bankruptcy and wants Judge Rodgers to avoid getting any credit for a global settlement. Veterans care about fair compensation. That's it. So everyone can win here.  Settlement is still an uphill slog.  But there is more reason for hope than after Judge Rodgers' order on Wednesday.
January 20, 2023 Update: On Wednesday, the Judge in the 3M earplugs MDL canceled the court-sponsored earplug settlement mediation that had continued intermittently for the last year and a half.
Judge Rodgers expressed apparent regret and frustration. She explained that the move was necessary because 3M has flatly refused to consider a global settlement of the earplug claims within the MDL.
3M's ostrich approach will cost them.  The fear is how long it will take for it to pay that price.
January 16, 2023 Update: Read through these comments from 3M investors about the earplug lawsuit as long as you don't mind sacrificing a few IQ points.
January 8, 2023 Update: Bloomberg reports 3M has spent over $450 million in defense costs in the earplug litigation.
December 23, 2022 Update: The MDL Judge has imposed a significant sanction on 3M blocking it from pursuing the Aearo bankruptcy.  Rogers hit 3M with this unprecedented sanction for what she described as 3M's "brazen abuse of the litigation process." The sanction prevents 3M from avoiding liability for the earplug claims by shifting blame to Aearo Technologies, the subsidiary which filed bankruptcy in August. In her lengthy opinion (3M Sanctions Order), Judge Rogers blasts 3M for going through 4-years of litigation without ever suggesting that Aearo was the real part in interest:
A scorched earth battle was waged against every theory of liability alleged in this litigation. Yet, there was nary a whisper that Aearo, and not 3M, was the only proper target, or even a target at all.  
Judge Rogers points out that it was only after 3M was unhappy with the outcome of the MDL that it suddenly changed its story and claimed that Aearo was actually the party with liability. The sanctions imposed by Rogers completely bar 3M from pursuing this argument and impose sole liability for the earplug claims on 3M. This is a huge deal because it means that the pending appeal in the Aearo bankruptcy is meaningless. The MDL plaintiffs are now free to go after 3M separately. The only caveat is that 3M will now file an immediate appeal of this new ruling, and the MDL cases will be stayed pending the outcome of that appeal.
December 15, 2022 Update: Reuters does a nice job summarizing 3M's bankruptcy appeal.  I'm not sure that many understand the successor liability issue and how it may impede 3M's efforts to hide behind bankruptcy laws to shield itself from liability no matter how the 7th Circuit rules.
December 4, 2022 Update: Ever since 3M had its subsidiary, Aearo Technologies, file bankruptcy, the proceedings in the 3M earplugs class action MDL have been frozen by an automatic stay.
Recently, however, a group of earplug plaintiffs filed a motion seeking to partially lift that stay concerning all cases alleging injuries occurring after 3M acquired Aearo in 2008. The motion argues that the stay should not apply to these cases because they do not involve claims of direct liability against Aearo.
MDL Judge Casey Rogers has given 3M a deadline of December 5th to file a response.
The new deadline for Aearo's brief is now December 12, 2022. The Court has already agreed to expedite the appeal. This means that the oral argument could be scheduled as soon as April or May 2023, and a ruling could come soon afterward.
November 24, 2022 Update: 3M subsidiary Aearo Technologies was recently granted an extension of the deadline to file its appeal brief in the 7th Circuit. The appeal challenges the bankruptcy court decision in Indiana, which derailed 3M's effort to force the earplug cases into bankruptcy court.
The new deadline for Aearo's brief is now December 12, 2022. The Court has already agreed to expedite the appeal. This means that the oral argument could be scheduled as soon as April or May 2023, and a ruling could come soon afterward.
Happy Thanksgiving!
November 17, 2022 Update: The judge in the bankruptcy filed by 3M subsidiary Aero Technologies has ruled that 3M's law firm, Kirkland & Ellis, can continue to represent Aero in the bankruptcy.
K&E has been the primary defense firm in the earplug MDL, which prompted lawyers for the MDL plaintiffs to argue that K&E could not simultaneously represent Aero in its bankruptcy because it presented a conflict of interest.
The bankruptcy judge was not persuaded, although he noted that a conflict could undoubtedly arise in the future and that K&E was "navigating a minefield."
We think this was the wrong call. But is it not important in the litigation.
November 3, 2022 Update: The earplug plaintiffs joined the DOJ in objecting to the Aearo bankruptcy contesting the fact the same law firm, Kirkland & Ellis, is representing Aearo in the bankruptcy and 3M in the MDL. The plaintiffs argue that this is an apparent conflict of interest. It is hard to imagine a reasonable person claiming otherwise.
The real purpose of this objection, however, is to highlight the fact that Aearo is not a separate, independent company but simply a puppet of 3M. Is that point already apparent to everyone?  Of course.
November 1, 2022 Update: The judge in the 3M earplugs MDL is expected to rule very soon on the pivotal issue of whether 3M can be held solely and independently liable for the earplugs developed by its subsidiary Aero (which is filing bankruptcy).
That decision will significantly impact the course of the litigation moving forward and could potentially render the appeal in 3M's controversial bankruptcy gambit essentially moot. In the meantime, however, the MDL judge has issued a general stay of all events and deadlines in the MDL. She also ordered the parties to resume the settlement mediation.
In her Order staying the MDL, Judge Rodgers made clear will certify that decision for an immediate interlocutory appeal. That would allow 3M to appeal the decision separately and immediately, while the MDL remains on pause. The problem with this?  More delay unless there is a settlement.
October 22, 2022 Update: After granting a request for an expedited appeal, the Eleventh Circuit also granted 3M's request to stay an order by the MDL judge which prevented 3M from contesting issues in the bankruptcy that had already been decided in the MDL. 3M will now be able to present certain arguments in the Aearo bankruptcy without the risk of being held in contempt of court by Judge Rodgers. If the 3M's appeal of the bankruptcy court decision is denied, however, this will all be moot.
October 14, 2022 Update: The Seventh Circuit Court of Appeals has agreed to an expedited review of 3M's appeal seeking to reverse the bankruptcy court decision in Indiana.
What does this mean?  It means the appeal will be heard faster than it was sent through the usual channels.  The bankruptcy ruling prevented 3M from implementing its controversial plan to force the earplug MDL cases into a bankruptcy proceeding.
The 7th Circuit panel found that the appeal warranted immediate review because of the large number of people it could impact and the critical precedent the decision will set.
We think 3M will lose the appeal.  3M may use the appeal as settlement leverage to get a deal done sooner rather than later.  I think this will happen, but this prediction would defy history.  3M has been wearing rose-colored glasses from Day 1 of this litigation.
October 11, 2022 Update: The 3M earplug plaintiffs filed a motion in the MDL asking for summary judgment on whether 3M can be held solely and independently liable for the earplug injuries. The summary judgment motion is aimed at preemptively blocking any continuing hope 3M may have of forcing the MDL lawsuits to be resolved in bankruptcy.
A previous motion was filed in August which also sought to block 3M's bankruptcy strategy, but the MDL denied that motion because it was essentially premature. This time, however, the summary judgment motion has a much better chance of being granted, and Judge Rodgers may be inclined toward it.
The rejection of 3M's bankruptcy gambit is on appeal to the Seventh Circuit.  Summary judgment on this motion might render that appeal moot.
October 7, 2022 Update:  3M stock lost billions of dollars in value yesterday.  The speculated cause is that news leaked that earplug litigation settlement talks were going poorly. There is a prescription for what ails 3M stock but management does not want to take the medicine.
October 5, 2022 Update: No 3M earplug settlement remains.  One piece of bad news: the October 24th trial that was creating settlement pressure has been pushed back to February.  There is a lot of speculation that the trial was pushed back to allow settlement talks to continue.  But the judge could not try the case this month for reasons external to the 3M litigation.
October 2, 2022 Update: The next round of settlement talks will be tomorrow. This is encouraging news.  I don't think 3M wants to try another case and would like to find a way to settle these claims. Another trial looms on October 26, 2022.  If you are 3M, you don't want to try that case.
September 20, 2022 Update: No global settlement. But settlement talks will continue in the next two weeks, and Judge Rodgers is encouraged by the progress made during the settlement negotiations.
So this is excellent news, right?  It is.  But right before round two of the settlement mediation ordered by MDL Judge Casey Rodgers, top executives at 3M were at a conference spewing nonsense to financial analysts that the company was still "moving forward" with its bankruptcy strategy.
3M's Chief Legal Affairs Officer, Kevin Rhodes, claimed that the recent decision by the Bankruptcy Court rejecting 3M's strategy was "wrong" and is being appealed directly to the Seventh Circuit.  From there, he assumes the bankruptcy ruling will get overturned.  No serious lawyer agrees with that premise, including 3M's lawyers. But that is the foundation of his presentation.
Rhodes then devoted the rest of his presentation to claiming that the settlement value of the earplug lawsuits should be $1 billion – a paltry amount that would pay less than $5,000 to each plaintiff. He claims this number is supported by experts, which is truly insanity.  3M's stock lost billions of dollars when the bankruptcy effort failed because not a single financial analyst or lawyer in America is pricing $1 billion as the settlement value of the 3M lawsuits.
Rhodes then paid lip service to the upcoming mediation session. But he implied that the mediation was aimed at resolving the bankruptcy proceeding, rather than an effort to negotiate a global settlement in the MDL.
You can read the transcript of this for yourself.
Listen, I'm not a financial analyst.  But if I was and I heard this presentation predicated on this delusional nonsense, I would short 3M stock like crazy.
September 15, 2022 Update: The 3M earplug settlement talks (Round 2) begin today in Pensacola, Florida.
September 8, 2022 Update: The 3M earplug mediation is scheduled for next week on September 15-16, 2022 at the United States District Court in Pensacola, Florida.
September 7, 2022 Update: After being forced back to another mediation following the rejection of its questionable bankruptcy strategy, 3M is now seeking to have its puppet subsidiary take part in the mediation and involve the bankruptcy judge in that mediation. Acting through its puppet subsidiary Aero Technologies, 3M has asked that the judge in Aero's chapter 11 bankruptcy, Hon. James M. Carr, be appointed as a second mediator in the MDL settlement mediation.
In response, lawyers for the earplug plaintiffs have stated that while they are not necessarily opposed to the appointment of Judge Carr, they want to make sure that it will not have any impact on the jurisdiction of the MDL court.
It is hard to know how to interpret all of this. But it does not appear to be a good sign for those of us who were hoping that 3M might finally be ready to make a serious effort to settle the earplug lawsuits. The fact that 3M is trying to involve the bankruptcy judge in the mediation suggests that they have no genuine interest in negotiating a settlement right now. If 3M was truly ready to get this litigation settled, there would be no need to involve the bankruptcy judge in that process.
September 1, 2022 Update: Here we go again.  Back to the settlement table…
After the Bankruptcy Court rejected 3M's effort to extend the automatic stay and force the earplug claims to be resolved in bankruptcy, everyone was waiting to see how MDL Judge Casey Rodgers would respond.
That response came on Tuesday when Judge Rodgers issued an Order requiring 3M to participate in a new settlement mediation. Judge Rodgers just recently required the parties to take part in a settlement conference in July, and she was highly irritated when learned that 3M was preparing to launch its bankruptcy strategy the whole time.
Now that the bankruptcy plan has been rejected, Judge Rodgers has decided to force 3M to march right back to the settlement table and do it again.  Rodgers used 3M's public statements in support of the bankruptcy plan as justification for the settlement mediation redo.
Specifically, Rodgers quoted 3M's announcement regarding the bankruptcy proceeding that it wanted to "efficiently and equitably resolve" the earplug claims as evidence that 3M is now highly motivated to settle.
The denial of the bankruptcy plan has led to intense pressure from Wall Street to get the litigation settled.  More than pressure from judges or veterans, that is what will get the 3M earplug lawsuits settled.
August 31, 2022 Update: 3M filed its long-shot appeal of the recent Bankruptcy Court ruling by Judge Graham that blocked its controversial attempt to force the earplug lawsuits to be resolved within a Chapter 11 bankruptcy proceeding. 3M's appeal will either go to the U.S. District Court for Indiana or the Bankruptcy Appellate Panel. A reasonable time frame to expect a result is about 6 months or more.
August 26, 2022 Update:  Today, Judge Graham ruled that 3M will not get bankruptcy protection because its subsidiary declared bankruptcy.  The judge found that Aearo's bankruptcy restructuring could proceed along with the continuation of the 3M earplug lawsuits.
What does this mean?  It means 3M's bankruptcy gambit failed as I predicted from the beginning.  3M now has to offer reasonable settlement amounts to veterans or face scores of jury trials in 2023 that could put the company on the path to real bankruptcy.
August 25, 2022 Update:  Today, Judge Rodgers ruled on a 3M Emergency Motion for a Stay Pending Appeal. The motion sought a stay on the enforcement of the Court's recently entered All Writs Act injunction, the ruling that 3M may not ask other courts to reconsider Judge Rodgers' rulings in the 3M earplug class action lawsuit.  The judge granted the motion to stay as to a portion of the injunction but denied 3M's effort to stay the injunction entirety.
My favorite line from the order: "Furthermore, it is nonsensical to argue—as 3M has—that a stay of the Court's injunction promotes the public interest…."
August 25, 2022 Update: As of 9:07 a.m. no ruling from Judge Graham.
August 23, 2022 Update: Judge Rodgers's stay on claims against 3M ends tomorrow.  So we expect (an incorrect assumption in hindsight) the bankruptcy judge to rule before the end of tomorrow whether 3M lawsuits will be paused for the Aearo bankruptcy in the 3M earplug litigation.
August 17, 2022 Update: On Sunday, Judge Casey Rodgers issued an Order denying the recent motion by the earplug plaintiffs asking her to rule that 3M has sole liability for the earplug claims and has waived any successor liability defense.
This ruling would have circumvented 3M's current effort to force the earplug claims to be resolved in the Aearo bankruptcy.
In her 10-page Order, Judge Rodgers portrayed the Aearo bankruptcy as a scam. She points out that "[f]rom the start, Aearo was a party to this litigation in name only." The judge refers to 3M's recent strategy to have Aearo assume full liability for the earplug claims and then file bankruptcy as a "scheme" designed to avoid the MDL.
Despite 3M's "naked duplicity," Judge Rodgers did not provide the relief sought because 3M had not asserted any defense claiming that it was not a proper defendant in the litigation. Until 3M sought to assert such a defense, Judge Rodgers found that granting the motion would be premature.
August 11, 2022 Update: Judge Rodgers heard arguments today from veterans that Judge Rodgers should not allow a bankruptcy court the ability to stay the 3M earplug litigation.  The gist of the argument is that any difference between the two companies is pure form over substance.  Judge Rodgers pointed out that she told juries that the companies were "one and the same" without any objection from defense lawyers.
3M still owes Judge Rodgers some financial information. But let's be real: if the answers were helpful to 3M, they would have gleefully trotted that information out today.
There is a real possibility this bankruptcy – which drove 3M's stock price through the roof when it was announced – is much ado about nothing.
August 10, 2022 Update: Wait, do we need Aearo in these cases?  Judge Casey Rodgers will hold a hearing tomorrow to learn about the details of 3M's acquisition of Aearo Technologies (the subsidiary that is now filing for bankruptcy). The hearing will pay particular focus on the details of 3M's agreement to assume Aearo's liabilities as part of the deal. You have to remember that a big part of 3M's screwup with the Aearo purchase is not getting their minds around the litigation risk Aearo posed.  So they didn't buy Aearo planning to one day flip it into bankruptcy.   That might be a problem for 3M.
The hearing will help Judge Rodgers rule on whether to grant a motion that would prohibit 3M from arguing that it is not a proper defendant in the earplug cases. If granted, this would potentially pave the way for Aearo to be simply dismissed as a defendant in the MDL, thereby side-stepping its recent bankruptcy.
August 4, 2022 Update: The 3M Earplugs MDL Judge (Casey Rodgers) issued an Order stopping the process of transferring pending cases from the inactive to the active docket. The Order states that this was made necessary due to "recent developments," which is a clear reference to bankruptcy recently filed by 3M's subsidiary unit Aearo Technologies. 3M will try to convince the bankruptcy court in Indiana that the automatic stay triggered by Aearo's bankruptcy should be extended to protect 3M as well, but this remains unresolved. Meanwhile, however, Judge Rodgers' order means that thousands of earplug plaintiffs can avoid having to produce documents to support their claims and pay filing fees.
August 1, 2022 Update: Only Aearo Technologies (3M's subsidiary) is protected by the automatic bankruptcy stay right now. This prevents any proceedings from moving forward against Aearo in the earplug lawsuits, but not against 3M.
That could change, however, because 3M's lawyers have already asked the bankruptcy judge to order that Aearo's automatic stay protection be extended to 3M. This is garbage – the general rule of the Bankruptcy Code's powerful automatic stay is that it should not extend to joint tortfeasors.
A ruling on this key issue won't happen until at least August 18, 2022.
July 29, 2022 Update: In a recently filed brief, 3M argued that its new bankruptcy strategy was necessary because it claims that the earplugs MDL proceeding is "broken beyond repair."  They seemed fine availing themselves of the system until they started getting their brains beaten trial after trial.  Then suddenly the system is broken.
3M argued that the earplugs MDL is overrun with bogus claims by plaintiffs who are not being vetted and dismissed from the case. The judge in the earplugs MDL, Casey Rodgers, pushed back on 3M and its lawyers at a hearing on Wednesday. Judge Rodgers stated that a "perfectly solvent defendant" such as 3M should not be entitled to bankruptcy protection simply because the MDL is not going the way it wants.
Rodgers dismissed 3M's claim that bogus plaintiffs are not being vetted, pointing out that 80,000 claimants have already been dismissed. Judge Rodgers is openly questioning whether the 3M settlement talks were in good faith.  The judge will issue a show cause order and hold a hearing to determine whether 3M acted in bad faith by filing bankruptcy immediately after participating in a settlement mediation.
July 28, 2022 Update: Does the Aearo bankruptcy mean 3M will get an automatic stay on continued litigation?  We will likely find out on August 18, 2022, at the bankruptcy hearing.
Meanwhile, the parties have agreed to continue Wave 3 discovery deadlines within the MDL. 3M did cancel some Wave 3 depositions and the judge ordered 3M to pay the attorneys' fees and costs associated with the cancellation.
July 27, 2022 Update: 3M's new strategy to resolve the earplug lawsuits in a bankruptcy proceeding is being directed by new legal counsel that the company recently retained to help deal with their mounting litigation troubles. The new players on 3M's legal team include Steven Reich, a former Justice Department official who was hired as 3M's new chief counsel for risk management. The law firm of White & Case was also brought in to help advise 3M on the chapter 11 bankruptcy proceeding for its subsidiary, Aearo Technologies.
The more I think about this bankruptcy, the more I think it is going to backfire on 3M.
July 26, 2022 Update: 3M is trying to play the bankruptcy card, placing Aearo into bankruptcy.  3M The goal is to stop the Wave 3 lawsuits heading for trial.
Aearo will ask the bankruptcy court to pause the litigation. 3M has not declared bankruptcy but it will try to piggyback on the Aearo bankruptcy to stop the litigation from moving forward, hoping to resolve the outstanding claims in bankruptcy court instead of having to face juries that believe their conduct was reprehensible.
I don't think this is going to work for 3M.  I will put more up on this later but I wanted to get something posted so you all knew what was happening.
July 25, 2022 Update: In the 10 days following the settlement mediation that was ordered by MDL Judge Casey Rodgers, the plaintiffs' lawyers have filed several motions pushing wave cases forward.  The message is clear: if you do not want to offer reasonable settlement amounts, you better gear up for a  massive wave of additional trials next year.
Plaintiffs' attorneys also filed an 84-page motion seeking to exclude or limit testimony from all of 3M's expert witnesses going into Wave 3 of the trial cases. The plaintiffs also filed a motion asking Judge Rodgers to preserve her prior Daubert rulings moving forward.
July 18, 2022 Update: There was no global settlement in the 3M class action earplug lawsuit this weekend.
July 16, 2022 Update: Should you be optimistic or pessimistic going into the settlement talks heading into Day 2 today?
There are two sides to this coin. You should be optimistic because Judge Rodgers is right – the lawyers and parties know more about the strengths and weaknesses of this litigation than any other piece of litigation in America. And it is the right time for 3M to settle these cases.  The size of the 3M earplug settlement is likely to shock the market.  But 3M is viewed as risky stock right now, which is not where it wants to be.
There is also reason to be pessimistic. With no upcoming trial dates, there is no great pressure on 3M and the company has shown an unwillingness to be serious about offering reasonable earplug settlement amounts to resolve this litigation. The strategy has been to kick the can down the road.  Moreover, we have 220,000 plaintiffs.  Settling these cases is sure to be complex. It might involve settlements for the lawsuit inventory of specific law firms, as opposed to a global settlement for all plaintiffs.
June 27, 2022 Update: The Sunday edition of the Wall Street Journal featured an article entitled 3M Faces Billions in Liabilities Over $7.63 Earplugs. The story – which is behind a paywall, of course – offers a general overview of the earplug lawsuits against 3M and an explanation of how the massive size of the litigation could end up costing 3M billions in liabilities.
The mandatory settlement conference ordered by the MDL Judge for next month appears to be what captured this recent attention. The WSJ article could prove to be a turning point in the litigation because it is the first time the 3M earplug lawsuits have received top-level attention from a major media outlet. If nothing else, it is good momentum going into the 3M earplug settlement talks set to being on July 15, 2022.
The 3M earplugs MDL is the biggest consolidated mass tort in history, but until now it has been off the radar. 3M has used anonymity to its advantage because it has not had to deal with the intense external pressure of investors pushing for a resolution. The bright spotlight of the WSJ story could end that.
June 15, 2022 Update: Settlement conference in 3M lawsuit set for July 15, 2022.  This is big news.
On Friday,  3M Earplugs MDL Judge Casey Rodgers issued an Order requiring the parties to participate in settlement mediation. The Order appoints Randi S. Ellis as the special master to oversee the negotiations and required that the mediation last a minimum of three days and be scheduled by July 15, 2022.
In her Order, Judge Rodgers explained that a settlement would help relieve the federal court system of the massive burden that the earplugs cases will present moving forward. There are currently about 233,000 cases in the MDL (down from the high of 282,902) and these cases will soon be returned to their home districts for trial in massive blocks of 500 lawsuits at a time.
There are no guarantees.  The 3M earplug lawsuits will be very hard to settle even with parties motivated to settle and a federal judge breaking down the lawyers' backs. But it is very encouraging news that a settlement could be in the works.
June 6, 2022 Update: One thing that might push a 3M earplug settlement: litigation costs.  3M's are going through the roof.
June 1, 2022 Update: MDL Judge Casey Rodgers reduced the $55 million verdict awarded to William Wayman, one of the two plaintiffs in the 11th bellwether trial that resulted in a blockbuster $110 million verdict.
The verdict was reduced – as expected – because Wayman's case is governed by Colorado law and the $55 million exceeded Colorado's statute damages cap.
Judge Rodgers also issued a new Case Management Order identifying a third wave of 500 additional cases to be prepared for the next phase of trials. 1,500 active cases have now been sent for trial prep for 2023.
May 20, 2022 Update:  Good golly!  Beal was awarded $77.5 million!
So the 16th and final bellwether trial concluded this afternoon with this massive $77.5 million verdict for the plaintiff, Army veteran James Beal. After 16 bellwether test trials, the plaintiffs ended up with a win-loss record of 10-6 with total damages of over $300 million.  So the average trial – a few had multiple plaintiffs – results in an average payout of $30 million per trial.  That is incredible.
May 19, 2022 Update: On the 8th day of trial, 3M put their expert, Dr. John Casali, on the stand. Dr. Casali is the director of the Auditory Systems Laboratory at Virginia Tech and an expert in hearing loss and protection. 3M has used Casali as an expert in all of the previous trials. 3M also presented the jury with video deposition testimony clips from a handful of fact witnesses, including Heather Beal, the plaintiff's wife.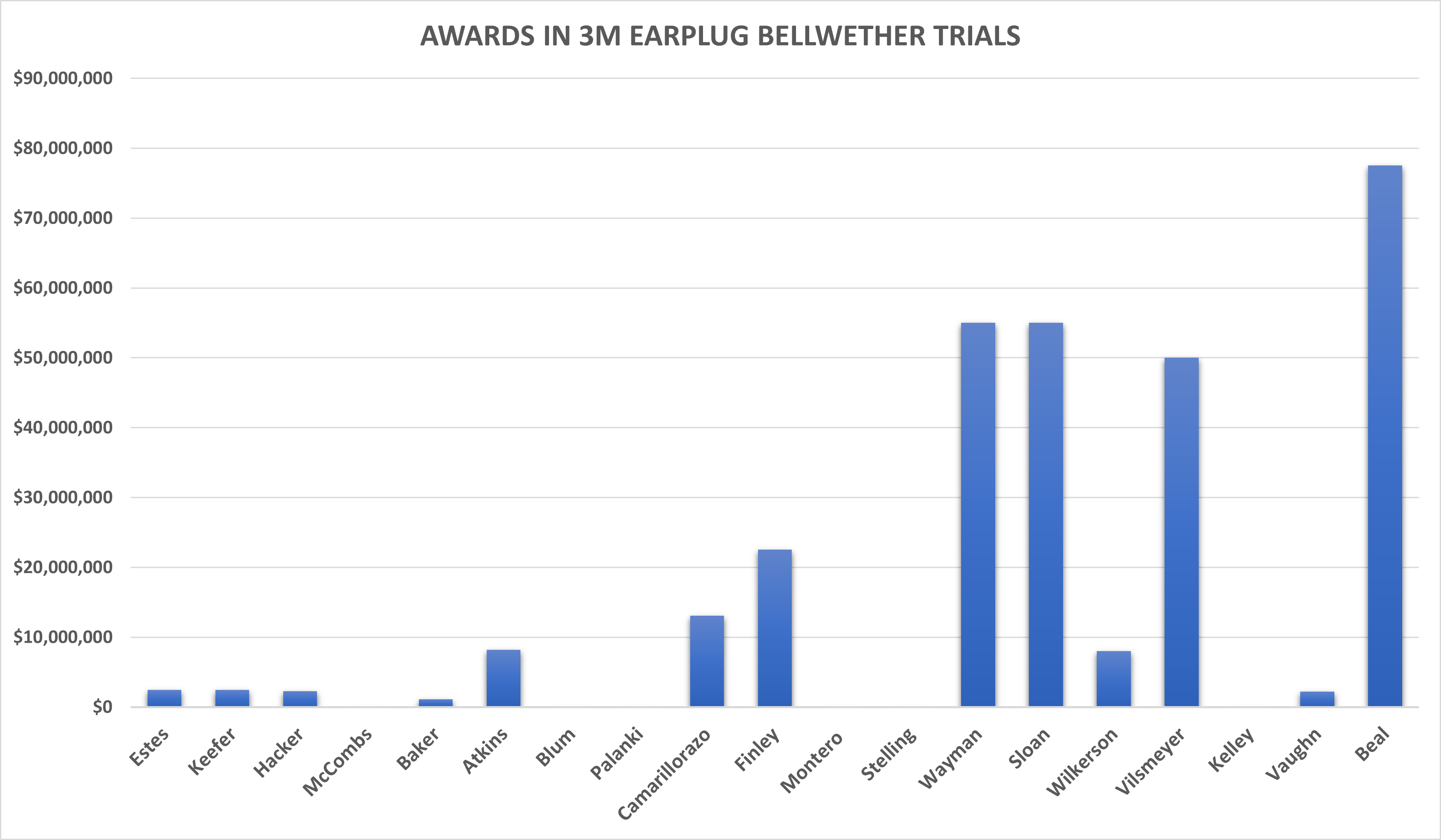 May 18, 2022 Update: We stopped updating the trials and got so blowback from soldiers and former soldiers who wanted an update on the last bellwether trial.  So here goes for old times' sake…
Most of the opening 2 days of the trial were devoted to the testimony of bioacoustics engineer Richard McKinley.  No question, McKinley is the most important expert witness for the plaintiffs. He testified for nearly 8 hours. McKinley has testified in all the previous bellwether trials, although this is the longest time he has spent on the stand.
On the 3rd day of trial, the plaintiffs presented the testimony of Elliott Berger. If you are following this litigation, Berger needs no introduction.  Berger was in the middle of every key piece of the relevant facts. Now retired, he was the former head of the 3M Personal Safety Division and an audiology scientist. Berger was personally involved in the development and testing of the Combat Arms earplugs.
The plaintiff, James Beal, took the stand on the morning of Day 4. Beal's testimony was followed in the afternoon by another expert witness for the plaintiff, Dr. Christopher Spankovich, an audiologist, and professor at the University of Mississippi Medical Center.
On Day 5, the jury heard from Dr. Mark Packer, an Ear Nose & Throat expert from Mercy Hospital in St. Louis. Dr. Packer has been an effective witness in prior trials. He played a key role in the Sloan/Wayman trial that ended in a $110 million verdict against 3M.
On Day 6, the jury was presented with short video deposition clips from several different fact witnesses including the plaintiff's wife, Heather Beal, and several other people who are presumably friends or family members of the plaintiff.
On the 7th day of trial, the defense presented live testimony from Dr. James Crawford and Eric Fallon. Dr. Crawford is an ENT doctor and hearing protection specialist. Fallow is an audiologist and Technical Senior Service, Specialist. Both Fallon and Crawford also spent over 20 years in the Army.
May 11, 2022 Update: The 3M MDL class action judge dismissed over 20,000 cases because the plaintiffs failed to produce documentation (mostly official military service records) required to support their claims.
This sounds like a bad thing, right?  But it is not.  Too many lawyers have filed 3M earplug lawsuits without making sure their clients have a viable claim.  These dismissals may seem like a setback for the plaintiffs, but they actually might help to facilitate a global settlement of the remaining earplug claims. The biggest roadblock to a mass settlement with 3M at this point is the raw number of plaintiffs (290,779 before the recent dismissals).
3M believes that a large percentage of these plaintiffs do not have legitimate claims.  We need to prove the basic elements of the claim and being in the military is one of those basic elements. I think this is one point on which our 3M earplug lawyer and 3M have common ground.  Only soldiers who have been harmed should receive settlement compensation.
May 10, 2022 Update: Yesterday marked the beginning of the end of the 3M earplug lawsuit bellwether trials.  Plaintiff James Beal, an Army veteran, began his 3M earplug trial against 3M yesterday in Pensacola, Florida, the epicenter of this litigation so far. But this is the last of the 3M earplug bellwether trials.
The Beal trial will be conducted by Judge Robin Rosenberg. It is scheduled for 2 weeks.  A seasoned judge who has been on the federal bench for eight years, this will be Judge Rosenberg's first earplug trial.
We are off to a good start.  Last week, the MDL judge granted a motion filed by Beal which effectively blocks 3M's defense team from presenting their contributory negligence and other affirmative defenses at trial.
It would be nice to close out Trial #16 with a win. But the verdict is unlikely to move the needle in settlement negotiations.
May 4, 2022 Update:  A new phase of the 3M earplug lawsuit is coming. The MDL judge yesterday ordered over 20,000 lawsuits parked on the administrative docket transferred to the active docket within 60 days.
This order puts new pressure on 3M lawyers on both sides to reach a settlement.  Preparing this many cases is a logistical nightmare.
How does this work practically?  Attorneys will conduct fact discovery in these hearing injury lawsuits and then the lawsuits will be returned to their home districts for trial.
These 3M trials will have to be consolidated into groups of 50 soldiers to try at one time.  It is hard to predict how long one of these mega trials might take.  The earplug bellwether trials so far have been two weeks each and they only involved one plaintiff in all but two trials.
There is no question that the logistical challenges in the 3M earplug lawsuit also extend to settlement.  You won't hear me speak up for 3m much, right?  But a 3M earplug settlement will be complicated and will be fraught with peril for 3M.
One big issue no one can answer: how many truly viable 3M lawsuits are there?  Even soldier plaintiffs I've talked to believe a percentage of the soldiers that applied administratively for the 3M lawsuit do not have legitimate claims.
I suspect the vast majority of these hearing loss and tinnitus lawsuits are strong claims.   But is the number 75% or 90%?  It is a big differnce. Will all these plaintiffs show up for their deposition?  How does 3M go about determining which plaintiffs have tinnitus or hearing loss that could be connected to the 3M earplugs?  How do you efficiently sort out 300,000 claims to figure it out?  I'm sorry for all the rhetorical questions. But a mass tort of this size has never had to face the logistical challenges that come with this many victims.
April 29, 2022 Update #2: A Florida jury awarded U.S. Army veteran Jonathan Vaughn $2.2 million.  Is that a lot of money?  It is.  It is incredible it does not feel like a lot anymore with all of the huge verdicts that we have had.  Vaughn was a case with a lot of weaknesses. 3M lawyers had a great deal to work with in cross-examining him.  The jury still awarded $2.2 million. Because, in the end, 3M bought a company that made an awful product that hurt people that served our country.  3M needs to wake up and offer reasonable settlement amounts to these soldiers.
April 29, 2022 Update: Closing statements were given yesterday in Vaughn and the jury began to deliberate.  The jury returned today to continue deliberations. Those deliberations have now extended into the afternoon.
April 13, 2022 Update:  A majority of the nearly 300,000 plaintiffs with 3M earplug lawsuits in the MDL have their cases resting on the "administrative docket," which means they can avoid the $402 filing fee until their case is activated. The administrative docket helps lawyers on both sides.
3M filed a motion seeking to force all these plaintiffs to immediately pay their filing fees or have their case dismissed. But the MDL Judge flatly rejected the motion and criticized 3M's lawyers for even bothering to file it. The judge also provided 3M with a harsh truth: "Though [300,000 lawsuits] may be a tough pill to swallow, the numbers are what they are."
April 8, 2022 Update #2: A defense verdict for 3M in the Kelley trial today.My take on the Kelley 3M verdict.
April 8, 2022 Update: The 8th day of the trial featured the cross-examination of 3M's witness Dr. Casali. The remainder of the day was spent on 3M's final expert witness, Dr. James Crawford. Dr. Crawford is an ENT doctor who spent 24 years in the Army where he specialized in hearing protection. 3M also filed a motion objecting to the plaintiff's request to present rebuttal testimony from their expert Dr. Gershwin. The objection is based on procedural grounds and will likely be granted.
April 7, 2022 Update:  3M presented two expert witnesses on Day 7: Jennifer LaBorde and Dr. John Casali. LaBorde is a doctor of audiology and head of the Hearing Center MCC in Pensacola with expertise in hearing aid technology. Dr. Casali is a professor at Virginia Tech University and a prominent expert in the field of hearing protection and acoustics. Casali has testified in previous bellwether trials.
April 6, 2022 Update: 3M began its defense on Day 6 of the trial (Monday). The first defense witness was 3M scientist Dr. Eric Fallon, former chief Audiologist at Walter Reed Medical Center. 3M's defense team also filed a Motion for Judgment as a Matter of Law, arguing that punitive damages should not be permitted because the plaintiff failed to meet certain evidentiary burdens under Texas law.  This is a procedural motion. 3M's lawyers know it will not be granted.  It has filed similar motions in all previous trials under Texas law. None of which have been granted.
March 30, 2022 Update: Day 2 of the Denise Kelley trial featured 7 hours of testimony from Elliott Berger. Berger is a former 3M scientist and division head (now retired) who was part of the team that originally designed and developed the Combat Arms Earplugs. His testimony has been used to establish that the earplugs were defective and that this design flaw was not communicated to the military. Berger has testified in all of the bellwether trials.
March 29, 2022 Update:  3M earplug trials follow a typical pattern, and this new lawsuit to go to trial fits easily in that pattern.  Day 1 of the Kelley trial saw the jury selected by midday and opening statements for both sides.  The day finished up with video testimony from former Aearo employee Ronald Kieper.  Our 3M earplug lawyers talk about Keiper's role in a page on another bellwether CAEv2 lawsuit.
March 28, 2022 Update:  The action continues in the 3M litigation. The next bellwether trial begins today in the case of Denise Kelley. Kelley will be the second female bellwether plaintiff. The trial is set for two weeks. Plaintiff will have 35 hours to present their case with the remaining 29 hours going to the defense.   I want to predict a big verdict in Kelly as the death knell for 3M.  But didn't that already happen this weekend?
Contributory negligence will not be at issue in this trial as Judge Rodgers granted summary judgment on that issue to the plaintiff earlier this month.
We talked to many soldiers over the weekend about the 3M earplug lawsuit.  The questions we got most are
when is 3M going to give up? and,
how many earplug trials are left?
3M was hoping to get some wins to decrease settlement amounts. That plan has not worked.  As for how many 3M trials are left… the trials will go on and on until there is a global settlement deal.
March 26, 2022 Update:  Wilkerson verdict: $ 8 million. That is $58 million in 3M verdicts this weekend. 
In Luke Vilsmeyer's trial, the jury awarded $50 million yesterday.  We were following the Wilkerson trial more closely and the jury is out in that case and will likely issue its verdict on Monday.  The Vilsmeyer verdict is yet another incredible victory that should push settlement amounts higher as 3M has to be in a full-scale panic at this point.  Incredibly, the $50 million was all compensatory damages (there are no punitive damages available under Indiana law).
March 25, 2022 Update: Yesterday, Judge Walker issued a 1-page order denying 3M's Motion for Judgment as a Matter of Law that was filed at the close of the plaintiff's case. His reasons for the denial were articulated by the Judge from the bench during the trial.
March 24, 2022 Update: In the Vilsmeyer trial in Pensacola, the Defendants' expert, Dr. Stan Phillips, testified that the cumulative trauma of the plaintiff's shoulder and neck injuries somehow contributed to his tinnitus. This is a tough argument to make.
March 22, 2022 Update: Plaintiff Steven Wilkerson closed his case yesterday and 3M immediately filed a motion for judgment as a matter of law. The motion argues that Wilkerson failed to establish that his hearing loss was caused by the 3M earplugs. 3M also argues that punitive damages should be off the table. 3M has filed similar motions in all of the previous bellwether trials and all of them have been denied. We fully expect the same result in this case.
March 21, 2022 Update: The current bellwether trial is proceeding on schedule and should conclude at the end of this week with a final verdict hopefully coming Friday afternoon. On Sunday, Judge Mark Walker issued an order resolving the various objections by both sides to the proposed jury instructions. Counsel for 3M also filed a stipulation stating that the company's net worth is currently $12.39 billion (assets, presumably, the company is worth over $80 billion). This will be used by the jury to help calculate the appropriate amount of punitive damages to award (if any).
March 15, 2022 Update: The Wilkerson and Vilsmeyer bellwether trials began today. Shortly before the Wilkerson trial, 3M filed a motion arguing (among other things) that Wilkerson's claims should be dismissed under the judicial estoppel rule because he failed to list his lawsuit against 3M as an asset in his recent bankruptcy. Judge Rodgers rejected this argument and denied the motion. In her memorandum Order, Judge Rodgers explained that 3M's argument failed because there was no evidence that Wilkerson intentionally concealed his claims against 3M to manipulate his bankruptcy. Judge Rodgers correctly pointed out that Wilkerson's bankruptcy was a Chp. 13 under which his creditors were being repaid in full. So failing to list the 3M lawsuit as an asset made zero difference.
March 10, 2022 Update:   Yesterday, the plaintiff in the upcoming bellwether trial (Steven Wilkerson) scored a solid victory when Judge Casey Rodgers granted his motion for summary judgment on all but one of three 3M's affirmative defenses. Wilkerson was seeking summary judgment on 3M's 5 affirmative defenses (learned intermediary, superseding cause, failure to mitigate, open and obvious danger, and statute of limitations defense), all of which were governed by Wisconsin law.
In her memorandum order, Judge Rodgers explained that Wilkerson was entitled to summary judgment on four out of the five affirmative defenses. Judge Rodgers stopped short of granting summary judgment on the statute of limitations defense and deferred ruling on that issue until the relevant facts have been presented at trial. The likelihood of 3M succeeding with the statute of limitations defense now or later down the line is almost zero, so this decision is almost a complete victory for Wilkerson.
March 3, 2022 Update: We are now 11 days from the next trial on the Steve Wilkerson case, an Afghanistan veteran.  The question most people reading this have is will the 3M earplug class action reach a settlement before this trial?  The pressure on 3M to offer reasonable settlement amounts and get the bulk of the 288,000 and climbing lawsuits settled has increased with the last big verdict.  My best guess – and it is a guess – is that the 3M earplug claims will settle this year but not before Wilkerson. I think 3M believes it will win this case and will be in a stronger settlement position after a victory.
3M also filed its appeal to the first bellwether trial.  That motion has to scare lawyers on both sides.  If 3M were to prevail on an issue that is common to every 3M earplug lawsuit – the government contractor defense – these cases would all amount to nothing if that ruling stood (unless Congress stepped in). Conversely, if this appeal fails as I strongly suspect that it will, 3M's quiver is empty and settlements become that much harder. So this is a roundabout way of saying I think the bulk of these suits will settle before the 11th Circuit rules later this year.
---
February 14, 2022 Update:  My belief has always been that 3M needs real pressure to come to the settlement table ready to offer reasonable compensation payouts.  The  $110 million verdict against 3M in the Sloan/Wayman bellwether trial is starting to draw the attention of people 3M cares about – Wall Street analysts and investors.
There will soon be 300,000 lawsuits filed.  The earplug litigation is by far the largest mass tort in history.  This did not get Wall Street's attention until recently. Last week, however, a top JP Morgan cautioned that 3M's litigation liabilities could exceed the $33 billion the investment bank says is already baked into the price of 3M stock.  (For context, this $33 billion also includes the PFAS lawsuits.)  If anything will push 3M to offer reasonable individual settlement amounts in the earplug lawsuits, it will be pressure from Wall Street for 3M to take its lumps and wrap up this litigation.
Like Bayer in the Roundup lawsuits, 3M's biggest mistake that led to this debacle was buying a company without doing enough due diligence as to the potential litigation liabilities.  The executives at 3M that decided to buy Aearo Technologies need to accept this mistake and move on.
---
February 9, 2022, 3M Earplug Bellwether Trial Update:  The $110 million verdict in the Sloan/Wayman trial was the final case in bellwether trial group C. After a pause in February, trials will begin in group D starting on Monday, March 14, 2022, in Tallahassee. This 3M earplug lawsuit was filed by Army veteran Steven Wilkerson. The next trial in group D will follow immediately after in Pensacola on Monday, March 28, 2022,  with the case of Denise Kelley. Both trials are scheduled to last two weeks and then more 3M earplug lawsuits are set to go to trial in April and May.
---
February 7, 2022 3M Earplug Bellwether Trial Update: The first 3M earplug lawsuit trial of 2022 ended two weeks ago for two soldier plaintiffs (Wayman and Sloan).  The verdict?  $110 million.  Can I repeat that?  $110 million. The story of the trial is below (and more on Wayman and Sloan)
With a slight pause as we switch to the Group D set of trials, we will see if 3M sees the wisdom in stopping the bleeding and offers soldiers reasonable settlement amounts.  For the first time, this litigation has meaningfully impacted 3M's stock price.  We will see if this is the catalyst for meaningful settlement talks to resolve the 3M earplug class action lawsuit.
Meanwhile, the huge verdict is bringing in more new soldiers who otherwise may have never heard of the claims.  Our lawyers are getting more 3M earplug calls than ever.  If might want to bring a claim, hurry.  There are deadlines to sue.  You can call us at 800-553-8082.  (And if you know a fellow soldier who suffered a hearing-related injury that does not know of the litigation, call that soldier and tell him or her to call a lawyer. )
Day 12 of the trial marked the close of 3M's defense case. After presenting short bits of video testimony from a handful of witnesses, 3M rested. The plaintiffs' counsel presented a short 40-minute rebuttal case and then the court heard oral arguments from both sides in support of their motions for judgment as a matter of law on various issues. Judge Rodgers granted the plaintiffs' motions for judgment on several issues including mitigation, comparative fault, and 3M's statute of limitations defense.   Hopefully, later today or tomorrow, we are reporting on a large verdict for Mr. Sloan and Mr. Wayman.
Day 10-11 has been the plaintiffs' key experts.  This 3M lawsuit may go to the jury as early as tomorrow.
Day 7-9 has been a parade of experts and fact witnesses for the plaintiff.  The plaintiffs' are still in their case so don't expect a verdict soon.
Day 6, Tuesday, January 18th, saw the expert testimony of Dr. Marc Bennett.  This Vanderbilt doctor has testified before in this litigation.  He spoke to the jury about the hearing injuries suffered.
Monday was a day off from the MLK holiday.  The trial resumed on Tuesday.  Friday morning (January 14, 2022) was Day 5.  This trial day mostly involved the testimony of Richard McKinley, a key expert for soldiers in the 3M earplug lawsuits on why the earplugs were defective.
Thursday morning on Day 4 in the Sloan/Wayman trial, the jury heard short video deposition testimony from three fact witnesses. Then at 11:00 a.m., the plaintiff, Ronald Sloan, took the stand to tell his story. The direct examination of Sloan lasted until 2:00 pm with a break for lunch. Sloan was then cross-examined by 3M's lawyers for about 90 minutes. Sloan's testimony and the jury's reaction to him will have a huge impact on the outcome of the case.
On Wednesday, the plaintiffs presented the testimony of Elliott Berger (via Zoom video call). Mr. Berger is a retired scientist from 3M's Personal Safety Division and an expert in audiology. Berger was directly involved in the original product design and testing of the Combat Arms earplugs. The plaintiffs have subpoenaed Berger as a witness in all of the 3M bellwether trials because his testimony is critical to establishing that there were known design flaws in the earplugs and they were not fully communicated to the Army.
On Tuesday in the Sloan/Wayman bellwether, the day included some fact witnesses and a nearly full day of testimony from Dr. Mark Packer, a critical expert witness for the plaintiffs. Dr. Packer told the jury that Sloan and Wayman suffered hearing damage during their time in the Army as a direct result of defects in the 3M Combat Arms earplugs. Dr. Packer's direct examination lasted almost 5 hours, followed by a 2-hour cross-exam.
On Monday, a jury was picked and the parties gave opening statements.
---
January 3, 2022 Update:  The 3M earplug bellwether trials will resume on Monday with a pair of simultaneous trials featuring plaintiffs Ronald E. Sloan and Williams Wayman. Wayman is an Army veteran who is claiming that 3M's defective earplugs caused him to develop tinnitus which has made his PTSD condition worse. Sloan is another Army vet who is alleging that the Combat Arms earplugs failed to protect him resulting in both hearing loss and tinnitus. Judge Rodgers ruled on pretrial motions in both cases earlier this week and the trials should begin on January 10, 2022. I am always saying these are big earplug trials. But these are big trials in this litigation.  Because 3M – if it has any sense – will want to settle these lawsuits before trials are remanded to be tried locally. Victories in both of these 3M earplug lawsuits may jump-start settlement talks and get reasonable settlement compensation payouts for victims from 3M.
---
December 20, 2021 Update: Another bellwether test trial concluded last week in the 3M Combat Arms Earplugs litigation. The trial resulted in another defense verdict for 3M as the jury found that the plaintiff, Carlos Montero, failed to prove that his hearing loss was the result of defects in the 3M earplugs. This victory for 3M follows its biggest loss in the earplug bellwether trials. Just a week earlier, a jury in Tallahassee awarded $22.5 million in the 8th bellwether trial, the largest verdict to date. In nine bellwether trials, the plaintiffs have won 5 times and 3M has won 4 times. Two more test trials are set for January 2022.
---
December 15, 2021 Update:  $22.5 million verdict in Finley last Friday.  Finley was not the easiest case.  There were some real weaknesses in that case for the victim in terms of prior inconsistent statements and other causes it could point to as sources of his pain and suffering.  It was far from a perfect case from the plaintiffs' perspective.  But the result was stunning:  $7.5 in compensatory damages; $15 million in punitive damages.
6th and 7th 3m Earplug Verdicts
Last week provided 3M earplug lawsuit verdicts in the 6th and 7th bellwether test trials in the ongoing 3M earplugs litigation, the largest consolidated mass tort in U.S. history.
It did not begin well.  The 6th bellwether trial ended in a defense verdict in favor of 3M.
The 6th was a different story. A Tallahassee jury awarded the plaintiff $13.1 million in damages. This marked the largest and most impactful verdict in the 3M earplugs litigation because it included over $12 million in punitive damages.
If you have thoughts about the 3m earplug lawsuit, let us know in the comments below.  Specifically, we would like your opinion on how much money it would take for you to settle your earplug lawsuit.  (You should probably not offer your thoughts on settlement amounts if you use your real name on your Discus handle.)
Call a Lawyer If You Have a 3M Earplug Lawsuit Today
If you have a potential 3M earplug lawsuit and have not brought a claim, call a lawyer. You can call our attorneys at 800-553-8082.
You can call any 3M earplug lawyer. Not just us. The important thing is that you call today so you do not risk missing the deadline to bring a lawsuit. If you miss the statute of limitations, you will not be able to get a settlement for the harm that has been done to you.
Round 6: Defense Verdict
The 6th bellwether trial in the 3M earplugs MDL came in the case of Joseph Palanki v. 3M Co., et al. (3:19-cv-2324). Palanki was a 50-year-old Tennessee resident and veteran of both the U.S. Army and National Guard. Palanki claimed that he suffered hearing damage while using 3M's combat arms earplugs while on active duty with the Army at a base in Texas.
Palanki was one of the bellwether cases selected by 3M's defense team because they believed it presented favorable facts. The trial was held at the federal courthouse in Pensacola, but it was presided over by a visiting judge from the Northern District of Alabama. Palanki spent nearly two days testifying, during which the defense focused on his medical history.
After hearing closing arguments from both sides, the jury went back to deliberate the case after lunchtime on Friday, November 12. At 3:00 the jury submitted a question to the judge. By 5:30 the jury had decided that Palanki failed to prove any of his claims against 3M and returned a defense verdict.
The result in Palanki marked the 2nd win in a row for 3M in the bellwether trials (the Blum trial also resulted in a defense verdict). 3M was feeling very bullish immediately after the verdict was returned. In an official company statement, 3M described the verdict in Palanki as "an important demonstration that jurors agree 3M's CAEv2 product was safe and effective to use." But then the big verdict came just a few days later.
Round 7: $13,062,320 Verdict
The 7th bellwether trial was held simultaneously in Tallahassee in the case of Guillermo Camarillorazo v. 3M Company, et al. (7:20-cv-00098). Camarillorazo was the third bellwether case selected by the plaintiff's lawyers.
Unlike most other plaintiffs, Camarilliorazo is still an active-duty service member with the rank of Sergeant in the U.S. Army. Camarillorazo had much stronger medical evidence to support his alleged hearing loss and tinnitus.
After a 2-week trial before Judge Mark Walker, the jury came back with a verdict Monday afternoon. The jury found in favor of Camarillorazo on all 7 of his tort claims and apportioned 100% of the fault on 3M.
The jury awarded total damages of $13,062,320 to Camarillorazo. This award included $816,395 in compensatory damages which broke down as follows:
Past Pain & Suffering         =          $192,000
Future Pain & Suffering      =          $408,000
Future Loss of Earnings     =          $110,645
Future Medical Care            =          $105,750
This was comparable to the compensatory damage awards in prior bellwether cases.
The most shocking aspect of the Camarillorazo verdict was the fact that the jury found that 3M acted with "fraud, malice, or gross negligence" and awarded $12,245,925 in punitive damages. This is the second bellwether trial that resulted in punitive damages. In the first bellwether trial, the jury hit 3M with $7.3 million in punitive damages, but that was split between 3 plaintiffs.
The $12 million in punitive damages awarded to Camarillorazo is a damaging indictment that demonstrates the jury was angered by 3M's conduct concerning the defective earplugs. The size of the punitive damage award, in this case, exposes the potential vulnerability of 3M in these cases. If the plaintiffs can consistently get juries to hit 3M with punitive damages in future bellwether trials it could be a major game-changer.
Plaintiffs Are Now 6-3 in 3M Bellwether Trials
There have now been 7 bellwether test trials in the 3M earplugs litigation. 3M claimed defense victories in Rounds 2, 5, and 6. The plaintiffs scored victories in the other Rounds. If we were keeping score by Rounds, the plaintiffs would be ahead 4 to 3. Keeping score by Rounds is somewhat misleading, however, because Round 1 included the consolidated trial of 3 plaintiffs.
If we track wins and losses by individual plaintiffs, we get a more accurate picture of where things stand. So far, 6 out of the 9 bellwether plaintiffs have won their claims against 3M and been awarded damages. The average compensation payout for soldiers who were awarded damages is approximately $3.3 million.
Are 3M earplug lawsuit individual settlement amounts going to go as high as these verdicts?  They are not.  That is, unfortunately, not how typical mass tort settlements work.  But if you do not like the settlement amount you are offered, you can opt-out of the settlement and take your case to a jury.
3M Earplug Lawsuits Results
| | | |
| --- | --- | --- |
| PLAINTIFF | SELECTION BIAS | RESULT |
| Luke Estes | Pro-Plaintiff | $2,450,000 |
| Lewis Keefer | Neutral | $2,420,000 |
| Stephen Hacker | Pro-Defendant | $2,260,000 |
| Dustin McCombs | Pro-Defendant | LOST |
| Llyod Baker | Pro-Plaintiff | $1,100,000 |
| Brandon Atkins | Pro-Defendant | $8,200,000 |
| Michelle Blum | Pro-Defendant | LOST |
| Joseph Palanki | Pro-Defendant | LOST |
| Guillermo Camarillorazo | Pro-Plaintiff | $13,062,320 |
| Joseph Finley | Pro-Plaintiff | $22,500,000 |
| Carlos Montero | Pro-Defendant | LOST |
What Have We Learned from the 3M Lawsuits That Have Gone to Trial?
We have learned that juries do not like what 3M did with these earplugs and they will award a great deal of money if they believed that negligence caused the victim tinnitus or hearing loss.
But we have also learned that 3M's bad behavior will not give victims a pass past the burden of proof of showing that their hearing loss was caused by 3M's negligence.  So juries will not shoehorn 3M negligence and the victim's hearing injury if the evidence does not support the claim.
Breakdown of Damage Awards in 3M Earplug Trials
There have now been 7 rounds of bellwether trials involving 9 plaintiffs in the 3M earplugs litigation. 3 of the 9 plaintiffs lost and were awarded $0 damages. The 6 plaintiffs who won their cases have been awarded damages totaling $29,429,925.
This works out to an average of $4.9 million per plaintiff.  Of the $29.4 million in total damages, 63% have been punitive damages (also referred to as "exemplary damages") aimed at punishing 3M for fraud or gross negligence.
The average amount of compensatory damages awarded to the 6 successful plaintiffs is $1,216,322, but this average is skewed by the Atkins case in which all $8.2 million in damages were compensatory. The median compensatory damage award is $583,448.
I Never Hear from My Lawyer. Can I Fire My Lawyer and Hire You?
As self-serving as it is to say, our lawyers get this question constantly. Your attorney should be in regular contact with you.
But you have to understand there are over 200,000 lawsuits as of December 2022 and there are few if any developments in individual cases. So hiring another lawyer is unlikely to speed up the path to a 3M earplug settlement.
What Settlement Amounts Do You Expect for the Average Individual 3M Earplug Lawsuit?
Our lawyers have consistently said that the average settlement amount in the first round of settlement will average between $50,000 and $100,000. Many veterans will understandably reject this settlement. But this will get the number of claims down.  But these settlement amounts and timing predictions… are just pure speculation.
Hiring Our Lawyers for Your 3M Earplug Lawsuit
If you have a potential 3m earplug lawsuit, you may be pushing up against the deadline to sue.  Call a lawyer today.  You can reach our earplug lawyers at 800-553-8082 for a free consultation. You can also get a free online consultation.