Last week provided 3M earplug lawsuit verdicts in the 6th and 7th bellwether test trials in the ongoing 3M earplugs litigation, the largest consolidated mass tort in U.S. history.
It did not begin well.  The 6th bellwether trial ended in a defense verdict in favor of 3M.
The 6th was a different story. A Tallahassee jury awarded the plaintiff $13.1 million in damages. This marked the largest and most impactful verdict in the 3M earplugs litigation because it included over $12 million in punitive damages.
Next Trial Starts Today (Finley)
We have another trial – Finley – coming up after Thanksgiving at then that is it for 2021.  Expect A LOT of trials in 2022 and, hopefully, a lot of verdicts that push 3M to its senses to offer reasonable settlement amounts to veterans with tinnitus and hearing loss from these earplugs.
This blog provides regular 3M earplug lawsuit updates. The last update was on November 29, 2021.
Call a Lawyer If You Have a 3M Earplug Lawsuit Today
If you have a potential 3M earplug lawsuit and have not brought a claim, call a lawyer. You can call our attorneys at 800-553-8082.
You can call any 3M earplug lawyer. Not just us. The important thing is that you call today so you do not risk missing the deadline to bring a lawsuit. If you miss the statute of limitations, you will not be able to get a settlement for the harm that has been done to you.
Round 6: Defense Verdict
The 6th bellwether trial in the 3M earplugs MDL came in the case of Joseph Palanki v. 3M Co., et al. (3:19-cv-2324). Palanki was a 50-year-old Tennessee resident and veteran of both the U.S. Army and National Guard. Palanki claimed that he suffered hearing damage while using 3M's combat arms earplugs while on active duty with the Army at a base in Texas.
Palanki was one of the bellwether cases selected by 3M's defense team because they believed it presented favorable facts. The trial was held at the federal courthouse in Pensacola, but it was presided over by a visiting judge from the Northern District of Alabama. Palanki spent nearly two days testifying, during which the defense focused on his medical history.
After hearing closing arguments from both sides, the jury went back to deliberate the case after lunchtime on Friday, November 12. At 3:00 the jury submitted a question to the judge. By 5:30 the jury had decided that Palanki failed to prove any of his claims against 3M and returned a defense verdict.
The result in Palanki marked the 2nd win in a row for 3M in the bellwether trials (the Blum trial also resulted in a defense verdict). 3M was feeling very bullish immediately after the verdict was returned. In an official company statement, 3M described the verdict in Palanki as "an important demonstration that jurors agree 3M's CAEv2 product was safe and effective to use." But then the big verdict came just a few days later.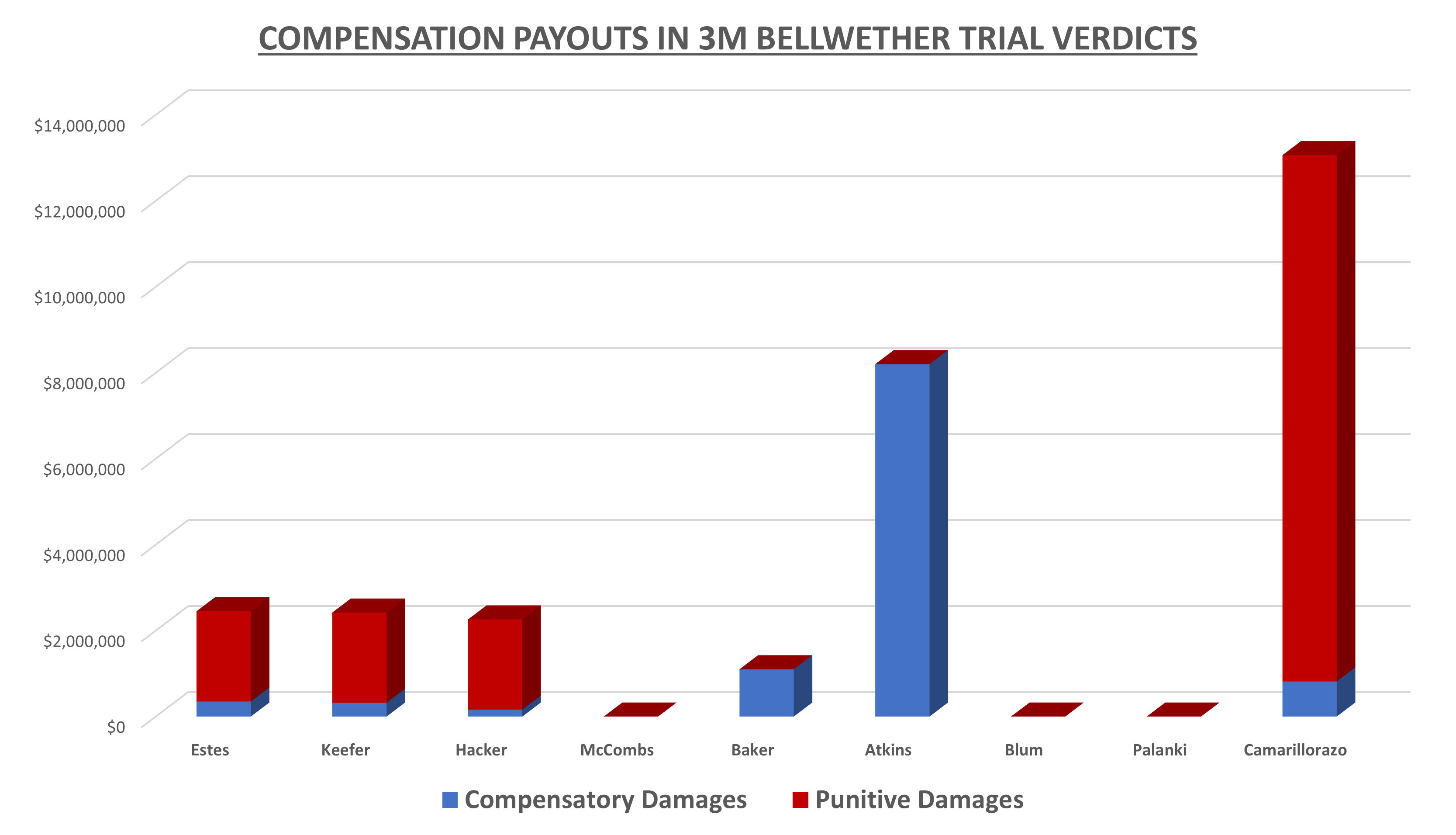 Round 7: $13,062,320 Verdict
The 7th bellwether trial was held simultaneously in Tallahassee in the case of Guillermo Camarillorazo v. 3M Company, et al. (7:20-cv-00098). Camarillorazo was the third bellwether case selected by the plaintiff's lawyers.
Unlike most other plaintiffs, Camarilliorazo is still an active-duty service member with the rank of Sergeant in the U.S. Army. Camarillorazo had much stronger medical evidence to support his alleged hearing loss and tinnitus.
After a 2-week trial before Judge Mark Walker, the jury came back with a verdict Monday afternoon. The jury found in favor of Camarillorazo on all 7 of his tort claims and apportioned 100% of the fault on 3M.
The jury awarded total damages of $13,062,320 to Camarillorazo. This award included $816,395 in compensatory damages which broke down as follows:
Past Pain & Suffering         =          $192,000
Future Pain & Suffering      =          $408,000
Future Loss of Earnings     =          $110,645
Future Medical Care            =          $105,750
This was comparable to the compensatory damage awards in prior bellwether cases.
The most shocking aspect of the Camarillorazo verdict was the fact that the jury found that 3M acted with "fraud, malice, or gross negligence" and awarded $12,245,925 in punitive damages. This is the second bellwether trial that resulted in punitive damages. In the first bellwether trial, the jury hit 3M with $7.3 million in punitive damages, but that was split between 3 plaintiffs.
The $12 million in punitive damages awarded to Camarillorazo is a damaging indictment that demonstrates the jury was angered by 3M's conduct with respect to the defective earplugs. The size of the punitive damage award, in this case, exposes the potential vulnerability of 3M in these cases. If the plaintiffs can consistently get juries to hit 3M with punitive damages in future bellwether trials it could be a major game-changer.
Plaintiffs are Now 6-3 in 3M Bellwether Trials
There have now been 7 bellwether test trials in the 3M earplugs litigation. 3M claimed defense victories in Rounds 2, 5, and 6. The plaintiffs scored victories in the other Rounds. If we were keeping score by Rounds, the plaintiffs would be ahead 4 to 3. Keeping score by Rounds is somewhat misleading, however, because Round 1 included the consolidated trial of 3 plaintiffs.
If we track wins and losses by individual plaintiffs, we get a more accurate picture of where things stand. So far, 6 out of the 9 bellwether plaintiffs have won their claims against 3M and been awarded damages. The average compensation payout for soldiers who were awarded damages is approximately $3.3 million.
| | | |
| --- | --- | --- |
| PLAINTIFF | SELECTION BIAS | RESULT |
| Luke Estes | Pro-Plaintiff | $2,450,000 |
| Lewis Keefer | Neutral | $2,420,000 |
| Stephen Hacker | Pro-Defendant | $2,260,000 |
| Dustin McCombs | Pro-Defendant | LOST |
| Llyod Baker | Pro-Plaintiff | $1,100,000 |
| Brandon Atkins | Pro-Defendant | $8,200,000 |
| Michelle Blum | Pro-Defendant | LOST |
| Joseph Palanki | Pro-Defendant | LOST |
| Guillermo Camarillorazo | Pro-Plaintiff | $13,062,320 |
Breakdown of Damage Awards in 3M Earplug Trials
There have now been 7 rounds of bellwether trials involving 9 plaintiffs in the 3M earplugs litigation. 3 of the 9 plaintiffs lost and were awarded $0 damages. The 6 plaintiffs who won their cases have been awarded damages totaling $29,429,925.
This works out to an average of $4.9 million per plaintiff.  Of the $29.4 million in total damages, 63% have been punitive damages (also referred to as "exemplary damages") aimed at punishing 3M for fraud or gross negligence.
The average amount of compensatory damages awarded to the 6 successful plaintiffs is $1,216,322, but this average is skewed by the Atkins case in which all $8.2 million in damages were compensatory. The median compensatory damage award is $583,448.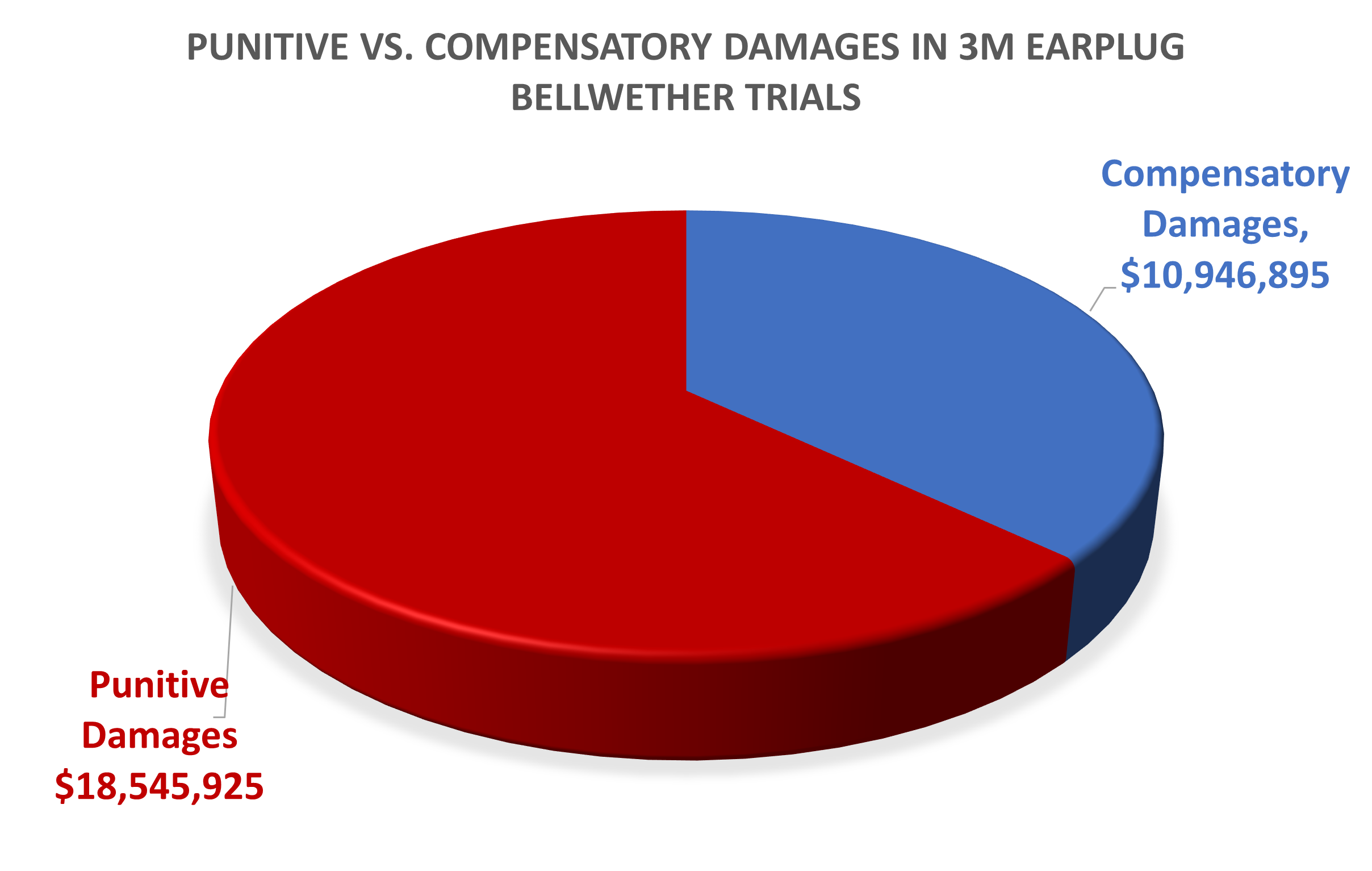 9 More Bellwether Trials Coming Up
There are 9 more bellwether trials set to take place in the 3M earplug litigation over the course of the next 5 months. Round 8 will feature the case of Theodore Finley v. 3M Co., et al., (7:20-cv-170) and it is scheduled to begin the Monday after Thanksgiving. After a brief pause for December, another pair of simultaneous bellwether trials will start on January 10, 2022.
I Never Hear from My Lawyer. Can I Fire My Lawyer and Hire You?
As self-serving as it is to say, our lawyers get this question constantly. Your attorney should be in regular contact with you.
But you have to understand there are 275,000 lawsuits and there are few if any developments in individual cases. So hiring another lawyer is unlikely to speed up the path to a 3M earplug settlement.