Our lawyers are investigating Tepezza hearing loss lawsuits in all 50 states.
Tepezza is an injectable prescription drug used for the treatment of thyroid eye disease (also known as TED). New scientific research has shown, however, that Tepezza can cause some patients to suffer permanent hearing damage and/or tinnitus (ringing in the ears).
Individuals who received Tepezza injections for TED and subsequently suffered hearing loss or tinnitus may be eligible to bring a product liability lawsuit and get financial compensation. Our lawyers are currently accepting Tepezza hearing damage cases. Contact us today to see if you have a case at 800-553-8082 or reach out to us online for a free consultation.
Tepezza Lawsuit Update
Our lawyers will keep you abreast of all of the latest developments in these Tepezza lawsuits.
September 18, 2023: Back in June there were 41 cases pending in the Tepezza class action MDL. As of this week there are not 54, a comparatively small increase. The volume of new cases will likely start to pick up considerably as we move forward.
September 14, 2023: The Tepezza class action is now being overseen by Magistrate Judge M. David Weisman for managing the discovery process, including the authority to modify the discovery deadline, and to oversee the settlement conference.
The preliminary status hearing is set for September 19, 2023, at 9:15 a.m.  Plaintiffs can listen in if they like. The conference call-in number is 1-877-411-9748 and the passcode is 1814539. (The big thing is just do not record anything because that is against court rules.)
September 11, 2023: Amgen Inc., one of the biggest biopharma companies in the world, has reached a deal with the FTC that will enable it to move forward with its $27 billion acquisition of Horizon Therapeutics, the manufacturer of Tepezza. Amgen's acquisition had been halted by when the FTC obtained an injunction to stop the deal based on concerns that it would violate anti-trust laws. Now that the deal is back on, Amgen will assume liability for the Tepezza hearing loss claims. This is a positive development for plaintiffs because Amgen is a bigger company with more financial resources to cover any eventual settlement.
September 10, 2023: There was a status hearing in the Tepezza class action lawsuit in on Friday, September 8, 2023.
During this hearing, Tepezza lawyers were directed to submit a proposed agreed order concerning matters related to 502(d) and privileged materials, as well as a protective order to the Court.  This would allow Horizon's lawyers to  share documents or information during the discovery process without necessarily giving up their attorney-client privilege or work-product protection.
The court  Honorable M. David Weisman will be assisting the MDL judge in handling various aspects of this lawsuit, including overseeing the discovery process and facilitating potential settlements.
September 1, 2023: Plaintiffs in the Tepezza class action MDL are pushing for a fast schedule in the hopes of getting to the first round of bellwether trials as soon as possible.
In the proposed bellwether schedule submitted by the plaintiffs' lawyers and discussed yesterday at a status conference, each side would select three bellwether candidate cases to go through a short case-specific discovery phase of 150 days.
After that brief discovery period, three of the six lawsuits will be picked for the first test trials. Defense counsel for Horizon Therapeutics submitted its own proposal which called for a slightly larger pool of 10 cases to go through bellwether discovery.
August 25, 2023: An in-person status hearing in the Tepezza class action lawsuit is set for new week on August 31, 2023, at 12:00 p.m.
August 18, 2023: A new Tepezza lawsuit –  Mhamdi v. Horizon Therapeutics USA, Inc. – was directly filed this week in the MDL 3568 by a Florida woman who claims that she suffered severe injuries as a direct result of the plaintiff's infusion of the biological product Tepezza.
This plaintiff was diagnosed with thyroid eye disease and/or Graves' Disease and received Tepezza infusions from Plaintiff's physician from August 2020 through February 2023. She now has permanent hearing loss and/or tinnitus.
Her Tepezza suit alleges that she and her physicians were given no warning and they had no knowledge of the serious risk of permanent hearing loss or tinnitus posed by Tepezza.
August 15, 2023: Five new Tepezza hearing loss cases were transferred into the new Tepezzza class action MDL over the last month. That brings the current number of pending cases up to 46 for an MDL that is only three months old. This is probably never going to be a huge class action but we could easily get to 100 by the end of the year… and every lawyer you talk to is very high on these cases.
August 2, 2023: We are still waiting for the first major scheduling order to get issued in the new Tepezza class action MDL. In the meantime, the stream of new incoming Tepezza hearing loss lawsuits has been intermittent. Only 3 new Tepezza cases were filed in July, but June was the highest volume month to-date with 16 new cases getting filed.
July 25, 2023: Amid mounting lawsuits against Horizon Pharmaceuticals over allegations of Tepezza-induced hearing loss, the company is under scrutiny for purportedly failing to sufficiently warn consumers and the medical fraternity about the associated risks of their thyroid eye disease medication.
The government is stepping deeper to protect patients. The FDA has updated Tepezza's warning to include strong language that Tepezza might inflict severe and irreversible auditory damage.
What we saw in the Elmiron litigation is lower settlement amounts if the patient continued to use the drug after the new warning. So should you stop taking the drug to protect your future Tepezza lawsuit?  Your health is more important than your lawsuit.  You should be talking to your doctor about what is the best course.
July 18, 2023: Last month, 41 Tepezza hearing loss lawsuits from federal courts across the country were consolidated into a new class action MDL. In the 30 days since the MDL was created, only 1 new case has been transferred into the MDL, so we now have a total of 42 cases. The volume of new Tepezza lawsuits is expected to increase significantly over the next few months.
July 1, 2023: The first Tepezza MDL conference began this week as this new litigation is now pushing forward under Judge Durkin.
June 19, 2023: On June 28, 2023, the new Tepezza class action MDL judge will hold the first status conference with all parties and their attorneys. The meeting will be the first opportunity for Judge Durkin to become familiar with the litigation and develop his plan for collectively managing the Tepezza hearing loss lawsuits. Judge Durkin will also explain how he will select individual lawyers to serve on the plaintiffs' steering or executive committee for the litigation.
June 5, 2023: It is official. There is now a new Tepezza class action lawsuit against Horizon Therapeutics USA Inc.  The lawsuit alleges that the company failed to warn about potential hearing loss and tinnitus caused by their thyroid eye disease drug, Tepezza. The MDL Panel has consolidated the cases, and Judge Thomas M. Durkin of Chicago will preside over this class action (technically not a class action but an MDL).
Our legal team is confident in the strength of these lawsuits.  We expect that victims will receive just settlement compensation, particularly now that plaintiffs will have a jointly organized plan to pursue discovery and put these Tepezza lawsuits together.
May 31, 2023: A new Tepezza lawsuit was filed in Ohio last week. The plaintiff was diagnosed with thyroid eye disease (or Graves' disease) and underwent a course of Tepezza infusions from April 2021 through October 2021. During these critical times, her Tepezza lawsuit alleges neither the plaintiff nor their physicians were provided any warnings or made aware of the severe risk of permanent hearing loss and/or tinnitus associated with Tepezza. The plaintiff now suffers from permanent hearing loss (and/or tinnitus – the complaint was short on nailing down the details).
May 22, 2023: With the JPML set to hear oral arguments on whether to create a new class action MDL, the pace of new Tepezza hearing loss cases continues to accelerate. Ten new Tepezza lawsuits were filed in federal courts over the last week. Meanwhile, Amgen's acquisition of Horizon Therapeutics may be off after the Federal Trade Commission sought an injunction to block the $27 billion deal.
May 11, 2023: As we previously reported, With the number of Tepezza hearing loss lawsuits continuing to rise, the Judicial Panel on Multidistrict Litigation (JPML) is set to hold a hearing on May 25, 2023, to determine whether the Tepezza cases in federal courts should be consolidated into a class action MDL.
The manufacturer of Tepezza, Horizon Therapeutics, has now filed a motion opposing MDL consolidation. In their opposition motion, Horizon argues that an MDL is not warranted because there are not enough pending cases. In a bit of wishful thinking, Horizon also suggests that the number of Tepezza lawsuits filed in the future will be limited.
May 8, 2023: The pace of new Tepezza hearing loss lawsuits being filed around the country has increased dramatically over the last six weeks. When a motion seeking MDL consolidation was filed back in March, it listed just 18 Tepezza cases pending in 5 different federal districts. Since that motion was filed, however, 7 more Tepezza hearing loss lawsuits have been filed in federal courts across the country. The JPML is set to consider whether to create a new class action MDL at the end of this month.
April 26, 2023: The Multidistrict Litigation (MDL) panel, also known as the U.S. Judicial Panel on Multidistrict Litigation (JPML), is a group of federal judges responsible for determining whether to consolidate and centralize civil cases that involve similar questions of fact and are filed across multiple federal courts. The panel's purpose is to streamline and coordinate pretrial proceedings, promoting efficiency, avoiding duplicate discovery, and preventing inconsistent rulings.  On May 25, 2023, this panel of judges will decide if there should be a Tepezza class action lawsuit to consolidate all federal court cases under one judge.
April 14, 2023: As more Tepezza lawsuits are filed and we await a ruling on whether there will be a class action lawsuit, Horizon keeps looking to make more money from Tepezza.  Today, Horizon Therapeutics announced new FDA approval for an amendment to the indication language for Tepezza, broadening when the drug should be used in treating Thyroid Eye Disease (TED) patients.
This change comes after a Phase 4 clinical trial showed positive results, with patients receiving Tepezza experiencing a significant reduction in proptosis at Week 24 compared to those given a placebo. The revised indication aims to offer unrestricted access to all eligible patients throughout the entire range of TED, potentially alleviating the access burden for both patients and doctors and shortening the time to treatment. The company intends to present the Phase Four trial data at an upcoming medical congress and publish the findings in a peer-reviewed medical journal.
The reality is that for drug companies, what seems to us like a King's ransom in settlement payouts and jury awards is a drop in the bucket to the billions these companies can make.  Horizon could weather a successful Tepezza class action lawsuit and still make a huge profit for the drug.
April 13, 2023: Recently, a motion was filed seeking consolidation of the hearing damage lawsuits into a single Tepezza class action lawsuit for federal court claims. The motion was filed with the Judicial Panel on Multidistrict Litigation (JPML) and it lists 18 pending Tepezza product liability cases across five different federal districts. If the MDL is granted, the movants request that the venue be the Northern District of California.
April 4, 2023: A research team from Stanford University recently published a new case study report which indicates that hearing loss is directly connected to dosage levels of Tepezza injections. The case study looked at a 64-year-old woman who received a full round of Tepezza injections in 2021. She immediately suffered significant side effects from injections, including hearing loss in both ears. When she was taken off the injections her hearing problems went away. A year later, her doctors tried another round of Tepezza injections, this time at a much lower dose, and the woman did not experience the same hearing loss issues as with the first round. The case study provides further evidence that there is a clear and direct link between Tepezza and hearing loss.
---
March 24, 2023: Since the start of March, four new lawsuits have been filed in federal courts alleging that Tepezza injections caused permanent hearing damage. A total of 34 Tepezza hearing loss lawsuits have been filed in the federal courts to date. Voluntary dismissals were filed in 13 of those cases, indicating that they might have been settled.
---
February 28, 2023: What a Tepezza hearing loss suit looks like.
February 14, 2023: The maker of Tepezza, Horizon Therapeutics, is seeking to have the Tepezza hearing loss claims against it dismissed under the doctrine of federal preemption. Preemption motions are very common in product liability cases, especially those involving claims of failure to warn about prescription drug risks. Horizon's motion to dismiss argues that the tort claims asserted by the Tepezza plaintiffs are preempted by federal law because the FDA regulated Horizon's ability to change the warning label for Tepezza.
---
January 20, 2023: Lawyers for Tepezza plaintiffs have filed a motion to consolidate 10 Tepezza hearing loss cases currently pending in the Northern District of Illinois. The request seeks to consolidate these 10 cases before a single judge.
The result would be similar to a "local MDL class action lawsuit" within the federal district and apply only to these ten Tepezza hearing lost suits (and perhaps more in the future).
Horizon has filed an opposition. It argues each Tepezza lawsuit involves significantly different factual allegations. Fewer than 20 Tepezza product liability claims are pending in federal courts, including these ten in Illinois.
January 18, 2023: It was announced that Amgen, a massive biopharmaceutical company, had a deal to acquire Horizon Therapeutics (the maker of Tepezza) for $116.50 per share. Recently, however, a group of Amgen investors has filed suit to block to sale, citing concerns about claims that Horizon withheld information about the risk of hearing damage associated with Tepezza.
This is a positive development if you consider bringing a Tepezza lawsuit.
---
About Tepezza
Tepezza (teprotumumab-trbw) is a prescription medication used to treat thyroid eye disease (TED), a rare autoimmune disorder that causes inflammation and swelling of the tissues around the eyes. Tepezza is the first and only FDA-approved medication for this condition. It works by blocking the activity of the insulin-like growth factor 1 receptor (IGF-1R), which is believed to play a role in the development of TED. Tepezza is administered intravenously (IV) over three to six months, and it has been shown to improve symptoms such as eye-bulging, double vision, and eye pain in patients with active TED.
Tepezza inhibits (or blocks) the activity of the protein insulin-like growth factor-1, which is believed to play a significant role in the development of the disorder. Horizon Therapeutics developed TepezzaHorizon Therapeutics, and it is still under its original patent protection. Tepezza is administered by injections.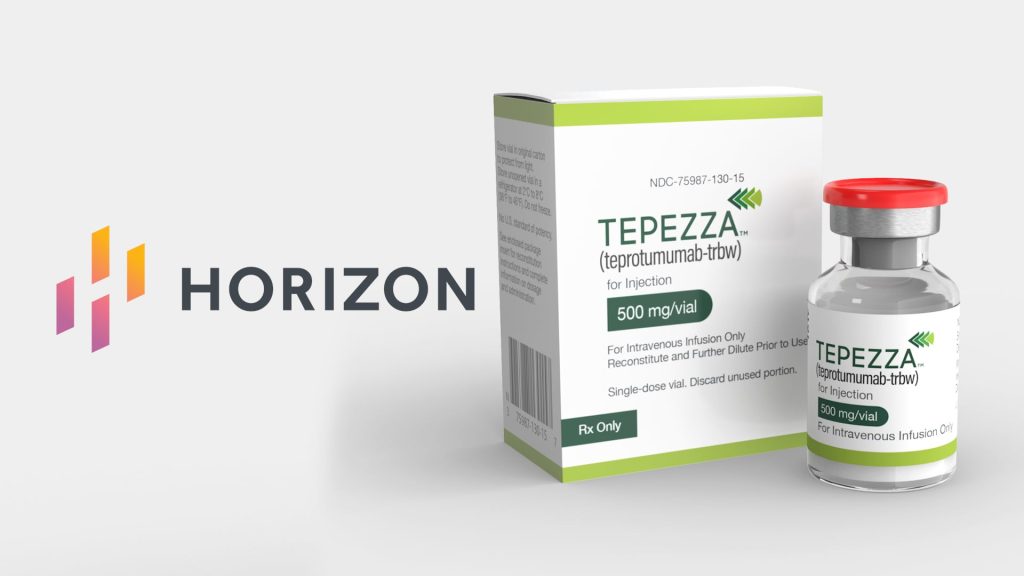 In January 2020, the U.S. Food and Drug Administration (FDA) approved Tepezza. This was the first approved drug indicated to treat thyroid eye disease.
Studies Link Tepezza to Serious Hearing Loss
When Tepezza was first approved by the FDA, Horizon acknowledge that the drug presented a risk of hearing loss or damage as a potential side effect.
According to Horizon, however, only 10% of users would experience this potential side effect. Moreover, Horizon characterized the hearing loss as "temporary and generally of limited duration."
Hearing Problems Immediately
In contrast to the public statements, almost immediately after the FDA approved Tepezza, patients, and doctors began reporting severe complications relating to ear and permanent hearing problems in patients taking Tepezza. New research soon began to emerge to show that not only did Horizon grossly understate the risk of hearing damage associated with Tepezza, but it also undersold how severe that hearing damage could be.
Medical Literature Confirms
A study published in the March 2021 edition of the journal Endocrine Society found that 65% of patients who received Tepezza reported hearing loss, hearing damage, or tinnitus (constant ringing in the ears). This is an extremely high percentage, and it is over six times higher than the estimated risk disclosed by Horizon in its product packaging and warning labels.
In January 2022, a case series of four cases of Tepezza-associated hearing loss was reported based upon patients of three doctors who treated 28 patients. The authors proposed a mechanism for how Tepezza was causing hearing damage. In February 2022, another report involving a prospective observational case series on Tepezza hearing loss was published. The results revealed three of the five patients with tepezza-related hearing loss had persistent subjective hearing loss at the last follow-up.
Horizon Failed to Adequately Warn About the Risk of Hearing Loss from Tepezza
Although Horizon acknowledged hearing loss as a potential side effect of Tepezza, every Tepezza lawsuit will allege this warning was inadequate because it grossly understated the level of risk.  A warning that does not meaningfully convey the risk is no warning at all.
Horizon knew or should have reasonably known that Tepezza presented a much higher risk of hearing loss and that this hearing loss could be permanent.  There was ample medical literature suggesting that IGF-I plays a central role in hearing and that low levels of IGF-I are associated with hearing loss. Horizon arguably should have known this when Tepezza was submitted for FDA approval. At the very least, however, Horizon became of the issues with Tepezza at some point soon after the drug was approved, and reports and studies linking it to hearing damage started to emerge.
Tepezza Hearing Loss Lawsuits
In 2022, individuals who suffered hearing loss or tinnitus after receiving Tepezza injections began filing product liability lawsuits against Horizon. The Tepezza hearing loss lawsuits allege that Horizon negligently failed to adequately warn patients and doctors about the real risks of hearing damage associated with Tepezza.
The plaintiffs in these Tepezza lawsuits claim that the lack of an adequate warning about the risk of hearing damage from Tepezza left them and their doctors unaware of the potential harm that the drug could cause. These plaintiffs allege that they would never have to take Tepezza for treatment of their TED had Horizon provided an adequate and accurate warning about this risk.
Hundreds of Tepezza hearing loss lawsuits are expected to be filed moving forward, as more and more Tepezza patients suffer damage to their hearing. At this point, the Tepezza lawsuits have not been consolidated into a class action MDL, but if many more of these cases get filed that could happen in the future.
Potential Settlement Payouts for Tepezza Hearing Loss Lawsuits
It is very premature to say how much a Tepezza lawsuit could be worth in settlement. There are too many variables at this point to determine whether these cases will be viable.  But I can tell you… mass tort lawyers really believe the future settlement amounts these lawsuits could be high.  So we can offer a reasonable estimate of what a successful Tepezza hearing loss lawsuit could be worth in a settlement based on the facts that are on the ground right now.
Our lawyers estimate that a Tepezza hearing loss case with favorable facts could have an average settlement compensation in the range of $140,000 to $350,000. The exact value of a specific case will depend on various factors, including the age of the plaintiff and whether they had any preexisting hearing issues. Cases involving a major, permanent hearing loss in relatively young plaintiffs could be worth much more.
Hearing Loss Settlements and Verdicts
One of the best ways to accurately predict the potential settlement value of tort cases is to look at prior settlements and trial verdicts in cases involving the same type of injury. Below are summaries of prior verdicts and reported settlements in cases in which the plaintiff's primary injury was hearing loss or tinnitus. Most of these are verdicts from the recent bellwether trials in the 3M earplugs class action. For these verdicts, we are excluding the amount of punitive damages awarded and only listing the amount of compensatory damages.
Beal v 3M Co. (Florida 2022) $5,000,000: the last of 16 bellwether test trials in the 3M earplugs class action resulted in a verdict of $72.5 million in punitive damages and $5 million in compensatory damages for hearing loss suffered by an Army veteran.
Vaughn v 3M Co. (Florida 2022) $2,200,000: 3M earplug bellwether verdict from April 2022 in which veteran was awarded $2.2 million in compensatory damages for hearing loss allegedly caused by defective earplugs.
M. v Viola (New York 2020) $250,000: 2-year-old suffered permanent hearing loss from injuries in a car accident. The case settled for $250,000, but this was likely the available insurance limit and would have been worth more otherwise.
Luoma v State Farm (Washington 2020) $126,025:60-year-old plaintiff injured in an auto accident alleged permanent hearing loss. The jury awarded $101,025 and he received another $25,000 in a settlement.
Recent Tepezza Lawsuits
A pair of Tepezza hearing loss lawsuits were recently filed in the U.S. District Court for the Northern District of Illinois (Chicago). The first case, Weibel v. Horizon Pharmaceuticals, Inc. (1:22-cv-4518) was filed on August 25, 2022, followed by a second case, Nethery v. Horizon Pharmaceuticals Inc. (1:22-cv-5005) two weeks later.
Both cases involve nearly identical factual allegations. Both plaintiffs were diagnosed with TED and prescribed a full series of Tepezza infusions by their doctor over 4 months. Both plaintiffs further allege that shortly after the Tepezza infusions they suffered major hearing loss and tinnitus. The Complaints alleged that the doctors were given no warning about the risk of hearing loss.
On October 25, 2022, lawyers for Horizon filed an identical Motion to Dismiss in both of these Tepezza hearing loss cases. The motion to dismiss is a simple 2-page document that argues that the plaintiffs' claims based on failure to warn should be dismissed based on the federal preemption doctrine. The argument (which we see all the time in pharmaceutical tort cases) is that the warning labels on Tepezza are governed by federal law and regulations which preempt the state law tort claims.
Federal preemption arguments in drug cases are usually not successful because federal law and FDA regulations permit drug companies to amend their warning labels without FDA approval if new evidence of risk emerges. That is exactly what is being alleged in the Tepezza cases.
Contact Us About a Tepezza Hearing Damage Lawsuit
Our firm is currently seeking Tepezza hearing damage lawsuits across the country. If you took Tepezza for treatment of TED and you subsequently suffered hearing damage, hearing loss, or permanent ringing in the ears (tinnitus) contact our office today for a free consultation.  Call us today at 800-553-8082 or contact us online for a free consultation.