Our lawyers are investigating Tepezza hearing loss lawsuits in all 50 states.
Tepezza is an injectable prescription drug used for the treatment of thyroid eye disease (also known as TED). New scientific research has shown, however, that Tepezza can cause some patients to suffer permanent hearing damage and/or tinnitus (ringing in the ears).
Individuals who received Tepezza injections for TED and subsequently suffered hearing loss or tinnitus may be eligible to bring a product liability lawsuit and get financial compensation. Our lawyers are currently accepting Tepezza hearing damage cases. Contact us today to see if you have a case.
About Tepezza
Tepezza (teprotumumab) is a relatively new prescription medication that is used for the treatment of thyroid eye disease (TED) (including conditions also called Graves' eye disease or Graves' Orbitopathy). TED is a condition in which the body's immune system targets the muscle and tissue behind the eyes, causing bulging of the eyes, pain, and blurred vision.
This can cause the eyes and eyelids to become red, swollen, and uncomfortable and the eyes can push forward looking bulging ("proptosis") and may cause double vision. TED is an autoimmune disease usually associated with hyperthyroidism. The exact mechanism of the disease is not fully understood.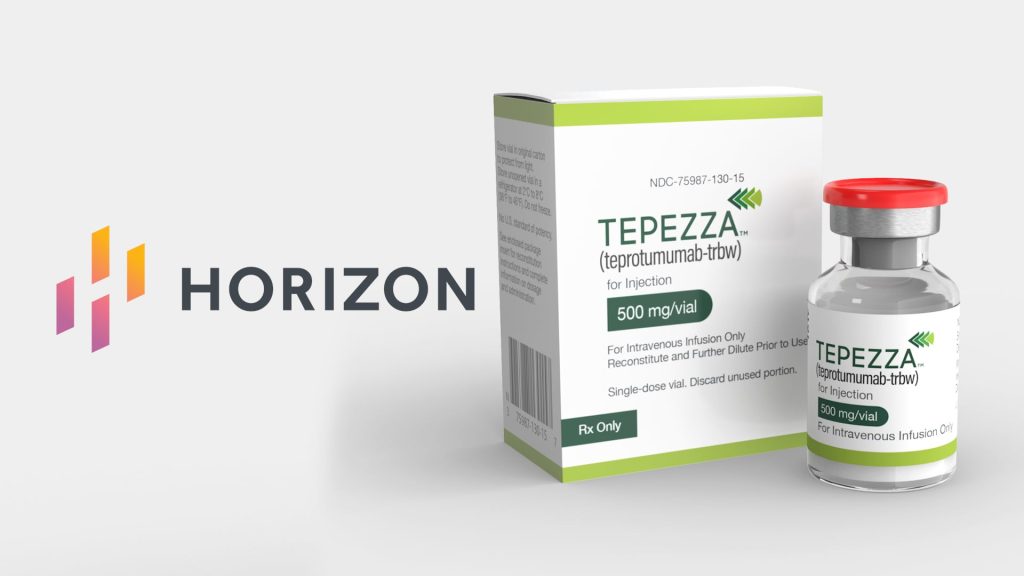 In January, 2020 the U.S. Food and Drug Administration (FDA) approved Tepezza, the first approved drug indicated to treat thyroid eye disease. Tepezza inhibits (or blocks) the activity of the protein insulin-like growth factor-1, which is believed to play a significant role in the development of the disorder. Tepezza was developed by Horizon Therapeutics, and it is still under its original patent protection. Tepezza is administered by injections.
Studies Links Tepezza to Serious Hearing Loss
When Tepezza was first approved by the FDA, Horizon acknowledge that the drug presented a risk of hearing loss or damage as a potential side effect. According to Horizon, however, only 10% of users would experience this potential side effect. Moreover, Horizon characterized the hearing loss as "temporary and generally of limited duration."
In contrast to the public statements, almost immediately after the FDA approved Tepezza, patients and doctors began reporting serious complications relating to ear and permanent hearing problems in patients taking Tepezza. New research soon began to emerge to show that not only did Horizon grossly understate the risk of hearing damage associated with Tepezza, but it also undersold how serious that hearing damage could be.
A study published in the March 2021 edition of the journal Endocrine Society found that 65% of patients who received Tepezza reported some level of hearing loss, hearing damage, or tinnitus (constant ringing in the ears). This is an extremely high percentage and it is over 6 times higher than the estimated risk disclosed by Horizon in its product packaging and warning labels.
In January 2022, a case series of four cases of Tepezza-associated hearing loss was reported based upon patients of three doctors who treated 28 patients. The authors proposed a mechanism for how Tepezza was causing hearing damage. In February 2022, another report involving a prospective observational case series on Tepezza hearing loss was published. The results revealed three of the five patients with tepezza-related hearing loss had persistent subjective hearing loss at last follow-up.
Horizon Failed to Adequately Warn About the Risk of Hearing Loss from Tepezza
Although Horizon acknowledged hearing loss as a potential side effect of Tepezza, every Tepezza lawsuit will allege this warning was inadequate because it grossly understated the level of risk.  A warning that does not meaningfully convey the risk is no warning at all.
Horizon knew or should have reasonably known that Tepezza presented a much higher risk of hearing loss and that this hearing loss could be permanent. Horizon arguably should have know this at the time that Tepezza was submitted for FDA approval. At the very least, however, Horizon clearly became of the issues with Tepezza at some point soon after the drug was approved and reports and studies linking it to hearing damage started to emerge.
Tepezza Hearing Loss Lawsuits
In 2022, individuals who suffered hearing loss or tinnitus after receiving Tepezza injections began filing product liability lawsuits against Horizon. The Tepezza hearing loss lawsuits allege that Horizon negligently failed to properly warn patients and doctors about the true risks of hearing damage associated with Tepezza.
The plaintiffs in these Tepezza lawsuits claim that the lack of an adequate warning about the risk of hearing damage from Tepezza left them and their doctors unaware of the potential harm that could be caused by the drug. These plaintiffs allege that they never would have to take Tepezza for treatment of their TED had Horizon provided an adequate and accurate warning about this risk.
Hundreds of Tepezza hearing loss lawsuits are expected to be filed moving forward, as more and more Tepezza patients suffer damage to their hearing. At this point, the Tepezza lawsuits have not been consolidated into a class action MDL, but if many more of these cases get filed that could happen in the future.
Potential Settlement Value of Tepezza Hearing Loss Lawsuits
It is very premature to say how much a Tepezza lawsuit could potentially be worth in settlement. There are too many variables at this point to know for certain whether these cases will be viable or not. However, we can offer a reasonable estimate of what a successful Tepezza hearing loss lawsuit could be worth in a settlement.
Our lawyers estimate that a Tepezza hearing loss case with favorable facts could have a potential settlement value of $140,000 to $250,000. The exact value of a specific case will depend on various factors, including the age of the plaintiff and whether they had any preexisting hearing issues. Cases involving a major, permanent hearing loss in relatively young plaintiffs could be worth much more.
Hearing Loss Settlements & Verdicts
One of the best ways to accurate predict the potential settlement value of tort cases is to look at prior settlements and trial verdicts in cases involving the same type of injury. Below are summaries of prior verdicts and reported settlements in cases in which the plaintiff's primary injury was hearing loss or tinnitus. Most of these are verdicts from the recent bellwether trials in the 3M earplugs class action. For these verdicts, we are excluding the amount of punitive damages awarded and only listing the amount of compensatory damages.
Beal v 3M Co. (Florida 2022) $5,000,000: the last of 16 bellwether test trials in the 3M earplugs class action resulted in a verdict of $72.5 million in punitive damages and $5 million in compensatory damages for hearing loss suffered by an Army veteran.
Vaughn v 3M Co. (Florida 2022) $2,200,000: 3M earplug bellwether verdict from April 2022 in which veteran was awarded $2.2 million in compensatory damages for hearing loss allegedly caused by defective earplugs.
M. v Viola (New York 2020) $250,000: 2-year old suffered permanent hearing loss from injuries in car accident. Case settled for $250,000, but this was likely the available insurance limit and would have been worth more otherwise.
Luoma v State Farm (Washington 2020) $126,025:60-year-old plaintiff injured in auto accident alleged permanent hearing loss. Jury awarded $101,025 and he received another $25,000 in settlement.
Recent Tepezza Lawsuits
A pair of Tepezza hearing loss lawsuits were recently filed in the U.S. District Court for the Northern District of Illinois (Chicago). The first case, Weibel v. Horizon Pharmaceuticals, Inc. (1:22-cv-4518) was filed on August 25, 2022, followed by a second case, Nethery v. Horizon Pharmaceuticals Inc. (1:22-cv-5005) two weeks later.
Both cases involve nearly identical factual allegations. Both plaintiffs were diagnosed with TED and prescribed a full series of Tepezza infusions from their doctor over a 4-month period. Both plaintiffs further allege that shortly after the Tepezza infusions they suffered major hearing loss and tinnitus. The Complaints alleged that the doctors were given no warning about the risk of hearing loss.
On October 25, 2022, lawyers for Horizon filed an identical Motion to Dismiss in both of these Tepezza hearing loss cases. The motion to dismiss is a simple 2-page document that argues that the plaintiffs' claims based on failure to warn should be dismissed based on the federal preemption doctrine. The argument (which we see all the time in pharmaceutical tort cases) is that the warning labels on Tepezza are governed by federal law and regulations which preempt the state law tort claims.
Federal preemption arguments in drug cases are usually not successful because federal law and FDA regulations permit drug companies to amend their warning labels without FDA approval if new evidence of a risk emerges. That is exactly what is being alleged in the Tepezza cases.
Contact Us About a Tepezza Hearing Damage Lawsuit
Our firm is currently seeking Tepezza hearing damage lawsuits across the country. If you took Tepezza for treatment of TED and you subsequently suffered hearing damage, hearing loss or permanent ringing in the ears (tinnitus) contact our office today for a free consultation.