Millions of families in the U.S. may have had drinking water that was contaminated with PFAS (per- and poly-fluoroalkyl) substances which are commonly known as "forever chemicals." PFAS include perfluorooctane sulfonate ("PFOS") and perfluorooctanoic acid ("PFOA"). These chemicals have been used for various industrial purposes for years, including use in firefighting foam products used to put out chemical fires.
The use of PFAS around the country has led to widespread contamination of groundwater. Exposure to PFAS in contaminated groundwater has been shown to cause cancer and other health conditions. If you have been diagnosed with cancer after being exposed to water contaminated with PFAS, you may be able to file a lawsuit and get financial compensation.
PFAS Updates
We start by keeping you abreast of the latest news, information, and updates related to PFAS lawsuits.
September 30, 2022
Earlier this year, a consumer class action lawsuit was filed against Mcdonald's alleging that the fast-food icon has been selling food in packaging that contains harmful chemicals known as PFAS. PFAS are notoriously toxic to the human body and studies have linked exposure to PFAS to various types of cancer, hormone abnormalities, and reproductive complications.
This PFAS lawsuit was filed in the Northern District of Illinois and alleges that McDonald's falsely represented to consumers that its food packaging is safe, sustainable, and non-toxic.McDonald's filed a motion to dismiss over the summer challenging the validity of the plaintiff's claims and his standing to represent the proposed class of consumers. A response in opposition was filed by the plaintiffs last week and a hearing should be set in November.
September 21, 2022
3M and Wolverine World Wide agreed to settle a class action lawsuit for $54 million that alleges they caused the release of PFAS chemicals into the environment in Kent County, Michigan.
September 9, 2022
PFAS may increase levels, according to a new study in the journal Environmental Health Perspectives.
September 6, 2022
An EPA proposed last week to ban twelve PFAS that formerly were ingredients in pesticides. The proposal would remove the 12  from the EPA's list of inert ingredients approved for use in pesticide products.
August 5, 2022
Opening statements on money in Washington state in another trial that claims Bayer/Monsanto caused neurological injuries to teachers and students at a school in western Washington.
July 28, 2022
A new study in the journal Exposure and Health tells us that two PFAS –  perfluorooctane sulfonate (PFOS) and perfluorooctanoic acid (PFOA) – will cost us billions of dollars (and untold patient suffering) from cancer and other diseases.
The National Academies of Sciences, Engineering, and Medicine recommended this week that doctors test patients who are at risk for high PFAS levels.
July 25, 2022
Coty and Noxell fought back against a class action lawsuit that claims these makeup manufacturers misled consumers that CoverGirl TruBlend Pressed Powder was safe, arguing in federal court in California that the plaintiffs suffered no physical injury.  They claim the lawsuit's allegations about PFAS in the product were too general to support a claim.
About PFAS
PFAS are per-fluoroalkyl and poly-fluoroalkyl substances. These are synthetic chemicals that are known for their ability to resist grease, water and oils. The two most common types of PFAS are perfluorooctane sulfonate ("PFOS") and perfluorooctanoic acid ("PFOA").
PFAS have been around for over 60 years and during that time they have been widely used in a number for a number of industrial and consumer purposes. PFAS were used in non-stick cookware, stain-resistant fabrics, cleaning products, and paints. The most significant use of PFAS, however, was in aqueous film-forming foam ("AFFF") commonly called firefighting foam.
PFAS are called "forever chemicals" because they have proven to be highly resistant to almost any type of environmental degradation. As a result, when PFAS are introduced into the environment, they never degrade, get diluted or go away.
PFAS Contamination in Groundwater
In recent years, environmental studies and testing has identified widespread PFAS contamination of groundwater across the United States. Groundwater is highly susceptible to PFAS contamination because of the unique properties of these chemicals.
PFAS can easily be released into the environment at any location where the chemicals are manufactured, used, disposed of or spilled. PFAS are highly mobile chemicals so once released into the environment they are easily transported by rainwater run-off. By this route, PFAS end up in lakes, ponds and reservoirs. PFAS also seep through the soil (where they are not filtered like other chemicals) and end up in the groundwater.
Groundwater contamination with PFAS is very common near areas where PFAS were manufactured. Water contamination is also highly likely near locations where products containing PFAS were regularly used or disposed of. For example, airports are frequent contamination sites because fire fighting foam is frequently used in training exercises. Once the firefighting foam is sprayed, the PFAS make their into the groundwater with minimal dilution.
Drinking Water Standards
There have been drinking water standards in the United States for over 100 years.  U.S. Public Health Service promulgated drinking water standards in 1914, focusing on bacterialogical plate count and coliform bacteria.
The understanding of what made drinking water unsafe continued to evolve.  Some inorganic constituents were added in 1925 and 1942.
The standard 1963 reference Water Quality Criteria sets out the commonly understood water pollutants of that time. Even then trichloroethylene (or TCE) was understood to cause health consequences.  The main chapter lists as potential pollutants the chlorinated hydrocarbons as a chemical family as well as TCE.
TCE and Drinking Water
TCE is the most common organic contaminant in groundwater, the source of 93% of public water systems.  TCE is present in up to one-third of our drinking water sources.
TCE levels in private wells (used for crop irrigation and drinking water for about 10% of Americans) are not monitored. Contact with TCE can be elevated for people using TCE-containing cleaning products, residents of some industrialized areas, or people living near facilities where TCE is released in a sanctioned or unsanctioned manner into the soil, groundwater and/or drinking water wells.
Safe Drinking Water Act and MCLs
In 1974,  Safe Drinking Water Act mandated that that primary and secondary drinking water standards. Under the law, maximum contamination levels (MCLs) were set for different chemicals.
An MCL is an enforceable, health-protective regulatory standard that is set by the Environmental Protection Agency as the highest level of a contaminant that is allowed in public drinking water. The MCL is calibrated to the Maximum Contaminant Level Goal (MCLG).  The MCLG carcinogens is zero.
MCLs focus on pesticides, trihalomethanes, and specific chlorinated solvents, such as vinyl chloride, trichloroethylene, perchloroethylene  dichloroethylene, or benzene (all major issues in the Camp Lejeune toxic water lawsuit about to get underway).
PFAS Are Linked to Cancer and Other Health Hazards
Current scientific research has determined that long-term exposure to high levels of PFAS can lead to cancer and other adverse health conditions. Scientific studies have conclusively found that exposure to PFAS at certain levels can lead to:
Increased risk of prostate cancer, kidney cancer, and testicular cancer.
Damage to reproductive health including infertility
Pregnancy complications
Developmental problems in children including loss of bone density and accelerated puberty
Immune system problems
Ulcerative colitis
Thyroid disease
The development of cancer and other health conditions can occur years after individual exposure to PFAS.
In 2016, the National Toxicology Program of the United States Department of Health and Human Services ("NTP") and the International Agency for Research on Cancer ("IARC") both released extensive analyses of the expanding body of research regarding the adverse effects of PFAS. The NTP concluded that both PFOA and PFOS are "presumed to be an immune hazard to humans" based on a "consistent pattern of findings" of adverse immune effects in human (epidemiology) studies and "high confidence" that PFOA and PFOS exposure was 28 associated with suppression of immune responses in animal (toxicology) studies.
IARC similarly concluded that there is "evidence" of "the carcinogenicity of . . . PFOA" in humans and in experimental animals, meaning that "[a] positive association has been observed between exposure to the agent and cancer for which a causal interpretation is credible."
Locations of PFAS Water Contamination
PFAS water contamination has been discovered across the U.S. As of October 2021, 2,854 locations in the United States were confirmed as known PFAS water contamination sites. PFAS contamination has been found not only in groundwater sources, but also in numerous municipal water supply systems. PFAS has contaminated municipal water systems in 33 states and groundwater in 38 states. An estimated 16 million people have been exposed to drinking water contaminated with PFAS.
The most common locations for PFAS water contamination is near military bases, industrial sites, and near airports. For decades, firefighting foam has been used in training exercises at U.S Military bases and at commercial airports. This foam eventually made its way into the water systems. A Department of Defense report from 2020 identified 600 military sites and surrounding areas with PFAS water contamination.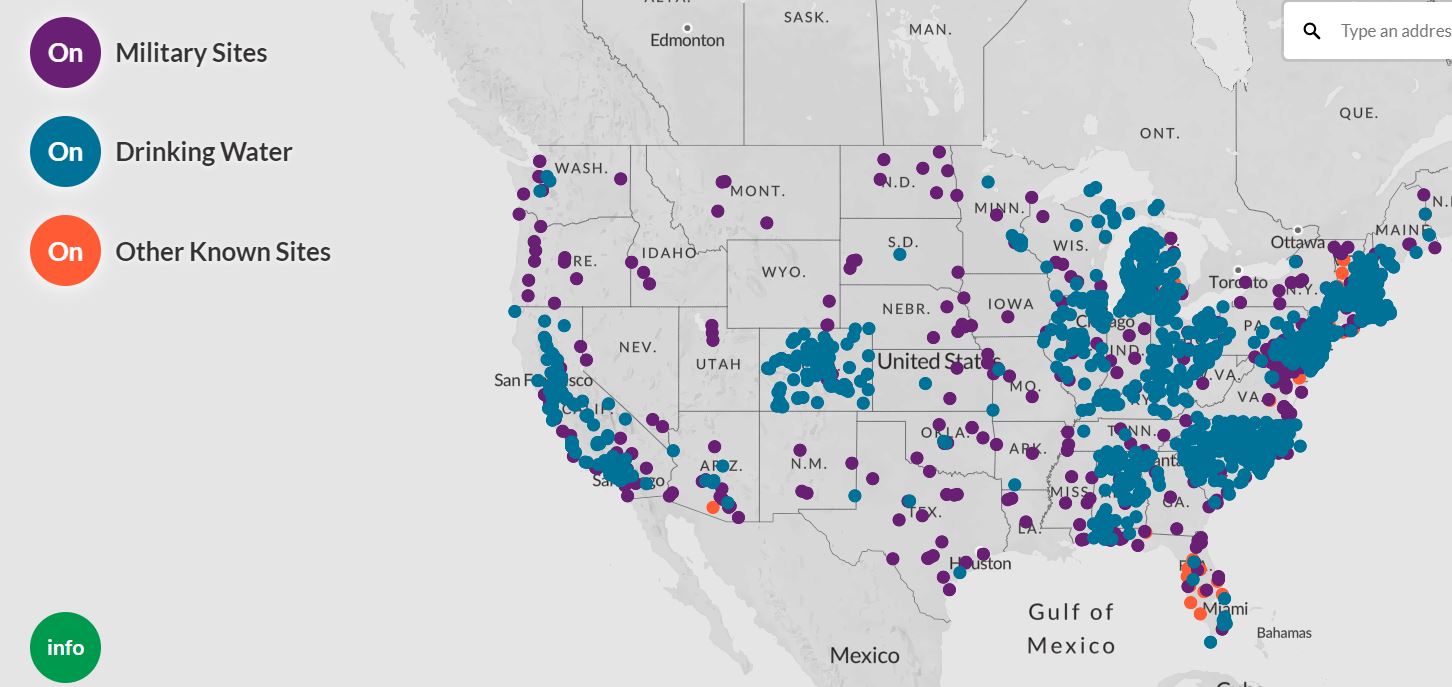 DOD Report Shows Widespread PFAS Water Contamination at Military Bases
As you can see from this image, there is no question that water contamination on and near military bases is a problem.  Last week, the Department of Defense released a report detailed the results of a testing program to evaluate the quality of water supply at and near U.S. military bases in seven states (Florida, Pennsylvania, Montana, Washington, Michigan, Wisconsin, and Virginia). The testing was performed on drinking water samples for off-base locations that were adjacent or "down gradient" from military bases or facilities.
The DOD water testing report reveals that the drinking water ay many of these off-base locations is highly contaminated with PFAS. Testing near 7 military installations found that the water supply had PFAS well over 70 parts per billion, which is the maximum safe level set by the EPA. The PFAS contamination at these locations is primarily the result of training operations using firefighting foam containing PFAS.
The seven specific military sites named in the DOD report as having water supply PFAS levels in excess of 70 ppb included the Willow Grove Naval Air Station in Pennsylvania, the Camp Grayling Army Airfield in Michigan, and the Naval Air Station at Whidbey Island in Washington. PFAS have been found in the water supply at almost 400 military bases around the country and environmental activists groups say that contamination is suspected, but not confirmed, at hundreds of additional sites.
PFAS Water Contamination Lawsuits
Over the last several years a growing number of lawsuits have been filed against the manufacturers of PFAS and products containing PFAS. These lawsuits have been filed both by local municipalities alleging that their water systems were polluted and by individuals who claim that they developed cancer or other health conditions from drinking contaminated water.
The defendants in these PFAS water contamination lawsuits include many large chemical manufacturers and other industrial companies. Some of the most prominent companies named as primary defendants in the PFAS water contamination lawsuits include 3M & Co. and DuPont. 3M manufactured and sold AFFF firefighting foam containing PFAS from 1970 to 2012. DuPont and its corporate spin-offs have manufactured PFAS and supplied them to other companies, like 3M, since the 1940s.
In addition to the PFAS lawsuits being filed by municipalities, thousands of individuals have filed their own PFAS water contamination lawsuits. These lawsuits allege that the plaintiffs consumed drinking water contaminated by PFAS and developed cancer, and other adverse health conditions as a result of this exposure to PFAS in their water supply.
What Type of PFAS Lawsuits Are Your Lawyers Looking to Bring?
Our lawyers are looking at PFAS lawsuits with the following injuries diagnosed after January 1, 2000
Bladder Cancer
Pancreatic Cancer
Kidney Cancer
Testicular Cancer
Kidney Cancer
Ulcerative Colitis
Our attorneys are also focused on specific geographic regions for a PFAS lawsuit:
Michigan
New Jersey
California (20 miles of San Jose or East Los Angeles)
Ohio (20 miles of Cleveland)
Colorado (20 miles of Denver or Colorado Springs)
Minnesota (20 miles of Minneapolis)
Estimated Settlement Value of PFAS Water Contamination Lawsuits
The PFAS water contamination lawsuits will most likely be resolved in a global settlement. In these settlements, the defendants pay a large sum of money to resolve all pending cases. The amount of settlement money that individual plaintiffs receive is based on a tiered system in which plaintiffs are ranked based on certain criteria (severity of injuries, the strength of claim, etc.).
In the PFAS water contamination lawsuits, plaintiffs in the top settlement tier will be those with long-term exposure and a diagnosis with serious, advanced-stage cancers that have been closely linked to PFAS. These would include, kidney, prostate and testicular cancer. Second-tier plaintiffs will be those with less serious health conditions.
Based on global settlements in previous mass tort cases involving similar claims, we estimate that top-tier PFAS water contamination lawsuits could have a settlement value of around $150,000 to $375,000. Second-tier cases may have a value range of $75,000 to $180,000.
Hiring a Lawyer for Your PFAS Lawsuit
Getting a PFAS Lawyer
Our law firm represents contaminated drinking water victims on a contingency fee basis. For you, there is no out-of-pocket cost or risk for you to hire a lawyer to fight for you.  Our attorneys receive no fees or expenses unless a financial recovery is obtained.
Call our PFAS lawyers oday at 800.553-8082 or get a no-obligation free consultation online.