Our lawyers are handling AFFF firefighting foam lawsuits around the country.
This page provides the most recent news and updates on the AFFF firefighting foam class action lawsuit and our prediction of the settlement amounts plaintiffs with AFFF cancer lawsuits can expect to receive.
Latest AFFF Class Action Lawsuit Update (2023)
September 21, 2023: Judge Gergel has more on his plate than the AFFF MDL.  Today he presided over a guilty plea from Alex Murdaugh. Hopefully, next on his agenda is getting AFFF personal injury bellwether trials on a tight schedule.
September 18, 2023: Last week, Judge Gergel informed all involved that the upcoming bellwether cases will draw from four water utility lawsuits stemming from towns in New Jersey, New York, California, and South Dakota. While claims against DuPont, 3M, and Chemours are paused pending settlement approval, companies like Tyco, Daikin, and ACG Chemicals remain unsettled. Lawyers representing plaintiffs will now focus on these cases.
As for the AFFF-related personal injury and wrongful death suit – which is our lawyers' focus – a bellwether trial schedule is expected soon, possibly this month. Such a schedule is crucial as it compels defendants towards more reasonable settlement offers. Lawyers have been in discussions about the range of cancers to be included in these bellwether trials.
September 8, 2023: Telomer-based AFFF is a different type of firefighting foam that supposedly does not contain the same high levels of PFAS chemicals. For that reason, the water contamination cases involving Telomer AFFF were not included in last month's global settlement of the water provider cases. This week, the MDL Judge issued a new Case Management Order setting the bellwether trial schedule for all Telomer water contamination cases. The first Telomer bellwether trial will be in August 2024. The question is what, if any, impact this will have on the timetable for the individual cancer cases in the AFFF MDL.
September 8, 2023: We put up a new updated video discussing where are on the timing of an AFFF settlement and the average settlement compensation our lawyers think victims will see.
September 1, 2023: The water systems settlements are going smoothly. Hopefully, the firefighting foam settlements are next.
August 22, 2023: Judge Gergel has very progressively asked AFFF lawyers on both sides to report to him on events significant to the litigation.
In a letter to the judge yesterday, plaintiffs' lawyers submitted information about an EPA Press Release emphasizing the immediate health concerns surrounding PFAS chemicals. Radhika Fox, the EPA's Assistant Administrator for Water, stressed in the release that PFAS, dubbed "forever chemicals," have substantial health risks upon prolonged exposure.  These chemicals, which include PFOA and PFOS, are regarded by the EPA as potential carcinogens with no known safe consumption level.
August 20, 2023:  A recent study confirms what AFFF lawyers getting calls from victims have long understood:  AFFF may elevate the risk of testicular cancer.
August 19, 2023: Over the last 2 months, almost 1,000 new cases have been added to the AFFF firefighting foam class action MDL. The total number of plaintiffs in the AFFF MDL is now up to 5,614. Many of these are water contamination cases that have already been largely resolved by the recent global settlement.
August 18, 2023:  A new AFFF lawsuit –  Jones v. 3M, et al. – was directly filed last week in AFFF MDL in South Carolina against the usual cast of characters.
The plaintiff, a 73-year-old Texas man, was exposed to fluorochemical products during his service as a firefighter with the Air Force. He alleges that he was diagnosed with prostate cancer from AFFF exposure, which has caused Plaintiff to undergo a prostatectomy.
His lawsuit seeks compensation for his pain and suffering and other damages.
August 16, 2023: Tyco is pushing the MDL judge to keep its suit seeking insurance coverage related to insurance coverage for AFFF lawsuits in the MDL. In response to four insurers' attempts to dismiss the case, Tyco asserts the suit was correctly filed in the MDL and jurisdiction is proper in South Carolina.
Tyco's argument is that its insurance claims are intrinsically tied to the allegations central to the MDL, these companies all do a ton of business in the MDL, and the issues are well understood by the South Carolina federal court.
On this one, we are rooting for Tyco.
August 1, 2023: Judge Gergel granted an unopposed motion to substitute plaintiffs after an Alabama plaintiff died.  His daughter is now the plaintiff filing a wrongful death lawsuit.  It is a stark reminder that many plaintiffs in this litigation may never see their settlements.
July 17, 2023: 493 new cases were transferred into the AFFF class action MDL over the last month. That marks the single highest monthly volume since the litigation began and it comes on the heels of the recent announcement of a global settlement for the water contamination cases. There are now over 5,000 pending cases in the MDL, but we still don't know how many of these are water contamination cases versus cancer cases.
July 1, 2023: Over the last month, 300 more AFFF firefighting foam lawsuits were added to the class action MDL, bringing the total number of claims in the MDL up to 4,793. A total of 1,454 new AFFF cases have been added to the MDL since the start of the year. There is still no easy way of determining how many of these cases are personal injury claims versus municipal water contamination cases.
The good news with the DuPont and 3M settlements, the focus in the second half of 2023 will shift to military and firefighters AFFF lawsuits.
June 5, 2023:  Yesterday, the Plaintiff Leadership Committee in the AFFF class action lawsuit and 3M, the biggest defendant, filed a joint motion to delay the trial slated to begin today. The one-page motion says that the parties are engaged in negotiations and are close to resolution and the attorneys believe that devoting their efforts toward settlement, as opposed to proceeding with trial preparations, is the most advisable course of action. This morning, the MDL Judge granted the motion and gave the parties a 3-week postponement of the trial date. This development follows the recent speculations of a 3M's offer worth of $10 billion to settle the claims made by the municipalities.
This is all well and good for the municipality claims.  Our focus is on individual victims and taking a trial to verdict might be the best thing for those victims who have suffered from AFFF.  But the hope is that payouts in the municipalities' lawsuits will lead to individual AFFF settlements for firefighters and others suffering from exposure to PFAS.
June 2, 2023:  Three leading companies, The Chemours Company, DuPont de Nemours, and Corteva, have reached a preliminary agreement to address PFAS-related drinking water claims involving public water systems. Together, they will create a $1.185 billion settlement fund, which will be divided based on their agreed contributions. The settlement is pending the final approval of the United States District Court for the District of South Carolina. The deal excludes specific water systems.
May 28, 2023: A new report from the Environmental Working Group estimates that it will likely cost over $30 billion for the U.S. Government to fully clean up the PFAS contamination around over 50 military bases after years of using AFFF firefighting foam during training exercises. If not addressed, the PFAS contamination at these military installations could pollute local water supply systems. So far, however, the Department of Defense has only allocated $1.4 billion to cover the cleanup costs.
May 24, 2023: The EPA's proposed limits on PFAS in drinking water will be admitted as evidence in the first trial AFFF lawsuit brought by the City of Stuart, Florida. The defendants unsuccessfully attempted to prevent the inclusion of the EPA's limits, which they argue are provisional and not indicative of the knowledge during the production period. This is strong evidence for the jury and increases the likelihood that the first lawsuit to go forward with this class action will result in a successful verdict for the plaintiff.
May 18, 2023: The upcoming AFFF trial next month won't include liability claims lodged against Kidde-Fenwal Inc. (KFI). This company previously made PFAS-based firefighting foams, as a result of the company's bankruptcy filing. Judge Richard M. Gergel, who is in charge of the AFFF MDL class action,  removed KFI from the trial scheduled for June 5 after the company filed for bankruptcy on May 14. The decision was in line with the standard process, allowing the bankruptcy court to deal with KFI debts.
May 12, 2023: The very first test trial in the massive firefighting foam class action MDL will feature the case of City of Stuart v. 3M Co., et al. Stuart is a beach town just north of Jupiter and West Palm Beach on Florida's Atlantic coast. The city water authority is alleging that PFAS from firefighting foam products made by the defendants (companies such as DuPont and 3M) got into the groundwater and contaminated the City's water supply. The defendants claim that there is no proof linking Stuart's water contamination to any of their products. The trial will ask the jury to resolve complex scientific evidence and questions. The outcome will likely be a watershed event for this litigation. A loss could end up forcing the defendants to sue for peace in the form of a multi-billion dollar global settlement.
May 9, 2023: With the opening bellwether trial approaching in the municipal water contamination case brought by the City of Stuart, Florida, the defense filed its final List of Trial Exhibits this week along with its trial brief and list of deposition designations. Last week, the MDL Judge denied a defense motion for summary judgment, ensuring that the bulk of the plaintiffs' claims in the test trial will be decided by the jury.
May 7, 2023: The first bellwether lawsuit is grinding toward trial.  The latest battlefield is the numerous objections from the parties concerned pertaining to the trial exhibits. A hearing has been set for Friday to address these evidence-related disputes.  The judge wants the players to have to argue the motions.  So the court has ordered lead counsel to personally present their arguments for every objection they have raised. This is a good way to narrow down ridiculous objections.
May 2, 2023: Yesterday, the National Institute of Standards and Technology (NIST) published new research on the presence of PFAS in the equipment used by firefighters, examining 20 different textiles involved in the production of such gear. The findings indicated that each textile contained between one and 17 PFAS, with outer layers showing higher concentrations. This crucial data will enable companies to develop safer gear and contribute to the understanding of whether PFAS can transfer from the equipment into firefighters' bodies, potentially raising their cancer risk.
The defendants in the AFFF lawsuits should have done this research decades ago before too many firefighters were diagnosed with cancer. Of course, many have initiated legal action against the manufacturers of PFAS and firefighting gear, claiming that the chemicals have either caused or elevated the risk of cancer and other health issues.
May 1, 2023: More hustle and bustle getting ready for trial.  The judge ordered that the parties must give their chosen parts of depositions they want to read at trial to the Court by May 8, 2023. They must also give a list of evidence they plan to use in the case by the same date.
April 20, 2023: The U.S. Centers for Disease Control and Prevention (CDC) has launched the National Firefighter Registry (NFR) for Cancer, urging all firefighters in the United States to enroll. The NFR aims to track and analyze cancer rates among firefighters, which are higher than the general public. This initiative is part of President Joe Biden's "Cancer Moonshot" program and is being managed by the National Institute for Occupational Safety and Health (NIOSH). The NFR seeks to collect data on the work firefighters do and compare it with cancer information from state cancer registries. It was made mandatory by the Firefighter Cancer Registry Act passed by Congress in 2018. It was not long ago when the factual predicate behind the AFFF lawsuits was considered a hypothesis.  Now the AFFF cancer risks are an accepted fact.
April 19, 2023: Over the past 30 days, 115 new cases have been added to the AFFF firefighting foam class action lawsuit, bringing the total number of cases in the firefighting foam MDL to 4,173. This marks a significant reduction from the previous months, which had seen an average of 300 new cases per month. Talk of settlement could be slowing down some of the new lawsuits  There is no reason to file a lawsuit if you believe the claim will soon settle.
March 30, 2023: Thought on the AFFF motions in limine that have been filed ahead of the bellwether AFFF trial.
March 19, 2023: In a lawsuit filed Thursday in Massachusetts state court, the International Association of Fire Fighters (IAFF) accused the National Fire Protection Association (NFPA) of imposing a testing standard that required the use of PFAS in firefighter protective gear despite the chemicals' health risks.  The IAFF is the representative organization for over 334,000 professional emergency responders, including firefighters, paramedics, and dispatchers, in both the United States and Canada. It members are responsible for safeguarding the lives and property of more than 85 percent of the population on the continent. They serve approximately 6,000 communities located in every state of the United States and in ten provinces and two territories in Canada.
The lawsuit seeks to hold the NFPA liable for not removing the dangerous test from its Standard on Protective Ensembles for Structural Fire Fighting and Proximity Fire Fighting.
According to the complaint filed in Massachusetts Superior Court in Norfolk, the NFPA necessitated the use of toxic per and poly-fluoroalkyl substances in the middle moisture barrier layer of firefighters' bunker gear. The union alleged that the NFPA could have chosen different standards that would have allowed other materials to be used but still protect firefighters. The IAFF said that the chemicals in the bunker gear break down and degrade when exposed to heat, exposing firefighters to PFAS through ingestion, skin contact,  and inhalation and that the toxins have been associated with severe health effects, including cancer.
March 16, 2023: 354 new cases were added to the firefighting foam class action MDL over the last month. That pushes the MDL past the 4,000 mark with a total of 4,058 pending cases. It also marks the second month in a row in which the MDL has seen higher than average volume of new filings. The spike in volume could be an indication that lawyers are anticipating a settlement and trying to get cases filed before it happens.
March 7, 2023:  A new AFFF firefighter lawsuit was filed this month.  The plaintiff in Kent v. 3M is a 62-year-old Deer Park, Texas man.  He was exposed to fluorochemical products during his service as a firefighter in the United States Marine Corps. This exposure led to his diagnosis of prostate cancer and subsequent prostatectomy.  His firefighting foam lawsuit alleges he suffered personal injuries, pain, suffering, and emotional distress as the result of his exposure to fluorochemical products.
Plaintiff attorneys filed this complaint in accordance with Case Management Order No. 3, issued by Judge Richard M. Gergel.  Judge Gergel is the AFFF class action lawsuit judge in South Carolina which houses all federal AFFF suits.  Under this order, the plaintiff designated the U.S. District Court for the Southern District of Texas as the "home venue" for the case. His AFFF lawsuit asks that the case be transferred to the Southern District of Texas because the events or omissions leading to the claim occurred in Texas.
February 17, 2023: Since January 15th, 317 new firefighting foam AFFF lawsuits were added to the MDL, bringing the total number of pending cases up to 3,704. The monthly average of new cases for this MDL in 2022 was 175, so this month was almost double that. We don't know how many of these new cases are municipal water contamination cases versus personal injury claims.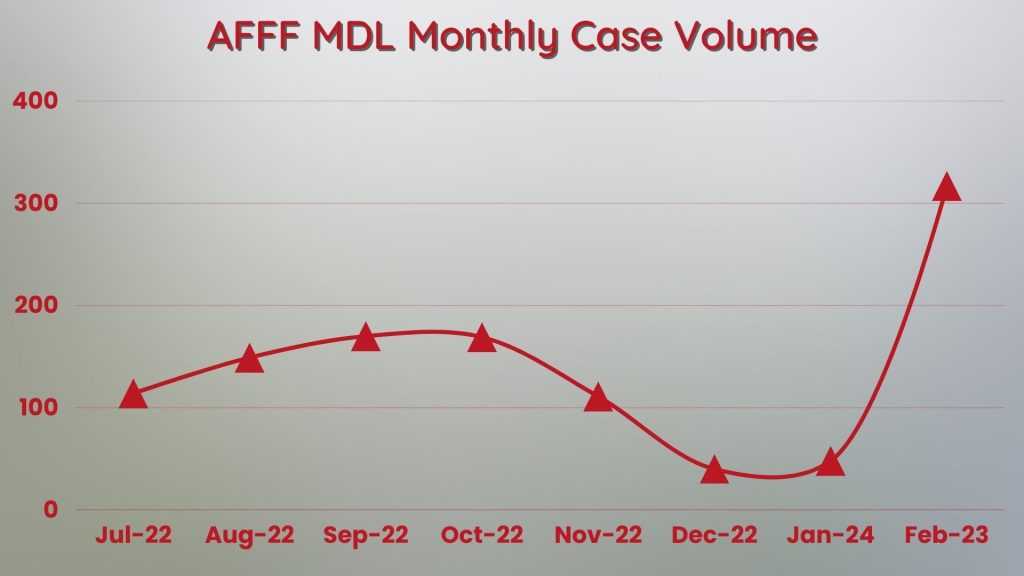 February 13, 2022: The AFFF MDL Judge is set to make critical rulings on Daubert motions challenging the admissibility of scientific evidence in City of Stuart v. 3M Co., et al. (the first bellwether trial set for June). The City of Stuart is a water supply contamination case, not a personal injury case involving claims that exposure to AFFF caused cancer.
However, the Daubert rulings on causation evidence in the City of Stuart will still have some applicability to what scientific evidence will be allowed in AFFF cancer cases. The personal injury cases will participate in a separate bellwether trial program after the water supply trials.
February 8, 2023: This post summarizes the AFFF litigation in 2023.
February 3, 2023:  Many victims do not contact us because they believe the statute of limitation deadline to file a lawsuit bars their claim.  They correctly assume that the statute of limitations for filing an AFFF (Aqueous Film-Forming Foam) lawsuit is typically 2-3 years from the date of injury in most states.
But most states have a discovery rule that is critical to extending the deadline to file an AFFF lawsuit. What is the discovery rule?  It is an exception to the statute of limitations that delays its running until the plaintiff knows, or through the exercise of reasonable diligence, should have known, of both the injury and its cause. In other words, the time limit for filing a personal injury lawsuit does not start until the plaintiff becomes aware of the injury and its connection to the defendant's negligence.
The statute of limitations and discovery rule are complicated, with scores of exceptions. But many victims looking to file an AFFF lawsuit call us believing they likely do not have a claim in 2023 when they absolutely do.
January 24, 2023:  Earlier this month, we told you about a motion for dismissal (summary judgment) filed by some defendants in the upcoming AFFF trial.  Some defendants claimed no expert testimony linked their chemicals to the water in that case.  Of course, the plaintiffs responded with expert testimony that does just that.
January 18, 2023: Over the last few months, the AFFF firefighting foam class action MDL has been averaging over 100 new cases each month. In the previous month, however, only 49 new cases were transferred into the MDL, bringing the total case count to 3,387.  Is the growth of the litigation slowing? That is one theory.  But few lawsuits get filed during the holidays, so it is likely just a seasonal slowdown.  We will get a better look at where we are trending next month.
January 12, 2023: A new study in the journal Occupational Medicine reports that firefighters are 60% more likely to die of cancer than the general population. The death rate for prostate cancer was four times higher, leukemia was three times higher, and kidney cancer was double the rate in the overall population. The researchers made the obvious point that carcinogenic chemicals in AFFF may be a primary contributing factor.
January 7, 2023: A group of 3 defendants (Tyco, BASF, and Chemguard Inc.) recently filed Summary Judgment motions seeking to get themselves out of the first bellwether AFFF trial (the City of Stuart v. 3M Co., et al.) before it goes to trial in May 2023.
All three motions argue that there is insufficient evidence to show that their AFFF products were the source of the water contamination in the Stuart municipal water supply. In support of this argument, each of the motions points out that none of the plaintiff's expert witnesses specifically named any of the defendants' products.
There are a lot of defendants in these cases; some will get out on summary judgment before trial.
Latest AFFF Class Action Lawsuit Update – December 2022
Another 100 new cases were added to the AFFF firefighting foam class action MDL between November 15, 2022, to December 15, 2022. This brings the total number of pending AFFF cases in the class action up to 3,399. During 2022, the AFFF class action has added around 1,300 new cases, a growth rate of nearly 50%. The first bellwether trial is still on track for June 20233 but will involve municipal water supply contamination. These cases are somewhat different than personal injury cases, although they will still feature some causation evidence.
Latest AFFF Class Action Lawsuit Update – November 2022
AFFF Settlement Talks
With the first bellwether trial set for 2023, a court-appointed settlement mediator has now been assigned to "facilitate and encourage" global settlement discussions between both sides. The mediator, retired judge Layn Phillips, will face a complex task given that the AFFF litigation involves cancer claims by individual firefighters and claims by local municipalities for contamination of the water supply.
An AFFF settlement will be a Herculean task because of the different types of claims – some are individual, and some are entire communities.  Additional defendants will also have different views of what an appropriate AFFF settlement should look like.  But there is the possibility of some AFFF settlements from this effort which would be in everyone's best interest.
How Many Plaintiffs in the AFFF Class Action Lawsuit?
There are now 3,299 pending cases in the AFFF (firefighting foam) class action MDL as of November 15, 2022.  There were 111 AFFF lawsuits were added in the last 30 days.
Some of these cases are municipal water contamination cases, and some are individual personal injury cases brought by former firefighters alleging they developed cancer from exposure. We don't know the exact number of cases in each category because that has not been tracked.
Latest AFFF Class Action Lawsuit Update – October 2022
A case has been picked for the first bellwether test trial in the AFFF MDL.
Earlier this week, the MDL Judge ruled that the first test trial will be in the case of the City of Stuart v. 3M Company, et al., (2:18-cv-3487). It is not a personal injury case but a municipal water contamination case. The City of Stuart is a mid-size town on Florida's Atlantic Coast (near Palm Beach).
The city alleges firemen who used AFFF during training exercises contaminated its water supply. The city is suing 3M and other manufacturers for failure to warn and other theories.
The trial is set to begin on June 5, 2023, and dispositive pre-trial motions are due by February 3, 2023.
Latest AFFF Class Action Lawsuit Update – September 2022
In the most crucial development in the AFFF class action lawsuit, 3M's government contractor defense in the firefighting foam lawsuits was rejected by the MDL judge last week. 3M had sought summary judgment because it made its AFFF products under a government contract and, therefore, should be immune from liability. The Court disagreed and found that the government contractor defense did not apply because 3M withheld information from the government about the potential health risks of AFFF. 3M's government contractor defense in the earplug lawsuits was also rejected.
Firefighting Foam (AFFF) Class Action Lawsuit
Aqueous film-forming foam ("AFFF") is used to extinguish fires and is commonly referred to as firefighting foam. It was recently discovered that prolonged use or exposure to certain chemicals in AFFF firefighting foam can cause cancer. Anyone regularly exposed to firefighting foam and subsequently diagnosed with kidney, pancreatic, prostate, or testicular cancer may be able to file an AFFF firefighting foam lawsuit and get financial compensation.
All AFFF firefighting foam lawsuits in federal courts have been consolidated into a "class action" MDL in the District of South Carolina. As of August 2022, over 2,500 plaintiffs with firefighting foam cancer lawsuits are pending in the AFFF MDL. After bellwether test trials, the AFFF class action MDL will hopefully end in a global settlement.
AFFF Firefighting Foam Causes Cancer
AFFF ("aqueous film-forming foam") is a sprayable foam specifically designed to extinguish high-intensity fires fueled by accelerants such as gasoline. The active chemicals in AFFF firefighting foam belong to a family of chemicals known as PFAS (poly-fluoroalkyl substances).
PFAS are a unique group of chemicals that are highly resistant to extreme heat and are not broken down by oil or water. Unfortunately, the indestructible nature of PFAS means that they do not biodegrade or break down in the environment. These substances are marked by several carbon-fluorine bonds, which are extraordinarily robust and enduring.  PFAS are often referred to as "forever chemicals"  because of their remarkable persistence in the environment and strong resistance to both metabolic and environmental degradation.
Over the last decade, an emerging body of scientific research has established that chronic exposure to PFAS in firefighting foam can cause certain types of cancer. The Environmental Protection Agency published a health advisory in 2016 noting that animal studies showed that prolonged exposure to PFAS resulted in kidney and testicular cancer.
The International Agency for Research on Cancer (IARC) conducted several studies which found that human exposure to PFAS results in a significantly increased kidney, prostate, and testicular cancer rate.
The Centers for Disease Control and Prevention (CDC) and the American Cancer Society have reached the same conclusion, listing the chemicals in AFFF firefighting foam as human carcinogens.
Exposure to AFFF Firefighting Foam and PFAS
Anyone regularly exposed to AFFF firefighting foam over long periods is potentially at risk of developing cancer from PFAS. Chronic exposure to PFAS in AFFF firefighting foam can occur in two ways: (1) occupational exposure to AFFF and (2) PFAS contamination in drinking water.
Occupational AFFF Exposure
Individuals who worked in specific jobs or professions where AFFF firefighting foam was regularly used (either by themselves directly or by people around them) have what is considered "occupational exposure" to PFAS from firefighting foam.
Firefighters who regularly used AFFF or conducted training exercises with AFFF firefighting foam are the most obvious example of individuals with occupational exposure and represent most of the victim in the AFFF class action lawsuit.
Since the late 1960s or early 1970s, the U.S. military has deployed MilSpec AFFF at military bases, airfields, and Navy vessels. These are places where fuel fires are not just possible but likely, and potentially catastrophic. The military uses this substance to train its personnel, extinguish fires, save lives, and safeguard property….but the people using these products did not know they were being exposed to Per- and polyfluoroalkyl chemicals present in AFFF.
Beyond the military, other individuals who might have had occupational exposure to AFFF firefighting foam include those working in environments where AFFF was used extensively, disposed of, or even produced. For instance, commercial airports, where fuel fires are a common risk, frequently used firefighting foam during safety and emergency response training exercises. Similarly, industrial facilities, especially those dealing with flammable substances, also used AFFF regularly as a part of their fire safety protocols.
Groundwater PFAS Exposure
The other category of people with chronic exposure to PFAS from AFFF firefighting foam would be individuals who consumed drinking water contaminated with PFAS. Hundreds and possibly thousands of residential areas across the country had groundwater highly contaminated with PFAS from firefighting foam.
Many residential locations with groundwater contaminated by PFAS are near military bases or airports where AFFF firefighting foam was regularly used. The PFAS in the firefighting foam eventually seeped through the soil and entered the water table.
Cancers Caused by AFFF Firefighting Foam
Scientific research has determined that chronic exposure to AFFF firefighting foam (both occupational exposure and groundwater contamination exposure) can cause increased rates of specific types of cancer. The types of cancer that have been linked to AFFF exposure include:
Kidney cancer
Bladder cancer
Pancreatic cancer
Liver Cancer
Breast Cancer
Leukemia (and other blood cancers)
Prostate cancer
Ovarian cancer
Testicular cancer
Non-Hodgkin's lymphoma
Of this list, the most common cancers we see from victims looking to bring an AFFF lawsuit are testicular, kidney, and prostate.  But people exposed to foam containing perfluoroalkyl and poly-fluoroalkyl substances (PFAS) have reported a wide range of cancers that go beyond the types of cancer we have listed.
Individuals who can prove that they were exposed to chemicals in AFFF firefighting foam and subsequently developed one of these cancer types may be able to bring an AFFF lawsuit and get financial compensation.
Who Are the Defendants in AFFF Firefighting Foam Lawsuits?
The defendants named in the AFFF firefighting foam lawsuits are companies who manufactured and sold AFFF products. Firefighting foam has been manufactured and sold by a variety of different companies. DuPont and 3M were two of the biggest manufacturers of AFFF firefighting foam and are vital defendants in the current AFFF lawsuits.
Evidence has been uncovered that by the 1970s, manufacturers like 3M, DuPont, and others were already very much aware that the PFAS in their AFFF products were potentially toxic to the environment. Moreover, these companies became familiar in the 1990s that these chemicals were harmful to humans and that long-term exposure might be linked to cancer.
Settlement Amounts for AFFF Firefighting Foam Lawsuits
The AFFF firefighting foam lawsuits will eventually be resolved in a mass tort global settlement. In these types of settlements, the defendants contribute a large sum of money into a settlement fund to pay settlement awards to individual plaintiffs who agree to accept the settlement.
The amount of settlement compensation received by individual plaintiffs is based on a tiered ranking system. Plaintiffs with the most robust AFFF cancer cases are ranked in the top tier and receive the highest settlement payouts. Plaintiffs with weaker claims are ranked in lower tiers and receive less compensation.
In the AFFF lawsuits, the top settlement tier will probably be for plaintiffs with long-term occupational exposure to AFFF and diagnosis with one of the more dangerous cancer types that have been linked to AFFF (e.g., kidney cancer or pancreatic cancer). AFFF plaintiffs in lower settlement tiers would include people with less occupational exposure or a diagnosis of less severe types of cancer.
Based on settlement payouts in prior mass tort cases involving cancer, our lawyers predict that AFFF firefighting foam cases in the top settlement tier will have average settlement amounts of $300,000 to $600,000. Our estimated value for 2nd tier cases is $150,000 to $280,000. Cases the 3rd tier may end up with settlement payouts of $75,000 or less.
It is important to remember that these are predictions, not guaranteed future AFFF settlement ranges for individual claims.  We try hard to make the best settlement predictions that we can. But anyone who thinks they know when and how much AFFF settlements will be are kidding themselves.
Hopefully we will know what the AFFF settlement offers will look like sooner rather than later. There is speculation of a settlement – at least with some of the defendants – in the first half of 2023.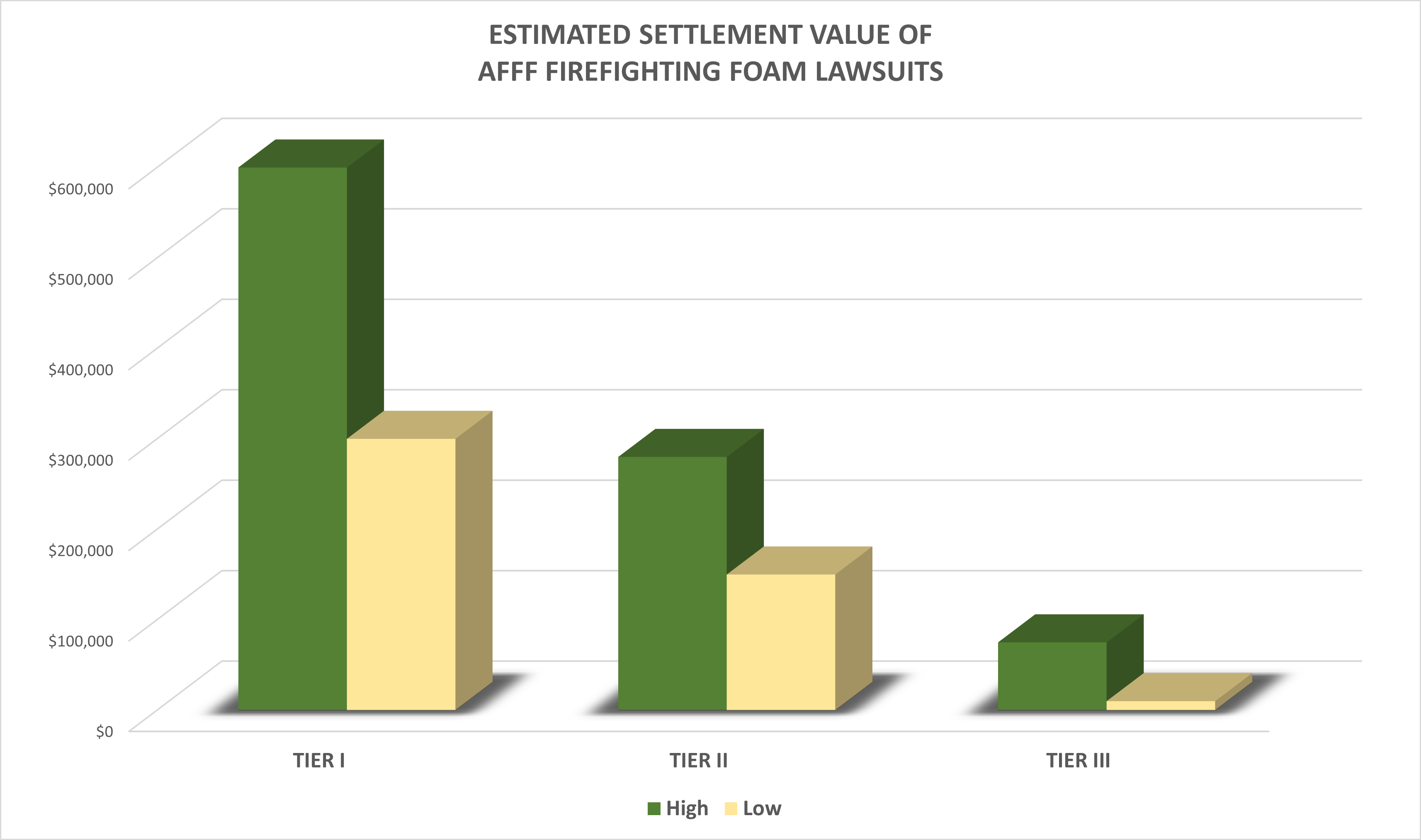 Are You Eligible to Bring an AFFF Firefighting Foam Lawsuit?
Our mass tort attorneys are currently seeking AFFF firefighting foam lawsuits. For our law firm, eligible plaintiffs meet two essential criteria:
AFFF Exposure: eligible plaintiffs will need to be able to show that they were regularly exposed to PFAS from AFFF firefighting foam in an occupational setting (e.g., firefighter, airport worker, etc.) or from contaminated groundwater.
Cancer Diagnosis: plaintiffs who can prove that they were exposed to AFFF for extended periods will also need to show that they were subsequently diagnosed with one of the cancers linked to PFAS: kidney, testicular, prostate, pancreatic, liver, bladder, ovarian, etc.
AFFF Firefighting Foam Class Action Lawyers
Many people exposed to AFFF are filing lawsuits against the companies that made the foam, claiming that the companies knew about the health risks but continued to sell it anyway.  The lawsuits argue that the companies should be held responsible for the harm that AFFF has caused.
Miller & Zois is currently accepting new AFFF firefighting foam cases in all 50 states. Contact our AFFF class action lawyers today to get your case started. Call 800-553-8082 or get a free online consultation.