Our lawyers are handling AFFF firefighting foam lawsuits around the country.
This page provides the most recent news, and updates on the AFFF firefighting foam class action lawsuit and our prediction of the settlement amounts plaintiffs with AFFF cancer lawsuits can expect to receive.
Latest AFFF Class Action Lawsuit Update – January 2023
January 24, 2023:  Earlier this month, we told you about a motion for dismissal (summary judgment) filed by some defendants in the upcoming AFFF trial.  Some defendants claimed no expert testimony linked their chemicals to the water at issue in that case.  Of course, the plaintiffs responded with expert testimony that does just that.
January 18, 2023: Over the last few months, the AFFF firefighting foam class action MDL has been averaging over 100 new cases each month. In the previous month, however, only 49 new cases were transferred into the MDL, bringing the total case count to 3,387.  Is the growth of the litigation slowing? That is one theory.  But few lawsuits get filed during the holidays, so it is likely just a seasonal slowdown.  We will get a better look at where we are trending next month.
January 12, 2023: A new study in the journal Occupational Medicine reports that firefighters are 60% more likely to die of cancer than the general population. The death rate for prostate cancer was four times higher, leukemia was three times higher, and kidney cancer was double the rate in the overall population. The researchers made the obvious point that carcinogenic chemicals in AFFF may be a primary contributing factor.
January 7, 2023: A group of 3 defendants (Tyco, BASF, and Chemguard Inc.) recently filed Summary Judgment motions seeking to get themselves out of the first bellwether AFFF trial (the City of Stuart v. 3M Co., et al.) before it goes to trial in May 2023.
All three motions argue that there is insufficient evidence to show that their AFFF products were the source of the water contamination in the Stuart municipal water supply. In support of this argument, each of the motions points out that none of the plaintiff's expert witnesses specifically named any of the defendants' products.
There are a lot of defendants in these cases; some will get out on summary judgment before trial.
Latest AFFF Class Action Lawsuit Update – December 2022
Another 100 new cases were added to the AFFF firefighting foam class action MDL between November 15, 2022, to December 15, 2022. This brings the total number of pending AFFF cases in the class action up to 3,399. During 2022, the AFFF class action has added around 1,300 new cases, a growth rate of nearly 50%. The first bellwether trial is still on track for June 20233, but it will involve municipal water supply contamination. These cases are somewhat different than personal injury cases, although they will still feature some causation evidence.
Latest AFFF Class Action Lawsuit Update – November 2022
AFFF Settlement Talks
With the first bellwether trial set for 2023, a court-appointed settlement mediator has now been assigned to "facilitate and encourage" global settlement discussions between both sides. The mediator, retired judge Layn Phillips, will face a complex task given that the AFFF litigation involves cancer claims by individual firefighters and claims by local municipalities for contamination of the water supply.
An AFFF settlement will be a Herculean task because of the different types of claims – some are individual, and some are entire communities.  Additional defendants will also have different views of what an appropriate AFFF settlement should look like.  But there is the possibility that there will be some AFFF settlements from this effort which would be in everyone's best interest.
How Many Plaintiffs in the AFFF Class Action Lawsuit?
There are now 3,299 pending cases in the AFFF (firefighting foam) class action MDL as of November 15, 2022.  There were 111 AFFF lawsuits were added in the last 30 days.
Some of these cases are municipal water contamination cases, and some are individual personal injury cases brought by former firefighters alleging they developed cancer from exposure. We don't know the exact number of cases in each category because that has not been tracked.
Latest AFFF Class Action Lawsuit Update – October 2022
A case has been picked for the first bellwether test trial in the AFFF MDL.
Earlier this week, the MDL Judge ruled that the first test trial will be in the case of the City of Stuart v. 3M Company, et al., (2:18-cv-3487). It is not a personal injury case but a municipal water contamination case. The City of Stuart is a mid-size town on the Atlantic Coast of Florida (near Palm Beach).
The city alleges firemen who used AFFF during training exercises contaminated its water supply. The city is suing 3M and other manufacturers for failure to warn and other theories.
The trial is set to begin on June 5, 2023, and dispositive pre-trial motions are due by February 3, 2023.
Latest AFFF Class Action Lawsuit Update – September 2022
In the most crucial development in the AFFF class action lawsuit, 3M's government contractor defense in the firefighting foam lawsuits was rejected by the MDL judge last week. 3M had sought summary judgment because it made its AFFF products under a government contract and, therefore, should be immune from liability. The Court disagreed and found that the government contractor defense did not apply because 3M withheld information from the government about the potential health risks of AFFF. 3M's government contractor defense in the earplug lawsuits was also rejected.
Firefighting Foam (AFFF) Class Action Lawsuit
Aqueous film-forming foam ("AFFF") is used to extinguish fires and is commonly referred to as firefighting foam. It was recently discovered that prolonged use or exposure to certain chemicals in AFFF firefighting foam can cause cancer. Anyone who was regularly exposed to firefighting foam and subsequently diagnosed with kidney cancer, pancreatic cancer, prostate cancer, or testicular cancer, may be able to file an AFFF firefighting foam lawsuit and get financial compensation.
All AFFF firefighting foam lawsuits in federal courts have been consolidated into a "class action" MDL in the District of South Carolina. As of August 2022, over 2,500 plaintiffs with firefighting foam cancer lawsuits are pending in the AFFF MDL. After bellwether test trials, the AFFF class action MDL will hopefully end in a global settlement.
AFFF Firefighting Foam Causes Cancer
AFFF ("aqueous film-forming foam") is a sprayable foam specifically designed to extinguish high-intensity fires fueled by accelerants such as gasoline. The active chemicals in AFFF firefighting foam belong to a family of chemicals known as PFAS (poly-fluoroalkyl substances).
PFAS are a unique group of chemicals that are highly resistant to extreme heat and are not broken down by oil or water. Unfortunately, the indestructible nature of PFAS means that they do not biodegrade or break down in the environment. PFAS tends to move through soil and end up contaminating groundwater and rivers. For this reason, PFAS are often referred to as "forever chemicals."
Over the last decade, an emerging body of scientific research has established that chronic exposure to PFAS in firefighting foam can cause certain types of cancer. The Environmental Protection Agency published a health advisory in 2016 noting that animal studies showed that prolonged exposure to PFAS resulted in kidney and testicular cancer.
The International Agency for Research on Cancer (IARC) conducted several studies which found that human exposure to PFAS results in a significantly increased kidney, prostate, and testicular cancer rate.
The Centers for Disease Control and Prevention (CDC) and the American Cancer Society have reached the same conclusion and listed the chemicals in AFFF firefighting foam as human carcinogens.
Exposure to AFFF Firefighting Foam and PFAS
Anyone regularly exposed to AFFF firefighting foam over long periods is potentially at risk of developing cancer from PFAS. Chronic exposure to PFAS in AFFF firefighting foam can occur in two ways: (1) occupational exposure to AFFF and (2) PFAS contamination in drinking water.
Occupational AFFF Exposure
Individuals who worked in specific jobs or professions where AFFF firefighting foam was regularly used (either by themselves directly or by people around them) have what is considered "occupational exposure" to PFAS from firefighting foam. Firefighters who regularly used AFFF or conducted training exercises with AFFF firefighting foam are the most obvious example of individuals with occupational exposure.
Other examples of individuals with occupational exposure to AFFF firefighting foam would include people who worked at locations where AFFF was used, disposed of, or manufactured. For instance, commercial airports, military bases, and industrial facilities regularly used firefighting foam during training exercises. Anyone who worked at these facilities may have been exposed to PFAS through indirect contact.
Groundwater PFAS Exposure
The other category of people with chronic exposure to PFAS from AFFF firefighting foam would be individuals who consumed drinking water contaminated with PFAS. Hundreds and possibly thousands of residential areas across the country had groundwater highly contaminated with PFAS from firefighting foam.
Many residential locations with groundwater contaminated by PFAS are near military bases or airports where AFFF firefighting foam was regularly used. The PFAS in the firefighting foam eventually seeped through the soil and made its way into the water table.
Cancers Caused by AFFF Firefighting Foam
Scientific research has determined that chronic exposure to AFFF firefighting foam (both occupational exposure and groundwater contamination exposure) can cause increased rates of specific types of cancer. The types of cancer that have been linked to AFFF exposure include:
Kidney cancer
Bladder cancer
Pancreatic cancer
Liver Cancer
Breast Cancer
Leukemia (and other blood cancers)
Prostate cancer
Ovarian cancer
Testicular cancer
Non-Hodgkin's lymphoma
Individuals who can prove that they were exposed to chemicals in AFFF firefighting foam and subsequently developed one of these cancer types may be able to bring an AFFF lawsuit and get financial compensation.
Who Are the Defendants in AFFF Firefighting Foam Lawsuits?
The defendants named in the AFFF firefighting foam lawsuits are companies who manufactured and sold AFFF products. Firefighting foam has been manufactured and sold by a variety of different companies. DuPont and 3M were two of the biggest manufacturers of AFFF firefighting foam and are vital defendants in the current AFFF lawsuits.
Evidence has been uncovered that by the 1970s, manufacturers like 3M, DuPont, and others were already very much aware that the PFAS in their AFFF products were potentially toxic to the environment. Moreover, these companies became familiar in the 1990s that these chemicals were harmful to humans and that long-term exposure might be linked to cancer.
Settlement Amounts for AFFF Firefighting Foam Lawsuits
The AFFF firefighting foam lawsuits will eventually be resolved in a mass tort global settlement. In these types of settlements, the defendants contribute a large sum of money into a settlement fund used to pay settlement awards to individual plaintiffs who agree to accept the settlement.
The amount of settlement compensation received by individual plaintiffs is based on a tiered ranking system. Plaintiffs with the most robust AFFF cancer cases are ranked in the top tier and receive the highest settlement payouts. Plaintiffs with weaker claims are ranked in lower tiers and receive less compensation.
In the AFFF lawsuits, the top settlement tier will probably be for plaintiffs with long-term occupational exposure to AFFF and diagnosis with one of the more dangerous cancer types that have been linked to AFFF (e.g., kidney cancer or pancreatic cancer). AFFF plaintiffs in lower settlement tiers would include people with less occupational exposure or a diagnosis of less severe types of cancer.
Based on settlement payouts in prior mass tort cases involving cancer, our lawyers predict that AFFF firefighting foam cases in the top settlement tier will have average settlement amounts of $300,000 to $600,000. Our estimated value for 2nd tier cases is $150,000 to $280,000. Cases the 3rd tier may end up with settlement payouts of $75,000 or less.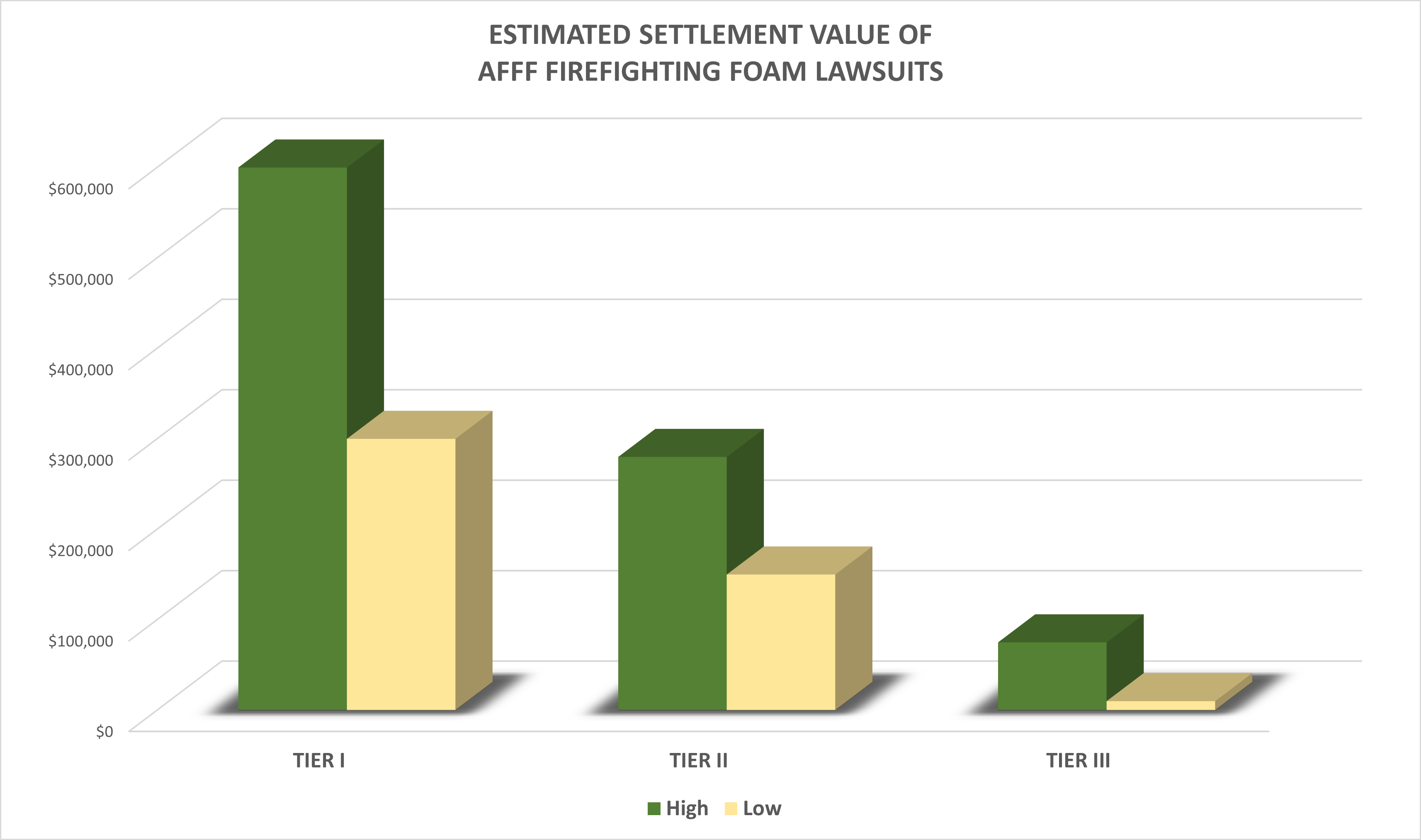 Are You Eligible to Bring an AFFF Firefighting Foam Lawsuit?
Our mass tort attorneys are currently seeking AFFF firefighting foam lawsuits. For our law firm, eligible plaintiffs meet two essential criteria:
AFFF Exposure: eligible plaintiffs will need to be able to show that they were regularly exposed to PFAS from AFFF firefighting foam in an occupational setting (e.g., firefighter, airport worker, etc.) or from contaminated groundwater.
Cancer Diagnosis: plaintiffs who can prove that they were exposed to AFFF for extended periods will also need to show that they were subsequently diagnosed with one of the cancers linked to PFAS: kidney, testicular, prostate, pancreatic, liver, bladder, ovarian, etc.
AFFF Firefighting Foam Class Action Lawyers
Miller & Zois, is currently accepting new AFFF firefighting foam cases in all 50 states. Contact our AFFF class action lawyers today to get your case started. Call 800-553-8082 or get a free online consultation.