In July 2018, 3M Co. agreed to pay $9.1 million to settle a False Claims Act lawsuit brought by the U.S. Department of Justice accusing 3M of defrauding the federal government by selling defective earplugs to the Army over 15 years. The announcement of this settlement between 3M and the DOJ was the start of what would soon become the biggest consolidated mass tort litigation in U.S. history. At its peak in September 2021, the 3M earplug MDL had 282,902 plaintiffs.
Our firm has been at the forefront of the 3M earplug lawsuits since the very beginning back in 2018. Since then, we have helped countless veterans bring claims against 3M for hearing loss and tinnitus caused by the defective design of the Combat Arms earplugs. Over the last year, these veterans have been singularly focused on one simple question . . . "when is my earplug case going to settle?"
Giving any sort of reliable answer to this question has resulted in repeated frustration. After each successive bellwether test trial, it seemed like settlement negotiations would be right around the corner. But when the 16th and final bellwether trial ended last month (with a massive $77.5 million verdict for the plaintiff), there was still no mention of formal settlement discussions.
At some point in the next 30 days, however, representatives for the plaintiffs and 3M will be taking part in a mediation session with 3 special masters to act as mediators. Unfortunately, this is not happening because both sides agreed that it was time to talk about a settlement. Instead, the mediation is happening because the judge in the 3M Earplug MDL, Hon. M. Casey Rogers, ordered the parties to participate in the mediation.
Overview of the 3M Earplugs Litigation
After the announcement in July 2018 that 3M paid the DOJ $9.2 to settle the qui tam lawsuits alleging that it sold defective earplugs to Army, thousands of veterans who had been living with hearing damage began filing product liability lawsuits against 3M. The lawsuits alleged that these veterans suffered hearing damage because of the defective design of 3M's Combat Arms Earplugs (V2), which were sold to the Army and became standard issue equipment from 2003 to 2015.
The 3M earplug lawsuits pending in the federal court system were soon consolidated into a new multi-district litigation (MDL), which was assigned to Judge M. Casey Rogers in the Northern District of Florida (3M Prod. Liab. Lit., MDL No. 2885 – Master Docket No. 3:19-MD-2885). The size of the 3M earplugs MDL rapidly expanded as more and more Army veterans with hearing loss came forward to file claims. Within 16 months after the MDL was created, it had become the biggest mass tort ever with over 150,000 plaintiffs.
In May of 2021, the first bellwether test trial was held and resulted in a federal jury in Florida awarding a group of 3 plaintiffs $7.1 million in damages. From that point forward, the bellwether test trials just kept coming. We saw 5 trials in the Summer and Fall and in November and December of 2021, we got results in 5 separate bellwether trials. 6 more cases went to trial between January and May 2022.
In the end, there were 16 bellwether test trials involving the claims of 19 individual plaintiffs. The plaintiffs won 10 out of the 6 trials and the total damages awarded against 3M were just under $300 million.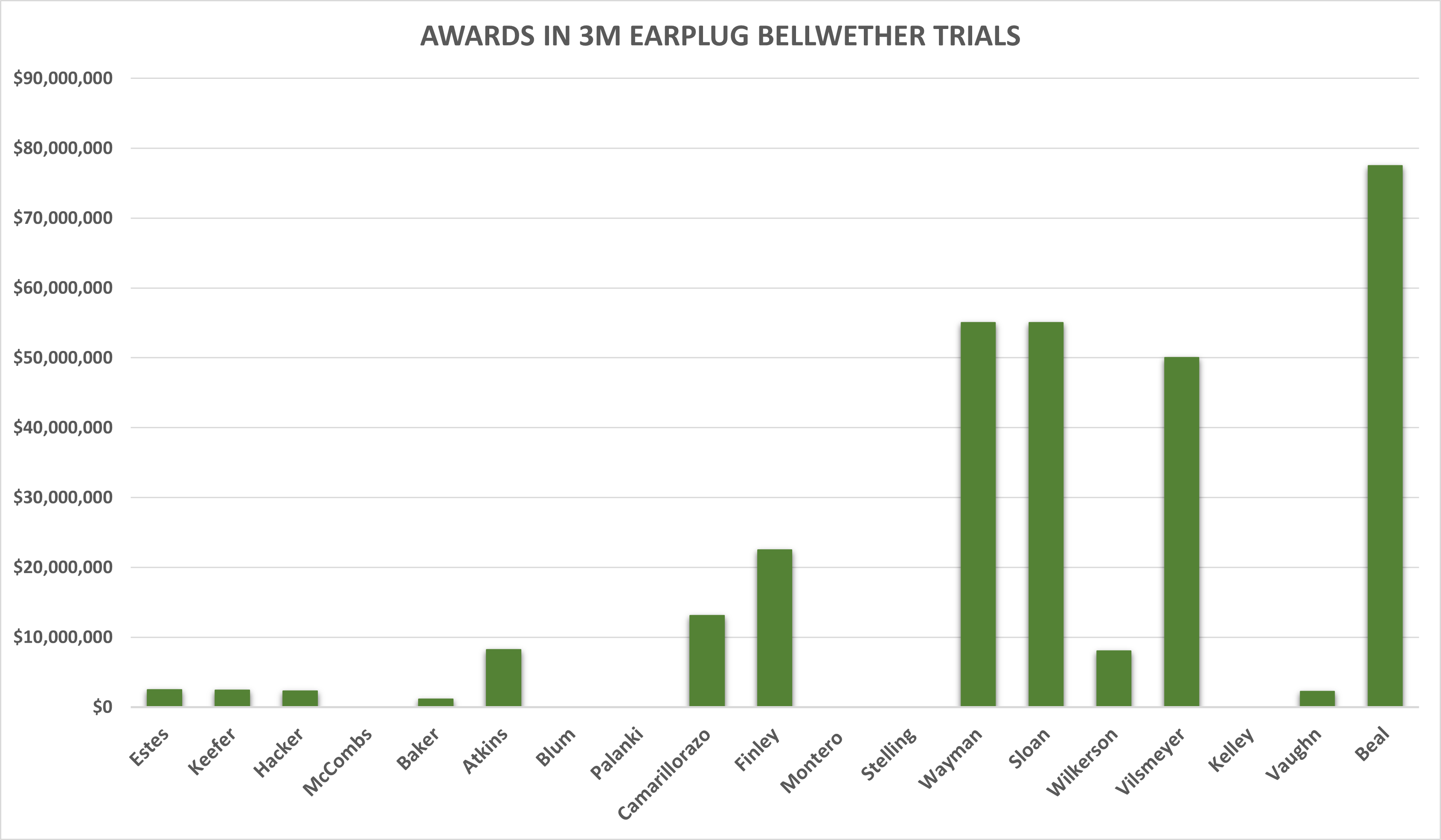 Judge Rogers Orders Mandatory Mediation
Last Friday, June 10, 2022, less than a month after the 16th and final bellwether trial was completed, the 3M Earplug MDL Judge issued an Order requiring both sides to participate in mandatory mediation. Judge Rogers appointed 3 veteran mediators to act as Special Masters for purposes of the mediation. She also included a list of individuals who were required to participate in the mediation. The mediation must be scheduled before July 15 and last at least 3 days.
In the Order, Judge Rogers attempts to make it very clear what 3M will be now be facing if they are not able to settle a large portion of the remaining 233,000 pending cases:
The coming months will involve a massive shift in focus. Waves of individual cases—500 at a time—are proceeding with plaintiff-specific discovery and complete work up for trial. This Court will adjudicate all case-specific Daubert and summary judgment motions in each Wave, and thereafter, the cases that remain will be remanded to their transferor courts for trial. An enormous amount of time and resources will be required to accomplish this endeavor, not just from this Court but from the entire federal judiciary. As of June 10, 2022, there were 233,883 plaintiffs in the MDL, down from 282,902 at its height in September 2021. That averages to approximately 2,500 cases being remanded for trial to each of the 94 districts nationwide, though in all likelihood, some districts will receive many fewer cases and other districts many more, depending on the appropriate venue for individual plaintiffs. Still, likely no district will be spared the burden. In any event, the amount of judicial resources required to handle this number of cases is staggering.

Against this backdrop, and before federal district court dockets around the country are flooded with CAEv2 cases, the Court concludes it is appropriate to require the parties to engage in serious and good-faith efforts to resolve as many cases as possible.
Order [ECF 3188].
Some 3M Lawsuits Could Get Settled Now
The Mediation Order makes it very clear that Judge Rogers is fully prepared to force 3M to go through an unprecedented litigation gauntlet moving forward. The clear message in her Order is that unless 3M can find a way to settle and resolve a big chunk of the pending cases, they will be forced to defend waves of 500 trials at a time in federal courts all over the country. The cost of defending that many trials would be overwhelming, even for a company the size of 3M.
At this point, 3M may essentially be forced to settle a large chunk of the existing earplug cases simply to appease judge Rogers. We could see something very similar to the piecemeal, large block settlements that Bayer negotiated in the Roundup litigation. After a series of disastrous bellwether verdicts, Bayer started settling out big blocks of cases (thousands at a time) with individual lawyers. Eventually, about 80% of the pending cases had been settled and then Bayer changed course and went back to defending the remaining cases.
We think 3M is going to pursue a very similar strategy in the earplug litigation and settle blocks of 10,000 or 20,000 cases at a time with different lawyers. One of the major obstacles to a global settlement in the earplugs MDL has always been the massive size of the plaintiff pool. It's much easier to negotiate a global settlement with 10,000 plaintiffs than with 200,000.
The other reason this scenario makes sense is that it would be consistent with 3M's contention that only a small percentage of the 233,000 plaintiffs have valid, provable claims. In 3M's view, most of the plaintiffs have weak or invalid claims and are just trying to get money out of any settlement.
Settling blocks of cases at a time would enable 3M to settle what it views as legitimate claims while simultaneously isolating what it feels are meritless cases. For example, 3M could negotiate a settlement offer that requires plaintiffs to produce certain documents to support their claims (e.g., military service records, an affidavit from a medical expert, etc.) to be eligible for the settlement.