When the news broke in August 2022 that 3M was trying to spin the earplug liabilities off into bankruptcy, it caused widespread confusion among many veterans who have been waiting years for their earplug case to get resolved. Now more than ever, veterans are asking "when is my 3M earplug case going to settle?"
Just last month, we seemed to be very close to getting a negotiated global settlement in the 3M earplug litigation. 3M was facing the prospect of having to go through discovery and trials in hundreds, possibly thousands of cases over the next 12 months. This made the possibility of 3M finally caving and working out a settlement a very likely scenario. Unfortunately, 3M and its defense team decided to dig in their heels and attempt to force the earplug claims to be resolved in bankruptcy court.
In this post, we will try to explain exactly what 3M is doing, how it could potentially play out, and what impact it will have on the settlement of the thousands of pending earplug lawsuits.
---
Update – October 14, 2022:
No new 3M earplug settlement update.  Losing that October trial date gave everyone a reprieve from the pressure of getting a case settled before that trial.  3M is hoping its expedited appeal on the bankruptcy put pressure on plaintiffs' lawyers.
Update – October 6, 2022:
No settlement.  And there is more bad news. The 3M earplug trial that was scheduled for later this month was unexpectedly pushed back to February. In an Order issued yesterday, MDL Judge Casey Rogers said that the postponement was necessary for reasons unrelated to the 3M MDL. This is an unfortunate development because it relieves pressure on 3M as the settlement talks continue.  Nothing bad is happening as it relates to settlement value. But it just slows down the path to an eventual settlement offer from 3M (meaningful settlement offer, I should say.)
Update – October 3, 2022:
Another round of settlement talks begins in just two days.
Update – September 19, 2022:
Today, MDL Judge Casey Rogers issued an order indicating that the second settlement mediation that took place last week made some progress. This order directed the Mediator to schedule another session within the next two weeks. This is the first positive news and could be an early indication of light at the end of the tunnel.  
Update – September 16 2022:
At the end of August, 3M's controversial effort to force the earplug lawsuits into bankruptcy court was rejected. The Bankruptcy Judge denied 3M's motion seeking to extend the automatic stay in the bankruptcy filed by its recently revived subsidiary (Aero Technologies). This decision effectively ended 3M's grand strategy to get the earplug lawsuits out of the MDL and seek a leveraged resolution of them under the protection of a bankruptcy stay.
The Bankruptcy judge denied the motion because he found that 3M could not demonstrate that it would suffer immediate and irreparable harm if it was not protected by the stay in Aero's chapter 11 bankruptcy.  3M has already noted an appeal of the decision, which will either be heard by the U.S. District Court for Indiana or the Bankruptcy Appellate Panel.
Just days after the bankruptcy court rejected 3M's motion, MDL Judge Casey Rogers responded by ordering 3M to participate in yet another mandatory settlement mediation session. The second settlement mediation concluded with no major developments or indications that we may be any closer to a global settlement. Meanwhile, however, 3M is starting to face mounting external pressure from Wall Street to get the earplug lawsuits resolved and move on.
---
Overview of the 3M Earplugs Litigation
After the announcement in July 2018 that 3M paid the DOJ $9.2 to settle the qui tam lawsuits alleging that it sold defective earplugs to Army, thousands of veterans who had been living with hearing damage began filing product liability lawsuits against 3M. The lawsuits alleged that these veterans suffered hearing damage because of the defective design of 3M's Combat Arms Earplugs (V2), which were sold to the Army and became standard issue equipment from 2003 to 2015.
MDL Consolidation
The 3M earplug lawsuits pending in the federal court system were soon consolidated into a new multi-district litigation (MDL), which was assigned to Judge M. Casey Rogers in the Northern District of Florida (3M Prod. Liab. Lit., MDL No. 2885 – Master Docket No. 3:19-MD-2885). The size of the 3M earplugs MDL rapidly expanded as more and more Army veterans with hearing loss came forward to file claims. Within 16 months after the MDL was created, it had become the biggest mass tort ever with over 150,000 plaintiffs.
Bellwether Trials
In May of 2021, the first bellwether test trial was held and resulted in a federal jury in Florida awarding a group of 3 plaintiffs $7.1 million in damages. From that point forward, the bellwether test trials just kept coming. We saw 5 trials in the Summer and Fall and in November and December of 2021, we got results in 5 separate bellwether trials. 6 more cases went to trial between January and May 2022.
In the end, there were 16 bellwether test trials involving the claims of 19 individual plaintiffs. The plaintiffs won 10 out of the 6 trials and the total damages awarded against 3M were just under $300 million.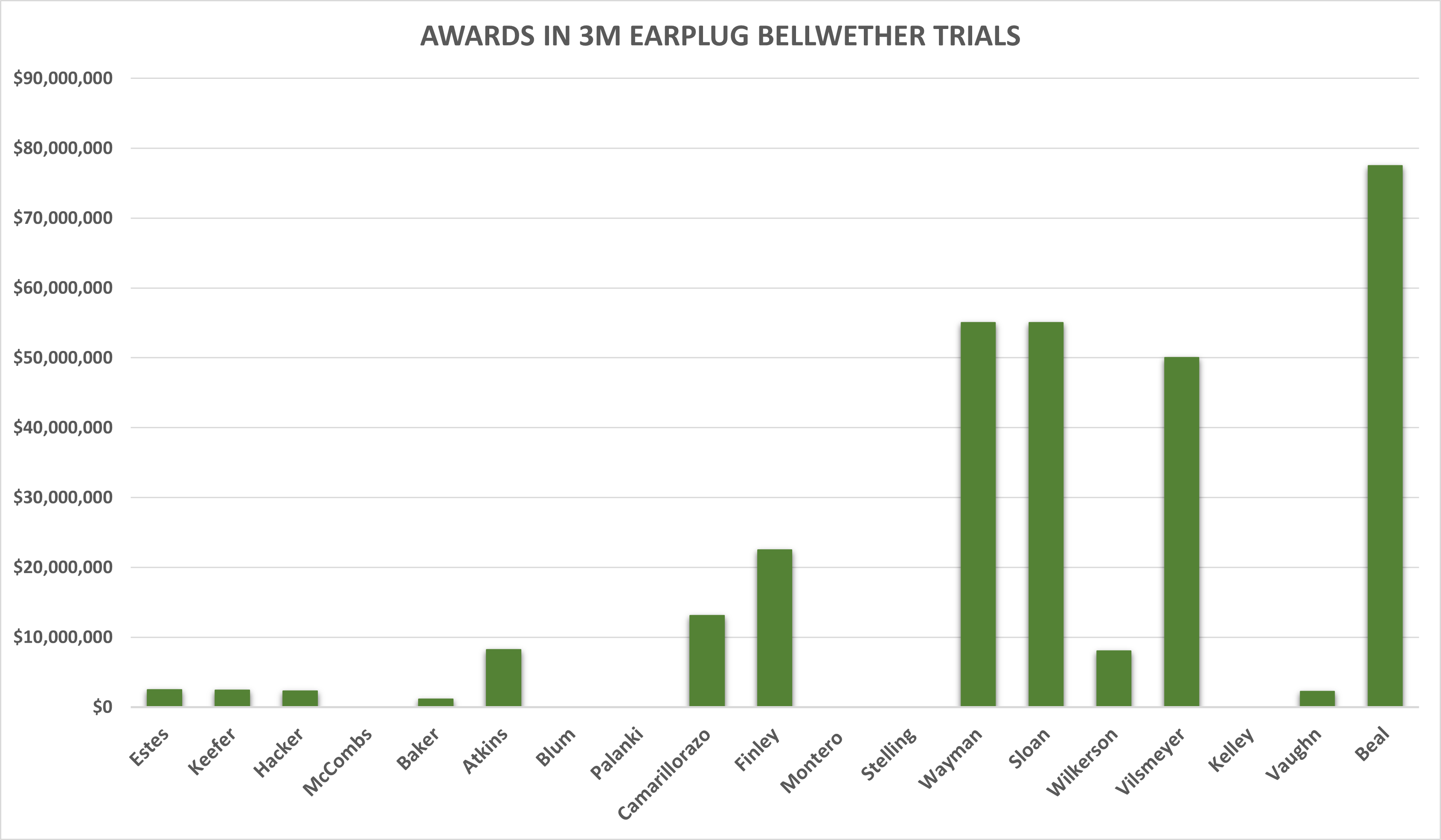 Judge Rogers Orders Mandatory Mediation
On June 10, 2022, less than a month after the 16th and final bellwether trial was completed, the 3M Earplug MDL Judge issued an Order requiring both sides to participate in mandatory mediation. Judge Rogers appointed 3 veteran mediators to act as Special Masters for purposes of the mediation. She also included a list of individuals who were required to participate in the mediation. The mediation must be scheduled before July 15 and last at least 3 days.
In the Order, Judge Rogers attempts to make it very clear what 3M will be now be facing if they are not able to settle a large portion of the remaining 233,000 pending cases:
The coming months will involve a massive shift in focus. Waves of individual cases—500 at a time—are proceeding with plaintiff-specific discovery and complete work up for trial. This Court will adjudicate all case-specific Daubert and summary judgment motions in each Wave, and thereafter, the cases that remain will be remanded to their transferor courts for trial. An enormous amount of time and resources will be required to accomplish this endeavor, not just from this Court but from the entire federal judiciary. As of June 10, 2022, there were 233,883 plaintiffs in the MDL, down from 282,902 at its height in September 2021. That averages to approximately 2,500 cases being remanded for trial to each of the 94 districts nationwide, though in all likelihood, some districts will receive many fewer cases and other districts many more, depending on the appropriate venue for individual plaintiffs. Still, likely no district will be spared the burden. In any event, the amount of judicial resources required to handle this number of cases is staggering.

Against this backdrop, and before federal district court dockets around the country are flooded with CAEv2 cases, the Court concludes it is appropriate to require the parties to engage in serious and good-faith efforts to resolve as many cases as possible.
Order [ECF 3188].
Settlement Mediation Goes Nowhere
The Mediation Order made it very clear that Judge Rogers was fully prepared to force 3M to go through an unprecedented litigation gauntlet moving forward. The clear message in her Order was that unless 3M could find a way to settle and resolve a big chunk of the pending cases, they would be forced to defend waves of 500 trials at a time in federal courts all over the country. The cost of defending that many trials would be overwhelming, even for a company the size of 3M.
Our lawyers were very optimistic that the settlement mediation would at least get the global settlement negotiations with 3M rolling. Or we were hoping that we could start to see something very similar to the piecemeal, large block settlements that Bayer negotiated in the Roundup litigation.
The hope was that 3M would start to pursue a very similar strategy in the earplug litigation and settle blocks of 10,000 or 20,000 cases at a time with different lawyers. In part, because they would have no choice – the earplug litigation may be too big to offer a single settlement amount to be split by victims.
Unfortunately, the settlement mediation accomplished nothing and the reason why soon became clear. As it turns out, while 3M was participating in the mediation they were simultaneously launching a plan to escape the MDL and try to force the earplug claims to be resolved in bankruptcy.
3M's Defense of the Earplug Litigation
For the last 3 and a half years, 3M has be aggressively defending a growing mountain of lawsuits filed by military veterans who claim that defects in the 3M Combat Arms Earplugs ("CAE") that they were issued caused them to suffer hearing damage. The CAE earplugs were standard issue equipment to the U.S. Army from 2003 to 2015.
The CAE earplugs were originally designed and sold by a company called Aearo Technologies. In 2008, however, 3M acquired Aearo and it became a wholly-owned subsidiary. After the 3M acquisition, Aearo essentially ceased to exist as a separate company.
All Aearo products (including the CAE earplugs) were rebranded and sold under the 3M name. Aearo employees and executives became 3M employees. The Aearo name was replaced with the 3M name and logo on buildings, websites, letterhead, contracts, etc.
Even though Aearo effectively disappeared and was replaced by 3M after the acquisition, so Aearo no longer had any real existence as a company in the real world. Aearo did continue to exist on paper, however, as a corporation or LLC wholly owned by 3M.
When thousands of earplug lawsuits began getting filed against 3M back in 2018, many plaintiffs named Aearo Technologies as an additional defendant. Other plaintiffs followed suit and eventually all of the earplug lawsuits named both 3M and Aearo as defendants. Naming Aearo as a defendant was arguably not necessary since it had no separate existence from 3M following the acquisition.
Naming all potential corporate entities that could potentially be liable is something that many plaintiffs' lawyers do just to cover themselves in case the originally named defendant is not the correct entity. In this case, however, this policy would end up giving 3M a fallback and not the plaintiffs' lawyers.
Over the last 3 years, as the 3M earplug litigation grew to historic sizes, 3M actively defended the lawsuits and acted as though it were the sole corporate entity directly responsible for the plaintiffs' claims. At no point during the litigation did 3M ever suggest that Aearo was actually the responsible party.
In fact, just like everyone else, 3M acted as though Aearo was a party to the litigation in name only. In fact, 3M itself expressly denied the suggestion that Aearo was a separate business entity. In a post-trial brief, 3M stated that:
3M Company owns and controls 100% of the other five named defendants, rendering any suggestion that they are six separate parties for purposes of this litigation illusory.
Vaughn v. 3M, 7:20cv134, ECF No. 179 at 10; Wayman v. 3M, 7:20cv149, ECF No. 194 at 4.
3M's Bankruptcy Strategy
At the end of July 2022 (shortly after participating in a court-ordered settlement mediation) 3M came up with a legal scheme aimed at escaping the earplugs MDL. 3M had Aearo sign an agreement in which Aearo (a company that existed only on paper since 2008) suddenly agreed to accept all responsibility for the earplug claims and indemnify 3M for any losses incurred in the litigation. This agreement immediately rendered Aearo insolvent because it took on billions in liabilities.
Immediately the indemnification agreement was signed, Aearo filed a Chapter 11 bankruptcy. When a company files bankruptcy, a law called the "automatic stay" kicks in and freezes all lawsuits or court actions against the bankruptcy debtor. Of course only Aearo filed bankruptcy, so the automatic only applies to Aearo.
As the second part of this strategy, however, "Aearo" filed a motion asking the bankruptcy court to extend the protection of the automatic stay to its parent company 3M. Meanwhile, 3M itself remains financially solvent and never has to file bankruptcy itself.
Not surprisingly, Aearo had no actual financial assets of its own 2 months ago. But Aearo couldn't file bankruptcy without any assets or the whole transaction would obviously be fraudulent. 3M sought to resolve this problem by agreeing to provide financial funding to Aearo during the bankruptcy proceeding. That funding came mainly in the form of a $1 billion settlement trust that would be used to cover the earplug claims.
Will the 3M Bankruptcy Be Allowed?
Immediately after 3M had Aearo file bankruptcy, lawyers for the earplug plaintiffs filed motions challenging the legal validity of the whole scheme. The earplug plaintiffs also asked the bankruptcy court to deny the request to extend Aero's automatic stay to 3M.
As we write this post, hearings on the validity of the Aearo bankruptcy and the extension of the stay to 3M are currently underway in the U.S. Bankruptcy Court for the District of Indiana. U.S. Bankruptcy Judge Jeffrey J. Graham will most likely issue a decision before the end of August.
Judge Graham has already cautioned attorneys representing Aearo that at least part of their legal argument is not persuasive, and he already declined Aearo's request at the start of the proceeding to immediately extend the stay to 3M. The earplug claims against Aearo have already stayed, but unless Judge Graham grants to motion to extend this stay to cover 3M, the whole Aearo bankruptcy strategy will fail.
Extending the Automatic Stay to 3M
Without an extension of the automatic stay, Aearo's bankruptcy will do nothing for 3M. The earplug lawsuits will simply continue against 3M only and not against Aearo, which won't make any difference because Aearo was never a real defendant anyway.
The bankruptcy judge has already suggested that Aearo faces an "uphill battle" in its effort to get the automatic stay extended to 3M. In order to justify an extension of the stay to 3M, Aearo will need to demonstrate to Judge Graham that Aearo would be irreparably harmed in the next few weeks if the stay extension is not granted.
From our perspective, it seems almost impossible to imagine any circumstances in which Aearo could how that it would legitimately be harmed if the stay is not extended to 3M. After all, Aearo only existed on paper until 6 weeks ago.
If You Have a 3M Earplug Lawsuit, Bring It Now
If you have a claim, there could be a very good reason you don't want to file a 3M earplug lawsuit.  But if you have a claim, your might not only be running up against a deadline to sue, you might be running up against a deadline to find a good lawyer.
Why?  Because many law firms will get out of this litigation if there is a 3M earplug settlement that resolves these cases.
So if you have a 3m earplug lawsuit and think you MIGHT want to file a lawsuit. Call our 3M earplug lawyers at 800-553-8082 for a free consultation. You can also get a free online consultation.  Or call another lawyer. But call someone today.