Target and the U.S. Consumer Product Safety Commission (CPSC) recently announced a major safety recall of Pillowfort Weighted Blankets. The recall is prompted by recent incidents which indicate that a problem with the zipper design in the blankets can trap children and cause them to suffocate. A 6-year-old girl and a 4-year-old girl living at Marine Corps Base Camp Lejeune in North Carolina were trapped in a blanket and died from asphyxia in April 2022.
About Pillowfort Weighted Blankets
Weighted blankets have recently become very popular. They are blankets made to be very heavy around the edges to trap in warm air.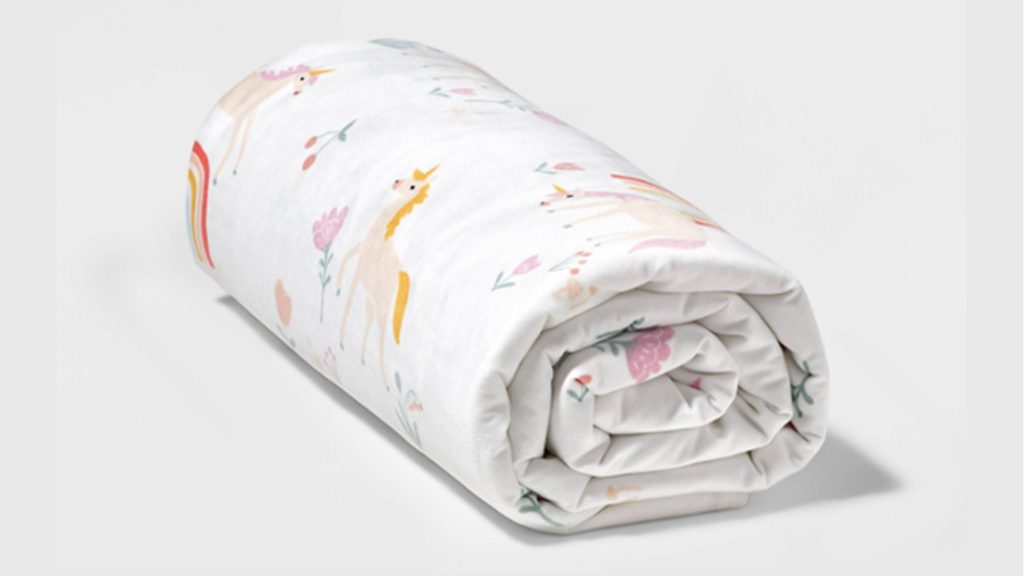 The Pillowfort Weighted Blanket is a weighted blanket brand sold exclusively at Target, one of the biggest retailers in the U.S. The Pillowfort weighted blankets weighed 6 pounds and came in a standard size of 60 by 40 inches. They were available in multiple colors.
Unlike most weighted blankets, the Pillowfort Weighted Blankets had a detachable cover that could be removed for washing. The removable cover had a zipper feature that enabled it to be detached from the inside material.
Recall Announcement
On December 22, 2022, the CPSC issued a public recall notice advising that Target immediately recalled all Pillowfort Weighted Blankets. The recall notice advised that the blankets were dangerous to young children because the zipper on the detachable cover allowed children to enter and become trapped inside the blanket, which could result in death by suffocation.
The recall covered over 200,000 weighted blankets sold at Target. CPSC and Target strongly advised consumers to stop using the blankets and keep them away from children.
The recall came after the CPSC and Target were aware of at least four cases of children becoming trapped inside the Pillowfort Weighted Blankets after unzipping the cover. One of the incidents involved two girls (6 and 4 years old) who died from suffocation after becoming trapped in a blanket. This tragic incident occurred in April 2022 at Camp Lejeune in North Carolina. Camp Lejeune is a Marine Corps base that has recently come into the national spotlight because of a new law allowing Camp Lejeune water contamination lawsuits.
The recalled Pillowfort blankets were made in China and sold by Target (at stores and online) from December 2018 to September 2022. They sold for $39.99. Customers who have one of the recalled blankets are being offered a full refund for the price of the blanket. To obtain a refund, consumers can contact Target at 800-440-0680. Additional information can also be found on the Target website.
2023 Weighted Blanked Update
As parents increasingly turn to weighted baby blankets,  pediatricians are pushing back.  These doctors are raising alarms about the safety of these products for infants, urging the creation of new safety standards to oversee their manufacture and sale in the United States.
In an August 2023 letter to the U.S. Consumer Product Safety Commission (CPSC), the AAP highlighted their concern over the continued introduction and promotion of these products on the market, notwithstanding previous warnings by medical professionals and substantial evidence of their dangers to infants.
The letter says:
The AAP's most recent recommendations for safe sleep, issued in 2022, state "it is recommended that weighted blankets, weighted sleepers, weighted swaddles, or other weighted objects not be placed on or near the sleeping infant." The AAP's recommendations further states that "weighted swaddle clothing or weighted objects within swaddles are not safe and therefore not recommended." The evidence available at this time does not indicate that weighted swaddle products are safe, nor does it demonstrate that they are effective in helping babies sleep longer or with fewer disruptions. Further, it is hypothesized that impaired arousal may contribute to risk of Sudden Infant Death Syndrome (SIDS), so a product that decreases arousal may increase the risk of SIDS. (emphasis added by us).
Existing guidelines from the American Academy of Pediatrics (AAP) advise against using any such weighted products for infants, citing significant risks including suffocation, strangulation, and death. The AAP reports that around 3,400 infants die in their sleep annually, with many of these deaths being preventable.