Our national mass tort and product liability lawyers regularly track and monitor events in the various MDLs pending in the federal court system.  We look at how many new cases are being filed or transferred into the MDL each month, the trends in new case filings, and the status of bellwether trials, discovery, and other proceedings. Now that we are at the halfway point for 2022, we thought it would be a good time to take a look back and review which MDLs have been the most active so far in 2022.  
---
RELATED POSTS:
---
The Biggest MDLs
Before we get into what have been the hottest or most active mass tort MDLs, let's first take a brief look at what are the largest MDLs (by the number of pending plaintiffs) as of June 15, 2022.
#1: 3M Earplugs Lawsuit
It should be no surprise to see this at the top of the list for the biggest MDLs. The 3M Earplugs litigation has given us the biggest consolidated mass tort MDL in the history of the federal court system. As of June 15, 2022, the JPML report lists 290,075 plaintiffs with pending cases. This number is not entirely accurate. Recent efforts by MDL Judge M. Casey Rogers have sought to trim the number of meritless claims by requiring plaintiffs to move from the administrative docket to the active docket and produce records to support their claims.
The recent docket control measures have already eliminated a large chunk of the 290,075 plaintiffs listed by the JPML. According to a recent Order from Judge Rogers, the updated number of current 3M earplug lawsuits is down to 233,032. Even at this reduced count, however, the 3M Earplug MDL is still the biggest by a very wide margin.
There is a settlement conference on July 15, 2022 that will hopefully result in shrinking the number size of the earplug litigation with reasonable settlement amounts.
#2 Talcum Powder Lawsuit
The Johnson & Johnson Talcum Powder class action ranks second with 37,514 plaintiffs with pending and active claims. Most have been pending for a long time, however, as J&J has spun off its future talcum powder liabilities into a new entity that is filing bankruptcy.
New talcum powder lawsuits are still being filed, as more and more women are diagnosed with cancer-related to their use of J&J talcum products. However, the rate of new talcum powder cases has slowed to a trickle recently. Only five new talcum powder cases have been transferred into the MDL since March.
#3 C.R. Bard Hernia Mesh Lawsuit
The C.R. Bard Hernia Mesh MDL is the largest of several mass tort MDLs involving defective hernia mesh patches made by various companies. As of June 15, there were 16,979 plaintiffs with pending cases in the C.R. Bard Hernia Mesh MDL. 580 new hernia mesh lawsuits have been transferred over the last 3 months, making this one of the more active MDLs as well as one of the biggest.
In an effort to reduce the size of the plaintiff pool in this MDL, lawyers for C.R. Bard recently filed a motion asking the MDL judge to issue a "docket control" order. The proposed docket control order would require all of the 16,000 plaintiffs with pending cases to produce an affidavit from a qualified medical expert certifying that they have a valid claim related to their hernia mesh implant.
#4 Prilosec/Nexium Proton-Pump-Inhibitors
Studies have shown that long-term use of proton-pump-inhibitors, such as Nexium and Prilosec, can cause kidney failure and chronic kidney disease. This has led to a large wave of Nexium and Prilosec lawsuits by individuals who used these medications for a long time period and subsequently developed kidney problems.
The Prilosec/Nexium PPI MDL remains the 4th biggest class-action MDL with a current case count of 13,437. The PPI MDL is definitely reaching the age where things start to slow down in terms of new case filings. During the first half of 2022, only 67 new cases were transferred into the MDL. The first bellwether test trial is set for October 2022 in a case where the plaintiffs is alleging he developed chronic kidney disease after using Nexium from 2010 to 2015.
The Hottest MDLs
Now let's look at which MDLs have been the most active in terms of new cases filed or transferred into the MDL during the first half of 2022. We will also take into consideration those MDLs which have been particularly active over the last 3 months, based on the number of new cases. We are not including the 3M Earplugs MDL in this list, even though it added more new cases than any other MDL.
Elmiron Lawsuit
Elmiron is a prescription drug used to treat bladder conditions. In 2018 it was discovered that long-term use of Elmiron could cause a very unique type of macular eye damage. Since this discovery, thousands of Elmiron users have filed lawsuits alleging vision loss or impairment. The Elmiron MDL (In re: Elmiron (Pentosan Polysulfate Sodium) Prod. Liab. Lit. 2:20-MD-02973) is in the District of New Jersey.
The Elmiron MDL has more than doubled in size through the first half of 2022. At the end of 2021, there were 679 plaintiffs with pending Elmiron vision damage lawsuits in the MDL. As of June 15, there are now 1,360 – an increase of 681. The Elmiron litigation has been red hot in the last month. Nearly half of the 681 new Elmiron cases added to the MDL this year came in the just the last 30 days.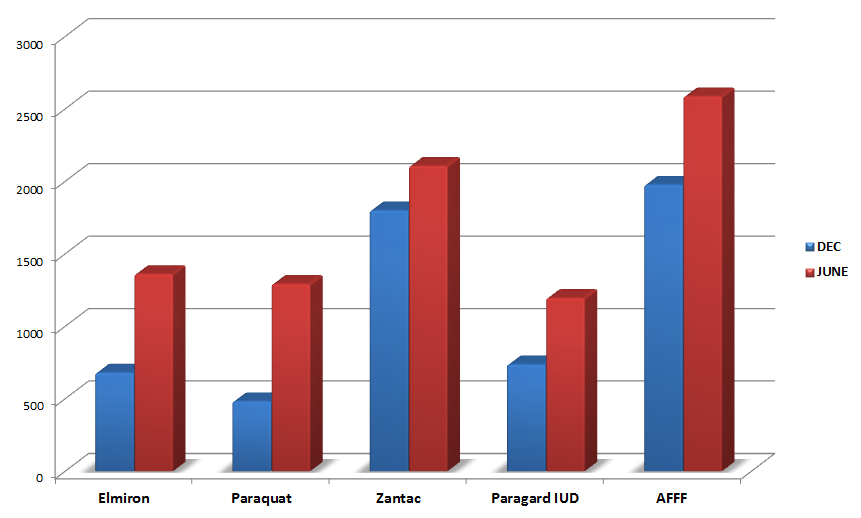 Paraquat Lawsuit
Paraquat is a commercial herbicide used in large-scale agriculture. Chronic exposure to Paraquat has been linked to increased rates of early-onset Parkinson's disease, prompting a wave of Paraquat product liability lawsuits. The Paraquat cases have been consolidated into an MDL in the Southern District of Illinois.
At the end of last year, the Paraquat MDL (In re: Paraquat Prod. Liab. Lit. – 3:21-MD-3004) had just 482 pending cases.
So far this year 810 new Paraquat cases have been filed and transferred into the MDL, bringing a total number of pending cases up to 1,292. This is an increase in Paraquat lawsuits of about 200% in just 6 months – the largest percentage growth rate of any product liability MDL in 2022.
Paragard IUD Lawsuit
The Paragard is an IUD birth control device that has a design defect that causes it to fracture during removal, leaving plastic shards inside the patient's body. Thousands of women who experienced this have not sued the manufacturers. The Paragard MDL (In re: Paragard IUD Prod. Liab. Lit. – 1:20-MD-2974) is in the Northern District of Georgia.
Through the first half of 2022, 443 women have filed new Paragard IUD lawsuits which have been transferred into the MDL. At the end of 2021, there were 736 plaintiffs in the Paragard MDL. As of June 15, the number of pending Paragard cases is 1,195. A large percentage of the 443 new cases this year have been filed recently, with 177 being filed in the last 30 days.
AFFF Firefighting Foam Lawsuit
Aqueous film-forming foam (AFFF) or "firefighting foam" was widely used by fire fighters, airlines, and the military to combat fires fueled by chemicals such as gasoline. Unfortunately, AFFF contains toxic chemicals called PFAS (also known as "forever chemicals") that are harmful to the human body. Studies have shown that chronic exposure to PFAS can cause various types of cancer. This has prompted many with occupational exposure to AFFF foam to file firefighting foam lawsuits.
The AFFF class-action MDL is located in the District of South Carolina. As of June 15, there were 2,586 cases in the AFFF MDL. At the end of 2021 there were 1,976 cases in the MDL. Of the 610 new AFFF firefighting foam cases that have been filed so far in 2022, only half involve claims by individual plaintiffs who developed cancer from AFFF exposure. The other half of the cases involve claims by local governments and municipalities for alleged contamination of the water supply near locations where AFFF was frequently used.
New Class-Action MDLs
Several new class-action MDLs have been created recently that didn't make out hottest or biggest lists either because they are still building momentum, or because they are low-volume, high-value cases.
Infant Formula NEC Lawsuit
Baby formula made from cow's milk can be dangerous for premature infants. It can cause them to develop a potentially deadly infection called NEC. Despite being aware of this danger, formula manufacturers have failed to warn consumers or doctors about the risk of their products for preterm babies. Now the parents of premature babies who developed NEC from cow milk formula are bringing product liability lawsuits against the formula companies.
The formula NEC lawsuits were just recently consolidated into a new MDL in the Northern District of Illinois (Abbott Laboratories Preterm Infant Nutrition Prod. Liab. Lit. – MDL No. 3026). A total of 89 cases are pending in the new formula NEC MDL as of June 15. This means that 37 new NEC cases were transferred into the MDL during the first 30 days. This class-action MDL will never be one of the biggest MDLs because the number of potential plaintiffs is much smaller compared to others. However, these could potentially be very high-value cases involving infant wrongful death claims or a lifetime of medical expenses.
CPAP Recall Lawsuit
In June of last year, home health device manufacturer Philips issued a major recall of all its CPAP and BiPAP machines. The machines are used at night by people with sleep apnea and other conditions. The recall impacted 5 million devices, making it one of the largest consumer health product recalls ever. The recall was launched because foam used in the devices for sound abatement was degrading and causing users to breathe small particles. What made this so harmful is that these particles contained several chemicals that are known to be toxic to humans and linked to cancer.
The Philips CPAP recall sparked a large surge of lawsuits, both consumer class action claims and traditional product liability claims. The product liability cases alleged that users of the recalled CPAP devices developed cancer or other conditions from the foam particles in the devices. In December 2021, the CPAP cases in federal court were centralized in a new MDL in the Western District of Pennsylvania. As of June 15, there were 303 cases in the MDL. This number will continue to grow, however, as more CPAP users develop health conditions related to the foam particles and lawyers start filing large blocks of cases.
Camp Lejeune Water Contamination Lawsuits
Camp Lejeune is a big Marine Corps base in North Carolina. From the early 1950s to the late 1980s, the water supply at Camp Lejeune was contaminated with carcinogenic chemicals. Studies have shown that former residents and employees at Lejeune have suffered higher rates of various types of cancer, birth defects and other adverse health conditions.
For years, victims of the Camp Lejeune water contamination have sought to bring civil negligence claims but have been barred by a strict law in North Carolina. Now, however, Congress is about to pass a new federal law that will give these victims the right to bring claims against the federal government and get tort compensation for injuries related to the Camp Lejeune water. This is NOT a class-action MDL (and it won't be) but it is definitely going to be a mass tort involving thousands of Camp Lejeune lawsuits.
MDL
BELLWETHER TRIAL DATES
CASES
NEXT KEY DATE
Talcum
N/A
Awaiting decision on appeal from bankruptcy proceeding
9/22/2022: oral argument on 3rd Circuit appeal challenging J&J bankruptcy spin-off
Paraquat
7/24/2023:
Case to be named
3/8/2023: deadline for summary judgment and Daubert motions
3M Earplugs
N/A
AFFF
4/1/2023:
Case to be named
12/22/2022: MDL judge will select the first bellwether case for trial
Zantac
7/17/2023:
Case to be named
9/29/2022: hearing on Daubert motions challenging expert causation
Elmiron
1/2/2023
3/1/2023
5/1/2023
Winham v. Janssen (20-cv-1460)
TBD
Manning v. Janssen (21-cv-11942)
9/22/2022: deadline for summary judgment and Daubert motions in bellwether trials
CPAP
N/A
9/25/2022: MDL status conference
Paragard IUD
N/A
9/12/2022: MDL discovery conference
Roundup
11/7/2022
11/29/2022
1/9/2023
1/23/2023
Langford v. Monsanto (California)
Pied v. Monsanto (Hawaii)
Griswold v. Monsanto (St. Louis)
Freiwald v. Monsanto (California)