This page is about Exactech recall lawsuits.  Our knee replacement lawyers are handling Exactech lawsuits in all 50 states.
Our attorneys believe the prospects for high settlements after the Exactech recall are strong if you suffered complications with an Exactech knee, hip, or ankle replacement.
Many victims now getting recall letters from their doctors and calling our Exactech lawyers seeking compensation.
Exactech Recall Lawsuit Updates
November 2022- MDL and State Court Exactech Lawsuits Moving Forward
November 22, 2022: Judge Garaufis held the status conference in the new Exactech class action MDL in federal court last week. At that conference, Judge Garaufis agreed that the federal MDL needed to accelerate in order to catch up to the proceedings in the ongoing Exactech state court MDL in Florida.
To accomplish that goal, Garaufis ordered that new Exactech cases can be filed directly in the MDL. He also adopted a series of accelerated deadlines for the initial MDL housekeeping tasks. Applications for appointment to the plaintiffs' leadership committees will be due next week. A proposed master short-form complaint and a discovery plan will be due about a month later.
November 11, 2022: The Exactech implant recall lawsuits have been grouped into two separate class action MDLs. One MDL is in federal court and the other is a state court version of an MDL in Florida. The Florida class action got a much earlier start. So it is further along than its federal counterpart.
The first status conference in the federal Exactech MDL is next week. Exactech lawyers for the plaintiffs are urging Judge Nicholas G. Garaufis to speed things up a little in order to catch up to the proceedings in Florida.
The motivation behind this may be that the venue for the Florida Exactech cases (Gainesville) is not viewed as a plaintiff-friendly location, particularly compared to New York, where the federal MDL cases are.  But, honestly, these will be hard cases for Exactech to defend in any jurisdiction.
November 5, 2022: As we talked about last month, a new Exactech class action lawsuit was recently created in the Eastern District of New York to handle all Exactech recall lawsuits in the federal court system. Getting less attention is parallel Exactech litigation that is proceeding in state court.
Over 50 Exactech recall lawsuits pending in the Florida state courts have also been consolidated into a state version of an MDL class action. The judge in the Florida state court MDL for the Exactech hip and ankle implant recall cases recently scheduled the first test trial date for November 2023. Consolidated proceedings in Florida state courts are basically identical to federal MDLs.
So this trial will be just like a bellwether trial.  Really, it is a bellwether trial because the jury's payout  – if these cases do not settle before a trial – will help determine the Exactech settlement amounts.
October 2002 – New Exactech Class Action Lawsuit
There is now an Exactech class action lawsuit in New York.  Any Exactech lawsuit filed in federal court will be transferred to Judge Nicholas G. Garaufis in the Eastern District of New York.  More than one-third of the 75 Exactech lawsuits filed in federal court have been filed in that district.
Combining the cases into a single proceeding will increase efficiency and prevent inconsistent pretrial rulings, the US Judicial Panel on Multidistrict Litigation said Friday.
Patients generally claim that their devices prematurely failed, requiring revision surgery and causing personal injuries. They alleged that manufacturing and other problems allowed the liner component to be exposed to excess oxygen, causing it to wear out sooner than expected.
September 2022 – Exactech Cases Continue to Grow
With a new class action MDL looking very likely, the rate of new Exactech implant recall lawsuit filings has increased significantly over the last few months. Since the start of June, 39 new civil lawsuits have been filed against Exactech in federal courts across the country involving its recalled knee and ankle implant systems. A large number of these cases involve multiple plaintiffs. The most popular venue for the new Exactech recall lawsuits continues to be the Eastern District of New York. 16 of the Exactech implant lawsuits filed over the summer were brought in that district.
| | | | |
| --- | --- | --- | --- |
| CASE CAPTION | CASE # | DATE FILED | COURT |
| Bryant v. Exactech, Inc. | 1:2022cv00224 | 9/7/2022 | flndc |
| Gutekunst et al v. Exactech, Inc. et al | 2:2022cv05259 | 9/2/2022 | nyedc |
| Flowers et al v. Exactech Inc | 4:2022cv00772 | 8/30/2022 | aredc |
| Obrien v. Exactech Inc. | 2:2022cv05240 | 8/25/2022 | njdc |
| Gourd v. Exactech, Inc. et al | 3:2022cv01072 | 8/24/2022 | ctdc |
| McGuire et al v. Exactech, Inc. et al | 1:2022cv01487 | 8/19/2022 | ohndc |
| Hoyt et al v. Exactech, Inc. et al | 3:2022cv00568 | 8/18/2022 | lamdc |
| Palmer v. Exactech, Inc. et al | 3:2022cv00423 | 8/17/2022 | kywdc |
| Maresca et al v. Exactech, Inc. | 2:2022cv04786 | 8/15/2022 | nyedc |
| Scherder et al v. Exactech, Inc. et al | 2:2022cv04788 | 8/15/2022 | nyedc |
| Edward Watson v. Exactech, Inc. et al | 2:2022cv04655 | 8/8/2022 | nyedc |
| White  v. Midway Medical Products, Inc. et al | 1:2022cv03969 | 7/29/2022 | ilndc |
| Greene v. Exactech, Inc. et al | 2:2022cv04488 | 7/29/2022 | nyedc |
| Romano et al v. Exactech, Inc. et al | 1:2022cv01846 | 7/26/2022 | mddc |
| Bellian et al v. Exactech, Inc. et al | 5:2022cv01320 | 7/26/2022 | ohndc |
| Reyes v. Exactech, Inc. | 2:2022cv04330 | 7/22/2022 | nyedc |
| Camp v. Exactech Inc. | 2:2022cv02895 | 7/22/2022 | paedc |
| Dellanno et al v. Exactech, Inc. et al | 2:2022cv04243 | 7/19/2022 | nyedc |
| Kenney et al v. Exactech Inc et al | 3:2022cv01554 | 7/18/2022 | txndc |
| Gelfand et al v. Exactech, Inc. et al | 2:2022cv04160 | 7/15/2022 | nyedc |
| Bindel v. Exactech, Inc. et al | 2:2022cv04142 | 7/14/2022 | nyedc |
| Decorate v. Exactech Inc. | 3:2022cv04559 | 7/13/2022 | njdc |
| Perez v. Exactech, Inc. et al | 1:2022cv05863 | 7/9/2022 | nysdc |
| Matchett  et al v. Exactech, Inc. et al | 1:2022cv05864 | 7/9/2022 | nysdc |
| Furey et al v. Exactech, Inc. | 2:2022cv03958 | 7/6/2022 | nyedc |
| David G. Lemak v. Exactech, Inc. et al | 2:2022cv00832 | 7/5/2022 | alndc |
| Zeevalk v. Exactech, Inc. | 3:2022cv04399 | 7/1/2022 | njdc |
| Allen v. Exactech, Inc. et al | 1:2022cv03867 | 6/30/2022 | nyedc |
| Hahn v. Exactech, Inc. et al | 2:2022cv03718 | 6/23/2022 | nyedc |
| Gega et al v. Exactech, Inc. et al | 1:2022cv03720 | 6/23/2022 | nyedc |
| Gehm v. Exactech, Inc. et al | 3:2022cv00673 | 6/23/2022 | nyndc |
| Wilder v. Exactech, Inc., et al | 1:2022cv01237 | 6/21/2022 | insdc |
| Carolina v. Exactech, Inc. et al | 1:2022cv01511 | 6/16/2022 | codc |
| Richard Reilly v. Exactech, Inc. et al | 2:2022cv04106 | 6/15/2022 | cacdc |
| Brickman v. Exactech Inc. | 2:2022cv02339 | 6/14/2022 | paedc |
| Afzali v. Exactech, Inc. et al | 2:2022cv03455 | 6/11/2022 | nyedc |
| Cuneo et al v. Exactech, Inc. et al | 2:2022cv03456 | 6/11/2022 | nyedc |
| Insdorf et al v. Exactech, Inc. et al | 1:2022cv04885 | 6/10/2022 | nysdc |
June 2022 – Exactech Lawsuit Update
Before we get into the substance of the Exactech lawsuit, let's look at where we are in June 2022, four months into the recall and this litigation.
Fewer Exactech Lawsuits Than Expected
Our Exactech lawyers are getting calls every day from victims every day who have received a letter from their doctor notifying them of the Exactech recall.   Are we getting as many calls as our attorneys expected four months into the litigation?  No.
Exactech Lawsuit Numbers
Our lawyers have said the rate of new Exactech implant recall lawsuits being filed has been low so far. Let's put that in some context.  Our Exactech attorneys found only nine new recall lawsuits filed in federal court in May and only eight in April.
This is not a lot of lawsuits for what our lawyers thought would be a large mass tort.  The Exactech recall impacted an estimated 150,000 patients. But, still in June 2022, too many of them are still unaware of the recall because Exactech is only notifying orthopedic doctors.
What will change this? When Exactech lawyers start hitting the airwaves to increase awareness.  Once more people start getting notice of the recall and the lawsuits, we expect a sharp rise in the number of new Exactech lawsuits.  That, in turn, will lead to a class action lawsuit that will bring media attention. All this will create a flywheel effect of getting the word out.
Victims Do Not Know the Manufacturer of Their Knee or Hip Implant
Every Exactech lawyer we have spoken with has said the same thing.  Victims don't know what kind of knee or hip replacement product they have.  They only figure it out when they are notified by their doctor.
Exactech Letters to Patients Are Not Going Out
What we have figured out is that only a very small percentage of patients with Exactech implants have been notified about the recall. Exactech provided orthopedic surgeons with a form letter to send out to patients notifying them about the Exactech recall.
But that's it. There is no follow-up system to ensure that these letters are being sent out. It is becoming clear that very few of the estimated 150,000 patients with Exactech implants remain unaware of the recall.
Doctors Need to Get Exactech Letters Out
This may change – doctors are slow pushing the ball forward on these things.  But the reality is that the statute of limitations could pass for many victims who did not attribute the complications they are having to the Exactech recall.
Hidden Settlement Upside for Exactech Plaintiffs in Smaller Litigation
If the number of plaintiffs stays lower than expected, that could lead to higher settlements for plaintiffs who do bring an Exactech lawsuit. Why?  At least on some level, a smaller pool of plaintiffs makes the lawsuits easier for Exactech to settle, which could push Exactech settlement amounts higher.
Exactech Recall
A sweeping recall of the Exactech knee and ankle replacement systems was recently announced after it was discovered that they contained a defective plastic insert component that causes them to fail prematurely.
Individuals who had an Exactech ankle, knee, or hip replacement system surgically implanted and experienced an early failure event may be able to file a Truliant, Vantage, Connexion, or Opterak recall lawsuit against Exactech and get financial compensation.
About the Recalled Exactech Knee Replacement Systems
Exactech is an international medical device company based in Gainesville, FL that specializes in surgical implants used in joint replacement surgeries.
In August 2021, Exactech announced a major recall of all of its knee and ankle arthroplasty polyethylene inserts. The insert systems have been around since 2004 and are used in approximately 140,000 knee and ankle replacement surgeries. The Exactech insert systems that are covered by the recall include:
| | |
| --- | --- |
| System | Release Date |
| OPTETRAK® | 1994 |
| OPTETRAK Logic® | 2009 |
| TRULIANT® | 2017 |
| VANTAGE® | 2016 |
Exactech Had No Protection from Oxygen
Exactech issued the recall after discovering that the polyethylene insert components of all systems made after 2004 were packaged in defective vacuum-seal bags. The defective packing caused the oxidation of the polyethylene insert material.
Oxygen does not sound bad, right?  It is essential for life.  But oxidation causes the component parts of the Optetrak, Truliant, and Vantage to significantly degrade over time. This defect will be the core of any Exactech knee replacement lawsuit.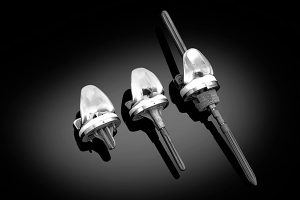 The Answer for Many Patients is Revision Surgery
The degrading of the insert component caused it to fracture or crack after a comparatively short time resulting in early failure of the implant system.
Patients who experience this failure experience pain and eventually have to undergo corrective revision surgery. The defective packaging appears to have resulted in a significantly higher revision surgery rate.
No one wants to have unnecessary second knee surgery.
What Should Patients with Recalled Exactech Systems Do?
Exactech has advised all surgeons to stop implanting all Exactech knee and ankle replacement systems in patients. All existing inventory of recalled devices should be returned to the company. For all patients who already have one of the recalled Exactech systems implanted, the company is advising doctors to maintain an index of those patients and closely monitor them for signs of potential insert failure.
Symptoms that your Exactech knee or ankle replacement system may have a failed or defective insert include:
pain
inability to bear weight on joint
grinding noise in joint, swelling,
instability in the knee or ankle.
When a failed device is suspected, surgeons are instructed to take X-rays to evaluate the status of the Exactech Optetrak, Truliant, or Vantage implant.
If the patient is not experiencing pain, decreased mobility, or other adverse symptoms of implant failure, preemptive surgery to remove the device is not recommended.
The decision as to when surgical removal and replacement is appropriate should be made on a case-by-case basis between doctor and patient.
For patients who are experiencing pain, lack of mobility, or other clear symptoms that the implant has failed, revision surgery is often the appropriate option.
Exactech Implant Lawsuits
You may be entitled to financial compensation if you had a recalled Exactech replacement system surgically implanted in your knee or ankle and the insert component of that system failed, requiring corrective surgery.  As we take about below, our lawyers believe the knee replacement settlement amounts in a recall like this requiring revision surgery will probably be high.
Manufacturers like Exactech have a legal obligation to ensure that their products are safe in their design, manufacture, and packing and that they do not cause harm. Exactech's recall acknowledges that all knee and ankle replacement products made since 2004 were defective and subject to high failure rates.
Example of Recent Exactech Knee Implant Lawsuit
The case of Rex Foxwell, et al. v. Exactech Inc. (1:22-cv-1027), filed in the U.S. District Court for the District of Maryland on April 26, 2022, is a very recent example of an Exactech recall lawsuit. The plaintiffs, Rex Foxwell and his wife Lee Foxwell, are residents of Sussex County, Delaware. The product at issue in the case is the Exactech Optetrak® knee replacement system.
The 49-page Complaint in the Foxwell case is similar to the complaints filed in many other recent Exactech recall lawsuits. Paragraphs 27 to 65 of the Complaint set forth the detailed history of Exactech's Optetrak knee replacement implant system. This history begins with a description of Exactech's initial design and development of the Optetrak the 501(k) "fast-track" FDA approvals over the years.
The Complaint also lays out the long history of problems with the Exactech knee implants and their abnormally high failure rate. The Complaint alleges that Exactech knew for years that the Optetrak knee implants had an extremely high rate of early failure, but continued to manufacture and sell the implants without warning doctors or patients:
At all times relevant to this action, [Exactech was] aware of the problems with the Optetrak devices' design and their propensity to undergo substantial early polyethylene wear, component loosening and/or other failure causing serious complications including tissue damage, osteolysis, and other injuries as well as the need for revision surgery in patients. Nonetheless, [Exactech] failed to adequately warn patients, the medical community, or the public about these risks, and continued and continued to promote, market, sell and defend the Optetrak devices without limitation until February 7, 2022.
Foxwell Cmpl. ¶ 60.
The plaintiff, Rex Foxwell, underwent a total knee replacement surgery in December 2010, during which he had an Exactech Optetrek system implanted in his left knee. Five months later in April 2011, Foxwell had the same surgery performed on his right knee and another Optetrak implant was used.
Although Foxwell's Optetrak implants functioned properly at first, after a few years they began to fail. Foxwell began to experience significant swelling in his knees and legs and eventually experienced significant stiffness and grinding in his knee joints. In November 2021, Foxwell had to undergo revision surgery at which point it was discovered that his Exactech implant had failed.
Foxwell's Complaint asserts 4 primary causes of action against Exactech: Strict Liability (Manufacturing Defect), Strict Liability (Design Defect), Strict Liability (Failure to Warn), and Negligence. The manufacturing defect claim is likely the strongest because Exactech's recall notice in February 2022 is essentially an admission that its implants were sold with defectively manufactured packaging.
Compensation for Revision Surgery
Patients who required corrective revision surgery because of a defective Exactech implant can file a product liability lawsuit against the manufacturer and seek financial compensation.
Plaintiffs who bring a successful Exactech knee or ankle implant lawsuit would be entitled to monetary damages for pain and suffering as well as the medical expenses incurred in any corrective revision surgery or related medical treatment. Damages for lost income can also be awarded.
Find out if your doctor was using Exactech
Notice of Dear Doctor letter (these are coming out slowly)
Exactech Claims Process
Exactech has implemented a claim system for patients with defective Exactech implants to submit a claim and get reimbursement for any out-of-pocket costs related to their defective implant.
Information on the claims process is available on the Exactech claims website. It is very important to understand, however, that patients who chose to file a claim for reimbursement with Exactech may waive their right to file a product liability lawsuit against the company.  Talk to an Exactech recall lawyer – us or anyone – before you agree to anything with Exactech because you do not want to lose your right to compensation payout from the 2022 Exactech recall.
Previous Exactech Knee Implant Lawsuits
This is not the first time Exactech has faced litigation over problems with its knee replacement implants. Back in 2017, Exactech found itself defending product liability lawsuits involving abnormally high failure rates associated with its OPTETRAK knee replacement system.
If you read those Exactech lawsuits, you can see that the plaintiffs' lawyers knew something was wrong with the Opterak, Truliant, and Vantage but they did not know what it was.  Now with the recall, we understand the problem.  It appears that at least some of these failures may have been related to the defective packaging and degradation of the polyethylene insert component.
What Are Potential Settlement Amounts for Exactech Recall Lawsuits?
There have not yet been any reported settlements or verdicts in an Exactech knee implant lawsuit. So our knee replacement lawyers don't know for sure what the potential settlement amounts of these recall lawsuits might be. However, our Exactech lawyers think the 2021 Exactech recall lawsuits will have a settlement compensation payouts similar to tort cases involving faulty knee replacement and moderate knee injuries.
The average settlement amount in the Sulzer Medica knee replacement cases was over $200,000 per plaintiff.  Those settlements were 20 years ago.  So if we bake in inflation and rising medical costs in 2022, we could be looking at average settlement amounts between $300,000 and $400,000.
A more conservative approach would involve looking at using the average compensation payout in personal injury cases involving knee injuries as a benchmark.  That average settlement is between $70,000 to $150,000. This would be a more conservative figure than using Sulzer Medica as a guide. Lawsuits involving defective ankle implants may have a slightly lower value.
Of course, a lot can happen between now and the end of an Exactech class action lawsuit. So these estimates – and our lawyers have offered a wide range of possible average knee replacement settlement amounts for this recall – are very speculative.
Example Exactech Lawsuit
Let's take a look at an example of a recently filed Exactech lawsuit that recites typical facts in these claims.
Daniel Carson went into St. Thomas More Hospital in Canon City, Colorado for a total knee arthroplasty (TKA) for his left knee. The replacement failed. Carson was diagnosed with a failed left complete knee replacement, extensive osteolysis, and a periprosthetic tibia fracture with substantial bone loss less than a year later at St. Luke's Hospital in Denver Colorado. He had to have knee revision surgery to repair the complications that his first TKA caused him because of the unsuccessful replacement. The revision surgery was tasked with repairing parts of Carson's tibia and femur, which had been severely compromised due to the failed implant. While the revision operation was successful, the damage to his left leg caused by the TKA surgery may end in amputation above the knee. The implants that Cason had featured Exactech's
OPTETRAK Asymetric Femoral
OPTETRAK Logic Fit Tibial Tray
OPTETRAK CR Slope
OPTETRAK 1 Peg Patella.
Carson hired an Exactech lawyer and filed a lawsuit.  The implant, the OPTETRAK®, was recalled in August 2021 and again in February 2022 due to enhanced results of failure in the device.
His Exactech lawsuit argues that testing and complaints before his initial TKA showed Exactech new (or should have known) that compared to other devices, the OPTETRAK, had a higher risk of failing. Specifically, the CR Slope, a part of the TKA Carson originally had, was a part of the recall due to faulty packaging which led to oxidation of the hardware.
This oxidation meant the implant had a higher risk of revision surgery due to injuries including tissue damage, osteolysis, etc.  His Exactech recall lawsuit alleges that at the time of Carson's surgery, Exactech knew about the injuries and risks related to the premature failure of the OPTETRAK systems. But instead of issuing an Exactech recall, it continued to make money off selling this defective product.  Of course, we now know that Exactech ultimately recalled over 140,000 defective knee implants after Carson's revision surgery because they were packaged in "out-of-specification" vacuum bags that exposed the plastic components to oxygen before they were implanted.
Is There Any Hospital That Especially Seemed to Use Exactech?
The Hospital for Special Surgery in New York may have impacted thousands of components subject to the Exactech recall.  Our lawyers are still learning more about the doctors who used the most components in the Exactech recall.  Our Exactech lawyers are handling these lawsuits in all 50 states. But our attorneys believe there are particular facilities in New York, California, and Florida, with the Hospital for Special Surgery in New York being a particular focus, that will be prominent in the Exactech recall lawsuit.
Get Exactech Knee Recall Implant Lawsuit Lawyer

If your Exactech knee replacement implant failed and you had to undergo corrective surgery,  our lawyers can help you.  Call our law firm today at 800-553-8082 or get a  free online consultation today to see if you have a case.