Round 4 of the 3M earplug lawsuits bellwether trials in the 3M earplugs litigation ended in the biggest and most decisive victory for the plaintiffs to date.  Earlier this month, on October 1st, a federal court jury in Sarasota, Florida awarded army vet Brandon Atkins an $8.2 million verdict in his defective earplugs case against 3M.  Unfortunately the next case on October 29, 2021 went to the plaintiffs with a defense verdict in Blum.
3M Earplug Lawsuit Claims Against 3M
Atkins, along with over 200,000 other plaintiffs in the Combat Arms earplugs litigation, claimed that 3M's defective earplugs failed to protect him from hearing damage during his time in the Army. Atkins asserted alleged that he suffered hearing loss and tinnitus as a result of the defective earplugs and he asserted 5 different tort claims against 3M:
Strict Liability – Design Defect
Strict Liability – Failure to Warn
Negligence – Failure to Warn
Fraudulent Misrepresentation
Fraudulent Concealment
Adkins Jury Found for Soldier on All Five Claims
The jury found that Atkins had proven all five of these claims with clear and convincing evidence. The jury awarded Atkins $8,200,000 in damages. This award was comprised entirely of "noneconomic" compensatory damages for Atkins' physical and mental "pain and suffering."
The $8.2 million did not include any economic damages for medical expenses or lost income. It also did not include any punitive damages against 3M.
Jury Rejects 3M's Affirmative Defenses
3M had asserted 2 "affirmative defenses" in the Atkins case.
Earplug Statute of Limitations
The first affirmative defense argued that Atkins' claims were time-barred under the applicable statute of limitations. Like many of the plaintiffs in the 3M earplug lawsuits, Mr. Atkins did not file his lawsuit until many years after he suffered his hearing damage. 3M argued that this meant his lawsuit was time-barred.
Atkins' responded that 3M actively concealed the defects in their earplugs for years and, therefore, was not entitled to assert a statute of limitations defense. The jury agreed with Atkins and flatly rejected 3M's statute of limitations defense.
Contributory Negligence
3M had also raised an "apportionment" defense based on contributory negligence principles. This defense asserted that the Army and Atkins himself should be held partly responsible for what happened. 3M claimed that the Army shared responsibility for failing to properly train or instruct Atkins on the use of the earplugs. They claimed that Atkins was at fault for not following instructions and/or not properly using the earplugs.
In the last 3M earplug bellwether trial, this apportionment defense was partly successful and resulted in a 38% reduction in damages against 3M. In the Atkins trial, however, the effort to deflect blame went nowhere. The Atkins jury flatly rejected 3M's apportionment defense and found that 3M was 100% at fault.
Adkins Jury Found Against 3M… Quickly
The jury didn't take very much time to reach this verdict. They were sent back for deliberations shortly after 9:00 am. At around 11:30 the jury sent a communication to the judge and then had lunch. The jury sent another request to the judge after their lunch break. Less than 20 minutes after this request, the jury formally reached their verdict and it was all over before 2:00 pm.
Atkins Verdict Marks Biggest Win for 3M Earplug Plaintiffs
Atkins was the 4th bellwether trial in the 3M earplug lawsuits. 3 of the 4 trials have now resulted in victories of the plaintiffs, but the verdict in the Atkins trial is easily the most significant win for earplug plaintiffs. It is also the most damaging loss for 3M.
There are several reasons why Atkins is a much bigger victory for 3M earplug plaintiffs than the previous 2 trials that resulted in plaintiff verdicts.
First and foremost, the Atkins case was a "defense pick." In bellwether trials, the plaintiffs get to pick some of the cases for trial and the defendants get to pick some of the cases. The defendants pick cases that are more favorable and give them a better chance of winning.
Atkins was a case that was hand-picked by 3M's defense team because they thought Atkins gave them a good chance of winning. The last "defense pick" by 3M was the 2nd bellwether trial, which resulted in a defense verdict. The fact that 3M suffered such a definitive defeat in a case that they picked for trial makes the loss much more damaging.
The other reason Atkins is such a resounding win for plaintiffs in the 3M earplugs litigation is the size of the verdict and the rejection of 3M's affirmative defenses. The $8.2 million verdict for Atkins dwarfs the damage awards in the previous earplug bellwether trials.
Each of the 3 plaintiffs in the first trial got around $2.3 million. The plaintiff in the third trial got $1.7, but it was reduced to $1.1 based on 3M's comparative negligence defense.
This works out to an average of about $2 million per plaintiff (not including the 2nd trial which resulted in a defense verdict). The $8.2 million awarded to Atkins is a four-fold increase over this average.
What makes the damage award in Atkins even more impressive is that it was all based on pain & suffering. None of the $8.2 million was for medical expenses or punitive damages.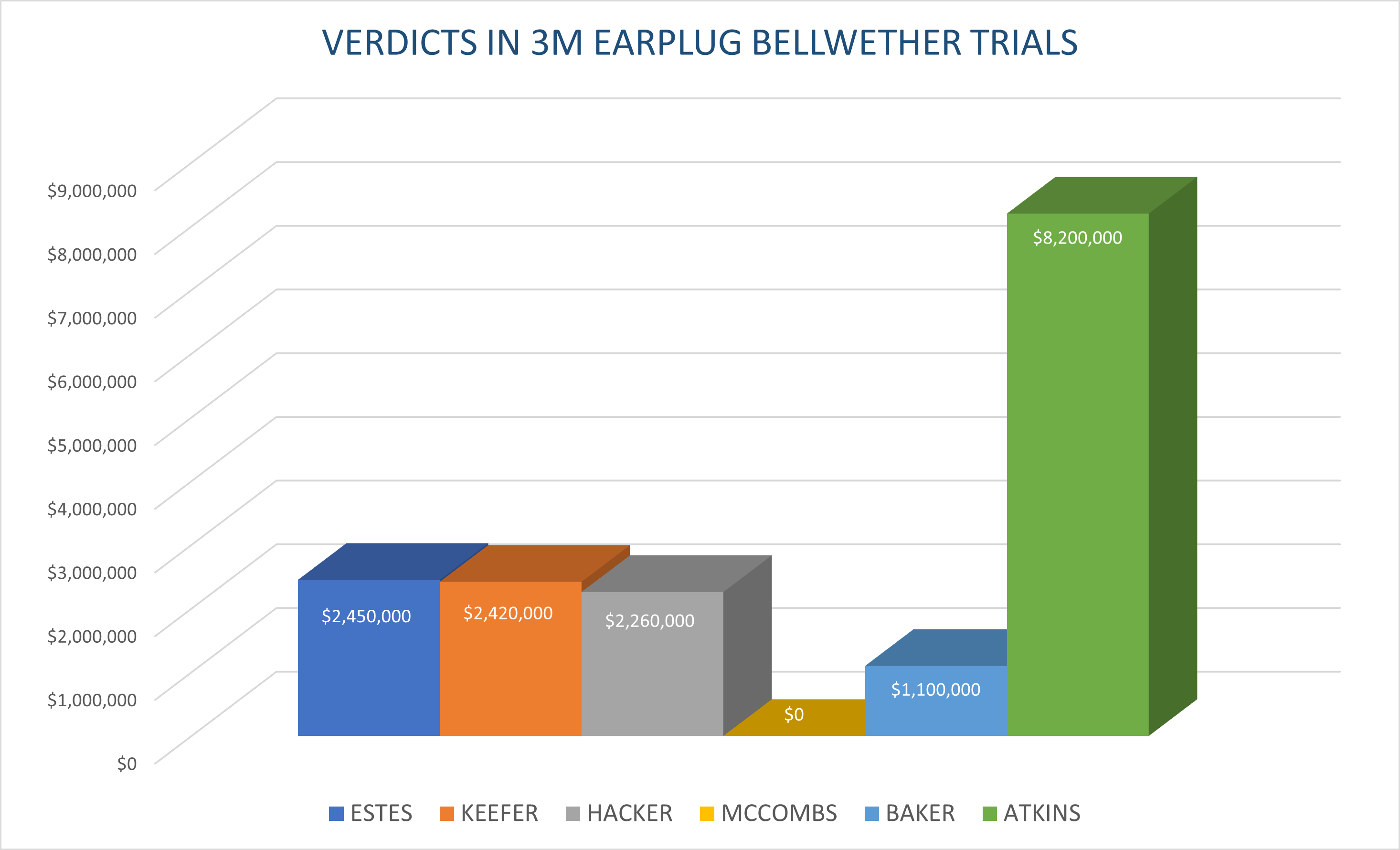 PLAINTIFF
SELECTION BIAS
RESULT
 

Luke Estes

Pro-Plaintiff

$2,450,000

 

Lewis Keefer

Neutral

$2,420,000

 

Stephen Hacker

Pro-Defendant

$2,260,000

 

Dustin McCombs

Pro-Defendant

LOST

 

Llyod Baker

Pro-Plaintiff

$1,100,000

Brandon Atkins

 

Pro-Defendant

$8,200,000
How to Qualify for the 3M Lawsuit?
Most 3M earplug lawyers will require that a potential plaintiff have a diagnosed hearing related injury after military service and the use of 3M earplugs in combat or training where loud noises may have caused tinnitus or hearing loss.
How Long Will the 3M Earplug Lawsuit Take?
I'm the wrong person to ask the question of how long the 3M earplug lawsuit will take. I did not think 3M would let all these lawsuits go to trial without trying to settle some of the claims first. I thought - foolishly, I guess - that they would realize that these are really hard cases for 3M to win and they would not want to risk raising expectations. So my answer to the "how long will it take" question is that I have no idea.
I think, paradoxically, while these verdicts are increasing future settlement compensation payouts for victims, these wins will slow down settlements.  Because big verdicts increase settlement expectations.  A quarter of a million victims now see that their case at trial could be worth millions.
What's Next for the 3M Earplugs Lawsuits?
The 5th bellwether trial in the 3M earplugs litigation began on October 18, 2021.
So far, all indications are that 3M plans to go ahead with this trial. After that trial, however, the schedule moving forward becomes much more aggressive. The judge in the Earplugs MDL has ordered the parties to complete 5 more bellwether trials from November 2021 to February 2022.
Another big loss for 3M next month and the prospect of 5 more trials over the winter could prompt 3M to finally come to the negotiating table and pause any further trials.