On May 28, 2021, 3M won their first trial in the 3M earplug lawsuits.  The jury found that an Ohio Army veteran's tinnitus was not caused by 3M's negligence in selling and distributing the Combat Arms earplugs.
So we are now 1-1.  On April 30, 2021, 3M earplug verdict enjoyed a huge win: $7.1 million for three plaintiffs.  The jury kicked in $2.1 million in punitive damages.  Why?  They didn't just find 3M negligent in manufacturing the Combat Arms earplugs.  The jury thought 3M need to learn a lesson for what it did to these victims.
So we have one win and one loss.  Our lawyers still believe in these cases.  Call our 3M earplug lawyers today at 800-553-8082 or contact us online for a free 3M earplug lawsuit consultation.
The stakes could not be higher. Over 235,000 current and former service members have already filed similar lawsuits that allege that the earplug's defective design causes hearing impairments.  Another win for plaintiffs would certainly push the settlement payouts in 3M earplug lawsuits higher.
3M's dual-ended earplugs
To recap how we got here, 3M's Combat Arms Earplugs, Version 2 (CAEv2) were designed to protect users' ears from loud sounds while allowing them to hear softer ones. Its ends comprise three rubbery flanges. The green-colored end blocks all sound like conventional earplugs. By contrast, the yellow-colored end blocks loud sounds like explosions but allows users to hear speech. Aearo Technologies initially manufactured them in the late 1990s. In 2008, it was bought by 3M.
Between 2003 and 2015, the U.S. military issued dual-ended earplugs to all military personnel. In 2006, the U.S. government contracted with Aearo for the company to be the exclusive supplier and manufacturer of earplugs used by military personnel.  You know what they did. They make these things for less than a dollar and sold them for a great deal more – almost $8 – to the military.
In my particular line of work, it is pretty easy to poke at Aearo for ripping off the federal government as the military looks for the best ways to protect its soldiers from injury.  Is it a good look?  It is not a good look.  But it is harder to provoke outrage in 2021.  We have all seen too much last year.  And I've never run a Fortune 100 company.  Maybe the outrageous price was actually not that outrageous.  But the larger point: for the profit they were making, shouldn't the company be required to make sure the earplugs actually, oh I don't know, work?
The allegations against 3M
The lawsuits on 3M's combat earplugs allege that its stem was too short for a snug fit in many users' ears. They alleged that this defect exposed service members to loud sounds including roadside explosions. This defeats the earplug's purpose by exposing its users to the sounds it was intended to protect them from.
Aearo's Mistakes
Over 20 years ago, Aearo scientists committed questionable practices that allowed its dual-ended earplugs to remain in the market without addressing its defect. Around late 1999, then-Aearo scientist Elliott Berger disclosed to Brian Myers, Aearo's Senior Marketing Director, that they never tested the earplugs in an email. By that time, the military had already purchased 2,000 pairs.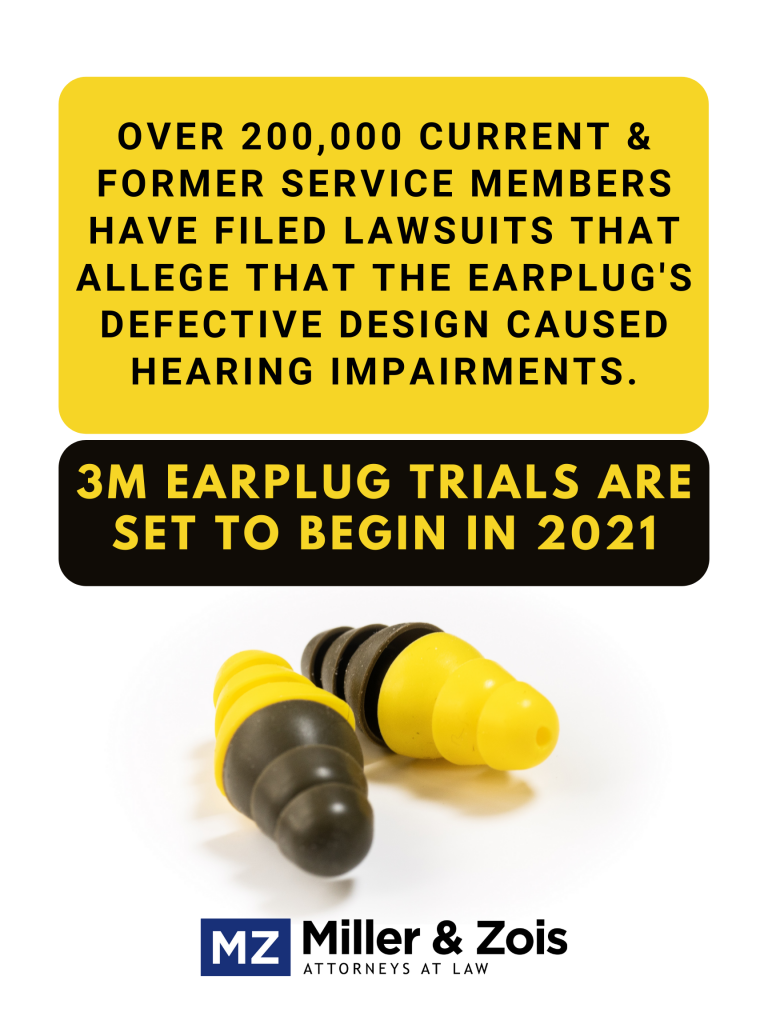 Several months later, Berger and another scientist, Ronald Kieper, finally tested the earplugs. They halted the first trial, which involved only eight subjects, after finding that the earplugs inadequately protected users' hearing.
Berger and Kieper discovered that the stem was too short. Instead of redesigning the earplugs, the scientists folded back the flanges. This practice yielded better results. The scientists also yielded more desirable results by rounding the numbers.
In several emails to Myers, Berger appeared to suggest that these earplugs could still be sold if the package instructions recommended folding the flanges back. All these accounts reveal that the Aearo scientists knew of the defect but chose not to redesign the earplugs. It shows that it put profits ahead of public safety.
Service-related hearing impairments
Hearing loss is very common among both active-duty personnel and veterans. According to the VA, hearing impairments are the most common service-related disability.
The CDC reported that Afghanistan and Iraq war veterans were four times more likely to suffer from hearing impairments than non-veterans. Over two million veterans received disability for hearing impairments in 2017.
High-intensity noise was the most common cause of hearing impairments. This is because many service members were exposed to the sound of roadside bombs while serving in Iraq and Afghanistan.
Tinnitus appeared to negatively affect service members' mental health. A 2015 study found that around 80 percent of tinnitus-suffering veterans had anxiety, about 60 percent had depression, and about 58 percent had both.
The reason why these rates are high is that many service members with tinnitus developed it after being exposed to loud roadside explosions. Tinnitus is a painful reminder of their traumatic experiences.
July 2018 $9.1 million settlement  
Around July 2018, 3M and the Department of Justice agreed to a $9.1 million settlement. It resolved a lawsuit alleging that 3M knowingly defective earplugs to the military without disclosing the defect.
The lawsuit was filed under the False Claim Act's whistleblower provisions. The whistleblower, bless his or her heart, received $1,911,000 from the settlement.
April 2019 MDL consolidation
Around April 2019, claims for 3M's combat earplugs were consolidated into an MDL in the U.S. District Court of the Northern District of Florida. They allege that the 3M's defective earplugs caused either hearing loss or tinnitus in military personnel. These lawsuits intend to examine how the earplugs were designed, tested, sold, and marketed.
April and May 2021 bellwether trials: One Win and One Loss
Around late June 2020, Judge M. Casey Rodgers of the Northern District of Florida announced that the first bellwether trial on 3M's combat earplugs will begin on April 5, 2021. She selected a few cases to gauge potential jury responses to evidence and testimony on the earplug's association with hearing loss.
About six months later, Judge Rodgers announced that the upcoming bellwether trial in April will involve three claims. Earlier that month, the plaintiffs requested that Judge Rodgers consolidate five separate claims into a single trial. The two requested cases excluded from the bellwether will individually proceed before juries in May and June.
As we mentioned, the first trial was a huge success: $7.1 million.  The second trial ended in a defense verdict for 3M.
3M Earplug Lawsuit Lawyer
Our lawyers believed in these claims from the very beginning.  Call us today at 800-553-8082 or contact us online for a free 3M earplug lawsuit consultation.