The 8th bellwether trial in the massive 3M earplugs litigation concluded last week with a $22.5 million verdict for the plaintiff. This is the biggest verdict so far in the 3M earplug bellwether trials and it marks the second jury in a row that has hit 3M with significant punitive damages. In this post, we will take a closer look at this most recent verdict and what it could mean for the future of the 3M earplug lawsuits.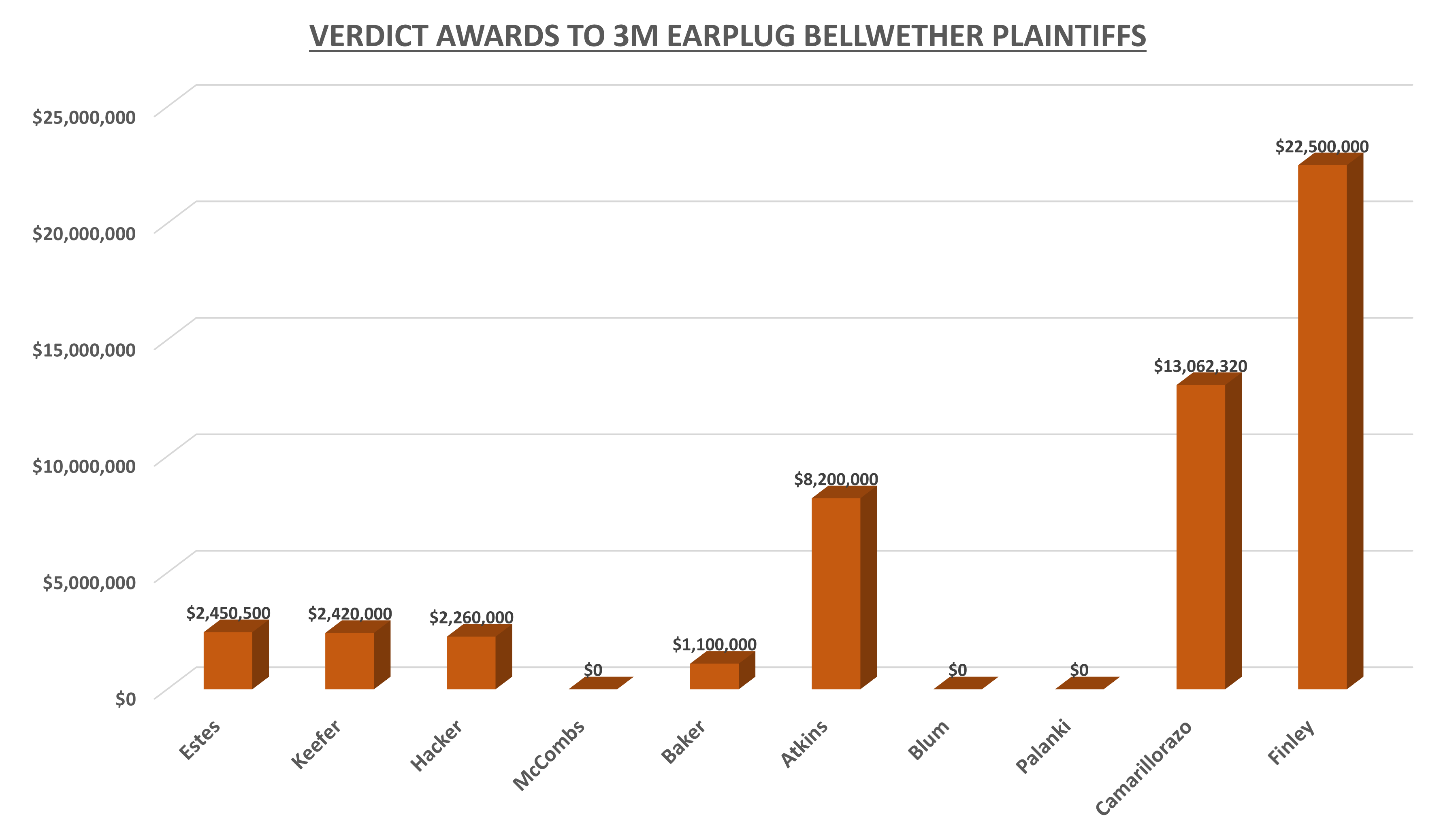 Facts in Finley Case
Finley exclusively wore the CAEv2 during boot camp, training (2006-2007), and during deployment in Afghanistan (2008-2009).
Finley was not hanging out in Green Zone in Afghanistan. He was a driver who went on daily dangerous patrols into neighboring villages so his commander could meet with village leaders to build relationships and obtain useful intelligence on the Taliban.
Finley's team was a primary target for the Taliban. His unit was under daily attack and enemy gunfire. Finley's military records document over 450 gun battles.
True Hero
Again, Finley is the first combat veteran to go to trial and this was one of the reasons his case was pushed forward by plaintiffs' lawyers.
Finley survived two RPG attacks and sustained a traumatic brain injury (TBI)  during these battles. He also received a Purple Heart for wound during a gun battle and was awarded the Purple Heart. He was awarded accommodations with valor due to his efforts in saving the lives of his entire team and base commander after being wounded during one of the RPG attacks. He was nominated for Bronze Star but received the valor award instead.
The 8th bellwether trial in the 3M Combat Arms MDL came in the case of Theodore Finley v. 3M Co. (7:20-cv-170). Finley served in the Army from 2006 to 2014 and he was issued 3M Combat Arms earplugs for protection during that entire time. Finley was involved in actual combat during his time in the Army, including a tour in Afghanistan during which his armored transport vehicle was hit with a rocket grenade.
Finley filed his earplug lawsuit against 3M in early 2020 alleging that the defective design of the 3M earplugs caused him to suffer hearing damage and tinnitus. Finely's claims were supported by expert medical witnesses who performed testing and determined that Finley had bilateral tinnitus and noise-induced hearing loss caused by a lack of protection from the 3M earplugs.
The Finley trial began on November 28, 2021, in federal court in Tallahassee.  At trial, 3M attempted to show that Finley's hearing loss was not related to problems with the 3M earplugs, but rather that his hearing issues were caused by other factors. 3M's defense team also sought to discredit Finley's claims that he has suffered extensive emotional distress as a direct result of his hearing loss. Specifically, 3M's lawyers sought to identify many other events in Finley's personal life that could have been the cause of emotional distress.
The testimony in the Finley trial last about 2 weeks and on Friday morning last week, the jury received its final instructions. After deliberating for several hours, the jury came back with a verdict Friday evening. The jury found that Finley had proven all of his tort claims and they found that 3M was 100% at fault. The jury awarded Finley total damages of $22,500,000, which broke down as follows:
Past Pain & Suffering         =          $1,500,000
Future Pain & Suffering      =          $6,000,000
Punitive Damages               =          $15,000,000
Significance of the Finley Verdict
The Finley verdict is significant in several respects. First, Finley was a plaintiffs' lawyers' pick If the Finley trial were an NFL football game, 3M probably would have been a 3-point favorite to win. 3M suffering such a major loss in the last trial of 2021 may help to break their resolve.
The other significant aspect of the Finley verdict is the amount of money awarded. The $22.5 million verdict is by far the biggest amount awarded to any 3M bellwether plaintiff so far. Moreover, the Finely verdict included $15 million in punitive damages against 3M. This is now the 3rd time a jury has hit 3M with punitive damages and that has to be very concerning for 3M's defense team.
3M's Defense in Finley
3M was eager to emphasize at trial that Finley did not wear earplugs 24 hours a day. So he did not always have his earplugs in when combat broke out unexpectedly.  Of course, every soldier in combat would have to say the same thing.
Hearing Testing Matters
One of the great strengths of the plaintiffs' case in the 3M earplug lawsuits is that the military provides hearing tests for soldiers. Finley's audiograms were normal before deployment. His first post-deployment audiogram showed a significant threshold shift in his left ear. His testing showed a shooter's notch between 4000-6000hz on the left. This is what you would expect for a hearing injury in combat from a right-handed shooting soldier. This was strong evidence for the jury.
Past Results in 3M Earplug Bellwether Trials
There are currently about 272,000 pending cases against 3M Company involving alleged defects in the company's Combat Arms earplugs. A small sample group of about 20 of these cases has been picked out for bellwether test trials. The plaintiffs and defendants each take turns selecting individual cases for bellwether cases. "Defense pick" cases are going to be weak claims that the defense is more likely to win.  By contrast, a "plaintiff pick" it is going to be a very strong case that the plaintiffs are more likely to win.
So far there have been 8 bellwether trials in total. 3 of the bellwether trials have resulted in defense verdicts in favor of 3M. 5 of the trials have resulted in verdicts for the plaintiffs. Looking at the prior results by round is somewhat misleading, however, because the first bellwether trial presented the claims of 3 individual plaintiffs.  So there have actually been a total of 10 bellwether plaintiffs. 7 out of these 10 plaintiffs have been awarded compensation against 3M.
The total amount of damages awarded against 3M so far in the bellwether trials is $51,992,470. Punitive damages against 3M account for $33.5 million of this. The average damages awarded to the 7 successful bellwether plaintiffs in the earplug litigation is $5.19 million.
Hiring Our 3M Earplug Lawsuit Lawyer
If you have a 3m earplug lawsuit you may want to bring, there are deadlines to bring a claim.   Call a 3M earplug lawyer today.  You can reach our earplug attorneys at 800-553-8082 for a free consultation. You can also get a no-obligation free online consultation.