Yesterday, I wrote an article noting a Danish study that concluded that there were no long-term cancer risks associated with NDMA-contaminated valsartan tablets. While NDMA might not have long-term cancer risk effects, it is not the only impurity found in valsartan.
On September 13, Health Canada announced that another impurity, N-nitrosodiethylamine (NDEA), was found in valsartan that was manufactured by Zeijiang Huahai Pharmaceuticals (ZHP) in China.
The FDA also discovered NDEA in some ZHP-manufactured valsartan through testing. According to the European Medicines Agency (EMA), NDEA has been found in valsartan made by ZHP since it changed its manufacturing process in 2012. NDEA, like NDMA, is classified as a possible human carcinogen.
This is the sort of information that will fuel the passion of those considering bringing a valsartan lawsuit because of the risk of getting cancer.
What do we know about NDEA?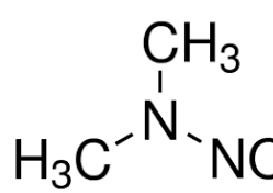 Both NDEA and NDMA belong to the compound class known as nitrosamines. Many nitrosamine compounds are found in cosmetics, pesticides, and tobacco products. Significant levels can be found in food and beverages such as beer, fish, and cured meats. Nitrosamines have been tested to cause cancer in animals which suggests that they are carcinogenic to humans.
According to the NIH, NDEA is a clear, yellow-tinted liquid. It is used as a gasoline and lubricant additive. In plastics, it is used as an antioxidant and stabilizer. Despite research done on NDEA, there is not much that we know about it. According to Health Canada, "the new information regarding NDEA is very limited at this time." They also noted that they will assess the issue and provide updates as soon as new information becomes available.
However, what we do know is that NDEA is considered relatively harmful to human health. The World Health Organization (WHO) considered it a Group 2A carcinogen. Sigma-Aldrich notes that it is carcinogenic in all animal species tested. They also mention that the main "target organs are the nasal cavity, trachea, lung, esophagus, and liver." In addition, it is found in tobacco smoke.

What you should do if you are currently taking valsartan?
You should check FDA's updated list of valsartan recalls, which should let you know whether or not the valsartan tablets you are currently taking have been recalled. If you continue to feel unsure, ask your pharmacist.
Contact your health care provider as soon as possible to discuss other possible treatment options if you have been taking a recalled product. Continue to take valsartan unless instructed not to do so. The most important thing you can do if you are taking valsartan is to contact your local health care provider. They will know the best course of action for you.
How many valsartan drugs have the impurity?
Not all valsartan medications contain both NDMA and NDEA impurities.  The only valsartan medication mentioned in the recall was manufactured by ZHP. This batch of valsartan was distributed by Torrent Pharmaceuticals. Even then, the FDA has also mentioned that not all valsartan manufactured by ZHP contain NDEA. Make sure to check the most recent FDA recall announcements to make sure you know which valsartan drugs may or may not contain any impurities, whether NDEA or NDMA.
What are possible alternatives to recalled Valsartan drugs?
While you must consult your doctor or other healthcare professionals when taking such an alternative, you should also be informed about these alternatives as well. If you are taking a recalled valsartan tablet, you could switch to a different manufacturer. You could also switch to another medication in the same class of drugs as valsartan. Valsartan is in a class of drugs known as angiotensin receptor blockers (ARBs).
What should health professionals know?
According to the FDA, recalled valsartan products "pose an unnecessary risk to patients." They note that doctors should use valsartan-containing medication not on the recall list or consider other treatment options for their patients.
They recommend that healthcare professionals and patients should report adverse side effects related to the use of valsartan to the FDA's MedWatch Safety Information and Adverse Event Reporting Program. This will help the FDA have a better understanding of how serious of a risk valsartan is to the overall public. If a doctor may have medication samples that have been recalled, the FDA recommends that they quarantine products and not provide them to patients.

Have there been any adverse events related to the recall?
As of right now, Torrent Pharmaceuticals Limited has not received reports of any adverse events related to recalled valsartan tablets. However, this should not mean that there have been any adverse events. It only means there has been no reporting of such. Nonetheless, the FDA and Torrent Pharmaceuticals made the right decision in recalling the drugs before more people could experience harmful effects.