If you have been the victim of violent crime due to a business or property owner's failure to provide security, Texas law allows you to file a negligent security lawsuit and get financial compensation. On this page, we look at Texas negligent security cases and how to get compensation for personal injuries or death. We will also look at the potential settlement payout value of negligent security lawsuits in Texas by summarizing recent reported settlements and verdicts in prior cases.
---
RELATED CONTENT:
Texas Personal Injury Settlements
Average Verdict in Texas Personal Injury Lawsuit
---
Negligent Security Lawsuits Explained
A personal injury lawsuit based on negligent security or inadequate security lawsuit can be brought if you have been the victim of violence such as assault, robbery, rape, etc. and the violence was allowed to happen because of a property or business owner's failure to provide adequate security.
Businesses and commercial property owners have a legal duty to protect guests on their property by providing and maintaining adequate security measures. Texas law obligates business and property owners to take all reasonable measures to ensure that invitees (i.e., customers, tenants, guests, etc.) are reasonably safe from crime. This may require the property owner to install security lights, cameras, or have security guards onsite. The level of security that is required will vary depending on what type of property or business is involved, and whether the risk level for violent crime is high.
If the property owner (or business operating on the property) neglects its obligation to provide security and someone is the victim of violence, that victim can file a civil lawsuit for negligent security.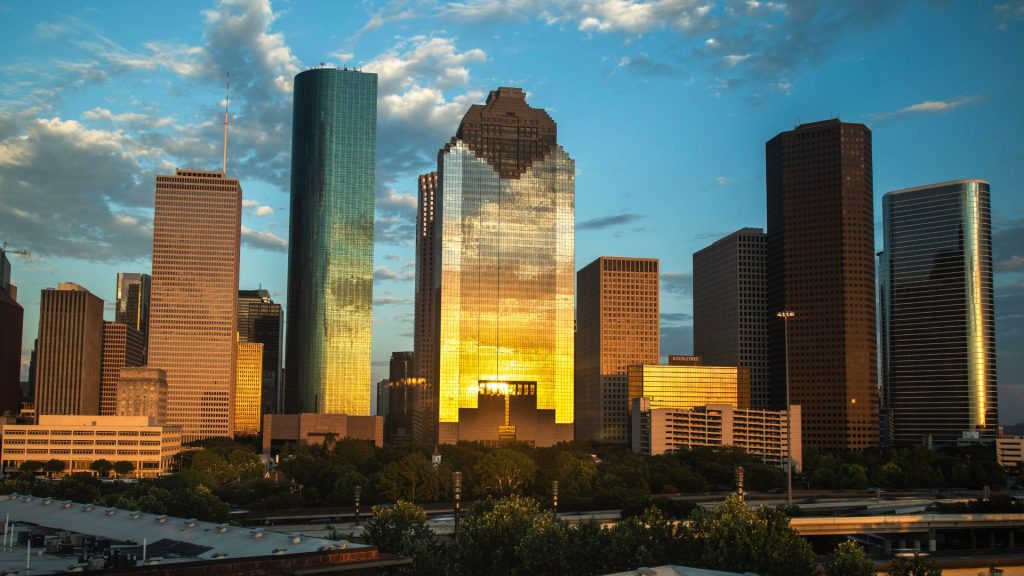 For example, let's say Acme Company owns and manages an apartment complex in a high-crime area in Dallas. Acme has received numerous complaints from residents about criminal activity (including robberies and shootings) in the back parking lot of the complex, which has no cameras and poor lighting. Acme does nothing about the situation and one of their tenants is subsequently shot and killed in the back parking lot during a robbery.  The tenant's family can sue Acme for negligent security.
Types of Negligent Security Lawsuits in Texas
Texas law allows many different types or categories of negligent or inadequate security claims. Below is a list of the most common types of negligent security claims that we see in Texas.
Inadequate Security at Apartment Complex: As our example above illustrates, apartment complexes in certain urban areas are often crime hot spots. Management companies have responsibility to implement all reasonable security measures to protect tenants and guests. This might require adequate lighting, secured access to common areas, video monitoring, and 24 hour security. It also requires the management company to take action in response to complaints and known risks.
Inadequate Locks: At certain types of properties, such as apartment or condo complexes, daycares, etc., having a secure, functioning lock or access system is a critical security measure. Residential complex should have gated access (whenever possible), and working lock systems to access common areas such as parking lots, pools, recreation centers, etc. The same is true for hotels.
Inadequate Lighting: Maintaining adequate lighting is a basic security obligation for all Texas business and property owners. Good lighting deters violent crime. Unfortunately, businesses are often negligent in maintaining the lighting on their property. If guests, tenants or customers are victimized as a result they can bring a negligent security lawsuit.
Lack of Video Surveillance: certain types of properties, such a hotels, apartment complexes, or shopping centers, have an obligation to ensure that guests are safe by having a functioning video surveillance system. Video surveillance deters criminal activity and enables help to be dispatched when events do occur.
School Security: Public and private schools in Texas have a legal duty to keep students safe from violence. This duty is very circumstance specific, but it may required metal detectors, security screening, responding to credible threats, and possibly hiring school security.
Who Can You Sue for Negligent Security in Texas?
Texas law allows any property owner, management company, retail business, or person to entity with responsibility for a property to be sued for negligent security. There are, however, specific types of businesses and property owners that make ideal defendants in negligent security lawsuits for various reasons. Below is a list of common negligent security lawsuits defendants.
Shopping Centers / Retailers: Commercial or retail shopping centers or plazas have a legal duty to protect the safety of visitors by providing reasonably adequate security. Adequate security for shopping centers general requires good lighting for parking and other areas, video surveillance, and possibly security guards or limited access parking. Shopping centers are common defendants in negligent security cases.
Apartment Complexes: apartment or condo complexes are some of the most common defendants in Texas negligent security lawsuits. The level of security that these residential complexes are required to provide for tenants or residents is fairly high compared to other types of businesses. Apartment complexes in Texas have to protect tenants and guests on the property with things such as gated access to common areas, video surveillance systems (that actually work), adequate lighting, working lock systems, and even 24-hour security guards.
Hotels: Hotels or motels have a legal obligation to provide security for their guests. This obligation is very high, and it is comparable to the security obligation at an apartment complex. It typically requires lighting, video monitoring, 24-hour staffing, keyed access, etc.
Settlement Value of Texas Negligent Security Lawsuits
Negligent security lawsuits in Texas have a relatively high average settlement value compared to other types of personal injury cases. This is particularly true in urban areas such as Houston and Dallas. The chart below shows the dollar range of Texas negligent security verdicts and settlements as reported in Westlaw.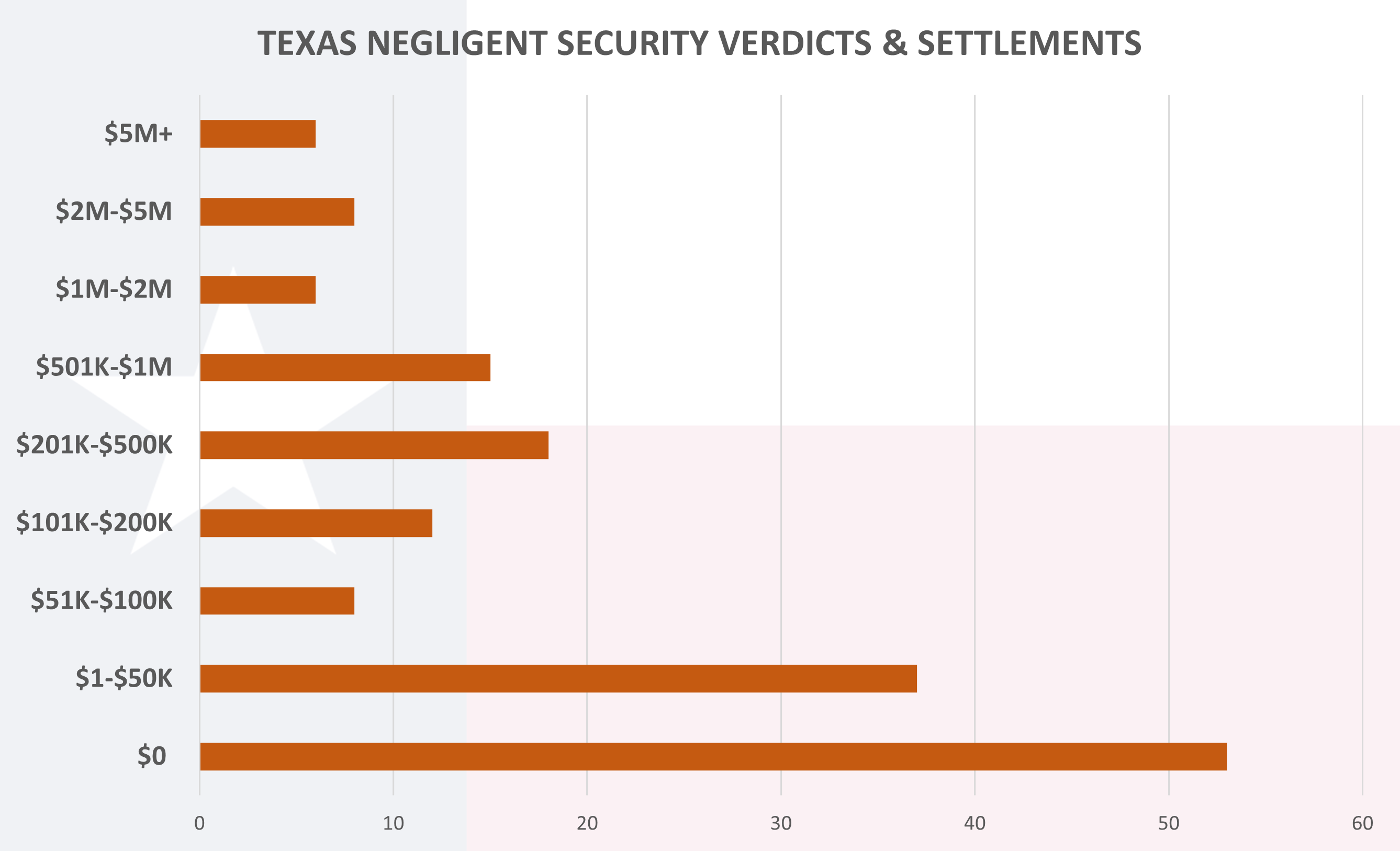 Texas Negligent Security Settlements & Verdicts
Below are summaries of some verdicts and settlements from recent Texas negligent security cases.
$97,000 Verdict (Bexar County): A 18-year-old female mental patient suffered rape and emotional distress when a former patient of the hospital persuaded her away through a hole in the fence at the defendant state mental hospital. The plaintiff contended that the defendant was negligent for providing inadequate security. The defendant contended that the fence was not for security purposes.
$488,000 Verdict (Harris County): A 31-year-old male tenant suffered stab wounds to the face, arms and legs; posttraumatic stress disorder; and a nose fracture when he was kidnapped from the defendant apartment complex by two male carpet cleaners and taken to an apartment where he was beaten and stabbed for allegedly stealing cleaning equipment from the assailants. He sued the apartment complex for negligent security.
$300,000 Verdict (Harris County): 8-yrea-old suffered posttraumatic stress syndrome when he was abducted from the parking lot of the defendant Toys-R-Us store by three people and left bound in a remote area. The plaintiff contended that the defendant was aware of the criminal activity that had occurred in the parking lot during the past three years and that the defendant had inadequate security. The plaintiff's mother was also abducted and was awarded $500,000.
$500,000 Settlement (Galveston County): A 24-year-old female was raped by an assailant who gained entry to her locked apartment with a master key. The key was given to the defendant subcontractor doing work at the apartment building. The assailant was an employee of the subcontractor. The plaintiff claimed that the defendant apartment building owner was liable for inadequate security and gross negligence.
$3,147,011 Verdict (Harris County): A 45-year-old male was attacked in the parking lot of the defendant Taco Bell restaurant and died after being in a vegetative state for three months. The plaintiff contended that the defendant was negligent for failing to provide adequate security. The defendant contended that the decedent was negligent for leaving the building to settle a dispute and that he was intoxicated when the incident occurred. The decedent was found 25% negligent, and the award was reduced to $2,360,258.
Contact Us About Texas Negligent Security Cases
If you have a negligent security lawsuit in Texas, contact our personal injury lawyers today at 800-553-8082 for a free consultation or contact us online.