Parents of new babies in many parts of the country are having a hard time finding infant formulas such as Similac and Enfamil in June 2022. The supply chain problems that are currently hampering the U.S. economy have created a very acute shortage of infant formula, resulting in empty shelves and understandably stressed and concerned parents.
---
FORMULA SHORTAGE UPDATES

:
June 1, 2023: The FDA announced that the National Academies of Sciences, Engineering, and Medicine (NASEM) will carry out an independent inquiry into the U.S. infant formula industry. This investigation will scrutinize current market conditions, manufacturing diversity, product types, production capacities, and domestic vs. imported formula volumes.
The study aims to understand the pre and post-COVID-19 market changes, including aspects like the Abbott recall incident in February 2022. It will also examine the influences affecting market competition and regulatory variations between the U.S. and foreign markets like the European Union. Once completed, NASEM will report its findings to both Congress and the FDA.
Under the 2022 Food and Drug Omnibus Reform Act, the FDA was tasked to create an immediate strategy for enhancing the resilience of the U.S. infant formula market, published in March 2023. Using insights from the NASEM study, the FDA will work on a long-term national strategy.
May 28, 2023: The U.S. Federal Trade Commission (FTC) launched an investigation in 2022 to look into potential bid-rigging among baby formula manufacturers, including Abbott Laboratories, on state contracts. The probe centers around bids submitted to supply the Department of Agriculture's Women, Infants and Children (WIC) program, which provides a free formula to families with low income. Winning these contracts is said to boost commercial sales. Furthermore, the FTC is scrutinizing the company's formula sales outside the scope of the WIC program. This inquiry coincides with an ongoing contention between the FTC and Abbott over the disclosure of information, following a nationwide formula shortage that resulted from Abbott's closure of its Sturgis, Michigan plant in February 2022.
March 29, 2023: Former Food and Drug Administration (FDA) official Frank Yiannas has told House lawmakers that we are still not doing enough to prevent another baby formula shortage.
Last year, Abbott Laboratories, the biggest maker of infant formula for the market, withdrew Similac following reports of illness and deaths. In the subsequent recall, parents across the country were left searching for supplies. Yiannas presented lawmakers with a set of recommendations, including demanding higher standards from formula manufacturers. 
Congress is taking this seriously and looking for solutions.  
February 18, 2023: The shortage has mostly ended but the investigation of Abbott is just in the first inning. 
December 1, 2022: Shortages expected to continue through the spring of 2023. 
October 1, 2022: U.S. regulators yesterday unveiled a new plan to prevent future baby formula shortages.  The plan is a little scary.  Foreign baby formula manufacturers will be permitted to continue to sell in the U.S. to allow for more sellers of baby formula.   
July 15, 2022: The in-stock statistics that many of us have become familiar with that measures the expected demand that stores have available for sale was 72% for baby the week ending July 10, 2022.  This is up 2% from the week before but still abysmal. 
July 1, 2022:  The Sturgis plant for Abbott reopened again for the second time. 
June 9, 2022:  Danone SA said it will try to help the baby formula shortage in the United States.  The French company says it has doubled production and is sending its specialized baby formula to the United States. 
June 7, 2022: The baby formula shortage is not getting better.  According to Datasembly, out-of-stock rates jumped to 74% in the U.S. for the week that ended May 28.  This is up from 70% the previous week. This crisis will hopefully soon be over.  But we are not there yet. 
June 6, 2022: The White House announces the 5th operation of Operation Fly Formula.  This sounds great. But families on the ground are not feeling the benefits. 
June 4, 2022: Abbott says it is restarting production at the Michigan facility whose food poisoning outbreak was a significant factor in the baby formula shortage we have.  But that formula will not reach consumers until June 20th at the earliest.  
May 11, 2022: The baby formula shortage continues to get worse with inventories reportedly down at their lowest point. This week, a number of the nation's top retailers, including Costco, CVS, Walgreens, and Target, have announced strict rules limiting the amount of formula that individual customers can purchase. The infant formula shortage has recently been made even worse in March when Abbott Laboratories was forced to recall Similac and EleCare formula products after a dangerous bacteria contamination was discovered at its facility in Sturgis, MI.
---
Earlier this week, the Infant Nutrition Council of America issued a statement recognizing the baby formula shortage.  The Council claims that government agencies and formula companies are working to ensure that infants have access to formula.  This is little solace for parents battling to find baby formula for their children.
Infant Formula Shortage Makes National Headlines
The infant formula shortage got national attention last week after CBS News issued a report spotlighting the acute lack of formula in many parts of the country. The CBS report noted that infant formula inventories were down 20% compared to pre-pandemic levels and that powdered formula was becoming extremely hard to find in many urban areas. The report of a Similac shortage was quickly picked up by the rest of the national media.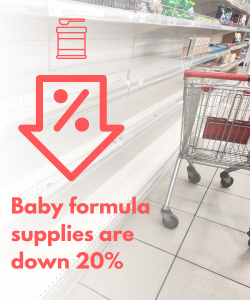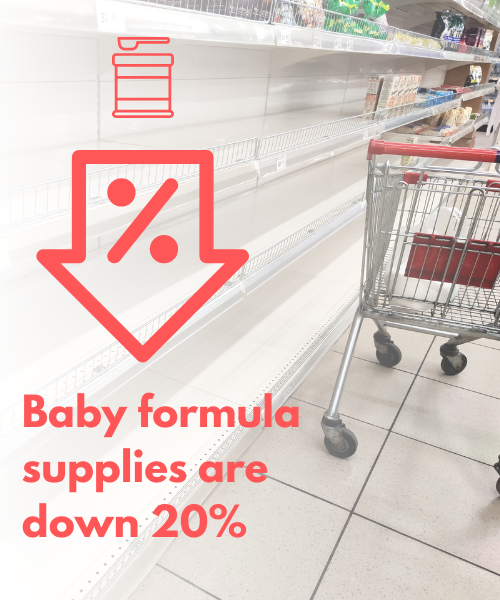 According to the story, a couple in the San Francisco area with a 10-month-old went to nearly a dozen different stores and were not able to find Similac or Similac Pro Advance. After driving as far an hour away to find liquid Similac, the couple was forced to switch to a different product for their son. A couple in the Orlando area reported a similar experience when searching for Enfamil for their 10-week-old son who was born prematurely.
Why Is There a Formula Shortage in 2022?
Formula manufacturers such as Mead Johnson and Abbott Laboratories have acknowledged the issue. They claim that they are shipping products to stores as quickly as possible. Industry experts say that the shortage is the result of external factors that are interrelated.
First, there is apparently an acute shortage of many of the raw ingredients that are used to manufacture infant formulas (which are mostly derived from cow's milk). These shortages are the result of systemic supply chain problems that have resulted from the COVID pandemic. The lack of raw ingredients has forced manufacturers to slow production.
To compound the formula shortage of 2022, the reduced volume of formula products that is being manufactured is taking longer to make its way onto store shelves. This is largely due to supply chain problems and labor shortages. The net result is that products such as Similac and Enfamil are literally not available at major retailers such as Walgreens, CVS, and Target. Online retailers such as Amazon are also short on supplies.
---
Related Posts:
Similac NEC Lawsuits
Enfamil NEC Lawsuits
NEC Formula Product Liability Cases
Example of Recent Enfamil NEC Lawsuit
---
Shortages May Trigger Stockpiling and Price Inflation
The Similac and Enfamil shortage, which is a grave concern for infants who cannot breastfeed, has predictably started to prompt panic buying like what we saw with toilet paper and other items at the start of the pandemic.  A spokesperson for INCA noted that they were seeing "some anecdotal evidence suggesting pantry-loading behaviors, which can put increased pressure on in-store inventory."
INCA is encouraging parents to only keep a 2-week supply on hand and "avoid unnecessary stockpiling" so as to ensure that all parents have access to the formula they need. But will likely have little impact on the individual choices of parents desperate to meet the nutritional needs of their new babies. There are emergency sources of infant formula. But it's not clear how effective or efficient these are.
The increased attention now being given to the baby formula shortage will likely increase the already high level of demand for formula. The presence of intense demand in the face of lower supplies will almost invariably lead to some level of price inflation.
Health Risks of Enfamil and Similac Infant Formulas
The current supply shortages of major cow-milk infant formulas such as Enfamil and Similac come just as these formula products are coming under fire for posing serious health risks for premature babies. Recent research has determined that formulas made from cow's milk are potentially dangerous for premature infants because they significantly increase their risk of developing a deadly intestinal infection called necrotizing enterocolitis (NEC).
NEC is a very aggressive infection that attacks the gastrointestinal systems of infants and can cause rapid tissue decay. If not immediately treated, NEC can lead to perforations in the walls of the intestines and lead to systemic infections that are frequently fatal for premature babies.
Over the years, a growing body of scientific evidence of a causal link between NEC in premature infants fed with Similac, Enfamil, and other bovine formulas. Despite being aware of this evidence, the formula manufacturers have deliberately ignored this link, failed to warn about the risk of NEC for premature infants, and falsely marketed their products as safe for preemies.
This has prompted a wave of Similac NEC lawsuits and Enfamil NEC lawsuits by parents of preemies who were fed with these formulas at the hospital and subsequently developed NEC.
FAQs: Similac Shortages
When will formula shortages end?
Formula shortages were at 31% in April, compared to 23% in January. However, major formula manufacturers like Abbott and Mead Johnson are trying to address the issue by rerouting supplies from other markets.
Is there are shortage of Similac Pro Total Comfort?
There is currently a shortage on almost all liquid baby formula products, including Similac Pro Total Comfort. This doesn't mean this product will be unavailable. The shortages are very regional in nature.
Why is puramino out of stock everywhere?
Enfamil Puramino may be out of stock in stores in your area because there is currently a nationwide shortage in baby formula supplies.
Contact Us About NEC Formula Lawsuits
If your premature baby was fed with formula and developed NEC you may be entitled to financial compensation. Contact our lawyers online today for a free case evaluation or call 800-553-8082.