Plaintiff Richard Mosley, a resident of Kentucky, filed a consumer class action lawsuit against EzriCare LLC, EzriRx LLC, Delsam Pharma LLC, Global Pharma Healthcare Private Limited, and Aru Pharma Inc. for manufacturing, importing, selling, marketing, labeling, and distributing artificial tears contaminated with a rare and drug-resistant strain of Pseudomonas aeruginosa bacteria.  This is not really a personal injury lawsuit.  The focus here is refund for anyone who bought these products. The plaintiff seeks injunctive relief and restitution for the full purchase price of the artificial tear products. Our firm is just handling the personal injury eye drops lawsuits.  But we write about this lawsuit because the core allegation are the same as they would be for a Deslam or Ezricare personal injury or wrongful death claim
The Contamination
The artificial tears, which contain Carboxymethylcellulose Sodium 10 MG in 1 ml, are alleged to be adulterated and contaminated due to the Defendants' violations of Current Good Manufacturing Processes. These violations include lack of appropriate microbial testing, formulation issues, and inadequate preservatives in multi-use bottles.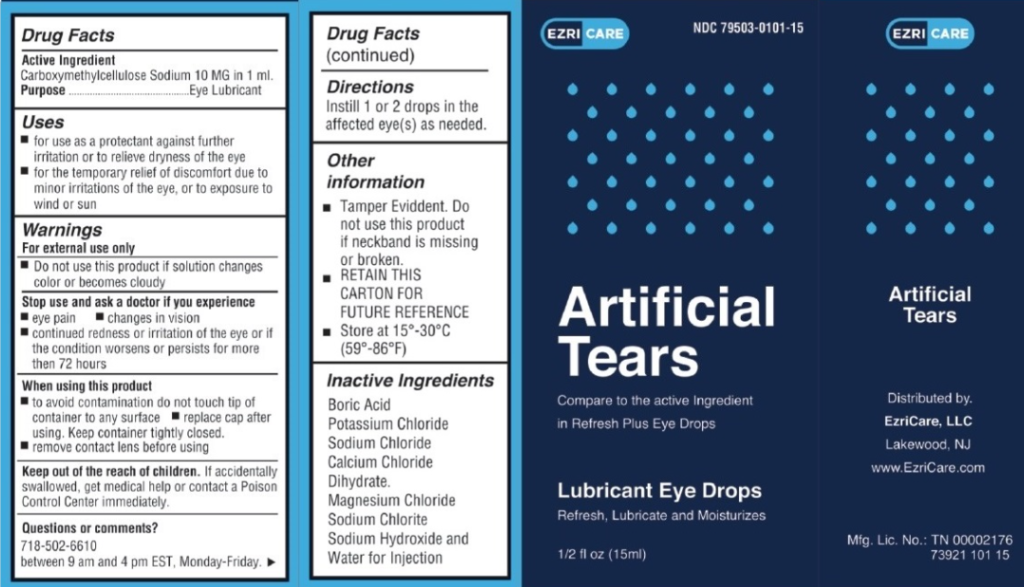 The presence of the bacteria poses a severe health risk to consumers who purchased and used artificial tear products. The lead plaintiff reportedly purchased EzriCare Artificial Tears from Walmart stores in Kentucky, unaware of the potential contamination, and suffered personal and economic damages as a result. Defendants market, advertise, label, distribute, and sell the artificial tear products at issue in this litigation, and have sufficient minimum contacts with Kentucky to warrant jurisdiction by this Court.
What Happened?
EzriCare and Delsam Pharma are two companies that sell artificial tears used to relieve dryness and discomfort in the eyes. Most of us have used a similar product at some point in our lives.
The active ingredient in both products is a solution of Carboxymethylcellulose Sodium 10 MG in 1 ml, and they are intended to be used as a protectant against further irritation or to relieve dryness of the eye, as well as for the temporary relief of discomfort due to minor irritations of the eye, or to exposure to wind or sun. EzriCare began labeling, advertising, marketing, and selling their artificial tears on or about November 22, 2020, while Delsam Pharma began marketing their product on or about July 23, 2020. Both EzriCare and Delsam eye drops are manufactured by Global Pharma in India.
The artificial tears produced by both companies are preservative-free, which means they do not contain any chemicals used to prevent the growth of bacteria in the product. However, an outbreak of the Pseudomonas Aeruginosa bacteria resulting from the use of these products began in May 2022 and has been linked to 12 states so far: California, Colorado, Connecticut, Florida, New Jersey, New Mexico, New York, Nevada, Texas, Utah, Washington, and Wisconsin. This particular strain of Pseudomonas Aeruginosa is incredibly drug-resistant and dangerous and has been identified as Verona Integron-mediated Metallo-β-lactamase (VIM) and Guiana-Extended Spectrum-β-Lactamase (GES)-producing carbapenem-resistant Pseudomonas aeruginosa ("VIM-GES-CRPA").
As a result of using EzriCare and/or Delsam Pharma's artificial tear products, out of the 55 individuals who – so far – have been identified as having been infected with the Pseudomonas Aeruginosa bacteria from use of EzriCare artificial tears, three people have suffered permanent vision loss, and one person has died due to a systemic infection. Others have endured extensive treatment to treat their infections. The CDC has identified the presence of the outbreak strain in opened EzriCare bottles with different lot numbers collected from two states, and has also isolated the outbreak strain from various bodily samples of infected individuals.
Deslam and EzriCare Recall
In late January 2023, EzriCare LLC issued a statement about the ongoing investigation by the CDC into various over-the-counter eye drops. A few days later, they released another statement revealing that they were not aware of any definitive testing that linked the Pseudomonas aeruginosa outbreak to EzriCare Artificial Tears. However, they immediately stopped any further distribution or sale of the product and contacted customers to advise them against the continued use of the product. On February 1, 2023, Global Pharma Healthcare initiated a voluntary recall of all unexpired lots of EzriCare and Delsam Pharma's Artificial Tears. The next day, the FDA warned consumers and healthcare practitioners not to purchase or use the affected products due to bacterial contamination. The FDA also cited various CGMP violations by Global Pharma Healthcare, including lack of appropriate microbial testing and formulation issues. The FDA placed Global Pharma Healthcare Private Limited on import alert, preventing these products from entering the United States.
The Consumer Class Action
The lead plaintiff and his attorneys seek certification of the Multi-State Class Action, or apparently alternatively, a Kentucky sub-class.  Again, we are not consumer class action lawyers; we focus only on injury and wrongful death cases so some of the nuances of this are not in our wheelhouse.  But the core of it is that the lead plaintiff's claims are typical of all class members because members of the class were similarly injured through the defendants' uniform misconduct.
The Complaint sets forth 7 causes of action including:
Violation of the Kentucky Consumer Protection Act
Unjust Enrichment
Negligent Misrepresentation
Breach of Warranty
Hiring a Lawyer
If you have suffered an injury from Deslam or EzriCare eye drops, you likely have a viable compensation claim.  You can reach our attorneys at 800-883-8082 or get a free online consultation.  You pay nothing unless you get a recovery.