If you or a family member have been the victim of violence (assault, robbery, rape, murder, etc.) at a business, shopping center, apartment complex, or any other type of commercial property, you may be able to sue the property owner for failing to provide adequate security. These lawsuits are commonly referred to as negligent security cases.
Maryland allows plaintiffs who bring a successful negligent security lawsuit to recover meaningful financial compensation. On this page, our injury lawyers look at Maryland negligent security cases and how to get compensation for personal injuries or death. We will also look at the potential settlement payout value of negligent security lawsuits in Maryland by summarizing recent reported settlements and verdicts in prior cases.
When Can You File a Negligent Security Lawsuit
When someone is the victim of violence at a store, hotel, business or any other commercial property because the property owner failed to provide proper security, the victim can bring a negligent security lawsuit (also known as an inadequate security lawsuit). Negligent security cases are just like other negligence or personal injury cases.
All property owners in Maryland have a legal obligation provide and maintain security measures to ensure that visitors on their property are reasonably safe from violent crime. Reasonable security measures depends on the circumstances, but it can include things such as gated access, video monitoring, lighting, or onsite security. The level of security that is required will vary depending on what type of property or business is involved, and the are where it is located.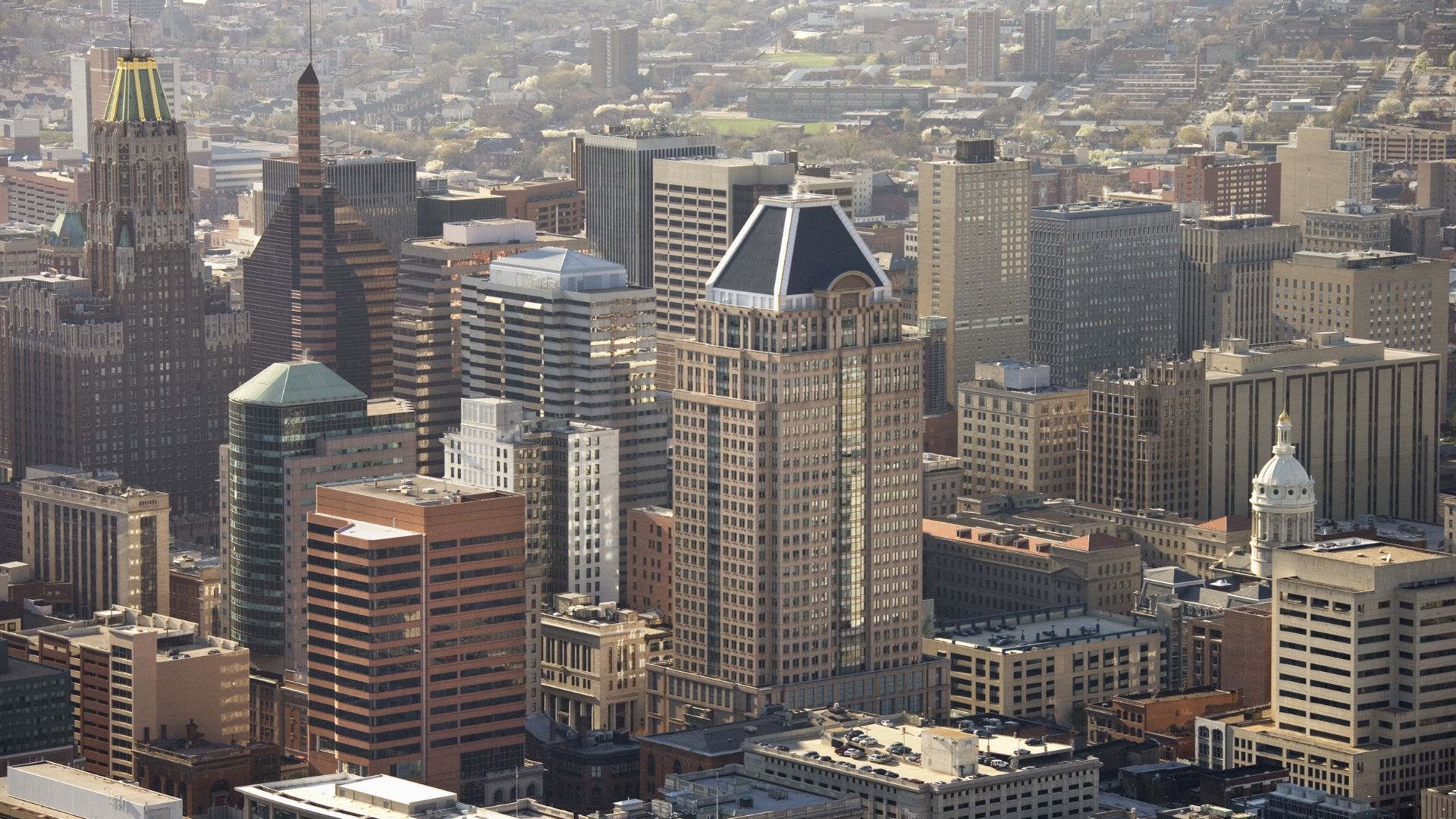 Anyone business or property owner can be sued for inadequate security if they fail to provide for reasonable security and a visitor becomes the victim of violence as a result, the property owner can be sued for negligent security. Below is a hypothetical example to help illustrate how negligent security lawsuits work.
Let's say Charm City Management manages a large apartment complex in West Baltimore (a high-crime area). Charm City Management has fielded numerous complaints about tenants being robbed and assaulted in the parking lots and common areas. The common areas on the complex are poorly lit and there is no video surveillance system and no security guards. Debbie, a female tenant at the complex, is sexually assaulted in the parking lot outside of her building. Debbie can sued Charm City Management for negligent security because better lighting, video cameras, and/or security guards could have prevented the assault from happening.
Who Can You Sue for Negligent Security in Maryland?
In Maryland, any property owner, management company, retail business, or entity with legal responsibility for a property can be sued for inadequate security. Certain types of businesses and property owners, however, make the best defendants in negligent security lawsuits for various reasons. Below is a list of common negligent security defendants.
Shopping Centers / Retailers: Shopping centers, such as malls, strip malls, or retail plazas, are usually owned and/or operated by commercial management companies. Shopping centers and the individual retail stores have an obligation to ensure the safety of their customers by providing reasonably adequate security. This typically requires proper lighting for parking and other areas, video surveillance, and possibly security guards or limited access parking.
Apartment Complexes: Apartment or condo complexes are some of the most common defendants in Maryland negligent security cases. There are 2 main reasons for this. First, apartment complexes in certain areas tend to be hotspots for violent crime. Second, these types of properties are obligated to provide a relatively high level of security compared to other types of businesses such as retail stores. This makes proving negligence easier. Apartment management companies have a duty to provide gated access to common areas, video surveillance systems (that actually work), adequate lighting, working lock systems, and even 24-hour security guards.
Hotels: Hotels or motels have a legal obligation to provide security for their guests. This obligation is very high, and it is comparable to the security obligation at an apartment complex. It typically requires lighting, video monitoring, 24-hour staffing, keyed access, etc.
Shopping Centers / Retailers: Shopping centers or plazas and shopping malls need to take steps to ensure that shoppers are reasonably protected from violent crime. Adequate security for shopping centers typically requires good lighting for parking and other areas, video surveillance, and possibly security guards or limited access parking. Shopping centers are common defendants in negligent security cases.
Bars / Nightclubs: Nightclubs and bars where alcohol is consumed by customers have an obligation to protect patrons from violence, including drunken brawls between patrons at the bar.
Hospitals: Hospitals need to ensure that patients and other visitors are reasonably protected from violence both inside the hospital and in common areas such as parking lots and pickup areas.
Schools: Schools in Maryland have a legal duty to keep students safe from violence, both from other students and non-students and staff. This duty is very circumstance specific, but it may require security screening, responding to credible threats, and possibly hiring school security.
Types of Negligent Security Lawsuits in Maryland
Many different types or categories of inadequate security claims are recognized under Maryland law. Below is a list of the most common types of negligent security claims that we see in Maryland.
Inadequate Locks: Having a secure, functioning lock or access system is a critical security measure. Residential complexes and hotels, for instance, should have gated access (whenever possible), and working lock systems to access common areas such as parking lots, pools, recreation centers, etc.
Inadequate Lighting: Maintaining adequate lighting is a basic security obligation for all Maryland business and property owners. Good lighting deters violent crime. Unfortunately, businesses are often negligent in maintaining the lighting on their property. If guests, tenants or customers are victimized as a result they can bring a negligent security lawsuit.
Lack of Video Surveillance: certain types of properties, such a hotels, apartment complexes, or shopping centers, have an obligation to ensure that guests are safe by having a functioning video surveillance system. Video surveillance deters criminal activity and enables help to be dispatched when events do occur.
Lack of Security Staff: In certain circumstances, a property owner or business owner may have an obligation to hire onsite security guards to help protect patrons and visitors from violence. Failure to provide security staff can be the basis for a negligent security claim.
Settlement Value of Maryland Negligent Security Lawsuits
Negligent security lawsuits in Maryland have a relatively high average settlement value compared to other types of personal injury cases. This is particularly true in urban areas such as Baltimore and outside DC. The chart below shows a breakdown of the dollar amounts for Maryland's negligent security verdicts and reported settlements.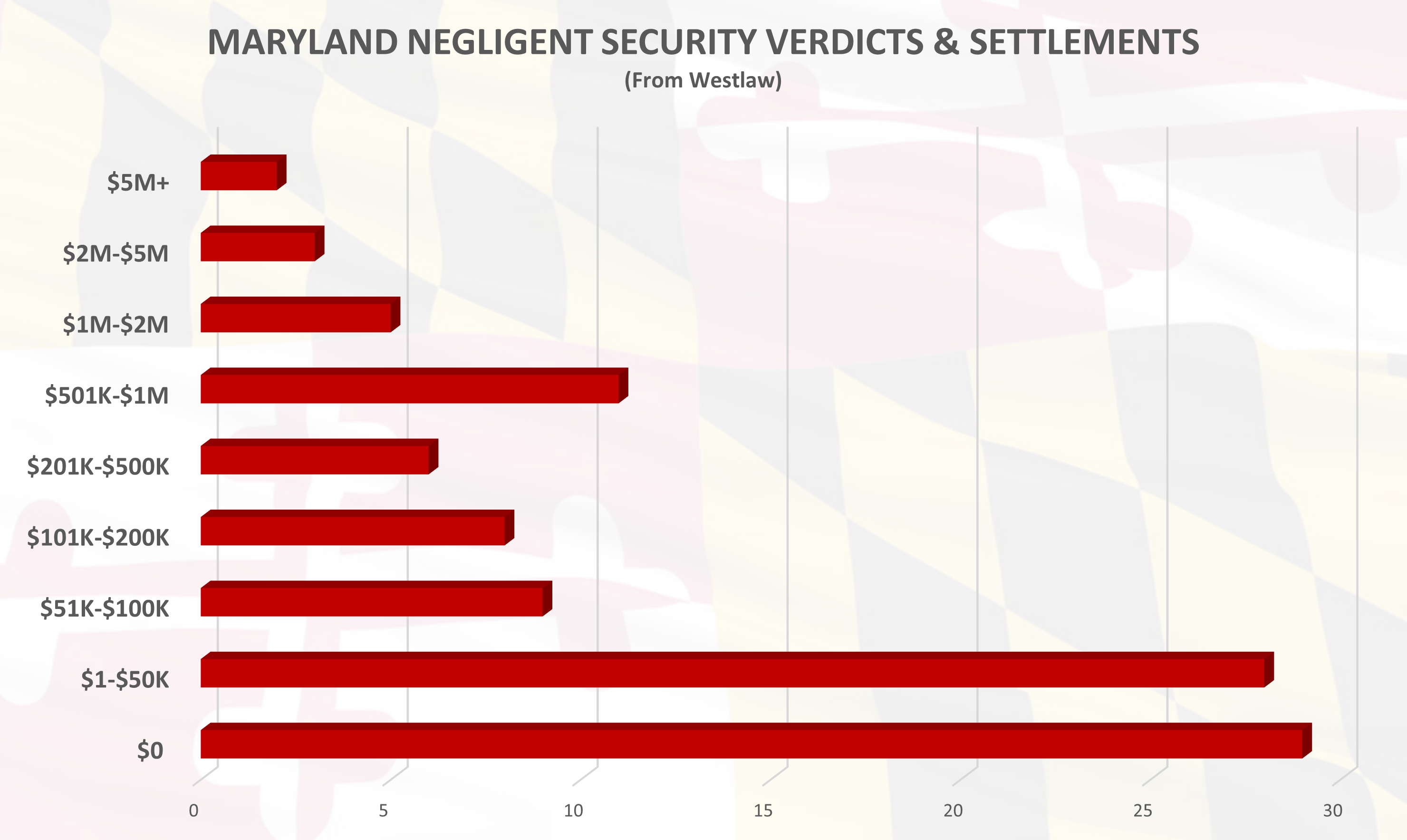 Maryland Negligent Security Verdicts & Settlements
Below are summaries of some verdicts and settlements from recent Maryland negligent security cases.
$50,000 Verdict (Baltimore City): The plaintiff, a minor, was a student at a middle school in Baltimore City. She reported to her principal and other administrators that a group of girls at her school were threatening violence, but they took no action to protect her. The next day, she was physically assault by 2 unknown adults who passed through school security. She sued the school system for negligent security and got $50,000 for relatively minor injuries to her head.
$40,000 Verdict (Prince George's County): The plaintiff, an adult female, reportedly suffered lacerations and stab wounds to her abdomen in a knife attack allegedly carried out inside defendant Tradewinds Nightclub. Lawsuit contended defendant Tradewinds was liable under a premises liability theory for failing to maintain security by allowing a patron in the club without searching for weapons.
$12,000 Verdict (Baltimore City): The plaintiff was a patron at the defendant nightclub when she struck with a bottle and punched several times by a minor who was also inside the club. She suit the nightclub for negligent security alleging, among other things, that the club negligently allowed a minor to enter.
$715,000 Verdict (Prince George's County): An adult male tenant was shot and killed in a drive by shooting in the parking lot of his apartment complex in Temple Hills, Maryland. The plaintiff sued the apartment management company for negligent security alleging that it had prior notice of violent and dangerous activity on its property but breached its duty to take necessary steps to assure resident and guest safety.
$25,000 Verdict (Baltimore City): The plaintiff was at a club in Baltimore City when he was assaulted by a police officer (who was at the club off duty) and another patron. He suffered a fractured leg and ankle and sued for negligently security for failing to protect him from other patrons.
$18,500 Verdict (Prince George's County): A young male was a patron at the defendant's night club. A physical altercation developed at the club and the man was fatally shot during the incident. A wrongful death claim for negligent security was brought against the club. The plaintiff alleged the defendants were negligent by failing to maintain the premises safe from dangerous conditions, knew or should have known that a weapon was allowed inside the premises, failing to provide adequate security, failing to take adequate steps to limit the size of the crowd in the premises, and failing to exercise effective control of the crowd. It's not clear why the verdict in this case was so small.
$79,500 Verdict (Baltimore City): A 12-year-old female passenger on an MTA bus suffered blindness in the right eye when she was struck in the eye with an egg that was thrown by a nonparty individual standing on a sidewalk. The plaintiff contended that the defendant MTA failed to provide safe transportation for its patrons and failed to prevent this incident from happening.
 Contact Us About Maryland Negligent Security Cases
If you have a negligent security lawsuit in Maryland, contact our personal injury lawyers today at 800-553-8082 for a free consultation or contact us online.