Significant or prolonged exposure to formaldehyde has been linked to a number of adverse health conditions and recent evidence has shown that it can increase the risk of cancer. In recent years, dangerously high levels of formaldehyde have been discovered in various consumer products which has prompted product liability lawsuits against companies like Lumber Liquidators and Johnson & Johnson. In this post, we will look at formaldehyde product liability lawsuits and their settlement value.
Formaldehyde Poisoning
Formaldehyde poisoning is a disorder caused by chronic exposure and inhalation of formaldehyde fumes (usually with occupational exposure).  Formaldehyde is a colorless chemical. However, it produces a strong, suffocating smell. Formaldehyde is commonly found in household products and materials used to make cabinets, furniture, and walls. Many people become exposed to the chemical through tools and equipment cleaned with it.
Inhaling formaldehyde irritates the throat, sinuses, nose, and eyes. Even small formaldehyde concentrations may cause respiratory inflammation and harm the central nervous system. Exposure to high concentrations can be deadly. Long-term exposure may cause an increased risk of nasal and throat cancers.
Regular exposure to formaldehyde or exposure to products containing formaldehyde puts anyone at risk for formaldehyde poisoning. Ethnicity, race, or gender are not risk factors. The following are a few formaldehyde poisoning risk factors:
Frequent exposure in manufacturing and construction environments.
Exposure to formaldehyde-containing chemicals used in artificial soaps, mirrors, explosives, and dyes.
Pre-existing respiratory issues, especially chronic bronchitis and asthma.
Pregnant women and their unborn children.
Formaldehyde Toxicity Complications
Below are some of the most common adverse health effects and complications linked to formaldehyde exposure, poisoning, and toxicity:
Asthma attacks
Blindness
Sinus and nasal cancer
Chronic respiratory issues including asthma, bronchitis, and pneumonia from repeated exposure
Multi-organ failure
Common Symptoms of Formaldehyde Poisoning
Sleep difficulties
Breathing difficulties
Fatigue
Irritated skin
Headaches
Nausea
Eye, throat, and nose irritation
Watery eyes
Wheezing
Skin rashes
Nosebleeds
Sore throat
Formaldehyde Lawsuit Against Lumber Liquidators
On March 1, 2015, a 60 Minutes episode reported that Lumber Liquidators sold Chinese-made laminate flooring that contained high formaldehyde levels. Denny Larson, the executive director of the environmental non-profit Global Community Monitor, and Richard Drury, an environmental attorney, tested over 150 laminate flooring boxes. They found that Lumber Liquidators' American-made products had acceptable formaldehyde levels. However, they found that the Chinese-made laminate flooring products sold by Lumber Liquidators had formaldehyde levels that ranged between six to 20 times above California emissions standards.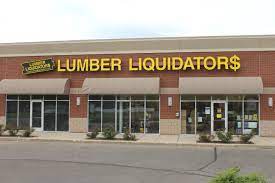 On March 30, 2015, two plaintiffs sued Lumber Liquidators in California federal court. The lawsuit claimed that Chinese-made laminate flooring from Lumber Liquidators exposed them to significant formaldehyde concentrations. The plaintiffs argued that they would not have purchased these products had they known of these high concentrations. The lawsuit accused Lumber Liquidators of committing illegal business practices and publicly misrepresenting the safety of its products.
The lawsuit in California was the first of several identical consumer class-action lawsuits against Lumber Liquidators regarding formaldehyde in its flooring products. On October 25, 2017, Lumber Liquidators settled its laminate flooring lawsuits for $36 million. The company announced that the settlement comprised $22 million in cash payouts and $14 million in store-credit vouchers. On March 12, 2019, the U.S. Department of Justice reported that Lumber Liquidators agreed to pay $33 million in penalties for misleading investors on its Chinese-made laminate flooring.
Johnson & Johnson's Faces Formaldehyde Class-Action Lawsuit
The successful consumer-class lawsuit against Lumber Liquidators over the presence of formaldehyde in its flooring has prompted similar lawsuits against manufacturers of other consumer products that have been found to contain dangerous formaldehyde levels.
On June 7, 2021, an Illinois woman filed suit against Johnson & Johnson in federal court. She alleged that its formaldehyde-containing hair care product line, OGX, caused scalp damage and baldness. She reviewed the products' label information before buying them. Based on the information, the woman believed that the products were safe. She argued that she would not have bought them had she known that the labels were misleading. The lawsuit also mentioned that J&J failed to remove formaldehyde from OGX products, despite removing the chemical in other products. The woman claimed that J&J violated state consumer fraud and trade practice acts, committed fraud, and unjustly enriched themselves.
Formaldehyde Poisoning Settlements & Verdicts
Below are summaries of previous verdicts and reported settlements in cases involving formaldehyde poising. Most of these cases involve actual personal injury claims as opposed to consumer fraud claims like those asserted in the Lumber Liquidators cases.
2017, California: $90,000 Settlement. A man worked as a plastics technician and fabricator. He was exposed to formaldehyde, acetone, and benzene. The man developed aplastic anemia, bone marrow failure, and pancytopenia. He alleged negligence against his employer. The man claimed that they manufactured toxic products and disregarded employee safety. This case settled for $90,000.
2014, California: $1,388,488 Verdict. A 26-year-old man moved into a rental property with his wife and three children. After nine months, the family experienced flu-like symptoms, headaches, chronic coughing, and malaise. The man's health significantly deteriorated. He presented to the ER with an infection and pneumonia. A home test kit revealed high mold concentrations. An environmental inspector also discovered formaldehyde in the laminate flooring. The man alleged negligence against the rental property's owner. He claimed they failed to maintain the property and warn of the hazards. The jury awarded $1,388,488.
2012, Oregon: $4,500,000 Settlement. A 67-year-old woman received a formaldehyde-containing smoothing solution at a salon. Following the treatment, she suffered boils and lost hair locks. The woman alleged negligence against the smoothing solution's manufacturer. She claimed it mislabeled its products as formaldehyde-free. This case settled for $4,500,000.
2012, California: $600,000 Settlement. The California Attorney General's Office filed a lawsuit against a smoothing solution manufacturer. It alleged that the company mislabeled its products as formaldehyde-free and failed to warn the public that formaldehyde gas was released during hair treatments. This case settled for $600,000.
2011, California: $9,500 Settlement. A man worked as a furniture manufacturer. He was exposed to toxic chemicals, including formaldehyde, crystalline silica, aliphatic solvents, naphthenic solvents, and chlorinated solvents, while on the job. The man developed astrocytoma and glomerulonephritis. He died several years later. The man's family alleged negligence against his employer. They claimed it failed to regard employee safety and exposed them to toxic chemicals. This case settled for $9,500.
1996, California: $344,489 Verdict. A woman worked in a renovated building. She was exposed to formaldehyde. The woman suffered sick building syndrome. She developed multiple chemical sensitivity. The woman alleged that the independent contractor's negligence caused her injuries. The jury awarded $344,489.