The average personal injury verdict at trial in Connecticut is $2,519,637, according to Jury Verdict Research.
This is great ammo if you are a personal injury lawyer trying to trump up the value of your case or if you are a tort reform advocate trying to show that juries are going wild. But this is unbelievably misleading.
The median personal injury verdict in Connecticut is $22,499, less than 10% of the average. Only 4% of verdicts exceed $1 million and I would love to see how many of these verdicts are actually collected. My guess? Less than half. Someone got a $326 million verdict in this study. I didn't look up the verdict, but somehow I doubt someone wrote a $326 million check.
Average verdict statistics are often worthless, yet people are always throwing average numbers out there. I'm as guilty as anyone. I put up a lot of average verdicts statistics than anyone.  They are of great interest to me, other lawyers,  and potential plaintiffs. But these Connecticut statistics underscore that the information is for entertainment purposes only.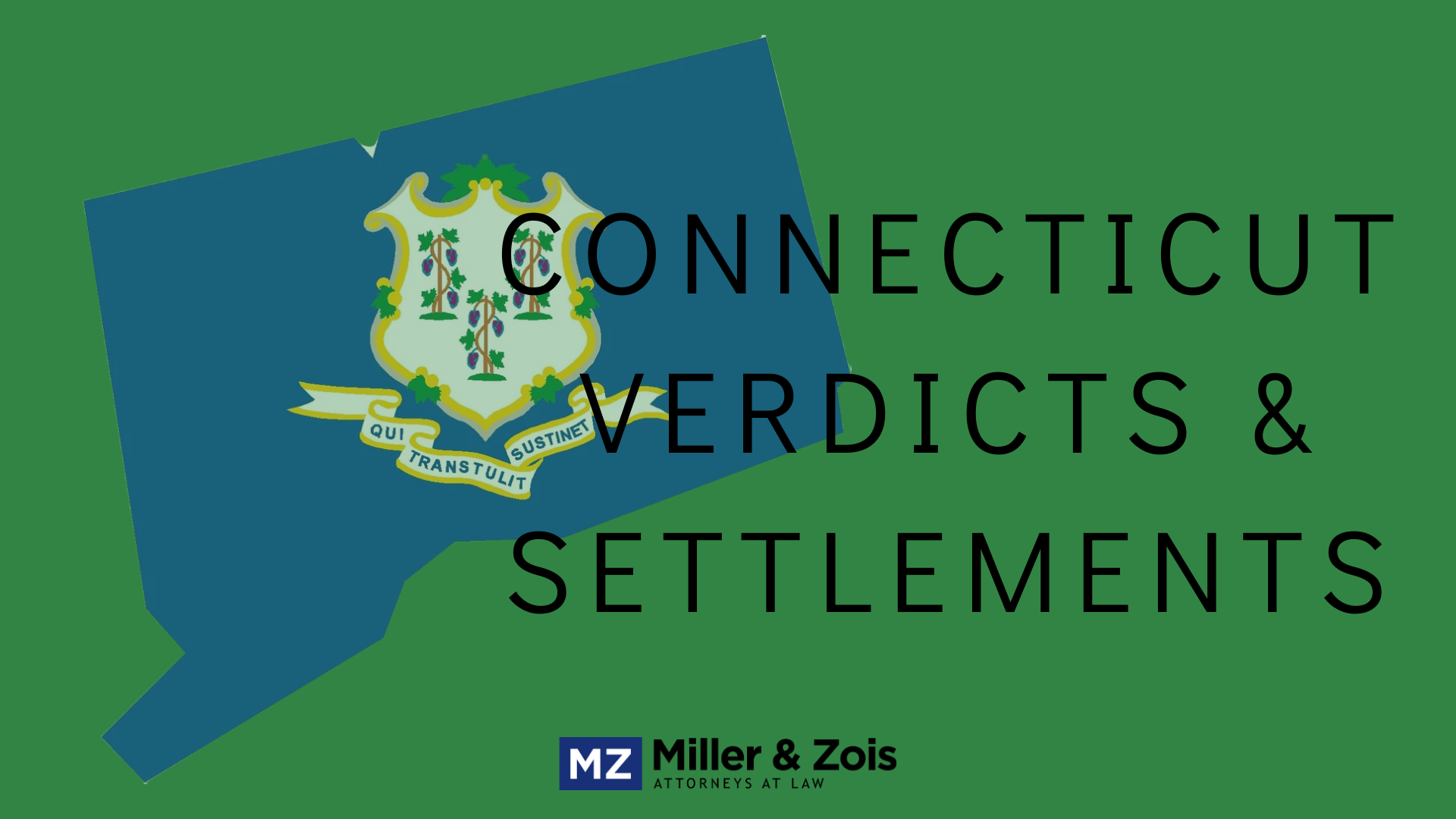 2021, Connecticut: $50,501 Verdict. A tenant slipped and fell over ice in front of the house she rented. She fractured a rib. The woman also suffered neck and back injuries. She alleged negligence against the property owners. The woman claimed they failed to remove the ice in front of the property, inspect the premises, and maintain the property. A jury awarded the woman $50,501.
2020, Connecticut: $62,465 Verdict. A woman was rear-ended as she attempted a left turn. She suffered soft tissue injuries to her neck, thorax, and back, which caused radiating pain to her arm. The woman also suffered an undisclosed shoulder injury. She sued the other driver, who disputed the injury's causation and argued that they were not permanent. The jury awarded her $62,465 verdict.
2019, Connecticut: $202,000 Verdict. A man's vehicle was sideswiped by an uninsured driver that was attempting to pass him. He suffered a spinal disc protrusion. The man also suffered unspecified head, cervical, lumbar, and right arm injuries. He sued his UIM carrier, Liberty Mutual, seeking damages under his UIM policy. Liberty Mutual disputed his claims, arguing that the man had previous job-related injuries and was involved in two prior collisions. The jury awarded the man $202,000.
2019, Connecticut: $82,451 Bench Verdict. A woman was rear-ended as she stopped for traffic ahead of her on an interstate highway. She suffered post-traumatic headaches, disc protrusions, and soft-tissue injuries to her neck, back, and thorax. Her disc protrusion resulted in lumbar radiculopathy. She sued the other driver for following her too closely, driving too fast, failing to keep a proper lookout, and failing to apply his brakes. The judge ruled in favor of the woman, awarding her $82,451 in damages.
2019, Connecticut: $95,514 Verdict. Two men suffered multiple injuries after their vehicle was rear-ended at an intersection. The driver suffered an L4-S1 disc herniation, knee trauma, and a neck injury that caused radiating pain to his shoulders.  He was rated with 12 percent permanent impairment to his entire body and 16 percent partial impairment to his spine. His passenger suffered carpal tunnel syndrome to his right wrist, joint dysfunction at C4-T4, and joint malpositioning at L2-S1. They alleged that the other driver failed to stop at a red light, failed to maintain a reasonable distance, and failed to take evasive action. The jury awarded the two men a $95,514 verdict.
2019, Connecticut: $55,100 Verdict. A man suffered unspecified back and knee injuries after his vehicle was struck by another vehicle attempting to pass him. He sued the other driver for failing to yield right-of-way, driving too fast, and overtaking another vehicle at an unsafe distance. The other driver denied liability and made the same allegations. A jury found the man 15 percent liable and the other driver 85 percent liable. They determined that the damages amounted to $55,100, but reduced by 15% for comparative negligence to $46,835.
What Is the Average Malpractice Payout in Connecticut?
The average payout for a successful malpractice lawsuit in Connecticut is $782,993.
Who Are the Largest Malpractice Insurers in Connecticut?
MCIC, VT, ProSelect Insurance Company, and Connecticut Medical Insurance Company (CMIC), have two-thirds of Connecticut's medical malpractice insurance market.