This post will provide the latest news and events related to asbestos and mesothelioma including court rulings, verdicts, new laws and regulations, asbestos-related bankruptcies, asbestos trust fund information, and more. If you were diagnosed with mesothelioma or think you might have an asbestos case, call our asbestos lawyers today at 800-553-8082.
---
RELATED CONTENT:
List of Asbestos Companies
Mesothelioma Lawsuit Settlements
---
May 26, 2023 – Hess to Pay Over $100 Million to Asbestos Victims
Hess has agreed to pay $106 million to settle asbestos injury claims related to its bankrupt unit HONX Inc.'s oil refinery. Under the Chapter 11 reorganization plan filed in the U.S. Bankruptcy Court for the Southern District of Texas, HONX and the oil and gas company will establish a trust to evaluate and compensate more than 900 outstanding asbestos claims. In return, they will be protected from further legal action regarding the alleged toxic material. HONX has faced 911 claims related to asbestos exposure at its former Limetree Bay oil refinery in St. Croix, U.S. Virgin Islands, between 1965 and 1998.  The reorganization plan includes a fund of $106 million, with $90 million allocated for existing claimants, $15 million for future claims, and additional funding if necessary.
May 25, 2023 – Asbestos Lawsuit to Continue in Delaware
The Delaware Supreme Court has rejected a motion for an immediate appeal in a case involving an asbestos lawsuit. Hennessy Industries sought summary judgment, arguing that it had no duty to warn the plaintiff because it did not manufacture, supply, or install any asbestos-containing products. The judge ruled that there is a duty on manufacturers in cases where they explicitly specified or recommended the third-party part involved. The company then sought an immediate appeal, contending that the issues addressed in the rulings were of substantial importance. But the Delaware Supreme Court rejected this request.
May 24, 2023 – $33.75 Million Verdict Affirms
The Louisiana Appeals Court upheld a $35.75 million verdict in favor of a man who suffered from asbestos-related mesothelioma, which he attributed to his work as a pipe fitter and welder at various industrial facilities. The court rejected the defendant's appeal, asserting that there was no abuse of the jury's discretion in awarding the damages. Additionally, the court noted that the damages align with current economic conditions, particularly the rising inflation.
The defendant, Level 3 Holdings, had been held responsible for over $19 million of the total judgment post-trial. The court also dismissed Level 3's claim that it should only be assigned a minor share of liability, asserting that all joint tortfeasors are equally accountable for the injury in pre-comparative fault cases in Louisiana. Despite some disputes regarding strict liability and witness testimony, the court found no substantial errors that would affect the jury's verdict.
May 17, 2023 – St. Louis Asbestos Lawsuit to Remain in Federal Court
The relatives of a man who died from an alleged asbestos-induced lung cancer lost their appeal to shift their case against Raytheon Technologies Corporation back to state court from federal court.
The family of a deceased St. Louis police officer and Naval officer filed a lawsuit in January against several companies and defense contractors. They alleged that their loved one was exposed to asbestos during his tenure in the Navy and various other jobs from 1956 to 2020. The asbestos lawsuit says that helicopters the man worked with, specifically the Raytheon products on these helicopters during his time with the St. Louis County Police's Helicopter Unit, contained asbestos.
In February, Raytheon moved the case to the U.S. District Court for the Eastern District of Missouri.  The argument to keep the lawsuit in state court was that Raytheon failed to establish that it was operating under the direction of a federal officer and didn't possess a defensible case.  BtRaytheon responded by arguing that the case falls within the purview of federal officer jurisdiction because the only product the deceased could have come into contact with was an engine that they built under military instruction.  The judge sided with Raytheon, rejecting the family's lawyer's contention that because the man was exposed to asbestos while serving with the St. Louis County Police, Raytheon wasn't operating under a federal officer.
May 16, 2023 – Asbestos Defendants Seek Reduction of $25 Million Verdict
John Crane's asbestos lawyers asked a judge earlier this month to reduce a $25 million asbestos verdict, issued against it and other involved companies, arguing that the total amount was overly excessive. This verdict was part of a lawsuit filed by a Navy veteran suffering from asbestosis.
The lawsuit originated in 2019 when the veteran sued several companies, including John Crane Inc. He claimed that his asbestosis was caused by exposure to asbestos-containing products during his tenure in the Navy and his subsequent employment at the Philadelphia Naval Shipyard. He also alleged that he was exposed to asbestos while undertaking car repairs and home maintenance tasks. The jury reached its verdict against Crane and the other accused companies on December 22, 2022. The plaintiff was awarded $15 million in damages for his asbestosis claim, with the remaining $10 million attributed to his wife's loss of consortium claim.
The argument the defendant's asbestos lawyers made is funny.  They pointed out that it was seven times larger than the highest asbestosis verdict claimed by the plaintiff's legal team on their website, as if this is somehow a marker for what is a reasonable verdict in this case. 
Defense counsel also contested the diagnosis of asbestosis, suggesting that the plaintiff's breathing difficulties could have been caused by other health complications. They highlighted his smoking history and other ailments, such as emphysema, chronic obstructive pulmonary disease, asthma, and diabetes. These are all, of course, arguments that the jury heard and rejected. 
May 15, 2023 – New Research Could Advance Asbestos Detoxification Methods
A new study published today demonstrates that certain bacteria from high-temperature marine environments could help reduce the toxicity of asbestos. The article, published in American Society for Microbiology, is the first research of its kind. The study focuses on a thermophilic bacterium that can extract iron from asbestos minerals through a process known as anaerobic respiration. As iron is a major factor driving the toxicity of asbestos minerals, its removal could decrease their harmful properties.
Moreover, the research found that the bacterium could mediate the transfer of electrical charge within the iron contained in asbestos without altering its mineral structure. This process could potentially enhance asbestos's electrical conductivity. Thus, the bacteria could be used to treat the toxicity of asbestos through iron removal, or the increased electrical conductivity of the treated asbestos might enable it to be repurposed.
This innovative research showed that bacteria could be used to extract iron, silicon, and/or magnesium from asbestos, thus offering a superior method of asbestos detoxification compared to other biological methods. However, further research is required to optimize these treatments and to explore the potential for detoxifying and possibly reusing asbestos as secondary raw materials.
April 17, 2023 – Asbestos School Closing in Philadelphia
A sixth school in Philadelphia, Universal Vare Charter, has temporarily closed due to discovered asbestos damage. The extent of the asbestos issue and the school's reopening date are yet to be determined. The closure has complicated matters as students are in the midst of standardized testing. Consequently, students will be transported to a different school to take their exams, and other classes will be conducted virtually. The closure and asbestos abatement follows a series of similar incidents in other schools across the district, with ongoing investigations into decades-long mischaracterizations of asbestos safety in these institutions.
April 5, 2023 – EPA Proposes Banning All Use of Asbestos
This week, the EPA formally proposed new regulations that would effectively ban nearly all permissible uses of asbestos in the U.S. Virtually all commercial use and product of asbestos in the U.S. ended decades ago due to the known health risks of asbestos, but asbestos was never outright banned.
In 1989, the EPA attempted to fully ban the use of asbestos in the U.S., the federal appeals court struck down those regulations 2 years because they exceeded the agency's authority under the prior version of the Toxic Substances Control Act (TSCA). Now, however, the TSCA has been amended to give the EPA more power and the proposed ban on asbestos is one of the agency's first efforts to flex that regulatory muscle.
March 25, 2023 – $15 Million New York Verdict Upheld
The New York City Asbestos Litigation (NYCAL) court rejected Kaiser Gypsum's post-trial appeals following a verdict that saw the plaintiffs awarded a sum of $15 million. Kaiser Gypsum sought: 1) a judgment contrary to the verdict; 2) an order for a retrial; or, 3) a reduction of what they deemed an excessively high verdict. They were all rejected.
March 14, 2023 – Washington Mesothelioma Verdict Upheld on Appeal
The Washington Court of Appeals upheld yesterday a huge $16.67 million asbestos verdict. This case involves the widow of a former employee of a Camas paper mill, who passed away from mesothelioma in 2021. The illness was caused by asbestos exposure from "dryer felts" sold by a particular company. Dryer felts, akin to absorbent conveyor belts, carry large sheets of wet paper through heated rollers to dry the paper, marking the final step in the paper manufacturing process. The deceased had worked on the mill's paper machine cleanup crew which involved regularly cleaning these dryer felts with compressed air.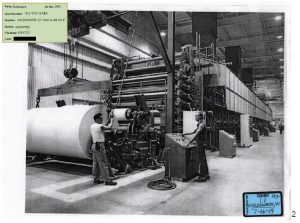 Following his death in 2021, the widow hired an attorney who filed an asbestos lawsuit.  The family's asbestos lawsuit alleged that the defendant company did not test its products for asbestos release, issue warnings, or label its products concerning asbestos content. After a four-week trial, the jury issued its award.
The appellate court's decision noted that the family's lawyers presented more than sufficient evidence for a jury to decide that there was asbestos exposure, both from direct contact and "bystander exposure." Furthermore, expert testimony established that the deceased was exposed to asbestos from the company's products even when not working specifically with them. So the three-judge panel concluded that there was enough evidence to prove that the exposure was a substantial factor in the development of mesothelioma. The panel concluded that the "presented sufficient evidence to prove his exposure to asbestos from Scapa's asbestos-containing dryer felts and that the exposure was a substantial factor to his development of mesothelioma…."
March 12, 2023 – $20 Million Verdict for Mesothelioma from 4-Month Exposure
A Connecticut jury has ordered a minerals company based in Norwalk and a national sealant manufacturer to pay $20 million to the widow of a man who succumbed to asbestos contamination in 2020. The six-week asbestos trial culminated in the jury's verdict after less than two hours of deliberation.
The decedent, a 76-year-old man, had been working for a former company in Woodstock, Connecticut, in the early 1960s when he was tasked with replacing the factory building's window. Over a four-month span, he was required to replace numerous individual window panes, chiseling out the asbestos-contaminated sealant and glaze between each pane. These materials, sold by the sealant manufacturer and made up of materials manufactured by the minerals company, were the subject of the lawsuit. The man was diagnosed with mesothelioma and passed away 11 months later. His widow hired an asbestos lawyer to bring a lawsuit against the companies.
February 22, 2023 – New Study Links Gene Mutation to Mesothelioma Risk
A new study by a research team from Nagoya University in Japan has definitely linked the BRCA1 mutation to an increased risk of developing mesothelioma from exposure to asbestos. The BRCA1 mutation is found in approximately 1 out of every 500 people. The research study used a rat testing model to show that individuals who have this gene mutation are much more likely to develop mesothelioma if they are exposed to airborne asbestos particles compared to those without the mututation.
January 10, 2023 – Employer Has an Obligation
Thhe Superior Court of Pennsylvania ruled that employers must protect employees from known as well as foreseeable risks. The case revolved around an employee exposed to asbestos during the 1970s and 1980s, leading to a malignant mesothelioma diagnosis in 2017, and his subsequent death in 2019.
The employee's estate sued the employer, Kreider Farms, for negligence in failing to warn and protect him from asbestos hazards. The employer argued that they were unaware of asbestos dangers at the time and were only obligated to protect employees from known risks. Initially, the trial court sided with the employer.
However, on appeal, the Superior Court ruled in favor of the employee's estate. The Court held that employers must take into account general scientific discoveries, make efforts to uncover facts indicating danger to employees, and act accordingly when such hazards are discovered.
The Court found that the trial court had made a mistake by only considering whether the employer had actual knowledge of asbestos risks. Instead, the court determined that a jury could have concluded that the employer should have known about the dangers based on expert reports, medical journals, and state department publications presented by the appellant.
November 22, 2022 – $5.75 Million Verdict Against Volkswagen for Asbestos Wrongful Death
After a 2 week trial, a jury in Spokane, Washington awarded $5,750,000 in damages in an asbestos lawsuit against Volkswagen Group of America for the wrongful death of a former automatic mechanic, Thomas Sorrentino. Mr. Sorrentino contracted mesothelioma in November 2020 arising from his exposure to asbestos as an automotive mechanic at United Volkswagen in Spokane, Washington. He was exposed to asbestos when he ground brakes on an arc grinder, blew out brake drums, and cleaned up the shop from 1972-1975. The lawsuit alleged that Volkswagen of America and Volkswagen AG failed to warn Mr. Sorrentino of the hazards of asbestos.
November 14, 2022 – Honeywell Will Pay $1.3 Billion to Asbestos Claims Trust Fund
Honeywell International has been a major defendant in asbestos lawsuits recently. From 1979 to 1986, Honeywell owned a subsidiary called North American Refractories Company (NARCO). At one point, NARCO was the biggest manufacturer of heat-resistant products. As a result, NARCO was overwhelmed with asbestos liabilities and in 2002 the company was forced into bankruptcy.
As a result of the NARCO bankruptcy, Honeywell was tagged with liability for future asbestos liabilities related to those asbestos products which NARCO manufactured for use in Honeywell products. To address these liabilities, a settlement trust fund called the North American Refractories Asbestos Personal Injury Settlement Trust (NARCO Trust) was created in 2013. The trust is funded by Honeywell and it is tasked with paying settlement compensation to claimants.
Recently, however, bitter legal disputes have arisen between Honeywell and the NARCO Trust over how much the trust was paying out on claims. Since the trust was established, Honeywell has periodically paid money into the trust to keep it funded. Those periodic funding obligations were supposed to continue for a long time under court supervision.
Earlier this month, however, Honeywell announced that it had reached an agreement with the NARCO Trust by which Honeywell would make a final one-time payment of $1.3 billion to finally resolve its obligations to fund the trust. The $1.3 billion would effectively buy Honeywell out of its future obligations to the trust. The agreement must first be approved by the U.S. Bankruptcy Court.
July 21, 2022 – $15 Million Verdict to Drywall Installer
A New York jury awarded $15 million to the family of a drywall installer. Throughout his career as a construction worker in New York and New Jersey from the 1960s to the 1980s, the man consistently encountered asbestos. His work involved mixing a powdery joint compound with water and applying it to drywall. In compliance with the manufacturer's guidelines, he sanded the product to attain a smooth finish, which unfortunately led to the creation of substantial dust laden with asbestos.  Among the 11 entities his family blamed for his mesothelioma, Kaiser Gypsum was the final defendant in the trial.  Everyone else offered reasonable settlement amounts or were dismissed from the case. The jury concluded that Kaiser Gypsum was 70% responsible for his suffering and awarded his family $15 million.
May 25, 2022 – $7.2 Million Mesothelioma Verdict Against U.S. Steel
In this wrongful death case, the decedent, 62-year-old male James O'Reilly, died due to pleural mesothelioma, allegedly from asbestos exposure while working for decades as a union pipefitter at various industrial facilities for over twenty years, one employer being defendant United States Steel Corporation, and one manufacturer, Fisher Controls International, which manufactured valves used at U.S. Steel. After a 14-day trial, a jury in Chicago, Illinois found that the plaintiffs had proven their claims against U.S. Steel and awarded $7.2 million.
Get an Asbestos Lawyer for Your Mesothelioma Lawsuit
If you or a loved one have been diagnosed with mesothelioma and want to get fair compensation in a settlement or jury payout, contact our asbestos lawyers today for a free consultation at 800-553-8082 or get a free online consultation.