Window tints laws require a significant amount of light to be transmitted in car windows. Once pulled over, a police officer may check to see if your car's window tints are legal or not. You may ask yourself how police officers can do that. In addition to knowing how to check for too much tint, you must know the window tint laws in both Maryland and D.C.
How do the police determine if a window has too much tint?
The only way to determine if there is an actual violation of the statute is for the officer, after stopping the vehicle, to conduct a test utilizing a "two-piece window tint meter." When observing a vehicle without the benefit of such a device there is no definitive way to determine if the window tint on a car is in violation of the statute other than by eyeballing it.
What is the legal tint in Maryland?
In Maryland, legal tint varies by vehicle. All windows in passenger cars, convertibles, and station wagons are required to have at least 35% light transmittance. These cars are also not allowed to have red, yellow, amber, and reflective window tint.
Regarding multipurpose vehicles, limousines, vans, and class E trucks with a gross vehicle weight rating of 10,000 pounds or less, they are only required to have 35% light transmittance on their driver and right-front passenger doors with added tint. All other windows can have much darker tints. They can also have different colors, except for reflective tint. Window tint installed after purchase is not allowed on the windshield below the AS1 line or 5 inches from the top of the windshield.
In addition, all window tint film installed on a vehicle after its purchase must be registered in Maryland.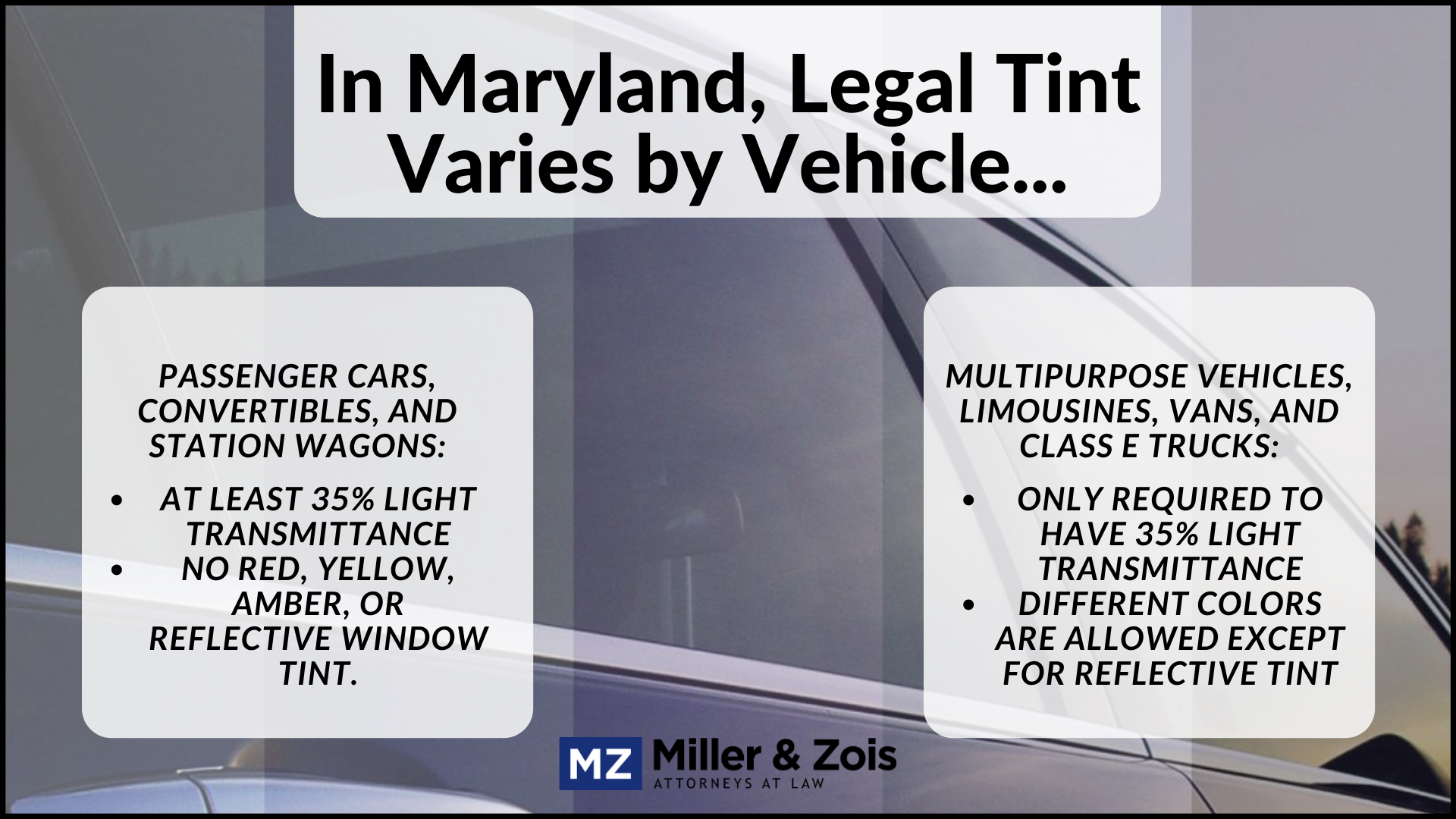 What are exceptions to the Maryland law?
Car owners with medical conditions that require them to be protected from the sun are exempted from tint restrictions. Once their vehicle is stopped by a police officer, the owner must show a written certification that explains the medical necessity of tinted windows for the owner. It must also be from a physician that is licensed to practice in Maryland.
What happens when I violate the Maryland tint law?
Window tint violations are on the list of Safety Equipment Repair Order (SERO) defects. An SERO may be issued by a Maryland State Police trooper or another law enforcement officer. It requires the owner to have the defect be repaired within 10 days. There must also be a repair certification that is to be submitted to the Maryland State Police Automotive Safety Enforcement Division (ASED) within 30 days.
How do I resolve a SERO?
To resolve a window tint SERO, have your car's tint changed within ten days. They can be made at any garage or repair shop. You may also install the newly tinted windows yourself. Once the vehicle is repaired, you have to take the SERO to a Maryland State Police authorized inspection station to certify and inspect the windows. The registered inspection mechanic shall sign and stamp all SERO copies to confirm that the newly installed window tints are legal. Once the repair is certified and the SERO is signed and stamped, submit a copy of the SERO to the ASED within 30 days after the SERO was issued.
What is the legal tint in Washington, D.C.?
According to §50-2207.02, most vehicles except for minivans may not have a front windshield or side windows less than 70% light transmittance. Regarding rear windshield or side windows, they may not have less than 50% light transmittance. Front minivan windshields or side windows may not be less than 55% light transmittance. Rear minivan windshield or rear side windows may not have less than 35% light transmittance. The law also does not allow for motor vehicles upon the streets of D.C. with a front windshield with less than 70% light transmittance to be operated or parked on its streets.
What are the exceptions to the D.C. law?
Exceptions to the law include certain limousines, ambulances, buses, and hearses. Other exceptions include church-owned vehicles, all official government vehicles, vehicles with tinted windows manufacturer-installed prior to purchase. The Director of the Department of Motor Vehicles may exempt some vehicles driven by owners with medical conditions that require windows that allows for less light.
How much is a tint ticket in Maryland?
Any of these violations are subject to a $50 citation. Violators also have to go to an official District Inspection Station within 5 business days after or else they may be fined up to $1,000. Second-time violators will also have to go to an official District Inspection Station within 5 business days, but fines can increase up to $5,000.
Police officers are also allowed to have a motor vehicle removed from public streets to an official District Inspection Station if the window tint violations are a public health and safety risk.