On this page, our car accident lawyers will look at Miami auto accident lawsuits. We will review key points of Florida law relevant to auto tort cases and we will discuss how much settlement compensation plaintiffs typically get in Miami car accident cases.
---
RELATED CONTENT:
Florida Personal Injury Settlements and Law
---
Auto Accidents in Miami
The city of Miami is in Miami-Dade County, which has a population of 2.7 million, making it one of the most populous counties in the U.S. Although Miami-Dade has a land area of 1,946 square miles, much of that is uninhabited land in the Florida everglades or water. Most of the 2.7 million residents are living in or immediately around the city of Miami.
According to statistics published by the Florida Highway Safety and Motor Vehicles Administration, there were a total of 63,514 police-reported vehicle accidents in Miami-Dade County during 2022. Just under 20,000 people were physically injured in those accidents.  During 2022, there were 305 fatal accidents resulting in the deaths 323 people in Miami-Dade. 87 of those deaths were pedestrians and 44 were motorcycle riders.
Miami Auto Accident Laws
Miami car accident injury cases are governed by Florida law. Auto tort cases involving 3 potentially relevant areas of law: (1) traffic laws (rules of the road), (2) vehicle insurance laws, and (3) tort law which applies to liability for injuries. Below is a brief outline of all the key Florida laws that apply in car accident lawsuits.
4-Year Statute of Limitations for Miami Car Accident Lawsuits
Florida has a generous 4-year statute of limitations for personal injury lawsuits. In auto accident cases, the 4-year period begins to run from the date of the accident. This means that if you are injured in a car accident, you need to file your lawsuit within 4 years from the accident date or your case will be barred. Fla. Stat. § 95.11(3).
Comparative Fault in Miami Auto Accident Cases
In many auto accident cases, the defendant will argue that the plaintiff's own negligence or traffic rule violation was partly to blame for the accident. In these shared fault cases, Florida follows the legal rule known as comparative fault. Under comparative fault, a plaintiff's damages are reduced by their percentage share of fault. Below is an example to illustrate how this works in practice.
Let's say John makes a left turn in front of Debbie and she hits him. Debbie files a lawsuit and John argues that Debbie was partly at-fault because she was going 20 miles over the speed limit at the time of the accident. The jury finds that John was 60% at fault and Debbie was 40% at-fault and awards $100,000 in damages. Debbie's damages will be reduced by 40% so she will only get $60,000.
Damages Available in Miami Car Accident Cases
Unfortunately, the Florida legislature recently enacted new laws which imposed maximum caps or limits on the amount of damages plaintiffs can get in personal injury cases, including auto accident cases. Although Florida's damage caps may limit the amount of damages plaintiffs in high-value cases can get, all of the various types or categories of damages are still permitted in auto injury cases. The basic categories of damages in Florida accident cases are outlined below.
Medical Expenses: Florida law gives car accident plaintiffs the right to recover damages for all medical expenses related to injuries suffered in the accident. Damages are available not just for medical expenses you have already incurred, but also future medical expenses they expect to incur if they are related to injuries suffered in the accident. For example, if you injure your back in a car accident and you doctor says you need back surgery next year, that cost can be included in your damages.
Lost Income: Plaintiffs in Miami are supposed to get damages for any and all lost income or lost wages that they incurred as a result of injuries caused by the car accident. This includes not just past lost income, but also future lost income. For example, if you suffer a permanent injury that will prevent you from working for the next 6 months or a year, you would be entitled to lost wages for that period.
Pain & Suffering: Miami law also allows damages to be awarded for mental pain and suffering related to injuries sustained in a car accident. The more severe and painful the injury, the more pain and suffering damages. The judge or jury determines pain and suffering damages if a case goes to trial.
Settlement Value of Miami Auto Accident Cases
The settlement value of a car accident injury case in Miami is based on various factors which are often very different in each individual case. The severity and nature of the plaintiff's injuries is always the most significant factor driving the settlement value of a case. More serious injuries involve more medical expenses and more pain & suffering, which equates to a higher settlement value. The chart below shows the average settlement value range of Miami car accident cases based on the severity level of the plaintiff's injuries.
| | |
| --- | --- |
| INJURY SEVERITY LEVEL | SETTLEMENT VALUE |
| LEVEL I | $21,000 – $39,000 |
| LEVEL II | $58,000 – $147,000 |
| LEVEL III | $176,000 – $420,000 |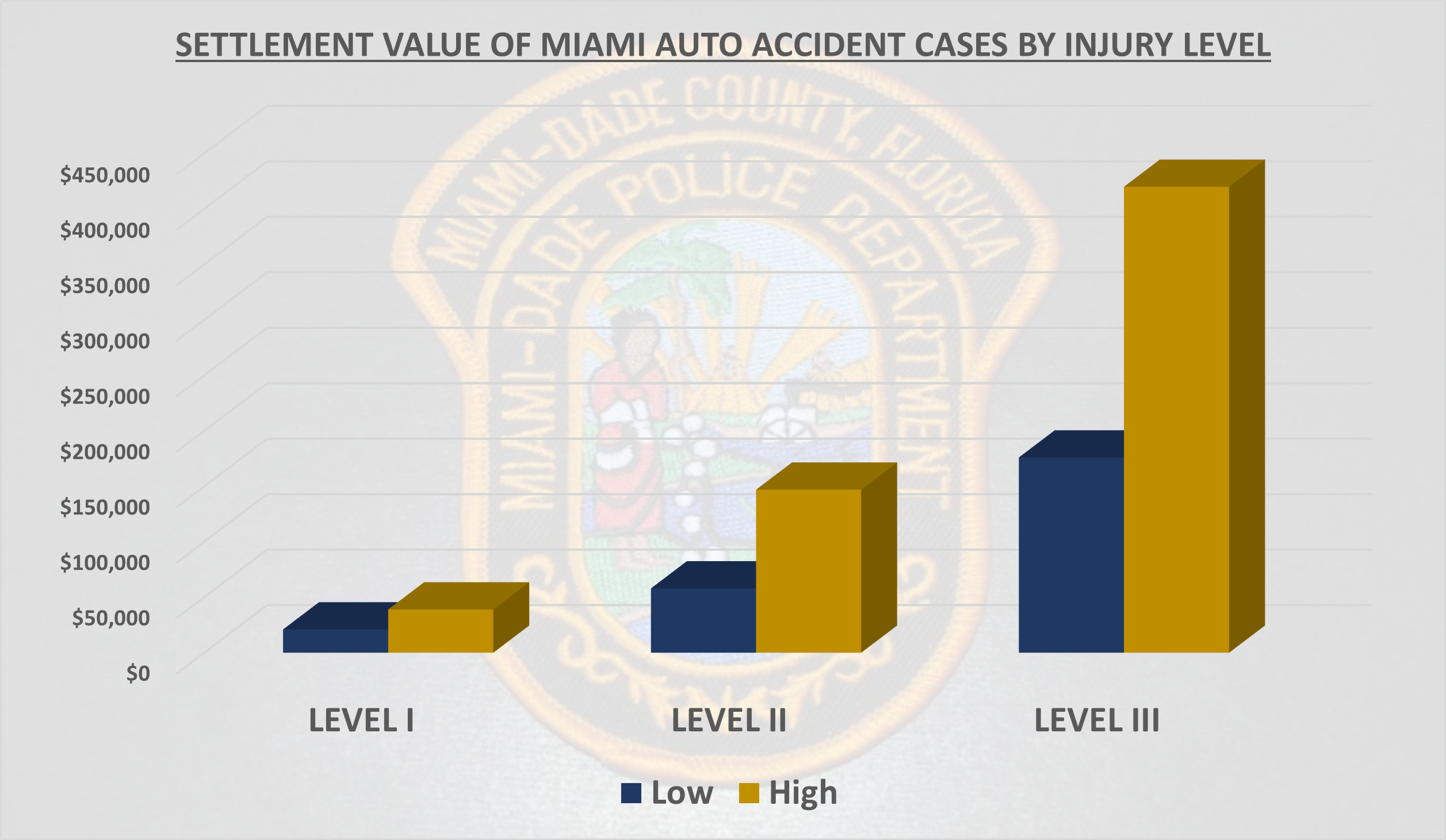 Miami Car Accident Settlements and Verdicts
Below are recent verdicts and reported settlements from Miami car accident lawsuits. These verdicts include cases from the greater Miami metro area, which includes both Miami-Dade County and Broward County. These cases are provided for informational purposes only and are not a guarantee of value in your case.
$662,631 Verdict (2023 Miami-Dade County): The plaintiff was cleaning up collision debris as part of his job as a tow truck driver when a police officer employed by defendant City of Miami failed to secure the accident scene and he was hit by a non-party vehicle. The plaintiff reported sustained fractures of his right tibia and fibula, as well as unspecified injuries to his neck, back, right knee and left shoulder. He sued the Miami Police Department for negligently failing to security the accident scene. Verdict included $220,000 for pain and suffering.
$326,000 Verdict (2023 Miami-Dade County): The plaintiff was operating his motor scooter when he was struck by a vehicle operated by a police officer within the course and scope of his employment with the police department of the defendant City of Miami. The plaintiff said the police officer, who had parked his vehicle in the middle of the street with no lights on, made a U-turn and collided with the plaintiff. The jury found the police officer was only 42% negligent and the plaintiff was 57% negligent, but under Florida comparative fault the plaintiff still got reduced damages.
$105,000 Verdict (2023 S.D. Florida): The plaintiff was driving north at or near an intersection when his vehicle was struck by a northbound postal truck owned by defendant the federal government. The plaintiff said he was attempting to pass the postal truck when the defendant driver attempted a left turn and collided with his vehicle. The plaintiff said he suffered head, neck, and back injuries as a result of the collision and he filed suit in federal court in Miami.
$17,600 Verdict (2023 Miami-Dade County): The plaintiff claimed to suffer permanent injuries including a lumbar strain when the vehicle he was a passenger in was involved in a collision with a vehicle owned and driven by the defendant. The defendant disputed the nature and extent of the plaintiff's claimed injuries, noting he had a prior history of back pain due to a chronic degenerative condition. The jury in Miami seemed to be somewhat unconvinced by the plaintiff and only awarded past medical expenses.
$26,000 Verdict (2023 Miami-Dade County): The plaintiff was stopped at a red light in Miami Beach when the defendant slammed into his vehicle from behind. The plaintiff claimed that he suffered permanent injuries to his back, shoulder and neck. The jury was apparently not fully convinced that the injuries were permanent because they only awarded damages for past-medical expenses and not future medicals.
Hire a Miami Car Accident Lawyer
The personal injury attorneys at Miller & Zois can help you with your Miami car accident lawsuit. We work with local counsel in Miami at no additional cost to our clients to deliver the maximum possible compensation for your case. Contact us today at 800-553-8082 or contact us online.