In this post, our Roundup lawyers will give you
an update on where things stand in the Roundup class action lawsuit in May 2023 (including updates from the last few trials),
the likely direction the Roundup litigation will likely take moving forward, and
the expected future settlement amounts in the Bayer Roundup lawsuit (Phase 2)
30,000 Roundup Cases Left… and Counting
As of September 2023, Monsanto has reached settlement agreements in nearly 100,000 Roundup lawsuits. Monsanto paid approximately $11 billion. Bayer has accomplished this by negotiating block settlement arrangements with plaintiffs' lawyers who have large numbers of cases in the litigation.
Although these settlements account for nearly 80% of all pending Roundup claims, there are still about 26,000-30,000 active Roundup lawsuits. Most lawsuits have been filed in state court. But over 4,000 claims in the MDL Roundup class action lawsuit are still pending in California.
New Roundup lawsuits continue to get filed regularly. Our Roundup attorneys get calls and online contact forms from Roundup victims with NHL almost daily. You can reach us at 800-553-8082.
Roundup Update September 22, 2023
Donna Farmer testified yesterday in McCostlin v. Monsanto.  She has been in the middle of all this and has the been the face of Monsanto.  She is likeable when she testifies (there is a YouTube video out there you can watch).
But facts are facts.  She had to admit that studies indicating the weedkiller's impact on chromosomes were primarily conducted by independent researchers, while research asserting no chromosomal harm was predominantly funded by Monsanto. When this litigation had just started, I wrote a since deleted blog post saying I did not think Roundup caused cancer.  What I did not know at the time was that all the medical literature I was relying on was funded by Monsanto.
Roundup Update September 19, 2023
Yesterday,  Richard DeGrandchamp, a toxicologist from the University of Colorado, testified at the latest Roundup trial in St. Louis about studies that have come out since 2015 linking Roundup to NHL.   More recent studies have shown that it can cause other harmful effects on our body's DNA and cells, he said. However, during questioning, DeGrandchamp admitted that he's made most of his money in the past 30 years by being a paid expert in court cases, earning about $2 million lately. While that might raise some eyebrows, it's a regrettably common practice for experts on both sides in mass torts in 2023. Let's hope the jury focuses on the solid science he's sharing.
McCostlin v. Monsanto is available to watch on the Courtroom View Network.
Roundup Update September 18, 2023
We talked about the trial schedule in Philadelphia.  There are two pivotal Monsanto Roundup cases are due for trial in St. Louis soon:
October 2, 2023: Case of Allegrezza against Monsanto
January 23, 2024: Case of Griswold against Monsanto
In Allegrezza, the plaintiff asserts that her non-Hodgkin lymphoma was a result of prolonged Roundup usage, while David Griswold believes his 20 years of using the product led to the same condition.
Roundup Update September 14, 2023
While we wait to see how the next Missouri Roundup trial that started yesterday plays out, the initial set of trials related to Philadelphia's Roundup lawsuits get rolling next month and they keep rolling until the end of 2024. Below is a breakdown of the trial dates:
| Date | Plaintiff |
| --- | --- |
| October 5, 2023 | Ernest Caranci |
| November 7, 2023 | John Sosnoski |
| January 23, 2024 | Joseph DiGiacomo |
| March 13, 2024 | MaryAnn Sopko |
| May 1, 2024 | Thomas Donohue |
| July 12, 2024 | Richard DeAngelis |
| September 20, 2024 | Joseph DiNuzzo |
There are 200 Roundup cases waiting in Philadelphia and a lot more waiting to get filed.
Roundup Update September 13, 2023
Opening statement began yesterday in another Missouri courtroom today.  In McCostlin v. Monsanto, the plaintiff lawyer argued that Mr. McCostlin's non-Hodgkin lymphoma was a result of using Roundup for more than 30 years in Lenexa, Kansas.  Bayer's lawyer pushed their "all NHL is from random cellular errors" theory that seems pretty ridiculous.
Roundup Update September 10, 2023
The epicenter of the Roundup lawsuits has shifted to state court in St. Louis and in Philadelphia, where we will hopefully see big verdicts this fall. But the Roundup MDL is still moving forward.
On November 3, 2022, the MDL judge issued a directive for all Wave 6B plaintiffs, including the plaintiff in this instance, to furnish their expert reports by no later than July 26, 2023.  This is actually a good thing; Judge Chhabria is pushing these cases along.
These expert reports, as mandated by this order, must be accompanied by comprehensive written reports endorsed by the experts themselves. These reports should include a thorough account of all the opinions the witnesses intend to express, along with the rationale and basis for these opinions, among other required details, as outlined in Federal Rule of Civil Procedure 26(a)(2)(B)(i).  This is a rule applied to every single event (not mass tort) filed in federal court.
Monsanto has filed a motion for summary judgment in an MDL case, Kelly-Leppert v. Monsanto (3:21-cv-02910-VC) alleging plaintiff failed to meet the deadline for submitting an expert report concerning specific causation.
We do not know why plaintiff failed to name an expert.  We will have to wait for plaintiffs' response to find out what the story is.
Roundup Update August 17, 2023
Plaintiffs suffered a tough loss on tenue this week.  In St. Louis, six plaintiffs filed Roundup lawsuits against Monsanto.  Despite none of the injuries originating in Missouri, the claims were lodged in St. Louis. Monsanto tried to transfer the venue for five out of the six cases to St. Louis County. Following a series of legal challenges, including a consolidation of claims, the circuit court denied Monsanto's request for a venue change. However, based on Missouri law, the Missouri Supreme Court determined that the circuit court must relocate the venue for five of the six plaintiffs' claims.
The crux of the case revolved around the correct interpretation of Missouri's venue statute for determining the proper location to hear a lawsuit. The main contention lies in section 508.010.5(1) of the statute, which determines the venue for actions alleging a tort where the plaintiff's first injury occurred outside of Missouri. For corporations, the venue is where the corporation's registered agent "is located" at the time the lawsuit is filed, rather than where the agent was when the injury first happened. The Court emphasizes the importance of the present tense language in the statute and contrasts it with other sections that use past tense, suggesting that the legislature's word choice was deliberate. Given the clear language of the statute, the Court determines that venue should be based on the registered agent's current location, not their past location. So because Monsanto's registered agent was located in St. Louis County at the time of filing,  St. Louis County is the appropriate venue.
One of the six cases will remain in St. Louis City because Monsanto's lawyers screwed up the removal.
This is a loss because you would expect a higher damage award and a greater likelihood of success in St. Louis than St. Louis country, a place where Roundup plaintiffs have struggled.
Roundup Update August 2, 2023
The Attorney General for the State of New York filed a lawsuit against Bayer alleging that it deceived NY consumers by selling Roundup as an environmentally safe weed killer when it knew or should have known that the product could cause cancer. In a somewhat surprising move, Bayer announced recently that it had agreed to settle this case for $6.9 million. The lawsuit was based on violations of New York laws regarding false and misleading advertising.
Roundup Update July 23, 2023
Monsanto is now seeking to exclude expert opinion testimony from Dr. Ron Schiff, a prominent expert witness for the plaintiffs. Monsanto claims that Dr. Schiff's opinions about the link between Roundup and cancer rely on a flawed methodology and should therefore be viewed as unreliable.
Roundup Update June 30, 2023
We have been discussing a need to change the momentum of the last 18 months of this litigation.  If there is a place to do that, it is Philadelphia, a jurisdiction known to be fair to victims.
The ball gets rolling this fall. The first batch of trials in the city's mass tort lawsuit involving Roundup is scheduled to commence this fall.  The schedule will hold everyone's feet to the fire, so we should get trial dates.
Philadelphia is a very different venue from St. Louis County, and you might see results more in line with what we saw in the MDL. There are about 200 Roundup NHL lawsuits in the Philadelphia mini-MDL, with many more to be filed.
Roundup Update June 16, 2023
Bayer CropScience LP and Monsanto Co. have agreed to settle for nearly $7 million over false and misleading advertising claims about their Roundup weedkiller with the state of New York.  Bayer was charged with making unsubstantiated claims that Roundup products wouldn't harm anything but weeds and didn't threaten animal wildlife health. Additionally, they implied Roundup products were safer than dish soap, contradicting a previous agreement. This settlement is specifically related to the environmental impact of Roundup, not its effects on human health. Proceeds from the settlement will be used for research, education, and habitat restoration to reduce toxic pesticides' impact on pollinators and aquatic life.
Roundup Update June 12, 2023
The Supreme Court of Arkansas refused a petition from Monsanto seeking to overturn a decision by a Drew County judge that necessitates Werner Baumann, the ex-CEO of Bayer in a state court Roundup lawsuit in Arkansas. The justices found that a writ of certiorari, which Monsanto was seeking, does not serve as an appropriate avenue to contest a discovery order unless there has been a blatant, severe abuse of discretion, or a jurisdictional issue arises.
Roundup Update May 24, 2023
Bayer won the Gordon trial last night, marking its 7th victory in a row.
Not good. In the second to last paragraph of the May 1st update below, we explain why Bayer let this case go to trial. It had fundamental weaknesses from the plaintiffs' perspective on jurisdiction and the facts of the case. But, at the end of the day, a loss is a loss.
Roundup Update May 16, 2023
Recently, the U.S. Supreme Court has declined to intervene in a $39 million class settlement concerning Monsanto's Roundup. The settlement, which includes a significant $14.4 million cy pres award, was contested by an objector who argued that this large charitable component inappropriately redirected class members' compensation. However, the district court and the US Court of Appeals for the Eighth Circuit had previously approved the settlement, which was reached after plaintiffs accused Monsanto of misleading consumers about the weed killer's health risks.
Roundup Update May 15, 2023
The plaintiff in Gordon rested her case on Friday after testifying about her use of Roundup in her garden and her cancer.  She also expressed regret about not being warned about the potential carcinogenicity of the product. Monsanto's lawyer questioned Ms. Gordon about her claims about Roundup exposure and a goofy issue with her burning her medical records about six months after she filed suit. The trial will resume on Monday.
Roundup Update May 11, 2023
The Gordon trial is in St. Louis County, a place Bayer desperately wants to be instead of the city of St. Louis.  Yesterday, Bayer argued in Missouri's Supreme Court that a single term within tort reform legislation prevents a set of Roundup cases from being tried in St. Louis. The agribusiness giant seeks to permanently overturn a judge's decision, which denied their request to shift a consolidated case involving six former Roundup users from St. Louis City to St. Louis County.
The controversy centers around two subsections of the state's venue laws. Monsanto asserts that Subsection 5, which states the venue is where the "registered agent is located, " means when the suit is filed. However, the plaintiffs counter with Subsection 9, which states, "In all actions, venue shall be determined as of the date the plaintiff was first injured." A fear that one judge raised is whether this interpretation might permit corporations to manipulate the venue by changing their registered agent's location when they anticipate litigation.
The likelihood of success for a St. Louis Monsanto cancer lawsuit is much higher in the city than it is in the county.  So this is a meaningful fight.
Roundup Update May 10, 2023
The Gordon trial we talked about in the last update that started on April 26th is moving forward slowly.  The plaintiff is still putting on her case.
Roundup Update May 1, 2023
Where are we on expected settlement amounts in the Roundup NHL lawsuits right now?  There are approximately ten zillion lawyer pages on Roundup and no one is talking about the one issue victims care about.
The expected settlement amounts for the remaining inventory of Roundup lawsuits are dropping. Let's go ahead and get that out in the open.  Why? Bayer is winning, and some lawyers are losing their unbridled confidence in cases, especially those involving the non-commercial use of Roundup.  One canary in the coal mine: lawyers are not marketing for Roundup as there were just months ago.
Much of this is the fruit of good strategy from Bayer's lawyers.  They are trying cases they can win and settling the ones they fear.  And they have been making the right calls, which has turned the tide in terms of how much money plaintiffs' lawyers think they are worth.  If you ask different attorneys in the litigation what the expected settlement payouts are now, you will get a wide range of answers.  But the common thread is that those settlement payout estimates are less than they were last year at the same time.
That can all change in a New York minute. What plaintiffs need is a win at trial.  Another new Roundup cancer trial began on April 26th in St. Louis County, Missouri. This case involves Sharlean Gordon's claims that she was regularly exposed to Roundup during her childhood when her stepfather used it around the house. Gordon asserts that this exposure resulted in her being diagnosed with non-Hodgkin's lymphoma at age 39 (making Gordon one of the youngest Roundup plaintiffs to go to trial). During opening statements, plaintiffs' pushed a Monsanto memo from 2009 written by Donna Farmer, the chief toxicologist at Monsanto's product safety center. The document bluntly stated, "You cannot say that Roundup does not cause cancer. We have not done the carcinogenicity studies with Roundup."
Why is Bayer letting this one go to trial? Montsanto's lawyers like the non-commercial cases anyway, and this one has particular appeal for them because the exposure was so long ago.  It is also helpful to Bayer that the plaintiff is obese (a risk factor) and has been cancer-free for ten years.  So they are willing to roll the dice in St. Louis County, where juries are generally more conservative than those in the nearby City of St. Louis, where several Roundup lawsuits are waiting to be heard.  Bayer continues to pick and choose its spots.
We need to win this one.  Or the next one.  Three more Roundup trials are scheduled for June in Florida, San Diego, and again in Missouri.
Roundup Update March 17, 2023
Monsanto is asking the Eleventh Circuit to affirm the dismissal of a lawsuit claiming the company failed to warn about Roundup's health risks. John Carson Sr. alleges he developed soft-tissue cancer from years of using the glyphosate-based weedkiller on his lawn. This is the goofy case where Bayer paid Carson to appeal his case, trying to split the circuits so the Supreme Court would take the case.  The Supreme Court has already refused to hear Bayer's appeal.
Monsanto argues that Carson's claims are preempted by federal pesticide labeling law, which disallows any state-law labeling or packaging requirements that differ from those required under federal law. A district court initially threw out Carson's suit but was reinstated in July 2022 by a three-judge appeals court panel. The full Eleventh Circuit agreed to review Monsanto's appeal in December 2022.
Roundup Update February 27, 2023
Professor David Carpenter, an expert plaintiffs' witness in several Roundup lawsuits, has been reinstated at the State University of New York at Albany after Monsanto lawyers attempted to discredit him. Lawyers for Monsanto contacted the University after Carpenter served as an expert in Roundup cases and prompted the University to put the professor on leave pending an investigation. Monsanto's defense team attempted to use the investigation to their advantage in several ongoing Roundup cases. Last week, however, the University reinstated Carpenter and cleared him of wrongdoing.
There is a deeper backstory that will eventually come out of this.
Roundup Update February 25, 2023
The Missouri Supreme Court issued an emergency ruling halting a six-plaintiff Roundup trial that had just begun in St. Louis. The court ruled that the case was brought in St. Louis in violation of Missouri's relatively new law to prevent forum shopping by plaintiffs. St. Louis is a notoriously plaintiff-friendly jurisdiction, but lawyers for Bayer convinced the court that the case lacked sufficient connections to St. Louis since none of the six plaintiffs were residents of Missouri.
Roundup Update February 3, 2023
A new study published in the Journal of the National Cancer Institute presented further evidence that chronic exposure to glyphosate (the chemical in Roundup) increases cancer risk. The study included 268 farmers with occupational exposure to glyphosate and compared their health histories to non-farmers without exposure. It found that specific oxidative stress biomarkers (known to increase cancer risk) were significantly higher in the group with glyphosate exposure.
Roundup Update February 1, 2023
The Griswold trial in St. Louis has been postponed to March 6, 2023.
Roundup Update January 21, 2023
A woman filed a Roundup lawsuit and was expecting to get around $120,000 in settlement compensation. Still, the law firm representing her in the case refused to cut her a check after learning she was not a legal U.S. citizen. A public interest law firm is now bringing a lawsuit on behalf on her behalf against both Bayer and her law firm. The suit asserts that her citizenship should not have excluded her from the settlement.
Roundup Update January 18, 2023
The focus of the Roundup litigation has shifted to state courts. But there is still a federal Roundup class action lawsuit. The MDL in federal court still has 4,158 active cases as of yesterday. Many of these cases are pending settlement.
Roundup Update January 11, 2023
The next Roundup cancer trial could happen later this month in St. Louis. Griswold v. Monsanto was supposed to go to trial this week, but the trial date was postponed to January 23, 2023. This case will be televised on the Courtroom View Network.
Bayer has scored defense verdicts in the last few Roundup cases that went to trial in St. Louis. However, in other cases, Bayer has opted to avoid trial by negotiating last-minute settlements.
Roundup Update January 1, 2023
Bayer seems to hold out hope that Bayer Roundup lawsuits will get dismissed in 2023. The dubious reason for the optimism is the 11th Circuit agreed to an en banc review of a decision by a 3-judge panel dismissing Bayer's federal preemption argument in a Roundup case. The en banc review will involve all of the judges in the 11th Circuit reconsidering the initial decision. The 9th Circuit denied Bayer's preemption argument, and the U.S. Supreme Court refused to hear the appeal.
Give Bayer credit, I guess. It does not quit. But its optimism that this is anything other than spinning wheels is misguided. The only winner in this effort will be Bayer's outside lawyers billing by the hour.
Roundup Update December 12, 2022
Last month, the latest Roundup cancer trial was supposed to get underway in California state court. But that trial never happened. Bayer settled the lawsuit at the last minute because that is what it does when the plaintiff has a strong case.
The case was Langford v. Monsanto Co. et al. (CGC-21-592238). It was set for trial in San Francisco last month. However, just three days before the trial was supposed to begin, the clerk removed it from the calendar with a note stating, "Case settled October 7, 2002."
The settlement terms are confidential. So we cannot know how much Bayer paid to the plaintiff. But it is fair to say a settlement premium is paid for cases ripe for trial.
Roundup Update November 11, 2022
Another trial in St. Louis involving claims that exposure to Roundup caused cancer has resulted in a disappointing defense verdict. The trial in the case, Moore v. Monsanto, et al., lasted nearly one month, and the jury found that the plaintiff had failed to prove his case. Ten more Roundup cases are set for trial in the months ahead. Bayer offers a Roundup settlement in some of these cases. They will let the weak ones go to trial.
Roundup Update November 10, 2022
The next Roundup trial started in California state court this week.   The plaintiff in this case regularly sprayed Roundup on his Northern California property for over 30 years. He continued to use Roundup after his NHL diagnosis in 2007 because he did not know of the risk of NHL associated with Roundup. This trial was expedited because Mr. Langford is in poor health.
The last Roundup trial in St. Louis resulted in a significant victory for Bayer, which won defense verdicts against all three plaintiffs. But California juries have awarded billions in the three Roundup verdicts.
Roundup Update November 3, 2022
A new study published in the Journal of Toxicology and Applied Pharmacology found that prenatal or perinatal exposure to glyphosate (the active ingredient in Roundup) can trigger an iron overload and cause permanent liver damage. This study was done by a team of researchers in Brazil who examined the impact of glyphosate exposure in laboratory rats. It is just the most recent in a seemingly continuous stream of studies highlighting the potential harm of Roundup exposure.
Roundup Update October October 20, 2022
St. Louis County, Missouri, will be the venue for another Roundup cancer trial in two days. The trial is set for October 22, 2022, and will feature a single plaintiff, Stacey Moore. The last Roundup trial in St. Louis ended in a defense verdict.
Roundup Update October 4, 2022
The next Roundup trial is in California state court on November 7, 2022.
Roundup Update October 3, 2022
The idea that glyphosate (the chemical ingredient in Roundup) is only linked to lymphoma and leukemia never really added up, right?   New research suggests that Roundup might also cause thyroid cancer. A research study by a team from UCLA published last month in a major medical journal looked at the impact of residential exposure to 29 different types of pesticides. A number of the pesticides were found to be associated with increased rates of thyroid cancer, with glyphosate having one of the strongest causal links.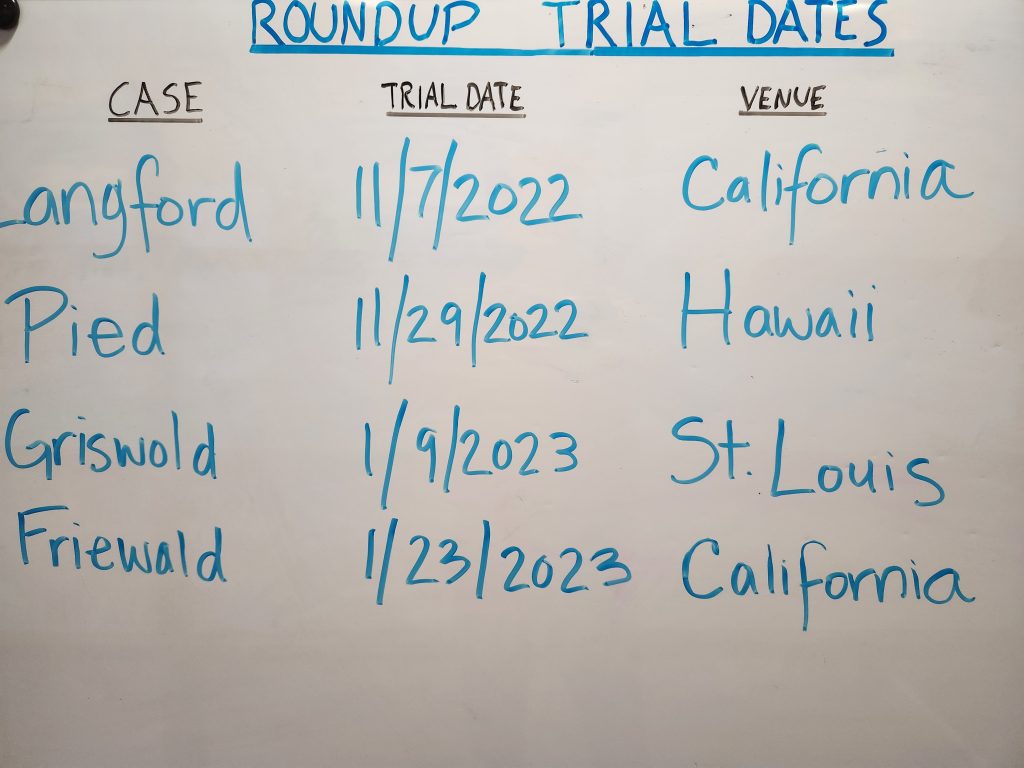 Roundup Update September 6, 2022
Last week, a federal judge in Texas denied a motion for summary judgment filed by Bayer in a Roundup case. Bayer sought summary judgment based on a version of its federal preemption argument.
The same preemption argument was rejected by the 9th Circuit last year, and Bayer's effort to appeal that rejection to the Supreme Court failed.
The Texas decision will probably be the first of many instances in which pending Roundup preemption arguments are shot down based on the 9th Circuit precedent.
Roundup Update September 2, 2022
The Roundup trial in St. Louis involving three separate plaintiffs and lasting nearly a month concluded yesterday. Bayer won.
The first handful of Roundup bellwether trials in 2018 resulted in gigantic verdicts for the plaintiffs. The verdicts were so significant that Bayer was forced to stop any additional trials and settle most of the pending Roundup cases.
More recently, however, Bayer has achieved defense victories in 5 state court Roundup trials in a row. Unlike the earlier bellwether cases, the recent trials involved cases that Bayer essentially hand-picked because they featured weaker claims. Four of the five most recent wins were in cases where Bayer was a heavy favorite to win because the facts were not strong for the victims bringing the claims. What happened to the strong cases? Bayer settles those.
Roundup Update August 26, 2022
An Arkansas state judge in an upcoming trial for a Roundup lawsuit ordered Bayer AG CEO Werner Baumann to be deposed about lymphoma and leukemia risk associated with Roundup. This is the first time Baumann has been ordered to testify in the Roundup cancer lawsuits.
Roundup Update August 25, 2022
Two of the three plaintiffs in the St. Louis Roundup trial – Gary Gentile and Marty Cox – took the stand to testify in support of their claims. Gentile explained that he was diagnosed with high-grade-B-cell lymphoma after years of regularly using Roundup for household landscaping.
Gentile's wife, Mary, also testified to tell the jury about the emotional toll that cancer has taken on her husband and family. Defense lawyers briefly cross-examined both plaintiffs and focused primarily on the point that none of their doctors even told them that Roundup was the cause of their lymphoma. The final plaintiff, Cheryl Davis, will testify before the plaintiffs are expected to close their case.
Roundup Update August 14, 2022
The last two days of the Alesi Roundup trial have been devoted to more testimony from medical experts on the issue of causation. Dr. Marc Braunstein, an oncologist from NYU Winthrop Hospital, took the stand on August 12. Dr. Braunstein testified for nearly seven hours, and a clip of video testimony from Dr. Marc Martens, a former Monsanto scientist, followed him.
Roundup Update August 10, 2022
The latest Monsanto news is that the Alesi trial is still ongoing. Opening statements were made last Wednesday. Meanwhile, we are continuing to learn of the risk posed by Roundup. A recent study published in the Journal of Neuroinflammation found that glyphosate, the active ingredient in Roundup linked to cancer, may also cause an increased risk of neurologic disorders such as Parkinson's disease.
Our lawyers have always gotten calls from Parkinson's patients who claim Roundup caused their injuries. We have not taken those cases. But there may be something to it.
The study found clear evidence that glyphosate can pass through the blood-brain barrier, a feature displayed by many chemicals known to cause Parkinson's disease and other neurologic diseases.
Roundup Update August 1, 2022
Jury selection begins today in a new Roundup cancer trial in St. Louis, and the entire proceeding will be webcast live by Courtroom View Network. The case (Alesi, et al. v. Monsanto, et al.) involves three plaintiffs in their 60 and 70s who used Roundup regularly for years and were subsequently diagnosed with lymphoma.
This will be the first Roundup case to go to trial in Saint Louis County Circuit Court, an urban venue that is not kind to corporate defendants. Earlier this year, Bayer settled a large group of cases to avoid going to trial in St. Louis County.
With several additional Roundup trials in St. Louis set for next year, the outcome of this trial could have a significant ripple effect. Bayer still has over $6 billion earmarked for the settlement of current and future Roundup claims.
Roundup News Update July 21, 2022
As most of you know, glyphosate is the chemical in Roundup that has been named a human carcinogen. The CDC recently released the startling results of a study indicating that 80% of the U.S. population may have this carcinogenic chemical in their urine. Sure, you never used Roundup. But you are eating food treated with Roundup, which is everywhere.
If you are reading these updates, you must wonder how Bayer could not feel besieged and surrounded. Bayer must offer reasonable Roundup settlement amounts to victims to move past this litigation and turn the page. That will not solve all of Bayer's problems, but a global Roundup settlement would be a significant step toward turning that company around.
Roundup News Update July 14, 2022
The 11th Circuit ruled yesterday that claims that Bayer failed to adequately warn of the risk of cancer associated with Roundup are not subject to preemption under the Federal Insecticide, Fungicide, and Rodenticide Act. A federal judge in Georgia had dismissed a claim a plaintiff's claim that Roundup caused his malignant fibrosis histiocytoma after using Roundup for 30 years.
The goofy – there is no other word – thing about this case is that Bayer already settled with this plaintiff and, as a part of the settlement, required the plaintiffs to appeal the duty to warn claim against Bayer. Why? Bayer hoped to create a split in the circuit courts to compel the Supreme Court to hear the case.   All of this legal scheming… and Bayer has nothing to show for it.
Roundup News Update July 8, 2022
The possibility of continuing Roundup liabilities with no end in sight continues to be a significant problem for Bayer. Since June 21st, when the Supreme Court formally declined to hear Bayer's appeal that could have terminated further Roundup claims, Bayer's stock has dropped 12%. Continuing Roundup liability costs remain a significant concern for investors. The glyphosate-based version of Roundup will be pulled from retail shelves at the end of this year, but Bayer could still be facing another ten years or more of Roundup cancer claims by former users who have yet to be diagnosed.
Roundup News Update June 30, 2022
Bayer loses again. The U.S. Supreme Court declined to hear a second Roundup verdict, this time the $87 million verdict for Alberta and Alva Pilliod.  Bayer had a slightly different – albeit ridiculous – additional argument that the punitive damages award violated the U.S. Constitution.
The conventional wisdom is that Bayer must pay another $5 billion or more to settle the remaining 30,000 Roundup lawsuits. That would be an average Roundup settlement of $167,000. This will not be enough money to settle these lawsuits.
But not all of those 30,000 claims are viable lawsuits. (Some Roundup lawyers are gathering cases with dubious merit.)  But the Roundup settlement numbers look much better at 20,000 or 25,000 claims and Bayer putting up a few billion in addition to the $5 billion to increase settlement amounts to resolve these cases.
Roundup News Update June 22, 2022
Well, that nightmare is over. The Supreme Court rejected Bayer's appeal.
Roundup News Update: June 18, 2022
Bayer won Johnson v. Monsanto in Oregon yesterday. This marks Bayer's fourth consecutive victory in a Roundup trial.
It is easy to place too much significance on these recent defeats. Bayer is counting on that psychology. But as we get away from the MDL class action lawsuit and move towards more trials across the country in state courts, this allows Bayer to pick and choose the Roundup lawsuits it wants to try and the cases it wants to settle.
Roundup News Update: June 16, 2022
The latest Roundup trial in Oregon – Johnson v. Monsanto (21-cv-10291) in Jackson County Circuit Court – is moving faster than Shelton did in Kansas City. The plaintiff rested last week and Monsanto is deep in the defense case. We could get a verdict this week.
Round News Update: June 14, 2022
Nothing ever comes easy in the Roundup lawsuits. Yesterday, the Supreme Court was poised to reject Bayer's appeal, and instead, it took no action on Bayer's effort to dismiss thousands of Roundup cancer lawsuits.
What does this mean? No one knows. The omission raises the possibility that the Supreme Court may hear the case. I still doubt it. We will learn more today.
Roundup News Update June 13, 2022
This week, the Supreme Court is scheduled to decide whether to hear the appeal filed by Bayer seeking to reverse the course of the Roundup litigation.
It has been almost a year since the Supreme Court put off the initial decision on whether to hear the appeal and invited the Biden administration to weigh in on the issues. Since then, the Solicitor General has filed a brief advising the SCOTUS to reject Bayer's legal arguments. Now all that remains is for the Court to deny the appeal formally.
Roundup News Update: June 10, 2022
After seven hours of deliberation, the jury found for Bayer in the Shelton case in Kansas City. A loss – any loss – in a Roundup weed killer lawsuit hurts. But you have to keep in mind that Bayer settled the last case coming up for trial in Kansas City because it did not like the facts. Bayer liked this case better and took it to trial. There will be more trials and more victories for plaintiffs.
The frustrating thing about this loss is that a big verdict in Shelton would have destroyed Bayer's morale to defend these cases. Now, they likely are emboldened until the next significant verdict.
Waiting on Shelton
At this point, the focus of the Bayer NHL lawsuit is waiting for a jury verdict in St. Louis in Shelton. There is still no verdict. Last week, Bayer's Roundup lawyers filed several motions to exclude specific evidence from this Roundup lawsuit.
Shelton's lawyer concluded his case last week. Monsanto immediately filed a motion seeking a directed verdict. Defendants in tort cases frequently filed these types of motions at the close of the plaintiff's case. As expected, the motion was denied.
On Wednesday, the trial judge denied Monsanto's earlier motion to strike the testimony of the plaintiff's expert on causation. So we now move on to the presentation of Monsanto's defense.
The defense lawyers' considerable effort, which will almost certainly fail, is to strike the testimony of the plaintiff's expert on specific causation (Dr. Ken Spaeth). Bayer/Monsanto also challenged the admissibility of a 2019 letter from the EPA to registered sellers/manufacturers of glyphosate. The trial judge held a hearing (without the jury) on these motions on Friday.
Philadelphia May Become New Center of Roundup Lawsuits
In other Roundup lawsuit news, Pennsylvania state court Judge Lysette Shirdon-Harris has ordered a mini Roundup class action lawsuit. Her order consolidates over 100 Roundup lawsuits into a class action consolidated for discovery.
How are these Roundup lawsuits in state court? These lawsuits also name as a defendant the chemical maker Nouryon which produces a key toxic element of Roundup. The plaintiffs allege that Nurion—headquartered in Radnor, Pennsylvania—produced a toxic ingredient in Roundup.
Huge win on May 10, 2022. The Biden Administration does not support Bayer's appeal.
The MDL class action lawsuit is in a holding pattern. But the next Roundup lawsuit to go to trial will be Allan Shelton's case. This herbicide suit is underway right now in state court in Missouri. Roundup lawsuits are in state court in Missouri because Monsanto is based in Missouri.
Will that case go to a verdict? I doubt it. I think Bayer will handle this like the last Roundup trial set in St. Louis, settling before the jury gets the case. But who knows?
As of May 24, 2022, there is still no verdict in Shelton.
What Are the Facts of Shelton v. Monsanto?
Kansas City native Allan Shelton was diagnosed with non-Hodgkin's lymphoma before he was 30. He began using Roundup when he was ten years old.
Mr. Shelton's Roundup lawyer told the jury in opening statements that glyphosate is ubiquitous and Monsanto is to blame.
April 2022 Roundup Lawsuit Update
In addition to the 30,000 or so pending Roundup cancer lawsuits that remain unresolved, Bayer has been defending a consumer class action lawsuit. This Roundup lawsuit alleges the pesticide was illegally marketed and sold and was therefore overpriced. I don't understand these consumer class action lawsuits and have never liked how they usually turn out – the victims getting pennies while the lawyers make a ton of money.
These lawsuits seek partial refunds for the countless consumers who bought Roundup over the years. The parties recently submitted a proposed settlement under which Bayer would establish a fund of $45 million to resolve these consumer claims.
The MDL judge will only approve the Roundup settlement if adequate steps are taken to clarify to plaintiffs that the settlement does not prevent them from later filing a Roundup cancer case if they are diagnosed with NHL.
In other Roundup news, Bayer continues to await word from the Supreme Court on whether the justices will even hear Bayer's argument on its appeal from the verdict in the Hardeman case. The MDL judge and the Ninth Circuit have previously rejected Bayer's preemption argument.
In December, the Supreme Court declined to either grant or deny Bayer's cert. petition and instead invited the Biden administration to weigh in with its brief. So far, however, Biden's Solicitor General has not filed anything and there is no deadline for when the court has to decide. Some people believe we can expect a response from the Biden administration in the coming months.
Another interesting piece of Roundup news this month is whether Roundup will get pulled from the market because of the risks it causes to endangered species. This would be like sending Al Capone to jail for tax evasion, right?
January 2022 Roundup Lawsuit Update
On December 9, 2021, a Roundup trial resulted in another defense victory for Bayer after a jury in California ruled that the plaintiff's cancer was not caused by her years of Roundup use. It was a fairly classic NHL Roundup lawsuit. The plaintiff, Donnetta Stephens, was a woman in her 70s who was diagnosed with lymphoma after years of using Roundup in her home gardening hobby.
The trial was conducted entirely via Zoom video call and dragged on for nearly three months. This is a poor bellwether trial because of the insanity of trying to have such a complex trial by Zoom. The emotion, the feel for the witnesses – you don't get that on Zoom, as we all know from using it for the last 20 months.
So our Roundup lawyers are still as bullish on the expected individual settlement amounts for Round Two of the Roundup lawsuits as we have ever been.
Roundup Litigation
Not too long ago, Roundup was the most popular weedkiller in the world used by homeowners and professional farmers. But then, many scientific studies started suggesting that prolonged exposure to glyphosate (the active ingredient in Roundup) might cause non-Hodgkin's lymphoma and other cancers. These studies led specific international health organizations to add glyphosate to their list of possible human carcinogens, sparking a rapid downward spiral for Roundup.
The identification of glyphosate as a possible carcinogen led to a wave of Roundup lawsuits by plaintiffs claiming that their use of Roundup caused them to develop lymphoma (and other diseases). Eventually, every  Roundup lawsuit in federal courts was consolidated into a new mass tort MDL in the Northern District of California. The Roundup MDL gradually grew to over 100,000 cases, with thousands of additional Roundup cases pending in state courts in California.
Huge Roundup Verdicts Broke Monsanto's Resolve
I think Monsanto had a somewhat unique corporate resolve to ignore the evidence that Roundup causes NHL. They started off relying on unreliable data to prove their hypothesis, and when the evidence because clear, Monsanto stuck their heads in the sand. I'm convinced this is how history will write this story.
After years of discovery, that unshakable resolve crumbled. The first Roundup cases went to trial with disastrous results for Bayer. The first two trials resulted in $289 million and $80 million verdicts. The third trial ended in an eye-popping verdict of $2 billion for the plaintiff.
These verdicts effectively broke Bayer's resolve, and they immediately shifted their focus on negotiating settlements, eventually setting aside $16 billion to cover settlements of pending claims.
Most Pending Roundup Cases Have Been Settled
In March 2022, Bayer, who owns Roundup and Monsanto, told investors that the company had reached tentative settlement agreements in roughly 98,000 pending Roundup lawsuits. This accounts for nearly 80% of all pending Roundup cases. Bayer has brokered these settlements primarily by negotiating block settlement arrangements with lawyers with large numbers of litigation cases.
Points System for Monsanto's Roundup Settlement
The Roundup settlements are somewhat complicated because they create a complex point-scoring system designed to rank cases into settlement tiers based on the strength of claims and severity of injuries. Cases specific factors such as type of cancer, treatment outcome, age of the victim, estimated earnings capacity, etc., are awarded point scores. Individual cases are then placed into settlement tiers based on point scores and cases with higher scores get a bigger payout. Cases with lower point scores end up getting much smaller payouts.
30,000 Roundup Lawsuits Remain
Although Bayer has entered into agreements to settle 80% of the pending Roundup claims, this still leaves over 26,000 currently active Roundup lawsuits that have not been settled. Moreover, new Roundup lawsuits are regularly filed as new individuals are diagnosed.
Example of a Recent Roundup Lawsuit
Ohio resident Gene Wyatt became one of the most recent plaintiffs in the ongoing Roundup litigation. Wyatt filed a Roundup lawsuit in the Southern District of Ohio against Monsanto on November 18, 2021. Wyatt's case was subsequently transferred to the Roundup MDL in the Northern District of California.
Wyatt alleges that he was regularly exposed to Roundup while using it as part of his job with the Ohio Department of Transportation in Washington Courthouse, Ohio, from 2001 to 2011. Part of Wyatt's regular job duties is spraying Roundup from a vegetation applicator to control weeds. In January 2015, 5 years after his 10-year occupational Roundup exposure, Wyatt was diagnosed with Chronic Lymphocytic Leukemia. Wyatt's lawsuit alleges that his leukemia was caused by his ten years of exposure to Roundup.
The Future of Roundup Lawsuits
While Bayer continues to work on settling these remaining Roundup cases, the company is telling investors that future Roundup liabilities will depend on the outcome of the company's appeal to the U.S. Supreme Court. Future liability has been one of the most significant issues for Bayer in the Roundup litigation. It may take years or even decades for Roundup users to develop lymphoma. This means Bayer could face a steady stream of new Roundup lawsuits for the next 20 years. This type of "long tail" tort liability can be a nightmare for publicly traded corporations like Bayer.
Initially, Bayer sought to deal with future liability issues through a controversial global Roundup settlement arrangement that would have stayed and potentially frozen all future Roundup lawsuits. This proposal met fierce opposition and was rejected by the MDL back in May.
Bayer has now adopted a two-prong strategy to limit its future Roundup liability. First, Bayer announced that it would pull glyphosate-based Roundup from retail shelves at the start of 2023. The original Roundup will be replaced by a new version that does not contain glyphosate. This move will effectively cap any future Roundup liability years down the line.
The second prong of Bayer's strategy is based on winning an appeal to the Supreme Court in the Hardeman case. Hardeman was the very first Roundup bellwether trial that resulted in a massive verdict. Bayer has been appealing the Hardeman, hoping to win a game-changing legal argument. Bayer is arguing that the Roundup claims should be preempted by federal law because the EPA has found that cancer warnings are not required for glyphosate. If Bayer can get an appellate court to accept this legal argument, it would effectively block many future Roundup claims.
Bayer has already presented this argument to the 9th Circuit and lost. Now Bayer is asking the U.S. Supreme Court to consider the issue. In August, Bayer filed a petition for certiorari with the Supreme Court in the Hardeman appeal.
Bayer hopes the appeal to the Supreme Court will save them, but the company already has a solid backup plan. If the Supreme Court declines to hear the case or rejects Bayer's legal argument, Bayer has plans to set up an administrative process to handle future claims and has already set aside $4 billion to cover the cost. (Get an update on the Supreme Court appeal.)
Roundup Lawsuit Questions and Answers
When Will Roundup Victims Get Their Settlement Money?
Many Roundup victims have already gotten their money. Many more will get their settlement checks in 2023. The process takes too long.
As for the remaining 30,000 pending Roundup lawsuits in March 2023, there are settlement negotiations, and many Roundup lawsuits have settled, particularly the cases heading for a jury trial. But we have no final resolution. 
What is the average payout for a Roundup lawsuit?
The average settlement payouts for Roundup lawsuits has been around $100,000 to $160,000.
What Is the Win-Loss Record in the Bayer Lawsuits?
Plaintiffs won the first 3 Roundup lawsuits within massive victories for the plaintiffs: Johnson v. Monsanto (2018) = $289.2 million Hardeman v. Monsanto (2019) = $80.2 million Pilliod v. Monsanto (2019) = $2.055 billion. Bayer has won the last six trials, as of March 2023 in the Johnson case in Oregon.
How many Roundup lawsuits have been settled?
We don't know for certain how many Roundup lawsuits have been settled. In March 2023, our Roundup NHL lawyers estimate 30,000 Roundup lawsuits are still pending.   
Do You Have to Pay Taxes on Roundup Settlement Checks?
No. With a few exceptions, settlements in personal injury lawsuits are not taxable as income. So you do not pay taxes on your Roundup settlement check.
Roundup Medicare Lien
The Medicare lien process with Roundup settlements has been a mess.  The Roundup lawsuit had a global resolution process set up in 2020 through a document called "Points of Understanding." This document included a provision for compromise, where Medicare agreed to only take up to 30% of a person's settlement amount if the settlement didn't fully cover their medical costs.
So no problem. The program was updated in 2021 and 2022, but the compromise part stayed the same. But in September 2022, CMS shocked everyone handling the settlement that the compromise was no longer valid. In January 2023, CMS announced that it was seeking approval from the U.S. Justice Department for the amount it may seek as a compromise for the medical costs related to Roundup settlements.
So that has, frustratingly for victim who want their money, created delays.  Now, Medicare's claim against the Roundup settlement is being resolved either through the standard process or the Roundup global resolution, which is a personal decision between the beneficiary and their attorney. The CMS is working with the U.S. Department of Justice to determine the final terms for the Roundup global recovery claim.
So in March 2023, U.S. Justice Department is reviewing the case with its Commercial Litigation Branch. The hope is that this gets resolved quickly so victims can finally get their settlement checks.
Will the Individual States Ban Roundup Pesticide?
Congress is as dysfunctional as always. But some states may ban Roundup on their own. In late November 2021, a newly created commission in Massachusetts is considering restrictions on the use of Roundup because it has been linked to cancer.   Many states may ban the non-commercial use of Roundup before Monsanto takes Roundup off the market as planned in 2023.
Call a Roundup Lawyer Today
If you need a Roundup lawyer to fight against Monsanto, call us today at 800-553-8082.   There is a deadline to file which is a really big deal. So call our lawyer or call another lawyer today. Don't wait. You can also reach out to us online.