Our lawyers are handling Jif Peanut Butter recall lawsuits in all 50 states.  Our law firm is focused exclusively on injury claims from salmonella poisoning.
JM Smucker Co. was recently forced to initiate a massive recall of its Jif Peanut Butter products after the FDA traced an outbreak of salmonella to one of the company's plants in Kentucky.
If you were exposed to salmonella from Jif peanut butter products (or other products that contained Jif peanut butter) and suffered adverse health effects, you may be able to file a Jif recall lawsuit and get financial compensation for your injuries.
Our product liability lawyers are currently investigating Jif peanut butter recall lawsuits. Contact us today for a free consultation at 800-553-8082.
About Jif Peanut Butter
Jif is one of the most iconic and popular brands of peanut butter in the U.S. (and internationally). The Jif brand was launched back in 1958 after Procter & Gamble acquired a peanut butter company called Big Top out of Kentucky. P&G rebranded Big Top peanut butter and tweaked the recipe by adding sugar and other ingredients to make it sweeter.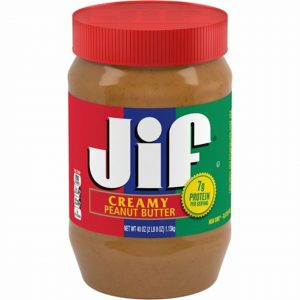 By the early 1980s, Jif had become the most popular brand of peanut butter in the U.S. Today, Jif remains the top-selling peanut butter brand both in the U.S. and internationally. P&G eventually sold the Jif business to the JM Smucker Company, which owns the brand today.
Almost all Jif peanut butter products are manufactured at a single plant in Lexington, Kentucky (the location of the original Big Top peanut butter company acquired by P&G in the 1950s). The plant in Lexington is the largest peanut butter production factory in the world.
Jif Recall
On May 20, 2022, JM Smucker announced a major recall of Jif peanut butter products sold in the U.S. due to potential salmonella contamination. The recall was prompted by an investigation by the Food and Drug Administration (FDA) into reported outbreaks of salmonella infections.
The FDA investigation into the salmonella outbreak was eventually able to trace the source of the salmonella back to the Jif manufacturing facility in Lexington, KY. The FDA notified JM Smucker and strongly advised the company to launch a full recall of all potentially contaminated products. JM Smucker promptly issued a formal recall announcement in cooperation with the FDA.
What Jif Peanut Butter Products are Covered by the Recall?
The Jif recall covers a total of 49 different Jif peanut butter products on the market that were manufactured at the Lexington, Kentucky facility during a certain time frame. This encompasses almost the entire Jif product line.
Jif peanut butter products covered by the recall can be identified by referencing the "lot code" number on the product. The lot code is stamped on each product and usually found below a "best if used by" or expiration date for the product.
The first 7 digits of the lot code number will determine whether the Jif product is covered by the recall. If the first 7 digits of the product lot code end with the number "425," this means that the product was made at the Lexington, KY facility. If the first 4 numbers of that lot code fall between 1274 and 2140, then the product is subject to recall and could potentially be contaminated.
Other Products Impacted by the Jif Peanut Butter Recall
In addition to the Jif line of products, Jif peanut butter made at the facility in Kentucky is sold and distributed to other companies who use it as a component ingredient in their own finished products. Jif brand peanut butter is used in hundreds of candy products and mass-produced bakery goods sold by major stores and companies in the U.S.
The recent Jif recall due to potential salmonella contamination has forced a growing number of these companies to recall their own products because they were made with Jif. For example, Giant Eagle recently recalled several of their store-brand bakery products that are made with Jif peanut butter. Safeway Fresh Foods similarly recalled apple and peanut butter snack trays distributed to Quick Check retail stores. Even retail giant Walmart had to recall its store brand fudge because it is made with Jif.
The ripple effect of the Jif recall has also expanded to companies that use individually packaged Jif products as components in their own separate snack products. Wawa stores were forced to remove their store brand Apple & Peanut Butter Dipper products that contain Jif mini cups. Fresh Del Monte fruit and veggie snack products sold at 7-Eleven stores nationwide have also been recalled because they contain ready-to-eat Jif peanut butter cups.
Salmonella Infection From Jif Peanut Butter
Salmonella is a dangerous type of bacteria that can cause sickness. Certain subtypes of salmonella can cause a condition known as salmonellosis and other types can cause typhoid fever.
The common symptoms of salmonella infection include fever, stomach cramps and diarrhea. These physical symptoms can appear anywhere from 6 hours to 6 days after exposure/infection to the bacteria. In some cases, however, the symptoms do not develop until several weeks after infection.
Diagnosis of salmonella infection is made based on blood work. The standard treatment for a salmonella infection is a course of antibiotics. Most salmonella infections resolve within a week or so without any long-term health effects.
In some cases, salmonella infections can become very serious and involve life-threatening complications. Infants, older adults, pregnant women and people with weakened immune systems are particularly at-risk for these complications. If the salmonella infection migrates beyond the intestinal tract to other organs it can result in very serious health conditions.
Jif Recall Lawsuit
The recall of Jif peanut butter products has already prompted a number of peanut butter recall lawsuits. So far, these have been limited to what we call consumer class action lawsuits. These are basically lawsuits in which a handful of individuals file suit seeking refunds on behalf of the thousands (or millions) of consumers who purchased the recalled product.
The Jif recall will likely lead to some product liability lawsuits, however, by individuals who developed salmonella infection from Jif products. Anyone who consumed a Jif product and was subsequently diagnosed with a salmonella infection could be eligible to file a Jif recall lawsuit and get financial compensation for their physical injuries.
Newly Filed Jif Peanut Butter Recall Lawsuit
Less than a week after announcing the Jif peanut butter recall, J.M. Smucker, the maker of Jif, was sued in Georgia state court.  The man's Jif Peanut butter lawsuit alleges that he bought the product in April and required hospitalization from salmonella poisoning.
Plaintiff's Jif peanut butter recall lawyers allege negligence, strict liability, and breach of implied warranties.
New Jif Peanut Butter Class Action Lawsuit
Another Jif peanut butter recall lawsuit was filed in Kentucky that is more styled as a consumer class action lawsuit.  The premise of the complaint is the product deceptively is marketed as being from high-quality ingredients.
The Jif class action lawsuit includes counts of fraudulent concealment and unjust enrichment.
Contact a Jif Recall Lawyer
Our national product liability lawyers are currently looking for new Jif recall lawsuits for individuals who developed a salmonella infection after consuming Jif peanut butter products. Contact us today at 800-553-8082 for a free consultation.