New evidence has established that exposure to the chemicals in hair relaxer or hair straightener products can cause uterine cancer and other conditions resulting in a hysterectomy. Lawsuits are now being filed against cosmetic companies that manufacture hair relaxers.  A hair relaxer class action lawsuit could come as early as this week.  Our lawyers are currently seeking hair relaxer hysterectomy cases.
This post will look at who might qualify to bring a hair relaxer hysterectomy lawsuit and the potential settlement value of these cases.
History of Hair Relaxers
A hair relaxer or hair straightener is used primarily by African American women to make their otherwise curly hair lay flat. Garrett A. Morgan invented the first chemical hair relaxer product in the early 1900s. Morgan discovered that certain chemicals used in the textile industry to clean needles caused curly fibers to flatten out. He eventually used these same chemicals to develop the earliest hair relaxer product. Morgan's invention paved the way for chemical-based permanent hair straightening products.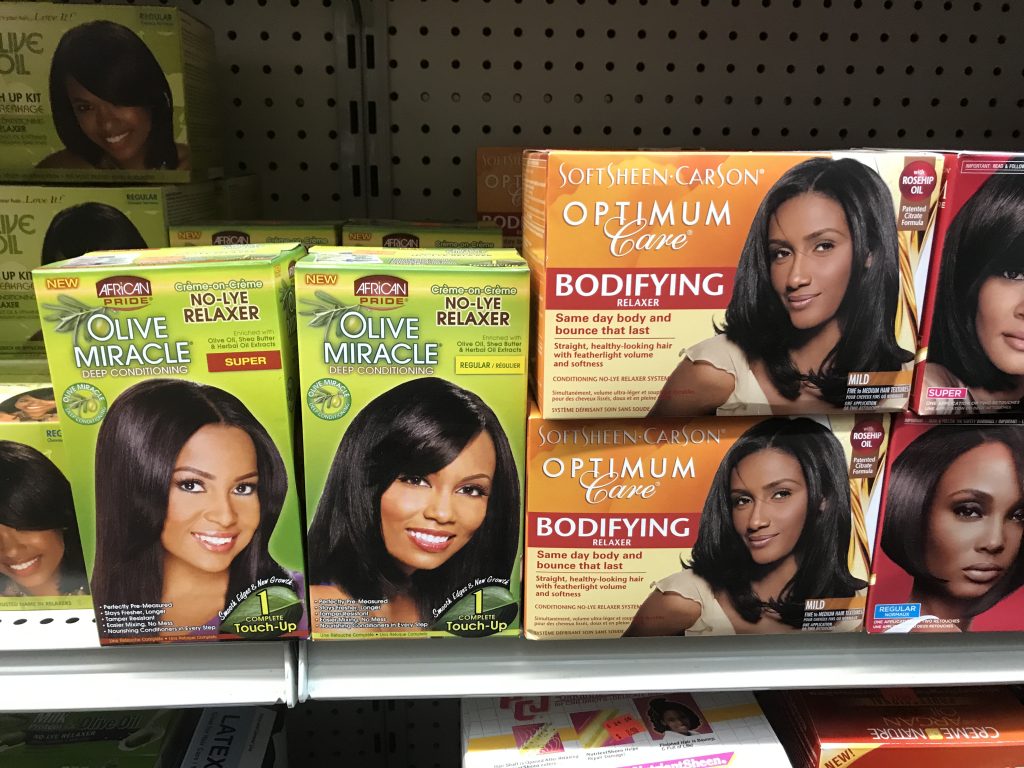 Hair relaxers are classified as creams or lotions, marketed explicitly to Black and Brown women to make their hair smoother, straighter, and easier to manage daily.
Hair relaxing or lanthionization can be performed by a professional cosmetologist in a salon, barbershop, or home with at-home relaxer kits designed for individual use.
These home kits are sold in grocery, drug, and beauty supply stores in urban and rural cities throughout the United States.
Relaxers are applied to the base of the hair shaft and left in place for a "cooking" interval. The relaxer alters the hair's texture by purposefully damaging the hair's natural protein structure.
The effect of this protein damage is that it straightens and smooths the hair. After a period of weeks (4 – 8 weeks on average), depending on the hair's natural growth rate, the treated portion of the hair grows away from the scalp.
New growth sprouts from the roots, requiring additional relaxer treatment to smooth the roots.
Hair Relaxer Causes Uterine Cancer and Uterine Fibroids
A research team at the National Institutes of Health (NIH) has been conducting a major study for the last decade called the "Sister Study." One aspect of the Sister Study has been to evaluate a possible connection between exposure to chemicals in hair relaxer products and uterine cancer. The findings of the Sister Study concerning chemical hair relaxers published in October 2022 in the Journal of the National Cancer Institute and Journal of the National Cancer Institute were very significant.
The Sister Study found that women reporting using hair-relaxing products were almost twice as likely to develop uterine cancer (after adjusting for other risk factors). Even more significantly, those women who reported using hair relaxers more than four times per year displayed a 150% increase in the risk of uterine cancer.
Similar evidence has also been developing to show that chemical hair relaxer use can increase the risk of developing uterine fibroids. This included a study published in 2012, which found that women who used relaxer products had a much higher risk of developing fibroids. A subsequent study in 2018 made similar findings.
Hysterectomy and Hair Relaxer
A hysterectomy is the partial or total surgical removal of the uterus (and sometimes the cervix). Using chemical hair relaxer products has been linked to uterine cancer and uterine fibroids. A hysterectomy is a standard uterine cancer treatment, often combined with chemotherapy and other treatments. The hysterectomy stops the cancer cells from spreading to other organs in the body.
A hysterectomy is also a treatment option for very severe cases of uterine fibroids. Typically, uterine fibroids can be surgically removed without removal of the uterus. In some cases, however, a hysterectomy may be recommended as the best long-term treatment option when the fibroids keep coming back.
What Is the Expected Settlement Payout for a Hair Relaxer Lawsuit Involving a Hysterectomy?
We estimate that a successful case involving a hysterectomy related to uterine cancer will have a settlement value of $300,000 to $1,750,000. A uterine fibroid case involving a hysterectomy will have a settlement value range of $300,000 to $500,000. The expected jury payout – as opposed to a settlement for any of these cases is likely to be in the millions.  
We put some thought into projecting these settlement payouts. But you need to understand future compensation predictions should be taken with a grain of salt. Mass tort outcomes are so hard to predict.  Many lawyers invested millions in a Zantac cancer class action in federal court that will likely amount to nothing.  Conversely, there has been litigation like Roundup where few lawyers initially believed in the case and they will likely settle for over $15 billion when all is said and done.
Factor Impacting Hysterectomy Settlement Value
What will impact the settlement range of your case?  The settlement value of a successful hair relaxer lawsuit involving a hysterectomy will depend on many factors. One of the most significant factors impacting the value of these cases will be the age of the plaintiff at the time of the hysterectomy. If the plaintiff is forced to have a hysterectomy at a young age it can have devastating consequences because it will leave her unable to have children. Hysterectomy injuries in young plaintiffs will have a very high settlement value.
The other driving factor behind the potential settlement value of hair relaxer hysterectomy cases will be the plaintiff's underlying condition that led to the hysterectomy: (1) uterine cancer, or (2) uterine fibroids. The causation evidence establishing a connection between chemical hair relaxer use and uterine cancer is much strong than the evidence for a connection between hair relaxer and fibroids. This means that hysterectomy cases involving uterine cancer will be strong and have a higher potential settlement value.
Hysterectomy Verdicts & Settlements
Below are summaries of reported settlements and jury verdicts from prior tort cases in which the plaintiff's primary injury was a hysterectomy.
Brown v Simmons (New York 2022) $1,330,000: The plaintiff claimed that her OB/GYN negligently failed to treat her uterine fibroids condition by recommending myomectomy surgery early on. As a result, the plaintiff claimed she had to undergo an unnecessary hysterectomy at age 32.
Hadley v Mercy Clinic (Oklahoma 2021) $7,669,636: The jury found that the plaintiff was forced to undergo an unnecessary hysterectomy due to the defendant's negligent failure to timely diagnose cervical cancer resulting in a 2-year delay in treatment.
Montestersky v Uniontown Hosp. (Pennsylvania 2009) $2,300,000: An 18-year-old plaintiff alleged that the hospital's negligent failure to diagnose and treat her infection forced her to undergo a hysterectomy. The jury awarded $2.3 million in damages. This case did not have a higher value because she had already had two children.
Burch v United States (Florida 2006) $2,047,301: The defendant hospital staff was allegedly negligent in failing to properly evaluate and treat the plaintiff's endometriosis, resulting in unnecessary hysterectomy. The jury awarded just over $2 million in damages. The plaintiff's age was not disclosed, but she was likely at or near the end of her reproductive years, which devalued the case somewhat.
Thomas v Abdul-Malak (Pennsylvania 2006) $1,728,314: The plaintiff claimed that the OB/GYN's negligent premature rupture of her membranes at 20 weeks gestation resulted in an unnecessary hysterectomy. The jury in a federal court in Philadelphia awarded $1.7 million.
What do these hysterectomy lawsuits tell us about the potential settlement payouts in these lawsuits?  They tell us that if juries believe negligence caused this kind of injury, they are inclined to award a payout that will make the defendant wish it had settled the case.
Contact Us About Filing a Hair Relaxer Hysterectomy Lawsuit
If you used chemical hair relaxer products for a long time and underwent a hysterectomy as treatment for uterine cancer or uterine fibroids, you may be able to bring a hair relaxer product liability lawsuit and get compensation. Hair relaxer lawsuits are being filed across the country by women who suffered hysterectomies due to uterine cancer or fibroids related to hair relaxer use. The hair relaxer lawsuits are on the verge of being consolidated into a new class action MDL.
Our firm is investigating product liability cases alleging that chemicals in hair perm and hair relaxer products caused uterine cancer or uterine fibroids resulting in a hysterectomy. If you used chemical ha air straightener and were later diagnosed with uterine cancer, contact our office today for a free consultation at 800-553-8082 or get a free online consultation.