New evidence has established that exposure to the chemicals in hair relaxers or hair straightener products can cause uterine cancer and other conditions resulting in a hysterectomy. Lawsuits are now being filed against cosmetic companies that manufacture hair relaxers. A hair relaxer class action lawsuit could come as early as this week. Our lawyers are currently seeking hair relaxer hysterectomy cases.
This post will look at who might qualify to bring a hair relaxer hysterectomy lawsuit and the potential settlement value of these cases.
But there is one thing we have to be upfront about.  Our lawyers are only taking cancer hair relaxer lawsuits, not uterine fibroid claims.  We started out taking these claims – in fact we still have many – but we are not taking new claims.  We explain why on this page.
---
Hair Relaxer Litigation Updates:
September 14, 2023:  A collective document, known as a Master Complaint, has been filed in the hair relaxer lawsuits in federal court. You typically see these in MDL class action lawsuits. A Master Complaint is an amalgamated document outlining the common allegations raised the all individual lawsuits. The Master Complaint serves a crucial purpose in consolidating the litigation process by amalgamating all common allegations and evidence into one document. This makes it easier for the plaintiffs' lawyers by not having to replicate the complaint every time one is filed.  It also allows the defendants to pull out the facts of specific cases because victims are required to file a short-form complaint with their case-specific facts.
---
History of Hair Relaxers
A hair relaxer or hair straightener is used primarily by African American women to make their otherwise curly hair lay flat. Garrett A. Morgan invented the first chemical hair relaxer product in the early 1900s. Morgan discovered that certain chemicals used in the textile industry to clean needles caused curly fibers to flatten out. He eventually used these same chemicals to develop the earliest hair relaxer product. Morgan's invention paved the way for chemical-based permanent hair straightening products.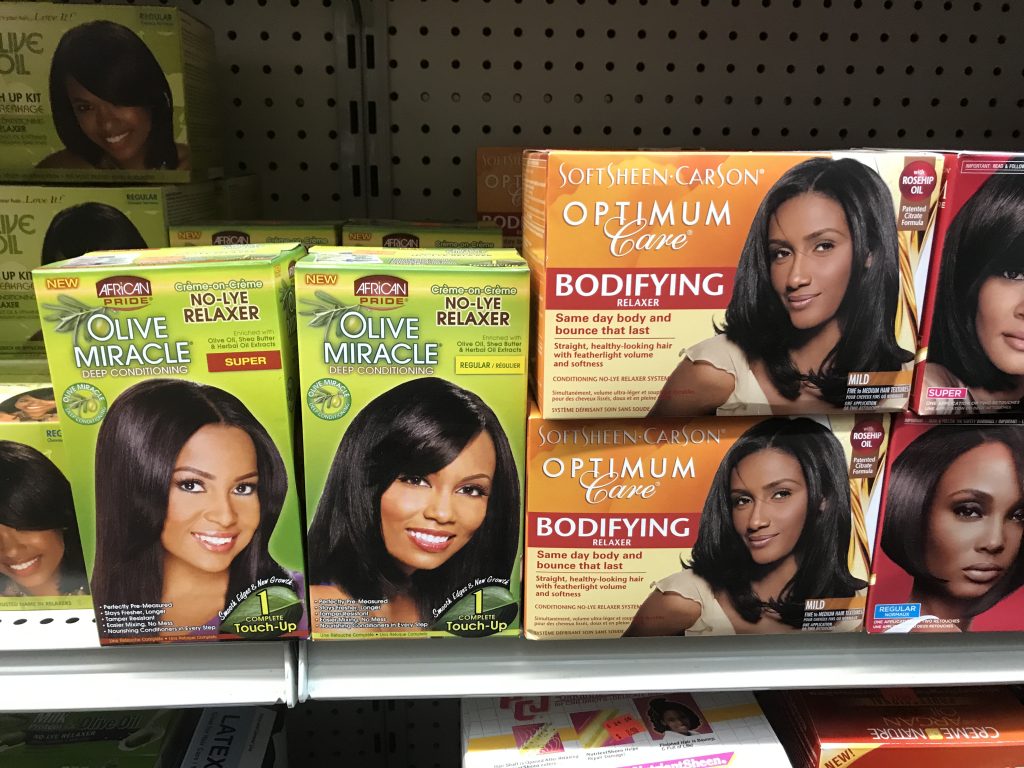 Hair relaxers are classified as creams or lotions, marketed explicitly to Black and Brown women to make their hair smoother, straighter, and easier to manage daily.
Hair relaxing or lanthionization can be performed by a professional cosmetologist in a salon, barbershop, or home with at-home relaxer kits designed for individual use.
These home kits are sold in grocery, drug, and beauty supply stores in urban and rural cities throughout the United States.
Relaxers are applied to the base of the hair shaft and left in place for a "cooking" interval. The relaxer alters the hair's texture by purposefully damaging the hair's natural protein structure.
The effect of this protein damage is that it straightens and smooths the hair. After a period of weeks (4 – 8 weeks on average), depending on the hair's natural growth rate, the treated portion of the hair grows away from the scalp.
New growth sprouts from the roots, requiring additional relaxer treatment to smooth the roots.
Hair Relaxer Causes Uterine Cancer and Uterine Fibroids
A research team at the National Institutes of Health (NIH) has been conducting a major study for the last decade called the "Sister Study." One aspect of the Sister Study has been to evaluate a possible connection between exposure to chemicals in hair relaxer products and uterine cancer. The findings of the Sister Study concerning chemical hair relaxers published in October 2022 in the Journal of the National Cancer Institute and Journal of the National Cancer Institute were very significant.
The Sister Study found that women reporting using hair-relaxing products were almost twice as likely to develop uterine cancer (after adjusting for other risk factors). Even more significantly, those women who reported using hair relaxers more than four times per year displayed a 150% increase in the risk of uterine cancer.
Similar evidence has also been developing to show that chemical hair relaxer use can increase the risk of developing uterine fibroids. This included a study published in 2012, which found that women who used relaxer products had a much higher risk of developing fibroids. A subsequent study in 2018 made similar findings.
Hysterectomy and Hair Relaxer
A hysterectomy is the partial or total surgical removal of the uterus (and sometimes the cervix). Using chemical hair relaxer products has been linked to uterine cancer and uterine fibroids. A hysterectomy is a standard uterine cancer treatment, often combined with chemotherapy and other treatments. The hysterectomy stops the cancer cells from spreading to other organs in the body.
A hysterectomy is also a treatment option for very severe cases of uterine fibroids. Typically, uterine fibroids can be surgically removed without removing the uterus. In some cases, however, a hysterectomy may be recommended as the best long-term treatment option when fibroids return.
Needing a Hysterectomy Is a Serious Injury
We think there will be high settlement compensation for hysterectomies in the hair relaxer class action lawsuit. A hysterectomy is a major surgical procedure that involves the removal of the uterus. You can stop right there. That is a severe injury.
Risks of a Hysterectomy
While the procedure can often be performed laparoscopically with minimal incisions and a shorter recovery time, it is still considered major surgery. It carries real risks as you would see in any major surgery. This is relevant in the litigation context in hair straightener lawsuits because it relates to suffering – the pain and suffering damages and the compensation that should come with these claims. Because dealing with these risks, even if they do not lead to injury, is part of what victims endure.
Some of the potential risks and complications of a hysterectomy include the following:
Bleeding: This is the most common risk associated with a hysterectomy. Excessive bleeding can occur during or after the surgery and may require a blood transfusion or additional surgery to control it.
Blood clots: Surgery generally increase the risk of blood clots, which can be dangerous if they travel to the lungs or brain. This is not common with this surgery, but the risk is not insignificant.
Lowered Libido:  Studies are mixed on this but many suggest some women have a lower libido after a hysterectomy (and some have a higher libido)
Infection: Infection can occur in the surgical wound or the pelvic region in 10% of hysterectomies, leading to complications and prolonged hospitalization.
Injury to nearby organs: During the surgery, there is a risk of damage to nearby organs, such as the bladder, ureters, or rectum, which can lead to urinary or bowel problems.
Adverse reaction to anesthesia: Every surgery under anesthesia presents a small risk to the patient.
Early menopause: A hysterectomy involving the removal of the ovaries can cause early menopause and associated symptoms like hot flashes, vaginal dryness, and mood changes.
Recovery from a hysterectomy can also be challenging, and can take several weeks or even months, depending on the type of hysterectomy and the individual's overall health. It may involve restrictions on physical activity, pain management, and follow-up appointments with healthcare providers. Again, all a part of the victim's damages in a hair straightener lawsuit.
What Is the Expected Settlement Payout for a Hair Relaxer Lawsuit Involving a Hysterectomy?
We estimate that a successful case involving a hysterectomy related to uterine cancer will have a settlement value of $10,000 to $100,000. A uterine fibroid case involving a hysterectomy may have a settlement value range of $20,000 to $200,000. The expected jury payout – as opposed to a settlement for any of these cases- will likely be in the millions. 
These are the projecting assuming that you get past Daubert motions that will argue the science does not prove the connection.  But if you get to a jury in these cases, we think they would settle for something like this.
We put some thought into projecting these settlement payouts. But you need to understand future compensation predictions should be taken with a grain of salt. Mass tort outcomes are so hard to predict. Many lawyers invested millions in a Zantac cancer class action in federal court that will likely amount to nothing. Conversely, there has been litigation like Roundup where few lawyers initially believed in the case and they will likely settle for over $15 billion when all is said and done. The moral of the story? We know nothing.
Factors Impacting Hysterectomy Settlement Amounts
What will impact the settlement range of your case? The settlement value of a successful hair relaxer lawsuit involving a hysterectomy will depend on many factors. One of the most significant factors impacting the value of these cases will be the age of the plaintiff at the time of the hysterectomy. If the plaintiff is forced to have a hysterectomy at a young age, it can have devastating consequences because it will leave her unable to have children. Hysterectomy injuries in young plaintiffs will have a very high settlement value.
The other driving factor behind the potential settlement value of hair relaxer hysterectomy cases will be the plaintiff's underlying condition that led to the hysterectomy: (1) uterine cancer, or (2) uterine fibroids. The causation evidence establishing a connection between chemical hair relaxer use and uterine cancer is much strong than the evidence for a connection between hair relaxers and fibroids. This means that hysterectomy cases involving uterine cancer will be strong and have a higher potential settlement value.
Other factors that will drive hysterectomy settlement amounts include the severity of the injury, the extent of medical treatment needed, and the impact of the injury on the person's life. Compensation will include medical bills and lost wages. But the biggest harm in these cases is the unnecessary pain and suffering these women have endured.
Truth be told, there is one other big driver of settlement value of these cases.  Where the science goes.  It the science linking uterine fibroids and hair relaxers gets stronger, than will have an impact.
Hysterectomy Verdicts and Settlements
One way our lawyers estimate settlement payouts for lawsuits is to look at prior settlement amounts and jury payouts with similar injuries. Below are summaries of reported settlements and jury verdicts from prior tort cases where the plaintiff's primary injury was a hysterectomy.
Brown v Simmons (New York 2022) $1,330,000: The plaintiff claimed that her OB/GYN negligently failed to treat her uterine fibroids condition by recommending myomectomy surgery early on. As a result, the plaintiff claimed she had to undergo an unnecessary hysterectomy at age 32.
Hadley v Mercy Clinic (Oklahoma 2021) $7,669,636: The jury found that the plaintiff was forced to undergo an unnecessary hysterectomy due to the defendant's negligent failure to timely diagnose cervical cancer resulting in a 2-year delay in treatment.
Kline v. Jafarina (Texas 2006) $287,500: The plaintiff contended that the defendant OBGYN negligently performed a hysterectomy without her consent because the consent forms for a laparoscopy and possible laparotomy did not mention a hysterectomy.
Montestersky v Uniontown Hosp. (Pennsylvania 2009) $2,300,000: An 18-year-old plaintiff alleged that the hospital's negligent failure to diagnose and treat her infection forced her to undergo a hysterectomy. The jury awarded $2.3 million in damages. This case did not have a higher value because she had already had two children.
Burch v United States (Florida 2006) $2,047,301: The defendant hospital staff was allegedly negligent in failing to properly evaluate and treat the plaintiff's endometriosis, resulting in unnecessary hysterectomy. The jury awarded just over $2 million in damages. The plaintiff's age was not disclosed, but she was likely at or near the end of her reproductive years, which devalued the case somewhat.
Thomas v Abdul-Malak (Pennsylvania 2006) $1,728,314: The plaintiff claimed that the OB/GYN's negligent premature rupture of her membranes at 20 weeks gestation resulted in an unnecessary hysterectomy. The jury in a federal court in Philadelphia awarded $1.7 million.
Dumas v. Thompson (Florida 2003) $792,000:  An exchange student from France, was rushed to the hospital due to pelvic pain. Pelvic inflammatory disease was suspected. The defendant performed an emergency hysterectomy. Plaintiff alleged that this was the negligent course of treatment because antibiotics would have been enough.
What do these hysterectomy lawsuits tell us about the potential settlement payouts in these lawsuits? They tell us that if juries believe negligence caused this kind of injury, they are inclined to award a payout that will make the defendant wish it had settled the case.
Example Hysterectomy Suit
A recently filed Ohio case- Spencer v. L'Oreal,  provides a good example of a hair relaxer lawsuit that required the victim to get a hysterectomy.
Ms. Spencer was diagnosed with ovarian cancer. Her cancer was allegedly caused by exposure to chemicals in hair care products made by the defendants, including Dark & Lovely, Just for Me, Motions, and Olive Oil Relaxer. Anita used these products to straighten or relax her hair chemically.
Her suit alleges she was misled that chemical hair straighteners were safe when they were not. As a result, she suffered severe side effects, including ovarian cancer, which required a hysterectomy. She is seeking compensation for her medical treatment, pain and suffering, and diminished quality of life caused by the defendant's actions, which placed profits over people.
Hair Relaxer Litigation Timeline
The hair relaxer litigation is very new, with the first hair relaxer cancer and hysterectomy lawsuits being filed just a few months ago. This has the potential to develop into a very large mass tort, however, and it could easily grow to thousands of plaintiffs. The timeline below provides a brief chronological summary of how things have developed so far.
October 2022: Results from the NIH Sister Study showing a causal link between hair relaxer use and higher rates of uterine cancer are published in the Journal of the National Cancer Institute.
November 2022: The first hair relaxer product liability lawsuits are filed in a federal courts, including the Northern District of Illinois. A group of these early plaintiffs also file a motion asking the JPML to consolidate all hair relaxer lawsuits into a new class action MDL.
December 2022:The defendants in the hair relaxer lawsuits file a response with the JPML strongly opposing the creation of new hair relaxer MDL. Several more hair relaxer lawsuits are filed in courts across the country.
January 2023:The pace of new hair relaxer lawsuits starts to increase as the JPML holds a hearing to determine whether MDL consolidation is warranted.
February 2023:The JMPL consolidates all hair relaxer product liability cases in federal courts into a new class action MDL. The new hair relaxer class action is assigned to Judge Mary Rowland in the Northern District of Illinois.
March 2023:Judge Rowland holds her initial conference in the new hair relaxer MDL, as 35 new cases get filed in federal courts.
Hair Relaxer Hysterectomy Lawsuits
We are no longer taking new hair relaxer lawsuits that do not involve cancer, unfortunately. We have a lot of these cases and we are still hopefully these claims will be successful.  We are just not taking new claims. Will we begin taking new cases again at some point?  It really depends on how the science shakes out as we move forward.  We still think these may be very strong claims.