Understandably, victims want to know how much their Camp Lejeune settlement might be.  Any injury victim or wrongful death survivor has this settlement question in any case.  But it is even more pronounced here because settlement amounts are a greater mystery.  We have a sample size of one for these one-of-a-kind lawsuits.
Some lawyers online post settlement amount projections.  Truth be told, most are doing it because they see our law firm doing it. It is a copycat industry.  But they do not explain the thinking behind their settlement payout predictions (often because they have no thinking).
This post is about including you in our thinking on settlement amounts and, just as importantly, how we think the government will determine settlement offers. It is a bit of a limb because no one knows how the Camp Lejeune lawsuits will play out.  But history typically repeats itself so we will look for patterns and how they might repeat themselves in this context.
In this post, our attorneys discuss the factors that will drive the value of Camp Lejeune settlement payouts. We will also estimate the settlement value of Camp Lejeune cases based on injury type.
About the Camp Lejeune Water Contamination Lawsuits
Camp Lejeune is one of the Marine Corps' biggest military bases. Established in 1941, Lejeune occupies a massive area along the North Carolina coast just north of Wilmington, NC. Camp Lejeune is essentially like a small town and over the years it had an on-base resident population of over 50,000.
The Marine Corps operated its own water supply system to serve the resident population at Camp Lejeune. In the early 1980s, new regulations were enacted that forced the Marine Corps to test the quality of the water at Camp Lejeune for the first time ever. This testing revealed the shocking fact that the water at Lejeune was heavily contaminated with high levels of toxic, cancer-causing chemicals.
Subsequent testing and investigation later determined that the water contamination began around 1953 and ended in 1987. During this 34-year period, it is estimated that over 1 million people (military personnel, families, and civilian employees) were exposed to the contaminated water. A number of studies have shown that exposure to the toxic water at Lejeune caused these individuals to suffer serious adverse health consequences. The toxic water at Lejeune has been scientifically linked to several different types of cancer and other serious health conditions.
New Law Allows Camp Lejeune Victims to Seek Compensation
For years, victims of the water contamination at Camp Lejeune were legally precluded from brining civil lawsuits and getting compensation for their injuries. In August 2022, however, a new federal law called the Camp Lejeune Justice Act ("CLJA") was passed to address this injustice.
The CLJA gives Camp Lejeune water contamination victims the ability to bring claims against the government and get compensated for their injuries. Under the CLJA, anyone who worked or lived at Camp Lejeune for at least 1 month between 1953 and 1987 is eligible to file a claim and get compensation for harm caused by exposure to the toxic water.
Victims who bring claims under the CLJA will face an easier standard of proof than plaintiffs in a normal civil case. This means it will be much easier for CLJA plaintiffs to prove that their cancer or other health condition was related to the water at Camp Lejeune.
Camp Lejeune Settlement Amounts
Our attorneys estimate that successful Camp Lejeune cases filed under the CLJA will have a general settlement payout range of $200,000 to $2,000,000. The value of an individual case on this estimate range depends on a number of different factors. The two most important and impactful factors that will affect the value of Camp Lejeune cases will be: (1) injury type, and (2) length of exposure.
Injury Type
The injury or harm alleged by the plaintiff (i.e., what type of cancer or disease they are claiming) is the factor that should make the most difference on the potential settlement value of a Camp Lejeune water contamination case. There are two reasons why the type of harm alleged by the plaintiff will impact the case value.
First, a group of specific diseases have been classified as "presumptively" related to or caused by the Camp Lejeune water based on various public health studies. These diseases (mostly different cancer types) have been linked to the Camp Lejeune water based on compelling scientific evidence and labeled as related to Lejeune by either the ATSDR or the Veteran's Administration. Camp Lejeune cases involving one of these "presumptive" conditions will have a higher settlement value because causation is essentially assumed.
The severity of the disease alleged by the plaintiff will also have a sizeable impact on the potential payout value of an individual Camp Lejeune case. Cases involving more severe or deadly diseases will invariably have a higher settlement value than cases involving minor conditions. For example, a CLJA case in which the plaintiff is alleging kidney disease will have a lower settlement value than a case involving kidney cancer.
Length of Exposure
How long and to what extent an individual was exposed to the toxic water at Camp Lejeune will also have a major influence on settlement payout value. Plaintiffs who lived or worked at Camp Lejeune for long time periods (i.e., several years as opposed to several months) will have stronger and more valuable claims, particularly if they are alleging one of the presumptive diseases.
For example, someone who lived on base at Camp Lejeune for 10 years and was subsequently diagnosed with bladder cancer will have a much stronger, and more valuable, case compared to someone who developed bladder cancer but only spent 3 months at Lejeune.
Estimated Settlement Value of Camp Lejeune Cases By Injury Type
Our attorneys have come up with estimated potential settlement values for Camp Lejeune cases based on the specific disease or injury type alleged by the plaintiff. For the reasons discussed above, these valuation estimates are driven primarily by whether the injury is one of the conditions presumptively connected to Camp Lejeune, and the general nature and severity of the specific cancer or disease.
| | |
| --- | --- |
| INJURY TYPE | ESTIMATED SETTLEMENT VALUE |
| Bladder Cancer | $200,000 – $425,000 |
| Brain Cancer | $600,000 – $1,200,000 |
| Cervical Cancer | $150,000 – $340,000 |
| Colon Cancer | $100,000 – $280,000 |
| Esophageal Cancer | $210,000 – $600,000 |
| Kidney Cancer | $175,000 – $425,000 |
| Leukemia | $220,000 – $575,000 |
| Liver Cancer | $260,000 – $550,000 |
| Lung Cancer | $200,000 – $450,000 |
| Lymphoma | $250,000 – $475,000 |
| Ovarian Cancer | $150,000 – $340,000 |
| Parkinson's Disease | $390,000 – $1,100,000 |
| Myelodysplastic Syndromes | $110,000 – $320,000 |
| Scleroderma | $120,000 – $275,000 |
| Anemia | $110,000 – $250,000 |
| Wrongful Death | $400,000 – $1,500,000 |
| Infertility | $100,000 – $250,000 |
| Birth Defects | $250,000 – $2,000,000 |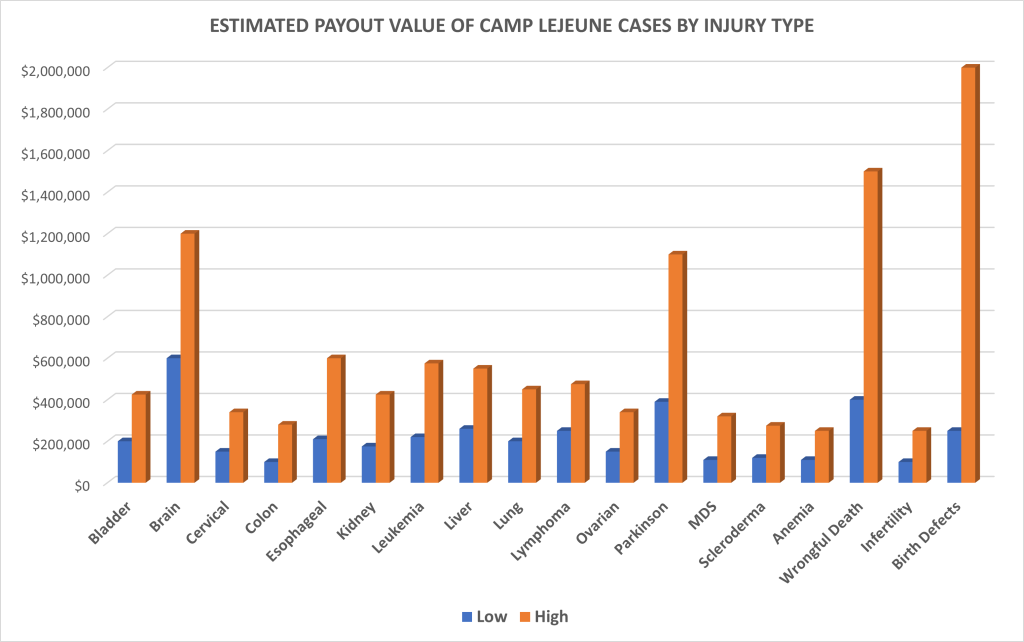 Camp Lejeune Compensation Settlement Fund Estimate
When the CLJA was pending in Congress, the Congressional Budget Office came up with an estimate for how much the bill would potentially cost. With respect to compensation payouts to Camp Lejeune victims under the CLJA, the CBO Cost Estimate estimated a cost of $6.1 billion through 2031. In a footnote to this section of the Cost Estimate, the CBO explained that Camp Lejeune claims would be paid out of the United States Judgement Fund, a permanent fund used to pay monetary awards against the government. According to the CBO, these payments will cost another $15 billion after 2031:
CBO expects that [Camp Lejeune] awards and settlements would be paid from the Judgment Fund, a permanent, indefinite appropriation that is available to pay monetary awards against the United States that are judicially or administratively ordered. Payments from that fund are classified as direct spending. CBO also estimates that, in addition to the amounts shown in this table, payments under the section would increase direct spending by about $15 billion after 2031
When you combine these sections from the CBO estimate together, it suggests that the government is expecting to pay out nearly $22 billion in compensation to Camp Lejeune victims.
Example of Settlements in Tort Cases Against the Government
One point of reference for estimating the potential settlement value of Camp Lejeune cases is to look at how much the federal government has paid out in prior tort settlements. Below are summaries of reported settlements in recent tort cases in which the federal government was the defendant. These payouts offer some insight into what type of value the DOJ may attach to injuries presented in Camp Lejeune cases.
One significant difference, however, is that most of the cases listed below are medical malpractice claims against federally funded hospitals. Malpractice trials are notoriously difficult to win for plaintiffs, which tends to push down the settlement value. By contrast, if Camp Lejeune cases go to trial the plaintiffs will likely have much better odds of winning. This may force the government to increase their settlement offers to avoid going to trial with the odds stacked against them.
Black v United States (Vermont 2021) $3,000,000: government paid $3 million to settle wrongful death claim involving failure to diagnose colon cancer. Decedent was only 35 at the time of death.
Wynkoop v. Unites States (Illinois 2020) $1,000,000: 69-year-old veteran died after doctors at VA medical center failed to timely diagnose his lung cancer. His estate brought a wrongful death case against the government and it settled for $1 million.
Brantley v United States (Pennsylvania 2020) $1,000,000: another wrongful death case involving a failure to diagnose lung cancer that was settled for $1 million.
Boyer v United States (California 2010) $500,000: in this case the government paid $500,000 to settle a claim that VA doctors failed to diagnose the 59-year-old plaintiff's prostate cancer causing it to progress into terminal cancer.
Crowder v. United States (Virginia 2017) $975,000: 57-year-old Navy veteran died from breast cancer after doctors at VA medical center failed to properly read her mammograms. Government settled the wrongful death claim for $975k.
Kho v United States (New York 2007) $1,000,000: Plaintiff, 72-year-old male, alleged that doctors at federal hospital negligently failed to diagnose his bladder cancer allowing it to progress to a more advanced stage.
Lassus v United States (Florida 2007) $2,500,000: government settled wrongful death claim involving failure to diagnose. The decedent was only 46-years old which pushed the value of the case up.
Contact Our Lawyers About a Camp Lejeune Lawsuit
Contact our Camp Lejeune attorneys today for a free consultation at 800-553-8082 or get a free no-obligation online consultation. Our attorneys only get paid if you do.