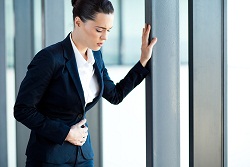 Much has been said and written about Benicar and its sprue-like enteropathy side effects, symptoms very much like that of celiac disease.  Less has been said about two other Daiichi Sankyo manufactured medications, Azor and Tribenzor, though lawsuits are on the rise.
In November, an Iowa woman and her husband filed suit against the Japanese pharmaceutical company Daiichi Sankyo Inc., claiming that after being prescribed Azor in January 2011, she continued to take the hypertension medication as directed for some time.  During this time, the Plaintiff suffered several injuries including sprue-like enteropathy "with severe, chronic diarrhea resulting in substantial weight loss and malnutrition…" sustaining severe and permanent personal injuries in addition to constant pain and suffering.
What seems to be the problem?
Benicar, Azor, and Tribenzor are hypertension medications made from the drug olmesartan.  Since Benicar was first introduced into the U.S. drug market in 2002, over 11 million patients have been prescribed the popular Daiichi drug every year.  Researchers though, over the past few years, have discovered the use of Benicar and other olmesartan drugs have a high correlation with the development of several risky health conditions and harmful side effects.  Yet it still took until July 2013 for the U.S. Food and Drug Administration (FDA) to publish a public health notice warning olmesartan medoxomil users (marketed as Benicar, Benicar HCT, Azor, Tribenzor, and generics) of the  sprue-like enterophathy and related gastrointestinal (GI) problems allegedly caused by the hypertension medications.
The Iowa Plaintiff alleges she needed constant medical monitoring, screening, testing, and treatments and that she will require more in the future.  She and her husband the Azor lawsuit making several claims against Daiichi including design defect, failure to warn, gross negligence, negligence, negligence per se, fraudulent concealment, constructive fraud, violation of Iowa's Consumer Protection Laws, unjust enrichment, and loss of consortium.  They are seeking relief from Daiichi in the form of compensatory, treble, and punitive damages, payment of attorney's fees, and any other forms of relief so deemed fit by the court.
Some other Benicar and Azor side effects experienced by consumers include:
Chronic diarrhea
Sudden and severe weight loss
Electrolyte imbalance
Villous atrophy
Other GI problems regularly misdiagnosed as celiac symptoms
Symptoms such as chronic diarrhea, substantial weight loss, vomiting, dehydration, villous atrophy, and even colon perforation – all serious side-effects, typically stop once the medication is discontinued.  That sure has to tell you something about the correlation between the drug and the side effects.
What is the current status?
Most lawsuits against Daiichi Sankyo are currently being filed in state court, though there a few spread throughout U.S. District Courts nationwide. The number of cases is growing and a class action is inevitable.  But until such time, Daiichi Sankyo may have to face several different trial schedules.  A case management order issued in September, for a lawsuit filed by a woman who suffered chronic diarrhea and other side effects from Benicar HCT, appears the first trial date and may be sometime in early 2016.  The lawsuit originally filed in California was later removed to the federal court system.
Can I File a Lawsuit?
If you or a loved one has taken one of these medications and suffered any of these horrific side effects, you may be entitled to money damages for the harm you have suffered.  Reach out and speak to an attorney that can help you as soon as possible.  While we are in the very early stages of this litigation, the lawsuits seem to be mounting at a very fast pace and these cases can take a long time to investigate.  Speak with an experienced attorney and better understand the facts.  Contact us at 1.800.553.8082, on reach out online here.