Our lawyers are handling Belviq lawsuits in all 50 states.  This page provides a March 2022 update in these lawsuits and discusses potential settlement amounts and jury payouts for these cases.
Our attorneys also give you the latest update on the settlement talks. If you have a potential Belviq cancer lawsuit, call a Belviq attorney today at 800-553-8082.
May 2022 Belviq Lawsuit Update on Settlement Talks
We should have a global settlement of the Belviq lawsuits in the near future. Joint motions have been filed in Belviq lawsuits pending in various federal districts asking for the cases to be stayed because the Belviq plaintiffs are negotiating a universal settlement with defendants Eisai and Arena Pharmaceuticals. Although there is no MDL for the Belviq lawsuits, the terms of the global settlement will likely be very similar.
So if you have a potential Belviq lawsuit and you have been sitting on the sidelines, you really want to get your claim started.  Don't sit on your rights.  Call a Belviq attorney today.  You can reach us at 800-553-8082.  You can also call another Belviq attorney. But you want to push the ball forward or risk missing out on a settlement.
March 2022 Belviq Lawsuit Update
A federal judge in one of the first Belviq colon cancer lawsuits to be filed (Johnson v. Eisai, Inc., et al.) recently rejected an attempt by the defense to have the plaintiffs' case dismissed. The defendants had filed a motion seeking dismissal of nearly all of the plaintiffs' claims in the case.
But Judge Carmen Henderson (N.D. Ohio) denied the most significant aspects of that motion. Although dismissal was granted as to the claims for design defect, and punitive damages, the plaintiffs' principal claims (including negligent failure to warn) will proceed.
What is Belviq?
Belviq is the brand name for Lorcaserin, a new type of hormone appetite suppressant medication developed for the treatment of obesity. It was originally developed by Arena Pharmaceuticals and later manufactured and sold by Japanese-based pharmaceutical company Eisai.
The FDA approved Belviq in June 2012. Belviq was intended to complement a reduced-calorie diet and physical activity. It worked by suppressing one's appetite. The drug came in two forms: a 10 mg tablet to be taken twice a day and a 20 mg extended-release tablet, named Belviq XR, to be taken once a day.
Initial FDA rejection of Belviq and its eventual approval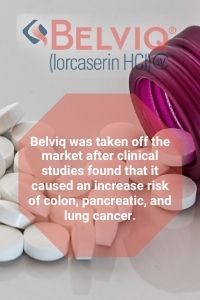 Even before its approval and initial release in 2012, there were questions and concerns about the safety of Belviq. When Arena initially applied to the FDA for approval of Belviq back in 2009, Endocrinologic and
The Metabolic Drugs Agency Committee (EMDAC) rejected the application. The EMDAC had concerns about an initial clinical trial on Belviq which found that it caused cancer in rats. They also found that it was not that effective with weight loss.
Despite the initial rejection, Arena did not stop pressing for the drug's approval. Two years later, it submitted a study on Belviq concluding that it helped type 2 diabetics lose weight. Arena also submitted studies arguing the increased cancer risk was due to increased prolactin levels in rats. After five months, an EMDAC panel approved Belviq for the U.S. market.
The CAMELLIA-TIMI trial
To receive market approval, the FDA required Eisai to conduct a post-market cardiovascular safety study. The FDA has required all weight loss drug manufacturers to conducts these studies since 2010 when Meridia was recalled for increasing the risk of cardiovascular incidents.
The Belviq post-market study was named the CAMELLIA-TIMI 61 trial. Between February 2014 and November 2015, researchers randomly assigned Belviq or a placebo to 12,000 overweight or obese patients with either cardiovascular disease or other risk factors. They then followed up with these patients after a few years. The median follow-up was 39 months.
The researchers found that the drug helped patients lose weight without increasing their cardiovascular event risk. However, the results of the CAMELLIA-TIMI 61 trial also indicated that users of Belviq were more likely to be diagnosed with cancer compared to the control group. This seemed to reinforce the earlier results from the rat testing and prompted the FDA to take action.
January 2020 FDA Drug Safety Communication
Just before the coronavirus shutdown, the Food and Drug Administration (FDA) issued a Drug Safety Communication for the weight-loss drug Belviq.
According to the FDA, studies show that Belviq increases the risk of certain types of cancers. In response to the FDA safety announcement for Belviq, Easai Inc. agreed to voluntarily withdraw the drug from the market. It now appears that Belviq is destined to suffer the same disastrous fate as many other prescription weight control drugs.
February 2020 FDA withdrawal request
On February 13, 2020, the FDA requested a full market withdrawal of Belviq and advised all patients to stop taking the medication. They also advised them to speak with their physician about other weight loss medications and weight management programs. The FDA recommended disposing of unused Belviq in a drug collection site. It advised healthcare providers to stop prescribing the drug. The request was based on the FDA's conclusion that Belviq was a possible carcinogen based on testing results.
The FDA warned the public that Belviq was associated with an increased risk of cancer. However, the agency could not explain what caused cancer in Belviq patients. The FDA recommended that healthcare providers evaluate whether the drug's benefits outweigh its risks. It advised Belviq patients to speak with their healthcare providers about the cancer risk.
Eisai's voluntary recall of Belviq
Following the FDA's request, Eisai announced that they were voluntarily recalling Belviq from the U.S. market. Despite issuing this recall, the pharmaceutical company disagreed with the FDA's assessment. Eisai reiterated that Belviq had a "positive benefit-risk profile in the patient population for which they are indicated." Nonetheless, it announced that it was respecting the FDA's decision and would work closely with them to withdraw the drug from the U.S. market.
New England Journal of Medicine study
In September 2020 a study published in the New England Journal of Medicine definitively confirmed the association between Belviq and certain types of cancer. The NEJM study followed up on patients involved in the CAMELLIA-TIMI trial. Based on their data, the researchers found abnormally high rates of colorectal, pancreatic, and lung cancer in Belviq patients. They suggested that the risk of these cancers would be even higher in Belviq patients taking it long-term.
First Belviq Lawsuit filed in Missouri
The recall and studies linking Belviq to cancer opened the door to product liability lawsuits. The first Belviq lawsuit was filed in September 2020, in Missouri federal court against Eisai and Arena. The plaintiff claimed she developed breast cancer after taking Belviq for two years.
The woman alleged that  Eisai and Arena failed to warn of the drug's cancer risk. The woman also alleged in her Belviq lawsuit that they failed to adequately test it. Since then a number of additional Belviq lawsuits have been filed around the country by other individuals who used Belviq and were later diagnosed with cancer.
Brazilian study on Belviq's association with cancer
In the December 2020 edition of Obesity Reviews, Brazilian researchers also found that Belviq was associated with an increased risk for certain cancers. They conducted a meta-analysis of 11 trials and four studies.
This included the CAMELLIA-TIMI trial. The researchers found that the drug was associated with lung and pancreatic cancers. However, they found no association with colon cancer. The researchers concluded that the evidence did not quite confirm Belviq's cancer risk but suggested trends that could indicate otherwise.
What Kind of Cancer Can Belviq Cause?
We do not know all of the cancers that can be caused by Belviq. Any cancer from a patient who took Belviq is under suspicion. There is early evidence of an increased risk of lung and pancreatic cancer.
Is There a Belviq Class Action Lawsuit?
Belviq lawyers sought an MDL class action lawsuit for lawsuits that had been filed in New York, Louisiana, and New Jersey. The idea was to consolidate in Florida, New York, or New Jersey all federal court Belviq lawsuits in all 50 states. But the motion was denied by the MDL panel.
This is a mixed blessing for Belviq victims. Moving forward with individual Belviq lawsuits might be the fastest path to trial or to fair settlement amounts in these claims.
What Settlement Amounts Can Cancer Victims Expect in a Belviq Lawsuit?
It is impossible to predict settlement amounts for a Belviq lawsuit. But our lawyers can try. These are very viable claims. The merits of the case against the defendants is strong. It is helpful that there are not many Belviq lawsuits. The small number of claims makes it easier for the defendants to pay fair settlement amounts in these suits.
Average settlement amounts between $300,000 and $500,000 would not be a surprise in these cases. A jury payout should a Belviq lawsuit go to verdict successfully would likely be in the millions.
Contact Miller & Zois About a Belviq Lawsuit
If you took Belviq for 12 months or longer and have subsequently been diagnosed with colon cancer, pancreatic cancer, or lung cancer you might qualify for a Belviq lawsuit. Our dangerous drug lawyers are looking for new Belviq cases, contact us online or call 800-553-8082 for a free consultation.